Identity and Politics in Central Asia and the Caucasus
Mohammed Ayoob (ed.) and Murad Ismayilov (ed.) (Routledge- 2015- 224 Pages)
"The multicultural region of Central Eurasia is living through its early post-independence years and as such serves as an ideal case to study and analyze theories of identity and foreign policy in a non-European context. Looking to re-introduce identity as a multidimensional factor informing state behavior, this book analyses the experiences of the different Central Eurasian states in their post-independence pursuits.
The book is structured into two broadly defined sections, with the first half examining the different ways in which the combination of domestic, regional, international and trans-national forces worked to advance one national identity over the others in the states that comprise the region of post-Soviet Central Eurasia. In the second half, chapters analyze the many ways in which identity, once shaped, affected foreign policy behaviors of the regional states, as well as the overall security dynamics in the region. The book also looks at the ways in which identity, by doing so, enjoys an intricate, mutually constitutive relationship with the strategic context in which it bears its effects on the state and the region. Finally, given the special role Russia has historically played in defining the evolutionary trajectory of the regional states, the book discusses the ways in which Russia itself and its post-cold war policies towards its former colonies have been conditioned by factors associated with Russia's evolving post-Soviet identity.
Indeed, by bringing identity back to the agenda in the study of regional security dynamics in post- Soviet Central Eurasia, the collection is meant to place the region firmly within the realm of existing theories of identity and state practices. Multicultural as it is and living through its early post- independence years, Central Eurasia serves as an ideal test case to study and analyze the workings of theories of identity and foreign policy in a non- European context. "
Kazakhstan hopes to contribute to global peace and security through Astana International Forum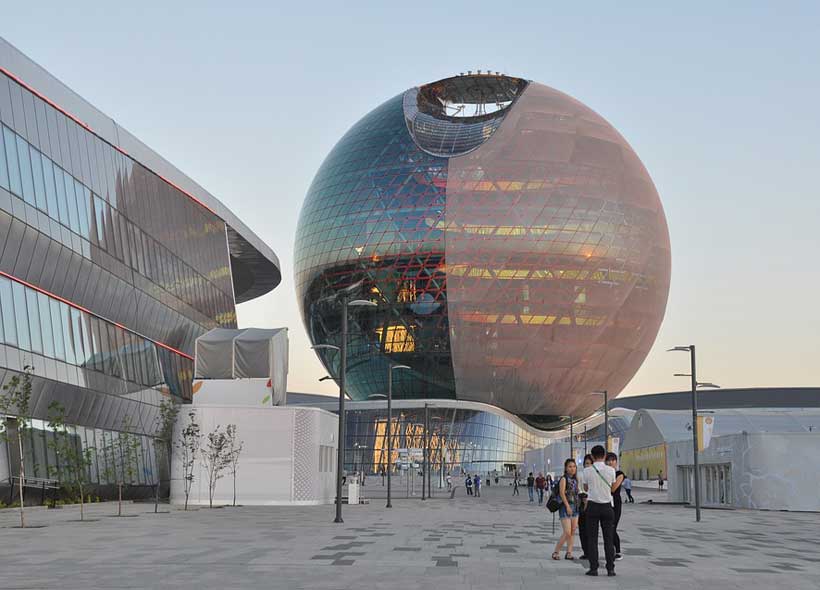 Kazakhstan, the ninth largest country in the world at the heart of Eurasia, is holding the Astana International Forum this week with the aim to amplify the voices of countries seeking a less polarised international order and greater collaboration in addressing humanity's biggest challenges.
Looking at the state of our planet today, it is clear why there is a need to advance multilateralism, international cooperation, and dialogue. The world has become increasingly polarised and divided. Eroded trust in the international law-based order is prevalent and increased calls for the use of weapons to resolve international crises are becoming louder. Global powers are reluctant to find a compromise to enhance global security. Alarmingly, the so-called Doomsday Clock, which attempts to gauge how close humanity is to destroying the world, is currently set at 90 seconds until midnight — the closest to the hour it has ever been. Midnight represents a point of no return – the end of our civilization as we know it. Unfortunately, great powers are currently struggling to reverse this trend.
So-called 'middle powers', which have moderate influence and international recognition, can take the reins instead and aim to find solutions to the world's most pressing problems. Kazakhstan is well-suited in this regard.
The Central Asian country has positioned itself as a suitable mediator in international conflicts. For the past several years, Kazakhstan has hosted negotiations on the Syrian conflict as part of the Astana Process. In 2013, Almaty, Kazakhstan's commercial capital, hosted two rounds of negotiations on the Iranian nuclear deal. Two decades earlier, in 1992, Kazakhstan proposed to establish the Conference on Interaction and Confidence Building Measures in Asia (CICA), which today has developed into an influential multi-national forum. The country was also elected as a non-permanent member of the UN Security Council from 2017 to 2018, the first country from Central Asia to be represented at the UN Security Council.
Kazakhstan's push for dialogue and mutual understanding is especially important today when global stability is at an all-time low. The international community should therefore take seriously Kazakhstan's efforts to restart global cooperation and diplomacy through the Astana International Forum, which will assess and discuss ways to tackle global challenges, including climate change, water scarcity, energy security, and wider international development and sustainability. The plenary session, which will focus on the current state of the world and the way forward toward peace and greater economic progress, will be attended by the Emir of Qatar Tamim bin Hamad Al Thani, President of Kazakhstan Kassym-Jomart Tokayev, Managing Director of the IMF Kristalina Georgieva, Director-General of UNESCO Audrey Azoulay, among others.
Of course, no gathering can be a silver bullet that can resolve all the world's problems in an instant. Yet, initiatives that can facilitate dialogue should be welcomed and supported if they can make diplomacy the preferred option in resolving global challenges.
While this will not be straightforward, it can be done. Even though China and Europe do not always see eye to eye, increased trade between them promotes diplomatic cooperation. That's why Kazakhstan, as a bridge between East and West has been actively developing trade routes. An example of this is the 'Middle Corridor' route that links China and the EU via rail, sea, and road. This Trans-Caspian International Transport Route is a critical new trade artery traversing Central Asia, Eastern Europe, and Turkey, spanning the Caspian and Black Seas. Through increased trade, countries are more likely to keep their relations stable. Essentially, economic interests can keep political interests in check.
Kazakhstan's strategic geographic position and credibility as a diplomatic bridge builder means it is well-suited to bring together representatives of different countries and regions.
Ultimately, if the Astana International Forum can succeed, it can demonstrate to the world that middle powers can facilitate valuable discussions on issues that are high on the international agenda right now and find viable solutions. While great powers will always remain key to the overall trajectory of our planet, middle powers can have a significant influence on the direction we are heading.
The China-Central Asia Summit Downsizes Russian Role in the Region
The recently concluded China-Central Asia Summit—the first of its kind—reflects China's Middle-Kingdom aspirations—aiming to restore China's historical position of prominence and influence in world affairs. What helps China support its Middle-Kingdom aspirations—strategic, economic, and connectivity—in Central Asia is the veil of reviving the ancient 'Silk Route'. As Beijing clears its intent in Central Asia amidst Russia's critical strategic dependency on China due to sanctions from the West, Moscow's position in the region may be altering.
At the first China-Central Asia Summit, Chinese President Xi Jinping presented a "vision of a China-central Asia community with a shared future" based on a development strategy for Central Asia involving infrastructure development to promote commerce as well as assuming new leadership in a region that has historically been under Russian sway.
With a total of 9 multilateral documents, 54 agreements, and 19 new mechanisms of cooperation signed, Beijing makes no mistake in conveying that the summit will have "an important and far-reaching influence on China's relations with Central Asian countries, and carry global significance".
The six parties—China and five central Asian republics—agreed to hold the summit biennially with the next one to be held in Kazakhstan in 2025. With the formalisation of the China-Central Asia Summit mechanism including the establishment of an official Secretariat in Beijing, China has also shown its long-term plan for the region.
Xi reiterated that China wants to "expand industrial and investment cooperation, further develop transport corridors connecting China and Central Asia, support the establishment of a China-Central Asia energy development partnership, encourage cooperation on high technologies, and ensure food security in the region."
While China is already a critical economic player in Central Asia, its intent to expand deeper, emanates from its looming industrial and strategic needs which also include exploiting the rare earth minerals.
On the security front, China is undoubtedly clear with its intentions to lead in the region and fill the gap caused by the Russian invasion of Ukraine. In the Xi'an declaration, China and the Central Asian republics agreed to "combat all forms of terrorism, separatism, and extremism, as well as drug trafficking and transnational organized crimes (and)…step up cooperation on bio-security, cyber-security, and disaster relief, and continue to help the Afghan people to maintain security and stability, and realize peace and reconstruction."
This crusader approach puts China in the lead role—at least in principle for now. At a time, the Russian invasion of Ukraine has weakened Moskov's dominance in Central Asia, Beijing certainly finds it an opportune time to exploit the situation due to its geographical proximity, connectivity, trade, and security interests in the region. Also, China's entry into Moscow's backyard is an indicator of Beijing's long-held quest to independently interact with former Soviet republics.
For decades, China's engagement with Central Asia was predicated on Moscow's backing of Beijing's regional interests. That could be altering now.
On the other hand, by befriending Russia's 'not allies but better than allies'—China, the Central Asian republics are seeking a balancer in Beijing. Although Russia has positioned itself as a protector of Central Asian republics, there is a chance that Moscow may turn out to be a serious threat to them as the validity of Central Asian republics has repeatedly been questioned by Russia—often referring to them as 'artificial nations'.
Putin's grand vision of 'Russkiy Mir'—emphasising Moscow's responsibility to protect the Russian minority outside of its boundaries, continues to pose a threat to the Central Asian republics. These republics have a substantial ethnic Russian population which is often seen as a tangible base for Russian influence.
Thus, no surprise that none of the Central Asian republics have endorsed Russian aggression into Ukraine, though leaders of all-five republics stood alongside Putin as he decried the West for keeping Ukraine 'hostage' in his Victory Day speech on 09 May 2023.
For Russia, the Central Asian republics—Kazakhstan, Kyrgyzstan, Tajikistan, Turkmenistan, and Uzbekistan are key to its regional dominance and currently serve as a lifeline to Russian strategic needs amidst sanctions including its military needs. For instance, Kazakhstan is key to Russia's critical military supplies from abroad despite Western sanctions.
A recent report by Organised Crime and Corruption Reporting Project claims that "Kazakh trade data strongly suggests that the country is used as an intermediary destination for Russian drone imports".
While Central Asia is rooted as a lifeline to Russian strategic needs, the economic integration is certainly feeling the dent due to an absent Moscow due to its complete focus on Ukraine. As a result, of Chinese visibility in the region, the Russian initiative for regional integration—The Eurasian Economic Union would lose ground to China's vast global Belt and Road Initiative, signalling a tilt towards China.
Traditionally, Russia has exploited minerals, gas, and oil in Central Asia. Russia's economic relations and influence in the region are strengthened by the active participation of Russian businesses in the extraction, transportation, and export of these resources.
For Central Asian republics—maintaining their traditional relations with both Russia and the West has grown more difficult in the present circumstances. The recent sanctions imposed by the West on Russia, are widely noticed by the five republics, eventually limiting their reliance on Russia, especially with regard to regional and economic security.
Hence, there remains little doubt that it will be none but China to fill the strategic vacuum, especially in a scenario where Russia has become hugely dependent on China. Yet the question remains, would Russia like to be a satellite state of Beijing? A perception that emerged out of the Sino-Russian Summit held in March this year in Moscow.
Whether China will succeed in shifting Central Asia's dependence on Russia in its favour on the economic and strategic front, remains to be seen. Yet it surely challenges Russian dominance in the region—something that Moscow is not in a position to challenge upfront in the existing circumstances.
Central Asia: A New History from the Imperial Conquests to the Present – Book Review
The author of the Book "Central Asia: A New History from the Imperial Conquests to the Present", is Adeeb Khalid, who is an associate professor, Jane and Raphael Bernstein Professor of Asian Studies and History in the Department of History of Carleton College in Northfield, Minnesota. His research encircles the history of Islam and Central Asia since the conquests of Russia in 1860s and the fate of Islam under Soviet and Imperial Russian era. He has written many articles, and his four non-fiction books include; The Politics of Muslim Cultural Reform (1998), Islam after Communism (2007), Making Uzbekistan (2015) and the book under review.This book was published in 2021 and has twenty-five chapters, each branching out in their respective directions. The central idea of this book is provision of concise history of Central Asia from mid-18th Century until contemporary era, the reshaping of the most diverse and culturally vibrant region in modern world events as it stands at crossroads of Europe, Middle East and South Asia.
In this book, author has emphasized the emergence of Central Asia as a pivotal region with respect to geopolitics after the disintegration of USSR in 1991, which marked the largest transformation in Central Asian geostrategies. The newly independent Central Asian States namely; Kazakhstan, Kyrgyzstan, Uzbekistan, Tajikistan and Turkmenistan joined International Organizations, established foreign embassies but massive problems were originated. Economic crisis was unleashed that rivaled the Great Depression of 1930s in its magnitude, trade and supply of goods was disrupted. Inflation escalated and people hardly made their both ends meet. The sense of de-modernization prevailed due to backwardness.
The new geopolitics was multilateral; involving a new number of powers in the region as compared to the era of colonial conquests in mid-19th Century, when region was bisected between Russia and China. Russia left in 1991 and Central Asia was open to the Globe. At the end of the 20th Century, Britain was no longer a power and USA was a new major power in the region. Turkey was the first State to establish diplomatic ties with Central Asian States. Though Russia left, but its influence didn't vanish, it was connected to the region via language, education, transportation and commerce. China was the greatest beneficiary of this disintegration, became a major trading partner, entered into bilateral and multilateral agreements. Being suspicious of US hegemony, China and Russia initiated multilateral efforts to develop cooperation and security policies. Consequently, the formation of Shanghai Cooperation Organization (SCO) took place in June 2001.
In Kazakhstan, Uzbekistan and Turkmenistan, communist leaders controlled their states entirely and got reelected several times. Kyrgyzstan experienced several power transfers and its political elite still has links to the late-Soviet period. Tajikistan has a different case, civil war stated in 1992 and ended in 1997, when a peace accord was brokered by the United Nations (UN) which allowed formation of a coalition government dominated by neo-soviets but minor role was given to the opposition. China got lesson from Soviet collapse that it happened due to mobilization of its nationalities, much power was designated to republics by Soviet Constitution, also Soviet policies of indigenization had promoted many minority officials to positions of power. Consequently, similar developments should not be allowed in China. Author has explicated the role of IMU (Islamic Movement of Uzbekistan); in order to establish Islamic State, against Uzbek President Islom Karimov's secular regime. The actions planted threats against security agenda for the region. The incident of 9/11 in 2001 and Global war on terror changed the shape of the geopolitics. Since then, opposition to terrorism and religious extremism became universal language which was also adopted by Central Asia States with ardor and they targeted all adversaries with this language.
Author has explicated the Uyghurs issue, role of China, waves of discontentment in Central Asia and the way Uyghurs are facing complications and hardships in China. He has accentuated that with the process of Sinicization, Uyghurs and Kazakhs are considered minorities and Islam is an alien religion in China. This suppression in China comes from a very different position than it does in Central Asian States. This targeting of Uyghurs as a nationality is compared with Stalinists deportations that targeted entire national groups; Koreans, Chechens, Crimean Tatars, Poles; despite their positions, class or political viewpoints. Therefore, it is cultural genocide and war on Uyghurs by China. The current regime of surveillance is imbricated in global networks of science and commerce. The surveillance technology is itself a big business. Darren Byler said, "Controlling the Uyghurs has also become a test case for marketing Chinese technological prowess to authoritarian nations around the world".
China itself is a big customer, now richer than ever before, can beat down the capabilities and resources in control and surveillance that is beyond everyone's imagination. In other words, it is called high-tech totalitarianism. Central Asia is at the cutting edge of the global developments.
Concisely, Central Asia has experienced huge transformations and waves in two and a half centuries; colonialism, anti-colonialism, development, social revolution, nationalism, state-led modernization and social engineering. Author has argued that colonialism is an inherently diverse phenomenon and its standard definition can not be considered to interpret whether Central Asia was colonial or not. In late 20th Century, the idea that the nation was the most efficacious form of political organization reached Central Asia and since then, it has been the significant force in the region. In Central Asia, the role of Islam is undefined, its contentedness and indeterminacy can be visualized intensely. Central Asian States didn't perform well in the corona virus pandemic like other states. The history of Central Asia revolves around two global forces; Islam and Communism. Islam is visualized as a threat in contemporary security debates about Central Asia and China has invoked it to justify its Uyghurs' cultural genocide.