Russia Threatens Response To New US Weapons In Baltics
The 10 most important things you need to know on Caspian Sea Region for Tuesday, June 16:
1"If heavy US military equipment, including tanks, artillery batteries and other equipment really does turn up in countries in eastern Europe and the Baltics, that will be the most aggressive step by the Pentagon and Nato since the Cold War, Russia will have no option but to build up its forces and resources on the Western strategic front" Russian defence ministry official General Yuri Yakubov said. Russia's response could include delivering missiles to the Russian exclave of Kaliningrad between Poland and Lithuania. It would also look to increase troop numbers in Belarus. Our hands are completely free to organise retaliatory steps to strengthen our Western frontiers," Yakubov said.
2What is Iran's game plan in Iraq? "In Iraq today, there are reminders everywhere of how Iran's influence has grown since Tehran moved in to join the fight against so-called Islamic State (IS).The seizure of Iraq's second city, Mosul, by IS fighters one year ago was as much of a shock to Iran's Shia leaders as it was to many Iraqis. The prospect that a friendly neighbour and ally, ruled by fellow Shia politicians, could be replaced by an extremist Sunni regime prompted Tehran into swift action. For Iran, Iraq was also home to Shia Islam's holiest shrines and a land bridge to another key Arab ally, Syria" writes Kasra Naji for the BBC.
3The Islamic Republic of Iran is hosting a two-day conference titled Applied Conference on Trade with Iraq, Azerbaijan, and Turkmenistan. By holding the conference, Iran tries to find ways to boost and streamline trade with the guest countries. The conference is attended by consultants to the minister of industry, mining and trade, related director generals from the Foreign Ministry, high-ranking officials from the Trade Development Organization, heads of the attending countries' joint chambers of commerce with Iran, trade consultants, ambassadors, and tradesmen.
4All efforts for sustainable development and a stable future must involve a deep respect for human rights and the strengthening of rule of law, United Nations Secretary- General Ban Ki-moon affirmed today as he concluded his five-day tour of Central Asia with a visit to Turkmenistan. Speaking to a gathering of local officials and students at the University for Humanities and Development in the Turkmen capital of Ashgabat earlier this morning, the Secretary- Generalapplauded Turkmenistan's encouraging steps towards a climate- friendly future amid the approval of a National Climate Change Strategy and the Government's declared intention to soon approve an action plan for moving toward a green economy. In a region marred by climate, water and other environmental issues, Mr. Ban said he welcomed Turkmenistan's efforts to work with its neighbours in order to find lasting and peaceful solutions to two of the world's most exacting problems: climate change and the growing need for sustainable development.
5"Arabs, Iran and Turkey need today more than ever a "comprehensive regional summit" that should last for weeks. Its goal is to recover the regional stance to co-exist and promote peace between countries and peoples, for fear of being dragged into the path of a fearsome war. This war trail is ready and sliding in it is easy and seductive, but no one knows its results. If we use the Iran-Iraq War as a scale, it will probably not be an exaggeration to say that the damned regional war that we are about to engage in may go on for a century" writes Dr Khaled Hroub for the Peninsula.
6A Kazakh delegation headed by Deputy Foreign Minister and Expo 2017 Commissioner Rapil Zhoshybayev visited Madrid on Monday to promote the first edition of the fair to be held in a Eurasian Union country. The commissioner began the day with a meeting with Spanish Foreign Minister Jose Manuel Garcia-Margallo at Santa Cruz Palace. While at the Economy Ministry, the Kazakh delegation briefed Spanish business leaders about the economic opportunities the fair will offer. The exhibition will be built on 174 hectares (430 acres), with the spherically shaped Kazakhstan pavilion located in the center. Kazakhstan, a country rich in traditional energy sources, has dedicated its Expo 2017 pavilion to renewable energy."We will show the world our country's wealth and customs," the Expo commissioner said. Kazakh authorities expect about 100 countries – including Spain – and 14 international bodies to take part in the fair.
7Trade between Russian and gas-rich Azerbaijan is expected to continue along an upward trajectory, Russian President Vladimir Putin said. Putin met during the weekend in Baku, with Azeri President Ilham Aliyev to discuss economic opportunities in the Caspian region. The Azeri president said trade relations between both sides remained strong, even as global economic growth struggles to emerge from recession. "I would like to note that despite the economic turbulence, trade between our countries has been growing," Putin added. "Last year it went up by about 12 percent, I believe, while in the first quarter of this year [it went up] by almost 6 percent."
8Russia's United Aircraft wants a new wide-body aircraft it is developing with a Chinese company to be flying by 2025, as part of an ambitious project to take on Western plane makers Airbus and Boeing. Commercial Aircraft Corp of China and United Aircraft , both state-controlled firms, have been considering the joint development of a wide-body jet for a year, in what could set off old Cold War rivalries. United Aircraft Corporation's new boss Yury Slyusar, who took the reins in January, said the Russian and Chinese governments would be in a position to decide on whether to proceed with the project after it is presented in September. The joint project could give both China and Russia a chance to compete in the wide-body segment which currently operates as an often state- subsidized duopoly under Europe's Airbus and US rival Boeing.
9"During a visit by Iranian Oil Minister Bijan Zanganeh to Azrbaijan (in 2014), Zanganeh and Azerbaijani Minister of Industry and Energy Natig Aliyev talked over a plan to have Azerbaijani tradesmen export goods to Turkmenistan while Iran would fund projects in Azerbaijan, out of debts Iran owes Turkmenistan, said Mohammad Taghi Amanpour, Consultant & Special Representative to The Iranian Minister of Petroleum for Exporting Goods & Technical and Engineering Services. This would come with the condition that the Azerbaijani tradesmen would export Iranian goods to Azerbaijan or any other country."We can take on any project in Azerbaijan out of the money Turkmenistan demands from us. Then, Azerbaijan has oil and other goods which it can give to Turkmenistan. This is I think a very good opportunity which I recommend Azerbaijani tradesmen and producers use to the full. Iran wants its bilateral trade and cooperation with Turkmenistan to turn into tri or multi-lateral relations. The reason for that is that there is a special vibe to Turkmenistan. There are trade companies with long records and familiarity doing business in Turkmenistan," Amanpour stated.
10Russia's economy has stumbled on the back of dual strains from sanctions imposed in response to the crises in Ukraine and the low price of crude oil. For natural gas, British energy company BP said in an annual review that Russian production declined 4.3 percent from last year which, in terms of volume, was among the largest drops in the world. Gazprom Deputy Chairman Alexander Medvedev said last week the European economy will be about 1.7 trillion cubic feet short of what it needs to keep the economy moving by 2025. He added that Russian gas sent through Ukraine will stop moving to European markets after 2019. Russian meets about a quarter of Europe's natural gas needs, though most of that runs that the Soviet-era pipeline network in Ukraine. BP said pipeline shipments declined 6.2 percent globally for the largest decline on record, with Russian deliveries down 11.8 percent.
The COVID-19 Shock to Kazakhstan's Economy Largest in Two Decades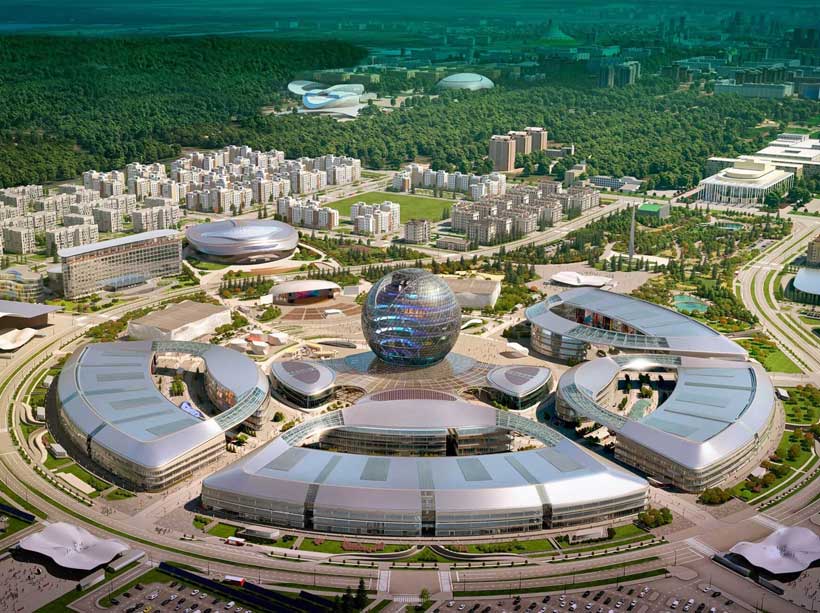 For the first time since the late 1990s Kazakhstan's economy is expected to contract by projected 3 percent in 2020 with a moderate recovery by 2.5 percent in 2021, according to the World Bank's latest Kazakhstan Economic Update (Summer 2020) – Navigating the Crisis report.
Although Kazakhstan's GDP showed mild growth at 2.3 percent in the first quarter, economic activities weakened in the following months as commodity prices dropped, trade declined, and COVID-19 preventive measures slowed economic activity. Consumer demand showed moderate growth at at 1.2 percent, reflecting growing concerns over COVID-19 and the restriction measures. Investment is expected to ease to 1.0 percent annually, supported mostly by the on-going foreign direct investments into the oil and gas industry and residential construction. Supply disruptions and currency depreciation pushed up inflation to above the upper bound of the National Bank target range.
"The authorities acted early to contain the COVID-19 pandemic, and the accumulated fiscal buffers allow the government to introduce a relief package to mitigate the impacts of COVID-19 on the economy," said Sjamsu Rahardja, Senior Country Economist, World Bank in Kazakhstan. "Weak demand and oil prices, as well as the protacted pandemic expose significant risks to the economic outlook. Authorities may want to consider using the available resources to provide relief to the poor and vulnerable, protect productive assets, and introduce reforms to sustain economic recovery."
A prolonged crisis is likely to increase poverty and can increase inequality in Kazakhstan. Preliminary estimates suggest that poverty rate may rise in 2020 from a projected 8.3 to 12.7 percent – equating to more than 800 thousand additional people living in poverty. The shock to the labor market in Kazakhstan due to both the pandemic and the mitigation measures, is expected to have severe implications for jobs, particularly in sectors that employ low-skilled workers.
The report also argues that COVID-19 has a negative impact on human capital development in Kazakhstan. Unequal access to quality education, especially during lockdown, can negatively impact human capital development for the poor. School closures could result in learning loss of more than one-third of a school year and the impact could mean a decline in the Program for International Student Assessement (PISA) points. As most students in the country currently perform around the threshold for functional literacy and assuming some will lose more than others, the estimates suggest that the percentage of students performing below functional literacy will increase by 3 percentage points (from 64 to 67 percent).
"The impact of COVID-19 on education and learning losses will have a decades-long impact on the economy by an estimated 2.9 percent, amounting to an overall economic loss of up to $1.9 billion every year", says Jean-Francois Marteau, World Bank Country Manager for Kazakhstan. "A focus on improving access to quality education, including distance learning, would be important to prevent a decline in the quality of human capital, especially among Kazakhstan's low-income population."
The report concludes that under the risk of a prolonged slump in the global oil market, Kazakhstan's pathway for a resilient recovery may focus on strengthening the effectiveness of public administration and services, including the use of e-platforms to deliver key public services, better tax administration, and a mechanism to review and redeploy fiscal resources toward better state programs. A renewed emphasis on reforms in the logistics, digital telecommunications, and financial sectors could help the overall private sector explore new opportunities.
China-Eurasia Council condemns aggression of Azerbaijan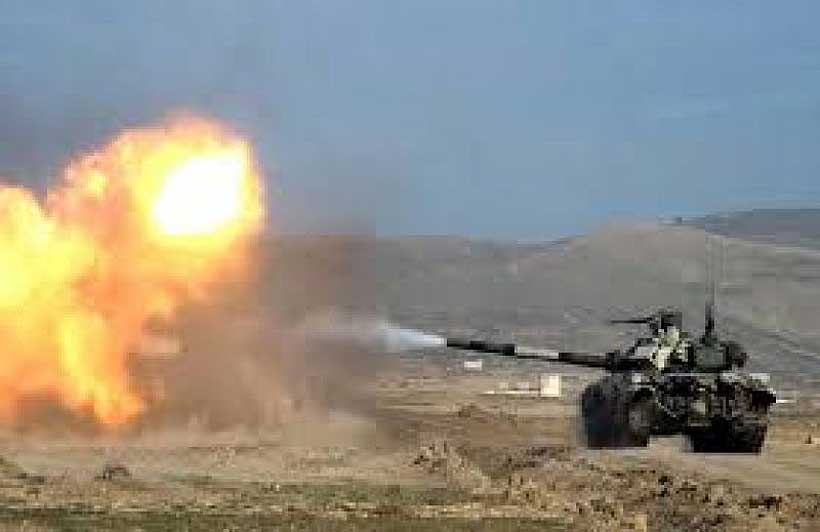 China-Eurasia Council for Political and Strategic Research strongly condemns Azerbaijani aggression which Baku started on July 12, 2020. Azerbaijani Ministry of Defense is a threat for the entire World as it is speaking about its aims to strike Metsamor Nuclear Plant, which is located in Armenia. Baku must understand that this is a crime against humanity, and it is equal to nuclear strike.The destruction of Metsamor Nuclear plant will be a disaster not only for Armenia, but also for Iran, Georgia and Azerbaijan, it will harm World's environment and stand a real problem for several generations of the World. It is worth mentioning, that this time Baku attacked the Northern borders of Armenia, which are sovereign territory of the Republic of Armenia according to International law. Azerbaijan violated the principle of territorial integrity of a sovereign state, which is one of the important pillars of International law.
China-Eurasia Council for Political and Strategic Research condemns Azerbaijan for using force against civilian population of Armenia and calls for peaceful negotiations. Baku must show solidarity and join global ceasefire initiated by the UN secretary general Antonio Guterres and must not try to escalate the situation on the border to deflect public attention from the situation concerning the outbreak of Covid-19 in Azerbaijan. We call official Baku to take care of Azerbaijani people in the hard times of Coronavirus and not send its soldiers to real death. Being multinational Council, for us It's terrible to hear about lossfrom both sides and we express our sincere condolences. Hopefully peace will come to South Caucasus, which is an important crossroad in Eurasian mainland and it can stand a very important link for Belt and Road Initiative, if all problems solved in a peaceful way.
Condemnation Of Armenian Aggression By Friends Of Azerbaijan (FoA)
Friends of Azerbaijan (FoA) strongly condemns the coward act of Armenians aggression in the Tovuz district of Azerbaijan that is a sheer violation of international borders and law. The act is an attempt of Armenia to drive global attention from the peaceful dialogue and negotiation process on Nagorno Karabakh.
In an online meeting of the delegates of the Friends of Azerbaijan (FoA), a joint declaration of condemnation has been issued by the honorable members of Friends of Azerbaijan (FoA).
According to this declaration, Armenian aggression can jeopardize the whole South Caucasus region. The incident on July 12, 2020, is being considered as a direct attack on Azerbaijan and the repercussions of this incident can result in massive catastrophe in the entire region.

The delegates of Friends of Azerbaijan (FoA) stressed the global powers to come forward and take serious action on Armenian intervention by violating the international border of Azerbaijan. The act of Armenia is an open challenge to the sovereignty of Azerbaijan.
Malik Ayub Sumbal founder of Friends of Azerbaijan (FoA) termed that Armenia is losing its legal and moral position on Nagorno Karabakh and there is mounting pressure on Armenia by the international community for the peaceful solution of Nagorno Karabakh according to the UN Resolutions. At this time to get rid of such kind of diplomatic moves, Armenia has launched another major front in Tovuz.
When the whole world is busy against the Covid19 Armenian Prime Minister has chosen a very dangerous path that can take the whole region into war and bloodshed.
Friends of Azerbijan (FoA) is firmly standing with shoulder by shoulder to the people of Azerbaijan and martyr's families at this hour.