Russia cracked Snowden files: Identities of US and UK Spies Revealed
The 10 most important things you need to know on Caspian Sea Region for Monday, June 15:
1Britain has been forced to remove some of its spies after Russia and China accessed the top-secret raft of documents taken by former US intelligence contractor Edward Snowden, British media reported. The BBC and the Sunday Times cited senior government and intelligence officials as saying agents had been pulled, with the newspaper saying the move came after Russia was able to decrypt more than one million files."It is the case that Russians and Chinese have information. It has meant agents have had to be moved and that knowledge of how we operate has stopped us getting vital information," a Downing Street source said, according to the newspaper. An intelligence source told the Sunday Times: "We know Russia and China have access to Snowden's material and will be going through it for years to come, searching for clues to identify potential targets."
2The meetings of the presidents of Russia, Azerbaijan and Turkey in Baku during the opening of the first European Games shed little light on the prospects of processes taking place in the South Caucasus and other regions. The meeting between Vladimir Putin and Recep Tayyip Erdogan proceeded behind closed doors, and no statements were made after that or other meetings with their participation. Experts conclude that the three presidents have failed to reach agreement on various issues, including in relation to the Nagorno-Karabakh conflict. The expectation was that the three leaders would find some common language, as the policy of international isolation has been applied to all the three nations. Perhaps some separate agreements were reached, but there are so many contradictions in the interests of Russia, Turkey and Azerbaijan now that these agreements will necessarily hit one of the sides. [ArmeniaNow]
3Azerbaijan as a Model of Civility in the Caspian Region. "almost everything about the way Azerbaijan is handling their transition from a Soviet Republic to a modern, sovereign nation is admirable. From their ambitious efforts to preserve their ancient history to their desire to promote peace and stability in the region to their ability to build and maintain diplomatic relationships with key players in the Caspian Sea region (and beyond), Azerbaijan appears to have a very promising future. Their approach may have the potential to change the way the West and the Muslim world relate" writes JJ Harper for the Modern Diplomacy.
4Iran eyeing $30bn Turkmen barter plan. Iran said on Sunday that it plans to offer a barter scheme to Turkmenistan through which it would pay for natural gas imports by gas industry equipment as well as technical services. Mohammad-Taqi Amanpour, an advisor to the petroleum minister of Iran on exports of equipment and technical services, told a forum in capital Tehran that the value of the barter scheme will be $30 billion for a period of 10 years. Amanpour also said that Iran has so far paid a maximum of $3 billion per year for importing natural gas from its northern neighbor.
5Baiting the Bear: U.S. Congressional Attitudes Keeping Russia the Enemy. "That mindset sets a fairly stark characterization: Russia is an aggressive and untrustworthy dictatorship that is an innate contradiction to American values. As such it will inevitably always be a threat to U.S. interests and global security" writes Dr. Matthew Crosston for the Modern Diplomacy.
6The Presidents of Azerbaijan, Turkey and Turkmenistan will hold a meeting in Ashkhabad. Oxu.Az reports citing APA that the statement came from Turkish President Recep Tayyip Erdogan. He said the meeting is due in December. Noting that he met the president of Azerbaijan, Ilham Aliyev, Erdogan said more decisive steps will be taken for development of relations between the two countries.
7Boosts competitiveness of Kazakh small businesses. The EBRD helped Kazakhstan's Almaty Ventilation Plant improve production and start exporting. Optimal air conditioning and ventilation are essential for maintaining a healthy environment and efficient use of energy. Producing quality ventilation and filtering systems is therefore not just hot air but a great business opportunity. The EBRD helped a Kazakh ventilation manufacturer improving production and start exporting its products. This project is currently funded by the Government of Kazakhstan as a core donor, by the United States and BG Kazakhstan.
8Kazakhstan beyond Borat. "Kazakhstan has been trying since the early years of independence to introduce the country to the awareness of the global community. Although reluctantly declaring independence from the Soviet Union, it has become vital for the country to differentiate itself from Russia to gain significantly in its soft power repertoire of tools. This process, along with the strategic positioning of the country, gave rise to the well- known Kazakhstan image of being able to balance the interests of many great powers, intersecting in the Central Asia, including Russia, China, US, EU, Turkey and Iran" writes Petra Posega for the Modern Diplomacy.
9Iran says it plans to establish a joint bank with Azerbaijan in the near future. Mohsen Pak Ayeen, the Iranian ambassador to Azerbaijan, told Trend news agency on Sunday that the joint bank will be opened in Tehran. Pak Ayeen added that the issue will be discussed during a meeting between Valiollah Seif, the governor of the Central Bank of Iran (CBI), and his Azeri counterpart in Tehran. Nevertheless, he did not specify when the meeting will take place. At present, non-oil trade between Iran and Azerbaijan amounts to $500 million, he said, adding that the figure will reach $2 billion if tourism revenues and other incomes are taken into account.
10Football, money and politics. "Football has long turned into something more than just a sport. It is now a real instrument of soft power and yet another sticking point between Russia and the West" writes Nina Lavrenteva for the Modern Diplomacy.
Fast-tracking a Zero Waste Economy: Business Leaders Commit to Circular Economy Action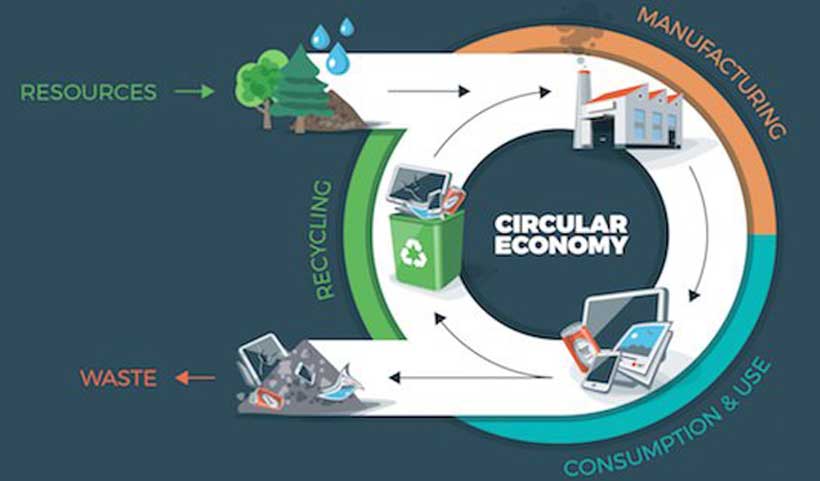 Denmark, Japan, the Netherlands and the United Arab Emirates have committed to joining a major global initiative to redesign the global "take-make-dispose" economy into a more circular one. They join over 50 government and business leaders who are part of the Platform for Accelerating the Circular Economy (PACE), which was launched at the World Economic Forum Annual Meeting 2018 in Davos.
PACE includes the heads of some of the world's largest companies such as Royal Philips and Unilever; senior representatives from the governments of Indonesia, Nigeria, the People's Republic of China and Rwanda; and heads of organizations, including the Ellen Macarthur Foundation, World Resources Institute, Global Environment Facility, UN Environment and World Bank.
All are committed to efforts that cut waste and pollution and fast-tracking circular economy solutions in which products and materials are redesigned, recovered and reused to reduce environmental impacts. Extending the life of products creates new business opportunities and revenue streams, while minimizing the environmental impact of mining, resource extraction, refining and manufacture.
Japan's commitment comes as the second World Circular Economy Forum – hosted by the Ministry of the Environment of Japan and Finnish innovation fund Sitra – gets underway in Yokohama, Japan.
Japan is one of the most resource-efficient economies globally, and has recently launched its 4th Fundamental Plan for Establishing a Sound Material-Cycle Society a new public-private Plastics Smart campaign. The Netherlands government aims to achieve circularity by 2050 and halve the use of primary resources by 2030 and Denmark launched its Circular Economy Strategy and a related National Action Plan on Plastics. The UAE is committed to shaping strategic action to advance the circular economy.
To date, PACE, which is hosted and facilitated by the World Economic Forum, has catalysed major projects and collaborations to advance the circular economy, including the Global Plastics Action Partnership, which was launched in collaboration with the Friends of Ocean Action at the Forum's Sustainable Development Impact Summit in New York. PACE is also focused on waste from electronics. In 2016, 44.7 million metric tonnes of e-waste was generated, equivalent to the weight of 4,500 Eiffel Towers. E-waste contains a number of toxic substances that can cause great harm to health. At the same time, the UN estimates that some 55 Billion Euro worth of secondary raw materials lays idle in e-waste.
Antonia Gawel, Head of the Circular Economy Initiative, World Economic Forum, said: "We have the knowledge, power and technologies to drive circular economy action. We just need to act more quickly and build partnerships to scale solutions. The Fourth Industrial Revolution offers great opportunities in this area – which is why PACE is excited to explore its potential with an expanding group of partners."
Frans van Houten, Chief Executive Officer, Royal Philips, and PACE Co-Chair, said: "A circular economy is essential if we are to achieve global economic growth whilst stopping unsustainable resource consumption. Large corporations, SMEs and governments must collaborate to transform supply chains and the modern consumption economy. Philips is pleased to partner with private and public sector organizations through PACE enabling large-scale projects with firm commitments and decisive action."
Naoko Ishii, Chief Executive Officer and Chairperson, Global Environment Facility (GEF), and PACE Co-Chair, said: "It is a real pleasure for me to welcome a growing network of governments to PACE.  The world urgently needs to move to a more Circular Economy, and PACE is a strong platform that brings together a broad coalition of stakeholders to accelerate action."
Yoshiaki Harada, Minster of Environment, Japan, said: "We all have a common view on realizing a circular economy on a global scale by networking and accumulating knowledge and experience of public and private entities around the world. The Ministry of the Environment of Japan has decided to participate in PACE, and share our knowledge and experience globally. As part of our contribution to PACE, we would like to provide information on excellent actions, experiences and technologies of Japan's public and private entities registered in our "Plastics Smart" Campaign."
ADB Invests $25 Million in Private Equity Fund to Help Small Businesses in Southeast Asia
The Asian Development Bank (ADB) signed an agreement to provide a $25 million equity investment to Exacta Asia Investment II, L. P. (Exacta II), a private equity fund, to provide much-needed investments for small and medium-sized enterprises (SMEs) in Southeast Asia.
"ADB's investment will help well-managed and middle-market SMEs in Southeast Asia to realize their growth plans, thereby driving employment, tax generation, skills transfer, and regional trade," said ADB Director for Private Sector Investment Funds and Special Initiatives Division Ms. Janette Hall. "Investing in Exacta II allows ADB to participate in Southeast Asia's continued economic growth while providing development benefits for people in the subregion."
ADB's support will allow Exacta II to invest growth equity into smaller firms—particularly those from Indonesia, Malaysia, Philippines, Singapore, Thailand, and Viet Nam—whose growth is driven by domestic consumption and export. This will help address the issue of low private equity penetration in Southeast Asia, which is crucial to create new jobs, drive economic growth, and encourage further investments in related sectors.
Exacta II, a private equity fund with a target capitalization of $250 million, intends to invest about $10 million to $40 million per transaction in some of Southeast Asia's SMEs and lower middle-market companies, particularly in the manufacturing, technology, and service sectors.
Suzhou Forum Calls for Faster Energy Transformation for Better Lives and Prosperity
Senior government officials, business leaders and key players in the global energy sector met today at the Third International Forum on Energy Transitions (IFET) in Suzhou, China. The international gathering, co-organized by the National Energy Administration of China, the International Renewable Energy Agency (IRENA), and the Jiangsu Provincial People's Government of China, is an important platform for dialogue and collaborative action on how to transform energy systems towards a sustainable, low-carbon and resilient energy future.
Over the last decade, renewables have brought disruptive change to the global energy landscape. Driven by rapid technological advances, enabling policy frameworks and plummeting costs, renewables have created unprecedented opportunities to rethink the way our energy systems operate. IFET aims to identify solutions to scale up the latest renewable energy innovations, particularly in end-use sectors, accelerate power sector transformation, increase renewable energy financing, and transform urban energy systems.
In his keynote remarks, IRENA Director-General Adnan Z. Amin stressed the need to take the global energy transformation to the next level by strengthening innovation, mobilizing investments and modernizing gird infrastructure. Accelerating renewables deployment is essential to tackle challenges such as climate change, sustainable development and meeting growing energy demand. The Director-General underlined that the energy transformation offers us vast socio-economic benefits in terms of powering sustainable growth, creating jobs and creating local value-added.
Leading the way on the energy transformation are those frontrunner countries, like China who, early on, recognised the potential opportunities in and are developing the policies, market mechanisms, and systems necessary to reorient their economies towards the high-tech industry and workforce of the future. As highlighted in IRENA's Corporate Sourcing Report, it is not only countries that are leading the way: companies in 75 countries actively sourced 465 terawatt hours of renewable energy in 2017, enough to power a country the size of France.
In his speech at the Sub-Forum on International Cooperation on Renewable Energy Industry Development, the Director-General also highlighted that international cooperation is needed to share lessons and experiences to overcoming challenges in transforming existing energy structures to low-carbon sustainable systems based on renewables and energy.
During his remarks at the Energy Future session, the Director-General identified five priority action areas to advance the energy transformation. These include: fostering a power sector that integrates higher shares of variable renewables and decarbonising end-use sectors, strengthening system-wide innovation, scaling up investment, ensuring equitable costs and benefits of the transition, and furthering international cooperation.
The previous conferences in 2015 and 2016 adopted the Suzhou Declaration and Consensus, respectively, which called for higher levels of ambition and decisive action to accelerate the energy transition.
IRENA also participated in the Belt and Road Energy Ministerial Conference taking place in Suzhou at the same time. Renewable energy has been identified as central to one of the initiative's key pillars as a means to build a sustainable energy future.