European identity – once again
Is there a European identity? No, there is no such thing. That would be a snappy answer, but it would not be completely true. It is instructive to analyze this question thoroughly: Why does a European identity not exist? Will there ever be one?
Despite the myriad of European models, common cultural traits and traditions, it is impossible to define Europe and "Europeanness" with precision [1]. Similarly, it is impossible to tell where the boundaries of Europe lie or will lie. Beyond common fundamental values and cultural traditions (which are more or less obvious to most Europeans), everyone has a subjective, rather vague idea of what Europe is. It is due to this vagueness that European identity resists definition.
Let me first of all underline that whatever European identity is, it is a concept broader than European Union identity. This was vividly demonstrated by the statement of eurosceptic Czech President Vaclav Klaus in May 2009, when he claimed that the EU defeated Europe when the Czech Senate ratified the Lisbon Treaty. Undoubtedly, European identity is the privilege of national elites that have been pressing ahead with European integration for half a century. European identity has not become part of the thoughts, feelings and lives of average Europeans. Values that we hold to be European — such as liberty, equality before the law or the rule of law — are in fact the result of centuries of social development and do not undermine national identities. There are no truly pan-European values or pan-European reflexes perceptible in daily life. The feeling of belonging to a nation remains much more important than that of being European. The European Union is a community of nations and not a nation comprised of federal territorial units (states, with some exaggeration) like the United States of America. It is dubious whether it will ever become one. Most probably not.
Like any identity, a European identity can benefit immensely from negative self-definition: defining what we Europeans are not. The most critical distinction is with America, the other bastion of Western culture. Of course, that alone would be a very weak foundation for an identity. A professor of Johns Hopkins University, who knows Europe very well, put his finger on it when he said: "There is no such thing as a European identity. I have never met anyone who said I am a European American. I have only met Greek Americans, Polish Americans, Italian Americans, Irish Americans, etc."
Europe has been in search of a self-identity for a long time. The first natural self-definition was on the common basis of Christianity. European values, which set this continent and culture apart from others, began to take shape with the Enlightenment. In "The Spirit of the Laws", Montesquieu analyses Europe as a unified community in detail, comparing it with Asia. He comes to the conclusion that the preconditions for liberty exist only in Europe but not in Asia. Bronislaw Geremek, an outstanding European humanist of the 20th century, believed that Europe was built on a dual identity. European identity is partly rooted in medieval Christianity as a unifying force. In the 13th century, a united European community formed around religion as the central organizing principle. It was created by Rome as the center of power. Universities mushroomed continent-wide, teaching the common culture in a common language (Latin) and thereby creating the first European elite. The Europe-wide network of churches and cathedrals shared a common architectural style, a uniform liturgy and a uniform calendar. Christianity was the first supranational, pan-European cross-border culture. Geremek suggests that the second European community — lasting from Erasmus of Rotterdam to the Enlightenment — was the Republic of Letters (Respublica literaria) bonded together by knowledge rather than by faith. As modern languages gained ground and Latin lost its importance, the religious nature of culture was weakened. Observation, analysis and a belief in reason and science pushed religious faith to the background. European academics maintained extensive and lively relations with each other. Montesquieu famously said that Europe is a nation composed of many nations. The evolution of the European identity, or should we call it a supranational culture, has its roots partly in Christianity and partly in science.
Modern, post-war European integration is a political undertaking which in its origins was motivated chiefly by a desire to secure a stable and pacific Germany and developed as an elite project. As a result, the "mental unification" of European citizens has never materialized; a spontaneous common identity has never formed. Europe as a concept has never found its place in people's daily lives, or their choices of values. Modern Europe was created to put an end to the eternal enmity between France and Germany. It was clear that the only way to prevent war between these two powers was to make it economically unprofitable. But guaranteeing peace on the continent will not make people feel European. European identity will not evolve by itself; every tradition must start somewhere but traditions only survive if the common experiences, principles and myths originate from the people. And for traditions to turn into an identity, a bottom-up approach is needed. Naturally, political leaders still have a huge role to play in paving the way for the evolution of a European identity. There are common Franco-German history books, common university departments, common European holidays, but that is only the start of the beginning.
Europe is an immensely heterogeneous continent and is growing ever more diverse with successive enlargements. Europe's history is one of bloody wars and hostilities. Europe does not have a common language; the modern lingua franca is English, the language of global culture and of the steamroller empire, the USA. The evolution of a European identity will be a long process; there can be no doubt about it. There have been many attempts to unify Europe, largely through conquest and subjugation, but none of them tried to create a common European identity; forcing a central ideology on the continent was the closest they came. De Gaulle's vision of a Europe stretching from the Atlantic Ocean to the Urals was a political idea, which was essentially based on the 19th-century principles of cooperation between nation states. European peoples have been united temporarily within one empire, but sharp cultural borders never ceased to exist for a moment. Is there any way to change that?
A large-scale public opinion survey asked European citizens how their feeling of European citizenship could be reinforced some six years ago. Unsurprisingly, one third replied: by elevating the welfare state to the European level. A clear rift between the 'old' and the 'new' member states is observable in this respect: in the poorer Eastern part of Europe (where accession to the Union is seen as justice having been served), more than half of the population considers European action in the area of social welfare essential, while in the richer west less than a third think so. About 27% of the survey's respondents picked the European Constitution as their first choice and 16 ticked the box next to a directly elected European president. These latter two choices are conspicuously political and not related to people's daily lives at all. Which only goes to show how distant Europe is from the man in the street; the EU is a political rather than a daily issue. Only one in twenty respondents thought it would be important to have a common European Olympic team.
Few Europeans are involved in "European activities": only 43% maintain active links with citizens from another member state, although the differences are vast from one country to another. This ratio is three quarters in the Netherlands and one fifth in Hungary. Only every third European citizen traveled abroad in 2005, which may sound impossible, but by 2015 this figure increased primarily due to low-cost air tickets. More encouragingly, almost a quarter of respondents claimed to regularly read the press or books in a language other than their mother tongue. The Irish and the British were at the bottom of the list; English (or rather American) being the modern lingua franca as their native language means that they do not need to use a foreign language as much as non-English speakers. Young urban Internet-savvy graduates live the most European lives and are the most fervent supporters of European integration. The same enthusiasm for Europe is not present in society as a whole. While two thirds of citizens declare an interest in domestic politics, less than half are concerned about European politics and the level of knowledge about how the European Union functions is generally very low.
Symbols play a central role in building a European identity even though their impact is limited, except for the single currency. The European flag or anthem are not serious alternatives to and are unlikely to replace national symbols any time soon. It is a telling fact that the most tangible symbol of Europeanness — the euro — features unidentifiable bridges and buildings on the notes. Anywhere else in the world it would be unthinkable not to have a single famous building, monument, personality or typical animal on euro notes. It is easy to guess why it is so: Leonardo is considered Italian, Joyce Irish, Mozart Austrian and not European. Putting anyone famous on the back of a euro note would only lead to diplomatic wrangling between the member states, which is best avoided. Europe is not strong when it comes to symbols, maybe because it has too many: a dozen could be named for every one of its 27 member states. Politically motivated pan-European cultural projects such as the bilingual television channel ARTE do not really work. ARTE, the brainchild of Helmut Kohl and Francois Mitterand, epitomizes the reality of European identity: cold, high quality, elitist programming, but not pan-European in nature, merely a mishmash of German and French programs.
Eurobarometer – a programme of opinion surveys taken on behalf of the European Commission – asked people to name the first adjective that came to their mind when they heard the words "European Union". Close to two thirds said democratic and modern, roughly half said protective, technocratic and inefficient. (Obviously one respondent could pick more than one adjective.) Polls reveal just how little people knew about the functioning of the European Union
A poll in 2008 showed that two fifths of the French felt they were truly European citizens. This figure has not changed for fifteen years. This poll of a thousand adults indicated that 54% of French people would feel more European if the President of the European Council (the European Council being constituted by the national heads of state and government) was elected directly, instead of being appointed by the heads of state and government behind closed doors. Attachment to the European idea has not changed in France since the adoption of the Maastricht Treaty in 1992, when 37% of French people considered themselves European "often or very often". Today this figure is 38%. Following the record low turnout in the elections to the European Parliament in 1999, when 53% of French voters stayed at home, the feeling of Europeanness was reinvigorated by the introduction of the euro and by the public debate preceding the referendum on the European Constitutional Treaty in 2005. The rejection of the Constitution did not change the French electorate's feelings about belonging to Europe. To 54% of French people, the single currency is what best symbolizes Europe. Only 12% picked the European Parliament and 9% the European Commission as Europe's best symbol. The French see the common European economy (39%) and democracy (35%) as key values holding the continent together. The poll made it abundantly clear that the French (too) have only a rudimentary knowledge of how the European Union and its institutions work. Even though Members of the European Parliament have been elected directly since 1979, 36% of respondents thought they could not vote in elections to the Parliament, and 48% were unaware that foreign European nationals could vote in municipal elections in the country of their residence. Since then, mainly due to the stubborn economic slowdown and crisis, Euroskepticism is on the rise all across member states, which is obviously against the reinforcement of the sense of a common European identity.
Clearly, we cannot yet talk about a defined and generally accepted European identity, or a European public or a European state. Still, with only virtual borders left inside much of the European Union, economic and social ties the closest they have ever been and the EU becoming active in new areas, European citizens are bound over time to develop a feeling of Europeanness and some kind of a European identity. The concept of a European identity is difficult to define and more difficult to measure than, say, public support for European integration. As John Lukacs wrote:
"Nation and state – they are two different things. States are losing power and significance fast. Nations retain their essence. That is one of the — many — shortcomings of the European Union. We have a long way to go before we can talk about a united Europe; we are only at the very beginning of this arduous journey. European self-identity, the European spirit is but a faint glimmer."
Europe has become more than just an economic community, but is far from being a country. European citizens are not strongly attached to the EU and there aren't any European myths, dreams, visions, customs or languages which could constitute the bedrock of a pan-European identity. Towards the twilight of his life Jean Monnet, one of the Founding Fathers of the European Union, said to be lamenting: "If I could start again I would start with culture and not the economy".
There is no denying that Europe's peoples, nations and increasingly cosmopolitan new generations are drawing closer and closer, even if Euroskepticism is rising. Old enmities are fading, the old wounds have healed, which is quite an achievement in itself. This should be reinforced by education, started already at elementary level: explaining and thereby reinforcing the advantages of our community to school kids across the continent. The new Erasmus generation may bring about the change. They may see and support a European Union team at the Olympics in 2024 at least in curling.
[1] Emanuel L. Paparella for one refers to five different aspects or models of European identity (Revisiting Europe's Cultural Identity, Moderndiplomacy.eu): 1. Historical-cultural identity — This model of European identity refers to a perceived common European past with cultural roots and common values. 2. Political-legal identity — In order to bypass the ethnic dimension in European identity, politicians favour a republican reading which is based upon citizenship, representation and participation. 3. Social identity — it focuses on the popular basis of politics: often referred to as a 'people's Europe'. 4. International identity — In terms of social collectiveness, this is probably the weakest interpretation of European identity which is typified by governance or regime approaches. 5. Post-identity commonness — this model strives to avoid the identity-trap by applying post-modernist and postnationalist theories.
What lies ahead for Meloni's Italy
Not many would have predicted that 100 years after Benito Mussolini's Black Shirts marched on Rome, a leader claiming lineage from the same political ideology would ascend to power. Georgia Meloni is on her way to become the first woman Prime Minister of Italy, hailing from a party that emerged out of the neo-fascist Italian Social Movement (MSI). Her rise to power is as dramatic as that of the fascist dictator. Brothers of Italy, which Meloni founded in 2012, recorded a measly 4.3% of vote in the 2018 elections. In the four years since, the party has gained significant ground and is now set to win 26% of the vote in a coalition with Matteo Salvini's Lega and Silvio Berlusconi's Forza Italia. With the right wing coalition coming to power, major shifts in Italy's domestic and foreign policy are expected. But taking command at such a turbulent time will be a task easier said than done. Hence, it will be interesting to see what course Meloni's coalition might take.
As things stand, Italy is edging towards a major economic crisis. The continued war in Ukraine has terribly affected Italy's economic growth in the post-pandemic era. The rising prices of energy resources and supplies have held back household consumption, slowing the rate of recovery. The economic growth projection for 2022 stands at 2.5% while 2023 is estimated to see a further fall to a mere 1.2%. Italy's debt crisis has also severely worsened with rising interest rates in the post-pandemic years. The national debt currently stands at about $2.9 trillion which is estimated to rise steadily, touching $3 trillion i.e. around 150% of the GDP by the end of 2023.
In her election campaign, Meloni has addressed these economic woes with a populist vigour. Meloni advocates for a protectionist stance. Her policies include a business-friendly dispensation, steep tax cuts for all, early retirement and amnesties to settle tax disputes. While the right-wing coalition manifesto pledges ambitious spending plans, Meloni has promised to keep the public finances in check. Key to keeping the economy afloat and achieving these targets will be the new government's efforts to meet the reforms and targets agreed by the Draghi administration and the European Union to obtain the €750 billion Covid recovery and resilience fund. Meloni has already indicated that she will seek some changes to the agreed plans, making it a priority for her new coalition.
While Meloni will become Italy's first woman Prime Minister, her case presents an example of weaponising women empowerment to further autocracy. Under her leadership, Brothers of Italy has rolled back women's rights in the localities it governs. These rollbacks include making abortions harder to access. Her party's slogan – "God, Fatherland, Family" – is reflective of their intentions of leading a patriarchal setup in the guise of a woman leader. With their coalition coming to power, it is likely that Meloni and her party will continue on the route of further cutting back on women's rights and freedom.
The right-wing parties have stressed on the importance of Christian conservative familial values in their election campaign. This has resulted in vicious attacks on what Meloni calls "the LGBT lobbies" who have "harmed women and family by destroying gender identity." Last year, Brothers of Italy and Lega blocked ratification of the Zan bill which sought to categorise violence against the LGBTQ+ community as a hate crime. The two parties opposed the bill, calling it unnecessary and against freedom of expression.
Another part of Meloni's populist rhetoric are her claims of "ethnic substitution." She has repeatedly claimed that Italian identity is being erased by the globalists and EU officials, who have "conspired" to unleash "uncontrolled mass immigration." In the past, she has infamously proposed a naval blockade of the Mediterranean to stop migration to Italy. While the coalition has promised stricter border controls, blocking boat landings and establishing EU centres to evaluate asylum applications; they have also assured to regulate legal migration more smoothly, with initiatives to integrate recent immigrants.
Meloni's stance on the European Union has been the highlight of her election campaign. While she no longer advocates for a complete withdrawal from the organisation, Meloni is vehemently against its current state of operations. "I want a Europe that does fewer things and does them better, with less centralism, more subsidiarity, less bureaucracy, and more politics," she said. She has pushed for an 'Italy first' approach, countering the regional integration of the EU. Addressing a rally in Milan earlier this month, Meloni said, "In Europe they are a bit worried. The fun is over, Italy will start to defend its national interests, as others do." Meloni has indicated her support for Poland and Hungary in their current ongoing dispute with the European Commission and the European Court of Justice. She has previously made her admiration of Hungarian Prime Minister Viktor Orban clear, calling him a 'democratic leader' in the face of stark EU criticism over authoritarian measures.
While Meloni and her coalition have been critical of the European Union, it is unlikely that it will lead to drastic changes in the Italian policy towards EU integration. The economic challenges that the new government finds itself in will largely affect its decision making. To obtain a much needed relief fund from the organisation, it is important for the coalition to agree to certain terms proposed by the EU. Hence, while they can be a bit more assertive in their approach, complete rejection of the EU is not on the cards.
However, Italy's foreign policy is set to see new developments. Meloni has previously condemned Russia's war on Ukraine, supporting sanctions against Russia and supplying weapons to Ukraine. "It is the tip of the iceberg," she said, calling the conflict's objective as "revision of world order." Meloni has also been critical of China, condemning the country's "economic expansion measures." In 2019, Italy became the first major nation to participate in the Chinese Belt and Road Initiative (BRI), a programme to expand Beijing's economic outreach. Meloni has since criticised the pact as a "big mistake," indicating that Italy will re-evaluate its stance on the pact under her administration. She has also been vocal about the Taiwan issue, calling it an issue of "essential concern for Italy." She also described Chinese threats against the island "unacceptable," calling Taiwan and Italy's relationship a "sincere friendship."
Giorgia Meloni is not so different from the Trumps and Bolsonaros of our world. She gained popular support on the back of economic failure under the previous administrations and emerged as the clear winner once Mario Draghi resigned following the economic and political turmoil. Meloni fills the void that the centre-left parties have failed to address so far. She has presented herself as a new alternative against an opposition that now seems much distant from the needs and aspirations of the people. Her populist rhetoric has only helped to further fuel her rise to power. Facing economic catastrophe for the longest time, the Italians now demand security and stability. However, her anti-immigration and anti-EU policies do not present an answer to the problems Italy faces. Her populist rhetoric is highly unfortunate and raises the threat for hate crimes in the future. Her authoritarian stance coupled with the 'Italy first' rhetoric will not fare well in the future. In deep economic stress, Italy needs to welcome immigrants who can actively contribute to their economy and stabilise the turbulent waters.
Furthermore, Meloni's election presents a threat to the democratic system in Italy. The right-wing coalition is in a position to negotiate a constitutional amendment that approves the President to be elected directly by the people. Currently, the President is elected by an electoral college which was setup in 1948 as a measure to prevent the future possibility of a government takeover by the fascist forces. While the Presidency is a figurehead role in the country, Brothers of Italy have advocated for a more robust head of state with a popular mandate. This advocacy for "Presidentialism" may have grave repercussions for Italy's democratic setup, making the President a politically motivated role which will severely affect the system of checks and balances in the present system.
It is difficult to say whether Meloni's coalition will be able to weather the storm in the coming years but one thing that is certain is that this election is one for the history books where victors are set to write the fate of Italy, once again.
Smile Diplomacy: From Putin to Macron
In the world of politics, what should be done when things don't go according to plan? The answer of Talleyrand, the French politician of the 18th and 19th centuries, was simple: organize a conference!
Perhaps it is due to this lesson from the French politician and diplomat that Vladimir Putin held his conference under the title of "Economic Boom of the East" in the port of Vladivostok, and French President Emmanuel Macron is going to start his conference under the title of "Political Council", Europe" next month in Prague, the capital of the Czech Republic.
Let's talk about Putin first. No matter how we look at it, the course of things is not as intended. The war in Ukraine is practically frozen in a north-south line. The pitched battles, the use of heavy artillery, the high casualties, and the ever-increasing logistical problems are more reminiscent of the First World War, or even the Crimean War than modern 21st-century war.
Last week, the first sign of Putin's desperation to fully win this war appeared. In a short televised address, the Russian president claimed that his goal was to preserve the "Russians" of the Donetsk and Luhansk regions. In other words, it has moved away from its initial portent of removing Ukraine from the map as an independent country. Is he now calling for a limited deal that would put parts of eastern Ukraine under Russian control forever, if ever? No one knows the answer to this question, except maybe Putin himself. But, surprisingly, neither Volodymyr Zelensky, the president of Ukraine, nor his American and European supporters have shown any attention to this possible retreat of Putin.
Failure in the war is not Putin's only concern. Contrary to his claim that Western sanctions have not affected the Russian economy, it can be seen that things are not going as planned on that front either. Of course, Russia has been able to find new customers for its oil—customers like India, China, and Turkey, which have reduced their purchases from Iran and Iraq by receiving significant discounts to take advantage of the Russian auction.
However, double-digit inflation, the closure of hundreds of factories, widespread shortages of many goods, a 25 percent drop in viewership of Putin's state television, and the flight of tens of thousands of middle-class citizens show that the sanctions are having little effect.
The Vladivostok conference was formed with the slogan "The future is from Asia". Putin's message was: "Asia builds the future, while the West falls."
Of course, we heard this slogan in the 1950s, during the last years of Stalin's rule over the Soviet Union. Stalin spoke of "Young Asia and the West of Fertut". Today, Putin plays the same music with notes from the Tsarist Imperial Symphony added.
According to Khmiakov, the Pan-Slavist guru, Russia is a "two-headed eagle": one head looks to the East and the other to the West.
In the beginning, the double-headed eagle was the symbol of the kings of Hayatele in Asia Minor; But after a few centuries, the Byzantine emperors usurped it. In 1471, Ivan III, Tsar of Russia, married Princess Sophia, the daughter of the Byzantine Emperor, and the symbol of the double-headed eagle was assigned to Russia. Today, Putin is bringing this symbol, which was abandoned during the Soviet Union, back to the scene.
However, an eagle facing east is nearsighted. Out of 49 Asian countries, only 17 countries appeared seriously in this game. None of the heads of Asian countries were present at Putin's show. The highest-ranking foreign personalities were the Prime Ministers of Armenia and Mongolia. General Ming Aung Heliang, the leader of the Myanmar (Burma) coup plotters, was also present. But China was represented by Li Zhangsu, the third leader of the Communist Party. Even the leader of North Korea, Kim Jong Un, did not accept the suffering of a trip to Vladivostok. Major Asian economic powers such as Japan and South Korea, or even Taiwan, were not present.
Putin's hope is to develop the "Eurasian" bloc, which was formed years ago to compete with the European Union, but it never got anywhere. However, even if the participants in the Vladivostok conference were to join the bloc, they would collectively account for nearly 20 percent of global GDP. Currently, almost all of them are closer to the European Union and the United States than to Russia in terms of foreign trade. Russia's own share of trade with bloc countries does not exceed 12%.
From any angle, the Vladivostok gathering is one of those shows that are referred to as "posturing" in the diplomatic dictionary. In this show, the host appears as the leader of a large group, but in reality, there is no group. The choice of Vladivostok, which means "ruler or emir of the east", maybe a coincidental sign of Putin's illusions to lead Asia.
It is interesting that in Vladivostok there was no mention of the war in Ukraine. None of Putin's entourage was wearing a T-shirt with the letter Z, and his bulletproof car did not have a Z mark.
The participants of this show undoubtedly know that Moscow is closer to Berlin than Vladivostok and whatever the underbelly of history, Russia's national and cultural orientation is to the West, not to the East. Alexander Herzen, a 19th-century Russian writer, wrote: "Russia looks to the East to remember what dangers threaten its existence, and looks to the West to find out how to neutralize those dangers."
Currently, Putin is not the only leader who is trying to polish his political image by playing the conference game. French President Emmanuel Macron is also busy organizing Smile Diplomacy. The Prague conference for the formation of the "Political Council of Europe" is a platform for introducing Macron as a strong European leader. With Britain mired in crisis, Germany governed by a floundering coalition government, and Italy on the brink of an election with uncertain results, Macron hopes to present France as the anchor of Europe's stormy ship.
Macron's failure to win an overwhelming majority in the parliamentary elections has limited his possibilities to exert power in the domestic political scene. Therefore, like many politicians in a similar situation, he turns to show his power in the foreign policy scene.
But Macron's show, many analysts believe, will not have a better result than what Putin achieved in Vladivostok. In a sense, Macron's show may even be harmful. Trying to prevent Turkey's participation, under the pretext that a large part of Turkey is located in Asia, can deepen the gap between Western powers and Turkey.
Turkey's exclusion from the Prague show could help re-elect Recep Tayyip Erdogan as president. Using an anti-Western discourse and being closer to Russia along with claiming to be the leader of the Islamic world, Erdogan is trying to distract Turkey's public opinion from its failure in economic and social fields. In the last two decades, this is the first time that Erdogan is on the verge of an electoral defeat. Macron's anti-Turkish stance could be a bitter irony that guarantees Erdogan's victory.
Macron's proposal has other disadvantages as well. First, one should ask what is the need for another "conference" in Europe. Aren't the "European Security and Cooperation Organization" and "Council of Europe" which include all countries of the continent enough? After all, didn't Britain leave the European Union under the pretext that it does not want Europe to participate in the regulation of London's policies? Is the "Brexit" government willing to participate in a new grouping, with unknown goals and criteria, after leaving an established union with clear goals?
Currently, a growing trend across Europe, from Poland to France, is to move away from continental groupings. Even the European Union has lost some of its legitimacy and popularity at this time. The growing trend in most European countries is towards limited nationalism within the borders of each country, emphasis on national sovereignty, and striving for self-sufficiency. In other words, the globalism of the past two or three decades is receding and bilateral relations are becoming more acceptable.
You might say that Smile Diplomacy in Vladivostok or Prague wouldn't hurt anyway. Unfortunately, this assessment of yours is not correct. Smile Diplomacy masks the fact that Russia and Western Europe do not currently have the ability or will to emerge from the crisis caused by war, economic stagnation, inflation, and environmental threats. Smile Diplomacy offers sideshows instead of serious policies.
Dramatic games allow Putin to mask his failure on the battlefield. On the other hand, Macron and other European leaders hide their inability to stop the war in Ukraine with the Prague show. Both sides are still dreaming of "victory". Unaware that war never has a winner, because in every war both the victor and the vanquished will be losers in the end. Zelensky seems to think that defeat is better than surrender because it at least offers the badge of hero and martyr. On the other hand, Liz Truss, the new British Prime Minister, speaks of "victory". The demonstrations in Vladivostok and Prague prevent these irresponsible positions from being seriously discussed.
In a Crisis-Laden World, Serbia Should Think Green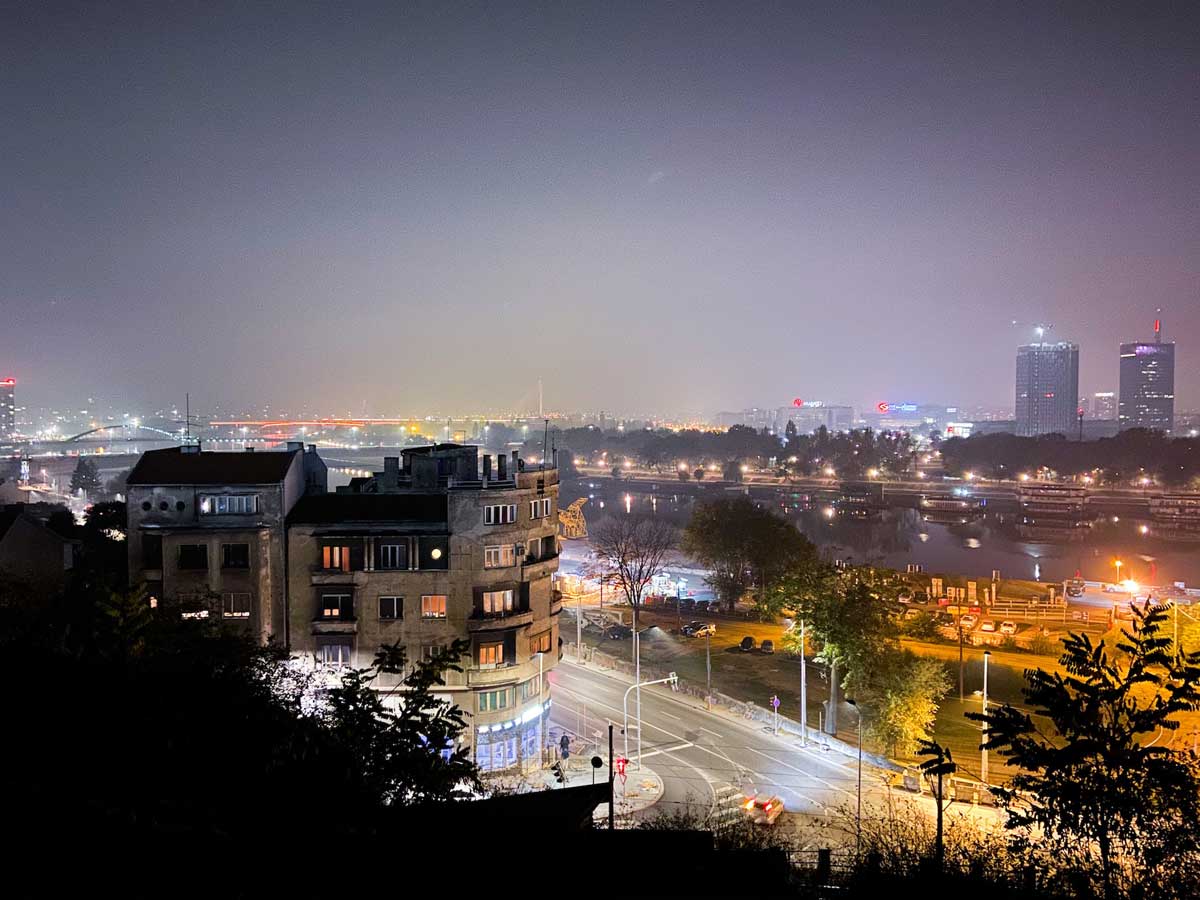 Countries around the globe are facing persistent economic headwinds. Trade and supply chain disruptions resulting from the Covid-19 pandemic, the war in Ukraine and extreme weather, have led to surging food and energy prices. Inflation is increasing at an alarming rate in many countries and economic growth is slowing. Policy makers around the world face difficult challenges and complex trade-offs. They need to maintain fiscal sustainability and rebuild economic buffers depleted during the pandemic; but also cater for the needs of the most vulnerable, who feel the impact of higher food and energy prices. As winter is approaching, countries in Europe are scrambling to secure sufficient energy supplies to keep homes warm and factories running. In this challenging context, the urgency of actively expanding renewable sources of energy, pursuing greater resource efficiency, and transitioning away from energy and emission-intensive industries is greater than ever.
Growth outlook
The World Bank expects global economic growth to slow in 2022 to 2.9 percent, from 5.7 percent in 2021. A small and open economy like Serbia will feel the impact of the global slowdown. For Serbia, in 2022, we project an economic growth rate of 3.2 percent, following a 7.4 percent expansion in 2021. Serbia is equally feeling the impact of rising inflation: the NBS expects an inflation of nearly 14 percent in the third quarter of this year.
Higher energy prices have put pressure on current account balances for energy importers around the world. Serbia has also been affected. Its utilities have incurred exceptionally high costs of importing electricity and natural gas on the wholesale markets. While the government has financially supported these companies, it has so far only partially passed these additional costs on to consumers.
Mitigating the impacts of the energy crisis remains the biggest challenge for the new government. Serbia entered the current crisis in a strong macro-fiscal position, but fiscal space is limited. Short-term measures to support households and small and medium enterprises will need to be targeted, time-bound, fully budgeted, and transparent.
Despite the pressures, it is essential that policymakers do not lose sight of structural reforms that would boost Serbia's potential rate of economic growth over the medium-term, including steps to increase market competition, reform state owned enterprises, raise human capital and productivity, and improve the efficiency of public spending.
Green Serbia
Sustaining long-term growth and resilience also requires putting the 'green agenda' at the center of policymaking. The country can do more to increase energy efficiency and lessen the impact of pollution on the health of people and the environment. Staying 'brown' runs the risk of slowing down Serbia's accession to the EU, compromising access to finance, creating trade barriers, limiting the take up of modern technology, and failing to boost productivity. Going 'green' would be beneficial on all these fronts. It would also facilitate the structural transformation of the economy through the adoption of new technologies and knowledge. All this will require measures to facilitate a 'just transition' for workers and communities who depend on polluting industries for their livelihoods.
Serbia is a signatory to the Paris Agreement under the United Nations Framework Convention on Climate Change, aiming for a climate neutral world by mid-century. The Government recently published its updated Nationally Determined Contribution under the Paris Agreement, pledging to cut greenhouse gas emissions by 2030 by 33.3 percent compared to 1990. Accompanying plans and strategies are under preparation, but the direction of travel is clear: Serbia urgently needs to boost domestic renewable energy production, increase energy efficiency, and gradually lower dependency on fossil fuels, especially coal and oil, for power generation, heating, and transport.
The World Bank is supporting Serbia's progress on all these fronts both through financial and technical assistance.
Op-ed originally published in Kurir daily via World Bank