Time to invest in Russia despite sanctions threat?
The 10 most important things you need to know on Caspian Sea Region for Thursday, June 11:
1Time to invest despite sanctions threat? "Despite this uncertainty, however, some market participants argued there were "bargains" in Russia."There is significant opportunity here. The one thing with Russia is that it generally goes from being the worst (performing) stock market to the first stock market in a very rapid rate," Simon Fentham-Fletcher, chief information officer of Freedom Asset Management, told CNBC Europe's "Squawk Box" Wednesday. His company specializes in investment in emerging markets, such as Russia. Certain sectors – such as retail and real estate – were thriving, Fentham-Fletcher said, speaking from Moscow" writes Holly Ellyatt for the CNBC.
2Duqu 2.0: computer virus 'linked to Israel' found at Iran nuclear talks venue. "The security company Kaspersky discovered the virus, which it said was a new variant of the Duqu worm, itself a variant of the state-sponsored computer virus Stuxnet, used to attack Iran's nuclear infrastructure in 2010. Known as Duqu 2.0, the new worm was, Kaspersky said, used to attack three European hotels where the P5+1 talks involving the US, UK, Germany, France, Russia, and China with the EU concerning Iranian nuclear capabilities were held over the last 18 months. Kaspersky did not identify the hotels or say who was behind the attack. However, Israel is thought to have deployed the original Duqu worm to carry out sensitive intelligence gathering" writes Samuel Gibbs for the guardian.
3In his opening speech at the Fifth Congress of Leaders of World and Traditional Religions Wednesday in Kazakh capital Astana, President Nazarbayev said the trust that has been built in the decades since World War II has been lost. Describing Islam as a "tolerant" religion, Nazarbayev said that it was "blasphemous" to use it as an excuse for extremism and terrorism."The destruction of centuries-old cultural heritage sites in Iraq and Syria cannot be called anything else but anti-humane acts," he said. Kazakhstan can be a model for religious freedom, added Nazarbayev, "The key foundation is tolerance and openness." Attended by 80 delegations from 42 countries, the two day inter-religious meeting, which takes place once every three years, is aimed at shaping resolutions for global threats and challenges through communication among religious leaders.
4Azerbaijan blocks Amnesty visit ahead of European Games. Denis Krivosheev, Amnesty's deputy director for Europe and Central Asia, said the crackdown by authorities "only highlighted their desperate attempts to create a criticism-free zone around the games". He added that the legacy of the event would be to "further encourage repressive authorities around the world to view major international sporting events as a ticket to international prestige". In its new report, the London-based group said the government's campaign against activists had left Azerbaijan "without independent voices"."Behind the image trumpeted by the government of a forward-looking, modern nation is a state where criticism of the authorities is routinely and increasingly met with repression," said the report, which was released on Wednesday. [BBC]
5Kazakhstan has finished negotiating the terms of a deal to join the World Trade Organization (WTO), capping 20 years of efforts to take part in the world of mainstream commerce. The country's WTO accession package will go for final approval before WTO members on June 22."I congratulate WTO members and the government of the Republic of Kazakhstan on the historic step taken today," WTO Director-General Roberto Azevedo said on June 10. "I look forward to welcoming Kazakhstan to the WTO."Ambassador Vesa Himanen of Finland, who chaired the WTO working party that negotiated the deal with Kazakhstan, said it was "one of the most challenging negotiations in the 20-year history of the organization." [TASS]
6Russia has no contract with Iran to import its oil, but may help resell it on the world market, according to Russian Energy Minister Alexander Novak. Already the two countries cooperate in a variety of commercial sectors. One key aspect is Russia supplying fuel for Iran's nuclear power reactor at Bushehr in central Iran on the Persian Gulf coast. Last August' deal could be essential for Iran, whose crude exports have plunged by more than half – from 2.5 million barrels per day to about 1 million barrels per day – since 2011, when the international community tightened sanctions. Any company trading with Iran is forbidden under the sanctions from doing business with the U.S. and Europe. Iran recently has expressed hope and even confidence that the sanctions imposed on it may be lifted soon" writes Andy Tully for the Oilprice.
7BRICS Bank Could Change the Game. "There are challenges to overcome. Researcher Wood thinks that "the bank's short term challenges will be logistical, completing basic things like hiring staff, building internal operational procedures, and so on. Once this is completed, two larger challenges will present themselves. First, making a decision on what projects to fund, which will involve answering difficult questions on what type of projects the bank prioritizes, where it most wants to operate, and what role political priorities might play. Second, would be in building relationships with existing funders, like the World Bank and AIIB, to assure the BRICS bank doesn't have to bear all the risk of the projects it gets involved in" writes Kester Kenn Klomegah for the Modern Diplomacy.
8Why Almaty should get the 2022 Winter Olympics. "In contrast with the grassroots opposition that scuttled Norway's bid, Kazakhstan's bid has overwhelming public support. Two polls were conducted to gauge national opinion on the Games. A poll that the International Olympic Committee commissioned showed 87 percent support. A poll that the Almaty 2022 organization conducted showed 79 percent support. One reason Almaty's cost proposal is so reasonable is because it's already built or renovated most of the facilities needed for the Olympics. A lot of the work was done for the 2011 Asian Winter Games – the building of a ski jump and the renovation of the Medeu skating rink, for example. Almaty will build additional facilities for the 2017 Winter Universiade, an Olympic-caliber event for student athletes 17 to 28" writes Hal Foster for the Tegri News.
9Iran and Azerbaijan are two neighbor countries and friends with lots of cooperation in various sectors which has grown in recent years and can go further, Jalil Eslami, deputy director of ports and special zones affairs of Iran's Ports and Sailing Organization told Trend June 10. The official stressed that maritime cooperation can help Iran-Azerbaijan relations. There are agreements on cooperation in the maritime sector and there are sisterhood pacts between Iranian and Azerbaijani ports, he said. Eslami in particular pointed to maritime transit and tourism as one of the sectors with great development opportunities. Having in mind the growing tourism attractions, it is necessary to provide the infrastructure for transporting over 25 million passengers by 2025, and improving the quality and quantity of maritime transportation services, he noted.
10Russia's Unending Balkan Intrigues. "Russia's Leninst-style foreign policy egoism as well as its historical efforts to oust the West from the Balkans and create a sphere of influence there go hand in hand; together, they represent Moscow's unending efforts to control the Balkan region. One of the most practical regional issues for Moscow is the transmission of Russian energy through the Balkans to Central Europe. Russia aims to cement a monopoly on providing this energy; yet, it neglects to do the practical things necessary to build pipelines or win local governments' willing assent to its plans. In seeking to eliminate rivals to its regional energy strategies, Russia is obstructing Azerbaijan's efforts to buy a 66-percent stake in the Greek gas grid operator DESFA. Moscow has long coveted not only the Greek grid but also other distribution networks throughout Europe" writes Stephen Blank for the Jamestown.
Myanmar coup: 'No sign' of end to brutal crackdown on all fronts
One hundred days since the Myanmar military seized power, the "brutal" repression of protesters has continued, despite all international efforts to end the violence, the UN rights office (OHCHR) said on Tuesday.
"The military authorities are showing no sign of letting up in their brutal crackdown on opponents in a bid to consolidate their hold on power", spokesperson Rupert Colville told journalists at a media briefing.
According to credible reports, as of 10 May, at least 782 people have been killed as security forces used unnecessary, disproportionate and lethal force, to suppress demonstrations and other forms of public participation, since the military coup on 1 February.
"While much of the world's attention has been on the number of peaceful protesters and bystanders killed by the security forces, the authorities continue to commit other gross human rights violations against the people of Myanmar", added Mr. Colville.
The OHCHR spokesperson called for greater international involvement to prevent the human rights situation there from deteriorating further.
In particular, he urged the Association of Southeast Asian Nations (ASEAN) to "react quickly and to intensify its actions" to ensure Myanmar's military leadership adheres to the commitments it made in the five-point plan agreed at the regional bloc's meeting of leaders on 24 April, in Jakarta.
The five-point consensus agreed to an immediate cessation of violence in Myanmar and that dialogue should be held among all parties to seek a peaceful solution in the interests of the people.
'Daily raids' on homes and offices
Mr. Colville went on to note that there are daily raids on private homes and offices, with more than 3,740 people currently in detention, including many in situations that may amount to enforced disappearances.
"Of those in custody, the vast majority have not been brought before a judge, while most of the 86 people prosecuted thus far have been tried in secret, with limited or no access to any form of legal counsel", he said.
"Military tribunals and courts martial have been established in several townships in which martial law was declared. At least 25 individuals have received the death sentence to date – some 20 of whom were tried in absentia."
Military 'taking relatives'
Over the past month, the military leadership has issued more than 1,561 arrest warrants against civil society activists, trade unionists, journalists, academics, public personalities and online voices, driving the vast majority of them underground.
"To intensify pressure, the military authorities have resorted to taking relatives of wanted people into custody to force them to turn themselves in to the police", Mr. Colville said, adding that there is also increasing pressure on civil servants to go back to work.
In recent weeks, more than 3,000 civil servants – nearly 70 per cent women – have been dismissed, removed, or suspended by the coup leadership. Those suspended also include 990 university professors, researchers and assistants.
In addition, there are reports that up to 11,000 more workers in the education sector were suspended on Monday.
'Deeply concerned' for those fleeing persecution
The OHCHR spokesperson also voiced "deep concerns" for the people fleeing persecution, especially human rights defenders and journalists.
According to the UN refugee agency (UNHCR), several hundred people from Myanmar have crossed into Thailand and India in recent weeks.
The people seeking safety outside Myanmar must receive such protection and support from Myanmar's neighbours, Mr. Colville urged, adding that while it can take time to decide whether an individual fleeing the country is a refugee or not, "at the very least they should be treated as an asylum seeker and not forced to go back".
"This is particularly important for people with jobs as sensitive as journalists and those active in the civil disobedience movement, opposing the Tatmadaw (Myanmar's military)."
Vaccine inequity posing 'significant risk' to global economic recovery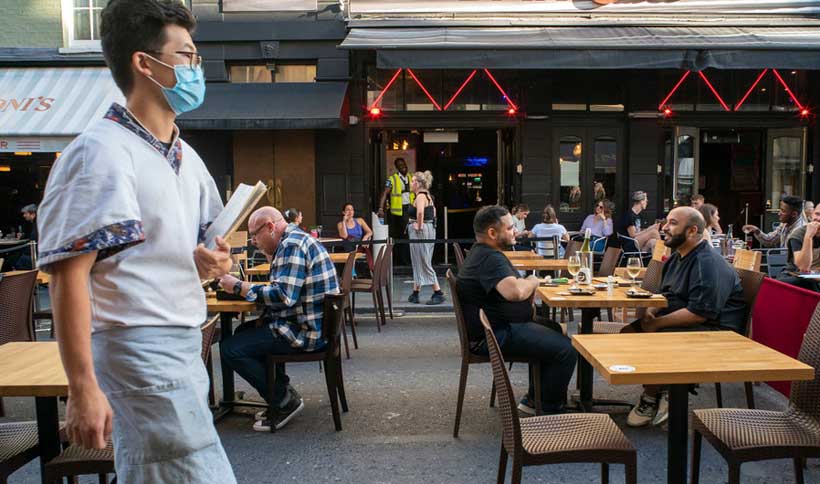 Although the outlook for global growth has improved, the ongoing impacts of the COVID-19 pandemic, as well as inadequate progress on vaccination in poorer countries, are putting recovery at risk, according to the latest UN economic forecast, published on Tuesday.
The World Economic Situation and Prospects (WESP) mid-year report warned widening inequality is threatening global growth, projected at 5.4 per cent this year.
Vaccine access critical
"Vaccine inequity between countries and regions is posing a significant risk to an already uneven and fragile global recovery", said UN Chief Economist Elliott Harris.
"Timely and universal access to COVID-19 vaccinations will mean the difference between ending the pandemic promptly and placing the world economy on the trajectory of a resilient recovery, or losing many more years of growth, development and opportunities."
The mid-year forecast updates the WESP report published in January by the UN Department of Economic and Social Affairs (DESA).
It examines the performance of the world economy since the pandemic began, as well as the impact of global policy responses and post-crisis recovery scenarios.
A mixed picture
The 5.4 per cent in projected global growth this year follows a sharp contraction of 3.6 per cent in 2020, and reflects an upward revision from the original forecast.
While the world's two largest economies – China and the United States – are on the road to recovery, growth remains fragile and uncertain in several countries in South Asia, sub-Saharan Africa, and Latin America and the Caribbean.
Many countries will not see economic output return to pre-pandemic levels until 2022 or 2023.
"For a vast majority of developing countries, economic output will remain below 2019 levels for most of 2021", the authors said. "Amid insufficient fiscal space to stimulate demand, many of these countries will face low and stagnant growth and the prospect of a lost decade."
Trade strong but uneven
The report also details strong but uneven recovery in global trade, which has already surpassed pre-pandemic levels due to demand for electrical and electronic equipment, personal protective equipment, and other manufactured goods.
Economies which depend on manufacturing have fared better, however countries which rely on tourism, or commodities, are unlikely to see a quick rebound.
Tourism services in particular, will remain depressed due to slow lifting of restrictions on international travel, coupled with fears of new waves of COVID-19 infection.
Women hit hardest
The pandemic has pushed an estimated 114.4 million people into extreme poverty, with women accounting for around 58 million of that total.
The report found that while women have been at the forefront of the crisis—
representing most health workers, caregivers and essential service providers—they have also been the hardest hit in several ways.
During the pandemic, labour force participation shrunk by two per cent worldwide, compared to only 0.2 per cent during the global financial crisis in 2007-8, but more women than men were forced to leave their jobs to meet family demands. Women-owned businesses have also fared disproportionately worse, according to the report.
COVID-19 has also dealt sharp blows to services for women's health, and reproductive health, and the disruption to education has helped undermine global progress towards gender equality. There has also been a spike in gender-based violence, which UN Women has labelled a "shadow pandemic."
Ensure inclusive recovery
As women are also underrepresented in decision-making surrounding the pandemic, and in economic policy responses, the report highlighted why recovery must be inclusive.
"The pandemic has pushed nearly 58 million women and girls into extreme poverty, dealing a huge blow to poverty reduction efforts worldwide, and exacerbated gender gaps in income, wealth and education, impeding progress on gender equality", said Hamid Rashid, Chief of the Global Economic Monitoring Branch at DESA, and the lead author of the report.
"Fiscal and monetary measures to steer recovery must take into account the differentiated impact of the crisis on different population groups, including women, to ensure an economic recovery that is inclusive and resilient."
UN chief express deep concern over East Jerusalem violence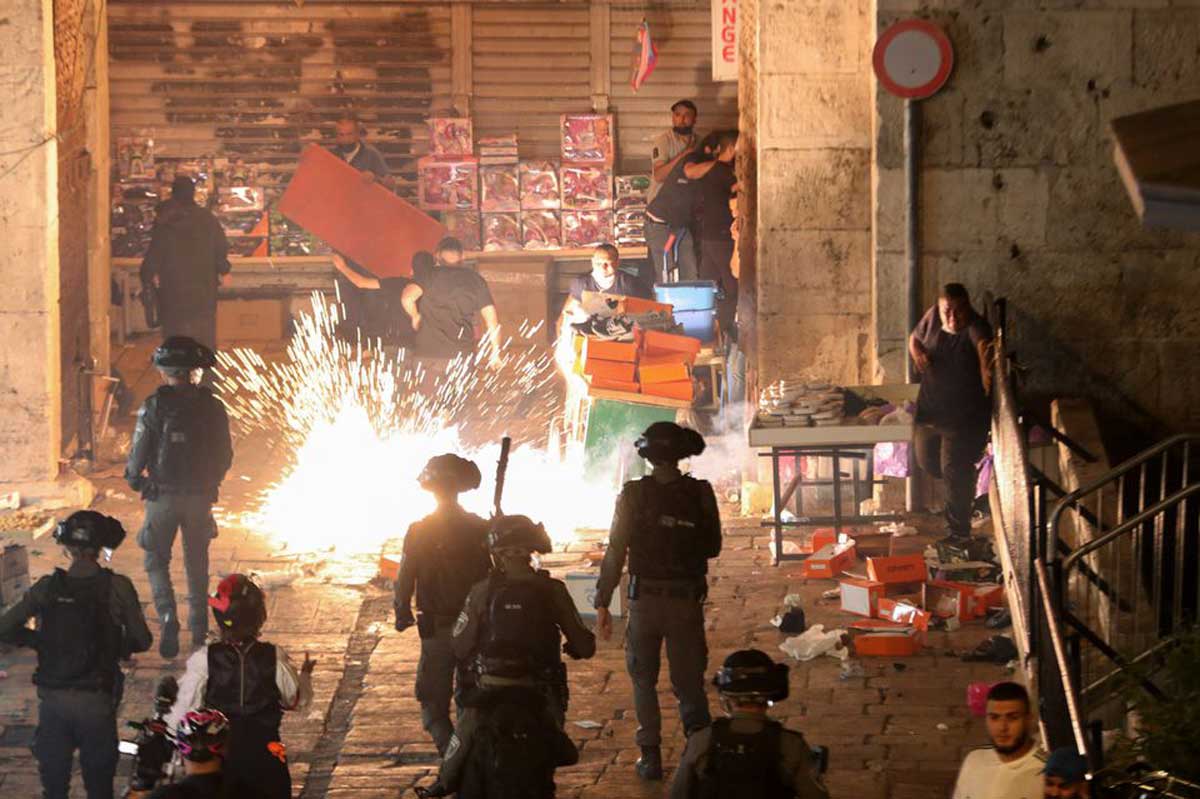 The UN Secretary-General, António Guterres, and senior UN officials have expressed their deep concern over confrontations between Palestinians and Israeli security forces in East Jerusalem, particularly those which began on Friday evening, and continued into Sunday night. Several Palestinian children are among the wounded.
The violence on Friday has been described as some of the worst seen in Jerusalem for many years. Some 200 Palestinians and 17 Israeli Police were reportedly injured in fighting around Haram Al-Sharif/Temple Mount. On Saturday, protesters reportedly threw stones at police, who responded with stun grenades, rubber bullets and water cannons and, on Sunday, fighting continued in East Jerusalem, ahead of a planned march by an Israeli group through the Old City.
The official spokesperson for Mr. Guterres, Stéphane Dujarric, said in a statement published on Sunday evening, that Israeli authorities must exercise maximum restraint and respect the right to freedom of peaceful assembly.
"All leaders have a responsibility to act against extremists and to speak out against all acts of violence and incitement", the statement continued. "The Secretary-General reiterates his commitment, including through the Middle East Quartet, to supporting Palestinians and Israelis to resolve the conflict on the basis of relevant United Nations resolutions, international law and bilateral agreements".
The Envoys of the Middle East Quartet (from the European Union, Russia, the United States, and the United Nations), released a press statement on Saturday, in which they expressed their alarm at "the provocative statements made by some political groups, as well as the launching of rockets and the resumption of incendiary balloons from Gaza towards Israel, and attacks on Palestinian farmland in the West Bank".
Imminent risk of eviction
The Quartet representatives went on to declare their concern regarding the possible evictions of Palestinian families from homes, in which they have lived in for generations, in two neighbourhoods in East Jerusalem – Sheikh Jarrah and Silwan – and their opposition to "unilateral actions, which will only escalate the already tense environment".
This is a reference to a court case involving several Palestinians who face eviction due to a legal challenge by the Nahalat Shimon settler organization. The risk is considered to be imminent for four of the families.
The UN has called for on the Israeli Government to halt all forced evictions and on Thursday, Rupert Colville, the spokesperson for the UN Human Rights Office (OHCHR), warned that, if they take place, the evictions in the Sheikh Jarrah case would violate Israel's obligations under international law.
Saturday's fighting took place on Laylat-al-Qadr, the most holy day in the Muslim month of Ramadan, after large numbers of worshippers had prayed at the Haram Al-Sharif/Temple Mount compound. In their statement, the Quartet
Envoys called on the Israeli authorities to exercise restraint and to avoid measures that would further escalate the situation during this period of Muslim Holy Days.
"We call on all sides to uphold and respect the status quo at the holy sites", the statement continues. "All leaders have a responsibility to act against extremists and to speak out against all acts of violence and incitement".
The statement concluded with a reiteration by the Quartet Envoys of their commitment to a negotiated two state solution.
37 Palestinian children injured and arrested
On Sunday, the UN Children's Fund, UNICEF, urged the Israeli authorities to refrain from using violence against children and release all those children detained.
In a joint statement, Ted Chaiban, UNICEF Regional Director for the Middle East and North Africa, and Lucia Elmi, UNICEF Special Representative in the State of Palestine, noted that 29 Palestinian children have been injured over the past two days, and a further eight arrested. "A one-year-old toddler was among those injured. Some children were taken for treatment at hospitals, with injuries in the head and the spine. This comes amid reports that nearly 300 people were injured in the area".
The senior UNICEF officials said that the agency had received reports of ambulances being restricted from arriving on location to assist and evacuate the injured, and that an on-site clinic was reportedly hit and searched.
The statement called for all children to be protected from violence and kept out of harm's way at all times, for families' rights to access all places of worship to be preserved, and for those injured to be assisted without restrictions.