The 10 most important things you need to know on Caspian Sea Region for Wednesday, June 10:
1As Vladimir Putin makes a rare trip to Western Europe, meeting Prime Minister Matteo Renzi in Milan on Wednesday, what does he hope to achieve? "In truth, it's been apparent since the spring that European leaders were likely to renew sanctions, but this hasn't prevented Mr Putin from seeking out chinks in Europe's armour, whether by wooing cash-strapped Greece or developing ties with Europe's far-right parties, like France's National Front.UK Foreign Secretary Philip Hammond warned of this last week."Of course we are concerned about what is clearly a Kremlin strategy of trying to pick off, shall we say, the brethren who may be less committed or more vulnerable in the run-up to the June decision," he told an audience at the London think-tank Chatham House. [BBC]
2Kazakhstan is interested in investment in Iran's Shahid Rajaee Port in order to facilitate transit of its goods to world markets via the Persian Gulf. Head of the country's national railway company, Kazakhstan Temir Zholy, was visiting the port and the nearby Bandar Abbas on Wednesday for discussions with local officials."The Kazakh side is interested in investing in Bandar Shahid Rajaee for construction of silos in order to store its wheat crop in the port and facilitate shipments," head of the Islamic Republic of Iran Railways (IRIR) Abbas Nazari said. Kazakhstan currently uses Iran's transit railway linking the Caspian Sea to the Persian Gulf to ferry about 11 million metric tons of wheat per year. As Central Asia's largest grain producer, Kazakhstan is looking for shipment routes by sea which is very cheaper for its growing flow of goods.
3Games and Politics: Hearings on the issue of human rights in Azerbaijan are also expected to be held in the United States, and in Baku they already described it as an international campaign against Azerbaijan. What is the reason for such a distinct change in the international community's attitude towards the Aliyev regime? It is noteworthy that out of the "European leaders" only the presidents of Russia and Turkey, Vladimir Putin and Recep Tayyip Erdogan, will be attending the Games opening in Baku. Some analysts believe it is Putin's visit that "scared" European leaders, who would rather avoid meeting him. Besides, many international experts consider the Putin-Erdogan-Aliyev triumvirate to be provocative for the West and dangerous in terms of changes in the situation in the western Eurasian region. [ArmeniaNow]
4Why the G-7 Warning of More Sanctions Won't Worry Russia. "Aside from the structural problem, it is also not clear how far the sanctions can be expanded: Would they be prolonged, or would they target more individuals, or both? In March 2015, the U.S. State Department declared that U.S. sanctions will remain in place until Crimea is returned to Ukraine. That makes U.S. sanctions de facto indefinite. Continental Europe is divided on the issue. As Angela Merkel has said, sanctions should be relied on as only one of the methods of resolving the conflict. The U.K., while adopting a harsh political stance, is open for business with Russia by accepting money that originates from Russia through its tax havens" writes Anastasia Nesvetailova for the Epoch Times.
5Iran, Russia step up trans-Caspian trade. Iran has prepared three ports in the Caspian Sea and added six ships to its fleet for cargo trade with Russia as the two countries are forging stepped-up commercial relationship to counter Western sanctions on both countries. The new shipping route is unprecedented in the chequered history of the two countries' relations and follows a trade agreement signed in March. It allows Russia to sell Iran's crude oil abroad and deposit the money in a fund which Tehran would use to buy goods from Moscow. A separate deal allows Iran to import increased quantities of Russian grain in exchange for Iranian foodstuff, including fish from the Caspian Sea, the Sputnik news agency reported."The most important thing is that by exporting oil, we can gain access to the financial resources we need to buy goods from Russia," Iran's consul to the Russian city of Astrakhan Ali Mohammadi said.
6The Government of Kazakhstan signed a $88 million loan agreement today with the World Bank to foster productive innovation in Kazakhstan. The five-year project will be implemented by the Ministry of Education and Science of the Republic of Kazakhstan to promote high-quality and nationally relevant research and commercialization of technologies. The loan agreement was signed by Bakhyt Sultanov, Minister of Finance, on behalf of the Government of the Republic of Kazakhstan, and Ludmilla Butenko, Country Manager for Kazakhstan, on behalf of the World Bank (International Bank for Reconstruction and Development). The project is the first in a series under the Partnership Framework Arrangement signed in May 2014 between the World Bank and the Government of Kazakhstan, according to the World Bank.
7Business first and foremost. Italy has long had an important economic relationship with Russia and political ties were sufficiently close before the Ukraine crisis. Italy is Russia's third-biggest trading partner after China and Germany with deals between the two countries worth just over 30 billion euros last year. Renzi has said he will not be lecturing the Russian leader, while stressing that Italy stands fully behind international demands that Moscow ensure the respect of a second ceasefire between Kiev and the rebels that was agreed in Minsk in February.
8Nakhchivan Autonomous Republic of Azerbaijan is ready to provide guarantees for Iranian investors, Vasif Talibov, chairman of the Supreme Majlis of Nakhchivan Autonomous Republic said. He made the remarks during the meeting with the governor of Iran's East Azerbaijan province Esmail Jabbarzadeh in Iran. During the meeting with the province's governor, Talibov said that Azerbaijani businessmen are interested in making investments in Iran, including in Aras free economic and industrial zone. There are many spheres for expanding the economic and trade relations between the two countries, he said. Talibov said the bilateral relations between Azerbaijan and Iran are at a satisfactory level and the cooperation between the two countries will develop in the future as well.
9Peeling back Iran sanctions onion no easy task. The Obama administration may have to backtrack on its promise that it will suspend only nuclear-related economic sanctions on Iran as part of an emerging nuclear agreement, officials and others involved in the process tell The Associated Press. The problem derives from what was once a strong point of the broad US sanctions effort that many credit with bringing Iran to the negotiating table in the first place. Under the sanctions developed over decades, hundreds of companies and individuals have been penalized not only for their role in the country's nuclear programme but also for ballistic missile research, terrorism, human rights violations and money laundering. Now the administration is wending its way through that briar patch of interwoven economic sanctions. [GulfNews]
10The Caucasian Cold War."The main security concern for Azerbaijan comes from Armenia. Conflicts in the 1990s and recent border clashes still are fresh wounds in Azerbaijan. Having a defense relationship with a regional power like Turkey will act as a deterrent for Azerbaijan. This deterrent is particularly in regards to Armenia's relationship with Russia that involves large amounts of Russian troops being stationed in Armenia. Therefore similarly to the Georgian case, Azerbaijan and Turkey both want to keep the Russians out to ensure security and influence in the Caucasus respectively" writes Taylor Morse for the Modern Diplomacy.
Uzbekistan and World Bank to Expand Strategic Partnership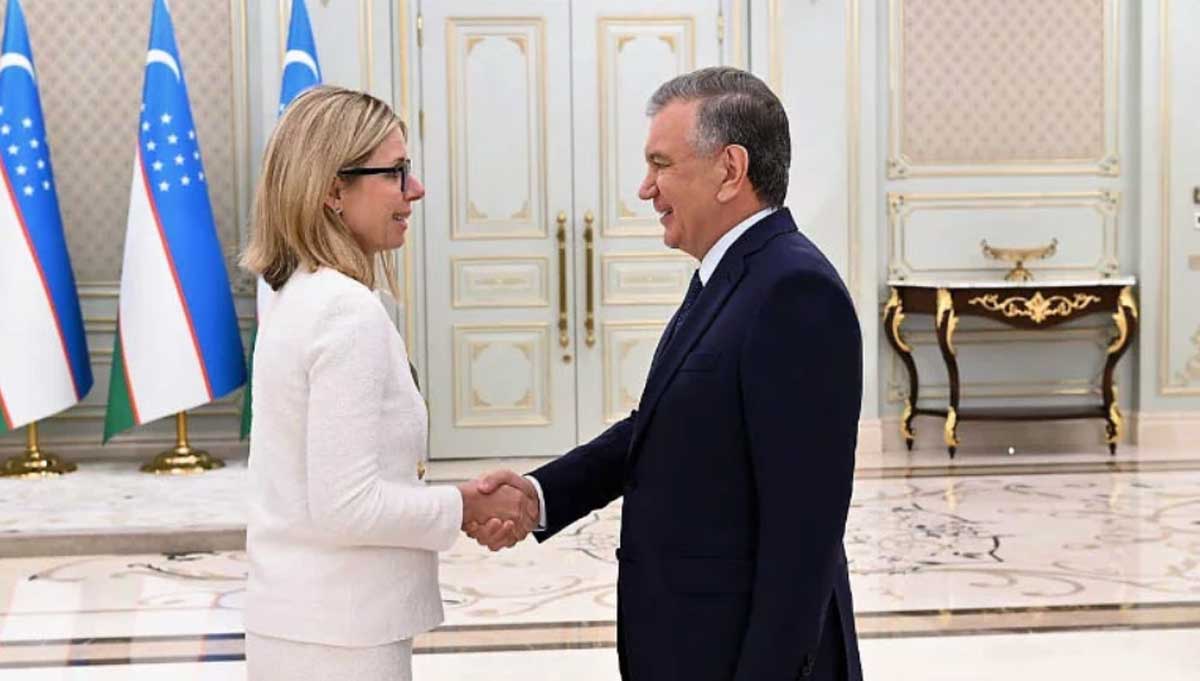 Anna, Bjerde, World Bank Vice President for Europe and Central Asia, visited Uzbekistan from September 29 to October 2, 2022, as part of a broader trip to Central Asia. Ms. Bjerde met with President Shavkat Mirziyoyev, as well as senior government officials, and beneficiaries of a World Bank-funded project that is helping improve rural infrastructure in Uzbekistan.
During her meeting with President Mirziyoyev, Ms. Bjerde discussed the results of 30 years of partnership between Uzbekistan and the World Bank, an anniversary which was celebrated in September this year. President Mirziyoyev and Ms. Bjerde noted in particular the achievements of the stepped-up World Bank financial and advisory support to help Uzbekistan implement transformative economic and social reforms since 2017, and they agreed to expand strategic bilateral cooperation across several economic and social spheres.
Ms. Bjerde also held talks with senior Uzbek government officials, including Deputy Prime Minister and Minister of Economic Development and Poverty Reduction Jamshid Kuchkarov, Deputy Prime Minister and Minister of Investments and Foreign Trade Jamshid Khodjaev, Minister of Finance Timur Ishmetov, Chairman of the Board of the Central Bank Mamarizo Nurmuratov, and Director General of the Agency for Strategic Reforms Shukhrat Vafaev.
In her meetings with counterparts, Ms. Bjerde discussed the implementation of the recently launched Country Partnership Framework (CPF) for Uzbekistan for the next five years. The CPF supports the authorities in developing the private sector to create new jobs and reduce poverty, improving human capital, building a green and sustainable economy, closing gender gaps, and creating conditions for wider citizen engagement. The CPF is aligned with the Development Strategy of the New Uzbekistan for 2022-26 and will help the authorities achieve the country's ambitious development goals.
Ms. Bjerde and counterparts also discussed the progress of the Government's reforms and World Bank support to reforming and privatizing state-owned enterprises and banks, modernizing agriculture, energy, financial and other strategic sectors, improving education, healthcare, and social protection services, developing transport connectivity, improving rural and urban infrastructure, empowering women, and improving the business and investment climate. Discussions were also held around the upcoming Country Climate and Development Report that the World Bank is preparing for Uzbekistan.
"We welcome that, despite the ongoing global shocks and crises, Uzbekistan's path for reforms and development impact for its citizens through an inclusive and sustainable market economy transition remains the top priority for the Government," said Anna Bjerde. "As we celebrate the 30th anniversary of the partnership with Uzbekistan, the World Bank looks forward to supporting the authorities reach their ambitious development goals through implementing the Country Partnership Framework which outlines our financial and advisory support for the reform agenda and priority development projects in the years to come."
During her stay in Uzbekistan, Ms. Bjerde also visited Saroy village, located in the Jizzakh Region, and met with local residents, students, parents, and teachers. Saroy is one of 306 remote villages in five regions of the country benefiting from a rural infrastructure development project, which is being implemented by the Government with financial support from the World Bank and the Asian Infrastructure Investment Bank.
The project directly involves local communities through a participatory process to identify their infrastructure needs. In over 175 villages, residents have already produced community development plans, which will receive funding to implement sub-projects, such as the upgrading or construction of drinking water, gas, and electricity supply systems, roads, schools, and other basic infrastructure and services.
The residents of Saroy village voted for the rehabilitation of the local school that had been built decades ago and did not meet public building codes and standards. During their meeting with Ms. Bjerde, they presented the community's experience in developing and supervising the implementation of a sub-project that completely rebuilt and expanded the school's facilities. The school is now able to accommodate more students from Saroy and neighboring villages and is better equipped to ensure student learning.
The World Bank's country program in Uzbekistan is among the top three largest in the Europe and Central Asia region. As of October 1, 2022, it consisted of 27 projects, with net commitments totaling around $4.76 billion.
These projects provide support in critical areas, such as macroeconomic reforms and the modernization of agriculture, water resource management, water supply and sanitation, energy, transport, health, education, social protection, urban and rural infrastructure, national innovation, tax administration, statistical and financial systems, etc. They also help in the mitigation of the health, social, and economic implications of the COVID-19 pandemic, as well as build resilience from the impacts of climate change.
Egypt: US$ 400 Million Project will Help to Improve and Decarbonize Logistics
World Bank approved a US$400 million development financing agreement to enhance the performance of the logistics and transportation sectors in Egypt and to support the shift towards low-carbon transportation along the Alexandria–the 6th of October–Greater Cairo Area (GCA) railway corridor.
Egypt's rail system is one of the most extensive in Africa, with a generally heavier focus on its passenger services, and three freight trains per direction per day in the GCA with the rest dedicated to passenger trains.
The Cairo Alexandria Trade Logistics Development Project will implement a railway bypass to the congested GCA. The bypass will provide freight trains between the Alexandria Sea Port and the newly constructed 6th of October Dry Port, with an alternative route to the west of Greater Cairo. The operational bypass will also allow 15 container trains per day by 2030, and as demand increases, 50 trains by 2060 to this dry port. Additional freight trains will flow between the Alexandria Port, Upper Egypt, and the Red Sea.
The transportation sector is the second largest contributor to Egypt's greenhouse gas (GHG) emissions after energy—contributing approximately 19 percent. Transporting containers and other freight by train has a lower carbon footprint than by road. The Bank estimates the project will reduce greenhouse gas emissions by 965,000 tons over 30 years.
The project also supports advancing the government's reform effort to improve the railway sector's performance and promote private sector participation by creating Egypt's Infrastructure Access Charging regime. This charging regime is similar to a toll on roads or airport fees. Private investors can operate their trains on the tracks of the Egypt National Railways Authority for a fee, hence boosting this authority's finances.
"The Government of Egypt is committed to SDG 13: Climate Action by designing and implementing mitigation projects that establish an advanced, sustainable and clean transportation network, while also decreasing carbon footprint. Sustainable transport projects, many of which are carried out in cooperation with Egypt's development partners and private sector, carry much significance in terms of driving the country's economic growth and empowering Egyptian citizens across the country, connecting bigger cities and business districts, and providing more job opportunities. The Cairo Alexandria Trade Logistics Development Project will support national efforts to transition to lower carbon transportation and ensure the safe and fast delivery of people and goods; a key element in our growing economy," said Dr. Rania A. Al-Mashat, Egypt's Minister of International Cooperation.
The project will also encourage female labor force participation by supporting the professional development of female employees as well as the availability of childcare.
The project will upgrade the track and signaling on four segments –including a greenfield one– between Alexandria, the 6th of October City, and the GCA to achieve an operational railway bypass to the GCA. This railway bypass will increase capacity particularly for freight trains while decongesting the Greater Cairo Area where demand for passenger trains is high.
"Reforming the transportation and logistics sectors is vital to Egypt's competitiveness and economic development," said Lieutenant General Kamel El Wazir, Egypt's Minister of Transportation. "This new project introduces several improvements in those vital sectors. The improvements are aligned with Egypt's pressing development priorities, which include decarbonization, trade facilitation, private sector participation, and gender balance in the workplace. Increasing the number of containers moved by rail from zero to 184,000 per year is one of the project's key objectives. This flow of containers is primarily between the Alexandria Sea Port and the 6th of October Dry Port, both privately operated and railway oriented."
The project will support Egypt's integration into global value chains and its efforts to become a regional trading hub. This project will significantly contribute to Egypt's 2050 Climate Change plan, given the expected reductions in greenhouse gas emissions.
"This operation is part of a wider set of efforts dedicated to offering timely and comprehensive support to Egypt's economic development and climate change plans," said Marina Wes, World Bank Country Director for Egypt, Yemen, and Djibouti. "We hope that through supporting more job creation, including for women, a cleaner environment, and providing safer mobility, the operation will contribute towards a brighter and more prosperous future for all Egyptians."
Fight against human trafficking must be strengthened in Ethiopia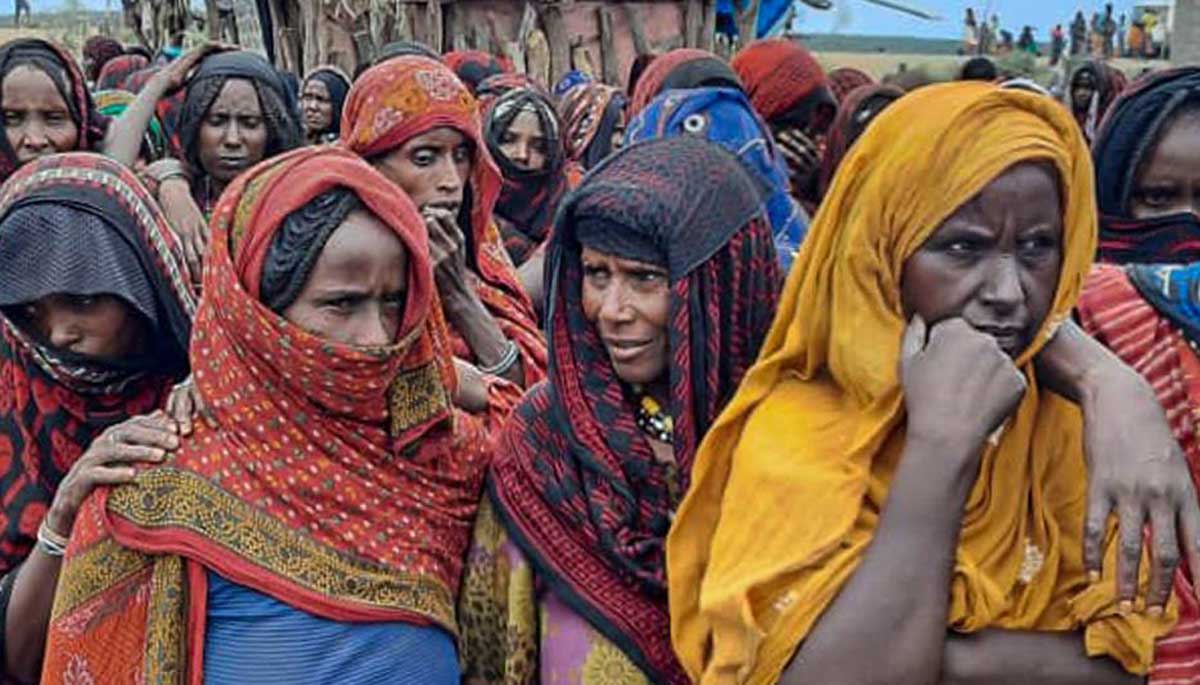 Throughout Ethiopia's Tigray, Afar and Amhar regions, women and girls are becoming increasingly vulnerable to abduction and sex trafficking as they flee ongoing armed conflict, a group of UN-appointed independent human rights experts warned on Monday.
The protracted conflict in the three northern regions have heightened risks of trafficking for sexual exploitation as a form of sexual violence in conflict, the experts said in a statement.
"We are alarmed by reports of refugee and internally displaced women and girls in the Tigray, Afar, and Amhara regions being abducted while attempting to move to safer places," they said.
Tweet URL
"We are concerned at the risks of trafficking, in particular for purposes of sexual exploitation, including sexual slavery."
Women and children in crosshairs
Amidst abductions and displacement, the UN experts raised serious concerns over Eritrean refugee women and children being at particular risk of sex trafficking.
"Urgent action is needed to prevent trafficking, especially for purposes of sexual exploitation, and to ensure assistance and protection of all victims, without discrimination on grounds of race or ethnicity, nationality, disability, age or gender," they said.
Meanwhile, the hundreds of children who have been separated from their families, especially in the Tigray region, are particularly vulnerable, warned the independent experts.
"The continuing lack of humanitarian access to the region is a major concern," the experts continued, urging immediate national, bilateral and multilateral measures to prevent all forms of trafficking of children and to ensure their protection.
Identifying victims
They added that sufficient measures were not being taken to identify victims of trafficking, or support their recovery in ways that fully takes account of the extreme trauma being suffered.
"The failure to provide accountability for these serious human rights violations and grave crimes creates a climate of impunity, allows trafficking in persons to persist and perpetrators to go free," underscored the six UN experts.
They urged all relevant stakeholders to ensure that victims of trafficking can adequately access medical assistance, including sexual and reproductive healthcare services and psychological support.
The experts said they had made their concerns known to both the Governments of Ethiopia and neighbouring Eritrea.