The way forward for the EU – Entice people, embrace change, engage the world
The aim of this paper is to contribute to academic and public debate on issues critical to the future of the European Union as well as to outline recommendations addressed to EU institutions and member state decision-makers.
This concise paper may only serve as an introduction to some bottom-line ideas, without trying to summarize the ongoing academic and political debate on the subject. Nor does it claim to present extensively formulated supporting arguments for the policy actions it recommends. This has to come once the first rounds of discussions on the viability and or the necessity of the outlined actions have taken place. In most cases, actions proposed are not entirely new to public debate.
This paper does not present several sets of possible policy choices to select from, nor does it elaborate on the different "visions on the future of the EU". It provides one single set of recommended actions, without pondering the chances of implementation.
Federalism in the EU-related discourse is contentious, and lacks a stable definitive value, therefore misleading and unhelpful, I would therefore not relate to it, nevertheless most of the policy recommendations in this proclamation point towards a more unified Union.
The European Union has a remarkably charged political agenda in a turbulent world. Russia is more and more assertive, there is a probably prolonged military crisis in Ukraine, political and military situation is escalating in Europe's southern and south-eastern neighbourhood with imminent impact on Europe's societies. The spectre of Grexit reflects the fact that there are fundamental flaws in the Euro project as far as its long-term sustainability is concerned which necessitates further political and economic policy reforms at EU level. Brexit on the other-hand (although the UK's case is admittedly extreme) is a clear indication of popular disenchantment from the idea European integration. The above factors indeed hinder coordinated action to counter the ever-stronger popular sentiment and well-articulated political agendas that question the usefulness of European integration and sometimes even the basic European values. European institutions and member states suffer to focus and face these challenges including the rising anti-European and in some cases anti-democratic tendencies that will pose significant risks to European integration in the medium-term.
The key message of this proclamation is that the EU does not only need to overhaul its political priorities – which it normally does from time to time – but also needs a new approach towards its very existence, especially the way it interacts with the world and with its own citizens. Similar messages have been reiterated for a long time now by the academia and by some ranks of EU and national political classes, political action nevertheless has been scarce and slow. This to a great extent explains the rise of anti-European or Euroskeptic views.
The author of this paper holds that an overhaul of the functioning of the EU as well as of the general approach to the raison d'etre of European integration is necessary for at least three interconnected reasons:
-firstly, to establish a new societal contract by establishing trust in a disenchanted public without whom no major reforms will be possible, be it economic or political; ("Entice people")
-secondly, to manage inherent tensions stemming from economic (e.g.: Eurozone long-term sustainability), institutional and political (both central and especially member state) imperfections that loom large in a more and more unpredictable global environment;
("Embrace change")
-thirdly, to reverse Europe's gradual slide to global irrelevance (or put in a different way: to harness its economic might in geopolitics by a stronger Union foreign and military policy profile), moreover to reinforce its failing international competitiveness. ("Engage the world")
The key determinants of EU-level policy-setting are the following:
-A new geopolitical order is on the rise. Pax Americana has started to give way to a new world order whose defining features are very unpredictable but which most probably be a more unstable one than we live in today by the major rearrangement of the global equilibrium following the rise of new powers, and with a potentially significant level of hostile competition between the key actors.
-Inside the EU major new geopolitical dynamics are gathering importance which includes a quasi-dominant role of Germany, a weakening France, a UK drifting away and in general a more and more heterogenetic and multiple-speed EU with institutions still in the process of self-redefinition.
-European societies are ageing. The old-age dependency ratio will double by 2040. At the same time, the average fertility rate in Europe is below reproduction. These factors represent serious challenges to the long-term sustainability of the European way of life as know it. Immigration as a tool to face and counter the spectre of unsustainability, mainly due to issues of social integration, as it is demonstrated in several EU member states, raises significant social and political challenges if managed badly.
-European economies and societies under pressure will probably be more susceptible to anti-EU sentiment and propaganda.
-The EU, the home to some half a billion people has no story to tell, or rather its story does not reach its citizens.
Based on the above premises, the EU needs:
-A way more unified diplomatic approach to global political developments and clear political stance on the final boundaries of the Union;
-A stronger capacity to exercise hard power; European army
-A stronger and more unified internal security policy;
-A more effective immigration policy and policies to make integration successful;
-Effective responses to negative demographic trends;
-An institutional and political setup and an economic policy framework that guarantees the long-term survival of the common currency, including a separate Eurozone budget;
-A strongly coordinated energy policy including energy diplomacy that guarantees independence, sustainability and competitiveness;
-A stronger sense of ownership and self-identification of European citizens with the European project;
-A new budgetary arrangement, a budget with a new approach that reflects this policy overhaul including the phasing out of controversial policies such as CAP and a fundamental reform of the cohesion policy and introducing a revenue that creates ownership in the society;
The list of actions proposed necessitate fundamental alterations in the way the EU exists. These alterations will probably be precipitated (or maybe to the contrary: jeopardized) by "inbuilt" political developments that are only partly foreseeable (Brexit, Grexit, Russia, Ukraine, Turkey), partly belong to the realm of a less and less predictable geopolitical environment. These alterations often will take the form of new institutional arrangements. Also efforts to reinforce the currently almost inexistent EU-wide political (democratic) sphere are poised to get stronger – in parallel with the continuous rise of anti-EU sentiment and the political articulation thereof by member state political actors.
One has to be realistic: the list of proposed action provided in this paper is not what will be, many of these suggestions seem radical and certainly contested at this point. Most probably member states as usual will look at any to do list with the well-known mind set: how could an almost certainly hopeless Treaty change be avoided, how one can muddle-through on a business as usual basis? Well, this would not lead us any far in the long-term, only towards disarray, insignificance and instability. Some (both in politics and academia) are fascinated by proposing new institutionally focused arrangements to reform the EU. While these are most of the time reasonable suggestions, people simply don't care. They do not care or even understand why a bi-chamber EP incorporating the Council or a Eurozone budget (so far referred to in the Euro-discourse under as the 'fiscal compact' to make sure nobody understands it) is the magic solution. One should therefore be bold to offer things that are tangible, meaningful and educative for the citizen. One should not cynically pretend that people are fully aware of what is going on in the politics let alone international relations, they do need better information and much broader involvement otherwise no major reforms will be possible in the future.
The following is only a list of policy actions deemed desirable for a stronger and more successful Union. It is not a political itinerary, nor does it discuss in detail how these actions should be put in place. Otherwise – as experience shows – it we would end up in a scattered discourse on how this could (not) be done for political and institutional reasons before even a proper appreciation of the proposed actions could take place. Most of the proposed actions are not realistic for the EU28 as a group, they are instead policy options for member states (should things develop in that direction) of the "core".
Next to some items on the list "B" "T" or "C" signs are visible. "B" denotes that the proposed action involves major budgetary reform and or funding, while "T" means that the action necessitates a new Treaty. "C" represents that it is only or primarily realistic or relevant for a core group of member states that are ready and able to reinforce their unity.
ENTICE PEOPLE
Getting European societies on board is a sine qua non condition for any major change. Endless complaining about the remoteness of the EU has led us nowhere and clearly no ineffective and underfinanced communication campaigns are the solution either. Instead the following actions need to be considered:
•Create post of European (Eurozone) speaker position in national parliaments (who preferably does not bear the host country's nationality) with the right of intervention if European issues debated (T) (C);
•Introduce the instrument of European referendum – one single pan-EU referendum on the same day counted as a whole on key EU issues (T);
•Replace low-profile bureaucrats at the top of EU Representations, create high profile EU presence in capitals (C);
•If a project is financed by 51% EU it should be inaugurated by EU representative;
•Increase Erasmus spending by at least five times (B);
•Introduce preferably mandatory European values curriculum at elementary and secondary schools;
•Finish with national party lists at EP elections, vote on pan-European platform same day all across EU (T);
•Create a special channel of national parliaments at EP – as MEPs are less and less national, MPs should have a vehicle which is visible and effective to intervene at EP debate. This must be much stronger an instrument than ad-hoc invitations; an institutionalised and permanent solution is preferable (T) (C);
•Elect President of the European Commission or the European Council directly by citizens (T);
•Promote EU values abroad (joint EU cultural and political institutes – having in mind Alliance Francaise, Goethe, etc) (B);
•Facilitate national public and political debates on new European reform initiatives such as the recent one (June 2015) by the German and French economy ministers.
•Run EU joint teams (or individual Olympians) in up to 10 percent of Olympic sports by the 2024 Olympic Games;
•Support language teaching and learning; acknowledge reality: English is lingua franca of the EU, support it (B);
•Set up national offices of the Court of Justice to deal local legal matters with EU relevance more promptly and transparently (T);
•Support Europe-related news broadcasting by national broadcasters. Euronews (in a significantly enhanced quality) minutes in local channels. (B);
EMBRACE CHANGE
Here I mean a much more comprehensive change than normally envisaged by the EU in its subsequent Treaty changes, or new policy initiatives and (most of the time unfulfilled) grand programmes on a change as usual course.
•Embrace reality which is inevitable for the long-term success of the EU: declare existence of multiple (two)-speed Europe (instead of deleting the reference to an "ever closer union" in the Treaty as the UK requests), and make the institutional setup best fitted to embrace it (T);
•Let UK have a special status (T);
•Let Greece exit Eurozone (T);
•Make Eurozone exit legally possible and planned (T);
•Establish Eurozone budget of 3-5% of Eurozone GDP to use as macroeconomic buffer (T) (B) (C);
The EU budget is not only small but is not at all designed to tackle macroeconomic shocks and crisis in a monetary union, which needs a puffer for shocks and a stable transfer pool which can be deployed in a prompt manner (this may even include pan-Eurozone social benefit schemes as well.)
•Introduce European tax by unionizing a certain percentage point of national VAT rates and thereby finish with member state membership fee. (This can be budget neutral for member states at the end of the day and at the same time underpins the sense of ownership in the society). (T) (B) (C);
The annual EU budget is €142bn (2014 figures) – a large sum in absolute terms, but only about 1% of the GDP generated by EU economies every year. Traditional own resources usually represent about 12% (10,14% in 2013) and the VAT-base related own resource about 10% (9,38% in 2013) of the total budget. At present European budget is financed mostly by member states as a membership or rather ownership fee. Citizens are completely detached from the act of contributing to the common EU budget. "No representation without taxation". In the proposed new system (European tax) some percentage points from the VAT (standard) rate applicable in member states is payed by the citizen to the EU budget. (It is important to note that this proposed revenue source is completely different from the present levy on national harmonised VAT bases which constitute a resource of the EU budget). This solution is more or less budget-neutral for member states since this source supplements the previous member state contributions (citizen's money in disguise by the way). Citizens' act to finance the EU budget (by buying a product or a service) should be clearly indicated for them on every price-tag. By the member state fee terminated, ownership is delegated to people. In this scheme VAT rates do not have to be augmented either only divided into national (say 18%) and EU (2%) shares. Obviously there are currently major differences among member states' net positions in relation to the EU budget. This has to be calculated with when fine-tuning any new schemes.
•Establish Eurozone finance minister with defined veto rights over national budgets (T) (C);
A Monetary Union without a genuine economic and some degree of a political union is not sustainable. The Euro needs to be accompanied by a solid European economic governance with sufficient own resources and policy leverage. This entails a separate Eurozone budget, an EU treasury headed by a Eurozone finance minister with veto power over national budgets, the transformation of ESM into a European Monetary Fund, finalising the Banking Union, issuance of Eurobonds.
•Cut back CAP drastically (B);
The European Union will spend 373,2 billion EUR on the Common Agricultural Policy between 2014-2020. Although it indicates an 11% decrease compared to the previous EU programming period, CAP still has one of the highest shares – 38.9% – in the total EU budget until 2020. (Approximately, three quarters of the CAP budget is devoted to market related expenditures and direct payments, while one quarter for rural development.) This has to change: a drastic cut in especially direct payments needs to take place.
•Decrease and rationalize cohesion policy spending and establish more possibilities for rapid suspension in case of misuse, fraud or corruption (T);
The efficiency and usefulness of regional policy funds are controversial, dead-weight is very high, moreover they sometimes contribute to corruptive practices.
•Establish full-fledged Energy Union;
•Promote industries, technologies to cater for and institutional arrangements best suited for an ageing society;
•Establish European demography Figure (minister) to initiate and co-ordinate ageing-related policies and to deal with cross-generation tensions in the EU, helping member states to carry out tough reforms and cuts back in the welfare systems (T).
ENGAGE THE WORLD
Without credible hard power capabilities and with its soft power potential seriously underutilized the EU is scoring well under its global weight. The world is becoming less predictable and more turbulent especially at the Union's imminent borders and close neighbourhood. Illegal immigration related issues put a pressure on European societies. Immigration's societal consequences and relevant EU and member state policy responses are getting prominence in the daily life of EU citizens and in EU-policy discourse.
•Establish a European army in the medium to long term; (T) (C);
The European Parliament adopted the Synchronized Armed Forces Europe (SAFE) concept in 2009 to create a scheme for joint civilian and military structures and forces under EU leadership on the voluntary basis. This initiative advocates a Defence Ministers Council and a free service based European soldier status law. SAFE would be operated on joint training, tactics and procedures approved by the participating member states. Actual implementation has been almost none but the Russian aggression in Ukraine changes things. The European Corps (Eurocorps) in Strasbourg and the Corps Headquarters in Münster and Szcezin are existing elements to build upon.
•Member state should stop military spending cuts and they should aim for synergy (B);
The European defence capabilities have been gradually reduced over the years. One and a half million soldiers served in the EU member countries in 2013, half a million less than in 2006. EU countries spent only 190 billion euro (12% of total world spending) for military purposes. From 2006 to 2013, the European defence spending decreased by 15% (€ 32 billion). World military expenditure in 2013 was 1.747 billion $, around 2.4% of World GDP. However, China (188 billion US $) and Russia (88 billion US $) continuously increases the military budget. 80% of the European defence spending is by France, Germany, United Kingdom, who also reduce their military budgets.
•Reform CFSP: do away with unanimity, or at least make prompt actions possible by an easily applicable flexible institutional solution for a group of member states, something similar but more flexible than the so-called reinforced cooperation. (T) (C);
The new functions brought about by the Lisbon Treaty are modest innovations. The High Representative is very far from a European Foreign Minister, so is the European External Action Service from a European Foreign Ministry.
•Reform EU immigration policy, render it more effective, and base it on a way longer-term oriented policy approach that encompasses factors of sustainability (in a broad sense including long-term demographic and budgetary considerations) and societal sentiment (B);
For 2014-20, the overall Home Affairs budget amounts to only EUR 9.26 billion. Immigration policy is not only underfinanced but remains fragmented in the EU marred by conflicts of policy objectives, namely the paradox of the free movement, solidarity and security. The issue of legal and illegal immigration and refugees and even terrorism are often fudged in the minds of people which is sometimes reinforced by demagogic and or Euroskeptic national politics. At the same time, the growing feeling of insecurity in the society and also the failures in the integration of migrant communities in European societies are key issues to face. In 2014 276000 migrants entered the EU irregularly, which represent an increase of 138 percent compared to 2013. The number of asylum applicants registered in the EU has also increased significantly in 2014 (626.000 applications). The mandate of the EU agency EASO (European Asylum Support Office) should be significantly expanded to make it a proper Common European Asylum Service. In general for migration and asylum matters more resources have to be deployed at EU level. A special representative on migration for the External Action Service is to be established.
•Reinforce Frontex significantly (B).
The spirit of "Greater Albania" acquires Brussels substance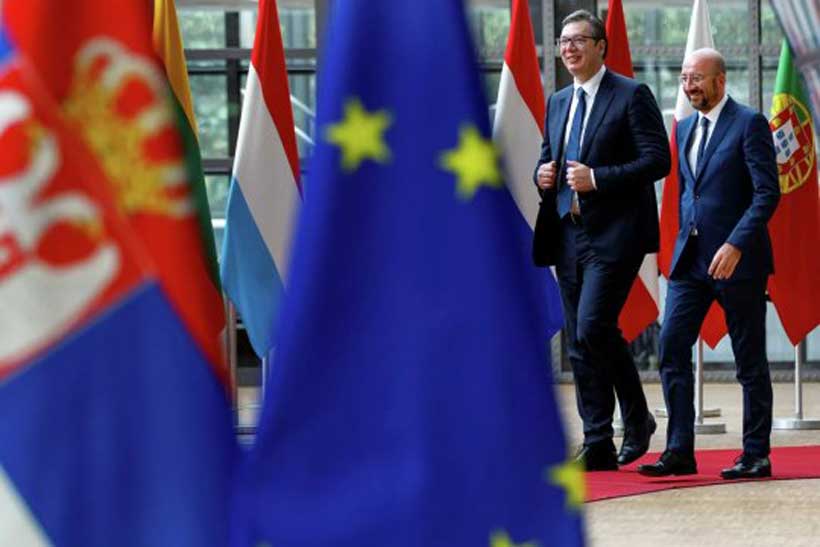 A meeting of Serbian and Kosovo leaders which is scheduled to take place in Brussels in September may result in the signing of an agreement on the normalization of relations. According to reports, the EU leaders, who act as mediators in the Belgrade – Pristina dialogue, have prepared a draft agreement. Serbian and Brussels sources say the draft provides for recognition of the self-proclaimed independence of Kosovo by Belgrade in exchange for Serbia's membership in the EU.
However, even if Belgrade chooses to sign the above-mentioned agreement, – such a step will do nothing to secure normalization in the Balkans. On the contrary, it could open a new chapter in the political and administrative "reformating" of the region. What comes as a key factor here is activization on the part of Albania, which is using the Belgrade-Pristina deal for its own purposes, and these purposes are infinitely far from what the leading European capitals count on. It would hardly be an exaggeration to say that a full-blown international and legal recognition of Kosovo's independence (which is supposed to result from the agreement prepared in Brussels on the normalization of bilateral relations between Belgrade and Pristina) will become a prologue to more active efforts on the part of Albanian radicals to establish "Greater Albania", which would incorporate Albania proper, most of Kosovo, Presevo Valley, parts of Macedonia, Montenegro, and, possibly, Greece, with a total population of up to 10 million.
Statements in support of creating such a state have come recently from many high-profile political and public figures in Kosovo, who maintain close ties with the Albanian community abroad and with influential American and European politicians. One of them is Azem Vlasi, who headed the regional branch of the Union of Communists of Kosovo and was a member of the Central Committee of the Union of Communists of Yugoslavia in the 1980s. He doubts that the recent talks in Brussels on the division of Kosovo will produce an agreement. In his opinion, the authorities in Pristina are not prepared to give up control of the entire territory of the region. Besides, it's Kosovo that could become a center of the "collection" of Albanian lands in the Balkans.
The main guidelines to methodologically justify the program of creating "Greater Albania" were presented in the 1990s, by one of the most outstanding of Albanian intellectuals, Recep Chosja, who pointed out that «Albania has never accepted its present borders, always trying to remind international circles that its present borders are unfair, as they divide Albanian territory into two parts. These borders run across the very heart of Albanian people».
The official position of neighboring Albania, which is same nationality with Kosovo, is the acknowledgment of inviolability of the existing borders. In 1992 the head of government from the Democratic Party of Albania Sali Berisha said in an interview that «the idea of creating "Greater Albania" is alien to Albanian ruling circles and political forces».
Nevertheless, in May 2011, member of the Presidium of the Democratic Party of Albania, Azgan Khaklai, openly demanded that all Albanian territories should be united to form one state, while the incumbent head of government Edi Rama has been indicating that unification of Albania and Kosovo is Tirana's Plan A and should be regarded as such in connection with the agreement between Pristina and Belgrade.
Public opinion polls conducted among the Albanian population of the Balkan countries suggest that the program of creating "Greater Albania" has been acquiring ever more popularity among the Albanian population of the Balkan countries. The idea of making Albania's borders "ethnic" has already won the support of more than 80% of the population of Kosovo, over 70% of residents of Albania, and of more than a half of Macedonian Albanians. About one half of respondents in Kosovo and 40% in Albania believe that Greater Albania with its widest ethnically conditioned borders will come into being in the near future.
Meanwhile, at the end of 2006 a similar study conducted by experts of the UN Development Program found that only 2,5% of Kosovo Albanians considered unification with Albania the best solution, whereas 96% wanted Kosovo to become independent within the existing borders.
Such a situation may force leading world powers and international institutes to reconsider their recent policies, which focused on a state rather than on a territory and which envisaged that each Balkan country should search for a solution of its problems by itself. «A territory-focused policy regards the Balkan region not as a community of established countries, but as a system of territories that stay in dynamic balance and are thus capable of reformatting. «A carve-up of regional borders on the ethno-linguistic and religious principles may acquire fresh impetus in the course of current talks between Belgrade and Pristina. Serbia's President Aleksandar Vucic has expressed readiness to recognize Kosovo in exchange for territorial concessions, while his counterpart Hashim Thaci hopes to invite to his country Serbian Albanians», – points out Le Monde diplomatique, emphasizing the situation in Presevo Valley, which borders on Kosovo.
Another potentially explosive "hot spot" covers three South Serbian communities (Bujanovac, Medveja and Presevo). According to the last census conducted in Serbia, about 90, 000 people live on the territories of these three communities. The ratio of Serbs and Albanians is as follows: in Presevo – 89% Albanians and 9% Serbs, in Bujanovac – 55% Albanians and 34% Serbs, in Medveja – 26% Albanians and 67% Serbs.
Chairman of Presevo community and leader of the Democratic Party of Albanians in Serbia Ragmi Mustafa has spoken in favor of "exchange of territories" between Belgrade and Pristina, underscoring that all three communities "should join Kosovo" while "northern Kosovo should join Serbia". In his words, the relevant proposal should be presented at the Brussels talks: «I think that this is the future of our region».
According to leaders of Presevo Albanians, the international community should make the Serbian government "refrain from impeding the expression of the freewill on the part of the population of the Presevo Valley».
Such a position echoes the program of the radical Kosovo movement "Self-Determination", headed by former Prime Minister Albin Kurti. Kurti believes that Kosovo and Albania "should coordinate their actions and simultaneously streamline their legislation with a view to prepare for two referendums, in Albania and Kosovo, on the outcome of which Kosovo will unite with Albania". "I think that this meets the interests of our people in the economic sphere and in the sphere of security", – Albin Kurti points out, saying that after the referendum the time will come to "solve pan-Albanian issues, in the first place, in Macedonia, Eastern Kosovo [Presevo Valley], Montenegro and Greece". In the opinion of the "Self-Determination" leader, Kosovo authorities ought to hold talks not with Belgrade, about the division, but with Tirana, about the unification.
Given the situation, there are grounds to expect activization of efforts on the part of both Kosovo authorities and Albanian leaders in other Balkan countries and territories with a view to build up their military and political might. In fact, this process is already taking place. Deputy Director of the Information and Press Department of the Russian Foreign Ministry Aleksei Zaitsev has made a statement to this effect drawing public attention to the fact that the United States has begun to supply Pristina with military hardware. According to the diplomat, the US is thus openly undermining international efforts oriented at ensuring peace and stability in the Balkans.
Pristina has also stepped up efforts to establish military cooperation with Germany. All this testifies to the escalation of conflict in the Balkan Region amid the ongoing activization of the "Albanian factor".
From our partner International Affairs
Legacy of antifascism for the common pan-European future
The post WWII architecture is a strong and decisive reaction to the Great Depression, the rise of fascism, the horrors of WWII and the Holocaust. The United Nations, created in San Francisco on 26 June 1945, are built on three main pillars: Freedom from fear and violence, freedom from want and poverty, human rights and respect for human dignity. For the first time in human history, war has been prohibited in international law with only minor exceptions, namely the right of States to self-defence and the collective security system under the guidance of the UN Security Council. For the first time in human history, the promotion and protection of human rights were acknowledged as a legitimate goal of the international community and international law. For the first time in human history, the main perpetrators of war crimes and crimes against humanity had been brought to justice before international military tribunals in Nuremberg and Tokyo. And for the first time in human history, economic and social development, prosperity and the eradication of poverty have been defined as goals of a new world order. These ambitious aims and objectives were only possible thanks to the antifascist consensus among the allies, which at that time seemed to be even stronger than the differences between capitalism and communism. When the UN Human Rights Commission, the predecessor of the current Human Rights Council, drafted the Universal Declaration of Human Rights between 1946 and 1948, this antifascist consensus was still strong enough to achieve a synthesis between the Western and the Socialist concepts of human rights. The Universal Declaration, solemnly adopted in Paris on 10 December 1948, contains civil and political rights together with economic, social and cultural rights and with the vision of a new "social and international order in which the rights and freedoms set forth in this Declaration can be fully realized" (Article 28).
As soon as the Human Rights Commission started to transfer this historic compromise between liberal freedoms and social security into a legally binding universal convention on human rights, the United States and its allies in 1951 forced a decision in the UN General Assembly to split human rights again into two categories, which dominated the ideological debates during the time of the Cold War. The International Bill of Rights, which was finally adopted after long negotiations in 1966, was divided into the International Covenant on Civil and Political Rights, favoured by the West, and the International Covenant on Economic, Social and Cultural Rights, favoured by the Soviet Union and its allies. Civil and political rights and freedoms were conceived as immediately binding State obligations to respect and ensure the rights to life, personal liberty, privacy, security and integrity, freedom of expression, religion, assembly and association and the right to participate in democratic decision making processes. Economic, social and cultural rights to work, fair, equal and healthy working conditions, social security, the rights to food, housing, health, education and an adequate standard of living, on the other hand, were conceived as mere "programme rights" to be achieved step by step through progressive implementation.
As WWII had started as a European war between fascist and democratic States, Europe felt a particular responsibility to prevent another war and catastrophe like the Holocaust through economic and political cooperation and the protection of human rights. While the European Communities of the 1950s aimed at preventing another war through economic integration, the Council of Europe was established already in 1949 as a political organization based upon human rights, pluralistic democracy and the rule of law. The Council of Europe was a Western European organization, which defended these "European values" against any form of totalitarianism, whether fascism (as practiced at that time in Spain and Portugal) or communism (as practiced in a growing number of Central and Eastern European States).By adopting the European Convention on Human Rights(ECHR) in 1950, which only contained civil and political rights, the Council of Europe left no doubt that it was a Western organization, which did not feel bound by the indivisibility and interdependence of all human rights, as expressed in the Universal Declaration. Economic, social and cultural rights played and unfortunately still play in the Council of Europe a subordinate role. The European Convention with the European Court of Human Rights in Strasbourg, which decides in a legally binding manner on tens of thousands of individual applications per year, is the light-tower of human rights protection in Europe, while the European Social Charter of 1961 and its monitoring system is much weaker and very little known to the public. Nevertheless, this is the time when the social welfare state, based on the economic policies of John Maynard Keynes, was developed in Western Europe, North America and other industrialized nations. The architects of the social welfare state or a market economy with a human face were, however, not even aware that they were implementing economic, social and cultural rights, as these rights were primarily associated with the Soviet Union and its allies.
During the Cold War, human rights were the subject of fierce ideological battles between Western and Communist States, and to a lesser degree, the newly independent States of the Global South. Nevertheless, this was the time when human rights were codified at the universal and regional level. In addition of the two Covenants of 1966, the United Nations adopted a number of universal human rights treaties, such as the International Convention on the Elimination of all Forms of Racial Discrimination of 1965, the Convention on the Elimination of all Forms of Discrimination against Women of 1979, the Convention against Torture of 1984 or the Convention on the Rights of the Child of 1989. These core human rights treaties are today almost universally ratified. On the regional level, the two most important treaties, which were largely based on the European Convention, are the American Convention on Human Rights of 1969 and the African Charter of Human and Peoples' Rights of 1981.
With the implosion of the Communist regimes in Central and Eastern Europe and the velvet revolutions of 1989, which quickly led to the fall of the iron curtain and the end of the Cold War, a historic window of opportunity opened for a new world order based upon human rights, democracy and the rule of law. The 1993 Vienna World Conference on Human Rights and the Vienna Declaration and Programme of Action promised a new era, based upon the equality, universality, indivisibility and interdependence of all human rights, spear-headed by the newly created Office of the UN High Commissioner for Human Rights. For the first time, the collective security system of the UN Charter was applied in practice and led to new generations of peace-building missions with human rights components and peace-enforcement actions, which also tackled some of the worst human rights violations. Two ad-hoc international criminal tribunals for the former Yugoslavia and Rwanda were established by the UN Security Council as the first ones after the Nuremberg and Tokyo military tribunals and led to the creation of a permanent International Criminal Court in 1998. In the same year, the 11th Additional Protocol to the ECHR entered into force and transformed the European Court of Human Rights into a full-time court which since then has delivered thousands of judgments every year, most of them in relation to the newly admitted former Communist States in Central and Eastern Europe. In 2000, the EU adopted a Charter on Fundamental Rights, and the United Nations adopted Millennium Development Goals, which promised a better future, above all for the poor and marginalized communities in the Global South. Despite the genocides in Rwanda and Bosnia and Herzegovina, which happened before the eyes of UN peacekeepers, one can conclude that never before were human rights advanced in such a quick, innovative and forceful manner than during the 1990s.
Let's go back to 1989, which was a truly remarkable year in human history. In addition to the velvet revolutions, the world wide web was created, and with the "Washington Consensus", the World Bank and the International Monetary Fund agreed to adopt the neoliberal economic policies of privatization, deregulation and minimizing the role of the State, which had been advocated for many years by the Chicago School of Economics, thereby replacing the more interventionist economic policies of John Maynard Keynes. This meant that the rapid digitalization and globalization of our world were driven by neoliberal economic and financial policies. As a consequence, the historic opportunity of implementing a new world order inspired by universal human rights, democracy and the rule of law wassoon replaced by a new world order driven by transnational corporations and global financial markets. On the one hand, these policies led to an unprecedented economic growth and global digitalization, which contributed to more prosperity and a significant reduction of poverty, above all in China, India and other Asian States. On the other hand, these policies led to a dramatic increase of economic inequality, which is undermining the social coherence and democratic values of our societies. Radical policies of privatization, which had started already in the US and the UK during the 1980s, include even core State functions, such as the military, intelligence, police, justice and prisons (rise of private military and security companies), as well as providing social security, pensions, health care and education. The policy of minimizing the role of the State, which is often imposed on governments by the international financial institutions, result in drastic reductions in social security and social welfare and undermine the obligation of States to protect and fulfil economic, social and cultural rights, but also civil and political rights. In this context, we observe the rising phenomenon of failed and fragile states, which lead to insecurity, armed conflicts, the rise of organized crime and terrorism. Finally, the deregulation of global financial markets led to unprecedented speculations, tax evasion, money laundering, corruption and the undermining of the banking system, which directly resulted in the global financial and economic crisis of 2008. There can also be no doubt that the neoliberal economic policies contributed significantly to the current climate crisis, the ruthless exploitation of nature, deforestation and the destruction of our environment. The slim neoliberal state has no longer the power and the political will to regulate and control transnational corporations and global financial markets, and international organizations, such as the United Nations, the World Bank, International Monetary Fund, the World Trade Organization or the European Union, which would have the power by concerted efforts to regain political control over global markets, are either at the forefront of neoliberal economic policies themselves or are increasingly undermined by nationalistic and populistic politicians. The Brexit, attacks by the Russian Federation against the Council of Europe, the sidelining of the United Nations in relation to the armed conflicts in Syria, Libya and other regions, and open attacks by the United States against the United Nations, its specialized agencies, such as the World Health Organization, or against the International Criminal Court are only a few symptoms of the current crisis of multilateralism.
The world was in disarray when the Corona virus appeared on the global agenda at the beginning of a new decade, and when the COVID-19 pandemic led to an unprecedented lockdown of the global economy, a fundamental restructuring of our daily life and drastic restrictions of our most cherished human rights. Our world was certainly not well prepared to deal with this pandemic, which has caused already more deaths worldwide than the tsunami as the worst disaster of the 21st century. The most neoliberal States, such as the US, the UK and Brazil, which happen to be governed by politicians, who are used to "solve" crisis situations by spreading fake news and searching for scapegoats, seem to be hit most severely. In Europe, States which had cut down their public health and social security systems most radically, such as the UK, Italy and Spain, encountered much more serious problems to contain the spread of the virus than States, where the public health and social security systems had somehow survived neoliberal policies. Even politicians, who for many years had preached that free markets are much better equipped to solve problems than governments, realized that we need strong and well-functioning States to take the necessary measures and that we should listen to experts rather than populists, fake news and social media in order to cope effectively with this pandemic. It is too early to draw far-reaching conclusions since we are still in the middle of this health crisis and do not know how the coming months will develop. Nevertheless, there is a growing awareness among the people, irrespective of their political opinions and political party alliances, that there is something fundamentally wrong with the way how we are living and that we need to drastically change our economic, political and social world order if we wish to ensure the survival of our planet and a healthy and satisfactory life for our children and future generations.
Where does this leave us with respect to the topic of this conference? What can we learn from this short historical overview for a pan-European future, built upon antifascism as a European confidence building block, mutual trust and good neighbourly relations? One conclusion is obvious: In order to deal with the COVID-19 pandemic and other global challenges, such as the global climate crisis, growing economic inequality or global migration, we need to strengthen, rather than weaken, the regulatory functions of States and of international organizations, both at the global and regional (European) level. Secondly, we need to replace the neoliberal economic politics by a new and more social market economy "with a human face", which is more responsible towards nature, towards economic equality and solidarity with the poor and marginalized sectors of our societies, at the national, regional (European) and global level. This also means that politics need to regain its power to control and regulate the economy, as has been well illustrated during the COVID-19 pandemic. We need to use this new confidence in a responsible regulatory power of politics to also tackle other global threats, such as the climate crisis. At the same time, we need to strengthen the EU by transferring certain powers in the field of social justice, public health, environmental protection, asylum and migration policies from the member States to the EU institutions. The EU, which, despite the Brexit, is still a major global economic and political player, shall further be entrusted by its member States to pursue and strengthen these socially and ecologically sustainable politics also at the global level, above all in the international financial institutions and the WTO.
With respect to the Council of Europe, which is a truly pan-European organization with currently 47 member States and a pioneer in international human rights protection, we need to introduce economic, social and cultural rights on an equal level with civil and political rights and try to overcome the deep distrust between the Russian Federation and Western European States. This requires confidence-building from both sides. The Council of Europe, as a Western European organization, had quickly opened its doors after 1989 and invited the former Communist States to join. Many States used the Council of Europe as an entry door for quick EU and/or NATO membership, which was not always properly coordinated with Moscow and led even to armed conflicts in Georgia and the Ukraine. Many "frozen conflicts" in Europe, such as Nagorno Karabakh, Abkhazia, South Ossetia, Tansnistria, Eastern Ukraine, Kosovo and the Republika Srpska, can only be solved if the Russian Federation is again better integrated into European politics. The Council of Europe and the Organization for Security and Cooperation in Europe (OSCE), provide the necessary diplomatic platforms, but the political will for mutual confidence-building is still lacking. Antifascism is no longer a meaningful basis for a pan-European confidence block, and in fact it had played this role only for a few years immediately after WWII. If the Council of Europe, with the active support of the EU, would be able to build a pan-European social welfare system, which is based on the indivisibility of all human rights rather than on neoliberal economic policies, then it would resume its pioneering role as a political organization that is uniting Europe on the basis of common European values.
(Exclusive speech for the Conference at the DAW, Vienna, 1 July 2020)
Making Europe's future rhyme for the Next Generation
History does not always repeat itself but for Europe it does usually rhyme. Or at least it used to.
In the face of a virus that has taken lives and livelihoods across the world, Europe did not give in to age-old instincts or re-open barely healed wounds from the financial crisis a decade ago. Instead, we chose to pull each other through and invest in a common future.
This is why we can say that last week's decision by the Leaders of the 27 Member States to endorse the European Commission's recovery proposal was historic.
Firstly, the numbers. Europe will have at its disposal a recovery tool worth 750 billion EUR to support those hit hardest by this crisis. Called NextGenerationEU, it will invest in a recovery that builds a greener, more digital and more resilient Union for our children. This will be topped up by the EU budget for the next seven years, bringing the overall package to 1.8 trillion EUR.
Secondly, it is historic because of how Europe makes it work. For the first time on this scale, the European Commission – backed by the 27 Member States – will use its strong credit rating to raise money on the capital markets for NextGenerationEU.
In past crises, the better off survived while the most vulnerable paid a heavy price. But this time it has to be different. This time we can only get back to our feet if we all pull each other up. This is why most of NextGenerationEU funds will be distributed in grants to Member States to finance crucial reforms and investment. This is European money supporting projects and people from Flensburg to Freiburg, creating jobs locally from Cottbus to Cologne, and Europe's strength globally.
Reforms and investment will be tailored to what each country needs and be in line with our wider European goals. For some, this will support reforms in the labour market to boost productivity, while others will focus more on education and training to help people develop the skills they need. Some will invest in improving digital infrastructure and others on transport connections. But, crucially, all will contribute to the goals of the European Green Deal. 30% of the overall 1.8 trillion will be ring-fenced for climate related spending and a new Just Transition Fund of 17.5 billion will help those people and regions who have to make a bigger transformation than most.
The third reason we can use the word historic is because of how the money will be repaid. To avoid sending a higher bill to Member States in the future, Europe should repay the funds through what we call new own resources. These will include a levy on big tech companies, a tax on non-recycled plastics and putting a carbon price on imports coming from countries with lower climate ambitions.
Some people will ask about why Germany should raise or repay money with another country thousands of kilometres away. The answer is simple. Europe's prosperity lies in its unity, its community and its single market. So for us solidarity is actually self-interest and a euro invested in one country is actually a euro invested for all.
Think about what happens to our tourism industry if people from across Europe cannot afford to come to our Alps or to visit our Baltic Sea beaches anymore. Think about what happens to our manufacturers if they cannot get the parts they need from their suppliers in different European countries. Think about how the crisis has taken its toll on us all – on the wellbeing of people, the solvency of businesses, the functioning of society and the health of every single European economy. And it is not over yet.
This is why we need to act urgently, decisively and collectively. And last week, Europe has shown that it is up to the task. Of course, some will point to the long and difficult Summit and see that as hesitation or weakness. We see it as the ultimate sign of Europe's unique strength.
Just take a step back and look around. Nowhere else in the world could 27 different countries even discuss financing their recovery and future together. We did it over one long weekend. At this very fragile moment in history, being in Europe is the best place to be. And now we need to keep it that way for all by working with governments and parliaments to bring this recovery to life.
Our Union should always be judged on what it can offer for the future. That vision of a common future enabled us to take every bold step in our history: uniting Europe after the Second World War or the end of the Cold War, creating our common market and introducing our common currency. Today, it is that same pioneering vision enabling us to make another historic step for our Union.