The way forward for the EU – Entice people, embrace change, engage the world
The aim of this paper is to contribute to academic and public debate on issues critical to the future of the European Union as well as to outline recommendations addressed to EU institutions and member state decision-makers.
This concise paper may only serve as an introduction to some bottom-line ideas, without trying to summarize the ongoing academic and political debate on the subject. Nor does it claim to present extensively formulated supporting arguments for the policy actions it recommends. This has to come once the first rounds of discussions on the viability and or the necessity of the outlined actions have taken place. In most cases, actions proposed are not entirely new to public debate.
This paper does not present several sets of possible policy choices to select from, nor does it elaborate on the different "visions on the future of the EU". It provides one single set of recommended actions, without pondering the chances of implementation.
Federalism in the EU-related discourse is contentious, and lacks a stable definitive value, therefore misleading and unhelpful, I would therefore not relate to it, nevertheless most of the policy recommendations in this proclamation point towards a more unified Union.
The European Union has a remarkably charged political agenda in a turbulent world. Russia is more and more assertive, there is a probably prolonged military crisis in Ukraine, political and military situation is escalating in Europe's southern and south-eastern neighbourhood with imminent impact on Europe's societies. The spectre of Grexit reflects the fact that there are fundamental flaws in the Euro project as far as its long-term sustainability is concerned which necessitates further political and economic policy reforms at EU level. Brexit on the other-hand (although the UK's case is admittedly extreme) is a clear indication of popular disenchantment from the idea European integration. The above factors indeed hinder coordinated action to counter the ever-stronger popular sentiment and well-articulated political agendas that question the usefulness of European integration and sometimes even the basic European values. European institutions and member states suffer to focus and face these challenges including the rising anti-European and in some cases anti-democratic tendencies that will pose significant risks to European integration in the medium-term.
The key message of this proclamation is that the EU does not only need to overhaul its political priorities – which it normally does from time to time – but also needs a new approach towards its very existence, especially the way it interacts with the world and with its own citizens. Similar messages have been reiterated for a long time now by the academia and by some ranks of EU and national political classes, political action nevertheless has been scarce and slow. This to a great extent explains the rise of anti-European or Euroskeptic views.
The author of this paper holds that an overhaul of the functioning of the EU as well as of the general approach to the raison d'etre of European integration is necessary for at least three interconnected reasons:
-firstly, to establish a new societal contract by establishing trust in a disenchanted public without whom no major reforms will be possible, be it economic or political; ("Entice people")
-secondly, to manage inherent tensions stemming from economic (e.g.: Eurozone long-term sustainability), institutional and political (both central and especially member state) imperfections that loom large in a more and more unpredictable global environment;
("Embrace change")
-thirdly, to reverse Europe's gradual slide to global irrelevance (or put in a different way: to harness its economic might in geopolitics by a stronger Union foreign and military policy profile), moreover to reinforce its failing international competitiveness. ("Engage the world")
The key determinants of EU-level policy-setting are the following:
-A new geopolitical order is on the rise. Pax Americana has started to give way to a new world order whose defining features are very unpredictable but which most probably be a more unstable one than we live in today by the major rearrangement of the global equilibrium following the rise of new powers, and with a potentially significant level of hostile competition between the key actors.
-Inside the EU major new geopolitical dynamics are gathering importance which includes a quasi-dominant role of Germany, a weakening France, a UK drifting away and in general a more and more heterogenetic and multiple-speed EU with institutions still in the process of self-redefinition.
-European societies are ageing. The old-age dependency ratio will double by 2040. At the same time, the average fertility rate in Europe is below reproduction. These factors represent serious challenges to the long-term sustainability of the European way of life as know it. Immigration as a tool to face and counter the spectre of unsustainability, mainly due to issues of social integration, as it is demonstrated in several EU member states, raises significant social and political challenges if managed badly.
-European economies and societies under pressure will probably be more susceptible to anti-EU sentiment and propaganda.
-The EU, the home to some half a billion people has no story to tell, or rather its story does not reach its citizens.
Based on the above premises, the EU needs:
-A way more unified diplomatic approach to global political developments and clear political stance on the final boundaries of the Union;
-A stronger capacity to exercise hard power; European army
-A stronger and more unified internal security policy;
-A more effective immigration policy and policies to make integration successful;
-Effective responses to negative demographic trends;
-An institutional and political setup and an economic policy framework that guarantees the long-term survival of the common currency, including a separate Eurozone budget;
-A strongly coordinated energy policy including energy diplomacy that guarantees independence, sustainability and competitiveness;
-A stronger sense of ownership and self-identification of European citizens with the European project;
-A new budgetary arrangement, a budget with a new approach that reflects this policy overhaul including the phasing out of controversial policies such as CAP and a fundamental reform of the cohesion policy and introducing a revenue that creates ownership in the society;
The list of actions proposed necessitate fundamental alterations in the way the EU exists. These alterations will probably be precipitated (or maybe to the contrary: jeopardized) by "inbuilt" political developments that are only partly foreseeable (Brexit, Grexit, Russia, Ukraine, Turkey), partly belong to the realm of a less and less predictable geopolitical environment. These alterations often will take the form of new institutional arrangements. Also efforts to reinforce the currently almost inexistent EU-wide political (democratic) sphere are poised to get stronger – in parallel with the continuous rise of anti-EU sentiment and the political articulation thereof by member state political actors.
One has to be realistic: the list of proposed action provided in this paper is not what will be, many of these suggestions seem radical and certainly contested at this point. Most probably member states as usual will look at any to do list with the well-known mind set: how could an almost certainly hopeless Treaty change be avoided, how one can muddle-through on a business as usual basis? Well, this would not lead us any far in the long-term, only towards disarray, insignificance and instability. Some (both in politics and academia) are fascinated by proposing new institutionally focused arrangements to reform the EU. While these are most of the time reasonable suggestions, people simply don't care. They do not care or even understand why a bi-chamber EP incorporating the Council or a Eurozone budget (so far referred to in the Euro-discourse under as the 'fiscal compact' to make sure nobody understands it) is the magic solution. One should therefore be bold to offer things that are tangible, meaningful and educative for the citizen. One should not cynically pretend that people are fully aware of what is going on in the politics let alone international relations, they do need better information and much broader involvement otherwise no major reforms will be possible in the future.
The following is only a list of policy actions deemed desirable for a stronger and more successful Union. It is not a political itinerary, nor does it discuss in detail how these actions should be put in place. Otherwise – as experience shows – it we would end up in a scattered discourse on how this could (not) be done for political and institutional reasons before even a proper appreciation of the proposed actions could take place. Most of the proposed actions are not realistic for the EU28 as a group, they are instead policy options for member states (should things develop in that direction) of the "core".
Next to some items on the list "B" "T" or "C" signs are visible. "B" denotes that the proposed action involves major budgetary reform and or funding, while "T" means that the action necessitates a new Treaty. "C" represents that it is only or primarily realistic or relevant for a core group of member states that are ready and able to reinforce their unity.
ENTICE PEOPLE
Getting European societies on board is a sine qua non condition for any major change. Endless complaining about the remoteness of the EU has led us nowhere and clearly no ineffective and underfinanced communication campaigns are the solution either. Instead the following actions need to be considered:
•Create post of European (Eurozone) speaker position in national parliaments (who preferably does not bear the host country's nationality) with the right of intervention if European issues debated (T) (C);
•Introduce the instrument of European referendum – one single pan-EU referendum on the same day counted as a whole on key EU issues (T);
•Replace low-profile bureaucrats at the top of EU Representations, create high profile EU presence in capitals (C);
•If a project is financed by 51% EU it should be inaugurated by EU representative;
•Increase Erasmus spending by at least five times (B);
•Introduce preferably mandatory European values curriculum at elementary and secondary schools;
•Finish with national party lists at EP elections, vote on pan-European platform same day all across EU (T);
•Create a special channel of national parliaments at EP – as MEPs are less and less national, MPs should have a vehicle which is visible and effective to intervene at EP debate. This must be much stronger an instrument than ad-hoc invitations; an institutionalised and permanent solution is preferable (T) (C);
•Elect President of the European Commission or the European Council directly by citizens (T);
•Promote EU values abroad (joint EU cultural and political institutes – having in mind Alliance Francaise, Goethe, etc) (B);
•Facilitate national public and political debates on new European reform initiatives such as the recent one (June 2015) by the German and French economy ministers.
•Run EU joint teams (or individual Olympians) in up to 10 percent of Olympic sports by the 2024 Olympic Games;
•Support language teaching and learning; acknowledge reality: English is lingua franca of the EU, support it (B);
•Set up national offices of the Court of Justice to deal local legal matters with EU relevance more promptly and transparently (T);
•Support Europe-related news broadcasting by national broadcasters. Euronews (in a significantly enhanced quality) minutes in local channels. (B);
EMBRACE CHANGE
Here I mean a much more comprehensive change than normally envisaged by the EU in its subsequent Treaty changes, or new policy initiatives and (most of the time unfulfilled) grand programmes on a change as usual course.
•Embrace reality which is inevitable for the long-term success of the EU: declare existence of multiple (two)-speed Europe (instead of deleting the reference to an "ever closer union" in the Treaty as the UK requests), and make the institutional setup best fitted to embrace it (T);
•Let UK have a special status (T);
•Let Greece exit Eurozone (T);
•Make Eurozone exit legally possible and planned (T);
•Establish Eurozone budget of 3-5% of Eurozone GDP to use as macroeconomic buffer (T) (B) (C);
The EU budget is not only small but is not at all designed to tackle macroeconomic shocks and crisis in a monetary union, which needs a puffer for shocks and a stable transfer pool which can be deployed in a prompt manner (this may even include pan-Eurozone social benefit schemes as well.)
•Introduce European tax by unionizing a certain percentage point of national VAT rates and thereby finish with member state membership fee. (This can be budget neutral for member states at the end of the day and at the same time underpins the sense of ownership in the society). (T) (B) (C);
The annual EU budget is €142bn (2014 figures) – a large sum in absolute terms, but only about 1% of the GDP generated by EU economies every year. Traditional own resources usually represent about 12% (10,14% in 2013) and the VAT-base related own resource about 10% (9,38% in 2013) of the total budget. At present European budget is financed mostly by member states as a membership or rather ownership fee. Citizens are completely detached from the act of contributing to the common EU budget. "No representation without taxation". In the proposed new system (European tax) some percentage points from the VAT (standard) rate applicable in member states is payed by the citizen to the EU budget. (It is important to note that this proposed revenue source is completely different from the present levy on national harmonised VAT bases which constitute a resource of the EU budget). This solution is more or less budget-neutral for member states since this source supplements the previous member state contributions (citizen's money in disguise by the way). Citizens' act to finance the EU budget (by buying a product or a service) should be clearly indicated for them on every price-tag. By the member state fee terminated, ownership is delegated to people. In this scheme VAT rates do not have to be augmented either only divided into national (say 18%) and EU (2%) shares. Obviously there are currently major differences among member states' net positions in relation to the EU budget. This has to be calculated with when fine-tuning any new schemes.
•Establish Eurozone finance minister with defined veto rights over national budgets (T) (C);
A Monetary Union without a genuine economic and some degree of a political union is not sustainable. The Euro needs to be accompanied by a solid European economic governance with sufficient own resources and policy leverage. This entails a separate Eurozone budget, an EU treasury headed by a Eurozone finance minister with veto power over national budgets, the transformation of ESM into a European Monetary Fund, finalising the Banking Union, issuance of Eurobonds.
•Cut back CAP drastically (B);
The European Union will spend 373,2 billion EUR on the Common Agricultural Policy between 2014-2020. Although it indicates an 11% decrease compared to the previous EU programming period, CAP still has one of the highest shares – 38.9% – in the total EU budget until 2020. (Approximately, three quarters of the CAP budget is devoted to market related expenditures and direct payments, while one quarter for rural development.) This has to change: a drastic cut in especially direct payments needs to take place.
•Decrease and rationalize cohesion policy spending and establish more possibilities for rapid suspension in case of misuse, fraud or corruption (T);
The efficiency and usefulness of regional policy funds are controversial, dead-weight is very high, moreover they sometimes contribute to corruptive practices.
•Establish full-fledged Energy Union;
•Promote industries, technologies to cater for and institutional arrangements best suited for an ageing society;
•Establish European demography Figure (minister) to initiate and co-ordinate ageing-related policies and to deal with cross-generation tensions in the EU, helping member states to carry out tough reforms and cuts back in the welfare systems (T).
ENGAGE THE WORLD
Without credible hard power capabilities and with its soft power potential seriously underutilized the EU is scoring well under its global weight. The world is becoming less predictable and more turbulent especially at the Union's imminent borders and close neighbourhood. Illegal immigration related issues put a pressure on European societies. Immigration's societal consequences and relevant EU and member state policy responses are getting prominence in the daily life of EU citizens and in EU-policy discourse.
•Establish a European army in the medium to long term; (T) (C);
The European Parliament adopted the Synchronized Armed Forces Europe (SAFE) concept in 2009 to create a scheme for joint civilian and military structures and forces under EU leadership on the voluntary basis. This initiative advocates a Defence Ministers Council and a free service based European soldier status law. SAFE would be operated on joint training, tactics and procedures approved by the participating member states. Actual implementation has been almost none but the Russian aggression in Ukraine changes things. The European Corps (Eurocorps) in Strasbourg and the Corps Headquarters in Münster and Szcezin are existing elements to build upon.
•Member state should stop military spending cuts and they should aim for synergy (B);
The European defence capabilities have been gradually reduced over the years. One and a half million soldiers served in the EU member countries in 2013, half a million less than in 2006. EU countries spent only 190 billion euro (12% of total world spending) for military purposes. From 2006 to 2013, the European defence spending decreased by 15% (€ 32 billion). World military expenditure in 2013 was 1.747 billion $, around 2.4% of World GDP. However, China (188 billion US $) and Russia (88 billion US $) continuously increases the military budget. 80% of the European defence spending is by France, Germany, United Kingdom, who also reduce their military budgets.
•Reform CFSP: do away with unanimity, or at least make prompt actions possible by an easily applicable flexible institutional solution for a group of member states, something similar but more flexible than the so-called reinforced cooperation. (T) (C);
The new functions brought about by the Lisbon Treaty are modest innovations. The High Representative is very far from a European Foreign Minister, so is the European External Action Service from a European Foreign Ministry.
•Reform EU immigration policy, render it more effective, and base it on a way longer-term oriented policy approach that encompasses factors of sustainability (in a broad sense including long-term demographic and budgetary considerations) and societal sentiment (B);
For 2014-20, the overall Home Affairs budget amounts to only EUR 9.26 billion. Immigration policy is not only underfinanced but remains fragmented in the EU marred by conflicts of policy objectives, namely the paradox of the free movement, solidarity and security. The issue of legal and illegal immigration and refugees and even terrorism are often fudged in the minds of people which is sometimes reinforced by demagogic and or Euroskeptic national politics. At the same time, the growing feeling of insecurity in the society and also the failures in the integration of migrant communities in European societies are key issues to face. In 2014 276000 migrants entered the EU irregularly, which represent an increase of 138 percent compared to 2013. The number of asylum applicants registered in the EU has also increased significantly in 2014 (626.000 applications). The mandate of the EU agency EASO (European Asylum Support Office) should be significantly expanded to make it a proper Common European Asylum Service. In general for migration and asylum matters more resources have to be deployed at EU level. A special representative on migration for the External Action Service is to be established.
•Reinforce Frontex significantly (B).
EU: The stalemate in negotiations brings Serbia ever closer to Russia and China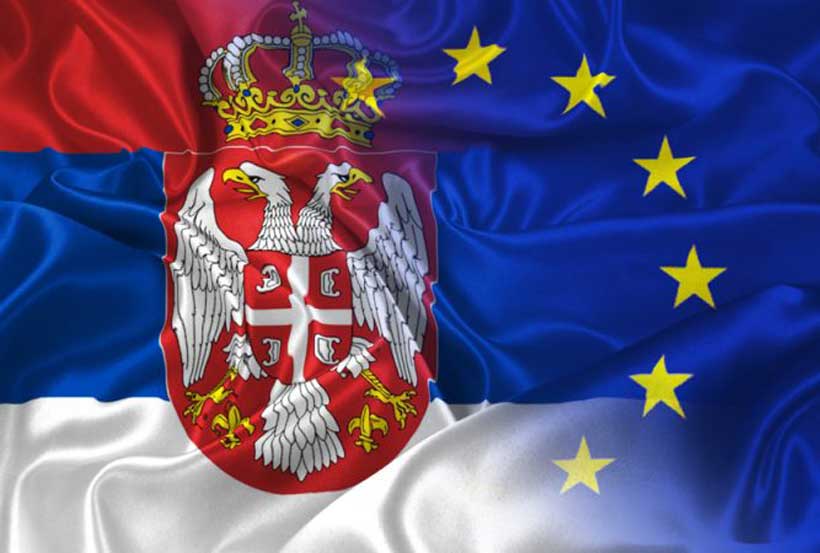 Serbia has been waiting since 2012 for the European Union to respond to its application to become a full member of the EU.
In spite of exhausting negotiations, this response is slow in coming and the main cause of the stalemate has a clear name: Kosovo. Before accepting Serbia's application for membership, the EU requires a definitive solution to the relations between Serbia and that region that broke away from it after the 1999 conflict – when NATO came to the aid of the Kosovo Albanians – and proclaimed its independence in February 2008.
Serbia has never recognised the birth of the Kosovo Republic, just as many other important countries have not: out of 193 UN members, only 110 have formally accepted the birth of the new republic, while the rest, including Russia, China, Spain, Greece and Romania – to name just the most important ones – refuse to recognise the independence of the Albanians of what was once a region of Serbia.
The European Union cannot accept that one of its members is in fact unable to guarantee control over its borders, as would be the case for Serbia if its membership were accepted.
In fact, since the end of the war between Kosovo and Serbia, there is no clear and controlled border between the two countries. In order to avoid continuous clashes, Kosovo and Serbia have actually left the border open, turning a blind eye to the 'smuggling economy' that thrives on both sides of the border.
In this situation, if Serbia were to become a full member of the European Union, it would create a gap in the borders of the entire Schengen area, as anyone passing through Kosovo could then move into all EU countries.This is not the only obstacle to Serbia's accession to the European
Union: many European chancelleries are wary of Serbian foreign policy which, since the dissolution of the Yugoslav Federation, has maintained a privileged relationship with Russia, refusing to adhere to the sanctions decided by Europe against Russia after the annexation of Crimea to the detriment of Ukraine.
During the Covid-19 pandemic, Serbia even agreed to produce the Russian vaccine 'Sputnik V' directly in its own laboratories, blatantly snubbing EU's vaccine offer.
For the United States and some important European countries, Serbia's formal accession to the European Union could shift the centre of gravity of Europe's geopolitics towards the East, opening a preferential channel for dialogue between Russia and the European Union through Serbia.
This possibility, however, is not viewed unfavourably by Germany which, in the intentions of the CDU President, Armin Laschet, the next candidate to succeed Angela Merkel as Chancellor, has recently declared he is in favour of a foreign policy that "develops in multiple directions", warning his Western partners of the danger resulting from "the interruption of the dialogue with Russia and China". In this regard, Laschet has publicly stated that 'foreign policy must always focus on finding ways to interact, including cooperation with countries that have different social models from ours, such as Russia, China and the nations of the Arab world'.
Today we do not know whether in autumn Laschet will take over the leadership of the most powerful country in the European Union, but what is certain is that Serbia's possible formal membership of the European Union could force Europe to revise some of its foreign policy stances, under the pressure of a new Serbian-German axis.
Currently, however, Serbia's membership of the European Union still seems a long way off, precisely because of the stalemate in the Serbia-Kosovo negotiations.
In 2013 Kosovo and Serbia signed the so-called 'Brussels Pact', an agreement optimistically considered by European diplomats to be capable of rapidly normalising relations between Serbia and Kosovo, in view of mutual political and diplomatic recognition.
An integral part of the agreement was, on the one hand, the commitment of Kosovo's authorities to recognise a high degree of administrative autonomy to the Kosovo municipalities inhabited by a Serb majority and, on the other hand, the collaboration of the Serbs in the search for the remains of the thousands of Kosovar Albanians presumably eliminated by Milosevic's troops during the repression that preceded the 1999 war.
Neither of the two commitments has so far been fulfilled and, during the meeting held in Brussels on July 21 between Serbian President Alexander Vucic and Kosovo's Prime Minister Albin Kurti, harsh words and reciprocal accusations were reportedly exchanged concerning the failure to implement the 'Pact', to the extent that the Head of European foreign policy, Josep Borrel, publicly asked the two parties to 'close the chapter of a painful past through a legally binding agreement on the normalisation of mutual relations, with a view to building a European future for its citizens'. This future seems nebulous, to say the least, if we consider that Serbia, in fact, refuses to recognise the legal value of degrees and diplomas awarded by the Kosovo academic authorities also to members of the Kosovo Serb minority.
Currently, however, both contenders are securing support and alliances in Europe and overseas.
Serbia is viewed favourably by the current President of the European Union, Slovenian Janez Jansa, who is a supporter of its membership because "this would definitively mark the dissolution of the Yugoslav Federation". The vast majority of European right-wing parties, ranging from the French 'Rassemblement National' to the Hungarian 'Fydesz', also approve of Serbia's membership application and openly court the Serbian minorities living in their respective countries while, after the years of US disengagement from the Balkans under Presidents Bush, Obama and Trump, the Biden administration has decided to put the region back on the list of priority foreign policy commitments, entrusting the 'Serbia dossier' to the undersecretary for European and Eurasian Affairs, Matthew Palmer, an authoritative and experienced diplomat.
With a view to supporting its application for European membership, Serbia has also deployed official lobbyists.
Last June, Natasha Dragojilovic Ciric's lobbying firm ND Consulting officially registered in the so-called EU 'transparency register' to promote support for Serbia's membership. ND is financed by a group of international donors and is advised by Igor Bandovic, former researcher at the American Gallup and Head of the Belgrade Centre for Security Policy, by lawyer Katarina Golubovic of the 'Committee of Human Rights Lawyers' and Jovana Spremo, former OSCE consultant.
These are the legal experts deployed by Serbia in Brussels to support its application for formal European integration, but in the meantime Serbia is not neglecting its "eastern" alliances.
Earlier this month, the Head of the SVR, the Russian Foreign Intelligence Service, Sergey Naryshkin, paid an official visit to Belgrade, a few weeks after the conclusion of a joint military exercise between Russian special forces (the "Spetznaz") and Serbian special forces.
In the Serbian capital, Naryshkin not only met his Serbian counterpart Bratislav Gasic, Head of the 'Bezbednosno Informativna Agencija', the small but powerful Serbian secret service, but was also received by the President of the Republic Alexander Vucic with the aim of publicising the closeness between Serbia and Russia.
The timing of the visit coincides with the resumption of talks in Brussels on Serbia's accession to the European Union and can clearly be considered as instrumental in exerting subtle diplomatic pressure aimed at convincing the European Union of the possibility that, in the event of a refusal, Serbia may decide to definitely turn its back on the West and ally with an East that is evidently more willing to treat the Serbs with the dignity and attention that a proud and tenacious people believes it deserves.
A piece of news confirming that Serbia is ready to turn its back on the West, should Europe continue to postpone the decision on its accession to the European Union is the fact that China has recently signed a partnership agreement with Serbia in the field of pharmaceutical research, an agreement that makes Serbia one of China's current largest commercial partners on the European continent.
When the Soviet Union collapsed and the Warsaw Pact died, there was much speculation that NATO would consider itself redundant and either disappear or at least transmogrify into a less aggressive body.
Failing that, Moscow at least felt assured that NATO would not include Germany, let alone expand eastwards. Even the NATO Review, NATO's PR organ, wrote self-apologetically twenty-five years after the fall of the Berlin wall: "Thus, the debate about the enlargement of NATO evolved solely in the context of German reunification. In these negotiations Bonn and Washington managed to allay Soviet reservations about a reunited Germany remaining in NATO. This was achieved by generous financial aid, and by the '2+4 Treaty' ruling out the stationing of foreign NATO forces on the territory of the former East Germany. However, it was also achieved through countless personal conversations in which Gorbachev and other Soviet leaders were assured that the West would not take advantage of the Soviet Union's weakness and willingness to withdraw militarily from Central and Eastern Europe."
Whatever the polemics about Russia's claim that NATO broke its promises, the facts of what happened following the fall of the Berlin wall and the negotiations about German re-unification strongly demonstrate that Moscow felt cheated and that the NATO business and military machine, driven by a jingoistic Cold War Britain, a selfish U.S. military-industrial-congressional complex and an atavistic Russia-hating Poland, saw an opportunity to become a world policeman.
This helps to explain why, in contrast to Berlin, NATO decided to keep Nicosia as the world's last divided city. For Cyprus is in fact NATO's southernmost point, de facto. And to have resolved Cyprus' problem by heeding UN resolutions and getting rid of all foreign forces and re-unifying the country would have meant that NATO would have 'lost' Cyprus: hardly helpful to the idea of making NATO the world policeman. Let us look a little more closely at the history behind this.
Following the Suez debacle in 1956, Britain had already moved its Middle East Headquarters from Aden to Cyprus, while the U.S. was taking over from the UK and France in the Middle East. Although, to some extent under U.S. pressure, Britain was forced to bring Makarios out of exile and begin negotiating with Greece and Turkey to give up its colony, the U.S. opted for a NATO solution. It would not do to have a truly sovereign Cyprus, but only one which accepted the existence of the Sovereign Base Areas (SBAs) as part and parcel of any settlement; and so it has remained, whatever the sophistic semantics about a bizonal settlement and a double-headed government. The set of twisted and oft-contradictory treaties that have bedevilled the island since 1960 are still afflicting the part-occupied island which has been a de facto NATO base since 1949. Let us look at some more history.
When Cyprus obtained its qualified independence in 1960, Greece and Turkey had already signed, on 11 February 1959, a so called 'Gentlemen's Agreement', agreeing that they would support Cyprus' entry into NATO.1 This was, however, mere posture diplomacy, since Britain—and the U.S. for that matter—did not trust Cyprus, given the strength of the Progressive Party of Working People (AKEL) and the latter's links to Moscow. The Ministry of Defence (MOD) wrote: 'Membership of NATO might make it easier for the Republic of Cyprus and possibly for the Greeks and Turks to cause political embarrassment should the United Kingdom wish to use the bases […] for national ends outside Cyprus […] The access of the Cypriot Government to NATO plans and documents would present a serious security risk, particularly in view of the strength of the Cypriot Communist Party. […] The Chiefs of Staff, therefore, feel most strongly that, from the military point of view, it would be a grave disadvantage to admit Cyprus to NATO.'2 In short, Cyprus was considered unreliable.
As is well known, the unworkable constitution (described as such by the Foreign Office and even by David Hannay, the Annan reunification plan's PR man), resulted in chaos and civil strife: in January 1964, during the chaos caused by the Foreign Office's help and encouragement to President Makarios to introduce a 'thirteen point plan' to solve Cyprus' problems, British Prime Minister Douglas-Home told the Cabinet: 'If the Turks invade or if we are seriously prevented from fulfilling our political role, we have made it quite clear that we will retire into base.'3 Put more simply, Britain had never had any intention of upholding the Treaty of Guarantee.
In July of the same year, the Foreign Office wrote: 'The Americans have made it quite clear that there would be no question of using the 6th Fleet to prevent any possible Turkish invasion […] We have all along made it clear to the United Nations that we could not agree to UNFICYP's being used for the purpose of repelling external intervention, and the standing orders to our troops outside UNFYCYP are to withdraw to the sovereign base areas immediately any such intervention takes place.'4
It was mainly thanks to Moscow and President Makarios that in 1964 a Turkish invasion and/or the island being divided between Greece and Turkey was prevented. Such a solution would have strengthened NATO, since Cyprus would no longer exist other than as a part of NATO members Greece and Turkey. Moscow had issued the following statement: 'The Soviet Government hereby states that if there is an armed foreign invasion of Cypriot territory, the Soviet Union will help the Republic of Cyprus to defend its freedom and independence against foreign intervention.'5
Privately, Britain, realising the unworkability of the 1960 treaties, was embarrassed, and wished to relieve itself of the whole problem. The following gives us the backstage truth: 'The bases and retained sites, and their usefulness to us, depend in large measure on Greek Cypriot co-operation and at least acquiescence. A 'Guantanamo'6 position is out of the question. Their future therefore must depend on the extent to which we can retain Greek and/or Cypriot goodwill and counter USSR and UAR pressures. There seems little doubt, however, that in the long term, our sovereign rights in the SBA's will be considered increasingly irksome by the Greek Cypriots and will be regarded as increasingly anachronistic by world public opinion.7
Following the Turkish invasion ten years later, Britain tried to give up its bases: 'British strategic interests in Cyprus are now minimal. Cyprus has never figured in NATO strategy and our bases there have no direct NATO role. The strategic value of Cyprus to us has declined sharply since our virtual withdrawal from east of Suez. This will remain the case when the Suez Canal has reopened.8
A Cabinet paper concluded: 'Our policy should continue to be one of complete withdrawal of our military presence on Cyprus as soon as feasible. […] In the circumstances I think that we should make the Americans aware of our growing difficulty in continuing to provide a military presence in Cyprus while sustaining our main contribution to NATO. […]9
Britain kept trying to give up the bases, but the enabler of the Turkish invasion, Henry Kissinger, did not allow Britain to give up its bases and listening posts, since that would have weakened NATO, and since Kissinger needed the bases because of the Arab-Israel dispute.10
Thus, by the end of 1980, in a private about-turn, Britain had completely succumbed to American pressure: 'The benefits which we derive from the SBAs are of major significance and virtually irreplaceable. They are an essential contribution to the Anglo-American relationship. The Department have regularly considered with those concerned which circumstances in Cyprus are most conducive to our retaining unfettered use of our SBA facilities. On balance, the conclusion is that an early 'solution' might not help (since pressures against the SBAs might then build up), just as breakdown and return to strife would not, and that our interests are best served by continuing movement towards a solution – without the early prospect of arrival [author's italics]11.
And so it is today: Cyprus is a de facto NATO territory. A truly independent, sovereign and united Cyprus is an anathema to the U.S. and Britain, since such a scenario would afford Russia the hypothetical opportunity to increase its influence in the Eastern Mediterranean.
From our partner RIAC
[1] Ministry of Defence paper JP (59) 163, I January 1960, BNA DEFE 13/99/MO/5/1/5, in Mallinson, William, Cyprus, a Modern History, I.B. Tauris (now Bloomsbury), London and New York, 2005, 2009, 2012, p.49.
[2] Ibid.
[3] Memorandum by Prime Minister, 2 January 1964, BNA CAB/129/116, in ibid, Mallinson, William, p.37.
[4] British Embassy, Washington, to Foreign Office, 7 July 1964, telegram 8541, BNA FO 371/174766, file C1205/2/G, in ibid.', Mallinson, William, p. 37.
[5] Joseph, Joseph S., Cyprus, Ethnic Conflict and International Politics, St Martin's Press, London and New York, 1997, p. 66.
[6] In 1964, Cuba cut off supplies to the American base at Guantanamo Bay, since the US refused to return it to Cuba, as a result of which the US took measures to make it self-sufficient.
[7] Briefing paper, 18 June 1964, BNA-DO/220/170, file MED 193/105/2, part A. Mallinson,William, Kissinger and the Invasion of Cyprus, p. 127.
[8] 'British Interests in the Eastern Mediterranean', draft paper, 11 April 1975, BNA-FCO 46/1248, file DPI/515/1.
[9] Cabinet paper, 29 September 1976, in op. cit. Mallinson, William, Kissinger and the Invasion of Cyprus, p.134.
[10] Mallinson, William, Britain and Cyprus: Key Themes and Documents, I.B. Tauris, London and New York, 2011, and Bloomsbury, London and New York, 2020, pp. 87-121.
[11] Fergusson to Foreign Minister's Private Secretary, minute, 8 December 1980, BNA-FCO 9/2949, file WSC/023/1, part C.
Belarus divorces from the Eastern Partnership: A new challenge for the EU Neighborhood Policy
The Eastern Partnership (EaP) is the Eastern dimension of the EU Neighborhood Policy adopted back in 2009 aimed at deepening relations between Brussels and six Eastern European partners – Armenia, Azerbaijan, Belarus, Georgia, Moldova and Ukraine. The EaP has been regarded as a strategic initiative based on mutual interests and common values with a goal of strengthening political and economic relations with those countries, helping them enhance their institutional capacity through sustainable reforms. While increasing stability and paving the way for the sustainable development of those societies, the EU's overall goal has been to secure its Eastern borders.
Since the very beginning the EaP has been suspiciously viewed by Russia as an attempt of expansion of the sphere of influence and as a first step of EU membership of these countries. Russians point to the EU and NATO ambitious expansion eastward as the main reason for complicated relations and in this context the EaP has been regarded with traditional fears and paranoic perceptions. The Russian hard power approach causes serious problems for the EaP which fails to mitigate security concerns of partner countries and to come up with serious initiatives for conflict settlement. Being a laggard in terms of soft power, the Russian ruling elite has continuously used all hard power foreign policy instruments at its disposal trying to undermine the coherence of the initiative. And the very recent démarche of Belarus to withdraw from the EaP should be seen in this context of confrontation.
On 28th of June, the ministry of foreign affairs of Belarus announced a decision to halt its membership in the EaP as a response to the EU sanctions imposed on Minsk accompanied by the recalling ambassadors from both sides. Actually, this isn't the first case of the EaP walkout blackmailed by Lukashenko. The first escape was attempted in September-October 2011, but the difficulties were soon resolved and Lukashenko revised his decision. This time situation seems very complicated and these far-reaching tensions may have tough consequences for Lukashenko's regime. This new group of sectoral sanctions which target banking, oil, telecommunication spheres and also ban the export of potash, is a harsh response from the EU against Lukashneko's scandalous hijacking activity in May to detain a Belarusian opposition journalist and blogger Roman Protasevich.
Lukashenko's administration not only challenges the EU Neighborhood Policy and shows no retreat, but also goes forward escalating the situation. Minsk takes high risks freezing the Readmission Agreement signed by the EU. This document is a legal basis for bilateral cooperation aimed at struggling against irregular migration flows. It's not a secret that the territory of Belarus has been used for illegal migration for the groups from the Middle East to penetrate into neighboring EU member states such as Poland, Lithuania and Latvia. Moreover, Belarus territory has served as a transit route for smuggling circles going from East to West and vice versa. And now closing eyes on all these channels, Minsk hopes to increase the bargaining power vis-à-vis Brussels. However, given the Western reactions, it seems that this time the EU is resolute.
Despite the fact that Charles Michel, the President of the EU Council, described this withdrawal as "another step backwards" and even threatened that "this will escalate tensions having clear negative impacts", the EU wants to continue working with the Belarusian society as Josep Borrel stated. The EU's determination to keep the bridges alive with the Belarusian people, in spite of Lukashneko's radical stance, is aimed at preventing further isolationism of Minsk which would benefit only Russia.
In contrast to the increasing level of tensions with the EU, the Russian authorities continue to support Lukasheno's administration, thus trying to deepen the gap and to bring Belarus under their total influence. Russia uses Belarus in its chessboard with the EU and the USA in Eastern Europe. Last year's fraud elections and brutal crackdown by Lukashenko left him alone with the only source of power stemming from the Kremlin. Thus the withdrawal from the EaP should be understood not only as a convulsion of the Belarusian authorities in response to the sanctions, but also Russia's employment of the Belarus card to respond to the recent joint statement of the EU-US summit in Brussels, when both parties declared their intention to stand with the people of Belarus, supporting their demands for human rights and democracy simultaneously criticising Lukashenko's regime and his reckless political behavior and also criticising Russian's unacceptable behavior.
So, Lukashenko's step to quit the EaP can be seen as a well-calculated adulatory sign towards Moscow sacrificing the last remnants of sovereignty in order to receive financial and political lifebuoy amid the increasing crisis in the result of sanctions. And the recent visit of N. Patrushev, the Secretary of the Security Council of Russia, to Minsk right after the withdrawal decision shows Russian inclination to strike while the iron is hot and to abuse the vulnerable situation of Belarus. Patrushev stated that the ultimate goal of foreign powers is to change the power in Belarus and he suggested instead of focusing on internal issues, to bring their forces together against external threats as their influence affects internal developments. For this reason, deeper integration of security and military services of both countries are on the table.
The reaction of opposition leader S. Tikhanovskaya was very rough, stating that this suspension will cut the opportunities of ordinary citizens who benefit from the political and economic outcomes of the EaP. Moreover, she claims that Lukashenko doesn't have a right to represent Belarus since August 2020 and his decisions don't have legal consequences for Belarus. This kind of approach is shared by the leadership of Lithuania too, whose president and minister of foreign affairs not only refuse to recognize Lukashenko as a legitimate president, but also highlight the role of the Kremlin in supporting the dictatorial power of Lukashenko in exchange for decreasing sovereignty.
The blackmail of Lukashenko to challenge the EU Eastern Neighborhood Policy in order to have the sanctions lifted may bring about such kind of precedents with other partnering countries as well. First of all, this concerns Azerbaijan which continues to face serious problems related with human rights, freedom of expression, the problem of Prisoners of War and other traits of authoritarian power. It's well-known that human rights issues have been the underwater stones in the EU and Azerbaijan relations and they continue to pose new challenges for Aliyev's non-democratice regime. Another weak ring of the EaP chain is Armenia. Even though reelected N. Pashinyan is eager to pursue a balanced foreign policy, post-war Armenia still faces serious limitations given its vulnerable dependence on Russia. Besides, Pashinyan's main rival and the former President R. Kocharyan, whose alliance will be the second largest faction in the newly elected Parliament has recently stated that this new parliament can last up to one and half years and nobody can exclude the possibility of new snap elections. His pro-Russian attitude and anti-Western stance are well-known and in case he becomes a prime-minister, there is no guarantee that he will follow the path of Lukashenko.
Therefore the statement of the Austrian MFA, that "we cannot leave South Caucasus to others" during the recent official visit of the Austrian, Romanian and Latvian MFA under the mandate of the EU High Representative to the South Caucasus, reminds about the EU presence in the region and also the fact that the 'normative power' can be a source of balance and a status quo changer.