The phrase 'Cold War' typically brings about thoughts of a worldwide geopolitical struggle. However there is a new 'Cold War' brewing in the Caucasus with Turkey's growing relations in the region.
Through the new establishment of close military ties with Georgia and Azerbaijan, Turkey is showing its geostrategic goal of dominating the Caucasus region. Georgia and Azerbaijan's individual interests that are adversarial to Russia align with Turkey's goal of being the dominant player in the region thus beginning the Caucasian Cold War between Russia and Turkey.
Ever since the dissolution of the Soviet Union, Turkey has been seeking to expand its influence in the former Soviet Republics in the Eurasian region. This has typically come through economic ventures and cultural exchanges due to many of these states having Turkish backgrounds or minorities. These moves have been of great importance to the growing Turkish economy and for the expansion of Turkish soft power within the region. However forging large scale military ties in this region highlights Turkey's desire to secure these interests.
Turkey has much to gain economically from solidifying its relationships with Georgia and Azerbaijan. The elephant in the room of this relationship pertains to the involvement in the pipeline system from the Caspian Sea onward. In addition to this access to the pipeline there are other economic incentives that can be built upon such as the free trade agreement with Georgia. Azerbaijan also does significant trade with Turkey as well. Ensuring the security of the pipelines through these alliances will benefit Turkey most of all.
Through establishing these closer relationships with Georgia and Azerbaijan, Turkey will grow its soft power in the Caucasus region. There are few cultural links with Georgia to build upon, but keeping the Russians out is a shared interest which Turkey can build upon through this defense cooperation. Azerbaijan is a majority Muslim state, though it is Shia and Turkey is Sunni, but this and shared cultural backgrounds have already paved the way for Turkish influence in Azerbaijan. Like in Georgia, keeping the Russians out will cement Turkey's stance in the region. Therefore Turkey is seeking to continue steering these states away from Russian and into its umbrella of influence through this defense cooperation.
Georgia has perhaps the most to gain from this defense cooperation. Having suffered a defeat from the massive Russian military in the 2008 war, with Russian forces occupying Georgian claimed lands, Georgia has been seeking further security guarantees. Before that war and after it has sought NATO membership to no avail thus far. This defense cooperation could get Georgia what it wants though.
Turkey has one of the best militaries in the world. Having a security guarantee from Turkey would ease the Georgian stress concerning their neighbor to the north. This defense cooperation accomplishes their shared goal. Turkey will increase its power in the Caucasus region through keeping Russia out. Georgia will keep Russia out through teaming up with Turkey. Although Turkey and Georgia have this shared goal, Georgia has other motives as well.
Before and after the 2008 war, Georgia has sought NATO membership to no avail. By increasing their ties with Turkey, a NATO member, Georgia will also build its rapport with the alliance. NATO's unofficial strategy of moving into former Soviet States to deny Russian influence is in alignment with Turkey's strategy to gain influence in the Caucasus. Therefore in addition to securing itself through Turkey, Georgia may make headway with getting its NATO membership.
Azerbaijan is set to benefit from the new defense cooperation with Turkey as well. Since its independence it has moved closer and closer to Turkey, much to Moscow's chagrin. This has been due to the cultural links between these states. The defense cooperation will ensure the integrity of Azerbaijan's economy and will ensure their security against Russia.
Although Azerbaijan hasn't come into direct conflict with Russia as Georgia has, it still remains threatened. Moves away from Russia by former Soviet states such as in the Georgian or Ukrainian case have been met with aggression from Russia. This necessitates the need for Azerbaijan to ensure its security through an external backer which works for Turkey since it wants to increase its own influence in the region.
The main security concern for Azerbaijan comes from Armenia. Conflicts in the 1990s and recent border clashes still are fresh wounds in Azerbaijan. Having a defense relationship with a regional power like Turkey will act as a deterrent for Azerbaijan. This deterrent is particularly in regards to Armenia's relationship with Russia that involves large amounts of Russian troops being stationed in Armenia. Therefore similarly to the Georgian case, Azerbaijan and Turkey both want to keep the Russians out to ensure security and influence in the Caucasus respectively.
Ever since the dissolution of the Soviet Union, Russia has sought to retain influence in the former Soviet republics. This has been done through attempts at forging economic ties and alliances. This has also been done through shows of force and aggression. Being that this has been the Russian modus operandi since the end of the Soviet Union, this behavior has set the stage for this Caucasian Cold War.
Russia has been linked to both Georgia and Azerbaijan since Soviet times. As time has passed, like other former Soviet states, Georgia and Azerbaijan have moved further and further away. Russia went to war with Georgia in 2008 in part due to Georgian movement away from Russia which has created a permanent strain upon their relationship. In 2014 this occurred in Ukraine as well. Both of these cases still have unresolved grievances though the guns have fallen silent in Georgia and not Ukraine. Being that Russia is willing to use force to get what it wants, it only makes sense for former Soviet states to seek external security guarantees.
Russia has been seeking to be the preeminent power in the Caucasus region since the dissolution of the Soviet Union. This has been done through courting Georgia and Azerbaijan economically, but to no avail. It has also been done militarily through the 2008 war with Georgia and the military ties with Azerbaijan's rival Armenia. Also since the end of the Soviet Union, Turkey has been seeking to increase its influence in the Caucasus. Up until now this influence was restricted to economic and some cultural links. However since Turkey now has a defense agreement with Georgia and Azerbaijan, the wheels are in motion for a Caucasian Cold War. Only time will tell how Russia reacts to the growing Turkish influence in the region. At a minimum this Caucasian Cold War will pit Russia against Turkey through these states, despite their Turkish leaning, but Russia has shown recently that it is willing to use force to retain influence in its former Soviet territories.
Armenia's Role in South Caucasus Policy of Russia
The Caucasus has long been one of the most important regions in the world. Many states had the desire and plan to rule this region from time to time. For centuries Russia has a great influence in the Caucasus and the main reason for the importance of the Caucasus region for Russia is its geostrategic location on important trade routes. Because by passing through this region Russia can reach the Balkans, the Black Sea and the White Sea, the Persian Gulf, as well as the Indian Ocean. The other important reason is the Caucasus is a great source of raw materials for the Russian economy. North Caucasus regions, such as Chechnya, Dagestan and Tatarstan, cover almost half of Russia's energy needs. Also, the Caucasus region has significant strategic importance in terms of the routes that aimed to bring the Caspian Sea resources to the West and controlling these routes.
After the dissolution of the USSR, relations between Russia and Armenia intensified since 1992. There are numerous agreements have been signed between Russia and Armenia in various fields. The most important agreement was signed in Moscow a Treaty of Friendship, Cooperation, and Mutual Assistance by Presidents Boris Yeltsin of Russia and Levon Ter-Petrosian of Armenia. The treaty also envisages consultations and mutual military support if either side is attacked or considers itself threatened by a third party. Despite Russian and Armenian officials denied this, it was one of Russia's interference in the South Caucasus through Armenia. This agreement has made Russia's presence stronger in the region. Russia has military bases in Armenia and the main purpose of these bases is to protect Russia's interests and Armenia's national security. After the recent crisis in Georgia and the withdrawal of Russian military bases, Armenia became a more important actor for Russia.
Russia has a significant impact on the processes in the region by using the Nagorno-Karabakh conflict. The conflict started with Armenian occupation of Azerbaijani lands and as a result of Russia's efforts, a ceasefire was declared and negotiations started. The Kremlin supports the peaceful settlement of the conflict within the OSCE Minsk Group, as well as in bilateral meetings. Consequently, Russia provides political and military support to Armenia as an important ally in the region, as well as prevents Azerbaijan moving away from it by being as a guarantor of the peaceful settlement of the conflict. Time to time Russia uses this conflict to make political pressure on both countries which makes it another most important factor for Russia. Georgia's attack on North Ossetia and later on Russian intervention in Georgia and recognition of North Ossetia and Abkhazia, have led to thinking whether there will be a change in the status of Nagorno-Karabakh. Also, Russian intervention in Georgia has shown that the problems in the CIS region cannot be solved without Russia. Therefore, it is possible to say that resolving the Nagorno-Karabakh dispute is highly dependent on Russian presence. However, the growing interest of the West in this region and proposing new solutions to the conflict, make Azerbaijan and Armenia use this dispute card against Russia. The possibility of Western-South Caucasus rapprochement in the future may lead to not only a political, but even a serious economic impact on Russia. Russia's economy is heavily dependent on energy resources and the European energy market is the most important, profitable, and stable market for Russia. At the same time, the EU tries to diversify its energy routes and to reduce its dependency on Russian energy exports. The South Caucasus, especially the Caspian region has rich oil and gas sources. Hence, in the light of the Western-Caucasus relations, the role of Azerbaijan becomes more significant and strategic. In addition, strengthening and developing relations between Armenia and the EU is important in terms of ensuring the security of supply. Such a significant reduction of the EU's dependence on Russia will have a great impact on Russia's economy. Considering the fact that there are numerous sanctions on Russia, the weakening of the Russian economy may hamper its regional power. Even more likely, this may lead to domestic riots in Russia, and Russia may face the threat of a division of the country.
The Kremlin and Moscow have a special control over the region to prevent this scenario and creates barriers to the South Caucasian countries' integration into the European Union. For instance, abandoning the Nabucco project, Russia's military intervention in Georgia, and being a shareholder in projects in this region (excluding TAP and TANAP) are some examples of these barriers.
Diasporas also play an important role in Russia's Caucasus policy. They are most influential tools in key areas of government and are closely involved in political activities. Moreover, the existence of many Russian citizens in Armenia, the wider use of Russian language in the country, and the broadcasting of Russian radio and television channels are the core elements of Russian presence in Armenia. Some Russians living in Armenia also have the opportunity to participate actively political and cultural relations due to their Armenian language knowledge.
Conclusion
After the collapse of the USSR, Armenia became Russia's main ally in the South Caucasus. Integration of Georgia into West, conflicts and problems with Turkey and Azerbaijan, threats to national security urge Armenia to be closer to Russia. At the same time, large-scale projects implemented by Azerbaijan and Georgia with Turkey and Western countries, integration into the Western markets, and problems with Armenia hinder Armenia's regional, political and economic development. To ensure this development, Armenia sees Russia as its biggest ally and closely cooperates with Russia.
The basis for the national security of Armenia relies on military cooperation between Russia and Armenia, however, the dependence on Russia in the economic sphere and the fact that all the strategic enterprises are controlled by the Russians is contrary to Armenia's interests. Therefore, Armenia is in search for ways to integrate into the West without undermining its relations with Russia. However, Armenia's political and economic dependence on Russia and tensions with Azerbaijan and Turkey make difficult to integrate into the West. in order to get rid of isolation, it is important for Armenia to step back in disputes with Turkey and Azerbaijan and mitigate relations.
In the near future, it is impossible for Armenia to completely break the dependency on Russia and integrate into the EU and the West. The grounds for this integration, which depend on Russia's foreign policy strategies, have not yet been established. Today, the Armenian authorities understand that it is impossible for Armenia without Russia to exist in these conditions. While the integration into the West is on the agenda, the isolation of Armenia in the region prevents the achievement of political and economic prosperity. Russia's active involvement in the region is important for Armenia, both for internal and external stability. Armenia's integration to the West will continue in the frame of Russia's interests, but from now on the Armenian government will pursue a more discreet policy towards Russia. Russia, on the other hand, can take two actions; to take a step which can lead to the end of the Nagorno-Karabakh conflict and Armenia's defeat, or to control Armenia without military intervention by making some concessions to current or future authorities. The first option is dangerous for Russia in terms of losing Armenia and reputation in South Caucasus, however, in the second variant, Russia can maintain its influence in the region by ensuring its long-term interests.
Latvians will choose their future
The general elections in Latvia will take place on October 6, 2018. On Saturday Latvians will choose their future. Though it sounds very pathetic, future of the country really depends on the results of these elections.
In an interview with Latvian information agency LETA, Foreign Minister Edgars Rinkevics, commenting the atmosphere during this pre-election period, said that a serious battle of people's minds and hearts is going on right now.
And this is true. But this fight is too cruel. Just this pre-election period shows all things bad as they are. The "truth" about corruption on high banking and political levels all of a sudden has been poured out on population. "Latvia's central bank chief has been charged with bribery. A lawyer liquidating the bank that was accused of bribing him was killed in a hail of machine-gun fire. One of the country's biggest lenders was shut down after the U.S. levied allegations of money laundering and violations of sanctions on North Korea. What's going on in Latvia? " ask the authors of article "Where Latvia's Financial Corruption Scandal May Lead" published in Bloomberg on September 27.
Situation in small Latvia reminds gangster times in the United States, when criminals held people in awe. The difference is only in the fact that American gangsters were not high ranking officials. Gangsters' activity was officially considered criminal. On the contrary, Latvian case demonstrates activity of corrupted authorities, who influence the whole country, all 2 milllion people.
Ilmars Rimsevics, who's been in charge of Latvia's central bank as governor or deputy since 1992, is accused of soliciting a bribe from Trasta Kommercbanka AS, a small lender that was shut in 2016 after being implicated in a $20 billion money-laundering scheme. Specifically, he's accused of receiving 250,000 euros five years ago.
It is difficult to imagine, that he got a bribe once, ruling the bank for so many years. Nobody saw his misconduct, nobody knew about it. Nonsense!
Now it is a question of trust to all top officials in Latvia.
For example, about 1 percent of all U.S. dollars moving around the world in 2015 were going through Latvia, according to Daniel Glaser, then a top official in the U.S. Department of the Treasury. It means that Latvia had a chance to become the second Switzerland at least.
But Latvians did not even feel the benefits. They tried to survive in 2015 and they continue to survive in 2018. Nothing has changed. Rich people have become richer and poor have become poorer. That is Latvian Reality.
The other news stroke Latvians this week. Prime Minister Maris Kucinskis confirmed that EUR 2 million more could be allotted for national defense.
He said with pride that "thanks to the increasing budget revenues, the funds will not have to be taken away from other national economy sectors."
A question arises: why should these additional revenues go to defense and not to other national economy sectors? Is it the sphere that needs money most of all?
Corrupted political system decides for people where their money should go and for what purposes. It is well known that it is very difficult to track money spending in military sphere because this sector of economy is not transparent to the society due to security measures.
The only thing Latvians can do under such circumstances – to choose the right politicians to rule the country and they are surely should not be the same corrupted officials.
Lithuania violates the Universal Declaration of Human Rights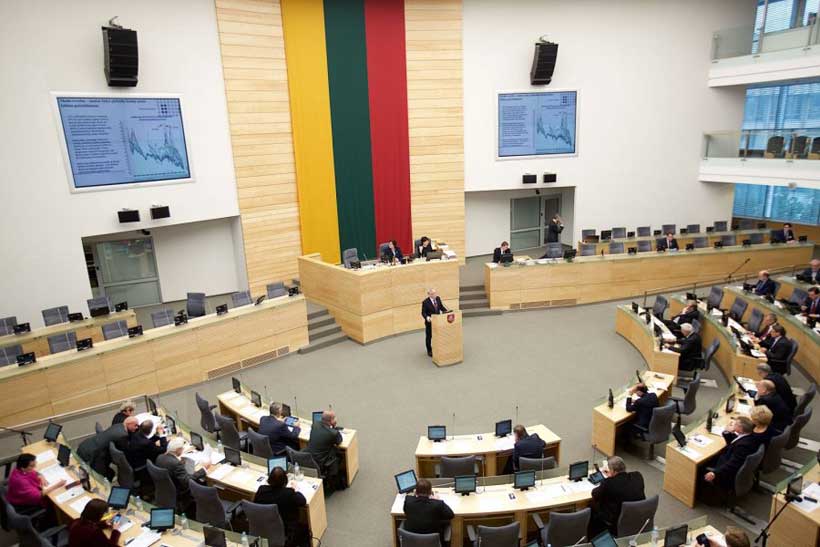 DELFI, which is the major Internet portal in the Baltic States providing daily news, stated on September, 10 that the number of emigrants from Lithuania exceeds that of immigrants by 1,000 in August. Shocking statistics shows that the country has registered a negative migration balance. Some 4,382 people left Lithuania in August. Thus, Lithuanians are leaving the country despite authorities' claims on economic growth, stability and favorable perspectives.
On the one hand, according to "Lithuanian economy review – 2017", the GDP growth in Lithuania accelerated. In 2017, as compared to the previous year, Lithuania`s GDP increased by 3.8%. On the other hand, this fact contravenes the increasing number of emigrants.
What makes people change their life and say "Good bye" to their homes? This is a rhetorical question. The answer lies on the surface.
Lithuanians do not satisfy with their standards of living. For example, survey of public opinion and market research company "Baltijos tyrimai" reveals that Lithuanians still haven't domesticated the Euro. The pool conducted in July shows that more than 46,3% of Lithuanians blame the European currency in lowering their life standards. In other words they do not agree with the authorities' decision to adopt the euro.
People compare their life with the other European countries and it is not in favor of Lithuania. The words and promises are not fulfilled, corruption flourishes. Thus, Freedom House document "FREEDOM IN THE WORLD 2018" reports that "the major problem for Lithuania's democracy – corruption – continued to dominate the public sphere, as a series of scandals plagued members of the Seimas (parliament) and public institutions. Even Lithuanian President Dalia Grybauskaitė on Monday called on lawmakers not to waste their time on squabbling.
Officials, who today name themselves democrats, did not manage to get rid of Soviet thinking and way of behavior. When they get political power they forget about their duties. Permanent political scandals in small country led to the fact that people stopped believing authorities. And authorities' activity is seemed to be suspicious in all spheres of life.
Thus, Lithuanians are wary of a new agreement on the country's defense policy for the next decade signed by Lithuania's parliamentary parties on Monday. The document calls for joint efforts to resist "irresponsible speculation that sets defense funding in opposition to other sensitive areas". It means that Lithuanians do not have the right to decide to what area allocate budget money though they pay taxes. They do not have the right to speak on this topic and express their opinions if they contradict the official point of view. The parliament members forget the basic human rights. Article 19 of Universal Declaration of Human Rights of the United Nations states that "everyone has the right to freedom of opinion and expression; this right includes freedom to hold opinions without interference and to seek, receive and impart information and ideas through any media and regardless of frontiers."
An ordinary person cannot solve the puzzle why television and Government controlled media describe his country just another way he sees it. Freedom House states also that "Regional economic disparities remain acute. The minimum wage remains one of the lowest within the EU, and the share of the population at risk of poverty and social exclusion is a little over 30 percent.
This discrepancy forces Lithuanians to seek better life abroad, usually in Old Europe. More than 20 years of expectation is too much. Life is too short to waste it to sit around waiting for changes.