African writers' stories have often been fragmented in Africa since Nelson Mandela was released from prison. They have often not been told, put into words, into a novel language and passed on to the next generation from word of mouth; their voices; thoughts, reflections have often been silent like a blanket of stars in the sky. In existence but with a voice that has been mute, still, shut out, withdrawn, shut in or shut up.
Outstanding individuals who have won international and national acclaim must now act as life-enhancing role models and catalysts for the marginalised, poor, up and coming writers, poets, playwrights and performance artists.
I will use the film 'Yesterday' by the South African director Darrell Roodt as an example. This is a film that makes us confront the burning global issue of HIV/AIDS however we might feel about it. It makes us resolve to change our conscious way of thinking about people who live in the rural areas of South Africa. It embodies the breath of promising new beginnings, it personalises the relationships she, 'Yesterday', the protagonist has with her daughter, her neighbours, and the blonde doctor who does not need a translator to speak to 'Yesterday'. Leleti Khumalo plays the character with a great indomitable strength, humility and a hallmark of patient stillness.
The actress Leleti Khumalo's gives us an intense portrayal of the struggle, neuroses and the separation anxiety that many women personally undergo without any help from a spouse or a support group in a crisis of both lost identity and innocence in the world around her. Her husband dies; she discovers she has HIV/AIDS and that there will be nobody to care for her young daughter when she dies. As an actress, she not only rises to the challenge, she defies and sustains the numbed disbelief that people; the ordinary man, woman and child in the street feel towards those who are vagrants, homeless, live at the Salvation Army, a shelter for abused women and children or those people from the location who are poor, live in dire straits and work as garden boys and kitchen girls to support their families and put a meagre meal or bread on the table.

The filmmaker is oftentimes like a bone collector of ancient dug up fossils, a museum curator, collector, seer, estranged from colleagues, contemporaries, peers because of their highbrow level of intelligence and aloofness, through his or her wisdom and experience.
'Yesterday' is possibly the only African film that has managed to grip Africans and of course, the rest of the world into understanding what the meaning and purpose is of the true African heritage.
I feel that we have yet to discover that gem, an undiscovered diamond with rough edges to come out of Africa – that will undoubtedly address issues that every human being prioritises in their own life globally – in which Africa's inimitable spirit shines through.
African stories should be told with African distributors, African actors, African directors and African financing in mind – we should always be working towards change and progress in those fields – instead of looking abroad to international distributors and while appealing to mass audiences evoking sentiment and nostalgia, we deny access and the privilege to our own writers, editors and filmmakers to create.
When we create a world from our own imagination and give it life, it is not only a labour of love that resides there, but also one that will constantly give way to transformation, reforming and the transmission of ideas and inspiration, in not only decades to come but also aeons.
Reality that is found in Africa can make for lousy, underrated entertainment and although elegant, Americans deliver wooden performances when mimicking a well-known figure in African literature, politics or celebrity.
Churches have yet to address the issue of poverty and children that are underprivileged that exists in their surrounding communities. We see this in mainstream print media as well as cinema. It does not have the same hook to garner audiences into theatre seats or church pews.
Churches lack empathy for the most vulnerable; frail, aged, delicate citizens and only reserve it for ones they consider to be important and out of reach and harm's way. Few practise what they preach from their lecterns and only serve to promote their own opinions, which they deem fitting, compelling and relevant.
Once again, African cinema is lost in translation. Its persona carried throughout as detailed and thorough school homework made up of makeshift, calculated solutions and a teacher's punishment.
How can we close doors on the past when we do not offer truth as a salutary balm?
Without revealing where the blame lies in a racially divided society, the working classes animosity, a deep-seated psychosis, the education of a youthful learner, the politics of the church or a godly community, the funny, the ridiculous, the passionate, the dangerous, the overwhelming threatening, how can we put into the poetic words of the texture of hair, who will lead, who will follow, become a golden, committed candidate who will dare lay his soul bare and become an activist, an advocate?
Whose broken heart will yearn to tell stories, salvage honest truths if we do not realise that the challenge of change is upon us in television series, cinema, films, theatre, church pews and the print media?
100 years of history: Historic hotel celebrates worker heritage
If you're the curious sort who enjoys exploring historic sites in your free time, you're far from alone.
Because people are fascinated with learning more about how Americans lived, thought and dreamed in the past, many seek out such cultural enclaves anytime they travel. That helps explain the $762 million in revenues logged by U.S. historic sites in 2013, according to Statista. Other research predicts the revenues realized by U.S. museums and historic sites will more than double between 2018 and 2022.
"Historic places create connections to our heritage that help us understand our past, appreciate our triumphs and learn from our mistakes," the National Trust for Historic Preservation recently noted. "Historic places help define and distinguish our communities by building a strong sense of identity. When you visit a historic site, you learn from their stories."
One fascinating and culturally rich historic site you may not have visited is The American Club, a Forbes Five-Star and AAA Five-Diamond resort hotel in the heartland of Kohler, Wisconsin. The iconic hotel owned by Kohler Co., global leader in plumbing, was built in 1918 as a dormitory for its immigrant workers. This year the multifaceted national attraction celebrates its centennial anniversary in grand style, with even more activities and offerings for its guests.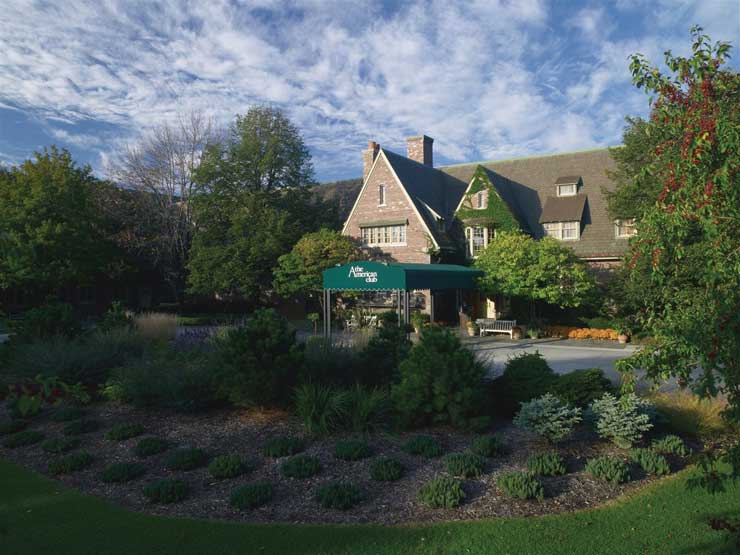 Year-long features of the celebration include a new history exhibit, guided tours and a new cast iron sculpture installation, "The Immigrant," created by artist Stephen Paul Day. Day took part in the Arts/Industry program and was inspired by the company history. The four-star restaurant, The Immigrant, will offer a tasting menu featuring dishes from France, the Netherlands, Germany, Normandy, Denmark and Great Britain — the primary homelands of original Kohler employees. Group Director Lodging for Kohler Co., Christine Loose explains, "The concept of gracious living and creating a sense of belonging has always been important to the company and our heritage."
With its trademark red brick, striking Tudor architecture and soaring roof peaks and slate tile, the landmark is recognized by both the Historic Hotels of America and the National Register of Historic Places.
Aside from the historic elements of The American Club, visitors and guests can partake of several other features offered in or near the surrounding resort known as Destination Kohler. Key attractions include the Forbes Five-Star Kohler Waters Spa; a lakeside boutique hotel known as the Inn at Woodlake; cycling and yoga studios; four championship golf courses (Blackwolf Run and Whistling Straits, the latter hosting the revered 2020 Ryder Cup); 12 dining establishments, renovation inspiration at the Kohler Design Center, and daily factory tours led by retired Kohler employees spotlighting the evolution of day-to-day manufacturing operations.
Destination Kohler is an hour north of Milwaukee and 2.5 hours north of Chicago. Learn more about its many attractions at DestinationKohler.com.
Weaving profits in Azerbaijan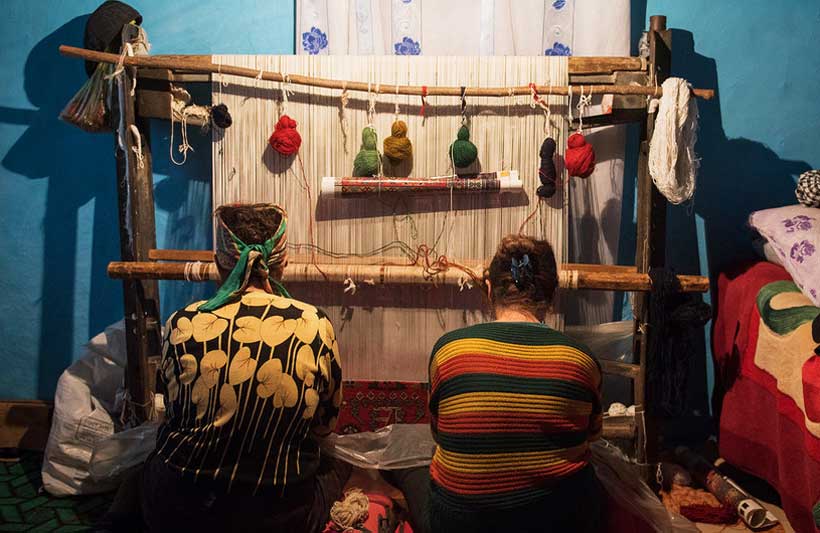 Artisans in Azerbaijan who practice the traditional art of carpet making are being provided with new business opportunities thanks to a project supported by the UN Development Programme (UNDP).
Weaving carpets is a skill that has been passed down through the generations and in the central Asian country is largely the work of women.
Although Azerbaijan is located on the ancient trading route known as the Silk Road, many artisans, especially those living in mountainous areas, are finding it increasingly difficult to get their carpets to market.
Small and Medium sized enterprises, like the carpet weavers of Azerbaijan, account for 60-70 per cent of global employment, according to the UN.
As the International Micro-, Small and Medium-sized Enterprises Day is marked across the world on June 27, the Azerbaijani authorities, with the support of UNDP, are boosting efforts to help artisans sell their goods.
New interactive Story Maps make Europe's cultural heritage more accessible
On the occasion of the first ever European Cultural Heritage Summit, the European Commission has released a set of interactive maps which will help to raise awareness of cultural heritage in Europe.
Speaking at the European Cultural Heritage Summit in Berlin today, Tibor Navracsics, Commissioner for Education, Culture, Youth and Sport, responsible for the Joint Research Centre, said: "Making cultural heritage more accessible to everyone is one of my main goals for the European Year. The Story Maps will play an important role in this, offering valuable information in a user-friendly way. The Joint Research Centre has already developed a number of tools that help us preserve cultural heritage, such as 3D scanning technologies that can be used to map heritage sites as well as smart materials for their reconstruction. Now the interactive Story Maps will help open up opportunities for Europeans to explore our shared heritage and get involved in safeguarding it for the future."
The Story Maps, developed by the Joint Research Centre, the Commission's science and knowledge service, inform in an easily accessible way about several initiatives across Europe linked to cultural heritage. These include actions like the European Heritage Days, the EU Prize for Cultural Heritage or the European Heritage Label, funded by Creative Europe, the EU programme that supports the cultural and creative sectors. The website also contains links to the digital collections of Europeana – the EU digital platform for cultural heritage. This platform allows users to explore more than 50 million artworks, artefacts, books, videos and sounds from more than 3500 museums, galleries, libraries and archives across Europe. These maps will be updated and developed, for example taking into account tips from young people exploring Europe's cultural heritage through the new DiscoverEU initiative.
The online tool was launched by Commissioner Tibor Navracsics at the European Cultural Heritage Summit in Berlin today. This Summit is one of the main events of the 2018 European Year of Cultural Heritage and is attended by high-level representatives of EU Institutions, civil society organisations and Member States, including German Federal President Frank-Walter Steinmeier. to protect, promote and raise awareness of cultural heritage in Europe. to protect, promote and raise awareness of cultural heritage in Europe. to protect, promote and raise awareness of cultural heritage in Europe.
Background
The Story Maps were presented to a wider audience at the European Cultural Heritage Summit, co-hosted by Europa Nostra, the Prussian Cultural Heritage Foundation and the German Cultural Heritage Committee. The Summit is one of the key events of the European Year of Cultural Heritage taking place in Berlin from 18 to 24 June. It will see the adoption of the "Berlin Call to Action – cultural heritage for the future of Europe", which supports the idea of a European Action Plan on Cultural Heritage, announced by the Commission in the New Agenda for Culture proposed in May. The Call to Action asks citizens, institutions and organisations to build on the momentum of the European Year, to recognise the positive and cohesive power of shared cultural heritage and values to connect Europe's citizens and communities and to give a deeper meaning to the entire European project.
The purpose of the European Year of Cultural Heritage is to raise awareness of the social and economic importance of cultural heritage. Thousands of initiatives and events across Europe will give citizens from all backgrounds opportunities to discover and engage with cultural heritage. The aim is to reach out to the widest possible audience, in particular children and young people, local communities and people who are rarely in touch with culture, to promote a common sense of ownership.