Television, films and churches formed a large part of the origins of my writing when I was younger. My childhood was not as bleak as some; I was happy, obedient, kind, patient, loved dogs, tennis and swimming; dancing wildly, joyfully in the sprinkler during summertime with my siblings and got sunburnt on holidays in Calitzdorp, Oudtshoorn, George, Wilderness and Carmel. My mother saw to my extra lessons; my father to my education and higher learning.
I was touched by the mirror images that I saw on the screen of the television in my intimate surroundings, my immediate environment, my estranged and my extended family, my father, my best friend and confidante.
What do churches you might say have in common with the ancient composed core of the entertainment value of our films today? The principles, values, beliefs, norms of contemporary ministers and today's filmmaker get on like a house on fire and often give rise to an unholy demise; a boundary, a burdened limit that leads to a subliminal dead end, the enquiring gaze of a pupil that is not self-conscious only candid, vital and knowing.
Are South African films all touted in the media as genius or given the all thumbs dumbed down, is the public critical enough, or do we shrink back in horror terrified at any criticism as if it would harm our intellect, is what they say relevant, outspoken or politically correct, are we prudish when it comes to overt sexuality or averse to it?
During my childhood I was taught to use every emotional experience that used both the element of anticipation and surprise and that resonated throughout the fiercely grounded essence of my soul to the full.
Images that came to be in my hushed dreams, the gravity of it unceasing as the impulse of the superfluous adrenaline of flight, the tidal triangles of love, the swarm of bullies, the budding nature of best friends that came with my growing years on a school playground I seldom found abhorrent.
In church, I learnt that the art was not to fail to misbehave, daydream; be disobedient, honour my father and my mother, collect subtle small nothings like the dry, thin-skinned wafer like paper autumn leaves that I crushed casually between my fingertips with my best friend. We were inseparable; played like monkeys rock, paper; scissors every break.
Watching films accounting our dark-edged history; Ghandi portrayed by Ben Kingsley, Steve Biko by Denzel Washington in Cry Freedom for example, fringed deftly with racism and prejudice and saints; I learned that there were paths that I had not travelled, that I had journeyed gently as a child, heavily guarded, claimed by my parents, protected from harm, hidden from the sight of evil incarnate, paedophiles patrolling the streets in fast cars.
The only place I was not protected was in front of the television. I shuffled in every afternoon after school and planted myself in front of the screen not moving an inch except to drink my juice and eat a sandwich.
It did not go to waste. I used all the information that I got from the different accents and the clothes, the illnesses written on the bodies, the women's bodies, done up, coiffed hair, the women's hair salons, the men's wisdom from all three channels as teaching examples for my writing.
The tainted, self-absorbed voices from the actors from the different channels resounded in my head as if they were of my own making. Sometimes my pen could not keep up with the internal dialogue. It was as if it was a deluge, a downpour, an unstoppable, unchallenged flood. They put something into motion that could not be diminished, masked, temporary, erased or frozen over time.
These powerful, seasonal shadows sometimes led gripping, violent, aggressive, brutal lives that could not be dissolved completely by my pen.
It left me with a quaint state of mind; here I was a fugitive on the run from the justice that was my parents' burden. I was left drowning in the portrayals, the loveliness of White, Coloured, Black children in black and white, finally erased of colour. I saw couples on the screen settle into their married life and watched as if I was invited in.
The end of the rollercoaster ride that came with each film left me strangely bereft, half-born, half-living like the strangled cry of a bird or a night owl or the fisherman's catch dead; life snuffed out in the dragged net hung over the edge of the rocking boat in the seawater. South African films taught me life lessons, how to disguise a bellyache laugh in the territorial quiet of the cinema, it taught me how to whisper like a frigid wind through my clenched fingers that disguised my mouth.
We should pursue our history from memory, from childhood, from the elders in our community, our next-door neighbours, from humourous anecdotes, headlines in the newspapers found in the archives of your local libraries and our own parents' alarming knowledge from their own life experience.
In defining an African film I believe we first have to define Africa itself and who or what is an African or whose soul aspires to be African before we can talk about films made about the African continent and South Africa. We cannot only do that by erasing every trace of colonialism. It is still part like a love knot in a message of our past, present and future. The history of the colonists channels the dissolve of my old unhealed wounds and confusion into hellish lists. It does not easily close doors on the past.
Director John Berry decided for his film based on playwright Athol Fugard's 'Boesman en Lena' to choose American actress and actor Angela Bassett and Danny Glover to play the lead roles. There was a furore over the fact they were neither African nor South African.
The serious human focus that is often learned in academia, from gathered intelligence which is kept hidden by those in the know from the human race or by those who are book smart because of being avid readers can often be described as being locked up inside of a box, like an airtight container that has shut in a war of nerves and put a lid on it far away from the unseen public; the chanting masses who call for service delivery, better homes with window panes, not structured out of plastic sheeting, tarpaulin or tin, youth, who struggle with unemployment gives rise to stories which must be told.
The audience is there. It begins here. The future beckons; it is now.
100 years of history: Historic hotel celebrates worker heritage
If you're the curious sort who enjoys exploring historic sites in your free time, you're far from alone.
Because people are fascinated with learning more about how Americans lived, thought and dreamed in the past, many seek out such cultural enclaves anytime they travel. That helps explain the $762 million in revenues logged by U.S. historic sites in 2013, according to Statista. Other research predicts the revenues realized by U.S. museums and historic sites will more than double between 2018 and 2022.
"Historic places create connections to our heritage that help us understand our past, appreciate our triumphs and learn from our mistakes," the National Trust for Historic Preservation recently noted. "Historic places help define and distinguish our communities by building a strong sense of identity. When you visit a historic site, you learn from their stories."
One fascinating and culturally rich historic site you may not have visited is The American Club, a Forbes Five-Star and AAA Five-Diamond resort hotel in the heartland of Kohler, Wisconsin. The iconic hotel owned by Kohler Co., global leader in plumbing, was built in 1918 as a dormitory for its immigrant workers. This year the multifaceted national attraction celebrates its centennial anniversary in grand style, with even more activities and offerings for its guests.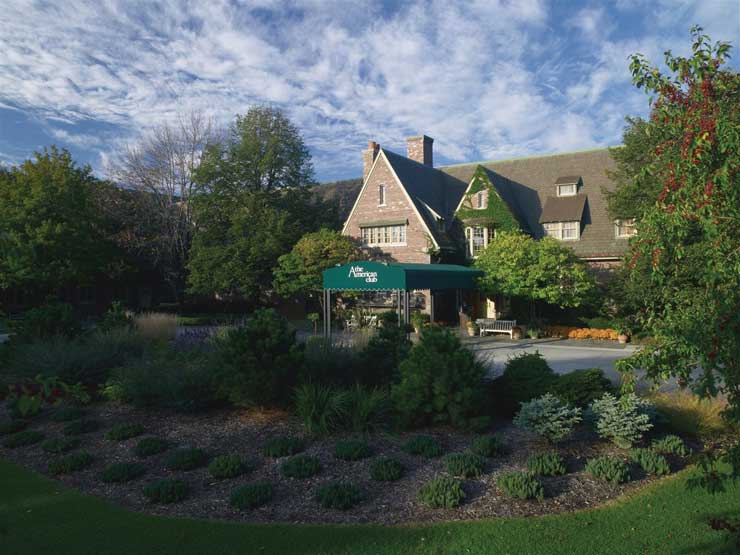 Year-long features of the celebration include a new history exhibit, guided tours and a new cast iron sculpture installation, "The Immigrant," created by artist Stephen Paul Day. Day took part in the Arts/Industry program and was inspired by the company history. The four-star restaurant, The Immigrant, will offer a tasting menu featuring dishes from France, the Netherlands, Germany, Normandy, Denmark and Great Britain — the primary homelands of original Kohler employees. Group Director Lodging for Kohler Co., Christine Loose explains, "The concept of gracious living and creating a sense of belonging has always been important to the company and our heritage."
With its trademark red brick, striking Tudor architecture and soaring roof peaks and slate tile, the landmark is recognized by both the Historic Hotels of America and the National Register of Historic Places.
Aside from the historic elements of The American Club, visitors and guests can partake of several other features offered in or near the surrounding resort known as Destination Kohler. Key attractions include the Forbes Five-Star Kohler Waters Spa; a lakeside boutique hotel known as the Inn at Woodlake; cycling and yoga studios; four championship golf courses (Blackwolf Run and Whistling Straits, the latter hosting the revered 2020 Ryder Cup); 12 dining establishments, renovation inspiration at the Kohler Design Center, and daily factory tours led by retired Kohler employees spotlighting the evolution of day-to-day manufacturing operations.
Destination Kohler is an hour north of Milwaukee and 2.5 hours north of Chicago. Learn more about its many attractions at DestinationKohler.com.
Weaving profits in Azerbaijan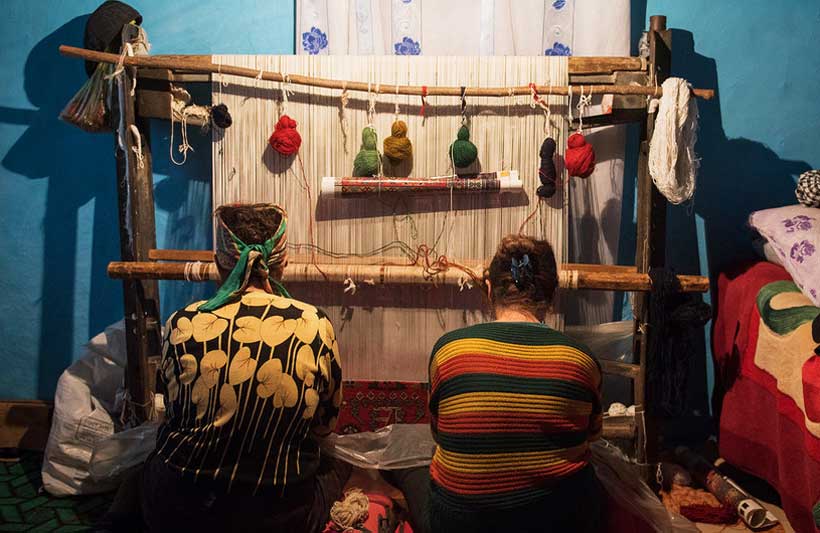 Artisans in Azerbaijan who practice the traditional art of carpet making are being provided with new business opportunities thanks to a project supported by the UN Development Programme (UNDP).
Weaving carpets is a skill that has been passed down through the generations and in the central Asian country is largely the work of women.
Although Azerbaijan is located on the ancient trading route known as the Silk Road, many artisans, especially those living in mountainous areas, are finding it increasingly difficult to get their carpets to market.
Small and Medium sized enterprises, like the carpet weavers of Azerbaijan, account for 60-70 per cent of global employment, according to the UN.
As the International Micro-, Small and Medium-sized Enterprises Day is marked across the world on June 27, the Azerbaijani authorities, with the support of UNDP, are boosting efforts to help artisans sell their goods.
New interactive Story Maps make Europe's cultural heritage more accessible
On the occasion of the first ever European Cultural Heritage Summit, the European Commission has released a set of interactive maps which will help to raise awareness of cultural heritage in Europe.
Speaking at the European Cultural Heritage Summit in Berlin today, Tibor Navracsics, Commissioner for Education, Culture, Youth and Sport, responsible for the Joint Research Centre, said: "Making cultural heritage more accessible to everyone is one of my main goals for the European Year. The Story Maps will play an important role in this, offering valuable information in a user-friendly way. The Joint Research Centre has already developed a number of tools that help us preserve cultural heritage, such as 3D scanning technologies that can be used to map heritage sites as well as smart materials for their reconstruction. Now the interactive Story Maps will help open up opportunities for Europeans to explore our shared heritage and get involved in safeguarding it for the future."
The Story Maps, developed by the Joint Research Centre, the Commission's science and knowledge service, inform in an easily accessible way about several initiatives across Europe linked to cultural heritage. These include actions like the European Heritage Days, the EU Prize for Cultural Heritage or the European Heritage Label, funded by Creative Europe, the EU programme that supports the cultural and creative sectors. The website also contains links to the digital collections of Europeana – the EU digital platform for cultural heritage. This platform allows users to explore more than 50 million artworks, artefacts, books, videos and sounds from more than 3500 museums, galleries, libraries and archives across Europe. These maps will be updated and developed, for example taking into account tips from young people exploring Europe's cultural heritage through the new DiscoverEU initiative.
The online tool was launched by Commissioner Tibor Navracsics at the European Cultural Heritage Summit in Berlin today. This Summit is one of the main events of the 2018 European Year of Cultural Heritage and is attended by high-level representatives of EU Institutions, civil society organisations and Member States, including German Federal President Frank-Walter Steinmeier. to protect, promote and raise awareness of cultural heritage in Europe. to protect, promote and raise awareness of cultural heritage in Europe. to protect, promote and raise awareness of cultural heritage in Europe.
Background
The Story Maps were presented to a wider audience at the European Cultural Heritage Summit, co-hosted by Europa Nostra, the Prussian Cultural Heritage Foundation and the German Cultural Heritage Committee. The Summit is one of the key events of the European Year of Cultural Heritage taking place in Berlin from 18 to 24 June. It will see the adoption of the "Berlin Call to Action – cultural heritage for the future of Europe", which supports the idea of a European Action Plan on Cultural Heritage, announced by the Commission in the New Agenda for Culture proposed in May. The Call to Action asks citizens, institutions and organisations to build on the momentum of the European Year, to recognise the positive and cohesive power of shared cultural heritage and values to connect Europe's citizens and communities and to give a deeper meaning to the entire European project.
The purpose of the European Year of Cultural Heritage is to raise awareness of the social and economic importance of cultural heritage. Thousands of initiatives and events across Europe will give citizens from all backgrounds opportunities to discover and engage with cultural heritage. The aim is to reach out to the widest possible audience, in particular children and young people, local communities and people who are rarely in touch with culture, to promote a common sense of ownership.