New Development Goals to Boost Africa's Fight against Poverty
The Sustainable Development Goals (SDGs), which will be launched later this year, give Africa its best chance yet of eradicating poverty, said a panel on Meeting the Development Challenge at the World Economic Forum on Africa in Cape Town.
The fact that consultation on the development of the goals has reached grassroots level in Africa means that there is a greater sense of ownership of the SDGs on the continent, which has not been the case with the Millennium Development Goals.
Ngozi Okonjo-Iweala, Coordinating Minister for the Economy and Minister of Finance of Nigeria (2011-2015), said that the SDGs have credibility in Africa because they reflect and reinforce the continent's own goals and objectives.
Phumzile Mlambo-Ngcuka, Undersecretary-General and Executive Director, United Nations Entity for Gender Equality and the Empowerment of Women (UN WOMEN), New York, and a Co-Chair of the World Economic Forum on Africa, said, "We are the first generation with a real possibility to end poverty. We are also the first generation to move the gender agenda forward and to address structural issues underpinning gender inequality."
Paul Polman, Chief Executive Officer, Unilever, United Kingdom, and a Co-Chair of the World Economic Forum on Africa, described the SDGs as "an agenda of the common good". He said that partnerships are embedded in the SDGs and the world will only get back on track if people put the needs of others ahead of their own.
Jabu A. Mabuza, Chairman, Telkom Group, South Africa, emphasized that technology, while vital in improving the continent, could have unintended consequences. "In an interconnected world which is very fast, if you are not moving forward you are actually going backwards," he said.
The panel emphasized the need to get funding in place to implement the SDGs at an early stage. Private capital has an important role to play, and potential risks to the participation of the private sector in funding options need to be identified and mitigated.
Hydro-projects in Africa: Interview with Vladislav Vasilyev
As widely known, Russia plans to hold the second Russia-Africa summit in 2022, as a further step to make inroads into Africa – that comprises a diverse collection of countries, each with its own set of development setbacks and challenges. The political culture and investment climate are, in fact, diverse but are also important forces in determining the levels of the economy.
As it aims at raising its economic profile, Russia is strongly encouraging Russian business leaders to prioritize sustainable development-oriented projects as a practical step towards raising the living standard of millions of impoverished population in Africa.
For instance, JSC Institute Hydroproject promises to transfer its experience in advanced and innovative technologies, and efficient use of water resources, especially ways of managing and ensuring reliable hydro-energy supply. JSC Institute Hydroproject can further help in the accelerated social and economic development in Africa.
In this interview, Vladislav Vasilyev, Head of International Projects Department at JSC Institute Hydroproject, discusses his company's efforts directed at establishing hydro-projects in Africa, further touched on the state support for Russian business in Africa. Here are the interview excerpts:
– How important is African market for your company, JSC Institute JSC Institute Hydroproject?
JSC Institute Hydroproject has vast working experience in African countries wherein we have done designs of HPPs in Algeria, Angola, Ethiopia, Guinea, San Tome and Principe, Tunisia, Morocco, Ethiopia. We would like to separately emphasize about the masterpiece high class engineering of the Aswan dam on the Nile river in Egypt. JSC Institute Hydroproject management has deep knowledge of the African market.
– What are your expectations from African governments, industrialists and agribusiness directors in cooperating on products and services of your company?
African countries are among the fastest growing in the world. About one and half billion people live there, and that constitute approximately 20% of the world's population. At the same time, there is a big demand in infrastructure development. Even the United Nations, forming the "Sustainable Development Goals" emphasizes the high development needs of the African region.
The African market is a big challenge in all areas of water use, from land reclamation to large and complex knowledge-intensive industries, not to mention the usual but much-needed electricity generation. In this regard, we see many opportunities for cooperation with governments, industrialists and in the huge agroindustry.
– Do you envisage any key problems and impediments to developing business, especially in the sphere of agriculture in African countries?
Difficulties and obstacles are possible – this is life. However, we can look at things differently, and see the obstacles as opportunities and incentives. For example, the lack of land reclamation networks makes it possible to build and develop a water delivery system that can become a link to strengthen the local neighboring countries and peoples.
The construction of a hydroelectric power station requires a channel with a large water pressure, which means the presence of a water basin, a reservoir. This will not only provide the local region with electricity, but also provide water. Here are a number of issues that are being resolved with the participation of the design and survey and research school of such a company as JSC Institute Hydroproject.
– How competitive do you see African market for Russian companies, generally, and for your company, specifically? From the previous experience, what challenges Russian companies and investors face in Africa?
There are several challenges, which are still in place for Russian engineering companies on African market. Russia is still not a member country of African Development Bank. AfDB announces many tenders, which are closed to companies from non-member countries. Still it is only a few African countries, who signed an agreement on the avoidance of double taxation with Russia.
– Business needs vital information, knowledge about the investment climate and so forth. Do you think there has been an information vacuum or gap between the two countries?
In my opinion we can talk about the rapprochement of the positions of Africa and Russia, the formation of new and strengthening of long-standing ties. This is explicitly noted, for instance, by Russian Foreign Minister Sergei Lavrov, and Head of the National Chamber of Commerce and Industry of Uganda, Olive Kigongo.
Joshua Setipa, Managing Director of the United Nations Technology Bank for the Least Developed Countries, says of the importance of high-tech companies: "It is important for us to continuously develop our partner network and establish cooperation with organizations that can help and support less developed countries with their technological and innovative potential. I am sure that working in Russia and, in particular, at the events of the Roscongress Foundation will help us to use the country's opportunities for the benefit of others." He said so at the recent Russia-Africa summit in Sochi.
– In your opinion, does the forthcoming second Russia-Africa summit planned for 2022 hold an opportunity for raising the level of investment and business engagement with Africa?
Russia-Africa summit is unique platform that is expected to bring together corporate business directors and potential investors from both regions – Russia and Africa. We can simply agree that investments are always possible, and Russia is highly interested in them. This is also a state and business interest. Such people and companies are also among our partners.
According to the achievements of recent years – this is not only the First Joint Russia-Africa Summit, but also during many previous bilateral forums, it is important to say that cooperation in the business sphere is just gaining momentum.
Now there is a lot of work to be done, including a well-structured and well-coordinated policy for Russian business, restructuring foreign policy and supporting economic circles – with African politicians, business people and residents of African countries. It is necessary to cooperate between scientific, technical, humanitarian, information, and digital platforms, and ultimately to develop common approaches for the implementation of our upcoming joint projects.
Nigeria- Ghana Trade War: Where to from here
Several months after a series of bilateral talks between the Nigerian government and authorities in Ghana aimed toward addressing the nearly a decade-long controversy that led to the closure of Nigerian traders' shops in Ghana, the problems have not been resolved. Hundreds of shops belonging to Nigerian traders are still under lock and key; while most of the owners are stranded. A number of them said they beg to feed, as many of them remain reluctant to return to Nigeria despite a window created by the Nigerian government to facilitate their safe return.
What has happened so far?
President Muhammadu Buhari stunned Nigeria's neighbors when he unexpectedly closed the country's land borders to goods trade, saying the time had come to crush contraband trade. The land borders with neighboring Benin, Cameroon, Chad, and Niger were closed to goods in August 2019, with partial openings and closings for people prompted by the coronavirus pandemic throughout 2020.
The center of the lingering controversy was a $1 million levy imposed on Nigerian traders and other foreign investors to pay Ghana Investment Promotion Centre (GIPC) before the shops would be opened. The conditions set by the Ghanaian authorities had triggered a debate in Nigeria and within the African sub-region, which many considered as a breach of ECOWAS' trade protocols.
However, on 19 June 2020, armed men entered the compound of the Nigeria High Commission in Ghana, and destroyed buildings under construction. Nigeria's foreign minister Geoffrey Onyeama described the vandalism as "outrageous and criminal" and urged the Ghanaian authorities to make sure that they protect Nigerian diplomatic buildings. Nigerian residents in Ghana held a demonstration calling for Nigerian government to take action. Although a piece posted on the Nigerian High Commission website in Ghana places responsibility on a businessperson who had previously claimed he owned the land where the building was being built, Nigerians living in Ghana still took to the streets to protest for their protection. The Ghanaian foreign ministry also promised that security had been "beefed up".
Flashback on bilateral talks
The Nigerian Minister of Foreign Affairs, Geoffrey Onyeama, had last year summoned Ghana's Chargé d'Affaires to Nigeria, Ms. Iva Denoo, with whom he discussed the closure of the Nigerian-owned shops in Accra with a view to addressing the problem. Onyeama described the action taken by the Ghanaian authorities as politically motivated. However, his Ghanaian counterpart, Shirley Ayorkor Botchwey, countered his allegation, insisting that the crackdown was on illegal foreign retail businesses in Ghana.
Botchwey, described in a tweet by Onyeama, tagging Ghana's policy on retail business as a politically motivated move as 'most unfortunate. She said the Ghanaian government did not target any particular nationality in the exercise. "Countries sometimes take tough decisions in order to enforce their laws, just as Nigeria took a decision to shut its borders to stop smuggling, despite its impact on ECOWAS member countries," she had said.
Is Ghana innocent?
While it's easier to quickly point a finger at Nigeria as the aggressor, given it's the bigger country who opted to shut its borders, therefore creating a ripple effect in the smaller economies, Ghana also has laws that clash with ECOWAS protocol, which ensures the free movement of the community's citizens, as well as free and fair trade. The 2013 Ghana Investment Promotion Centre Act (GIPC) is one such Act. It prioritizes the interests of Ghanaian traders and business owners by designating certain only its citizens, whereby foreigners wanting to set up shop in Ghana must have a minimum equity capital of $10,000, run enterprises. That alone limits the number of foreigners – particularly from the poorer surrounding West African countries – who can successfully work in Ghana.
Where to from here
While tariffs can result in individual 'winners', a full trade war, protectionism, and a reversal of decades of globalization would damage economies across the board, hitting emerging markets particularly hard. COVID-19 has arguably pushed many countries towards concentrating on themselves, as many economies have been negatively affected in an exceedingly shocking manner. Although few expect to see the kinds of tensions witnessed in the 1980s when Nigeria expelled two million undocumented West African migrants, half of whom were from Ghana.
Key takeaways
Nigeria border closure weakened trade across West Africa
A full trade war and globalization reversal will benefit nobody
Nigerian traders have suffered the most; Ghanaians also faces pain
Traders have seen big losses.
Demolition of Nigerian High Commission building in Accra.
H.E. President John Mahama Appointed As AU High Representative for Somalia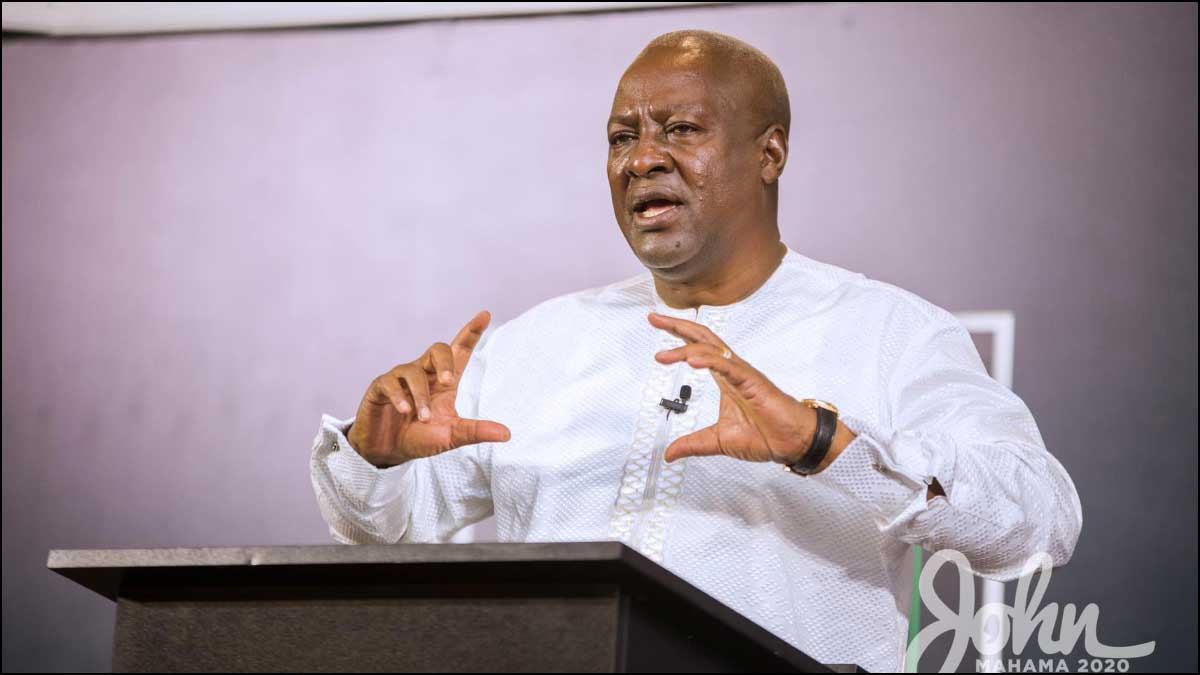 The Chairperson of the Commission, H.E. Moussa Faki Mahamat, has announced the appointment of H.E John Dramani Mahama, former President of the Republic of Ghana, as his High Representative to Somalia.
As the High Representative for Somalia's political track, President Mahama will work with the Somali stakeholders, to reach a mutually acceptable compromise towards an all-encompassing resolution for the holding of Somali elections in the shortest possible time.
In fulfilling his mandate, the High Representative will be supported by the African Union Mission in Somalia (AMISOM), to ensure that the mediation efforts and the peace support operation work together seamlessly.
The Chairperson of the Commission calls on the Somali stakeholders to negotiate in good faith, and to put the interests of Somalia and the well-being of the Somali people above all else in the search for an inclusive settlement to the electoral crisis.
This should usher in a democratically elected government with the legitimacy and mandate to resolve the remaining outstanding political and constitutional issues that are posing a threat to the stability of the country and the region as a whole.
The Chairperson of the Commission also encourages all the Somali stakeholders and the international community to extend every support to the High Representative, who will arrive the country in the coming days.
Ambassador Abukar Arman, a former Somalia special envoy to the United States and a foreign policy analyst says there have previously been interventions from neighbors have not brought Somalia the promised peace.
It is clear that no Somali can pursue a political career in his own country without first getting Ethiopia's blessings. Already, Ethiopia has installed a number of its staunch cohorts in the current government and (along with Kenya) has been handpicking virtually all of the new regional governors, mayors and so forth.
In October 2010, the African Union appointed Jerry John Rawlings as the AU High Representative for Somalia to "mobilize the continent and the rest of the international community to fully assume its responsibilities and contribute more actively to the quest for peace, security and reconciliation in Somalia."
That however, Ambassador Arman says the former Ghana president and AU Special Representative for Somalia is now assuming his new post with significant diplomatic capital, mainly resulting from the credible work of his fellow countryman, former president, and Special Envoy to Somalia, Jerry John Rawlings.
"On the other hand, he would be carrying the hefty political burden that comes with the so-called African Solutions for African Problems and its cash-gulping record. The concept is taken hostage by African sloganeers and foreign elements eager to advance zero-sum interests," he wrote me in an emailed message.
Make no mistake, Somalia is held in a nasty headlock by a neighbourhood tag-team unmistakably motivated by zero-sum objective. It is their so-called African solution (not so much of the extremist group al-Shabaab) that is setting the Horn on fire.
According to AFP news report, Mogadishu had been on edge since February, when President Mohamed Abdullahi Mohamed's term ended before elections were held, and protesters took to the streets against his rule. But a resolution in April to extend his mandate by two years split the country's fragile security forces along all-important clan lines.
Soldiers loyal to influential opposition leaders began pouring into the capital. The fighting drove tens of thousands of civilians from their homes and divided the city, with government forces losing some key neighborhoods to opposition units.
Under pressure to ease the tension, Mohamed abandoned his mandate extension and instructed his prime minister to arrange fresh elections and bring together rivals for talks. Indirect elections were supposed to have been held by February under a deal reached between the government and Somalia's five regional states the previous September.
But that agreement collapsed as the president and the leaders of two states, Puntland and Jubaland, squabbled over the terms. Months of UN-backed talks failed to broker consensus between the feuding sides.
In early May, Mohamed re-launched talks with his opponents over the holding of fresh elections, and agreed to return to the terms of the September accord.
Prime Minister Mohamed Hussein Roble has invited the regional leaders to a round of negotiations on May 20 in the hope of resolving the protracted feud and charting a path to a vote. In the meanwhile, the international community has threatened sanctions if elections are not held soon.
Somalia remains the epicenter of global geopolitical and geo-economic competition. Some of the major ones are in a cut-throat competition that further complicates the Somalia conundrum. With its longest coastline, bordering Ethiopia to the west, Kenya to the southwest and the Gulf of Eden, Somalia has attracted many foreign countries to the region in East Africa.