NATO breaks treaty with Russia deploying troops in Latvia
The 10 most important things you need to know on Caspian Sea Region for Friday, May 29:
1NATO breaks treaty with Russia deploying troops in Latvia. NATO forces will be deployed in Latvia, as NATO's Supreme Allied Commander of Europe, Philip Breedlove claimed. The special request has been already approved by the Latvian government. Latvian Prime Minister, Laimota Straujuma confirmed the permanent presence of the NATO military force in the country. Lithuanian military spokesman Captain Mindaugas Neimontas said: "We are seeking a brigade-size unit so that every Baltic nation would have a battalion." However, the deployment of permanent forces flies in the face of the Founding Act on Mutual Relations, Cooperation and Security between NATO and the Russian Federation which was signed in Paris, France on 27 May 1997. It declared that "NATO and Russia do not consider each other as adversaries" and that the two parties will work together to prevent any potentially threatening build-up of conventional forces in agreed regions of Europe, to include Central and Eastern Europe. The Act states that NATO "will carry out its collective defense and other missions by ensuring the necessary interoperability, integration, and capability for reinforcement rather than by additional permanent stationing of substantial combat forces." [PRAVDA]
2"The new generation of Iranians, the real Islamic Republic that is far less Islamic than its rulers want and ambitious in a different way — not through making mischief or muscle flexing, but through higher education, ideas and its people's hunger to be citizens of the world. Curious, wired, and desperate for normality, Iran's youth — under-40s make up 60 per cent of the 80 million-strong population — have been taking the country in a direction that horrifies its rulers. The pace of change among them has been so fast and dramatic, particularly over the past decade, that Iran's sociologists say they are still trying to understand them and Islamic leaders regularly blame the west for corrupting them," writes Roula Khalaf for the Financial Times.
3Is Belarus and Russia's 'brotherly love' coming to an end? "Belarusians now fear they're trapped in a no-win situation: if Lukashenko cows to Moscow, Belarus could return to its place as a Russian frontier land, as it was during Soviet rule. But if Lukashenko tries to diversify his foreign policy and makes new friends in Europe, it's possible the Kremlin could respond with aggression – both pose a threat to Belarus's independence." Writes Mikalai Anishchanka for the guardian.
4"100 Concrete Steps," a plan to implement five reforms proposed by Nursultan Nazarbayev during his election campaign, has been released, Tengrinews reports. The five reforms, according to Nazarbayev, are Kazakhstan's answer to the global and internal challenges. These reforms are called to help Kazakhstan join the club of 30 most developed countries of the world. These include formation of an effective state apparatus; ensuring rule of law; facilitating industrialization and economic growth; developing national identity and unity; and enhancing government accountability. In order to implement these reforms, the National Commission for Modernization was established. It is led by Prime Minister Karim Massimov. The commission is composed of five working groups consisting of domestic and foreign experts. [TENGRI NEWS]
5On May 28, the State Agency on Alternative and Renewable Energy Sources, SAARES conducted a full test of all stations in a wind park "Yeni Yashma" with a capacity of 59 MW in the Khizi region and launched a wind turbine with a capacity of 2.5 MW, APA reports.The wind turbine, which was launched on the Republic Day, has already started to transfer electricity, generated from wind power, into the general power grid of the Republic. In the near future a wind park "Yeni Yashma" will be connected into the electrical grid of the country.
6Gazprom Retreats on Europe Export Outlook as Russian ADRs Drop. Gazprom, Russia's biggest company, fell after the Economy Ministry said the state-controlled natural gas producer will probably see lower gains in Europe, its biggest market, for at least four years amid lower prices and increasing competition. Brent crude, the oil grade traders use to price Russia's main export blend, rose 0.8 percent to $62.58 a barrel after dropping 5.3 percent in the prior two days. "Europe will remain the main market for Gazprom for a considerable period of time, and lower gas prices in the region will negatively impact the company's revenue," Andrey Polischuk, an oil analyst at Raiffeisenbank ZAO who rates the stock hold, said by phone Thursday. "It might mean that Gazprom will have to seek additional funding for its investments, from advance payments from its partners in the east or from loans."writes Elena Popina for Bloomberg.
7Turkmenistan mulls constitution changes extending presidential term.The speaker of ex-Soviet Turkmenistan`s pliant parliament has proposed constitutional changes extending the presidential term limit and removing the maximum age for the presidency, state media reported Friday. The amendments — which look aimed at expanding the already iron grip of 57-year-old incumbent strongman President Gurbanguly Berdymukhamedov in the gas-rich republic — would increase the presidential term from five to seven years and remove the presidential age limit of 70 from the constitution.
8A landmark event, part of the project to bring Azeri gas supplies to Europe, could take place next month – the signing of the final investment decision on the construction of the interconnector Greece-Bulgaria (IGB), according to an article carried by rosinvest.com. The IGB construction is projected to start in March 2016 and close in 2018. The interconnector with Greece will enable Bulgaria to make a big step toward reducing its almost total dependence on Russia for gas supplies, the article "Azerbaijan and the Gas Hopes of Bulgaria" reads. With the South Stream gas pipeline project now abandoned by Russia and the risk of potential disruption of Russian gas supplies via Ukraine still existing, Bulgaria now has all its hopes of energy diversification pinned on Azeri gas which the country could start receiving via the IGB. [rosinvest.com]
9Azerbaijan expands cooperation with Turkey, Russia and Macedonia in fighting the financing of terrorism and money laundering. In accordance with the agreements Azerbaijan will cooperate with Turkey and Macedonia in the field of exchange of financial information. The agreement with Russia provides for cooperation in the fight against terrorism financing and money laundering.
10Absheron Hotel Group launches its fourth hotel – BOULEVARD HOTEL BAKU in the capital of Azerbaijan. The hotel is affiliated with the Autograph Collection, Marriott's brand featuring an exclusive portfolio of upscale independent hotels and resorts. Named after the eponymous seafront walking promenade, Boulevard Hotel offers 818 comfortable rooms and it will be the largest conference hotel in Azerbaijan. It provides perfect accessibility to all major business and cultural sites of the city as well as the finest facilities that are designed to suit a wide variety of occasions and functions. Boulevard Hotel is one of four hotels Absheron Hotel Group will operate in Azerbaijan. The first hotel, the 167-room Pik Palace, was opened in December 2013 in Shahdag Mountain Resort, followed by the opening of a 164-room Park Chalet in January 2015 and a 150-room Intourist Hotel Baku, in May 2015. Absheron Hotel Group is a young hotel management company in Azerbaijan. It aims to become a strategic hospitality industry player with a medium-term aspiration of taking a leading position in national and regional markets, through establishing a world-class portfolio of hotels and resorts.
UN launches global plan to strengthen protection of internally displaced persons
With multiple crises forcing millions of people away from their homes, United Nations agencies, Governments and partners have launched a set of measures to strengthen protection of internally displaced persons as well as find solutions to address their problems.
"Addressing the protection needs of the forcibly displaced and seeking solutions to their plight contribute to greater stability for countries and whole regions," said Filippo Grandi, the UN High Commissioner for Refugees, in a news release announcing the three-year Plan of Action.
"The consequences of our failure to resolve internal displacement can be devastating," he stressed.
The framework, formally called the Plan of Action for Advancing Prevention, Protection and Solutions for Internally Displaced People (2018-2020), calls on all relevant actors to step up efforts to prevent, respond to and resolve internal displacement.
It also proposes concrete activities to strengthen the participation of internally displaced persons in decisions concerning them, and expand national laws and policies on internal displacement as well as actions to improve data collection and analysis on displacements globally.
By the end of 2016, more than 40 million people were displaced within their own countries due to insecurity or rights violations. An additional 24 million were driven from their homes due to disasters. Every year, an estimated 15 million people are also displaced by development projects.
Bold and ambitious steps needed
Given this complex conundrum, "bold and ambitious" steps are needed, underscored Cecilia Jimenez-Damary, the UN Special Rapporteur on the human rights of internally displaced persons.
"The Plan of Action seeks to galvanize a strategic dialogue, concerted action and adequate resources to address the plight of the internally displaced, while engaging them in the decisions that affect them," added the independent expert.
In the same vein, Mark Lowcock, the UN Under-Secretary-General for Humanitarian Affairs committed that the Organization will continue to work with affected Governments and displaced persons to ensure that their needs are addressed.
Leave no one behind
"The international community has pledged to leave no one behind," stressed Mr. Lowcock, who is also the UN Emergency Relief Coordinator, noting that this promise must extend to all those displaced.
The Plan of Action was drafted under the leadership of the Special Rapporteur, the Office for the Coordination of Humanitarian Affairs (OCHA) and the Office of the UN High Commissioner for Refugees (UNHCR).
Its launch coincides with the 20th anniversary of the Guiding Principles on Internal Displacement, widely accepted as being the global standard for protecting and assisting internally displaced people.
UN Environment designates Chinese idol Wang Junkai as National Goodwill Ambassador
Singer and Actor Wang Junkai, or Karry Wang, best known for his leading role in the box office blockbuster film Miracles of the Namiya General Store and the hit single "KarryOn" was designated as UN Environment Goodwill Ambassador today in a ceremony in Beijing.
In his role as goodwill ambassador, Wang will connect with China's youth on some of the most urgent
environment issues of their generation, including pollution, air quality, wildlife protection, ecosystems, and more.
As a young actor and singer, I greatly appreciate UN Environment giving me this opportunity to be National Goodwill Ambassador. We youth have the responsibility to protect our environment and secure our future, and I am looking forward to learn from and work with the UN family on key environmental issues. Youth are no longer merely onlookers when it comes to environmental action, nor should they be. I will spare no effort to do everything I can to take care of our earth, and I invite everyone to join me in generating a wave of positive action.
It's inspiring to hear a strong and determined voice of Chinese youth on environmental issues. When young people set their mind to change, incredible things can be accomplished," said Erik Solheim, head of UN Environment. "We're very excited to work with Wang Junkai to create even more awareness about environmental issues and, more importantly, the solutions to these challenges."
The 18-year old performer is a superstar of the highest ranks in Asia. Known for his leading role in the film Namiya General Store, top roles in various TV series – among which "Finding Soul" and "Qingyun Zhi " – and solo music career, he has amassed more than 40 million followers on Weibo, the Chinese version of Twitter. Both in China and the rest of South-East Asia, Wang has been one of the leaders of the online conversation on the environment.
In 2016, Wang widely shared the #wildforlife Campaign, reaching 400 million viewers. A year later, he publicly spoke out on the urgent need to protect endangered wildlife, naming them the "superstars of the planet."
Beyond drawing attention to wildlife, he called upon his followers to pledge to reduce their e-waste, with the hashtag #beatpollution. Within 24 hours, his post was retweeted by 1.67 million times and more than 400,000 followers signed the pledges.
New Solar Project to Restore Electricity to Over One Million Yemenis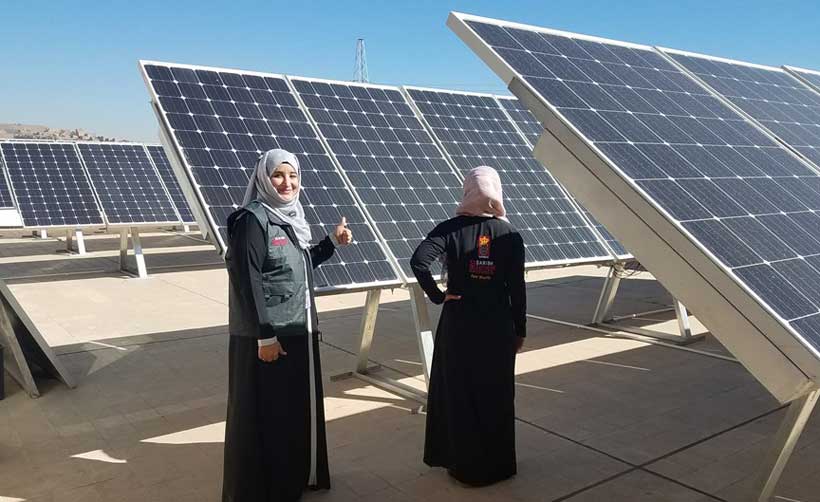 The World Bank announced today a new project to finance off-grid solar systems in Yemen to power vital basic services, and improve access to electricity for vulnerable Yemenis in rural and outlying urban areas.
Funded by a US$50 million grant from IDA, the World Bank's fund for the world's poorest countries, the new project will rely on the commercial solar market, which has grown despite the conflict, providing further support to the local economy and creating jobs.
Solar power has proved to be the most immediate solution for severe energy shortages in Yemen. A booming solar industry has developed driven by the private sector, but the costs have put the technology beyond the reach of public facilities and the most vulnerable populations.
The Yemen Emergency Electricity Access Project will work with the current solar supply chain and the existing network of microfinance institutions, to finance and deliver off-grid solar systems to rural and peri-urban areas. The aim is to restore or improve access to electricity to 1.4 million people, around half of them women. The project will also fund solar power for critical infrastructure, such hospitals, schools, water corporations, and rural electricity providers.
"The lack of electricity in Yemen has had a devastating impact on Yemenis and the provision of services," said Dr. Asad Alam, World Bank Group Country Director for Yemen, Egypt, and Djibouti. "While responding to immediate need, the project will contribute to building a more inclusive and sustainable solar market in Yemen through targeted financing to the private sector which will expand its reach to the poor and vulnerable."
The project will be implemented in partnership with the United Nations Office for Project Services (UNOPS) and in collaboration with the local private sector, including Micro Finance Institutions, solar equipment suppliers and technicians. Working with the Yemeni private sector will help create hundreds of jobs.
"Investing in solar will make Yemen's electricity more resilient, reduce the dependence on fuels for critical service facilities, and create jobs in the private sector," said Joern Torsten Huenteler, World Bank Energy Specialist and Task Team Leader of the project, "What Yemenis need today more than ever is a quick and innovative energy solutions to help ease the crisis."
With this new financing, IDA emergency grants to Yemen issued since July 2016 have totaled US$1.183 billion.
These projects have been prepared – and are being implemented – in partnership with Yemeni institutions and UN organizations such as the United Nations Development Program, the United Nations Children's Fund, the World Health Organization, the United Nations Food and Agriculture Organization, and the United Nations Office for Project Services.