NATO breaks treaty with Russia deploying troops in Latvia
The 10 most important things you need to know on Caspian Sea Region for Friday, May 29:
1NATO breaks treaty with Russia deploying troops in Latvia. NATO forces will be deployed in Latvia, as NATO's Supreme Allied Commander of Europe, Philip Breedlove claimed. The special request has been already approved by the Latvian government. Latvian Prime Minister, Laimota Straujuma confirmed the permanent presence of the NATO military force in the country. Lithuanian military spokesman Captain Mindaugas Neimontas said: "We are seeking a brigade-size unit so that every Baltic nation would have a battalion." However, the deployment of permanent forces flies in the face of the Founding Act on Mutual Relations, Cooperation and Security between NATO and the Russian Federation which was signed in Paris, France on 27 May 1997. It declared that "NATO and Russia do not consider each other as adversaries" and that the two parties will work together to prevent any potentially threatening build-up of conventional forces in agreed regions of Europe, to include Central and Eastern Europe. The Act states that NATO "will carry out its collective defense and other missions by ensuring the necessary interoperability, integration, and capability for reinforcement rather than by additional permanent stationing of substantial combat forces." [PRAVDA]
2"The new generation of Iranians, the real Islamic Republic that is far less Islamic than its rulers want and ambitious in a different way — not through making mischief or muscle flexing, but through higher education, ideas and its people's hunger to be citizens of the world. Curious, wired, and desperate for normality, Iran's youth — under-40s make up 60 per cent of the 80 million-strong population — have been taking the country in a direction that horrifies its rulers. The pace of change among them has been so fast and dramatic, particularly over the past decade, that Iran's sociologists say they are still trying to understand them and Islamic leaders regularly blame the west for corrupting them," writes Roula Khalaf for the Financial Times.
3Is Belarus and Russia's 'brotherly love' coming to an end? "Belarusians now fear they're trapped in a no-win situation: if Lukashenko cows to Moscow, Belarus could return to its place as a Russian frontier land, as it was during Soviet rule. But if Lukashenko tries to diversify his foreign policy and makes new friends in Europe, it's possible the Kremlin could respond with aggression – both pose a threat to Belarus's independence." Writes Mikalai Anishchanka for the guardian.
4"100 Concrete Steps," a plan to implement five reforms proposed by Nursultan Nazarbayev during his election campaign, has been released, Tengrinews reports. The five reforms, according to Nazarbayev, are Kazakhstan's answer to the global and internal challenges. These reforms are called to help Kazakhstan join the club of 30 most developed countries of the world. These include formation of an effective state apparatus; ensuring rule of law; facilitating industrialization and economic growth; developing national identity and unity; and enhancing government accountability. In order to implement these reforms, the National Commission for Modernization was established. It is led by Prime Minister Karim Massimov. The commission is composed of five working groups consisting of domestic and foreign experts. [TENGRI NEWS]
5On May 28, the State Agency on Alternative and Renewable Energy Sources, SAARES conducted a full test of all stations in a wind park "Yeni Yashma" with a capacity of 59 MW in the Khizi region and launched a wind turbine with a capacity of 2.5 MW, APA reports.The wind turbine, which was launched on the Republic Day, has already started to transfer electricity, generated from wind power, into the general power grid of the Republic. In the near future a wind park "Yeni Yashma" will be connected into the electrical grid of the country.
6Gazprom Retreats on Europe Export Outlook as Russian ADRs Drop. Gazprom, Russia's biggest company, fell after the Economy Ministry said the state-controlled natural gas producer will probably see lower gains in Europe, its biggest market, for at least four years amid lower prices and increasing competition. Brent crude, the oil grade traders use to price Russia's main export blend, rose 0.8 percent to $62.58 a barrel after dropping 5.3 percent in the prior two days. "Europe will remain the main market for Gazprom for a considerable period of time, and lower gas prices in the region will negatively impact the company's revenue," Andrey Polischuk, an oil analyst at Raiffeisenbank ZAO who rates the stock hold, said by phone Thursday. "It might mean that Gazprom will have to seek additional funding for its investments, from advance payments from its partners in the east or from loans."writes Elena Popina for Bloomberg.
7Turkmenistan mulls constitution changes extending presidential term.The speaker of ex-Soviet Turkmenistan`s pliant parliament has proposed constitutional changes extending the presidential term limit and removing the maximum age for the presidency, state media reported Friday. The amendments — which look aimed at expanding the already iron grip of 57-year-old incumbent strongman President Gurbanguly Berdymukhamedov in the gas-rich republic — would increase the presidential term from five to seven years and remove the presidential age limit of 70 from the constitution.
8A landmark event, part of the project to bring Azeri gas supplies to Europe, could take place next month – the signing of the final investment decision on the construction of the interconnector Greece-Bulgaria (IGB), according to an article carried by rosinvest.com. The IGB construction is projected to start in March 2016 and close in 2018. The interconnector with Greece will enable Bulgaria to make a big step toward reducing its almost total dependence on Russia for gas supplies, the article "Azerbaijan and the Gas Hopes of Bulgaria" reads. With the South Stream gas pipeline project now abandoned by Russia and the risk of potential disruption of Russian gas supplies via Ukraine still existing, Bulgaria now has all its hopes of energy diversification pinned on Azeri gas which the country could start receiving via the IGB. [rosinvest.com]
9Azerbaijan expands cooperation with Turkey, Russia and Macedonia in fighting the financing of terrorism and money laundering. In accordance with the agreements Azerbaijan will cooperate with Turkey and Macedonia in the field of exchange of financial information. The agreement with Russia provides for cooperation in the fight against terrorism financing and money laundering.
10Absheron Hotel Group launches its fourth hotel – BOULEVARD HOTEL BAKU in the capital of Azerbaijan. The hotel is affiliated with the Autograph Collection, Marriott's brand featuring an exclusive portfolio of upscale independent hotels and resorts. Named after the eponymous seafront walking promenade, Boulevard Hotel offers 818 comfortable rooms and it will be the largest conference hotel in Azerbaijan. It provides perfect accessibility to all major business and cultural sites of the city as well as the finest facilities that are designed to suit a wide variety of occasions and functions. Boulevard Hotel is one of four hotels Absheron Hotel Group will operate in Azerbaijan. The first hotel, the 167-room Pik Palace, was opened in December 2013 in Shahdag Mountain Resort, followed by the opening of a 164-room Park Chalet in January 2015 and a 150-room Intourist Hotel Baku, in May 2015. Absheron Hotel Group is a young hotel management company in Azerbaijan. It aims to become a strategic hospitality industry player with a medium-term aspiration of taking a leading position in national and regional markets, through establishing a world-class portfolio of hotels and resorts.
Sergey Lavrov: 'If you want peace, always be ready to defend yourself'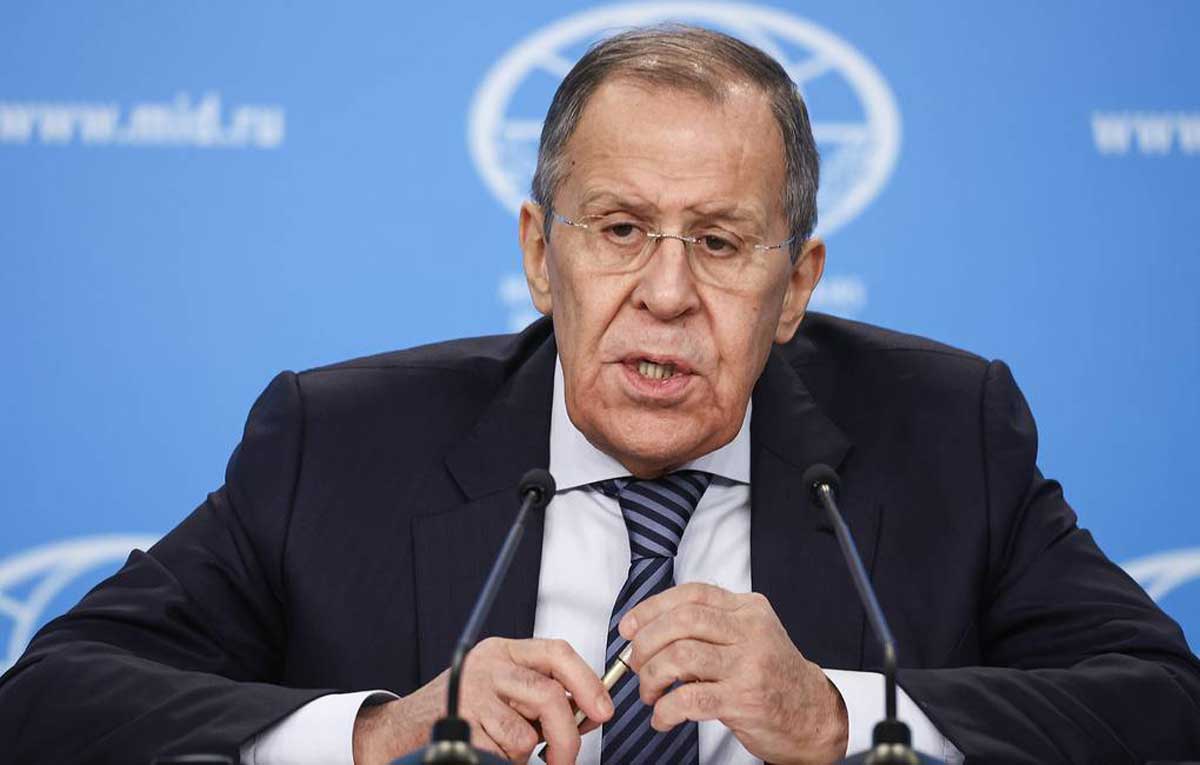 Russian Foreign Minister Sergey Lavrov gave an exclusive interview to Sputnik on Thursday, February 2. The conversation took place at a time of heightened international tensions over the conflict in Ukraine.
Mr. Lavrov has answered questions posed by the General Director of Rossiya Segodnya International News Agency, Dmitry Kiselev (photo), on the most pressing issues regarding Russian foreign policy and the international agenda.
Key statements made by Russia's FM Sergei Lavrov in his interview to Sputnik:
Moscow did not turn to Collective Security Treaty Organization (CSTO) partners with a request for assistance in connection with the special operation in Ukraine. "We have not made such a request to anyone. We proceed from the fact that we have everything necessary to solve the tasks of the special military operation, to end the war that the West started through the Ukrainian regime even after the coup d'etat."
It seems that the West will supply Kiev with modern military equipment together with foreign combat crews. "All types of weapons that have already been partially transferred, and especially those that have been announced, according to experts, it is impossible for Ukrainians to work on these systems, trained or having passed some two-month or even three-month courses. There are systems, according to specialists, that cannot be trained for in the foreseeable future, and if they are supplied, then most likely it will be done together with combat crews."
The more long-range weapons are supplied to the Kiev regime by the West, the further they need to be moved away from Russian territory.
Russia wants the conflict with Ukraine to end, but the time factor is not the main issue.
The United States deprives nations of the right to remember their own history; their task is to melt everyone into "Americans".
The US conviction of its own superiority and infallibility is the main reason for Russia's current confrontation with the West.
The West is hoping for a strategic defeat for Russia so that it cannot recover for decades.
Nobody is trying to convince Kiev to return to negotiations with Moscow; Zelensky himself does not feel like an independent figure, he is being manipulated.
The presumption that Russia refuses to negotiate on Ukraine is a lie.
The West is now "eyeing" Moldova for the role of "next Ukraine"; its president is ready for almost anything.
The West, on an almost "daily" basis, forces developing countries, including those in Africa, to implement sanctions against Russia;
The ideas of different countries increasing trade in national currencies are emerging because of US actions, which violate all the boundaries of decency with the US dollar.
Relations between Russia and China are superior in quality to a military alliance; they have no restrictions, limits or taboo topics; China already began to reduce dependence on Western financial mechanisms.
Nuland made a confession, rejoicing at the explosions on the Nord Stream pipelines; her words reflect the direct participation of the United States in the terrorist attack.
The United States "crushed" the European Union under itself, depriving it of the last signs of independence.
Lavrov says he is for peace, follows philosophy 'if you want peace, always be ready to defend yourself.'
More Americans believe US provides 'too much support' to Ukraine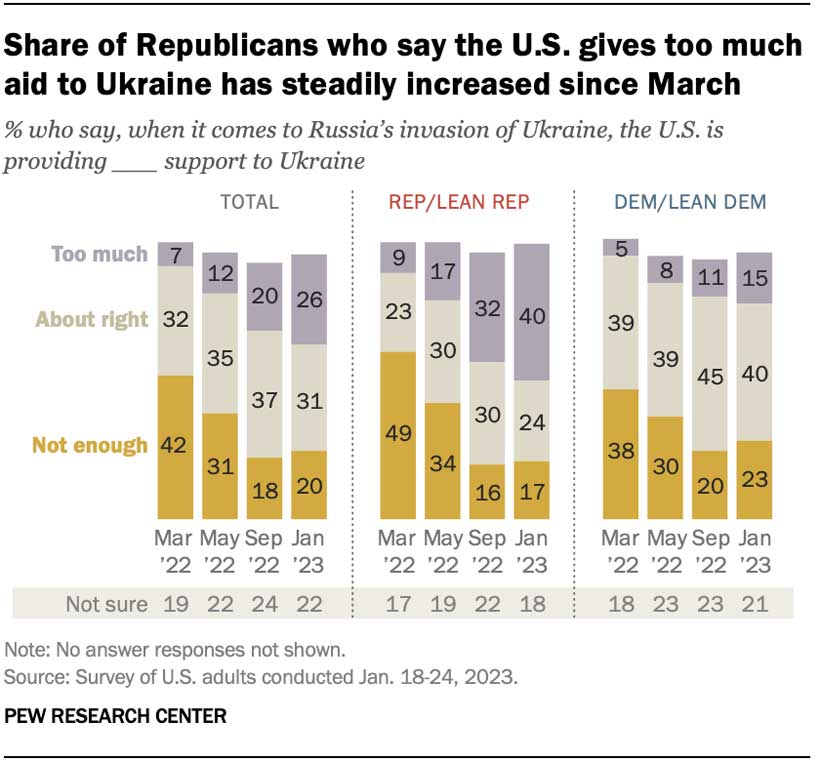 A growing portion of Americans think that the U.S. is giving too much support to Ukraine, as the Biden administration and other western allies have taken steps in recent weeks to escalate their backing of the country in its war against Russia, notes 'The Hill'.
About a quarter of Americans, 26 percent, think the U.S. support of Ukraine is 'too strong', according to a new Pew Research Center poll. It is a percentage of people that has steadily grown since the Russian invasion of Ukraine last year and has jumped 6 points since September.
The U.S. has sent billions of dollars to Ukraine to support its military in the war against Russia. In a $1.7 trillion spending package passed by Congress late last year, lawmakers included around $45 billion in funding for Ukraine and NATO allies. But the spending levels have come under attack by some Republican lawmakers, who argue the country is opening its pockets at unsustainable levels for Ukraine.
Then-House Minority Leader Kevin McCarthy (R-Calif.) said that House Republicans would not provide a "blank-check" for support of Ukraine if his party took control of the House — which it did. Rep. Lauren Boebert (R-Colo.) said on Twitter that President Biden needed to understand the U.S. wasn't an ATM (automated teller machine).
And as some prominent Republicans have started to sour on the support levels, the poll of 5,152 people, with a margin of error of 1.7 percent, found that Republican voters are following along. A total of 40 percent of Republicans and Republican-leaning independents think the U.S. is providing 'too much support', according to the poll. That is up from 32 percent in September and from 9 percent in February 2022.
While Republican attitudes have dimmed on Ukrainian support, they have also come to view the Russian war as less of a major threat to the U.S.
Just 29 percent of Republicans and Republican-leaning independents think the war is a major threat.
In March 2022, Republicans were more likely to see the invasion as a direct threat to the U.S., but now Democrats are more likely to hold that opinion, with 43 percent holding that belief.
Former CIA analyst: 'A costly and prolonged cold war now seems a certainty'
'No one knows how the war in Ukraine will end, but there is one post-war certainty: there will be a prolonged and costly Cold War between the United States and Russia,' – predicts Melvin A. Goodman, a former CIA analyst, now a senior fellow at the Center for International Policy and a professor of government at Johns Hopkins University.
He writes: In an interview with David Ignatius of the Washington Post, who has been doing the bidding of the Pentagon and the Central Intelligence Agency for several decades, Secretary of State Antony Blinken emphasized the importance of a "long-term goal of deterrence." Ignatius took this to mean that the Biden administration will make sure that Russia "should not be able to rest, regroup and reattack."
In addition to this year's record defense budget that found the Congress providing $45 billion more than the Pentagon requested, a so-called "emergency" provision will lay the foundation for adding scarce resources to defense spending in the coming year. This provision will allow multiyear, noncompetitive agreements to produce such ordinary weaponry as rockets and munitions.
According to the Washington Post, the Pentagon will now have a way to replenish its stockpiles that will provide a "new golden age" for military contractors.
The Biden administration's gift to the military-industrial complex rivals what the Reagan administration provided in the 1980s and ensures the country's rich market for weapons sales. Nearly half of the record defense spending of $858 billion goes to military contractors.
The House and Senate Armed Services Committees made sure that these spending spigots remain open by naming individuals with ties to the weapons industry to a commission that will review the Biden National Defense Strategy. The chairwoman of the commission, former Representative Jane Harman, protected Lockheed-Martin when she served on the Hill and currently is on the board of a military contractor that recently received a seven-year $800 million contract from the Pentagon.
The increased defense spending and the new emergency provision coincide with House Speaker Kevin McCarthy's creation of a new committee — the House Select Committee on Strategic Competition Between the United States and the Chinese Communist Party. In view of the recent rise in anti-Asian violence in the United States, it can only be hoped that Democrats appoint members to the committee who understand the domestic consequences of hyping the threat from China at this particular time.
Our China policy is not working, and the exaggeration of the China threat comes just in time for the hawks in the political aviary who fear that the severe deficiencies of the Russian military in Ukraine is making it more difficult to exaggerate the Russia threat. I've been calling attention to the exaggeration of the Russian threat for the past 50 years.
But the policy community, the bipartisan congressional community, and the pundit community can't let go of the idea that the Soviet Union and Russia present a 'threat to the national security of the United States'.
The Biden policy ensures a robust military presence on the Russian border that will worsen Cold War 2.0. There will be prolonged and unnecessary increases in defense spending, and the absence of a diplomatic dialogue in those important areas where there is Russian-American agreement.
These areas include a variety of arms control and disarmament issues, such as stopping the proliferation of nuclear weaponry and limiting the use of space in the military competition as well as dealing with insurgencies and terrorism; environmental degradation; and future pandemics.
It is hard to imagine any Russian government willing to pursue diplomatic solutions with a United States that has sponsored a NATO with more than 30 members; a military base in Poland; a regional missile defense in Poland and Romania; and the use of Romanian military facilities close by Russian forces and the Black Sea.
This serious turning point is being ignored by the policy community as well as the pundit and academic communities."