International trade and environment
To discuss International Trade and Environment is a paradoxical but complementary task.
While environmental issues are constantly being passed over to the detriment of large trade flows among countries, the more the world needs food from unsustainable technologies, which are cheaper to produce, to feed families worldwide. On the other hand, the international community is more aware of its actions and it attempts, through the implementation of standards, to create a fairer trade apparatus among countries and consequently their direct relationship with the environment.
The interconnection between Environment and International Trade can be observed from ancient times, such as in the fifteenth and in the sixteenth centuries, during the exploitation of natural resources from central countries in their respective colonies, when all the raw material was sold generating high profits for these core countries. In the Brazilian case, the exploration of pau-Brasil and henceforth sugar cane was a rather important aid to the constitution of the Portuguese Empire as a great world power of that time. Besides the exploitation of commodities, the world has seen the depletion of non-renewable resources, like coal and oil, in favor of European Industrial Revolutions, more specifically those of England, which had as main objectives to develop national industries and exchange high added value products to the world.
In the 1960s, with the Biosphere Conference, in Paris, the world begins to realize that resources are finite and that there is indivisibility and interdependence between man and nature. It is after this first international reaction that countries began to discuss in a more energetic way the environmental theme.
The term eco-development is coined by Maurice Strong, as a result of the 1972 Conference on Human Development, in Stockholm. For him, the long-term development would only be achieved if the environmental problems at that time were solved. The world was then divided between the more and the less developed countries, which had contrasting national interests, such as development. Issues that are observed currently it actually started to rise by then: while some want to maintain their natural resources (developed countries), others need it to develop themselves (developing countries), since the exploitation of resources was needed for national development. This is the beginning of the developmental dilemma between actors belonging to opposite ends of the international society.
Concurrently with the conference focused on environmental issues, there is the regulation of international trade. In 1947, a set of rules and principles of international trade are compiled in a general agreement called GATT (General Agreement on Trade and Tariffs). The general agreement was essential for international trade, making it fairer and more transparent, replicating the basic principles for all countries of the world as is the case of Art. 24 regarding the principle of most favored nation (if a country offers preference to another, it is obliged to extend the same benefits to all, demonstrating no exclusivity). GATT is still used as the general agreement of the World Trade Organization (WTO). Other elements were incorporated into this agreement as the ones concerning services (GATS), intellectual property (TRIPS) and investment (TRIMS). One can notice that free trade becomes the rule of international trade among countries, whose regulation occurs in the scope of the World Trade Organization.
The WTO is a truly competent body in various branches of international trade, yet it still lacks clarity on certain issues, such as those related to the environment. Agricultural subsidies are still reality in the European Union and in the United States, whose practices end up passing over small farmers of less developed or developing countries, leaving the world increasingly unequal. Sanitary and phytosanitary measures, although prohibited in the Marrakech Agreement (1994), are still practiced by central countries, which use them without any arguments grounded in today's reality neither based on consistent criteria.
On the other hand, discussions are being held about sustainable trade based on ISO 14000 standards, which are good alternatives for incorporating environmental concerns in international trade. To talk about standardized norms is a weak but an important first step, so that it is possible to give a final end to environmental degradation.
To follow international standards can be quite expensive for a less developed country, so it is believed that the Fair Trade should be increasingly discussed and practiced by the international organizations such as the WTO itself. The third sector is the most active in the dissipation of this practice, in which several NGOs assist small farmers and micro-entrepreneurs to sell their products, which are manufactured in a sustainable manner and without the use of slave labor.
Environment and International Trade are therefore paradoxical but complementary subjects. The trade of commodities in the world depends on the exchange of goods between countries, based on the comparative advantages so to achieve good profits. By focusing on profits, environmental devastation ends up being replicated in order to obtain even greater profits.
The regulation of trade tends not always to the benefit of the weaker, much less to the preservation of the environment. Small producers are harmed by agricultural subsidies and sanitary and phytosanitary barriers conducted by developed countries, making the world increasingly uneven and poor in natural resources. Actions as favoring fair trade and the creation of consistent norms for all producers must be dissipated in the scope of international trade, so that the world becomes even more sustainable and symmetrical. Dialogue, cooperation and some altruism must be practiced to preserve the world in which we all live in.
First published on IA-Forum website
Leading international organizations commit to climate action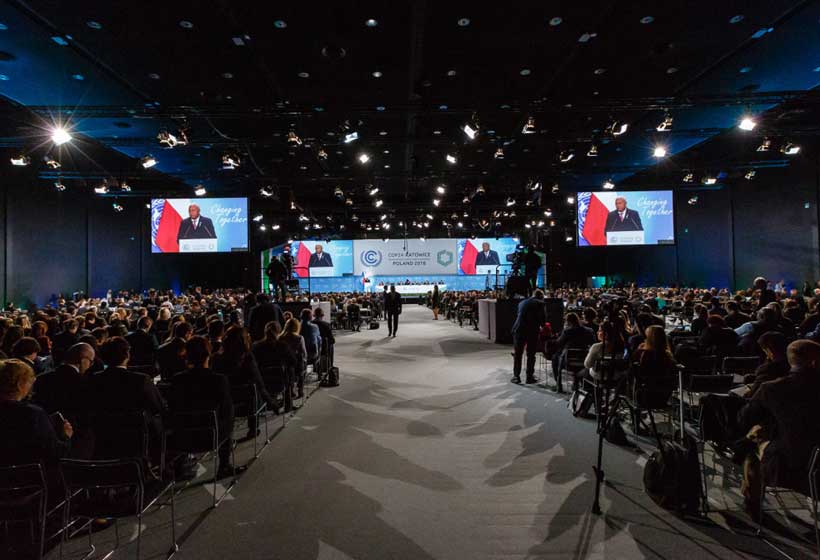 Today, at the United Nations Climate Change Conference (COP 24) in Poland, 15 international organizations jointly announced a commitment to make their operations climate neutral.  The organizations will measure their greenhouse gas emissions, reduce them as much as possible and compensate the currently unavoidable ones with credible carbon credits.
With over 2 million tons of CO2 per year in emissions, and more than 50,000 staff, the aggregate action by this organizations represents an important example that may be taken at all levels of society.
Some of the participating organizations have already achieved climate neutrality, while others are getting started in this journey. Still others were advanced in their sustainability strategy and are now going further by committing to go all the way to climate neutrality. Through this commitment, it is expected that organizations with more experience will support those that are at the early stages and that best practices will be shared.
This initiative demonstrates the commitment of the participating organizations to climate action, while serving as inspiration for others to follow suit and contribute to the goal to achieve global climate neutrality before the end of this century, as established in the Paris Agreement.
The international organizations that announced their commitment to climate neutrality are:
Organization for Economic Cooperation and Development (OECD) Secretariat
Common Markets for Eastern and Southern Africa Secretariat (COMESA)
Eastern Africa Development Bank (EADB)
Western Africa Development Bank (BOAD)
Asian Development Bank (ADB)
Pacific Community
ICLEI-Local Governments for Sustainability
European Investment Bank (EIB)
European Bank for Reconstruction and Development (EBRD)
Southern African Development Community (SADC) Secretariat
Inter-American Development Bank (IDB)
International Paralympic Committee (IPC)
Latin American Energy Organization (OLADE)
World Travel & Tourism Council (WTTC)
These organizations join agencies throughout the United Nations (UN) system which in 2007 adopted a strategy and a roadmap to reach climate neutrality by 2020. Over half of all UN system entities are now climate neutral, representing 39% of total UN emissions as featured in the 2018 Greening the Blue report. The UN Headquarters is also becoming climate neutral for the first time in 2018.
Some of the actions that these organizations are implementing to reduce their greenhouse gas emissions include the installation of solar photovoltaic systems, policies for reduction of air travel, upgrading of insulation and lighting systems in buildings, reduction of the amount of paper used at conferences, installation of efficient cooling systems, promotion of car-pooling schemes among employees, establishment of sustainable procurement policies, and enhanced collection and recycling of waste, among many others.
The ambition is that other international organizations will join this commitment in the near future, helping multiply the message of the importance of taking immediate action at all levels of society to avoid the worst consequences of climate change.
Growing gap between ambition and action as the world prepares for a future with increasing climate risks
While climate consciousness across the globe is on the rise, the fourth UN Environment Adaptation Gap Report released today has revealed a considerable gap between countries' preparedness for climate change and the actual measures that should be put in place to prepare communities for a future of increasing climate risks.
The research particularly underscores a growing divide between the estimated annual costs of adaptation and the actual global investments in resilience measures, drawing a distinct connection between our adaptation to climate change and sustainable development that results in healthy communities and thriving economies.
Climate change will have a significant impact on human health over the next few decades, and while progress has been made in reducing climate-change related diseases and injuries, current adaptation efforts are by no means sufficient to minimize future health impact of a changing climate. The research highlights that unless adaptation efforts are strengthened considerably, heat and extreme event-related morbidity and mortality will continue to rise.
Despite voicing considerable concern on the divergence between the global goals on adaptation and actual action being taken at the national level, the report shines a positive light on the growth in national laws and policies that address adaptation. Studies show that at least 162 countries explicitly address adaptation at a national level, through a total of 110 laws and 330 policies.
Looking at the commitment countries made as part of the Paris Agreements, only 40 developing countries have quantifiable adaptation targets in their current Nationally Determined Contributions (NDCs), while 49 include quantifiable targets in their national laws and policies.
Low- and middle-income countries have shown consistent progress. However, without signs of acceleration, catching up with wealthier countries to bridge the gap in adaptive capacity will take many decades under current rates of improvement.
The Adaptation Gap Report identifies what is urgently needed to further narrow the adaptation gap in health, both today and in the future, is political will and the necessary financial resources to implement the most important actions related to climate resilient health systems; early warning systems and a broader development agenda aimed at reducing vulnerability to climate-sensitive health risks, particularly infectious diseases and food and nutritional insecurity.
UN climate change conference in Katowice: Questions and Answers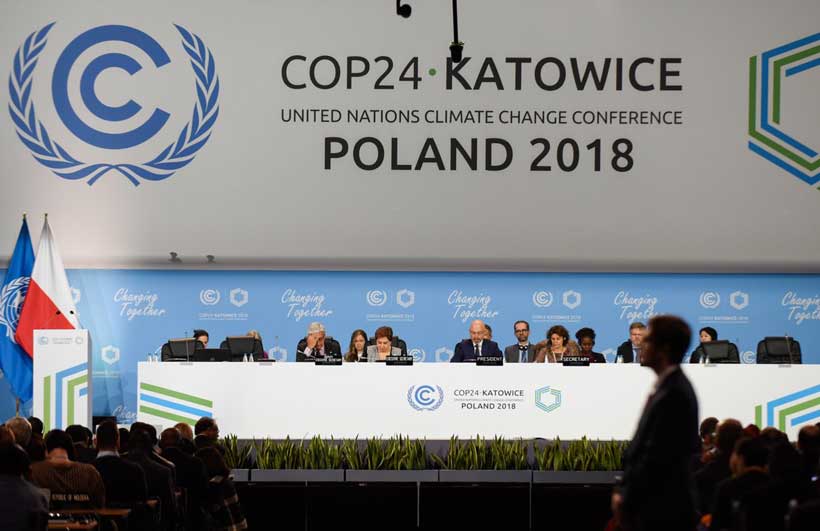 What will happen at COP24?
This year's annual conference of the Parties to the UN Framework Convention on Climate Change (UNFCCC) will be a crucial moment for the implementation of the Paris Agreement on climate change, as Parties are aiming to finalise a detailed set of rules and guidelines – the so-called Paris 'work programme' or 'rule book' – which will enable the landmark accord to be put into practice all around the world.
The conference, will take place from 2-14 December in Katowice, Poland, and will be presided over by the Government of Poland. It is officially the UNFCCC's 24th Conference of the Parties which is where it gets its name 'COP24' from; the Kyoto Protocol's 14th Conference of the Parties serving as the Meeting of the Parties (CMP 14) and the third part of the first session of the Conference of the Parties serving as the meeting of the Parties to the Paris Agreement (CMA 1.3).
The Paris Agreement, adopted in December 2015, sets out a global action plan to put the world on track to avoid dangerous climate change by limiting global warming to well below 2°C above pre-industrial levels and pursuing efforts to limit the temperature rise to 1.5°C. It entered into force on 4 November 2016. 195 UNFCCC Parties have signed the Agreement and 184 have now ratified it.
What are the EU's expectations for COP24?
In December 2015, Parties to the Paris Agreement agreed to finalise a detailed set of rules and guidelines – a 'work programme' or 'rulebook' – for implementing the accord by the end of 2018. Adopting a clear and comprehensive work programme consistent with what was agreed in Paris is necessary for putting the Agreement into practice. It will enable and encourage climate action at all levels worldwide and will demonstrate the global commitment to ambition.
Adopting a strong Paris work programme, with clear provisions on all key issues including transparency, finance, mitigation and adaptation, is the EU's top priority for COP24. The outcome must preserve the spirit of the Paris Agreement, be applicable to all Parties, take into account different national circumstances and reflect the highest possible ambition over time. Clear rules and guidelines will also serve Parties' own policy-making, by providing a robust underpinning for policies and reflection on enhancing ambition over time.
In the build-up to the conference, EU Climate Action and Energy Commissioner Miguel Arias Cañete has conducted extensive outreach with global counterparts in order to ensure a successful outcome in Katowice. This includes the second Ministerial on Climate Action in Brussels co-hosted with counterparts from China and Canada, the Global Climate Action Summit in California, and a recent visit to Beijing where climate priorities were discussed with Chinese authorities. Additionally, the EU has also undertaken wide outreach at officials level with a view to moving towards landing zones on the key political issues related to the Paris rulebook. Party groupings reached out to include progressive developed and developing countries, the G77 and major economies including South Africa.
The political phase of the Talanoa dialogue should send a strong message to the world, in support of the implementation of the Paris Agreement to spur momentum for action. The EU expects all Parties to share evidence of their action and progress on their nationally determined contribution (NDC), as part of a collective global conversation on how to enhance ambition.
Ahead of COP24, the European Commission presented a strategic vision on how the EU could achieve climate neutrality – i.e. become a net zero emission economy – by 2050 (see point 4).
Alongside the formal negotiations, COP24 will have a strong focus on keeping up the political momentum for continued climate action by a wide range of stakeholders before 2020. It will provide a space for all relevant stakeholders to showcase their action, share information, foster new cooperation and raise awareness on climate change and the solutions available.
The EU has a rich programme of side events at COP24 – it will host more than 100 events over the two weeks, at the EU Pavilion in the conference centre.
What is the EU doing to reduce its own greenhouse gas emissions?
The EU's NDC for Paris is to reduce its greenhouse gas (GHG) emissions by at least 40% by 2030 compared to 1990. This target is part of a wider EU climate and energy framework for 2030 and builds on the 2020 target to cut emissions by 20%, which the EU is well on course to exceed.
The EU has worked intensely to establish an economy-wide framework of legislation and initiatives that will allow the bloc to meet its 2030 target and drive the transition to a low-carbon, climate-resilient society. All key legislation for 2030 has already been adopted, including a modernisation of the EU Emissions Trading System (EU ETS) and new energy efficiency and renewable energy targets to ensure the power sector and energy-intensive industries deliver the necessary emissions cuts, and new 2030 targets for all Member States to reduce emissions in non-ETS sectors including transport, buildings, agriculture and waste. New legislation will also ensure that emissions from land use and forestry will be balanced out by removals. Ambitious proposals to reduce EU road transport emissions are also on the table and still being negotiated by member states and the European Parliament. Fully implemented these measures could lead to an EU GHG emissions reduction of around 45% in 2030.
However, EU ambition and vision goes far beyond 2030. In March this year, following a similar request from the European Parliament, EU leaders called on the Commission to present a proposal for a strategy for long-term EU GHG emissions reduction, in line with the goals of the Paris Agreement.
Following broad stakeholder consultation and taking into account the IPCC special report on global warming of 1.5°C, the Commission this week presented a strategic vision for a prosperous, modern, competitive and climate neutral EU economy in 2050. It is an ambitious vision in line with the Paris Agreement goals providing sustainable growth and jobs and improving the quality of life of all EU citizens.
The strategic vision will be followed by a broad debate among EU decision-makers and all stakeholders, which should allow the EU to adopt a long-term strategy and submit it to the UNFCCC by 2020, as requested under the Paris Agreement. The Commission will present its strategic vision to all global partners at COP24, hoping it can inspire others to prepare their own long-term strategies.
How does the Paris Agreement ensure countries deliver on their commitments?
In 2015, countries agreed to set up an enhanced transparency framework for action and support to build mutual trust and confidence and to promote effective implementation of the Paris commitments. The key task is to make this framework a reality by adopting a strong set of detailed rules.
The enhanced transparency framework will help not only the understanding of progress made individually by Parties in the implementation of their nationally determined contributions, but is also critical for providing robust data to support the global stocktakes and assess the progress towards the long-term goals.
Solid multilateral transparency and accountability guidelines would help countries to design good policies at home. They should provide an incentive to build and maintain domestic institutions, data collection and tracking systems that policymakers need to make the right decisions.
The transparency, accountability and compliance system under the Paris Agreement is not punitive, but it is meant to identify when Parties are off track and help them to get back on track if they are not delivering. Underpinning this system are new and comprehensive requirements and procedures applicable to all Parties to track and facilitate their performance. These include technical expert reviews, a multilateral peer review process, and a standing committee on implementation and compliance. Together, these will maintain a focus on both technical and political aspects of performance.
What does the Paris Agreement mean for the EU's contribution to climate finance for developing countries before 2020?
At the UN climate conference in Copenhagen in 2009, developed countries collectively committed to contribute USD 100 billion of climate finance per year by 2020, from both public and private sources, for meaningful mitigation action and transparency of implementation. In Paris in 2015, the EU and other developed countries committed to continue to provide financial resources to help developing countries tackle climate change.
Together, the EU, its Member States and the European Investment Bank are the biggest donor of climate finance to developing countries. We have progressively raised our contribution in recent years, providing EUR 20.4 billion in 2017 alone. The EU is delivering its fair share of the overall USD 100 billion commitment.
The Paris Agreement called for a "concrete roadmap" to achieve the USD 100 billion goal, with a Climate Finance Roadmap prepared by the donor community in 2016 indicating that they are on track to meet the ambitious goal.
How does the Paris Agreement address adaptation and loss and damage associated with the impacts of climate change?
The Paris Agreement put adaptation on an equal footing with mitigation and established the first global goal on adaptation, namely to enhance adaptive capacity, strengthen resilience and reduce vulnerability to climate change. The global stocktake will review the overall progress towards this goal. Adaptation is a key element of EU policy and planning. National, regional and local adaptation strategies are gaining ground since the adoption of the EU Adaptation Strategy in 2013. Today, 25 Member States have a strategy or plan and over 1,500 cities and municipalities have committed to developing one, in the framework of the Covenant of Mayors for Climate and Energy.
The Commission published an evaluation of the Adaptation Strategy earlier this month – highlighting successes achieved and actions needed to further reduce Europe's vulnerability to climate impacts. The evaluation also concluded that adapting EU regions and economic sectors to the impacts of climate change is now more urgent than forecast when the strategy was adopted in 2013.
In addition, the EU is highly committed to supporting partner countries to take climate action, including adaptation efforts. The percentage of EU climate finance targeted at adaptation is increasing, with particular focus on action in the most vulnerable countries. In 2017, roughly 50% of climate finance from the EU budget (excludes Member State funds) was dedicated to adaptation projects. The Paris Agreement recognises the importance of averting, minimising and addressing loss and damage associated with climate change, including extreme weather events, such as floods, landslides, storms and forest fires, and slow onset events such as the loss of fresh water aquifers and glaciers.
These concerns were addressed when the Paris Agreement was adopted by giving the Warsaw International Mechanism on Loss and Damage the role of promoting cooperation on these issues. This includes further work on emergency response and insurance issues and a task force to develop recommendations on approaches to address displacement due to climate change, which delivered comprehensive recommendations on the subject.
What is the role for business and other non-state actors and how can the Global Climate Action Agenda be strengthened?
The Paris Agreement recognises the key role of businesses, local governments, cities and other organisations in the transition to a low-carbon and climate-resilient world. The private sector will ultimately need to bring about the economic transformation, turning challenges into business opportunities. The sharing of experience from the private sector side, on the conditions to achieve sustainability in practice, is therefore extremely valuable.
Actions showcased through the Global Climate Action Agenda (GCAA) – also known as the Marrakesh Partnership on Global Climate Action – are helping to build on the growing momentum. The GCAA has the potential to deliver transformative impacts on the ground, enhance ambition pre-2020 and contribute to implementing national climate plans and the long-term Paris goals.
While measuring the impact and identifying what is additional to national climate pledges remains difficult, data indicates that the aggregated impact of the initiatives is in the order of a few gigatonnes of carbon dioxide equivalent (GtCO2e) in 2030 beyond the current NDCs – a potentially significant contribution to closing the gap (UNEP Gap Report 2016).
The EU and its Member States have been proactive in promoting and sponsoring specific GCAA initiatives. Flagship initiatives include the Global Covenant of Mayors for Climate and Energy and Mission Innovation.
The high-level events on global climate action and the thematic days at COP24 will be excellent opportunities to reflect on progress made under existing initiatives, as well as for announcements on new transformative initiatives.