Azerbaijan celebrates 28 May – Republic Day
The 10 most important things you need to know on Caspian Sea Region for Thursday, May 28:
1Azerbaijan celebrates 28 May – Republic Day. Azerbaijan is marking one of the most striking and significant days in its history – the creation of the Azerbaijan Democratic Republic, which was the first secular republic in the Muslim East.
2Ilham Aliyev: "The rich gas resources of Azerbaijan will provide us and our partners at least for 100 years". President expressed his hope that no artificial obstacles to TAP – the Trans Adriatic project will arise: "As if such obstacles appear, in this case, there will not be the winning party, of course. I should also note that the rich gas resources of Azerbaijan will provide us and our partners at least for 100 years. Of course, concrete measures are taken for our market entry. If there is problem with TAP project, then we will export our gas to the Turkish market mainly. Anyway, I should note that we have no concern about the markets. Just all TAP participants should act responsibly and not to create artificial problems. In the future, of course, our strategic goal is the full implementation of the Southern Gas Corridor, together with the development of "Shah Deniz" gas field."
3Building the New Silk Road. China has multiple reasons for pursuing the New Silk Road. Xi has promoted a vision of a more assertive China, while the "new normal" of slowing growth puts pressure on the country's leadership to open new markets for its consumer goods and excess industrial capacity. Promoting economic development in the troubled western province of Xinjiang, where separatist violence has been on the upswing, is another major concern, as is securing long-term energy supplies. China's strategy is conceived as a two-pronged effort. The first focuses on overland infrastructure development through Central Asia—the "Silk Road Economic Belt"—while the second foresees the expansion of maritime shipping routes through the Indian Ocean and the Persian Gulf—the "Maritime Silk Road." In 2013, Xi told an audience in Kazakhstan that he wants to create a vast network of railways, energy pipelines, highways, and streamlined border crossings, both westward—through the mountainous former Soviet republics—and southward, toward Pakistan, India, and the rest of Southeast Asia. Writes James McBride for the Council on Foreign Relations.
4Russian gas industry looks east to strengthen position. "Russia has been talking to China for 10 years about exporting gas, but for various reasons they couldn't find alignment," says John Lough, of the Chatham House. "It has not been prepared to go the last mile, but the pressure to sidle up to China has now increased." Feeling ever more isolated in Europe and suffering from wider economic sanctions, Russia signed two significant gas deals with China last year. The first, worth $400bn at the time, provides for 38bcm a year from 2018. Construction of the pipeline to transport the gas from East Siberia began in September. A provisional deal for a further 30bcm was signed a month later, with gas potentially being delivered from West Siberia through the Altai region in southern Russia. Writes Richard Anderson for the BBC
5Venezuela and Russia gave new impetus on Wednesday to their strategic cooperation as Venezuelan Foreign Minister Delcy Rodriguez concluded a visit to Moscow. Relations between the two countries have matured over the past 11 years in all areas, Rodriguez said after meeting with Russian counterpart Sergei Lavrov. Venezuela and Russia are cooperating in the construction of a "new geopolitical order," she said, highlighting the role of the BRICS group: Brazil, Russia, India, China and South Africa. Military and technical cooperation and agriculture are among the focal areas for Russian participation, according to Rodriguez. Ties with Latin America are a priority for Moscow, Lavrov said, expressing appreciation for Venezuela's support of a proposed mechanism to establish constant dialogue between Russia and the Community of Latin American and Caribbean States.[Latin American Herald Tribune]
6Kazakhstan is interested in Croatia's military industry, Croatian Defence Minister Ante Kotromanovic said on Wednesday in Astana where he arrived for a visit to Kazakhstan. Kotromanovic, held talks with his Kazakh counterpart Imangali Tasmagambetov on bilateral defence cooperation notably in the defence industry. The talks also revolved around security cooperation and cooperation within NATO, the Croatian Defence Ministry stated in a press release. Croatia and Kazakhstan are keen to advance the relations and intensify cooperation in all sectors, including the defence industry, training and education and economic cooperation, Kotromanovic was quoted as saying. He praised Kazakhstan for its impressive development and attraction of foreign investments. He and the Kazakh defence minister signed a memorandum of cooperation in the defence sector. [dalje.com]
7Stress Tests for Kazakhstan.How can Kazakhstan maintain friendly ties with Russia and yet continue to build its own national identity? The International Crisis Group thinks that Astana should take a more 'recognizable' role in trying to resolve the Ukraine crisis, pursue a balanced foreign policy and perform several other steps. [International Crisis Group]
8Indonesia interested in boosting energy co-op with Azerbaijan. "Azerbaijan is an important trading partner of Indonesia, especially in the energy sector," Economic Minister of Indonesia Sofyan Djalil said during Azerbaijan's National Republic Day celebration at the JW Marriott Hotel in Jakarta."We will soon send our energy and mineral resources minister to Azerbaijan to explore more opportunities and boost cooperation," said the minister.
9"Russia's nuclear saber-rattling is unjustified, destabilizing and dangerous," NATO chief Jens Stoltenberg said during public remarks at the Center for Strategic and International Studies. "We learned during the Cold War that when it comes to nuclear weapons, caution, predictability and transparency are vital."Moscow's signaling that it would place nuclear-capable missile systems in Kaliningrad, the Russian exclave bordering Poland, and the Crimean Peninsula, "would fundamentally change the balance of security in Europe", Stoltenberg said. He also warned of increased "provocative" flights by Russian nuclear-capable bombers from "Japan to Gibraltar" and "Crete to California," saying Russia has stepped up its air activity by roughly 50 percent. [TURKISH WEEKLY]
10Foreign Ministers of Azerbaijan, Turkmenistan and Turkey Elmar Mammadyarov, Rashid Meredov and Mevlüt Çavuşoğlu held a trilateral meeting on the sidelines of the 42nd Foreign Ministerial Council of the Organization of Islamic Cooperation. At the meeting the importance of trilateral meeting of Azerbaijan, Turkmenistan and Turkey was stressed in terms of development of regional cooperation. [apa.az]
Scaling up climate finance in Asia-Pacific through Financial Centres for Sustainability
Financial Centres for Sustainability (FC4S) today launched its Asia-Pacific Centre, one of several important steps taken to scale up the financing required for climate action and sustainable development, at the 2nd meeting of the global network.
The new centre will be located in Shanghai Lujiazui Financial City, which will work with other cities in the Asia-Pacific region to promote the innovation and development of sustainable and green finance. Lujiazui is an international financial center with a high concentration of financial institutions, dynamic capital markets and a vast financial talent pool.
The most recent report of the Intergovernmental Panel on Climate Change (IPCC) concluded that an additional 1.5 per cent in global investment would be needed to hold global warming to 1.5 degrees Celsius. Mobilizing the world's financial centres will be crucial to achieving the system transition that the IPCC has recommended.
Lujiazui Financial City and Casablanca Financial City also signed an agreement to strengthen cooperation in sustainable finance, green finance and exchange of resources, while Lujiazui Financial City unveiled the Green Finance Integrated Development Platform, the first regional online green finance platform.
This platform provides a practical place to exchange information on green projects, capital and finance from home and abroad, enabling companies and institutions to match supply and demand, and integrate resources.
Meeting in Shanghai, the global network also appointed two co-chairs to provide strategic leadership: Pierre Ducret, board member of the Paris-based Finance for Tomorrow initiative and Kong Wei, chair of the Shanghai Green Finance Committee.
In addition, a new Wall Street Working Group on Sustainable Finance is being formed, and is considering joining the network to represent New York.
Quotes
"The IPCC report has shown more clearly than ever the need to mobilize the trillions for climate, and accelerating action is a priority for France,"  said Ducret. "I'm honoured to be appointed as a co-chair of the Financial Centres for Sustainability network – and view this as a great opportunity to strengthen international cooperation at a time of great uncertainty."
"Green finance is a national priority in China to develop a cleaner and more prosperous economy," said Kong Wei. " I feel privileged to take up the role of co-chair of the Network and will use this opportunity to promote practical measures that enable all financial centres to play their role in the transition that lies ahead."
Curtis Ravenel, Global Head of Sustainable Business & Finance, Bloomberg said: "To solve the climate challenge, we need more sustainable finance product innovation and scale across the U.S. and international capital markets. Along with the growing roster of global hubs that are part of the FC4S Network, Bloomberg is working with a number of financial institutions and others to explore the formation of a Wall Street Sustainable Finance working group to scale capital deployment aligned with the goals of the Paris Agreement."
Satya Tripathi, Assistant Secretary General, UN Environment said: "UN Environment works across the sustainability and finance agenda – and I see that the FC4S Network is having a significant impact on the international policy sphere. These moves will further consolidate the Network's leadership role."
Nick Robins, the founder of the FC4S network and Special Advisor on Sustainable Finance, UN Environment said: "We need financial centres to be fit for purpose in the rapid transition that lies ahead. With Pierre Ducret and Kong Wei as co-chairs, the network has the strategic leadership it needs for the next phase."
China, UNIDO collaborate to support the first China International Import Expo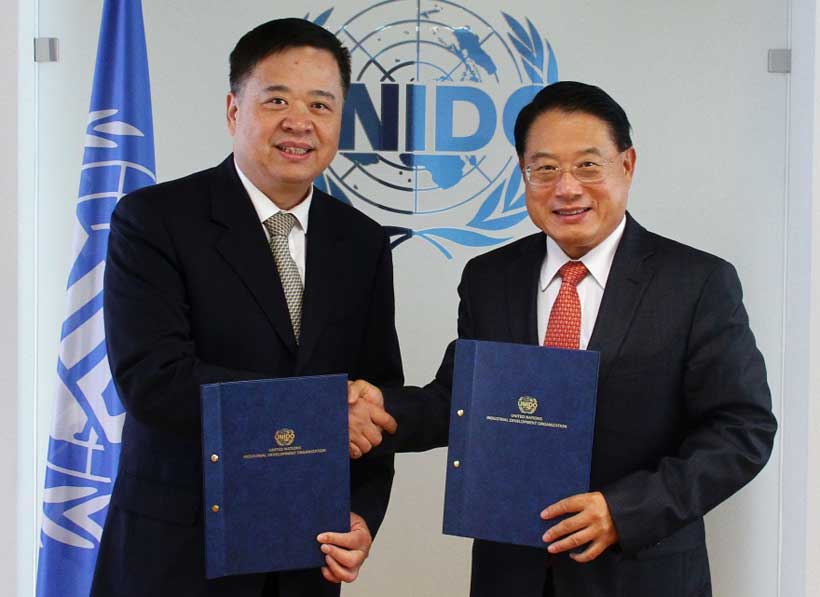 China will host the first China International Import Expo (CIIE) from November 5 to 10, 2018, in Shanghai, in cooperation with the United Nations Industrial Development Organization (UNIDO) and other international organizations.
Today, a project document was signed by UNIDO Director General LI Yong, and the Minister Counsellor YAO Shenhong of the Permanent Mission of China. UNIDO will assist relevant departments of the Government of China to organize the China International Import Expo, in order to promote international cooperation, facilitate imports to China from all countries and regions around the world, and increase the awareness and participation of the public and private sectors.
This project will contribute to increasing exports from other developing countries, middle-income countries (MICs) and least developed countries (LDCs), and promote their SME development by organizing international trade forums and exhibitions related to agro-industry value chain and high-end intelligent manufacturing.
"The objectives of the Expo are in line with UNIDO's mandate and support the realization of Sustainable Development Goals 9 and 17," said Li, "The CIIE will promote international cooperation and facilitate imports to China from the entire world, and will thus contribute to the advancement of inclusive and sustainable industrial development (ISID) and the 2030 Agenda for Sustainable Development."
Minister Counsellor YAO Shenhong of the Permanent Mission of China stated, "The CIIE is an important move for the Chinese government to give firm support to trade liberalization and actively open the Chinese market to the world. We believe that, with this project, UNIDO's expertise and experience will significantly contribute to the success of the Expo. We also sincerely welcome all stakeholders across the world to participate in CIIE and to explore the Chinese market.
UNIDO and CIIE will establish a mechanism for long-term cooperation that will include the launching of UNIDO investment-related reports, the sharing of results of the UNIDO Programmes for Country Partnership, and the fostering of the development of SMEs, for example through e-commerce. Environmental sustainability will be one of the core issues.
First Global Gastronomy Tourism Startup Competition Launched
The World Tourism Organization and Basque Culinary Center (BCC), have launched a pioneering initiative for the gastronomic tourism sector, with a global call for startups or companies, mature or emerging, technological and non-technological, with innovative ideas capable of revolutionizing and integrating gastronomy in tourism and inspiring tourists with new ways and reasons to travel.
The gastronomic tourism sector is moving towards innovation and the diversification of its offerings. UNWTO, in collaboration with its Affiliated Member, Basque Culinary Center (BCC), has launched the 1st UNWTO Gastronomy Tourism Startup Competition, the first and largest initiative in the world dedicated to identifying new companies that will lead the transformation of the gastronomic tourism sector.
Intangible cultural heritage has become the decisive factor that attracts and captivates tourists. Gastronomy tourism, as a component and vehicle of culture and tradition, is an indispensable resource that adds value and provides solutions for destinations that seek to stand out through unique product offerings.
The Competition will make it possible to identify the best solutions and projects that contribute the most to the sector through pioneering proposals in the implementation of emerging and disruptive technologies, as well as emerging companies or startups. It aims to identify challenges and projects, and to catalyse innovations that can transform the Gastronomy Tourism sector in the near future.
"Innovation and tourism investments are not ends in themselves, but are means to promote better tourism products, improve tourism governance and harness its proven capability to foster sustainability, create jobs and generate opportunities," said UNWTO Secretary-General, Zurab Pololikashvili.
"Education and innovation are essential for the development of sustainable gastronomic tourism. At Basque Culinary Center, we support entrepreneurship and the development of new business projects to ensure the future of the sector. In this regard, we are proud to once again team up with our partners at UNWTO in order to continue fostering entrepreneurship and innovation linked to gastronomy tourism through this initiative," said Joxe Mari Aizega, General Manager of Basque Culinary Center.
UNWTO and Basque Culinary Center have entrusted the process of finding startups to BCC Innovation through its Culinary Action! programme, which has accelerated nearly 50 startups by providing innovative, sustainable and high added value solutions to the gastronomy value chain.
Sustainability and technology
Startups are invited to pitch business models that are related to sustainability, respect the value chain, offer an authentic and coherent narrative, and add value to cultural and local heritage.
The winners of this competition will have the opportunity to present their projects at the 5th World Forum on Gastronomy Tourism (2-3 May 2019, San Sebastián, Spain), with the possibility of receiving personalized consulting and mentoring from the BCC experts  of project accelerator Culinary Action!