The Holocaust and the European Philosophical Tradition
"I am quite sure that the European crisis has its roots in a mistaken rationalism"–Edmund Husserl, University of Prague, 1935)
Modern Western Civilization presents us with a Janus-like face: On one side Renaissance Humanism which begins in Italy in the 14th century with Petrarch, on the other side Enlightenment Rationalism which begins in France in the 17th century with Descartes.
After Descartes, there is a dangerous tendency to separate the two cultural phenomena and consider Humanism either anachronistic, or superseded. The inevitable result has been sheer confusion in the area of cultural identity; consequently, at this critical juncture of the new polity called European Union, there is talk of a "democratic deficit," that democracy that is integral part of Western Civilization.
We are in urgent need of cultural guides to show us how to better harmonize the two above mentioned phenomena. One such guide is Emmanuel Lévinas' humanistic philosophy. In as much as it challenges the Western rationalistic philosophical tradition, it is extremely important for the emergence of a renewed European cultural identity. It explores in depth the threats to the authentic cultural identity of Europe, how modalities of thinking powerfully affect other ideas and shape a whole cultural milieu, sometimes with less than desirable consequences.
A few background biographical details may be useful to better understand Lévinas. He was born in Lithuania in 1902. In 1923 he moves to Strasbourg to study under Husserl and writes a doctoral dissertation on his philosophy. There, he also comes in contact with Heidegger's philosophy. The dissertation on Husserl's phenomenology gets published in France in 1930 and reveals that, even at this early stage, Lévinas is beginning to take his distance from Heidegger. He enlisted in the French army, was captured in 1940 and spent the remaining five years of the war in two prisoner-of-war camps.
Upon being liberated he returns to Lithuania and finds-out that his parents and siblings had been killed by the Nazis, while his wife, whom he had left behind in Paris, had survived thanks to the help of French nuns who hid her. He became a teacher and administrator in an institute for Jewish education in Paris (l'alliance Uneversel Juif); there he begins to study traditional Jewish texts under the directorship of the Talmudic sage Mordechai Shoshani to whom the Nobel laureate for peace Elie Wiesel (who also studied with him) devotes a chapter in Legends of Our Time.
In 1961 Lévinas defends the first of his two major philosophical works (Totality and Infinity) before the philosophy faculty of the Sorbonne becoming a professor of philosophy. His second major work bears the title of Otherwise than Being or Beyond Essence.
Those are the basic events that dramatically change Lèvinas' thinking. Prior to World War II he had merely criticized elements of 20th century Western thought; afterward he begins to attack the whole European philosophical tradition, especially its culmination in Heidegger's thought, for what he considers its indifference to the ethical and its "totalizing of the other." He begins to indict western philosophers in general for an uncritical reliance on vast concepts, such as Hegel's "Spirit," or Heidegger's "Being," which assimilate countless individuals to rational processes, thus negating their individuality.
To be sure Kierkegaard had also criticized this Hegelian tendency, countering it with his existentialist philosophy. Those who understood his critique only too well, promptly proceeded to relegate his thought to the theological within a false dichotomy (shown absurd by Thomas Aquinas way back in the 13th century) of philosophy/theology, thus insuring that Kierkegaard would never be as influential as a Hegel or a Heidegger.
In any case, Lévinas too argues that this taken-for-granted totalizing mode of doing philosophy in the West denies the face-to-face reality in which we—philosophers included—interact with persons different from ourselves. He argues that this "face-to-face" realm is not the same thing as the realm of abstract concepts. It possesses its own texture which is primarily an ethical one.
In this domain we are challenged by "the otherness of the other person." It is this "otherness," which is an integral characteristic of human life, but the Western philosophical tradition has overlooked and even negated it, thus contributing to the dehumanization of Man.
Lévinas' life and thinking were deeply affected by the trauma of the Nazi genocide, better known as the Holocaust. But what is unique about his thinking is that it refuses to make those monstrous events its core subject matter. In other words, one cannot easily insert Levinas within the tradition of confessional writers. As Derrida, who admired Lévinas' philosophy, aptly expressed it once: the danger of naming our monstrosities is that they become our pets. That is to say, Levinas refuses to name the monsters lest they become our familiar pets. Even words fail at times vis a vis unmentionable monstrosities.
Lévinas' writings provide no extensive discussion of the Holocaust itself; therefore, the assumption, on the part of those who were thinking and writing on it, has often been that Lévinas could not be considered a valid source of philosophical insight into this dark period of human history. But that is an erroneous assumption, just as invalid as the assumption that he unreservedly admired Heidegger's philosophy because he happened to have translated it into French. As a matter of fact, Lévinas' thinking is a reaction to the Holocaust by the mere fact that it asks the crucial question: What does it mean to be a human being?
Were one to encapsulate the whole of Lévinas' philosophy in two succinct words, they would be "being human." This philosophy insists throughout that an extreme, unbalanced rationality devoid of imagination, feelings, senses and spirit, unconcerned with the ethical dimensions of life, is the equivalent to a refusal to be human, to allowing oneself to become a monster.
A little personal anecdote may be illustrative here: many years ago I took a course on Heidegger with a professor who was a staunch admirer of his philosophy. The students were made to read Being and Time on which the professor in question would offer in class brilliant comments and interpretations. Not once during the entire duration of the course was it ever mentioned that Heidegger, for a short while, had joined the Nazi party and had heard echoes of "the voice of Being" in the speeches of Hitler; somehow that particular existential detail was not considered essential by the professor for any valid appraisal of the ponderous rational scheme of Being and Time.
I wrote a paper where this existential fact was mentioned and reflected upon. I received a C- for it. The comments of the professor chided me for straying from the concerns of Heidegger's philosophy which had nothing to do with his private life and beliefs. In hindsight, that academic event of my life proved to be my first serious existential encounter with modern Western rationalism and its dichotomy intellect/life. It eventually led me to discover Vico and Lévinas.
Lévinas' attack on what he considers negative elements of the Western philosophical tradition begins with analyses of the philosophical roots from which sprout the extreme individualism of modern times, and the reaction to it, extreme nationalism. Not unlike Vico in the 18th century, he individuates such a root in the Cartesian ego, an autonomous center of consciousness which in modern philosophy has assumed the function of a paradigm for thinking about human beings. Lévinas does not deny this world-constituting ego, rather he leads it to the discovery of an ethical core within itself; which is to say, he uncovers another root growing within the first root which he calls the "self."
The conundrum seems to be this: if it is true that the ego does the conceptual work of philosophy by announcing what there really is in the world, how can this ego then acknowledge the essentially ethical "self" which lives within itself? Somehow a bridge has to be found between this limitless power and freedom of the independent intellect, and the particular concrete ethical obligations to another person. For, this ethical self, unlike the ego, finds itself caught up with the welfare of the other prior to a conscious, rational decision, in a recognition, even when unwilled, of his/her humanity.
Indeed this ethical capacity seems to come from another place than our rational powers of analysis evidenced within the Cartesian ego. Even if we grant that such an ego is adequate in identifying the truths of philosophy, it somehow remains unable to acknowledge a domain where there is no choosing of the connection with the other; in fact the other way around may apply: the other chooses me, one is "already responsible" for the other prior to any rational analysis.
And here is the philosophical paradox: Lévinas' task becomes that of using rationality to take the Cartesian ego beyond rationality, somewhat similar to what Vico does with his concepts of fantasia, which for him precedes rational reason, and the concept of Providence who guides human events and is both immanent within history but also transcendent. Which is to say, the rational ego has to be brought to recognize a sort of enigmatic "ethical" truth which Lévinas calls "pre-originary," i.e., arising outside, prior to the usual time-line of the reflective ego.
In attempting this operation, Lévinas will proffer statements such as: ethics is "older" than philosophy, it is "first philosophy," on the scene before the arrival of rational philosophical thinking; something ingrained in being human. Within purely classical categories, that may be equivalent to the Socratic preoccupation with dying well by living a life of integrity and devotion to truth, as exemplified in Plato's Apology. It is this ancient voice of goodness, which even Vico's pre-historical "bestioni" possess to a degree, a voice often overlooked by rationalist philosophers, but powerfully present in Talmudic texts, that Lévinas finds strangely silent in the modern Western philosophical tradition.
In mytho-poetic language, it's as if Lévinas were to come face-to-face with the goddess Europa, as she is being abducted by a black bull (Zeus in disguise), to journey to another shore, there to assume a different persona, and he were to ask her, "Europa quo vadis?" after warning her to remember her original identity: "nosce te ipsum"; which is to say, go back to the future and know yourself holistically: know your Greco-Roman origins, yes, but also the Biblical tradition (the foundation for Christianity), the Christian heritage, the Humanistic synthesis of Graeco-Roman and Christian civilizations, Celtic and Germanic cultures with their ideas of freedom, the universalizing Enlightenment rooted in the democratic-scientific tradition born in ancient Greece, the Islamic influences. Voltaire and Descartes yes, but Vico and Novalis too are part of your identity. Your unity will be a chimera if it is only a unity of a bank and neglects its spiritual elements.
Undoubtedly this hermeneutics, or re-interpretation of the Cartesian ego, placing at its core an non-refusable responsibility for the other without granting the ego any time to think it over and choose, so to speak, challenges some of the most basic assumptions of modern, and in some way classical, rationalistic philosophy. Not since the times of Mamonides in the 13th century had a Jew dared such a fundamental challenge from within the Western philosophical tradition. It is the challenge of Paul to Greek culture revisited. For indeed Lévinas is saying nothing short of this: the knowing ego does not exhaust what it means to be human. Some have called his philosophy one of "ethical subjectivity," as a way of dismissing it as the raving of a lunatic, just as the ancient Greeks dismissed Paul in the agora. For the serious reader, however, it is rather a re-definition of subjectivity face to face with a totalizing kind of Cartesian reflection.
While Lévinas does not write directly about the Holocaust, other thinkers, who influenced Lévinas, were nevertheless reflecting upon the philosophical implications of this dark event of human history. One such was Berel Lang who wrote an essay titled "Genocide and Kant's Enlightenment," which appeared in his Act and Idea in the Nazi Genocide. In this essay Lang uncovers certain lines of affinity between some classical aspects of Enlightenment thought, and the Nazi genocide. His conclusion is that there are two important aspects of the Enlightenment that formed the intellectual heritage, which needed to be in place, for genocide to occur in the heart of civilized Europe: namely, the universalization of rational ideals, and the redefinition of the individual human being in terms of its possessing or not such a universal rationality. The genocide, Lang argues, was aimed at those groups who stuck to their own ancient pre-Enlightenment sources of particularistic identity, considered "irrational." Hence the racial laws and racial exclusion were expression of ingrained Enlightenment prejudices. Which is to say, the Enlightenment sheds light on everything except itself; it remains to be enlightened.
This powerful essay leads many cultural anthropologists comparing civilizations, to begin to wonder: which, in the final analysis, is more obscurantist: religious fanaticism and fundamentalism, or a so called "enlightened" era throwing out the window the baby with the bathwater and arrogantly refusing any suggestion that it ought to enlighten itself, and not with its own light?
This conjures up that terrible face to face encounter of Dante with the poet Bertrand Del Bornio in a cave in hell doing "light to himself" with its own decapitated head. There we have reason eating its own tail; internal logical thinking and assuming the grammar of lunacy. I dare say that such a question has not been satisfactorily answered yet. In that question lies the challenge of Lévinas' philosophy: in its displacing of the centrality of Cartesian thinking within modernity, in order to re-center it around ethics: the face-to-face encounter with another human being which is always hopeful unless it occurs in hell.
Everything we have discussed above begs this particular question: is Lévinas' challenge to the Western philosophical tradition philosophically tenable? To answer the question adequately we need to be first aware that Emmanuel Lévinas, as well as Hermann Cohen and Franz Rosenzweig (the author of Echoes from the Holocaust: Philosophical Reflections in a Dark Time, 1988), are representative of learned European Jews with great familiarity with the texts of both the Jewish and the Western philosophical tradition. They challenge the latter exactly because they are so knowledgeable in both. Lévinas is fully capable of confronting the intellectual traps of those rationalists who would relegate him to the sphere of theology.
To the contrary, he insisted on writing in both spheres and claimed that Jewish religious textuality contains hitherto unexplored philosophical insights. For this is a tradition which puts great emphasis on interpersonal, social and familial relationships; phenomena not contemplated in traditional Western philosophy. Which is to say, the challenge is to Western philosophy's totalizing pretense, beginning with Plato's times, that it can gather everything up in one synchronic whole. It is that challenge that irritates control freaks, thought policemen, rationalists and mysologists galore. It goes a long way in explaining their attempt to relegate Lévinas' philosophy to the sphere of the merely mystical.
Finally, let us briefly examine how Lévinas develops this fundamental challenge to Western rationalism. He names both the texts of Jewish tradition and philosophical discourse "the said," while calling the living activity of interpretative struggle (its hermeneutics) with the texts, and the self which suffers for the other, "the saying."
The said always tries to capture the saying, which may partly explain the ancient grudge of Plato towards poets (see Plato's Republic, book X, on Homer). In any case, it is the saying which launches the said and puts it into circulation. The saying echoes outside of space and time destabilizing the comfortable, rationally secure positions rationalists take up in the said, in conceptual truths (thought to be universal and eternal), in a secure totalizing kind of knowledge.
Yet it is this very destabilizing process that injects the ethical outward-directness into the said. Lévinas will often contrasts the saying's vulnerable openness to the other (which he calls "being ex-posed) with the said's relative security (which he calls "exposition"). He asserts moreover, that there is a rich unexplored relationship between the way we are "ex-posed" in ethics, and the life "exposition" we use to analyze and order the world.
Indeed, this is a new, essentially Jewish, philosophical reflection which places into question the claim to totalizing completeness, by an appeal to the priority of ethics. It insists that any person that confronts me, needs to be placed outside the totalizing categories seeking to reduce her/him to an aspect of a rational system. Basically, what Lévinas is doing is relocating our dangerous ability to deny others their legitimate sphere of difference; an ability which is capable of destroying our own humanity.
This is nothing short than the core struggle for the achievement of moral humanity which was also the root ethical aim of Vico's New Science. Like Vico, Lévinas shows us the way to keep the benefits of universal Enlightenment ethics while avoiding its perils. For, his ethics is not based on a totalizing sort of universalism, but on the particular concrete needs and demands of each unique individual, every "other' that I meet within time and space. Every time I meet the other, she/he constitutes an ethical challenge to my self, a challenge as to who I am as a human being.
This kind of philosophy is a challenge to each one of us to go beyond nostalgic returns to Greek classicism, as important at that may be, in the understanding of Western Civilization; to establish intellectual-background-assumptions which are different from those of the Enlightenment; to search for urgently needed new cultural paradigms, new ways of thinking appealing to the priority of ethics and the importance of the particular as a category of thought, a place in thought wherein genocide and hatred of the other becomes inconceivable; in short to prepare new wineskins for the new wine which is a "Novantiqua Europa."
P.S. This essay, in a slightly modified form has appeared in Ovi magazine some seven years ago and will be represented in an up-coming symposium meeting by the same.
Northern Ireland: Peace in the province – still a pipe dream?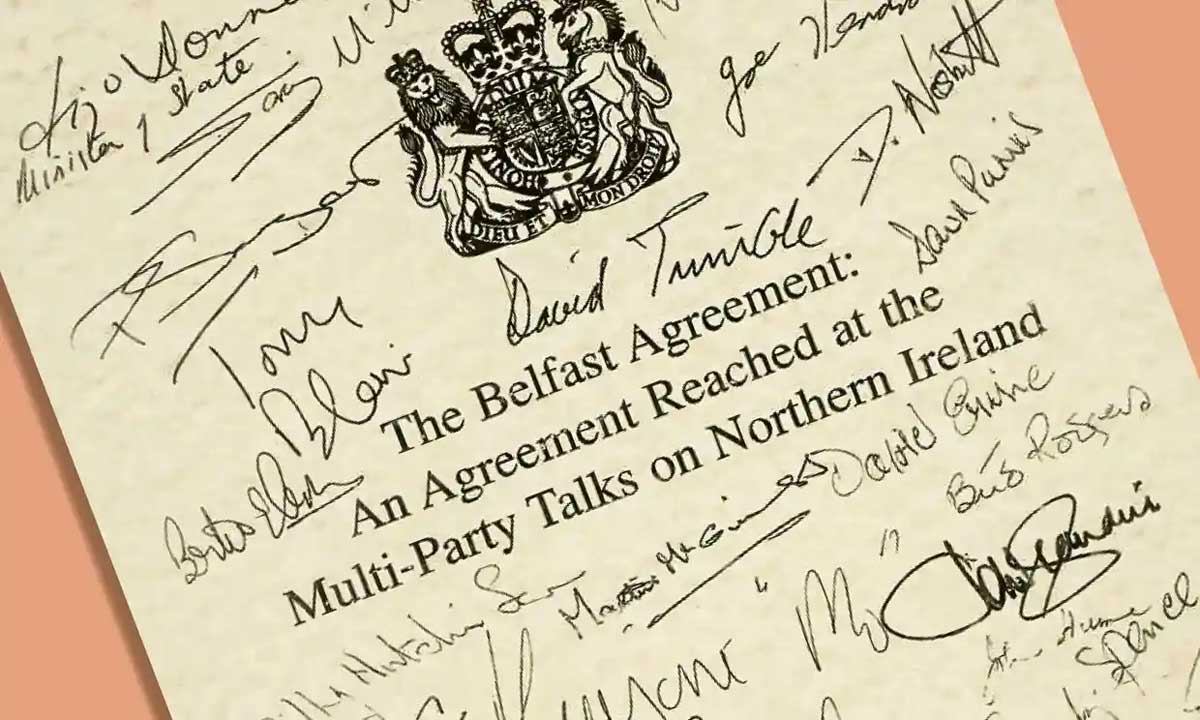 All eyes are currently – and understandably – on the bitter and still unfolding war in Ukraine.
The first anniversary of the conflict recently passed with, sadly, no sign that it will end any time soon.
But it is not just Ukraine that should be of concern to political leaders, on both sides of the Atlantic.
Many in the UK and Europe had hoped – and assumed – that violence in a country much closer to home had been consigned to the distant past.
But, sadly, it appears this may not be entirely the case in Northern Ireland where, just this week, the terror threat level has been raised to "severe" after recent New IRA attacks.
MI5, the British security service, has raised the threat level from "substantial" to "severe," meaning an attack is regarded as highly likely.
The move follows a rise in dissident Republican activity, including a gun attack last month that left a police officer fighting for his life.
This comes with Joe Biden, the U.S President, due to make a long-awaited and landmark trip to Belfast next month to celebrate 25 years of peace.
On Wednesday (28 March) Members of the European Parliament also commemorated the 25th anniversary of the Belfast Good Friday Agreement, which was designed to bring 30 years of violent conflict in Northern Ireland to an end.
This act of statecraft, it appeared, paved the way for the transformation of Northern Ireland by laying a new foundation for a safer, more prosperous and inclusive future for all.
However, the 25th commemorations come just weeks after a police officer was shot and seriously wounded in Northern Ireland, in an attack blamed on the dissident Republican group known as the New IRA and the raised level follows "an increase in levels of activity relating to Northern Ireland-related terrorism which has targeted police officers.
All parties hope that current tensions can be defused so that, truly, the dark days of what became known as The Troubles – a 30-year conflict which claimed the lives of over 3,000 people – will never be repeated.
But it is not just the current security situation in the province that has given cause for concern of late. The same might be said for the political landscape, with uncertainty about the so-called Withdrawal Agreement and Northern Ireland protocol only just now starting to fade.
It has been almost 7 years since the UK referendum to exit the European Union but hopes are high that the agreement recently brokered between the EU and UK – known as the Windsor Agreement – can deliver the smooth flow of trade within the UK (and protects Northern Ireland's place in the Union).
Socialist MEP Pedro Silva Pereira,the European Parliament's rapporteur for the implementation of the Withdrawal Agreement, says, "While it has not always been an easy or pleasant path to get here, we are hopeful that the Windsor Framework lays the foundations for the building blocks of a new relationship with the UK."
The so-called Windsor Framework is a new joint understanding that allows more flexible and more effective implementation of the trading arrangements for goods entering Northern Ireland from Great Britain, so that both the EU's much-vaunted Single Market and the Good Friday Agreement can be fully safeguarded.
Jessika Roswall, Minister for EU Affairs of Sweden, says the Framework will benefit people and businesses in Northern Ireland and should allow the EU and the UK "to open a new chapter in our relations."
Worryingly, the terror threat level in Northern Ireland may have suddenly been raised but the next few days will still see numerous high level commemorations of the Good Friday Agreement.
Also known as the Belfast Agreement, the GFA was signed on 10 April 1998 by the British and Irish governments, and confirmed by referendums in Ireland and Northern Ireland in May the same year. The agreement established devolved political power-sharing structures for the nationalist and unionist communities in Northern Ireland, and brought the 30-year period of violent conflict in Northern Ireland to an end.
In Wednesday's commemorative ceremony, European Parliament President Roberta Metsola hailed the Good Friday agreement (GFA) as one "which has instilled harmony between people", adding that there were few examples in history of a "peoples' peace agreement".
People's lives in Ireland have been transformed thanks to the agreement, Metsola said, adding that throughout the years preceding 1998, the European Parliament had provided a platform for the dialogue that led to peace.
European Council President Charles Michel said the GFA is a "remarkable achievement" steered by visionary leaders who did not fear compromise. It echoes the Treaty of Rome in 1957, he believes, citing how the tragedy of World War II inspired Europeans to build a unifying spirit and to draw borders that do not divide. He added that the two historical events are couched in the same ideal – "making the most of the richness of diversity."
Commission President Ursula von der Leyen believes that "25 years ago, the impossible came true" and the Belfast Agreement "opened a new era of cooperation and was a new beginning".
Since then giant steps forward have been taken, she states.
MEPs, at their sitting in Brussels this week, celebrated the GFA as a historic development that remains essential to peace and reconciliation in Northern Ireland. They reiterated that the Agreement was central to the EU's negotiating of a post-Brexit relationship with the UK, as was the prevention of a hard border emerging on the island of Ireland. The EU, they said, should not just be a passive spectator to the GFA.
Beyond Brussels, the exact date for President Biden's showpiece visit to Northern Ireland has not yet been announced – April 11 has been mooted – but it will top off a week of events to mark the GFA's 25th anniversary.
Other architects of the deal including the former US senator George Mitchell, who chaired the talks between unionists and republicans that ultimately resulted in the IRA and loyalist paramilitaries laying down their arms, Tony Blair and the former taoiseach Bertie Ahern, who shepherded the deal over the line, will also attend.
Despite the recent and disturbing increase in violence, all will be hoping that, together with UK Premier Rishi Sunak's recent deal with the EU, the 25th anniversary will help further cement a settled and peaceful future for the province.
Why Europe Must Do More to Support Ukraine
As we speak, the Islamic Republic of Iran, who is only weeks away from obtaining a nuclear weapon, is supplying drones on a systematic basis to Russia, who is deploying these indiscriminate weapons against Ukrainian civilians. In recent days, 500 protesters gathered outside of the European Parliament in Brussels, where they voiced not only their indignation for the world's silence in the face of Iran's brutal suppression against its own people, but also their inaction as Iran essentially props up Putin's war in the Ukraine. By Iran backing up Putin, the Islamic Republic has become a direct threat not only to the State of Israel but also to Ukraine and all of Europe.
As a former Israeli Communication Minister, I say that enough is enough. Over five million people have become internally displaced persons and many more people have fled the Ukraine with little more than the clothing on their back merely because Putin could not accept that the Ukrainians wanted to veer towards the West and away from them. They have savagely treated the Ukrainians merely for wanting to be part of the West, literally leveling entire buildings to the ground and transforming what used to be another European country into something reminiscent of Syria.
Human Rights Watch recently reported, "Russia's full-scale invasion of Ukraine on February 24 and the ensuing war had a disastrous impact on civilians, civilian property and energy infrastructure, and overshadowed all other human rights concerns in the country. Russian forces committed a litany of violations of international humanitarian law, including indiscriminate and disproportionate bombing and shelling of civilian areas that hit homes and healthcare and educational facilities."
According to them, "In areas they occupied, Russian or Russian-affiliated forces committed apparent war crimes, including torture, summary executions, sexual violence, and enforced disappearances. Those who attempted to flee areas of fighting faced terrifying ordeals and numerous obstacles; in some cases, Russian forces forcibly transferred significant numbers of Ukrainians to Russia or Russian-occupied areas of Ukraine and subjected many to abusive security screenings."
For all of these reasons, the sanctions against Russia must be much stronger than the presently are today. After all, it was recently reported that Russia's diesel exports have reached a record high this month despite the EU sanctions in place. This is because these sanctions, although curtailing Russia's energy exports, hardly put a halt to them, as China, India, the United Arab Emirates and many other countries still utilize Russian oil.
Recently, Bloomberg News published the top six companies who continue to purchase Russian oil despite the imposition of sanctions by the West. These include the Hong Kong based Noad Axis Ltd., which purchased 521,000 barrels of Russian oil till December; Dubai based Tejarinaft FZCO, which bought 244,000 barrels a day till December; QR trading, which purchased 199,000 barrels a day till December; Hong Kong based Concept Oil Services LTD., which purchased 152,000 barrels per day till December; Hong Kong based Belerix Energy LTD., which purchased 151,000 barrels per day till December; and Coral Energy DMCC, which purchased 121,000 barrels per day till December, although they stopped dealing with Russian oil from January 1.
According to the Times of Israel, Tahir Karaev and Azim Novruzov are standing behind Coral: "What's really funny, if you can call it funny, is that Mathieu Philippe appears as UBO for some of the vessels they operate after he was kicked out of UML because he was Coral's man."
All of this makes a mockery of human rights and the desire for the Ukrainian people to obtain justice, after Russia essentially destroyed their lovely country. The time has come for the world to sanction Putin harder. The time has come to force China, India and other countries to stop trading in Russian oil. The time has come for Putin to face the wrath of the international community due to the crimes against humanity he has committed. The time has come for Putin to become truly persona non-grata in Europe.
If Paris sneezes, will Europe catch cold?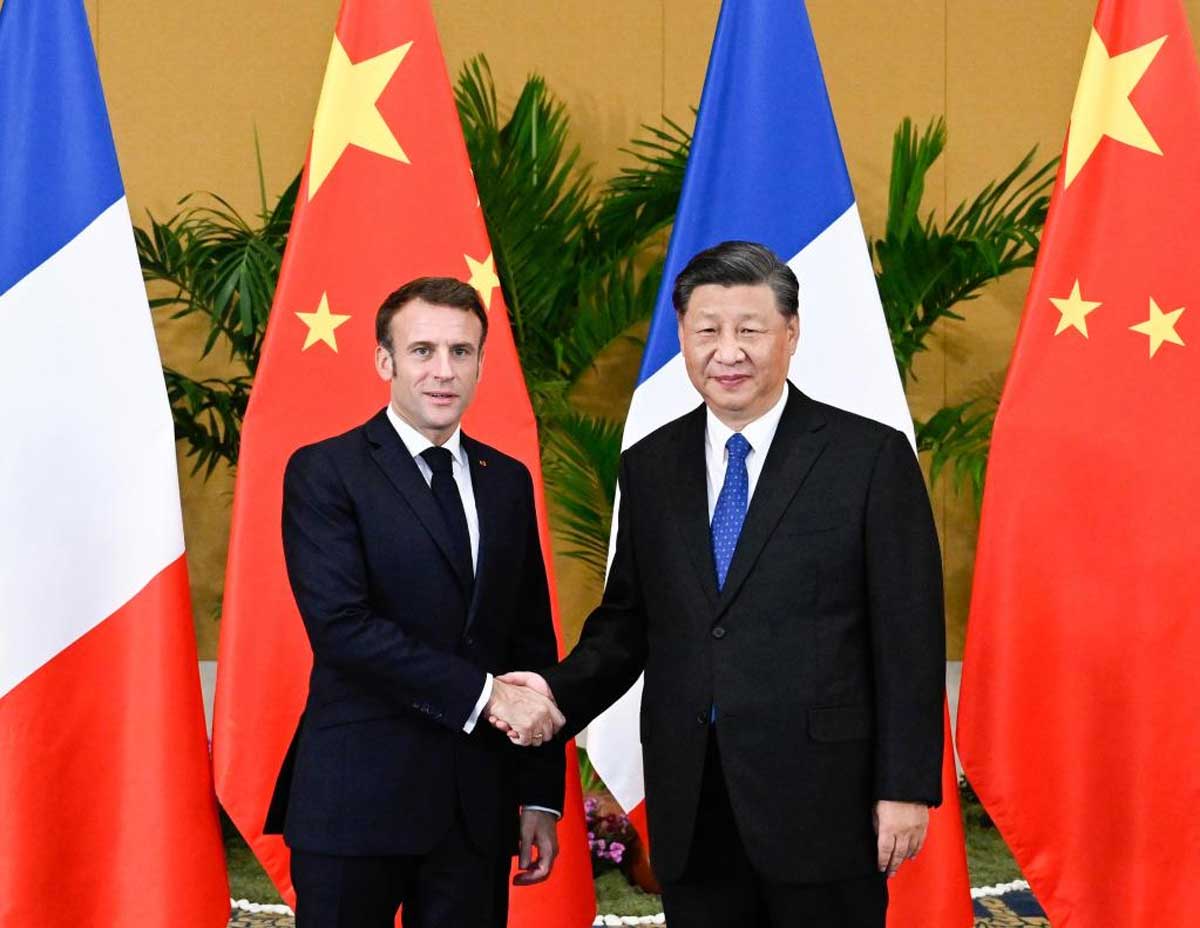 The Austrian Chancellor Metternich once said "Quand Paris s'enrhume, l'Europe prend froid" ("When Paris sneezes, Europe catches cold"). With the French President Emmanuel Macron all set to visit Beijing in early April, can France lead the rapprochement between the European Union and China?
"Une voix européenne"
Set to be accompanied by the President of the European Commission Ursula von der Leyen, the French President plans to "carry a European voice" on his state visit to China, the details of which were revealed by L'Élysée on Friday. On top of his list is the agenda to end the Ukraine War. Macron has called China's engagement in resolving the Russia-Ukraine conflict that came in the form of a 12 point plan a "good thing". Beijing's position paper urges all parties to support Russia and Ukraine in negotiating a way out of the conflict while upholding the UN Charter and values such as respect for territorial sovereignty, abandoning Cold War mentality, non-interference in internal affairs among others.
The French President has further urged China not to militarily aid Moscow, an accusation made by the Western powers that Beijing has consistently denied. He plans to push China to use its influence over Russia so as to prevent the latter from using chemical or nuclear weapons. Macron noted that the War would only come to an end if "Russian aggression was halted, troops withdrawn, and the territorial sovereignty of Ukraine and its people was respected". Spanish Prime Minister Pedro Sanchez has also expressed a similar willingness and is ready to visit China in April. Luxembourg too resonates the opinion of engaging closely with Beijing.
Both Chinese and Western media reports note that this "competition to book flights to China" among EU leaders stems from their realisation that they "cannot lose China" owing to the latter's increasing international significance. While many have voiced support for engaging with Beijing, not all are on the same boat.
A House Divided
The European Council meeting earlier this week, which remained focussed on Germany's tussle with EU leaders on its decision to end the use of traditional combustion engine cars, did discuss China albeit in an inconclusive manner. While France, Germany, Spain and Luxembourg have signalled their intentions to engage with Beijing; Latvia, Lithuania, Sweden, Poland have expressed concerns over Chinese President Xi Jinping's recent high profile visit to Moscow which is being seen as "cementing of a dangerous alliance". The concern is not just suspected military aid to Moscow but also the growing threat of a war between Beijing and Washington over Taiwan where Europe finds itself caught in the middle. Apprehensions too remain over increasing economic reliance on China.
While there has been no consensus on how the EU as a bloc must shape its China policy, Macron has clarified– although France values EU's coordination, it follows an "independent foreign policy" thus highlighting that he would push to negotiate with China, with or without his regional allies.
Paris et Pékin
Beijing is not only France's 7th largest customer and 2nd largest supplier (with a 9% market share in France) but also presents an opportunity for the French President who idealises Former leader General Charles de Gaulle to challenge what the French call hyperpuissance or unchallenged "hyperpower" of the United States. For Macron, relating himself to General de Gaulle is equivalent to "claiming to own a piece of the true cross". Afterall, it was the General who defied Western allies to establish ambassadorial relations with Beijing in 1964, a period of simmering Cold War tensions that brought Paris seething criticism. Though Macron has no serious qualms with Washington, he does seek a voice that crafts his role as a major leader on the international stage.
On the domestic front, Monsieur le Président finds himself in trouble. The highly unpopular Pension Reform Bill that raises retirement age from 62 to 64 was passed without a Parliamentary vote, resulting in nationwide protests. Opponents suggest other measures such as increasing taxes for the rich and the corporates, a move refuted by Macron for the possibile harm it might bring to the financial system. Amidst a scenario where things have gotten as serious as nationwide halts in services and a no-confidence motion against the President, enhanced ties that bring more investments from China can help, an opportunity Macron will try hard to clinch. But the political environment certainly makes things difficult.
Worsening ties and a Confident China
The "Balloongate" controversy was yet to cool off when a new crisis in Sino-US relations erupted in the form of calls to ban the TikTok app over alleged illegal data collection which many in the US Congress suspect land in the Chinese Communist Party's records. Parallely can be seen a change in Chinese attitudes towards Washington.
Amidst the recent session of the National People's Congress, President Xi criticised "Washington-led attempts" to "contain, encircle and suppress" China which pose "serious challenges to Beijing's development" ("以美国为首的西方国家对我实施了全方位的遏制、围堵、打压,给我国发展带来前所未有的严峻挑战。"), a rare moment when the Chinese leadership has clearly named the United States in its criticism.
A policy shift too seems to be on the cards. Xi's new 24 Character Foreign Policy, which Dr. Hemant Adlakha believes, marks "China's new foreign policy mantra in the 'New Era' " acting as its "ideological map to attain national rejuvenation by 2049", has replaced Deng Xiaoping's 24 Character Strategy focussed on never seeking leadership and assuming a low profile. The characters "沉着冷静;保持定力;稳中求进;积极作为;团结一致;敢于斗争 " which translate as "Be calm; Keep determined; Seek progress and stability; Be proactive and go for achievements; Unite under the Communist Party; Dare to fight" clearly demonstrate a more pronounced international role that China envisages for itself.
China's confidence is further elevated by its success in brokering peace between staunch rivals Saudi Arabia and Iran. With the handshake that brought the Sunni Arab Kingdom and the Shiite Persian theocracy together, Beijing has not only garnered accolades from nations across the region but has also succeeded in pulling American allies such as Riyadh to its side to some extent. Xi's Moscow visit shows how he is determined to craft Beijing as an alternative negotiator to Washington, no matter how much criticism comes his way.
How much can France influence the EU?
As the political climate between US and China heatens, those trying to balance between the two would find the alley narrowing. But considering the stakes, Macron will try. The question however arises, how much of an influence could France exert on the EU?
Being the only Permanent seat holder of the United Nations Security Council post-Brexit, France certainly has a heavy weightage when it comes to policy making in the European Union. Macron too is a leader with a vision. His "grand plan" includes uniting the regional body as a strong political, economic and social bloc by shedding off the influence of the United States. However, there have being many tussles and Paris has found itself at loggerheads with many in the bloc including Turkey and Germany.
Macron has also raised eyebrows over his stance on Russia. After attempts to charm Putin failed, the French President assumed an ambiguous position which included criticising the war but not commiting to defend Ukraine. As expected, it did not fare well with the allies in Europe.
The air has finally cleared and a "defeat Russia but don't crush it" stance has appeared. Monsieur le Président certainly wants to chart a pragmatic path that inflicts minimum harm and that's what would be a priority when he lands in Beijing to talk about the war. Would he receive the support of EU allies? Seems difficult, given his past misjudgements and the regional organisation's recent tussles with Beijing ranging from trade negotiations to the issue of human rights violation.
How successful Macron gets in making EU negotiate with China also depends on how successful Beijing gets in getting Moscow on board, which after all is more difficult than dealing with Tehran and Riyadh. While Russia seems agreeable to China's plan of ending the war, Putin has bigger ambitions and far lower stakes in launching an all-out war with Washington and allies than Beijing does. The deepening "comprehensive strategic partnership of coordination for new era" between China and Russia remains unclear and so is how much dependence on Beijing would dictate any change in Putin's plans. Even if China's actions embolden Russia as claimed, Beijing knows it is in its favour to tone down Moscow's belligerence considering the economic costs and military harm that Washington is capable of lashing. Macron too is unsure about how tightly he would like to embrace China. For now, better ties is what he eyes. The question arises – If Paris sneezes in favour of resetting ties with Beijing, would the rest of Europe catch the cold? Only time will tell.