The Difficulty of Predicting ISIS and al Qaeda Stay and Act in Place Attacks
In February of 2015 Omar el-Hussein was hunted for thirteen hours and ultimately shot dead by Danish police after killing fifty-five year old documentary filmmaker Finn Noergaard at a free speech event and a thirty-seven year old Jewish guard, Dan Uzan at a synagogue in Copenhagen.
El-Hussein, the gunman was known to Danish police. He had a criminal history that included violence and weapons offenses. In fact he had only been released from prison fourteen days previously.
It appears now that he planned his event (which was a simpler copycat of the Charlie Hebdo shootings) in the days after his release, Googling "Krudttonden" the place of the first attack only one to two days before his attack. This was where Lars Vilks the infamous artist who had drawn the Prophet and others were participating in an event organized by Vilks entitled Art, Blasphemy and Freedom of Expression. El-Hussein's brother allegedly bought a bullet-proof vest for him as well during those days. After the first shooting, el-Hussein escaped in a taxi and hid out in an Internet café where he then began an Internet search for the synagogue where he carried out his second attack.
The speed by which today's terrorists radicalize into extremist mindsets and take lethal action is mind-boggling and presents a nightmare for today's security officials. The police chief in Denmark was fired in May, only months after the shootings—after being held responsible for not anticipating such action.
Sadly though, this type of attack is likely to continue in all Western countries and is very hard to predict. Thousands of disgruntled individuals log on to the Internet to find excuses to vent their anger. Youth in particular are searching for identity, purpose, significance and if they are angry about injustices—perceived or real—they gravitate to justifications and equipping to channel and express their rage.
Groups like ISIS and al Qaeda are waiting and willing to provide for such individuals the other three elements of the four making up the lethal cocktail of terrorism that I identified in my four hundred interviews of terrorists and their family members and close associates (reported upon in Talking to Terrorists). These four elements are: 1) a group; 2) it's ideology that wrongly tries to justify striking out at civilians in violence; 3) social support for joining and believing the ideology and this all combines with 4) the person's own individual motivations and vulnerabilities.
El-Hussein had just been released from prison and had a violent background and access to weapons. He is also identified as being the son of Palestinian refugee parents, and may have already been exposed to violent ideologies promoting so-called "martyrdom" missions. These should have been red flags to police and if authorities were also aware of his radicalization–which there appeared to be clues too as well, these are all flags to his possibility of enacting terrorism.
Prison is a place where folks can easily be radicalized. Prisoners are generally bored and angered at being locked up, are surrounded by criminal thinkers and may be exposed to extremist thinkers and their ideologies. Many are vulnerable, long for belonging and may gravitate easily to a group that promises them some kind of future—even if it's only in the afterlife—and even more so if it offers protection in the here and now. A lot of extremist groups that work in prisons protect one another and if they are Muslim, pray regularly together, so there is a deep sense of belonging, sense of purpose and protection that may have been missing in childhood and adulthood.
We know now that terrorists are acting with less and less lead-time these days. Part of that is because troubled and lost people are getting radicalized over the Internet with the so-called "university of jihad" as my now deceased friend Reuven Paz liked to call it. Over the Internet, the potential terrorists, i.e. person with vulnerabilities and motivations to strike out in hate can find all they need to radicalize, equip themselves, and strike out. But even before ISIS and groups like them became so adept at social media we saw individuals volunteering themselves to terrorist groups—among Palestinians and Chechens for instance and enacting terrorism very quickly. This is because the ideology of "martyrdom" and violent propaganda has seeped into the wider culture and there has been a wider acceptance of terrorist violence as means for powerless people to strike out in anger against so called oppressors or in the case of Muslim groups against those who insult Islam. We saw a similar attack in Texas only days ago in the U.S., although we still need to learn the radicalization profile there.
The facts are that many people are angry and hurt and can easily expose themselves to a terrorist group and ideology that attempts to justify violent responses to their problems and by glorifying such actions offers them a sense of meaning, significance and purpose along with belonging, perhaps some protection and friendship it can channel all their anger and concern over injustices done to them over their lifetime into a focused hatred and terrorist action. And this can happen fast.
For Muslims who join extremist groups and who have low ego strengths, the unnecessary baiting and provoking actions of drawing the Prophet as a pig, or a terrorist, can also be an overwhelming insult that can trigger him or her to activate quickly into violence if an extremist group is behind them with the "justification" for violent action and suggestions for how to enact violence. In most of our open democratic societies the exposure to terrorist groups and their ideologies are readily available over the Internet and so are weapons that can be easily procured so they can move fast and act in a matter of days or weeks as el-Hussein did. Once a vulnerable person has taken on the extremist mindset and decided he doesn't mind dying for it he can activate and become lethal nearly instantly. The Internet these days makes finding information so easy, and guns are sadly readily available in many of our societies.
Denmark has been leading the way on trying to de-radicalize and disengage those who take on the ISIS ideology but here we see a case that was not recognized until the actor became lethal. It's horrible but just underlines the fact that we need to do much more on terrorist prevention—by delegitimizing the acceptance in all sectors of society, but particularly with youth, that using terrorist violence for any cause is ever justified and by identifying those who have taken on such ideologies and intervening in meaningful and effective ways before they act.
Think like Jihadist: Anatomy of Central Asian Salafi groups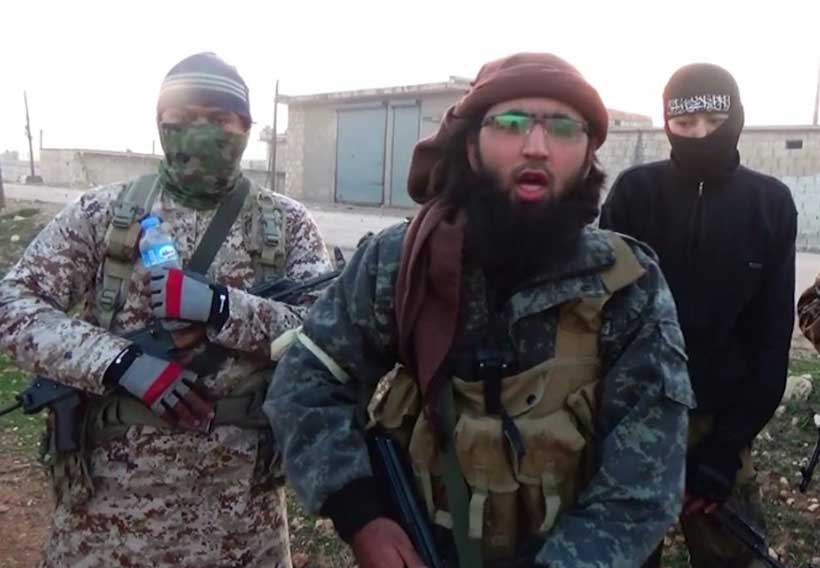 Salafi Jihadism has become a serious problem in Central Asia that encompasses five former Soviet republics – Uzbekistan, Kazakhstan, Kyrgyzstan, Tajikistan, and Turkmenistan – collectively known as the "Five Stans", as well as Afghanistan and western China. Central Asia, which was for 3,000 years a place of revival of main religions such as Zoroastrianism, Buddhism, Shamanism, Manichaeism, Nestorian Christianity and Judaism, and where the great Sunni Islamic scholars as al-Bukhari, al-Ghazali, and Ahmed Yesevi lived, today has become a target for militant Salafi-Jihadist ideology.
In Central Asia, the focus of Islamic revival and of Jihadists groups has been the Ferghana Valley, a densely populated and ethnically mainly Uzbek territory divided politically between Uzbekistan, Kyrgyzstan and Tajikistan. The valley has traditionally been a center of Islamic fervor, and was the area where Salafists first established a presence. The mass poverty of the population, the drop in the level of education after the collapse of the Soviet Union, the corrupt and authoritarian rule of political regimes, and the repressive methods of law enforcement have played a role in the radicalization of Islamic groups in Central Asia.
In the early 1990s, the first armed jihadist groups in the region appeared in response to harsh persecution by the authoritarian regimes of communist China and Karimov's Uzbekistan. In that period, many members of the Islamic Movement of Uzbekistan (IMU) and China's Uyghurs of the East Turkestan Islamic Movement (now Turkestan Islamic Party – TIP) who adhered to the Salafist ideology, moved to neighboring Afghanistan and fought under the wing of the Taliban. The combination of repressive governments and economic deprivation in Central Asia, particularly China, Uzbekistan, and Tajikistan, served as an incubator of Salafi Jihadism. After 9/11, Central Asia's jihadists, who are members of IMU and TIP, were the mainstay of Al Qaeda's defense in southern Waziristan as well as participants in the fight against the armies of Afghanistan, Pakistan and NATO.
Central Asian jihadist groups are supporters of Takfirizm, a kind of religious extremism that accuses other Muslims of disbelief or apostasy. This ideology became the banner of the caliphate and led to jihad against other Muslims and open disobedience against the authorities. These practices are part of the legacy of the Takfirist instructions and ideas that emerged from the Al-Qaida environment.
Many of Central Asia's Islamists have been infected with the "virus" of the Salafi ideology from Arab preachers and local theologians who were educated in Saudi Arabia, Syria and Egypt. After the link into al-Qaeda and Taliban, they laid an accusation of unbelief (takfir) against the rulers of the "Stans". They refused to recognize official state institutions and declared jihad against the armed forces of their respective countries.
In response, the governments of the"Stans" and China have suppressed, and continue to suppress, the activities of more than twenty Islamic groups that are recognized by the court as extremist or terrorist organizations, which constitute a danger to the state's constitutional order. In particular, the activities of the following Islamic groups have been suppressed: The Islamic Movement of Eastern Turkestan, Katibat Imam al Bukhari (KIB), TIP, Katibat al Tawhid wal Jihad (KTJ), IMU,Islamic Jihad Union (IJU), Zhaishul Mahdi, Jund-Al-Khalifa, Ansarullah, Jannat Oshiklari (Fans of Paradise), and others.
The second wave of the outflow of Central Asian Islamists abroad occurred after the start of the Syrian civil war. After the Syrian civil war broke out in 2011 and ISIS emerged as a competing alternative to al-Qaeda three years later, the thousands of Central Asian jihadists who streamed into Syria had to decide between al Qaeda and ISIS.
Some jihadists of IMU and Jund-Al-Khalifa shifted to Syria and joined ISIS. Central Asians, and especially the migrant workers from Russia, who traveled to Syria, independent of any of the main Salafi-Jihadi groups after 2014 tended to join al-Baghdadi's Caliphate. Uyghur's TIP, Uzbek's KTJ and KIB became enmeshed with alQaeda in Syria and maintained loyalty to the Taliban.
After joining al Qaeda, Taliban and ISIS, the ideological base of Central Asian militants broadened and was affected by the more-global agenda of transnational Salafi-jihadi networks. Today, the goal of the religious groups from Central Asia has greatly expanded so that now their goal is to develop a world-wide caliphate. They have become an integral part of world-wide terrorism and jihadism.Thus, Central Asian Islamists have expanded their influence and militant activities to the Middle East. Over the past two decades, the locus of Central Asian radicals has moved from the Ferghana Valley through Afghanistan into the tribal badlands of Pakistan toward Syria.
Methods of preventing Central Asian Islamists attacks
Central Asian Salafi-Jihadi groups pose a significant threat to the security of not only the "Stans", but the EU and the U.S. For example, Central Asia's Islamist radicals committed the following attacks in the US and Europe:
A terrorist attack committed by a 29-year-old national of Uzbekistan, Sayfullo Saipov, in the downtown of New York City, which killed 8 civilians in 31 Oktober 2017;
The blast in the subway of St. Petersburg, which was committed by an Uzbek terrorist from southern Kyrgyzstan Akbarzhon Dzhalilov in April 2017;
The truck attack in the center of Stockholm Sweden by an immigrant from Uzbekistan, Rakhmat Akilov, rammed through the crowd last April;
The terrorist attack by a native of the Fergana Valley of Central Asia, Abdulkadir Masharipov, on December 31, 2016 murdered 39 people in the Reina nightclub in Istanbul;
The terrorist attack at the international airport of Ataturk in Turkeyby citizens of Kyrgyzstan and Tajikistan in June 2016;
Another Uzbek terrorist, Ulugbek Kodirov, tried to kill even US President Barack Obama in July 2011 and was sentenced to 15 years in prison;
More than a dozen Uzbeks have been charged with terrorism between 2012 and 2016 in the USA and are now involved in continuing legal proceedings, which is evidence of the growing Islamic terrorism among immigrants from Central Asia.
To combat the Central Asian Salafi-jihadist groups, it is very important to understand the reasons for their ideological appeal to certain segments of Sunni Muslims. Only after a thorough analysis of their Jihadi ideology can a strategybe developed to combat them. In accordance with my scientific purposes, I continue to conduct my research on the activities of Central Asian Islamist groups.The goal is to prevent other terror attacks like 9/11 in the U.S.
Unfortunately, as the tragic example of Sri Lanka has shown, it is small Islamist terrorist groups associated with ISIS or al Qaida, including Central Asian jihadists, that due to the difficulty to triangulate, can pose the greatest danger to global stability. In this regard, I want to express my gratitude to Modern Diplomacy for providing a platform for comprehensive scientific researches on the roots and causes of the radicalization of Islamic ideology and the activities of Central Asian Salafi-Jihadi groups.A Geopolitical Handbook under the name "Anatomy of Central Asian Salafi-Jihadi groups" is a great contribution to European and global security by Modern Diplomacy.
Terrorism and Mass Media: A Reflection from the Sri Lanka Terror Attack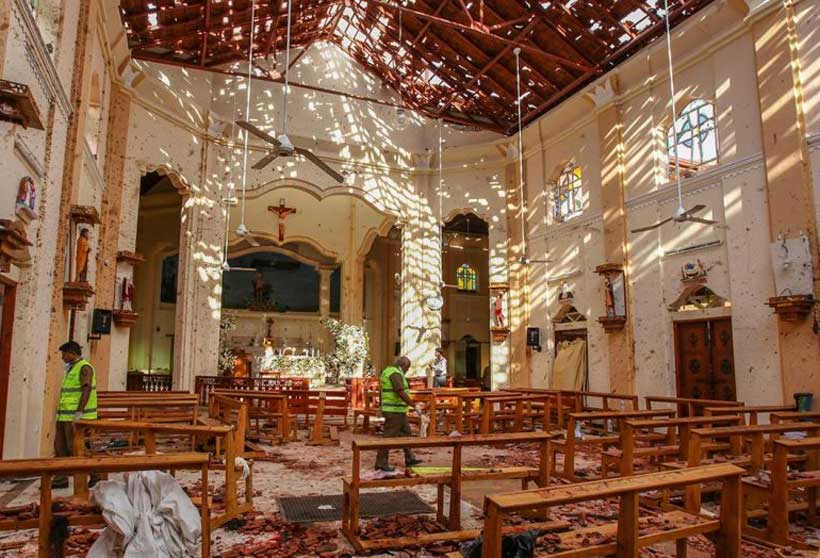 The world shivers at the mention of terrorism. The international news storylines mostly present two hegemonic undertakings: the economic and power game ruling blocks comprising US, Russia, China, EU and so forth, on one hand, and the true battlegrounds of ruling blocks in Syria, Yemen, Palestine, Afghanistan, Iraq and so forth, one the other. May be the storylines presented by the international media is not the true reflection of undertakings the world should know, and a lot more remain under presented behind those storylines. On the top of that, media houses play a twisted role in creating antagonists and protagonists in international geopolitics and assigning roles to different actors.
The terrorism, as we knew and believed once, has been changed in last couple of decades since the attack on the World Trade Center in New York in 2001. Not only terrorism has been changed after the World Trade Center in the emergence of new actors in the international power game but also it changed the perception of people about the religions and geopolitics; especially Islam and Middle East. In last March, A terror attack killed around fifty Muslims and left many injured during the Friday prayer in a mosque in Christchurch, New Zealand. The international media mostly labeled it as shooting and the terrorist as a shooter. The terrorist livestreamed the whole attack like an animated videogame and inscribed some hate speeches on the gun he used in the attack. The incident in the Christchurch, New Zealand, is not the only attack on Muslim communities in recent years but one of the many incidents and the it is becoming frequent. After the Christchurch incident in New Zealand, a massive terror attack demanded a death toll amounting 253 innocent lives on Ester Sunday last month in Sri Lanka. After the terror attack Sri Lanka, international news storylines undoubted labeled it as a terrorist activity and proactively probed the link with the local and international terrorist groups like Islamic State (IS) and the local terrorist group National Thowfeek Jamaath. While it is beyond the proof yet whether the Sri Lanka Attack was a consequence of New Zealand attack, the proactive role of international media was noticeable to make an express linkage between the two. Media decide who should be called a terrorist based on his region or color not the fact that terrorism ransoms the equally without the consideration of religious or color of victims. A handful number of people died in Sri Lanka terror attack were Muslims.
This is a one-type of bias mass media play in response to terrorism. But in regard to terrorism there are numerous biased and nonsense roles mass media have been playing. It is said that a terrorist is always successful because he produces the level of fears and panics that changes the courses of longstanding societal, political and interfaith interactions among different groups, communities, regions and countries. While mass media only probe the linkage of religions with the terrorism, they hardly concentrate on economic, political and social motives of terrorism. Either a mosque or a church or a chapel is mostly targeted and this strategy of terrorism give it an universal advantage. For example, if a mosque in New Zealand is attacked, it raises the concern of Muslim communities living in West and Muslin-minority countries around the world, on the other hand, if a Church is attacked anywhere of the World it raises the concern of non-Muslims about Muslims around the World; while an attack on non-religious places may not reach such an universal advantage. Media grabs a terrorist activity, widely publishes it, links it with religions, especially with Islam, and complements the objective terrorism dividing societies, and creating fears and panics.
The terrorism in any form is a threat to the peaceful coexistence around the world. However, the place that faces the problem faces an extensive and long-lasting challenge. Historically, Sri Lanka is a politically turbulent place just ending a phase of civil conflict with the LTTE around a decade ago. Last year it faced an anti-Muslin riots that destroyed a mosque and raised a communal tension around the country. As acknowledged by local and international security agencies, they had prior knowledge of an upcoming attack. Despite the fact of prior knowledge, security agencies in Sri Lanka did not take any preventive action. Sri Lanka is currently undergoing some political transitions that started from October 2018. President Maithripala Sirisena announced that Mahinda Rajapaksa is the new Prime Minister. Although, by various forces Sirisena removes Rajapaksa and returned Wickremesinghe. In this unstable situation miscreant takes the advantage of terror attack.The terror attack on the verge of that transition and the non-preventive activity by security forces indicate a political connection with the terror attack. Some block might have been taking advantage of this turbulent situation. Historically, the Sri Lankan turbulence with the LTTE was fueled by different external and internal blocks. Instead of going with the flow, mass media should play an investigate role to probe the other reasons like political, economic and geopolitical reasons behind the terror attack.
In Christchurch attack, the terrorist Brenton Tarrant livestreamed the attack on Facebook. The livestreamed video was reposted and rebroadcasted millions of times in different local and international media around the world. While it is clear that Brenton Tarrant wanted the world to watch the video, by reposting and rebroadcasting the video media complemented a terrorist's objective. This tendency of media was seen in some previous terrorist attacks. In 2016, the terror attack in a residential hotel in Dhaka was livestreamed by several national and international media. In recent India-Pakistan border conflict media from both countries played a provocative role. Some media house in India compared the Indian invasion in Pakistan with the patriotism. This is definitely a breach of media's broadcast standards.
In case of Sri Lanka terror attack, media relied on previous IS attacks to probe a linkage between the IS and the local National Thowfeek Jamaath. It is, however, true that attacks by IS or local terrorist group cannot be sidestepped. But the focus on IS and local terror group targeted some local innocent people and Muslims that created another bias and discrimination on the local community. Moreover, the focus on the IS and its associated group may shade the actual perpetuator if some group other than IS is responsible for the attack. Even some media proactively created a presuming linkage of Sri Lankan attack with the Christchurch attack. This again aggravated the situation in Sri Lanka and around the world.
It is generally presumed that media houses are concerned about the increasing the TRP and public viewing volumes by broadcasting controversial news storylines. This sick competition leads media houses globally to go beyond their broadcasting standards. Media is said, however, to be the "Fourth Estate" of democracy whereas increasing the TRP or viewing volumes by sick competition is an opposite to the notion. There should have some ethical standards and regulations regarding broadcasting the news and storylines grounded on the policy of harnessing communities and promoting global peace not dividing the world into pieces.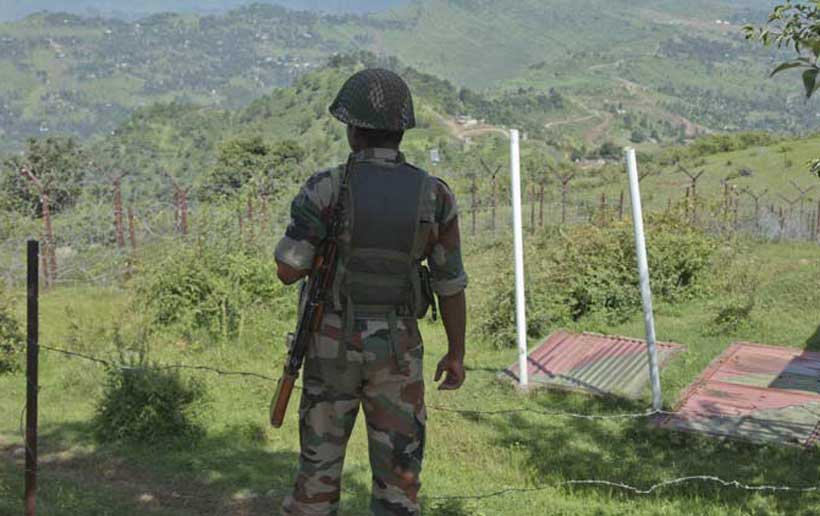 First, it was Zahedan where an IRGC convoy; returning home from their tour of duty, along the borders of Sistan-Baluch, are suddenly ambushed and nearly annihilated. As the sun begins to rise at dawn, on the next day, (the 14th of February), over Pulwama in Kashmir, a strikingly similar event occurs to a much larger CRPF convoy, this time returning to duty.
The authorities of the two affected nations issue immediate statements, (which are almost identical in tone and accusation), against elements resident within the territory of their shared common neighbour. Both independently issued statements seem to mirror each other in content and threat, as if they were Page 1 and Page 2 of a document seemingly prepared in advance within a spirit of "friendly collaboration".
The initial murder of the Iranian Islamic Revolutionary Guard Corpsmen garnered almost no world media exposure, whereas the killing of the Indian Central Reserve Police Force para-militarymen exploded into an International Diplomatic Crisis that eventually required the frantic intervention of the Heads of State of the Kingdom of Saudi Arabia, the United Arab Emirates, diplomatic envoys of the Peoples' Republic of China, the Russia Federation, the UN and ofcourse, everyone's favourite peacemaker and arbiter of international law and order, the US of A, to pacify emotions and reign in a possibly perceived; potentially imminent; Nuclear Confrontation between two adversarial neighbours, neither of whom recognize the legal sovereign nation status of the other.
Two weeks after Pulwama, in VietNam, whilst the US Head of State begins to dictate meaningless (and impossible to honour), terms and conditions towards the Democratic Peoples' Republic of Korea's nuclear disarmament; the gravity of Pulwama is suddenly dragged onto centre stage as a possible Zero Hero event on the Doomsday Clock.
In an intentional act of war, (on the 26th of February), which is then openly glorified as live, patriotic entertainment, the Indian Air Force cross the Line of Control and bomb territory within Pakistan. In the intervening two weeks prior to this dubiously illegal infringement of a neighbour's property, the world watched in awe at the mechanics of an electronic media that had been effectively tooled as an integrated weaponised instrument, and; also a consummate component of both, the Armed Forces and the State apparatus of an elected Government, with the sole aim of coordinating a line of thought; from which any deviation from the prescribed script was deemed to be a criminal offence.
News media, not so much the print media in terms of newspapers, but rather the online applications of instant messaging; exposed the gargantuan influence and capability that MultiNational Corporations have within any (and all), semi-developed, emerging economic nations: to create and guide a story that seamlessly blurs and oscillates between confusion and surreal fiction. Painting an illusion, as it were, or a dream swirling around disjoint facts.
On the 27th of February, the next day, the Pakistan Air Force duly retaliate and it seems that the elected Prime Minister of the world's largest democracy had finally gone rogue and had totally unhinged himself from reality with instructions to his Armed Forces to target nuclear installations within his neighbour's territory.
At 7.40 AM Eastern Standard Time on the 27th of February, all Globex Futures Trading in the United States are suspended and the S&P, Dow and Oil indexes cease trading for over 4 hours, with the added excitement of all pending orders, prior to the halt, having their executions specifically cancelled. (Although Currency Exchange platforms remained active). Also on the 26th and 27th of February, Emergency Action Messages or EAMs of the US Nuclear Command and Control Structure commence firing up HFGCS (High Frequency Global Communication System) transmissions, which are a prelude to a Nuclear Alert.
So, why would an internal domestic attack on a police convoy within India lead to EAMs being issued at the LOC, (the Line Of Control within the disputed region of Kashmir). You may answer by saying that the reason is simply because Kashmir is a potential nuclear flashpoint, and that would be eminently correct. But my question would then be, why would this flashpoint be triggered when President Trump and Chairman Un are discussing the consequences of such an occurrence being played out for real between themselves?
The eternal question always remains, "who benefits?". What message has the world at large been given?
CENTCOM or Central Command and the USINDOPACOM or the US Indo-Pacific Command of the US Armed Forces, are two gigantic military institutions that are run as autonomous and totally opaque entities by their respective Generals who see themselves as Roman Tribunes rather than Commanding Officers, with more power than their elected Head of State; under whom they, in effect, nominally serve. CENTCOM's sphere of influence includes the carnage and the waste that they have laid to the sovereign nations of Syria, Iraq, Afghanistan and, that influence ends at the eastern border of Pakistan. In May 2018, when the previously titled entity USPACOM or US Pacific Command changed its name to the US Indo Pacific Command and suddenly incorporated India into its sphere of influence, their remit then began to encompass all territory upto the western border of India and, lo and behold, both spheres of these gigantic killing machines meet at the Line of Control within the volatile and disputed region of Kashmir.
Would the subsequent events leading from Pulwama have been a test run to gauge the effectiveness of integrated electronic media in India, which is thus by default, the most established English language denominated media at USINDOPACOM's disposal? Would it have been a weaponised trial in propagating an explosive narrative draped as high drama in order to influence, coerce, intimidate and subsume a diverse society to toe the line? Was it to keep Pakistan on the straight and narrow and make it clear to them how close they were to being obliterated were it not for the kind benevolence of CENTCOM intervention; a similar muscular feat that China perhaps would not have been able to effectively co-ordinate so quickly.
So although, on the face of it, the Prime Minister of India plays the well rehearsed role of the village fool, entwining within it, (in order to appeal to a barely semi-literate audience); his own myth of having risen from the ranks of poverty and social ostracisation to become the elected leader of a huge and diverse nation and with the Prime Minister of Pakistan playing the well constructed role of the suave, Western debonair who achieved his elected position after years of political struggle; both however remain actors playing lines they have been given within a huge stage production.
If either of them were truly representative of the will of their constituents as well as the projection of the visions of the future that their electorates see in themselves, then neither would have played leading roles in a scene that required EAMs at the LOC.
The only beneficiaries are the Roman Tribunes of the two COMMANDs of the US Armed Forces, who quietly engaged themselves in a live-fire exercise to test their proprietary war game theories and then gathered the subsequent extrapolated algorithmic data for future reference.
As Crazy Earl says in the epic Kubrick movie, Full Metal Jacket; "These are great days we're living, bros. We are jolly green giants, walking the Earth with guns. These people we wasted here today are the finest human beings we will ever know. After we rotate back to the world, we're gonna miss not having anyone around that's worth shooting".