The Difficulty of Predicting ISIS and al Qaeda Stay and Act in Place Attacks
In February of 2015 Omar el-Hussein was hunted for thirteen hours and ultimately shot dead by Danish police after killing fifty-five year old documentary filmmaker Finn Noergaard at a free speech event and a thirty-seven year old Jewish guard, Dan Uzan at a synagogue in Copenhagen.
El-Hussein, the gunman was known to Danish police. He had a criminal history that included violence and weapons offenses. In fact he had only been released from prison fourteen days previously.
It appears now that he planned his event (which was a simpler copycat of the Charlie Hebdo shootings) in the days after his release, Googling "Krudttonden" the place of the first attack only one to two days before his attack. This was where Lars Vilks the infamous artist who had drawn the Prophet and others were participating in an event organized by Vilks entitled Art, Blasphemy and Freedom of Expression. El-Hussein's brother allegedly bought a bullet-proof vest for him as well during those days. After the first shooting, el-Hussein escaped in a taxi and hid out in an Internet café where he then began an Internet search for the synagogue where he carried out his second attack.
The speed by which today's terrorists radicalize into extremist mindsets and take lethal action is mind-boggling and presents a nightmare for today's security officials. The police chief in Denmark was fired in May, only months after the shootings—after being held responsible for not anticipating such action.
Sadly though, this type of attack is likely to continue in all Western countries and is very hard to predict. Thousands of disgruntled individuals log on to the Internet to find excuses to vent their anger. Youth in particular are searching for identity, purpose, significance and if they are angry about injustices—perceived or real—they gravitate to justifications and equipping to channel and express their rage.
Groups like ISIS and al Qaeda are waiting and willing to provide for such individuals the other three elements of the four making up the lethal cocktail of terrorism that I identified in my four hundred interviews of terrorists and their family members and close associates (reported upon in Talking to Terrorists). These four elements are: 1) a group; 2) it's ideology that wrongly tries to justify striking out at civilians in violence; 3) social support for joining and believing the ideology and this all combines with 4) the person's own individual motivations and vulnerabilities.
El-Hussein had just been released from prison and had a violent background and access to weapons. He is also identified as being the son of Palestinian refugee parents, and may have already been exposed to violent ideologies promoting so-called "martyrdom" missions. These should have been red flags to police and if authorities were also aware of his radicalization–which there appeared to be clues too as well, these are all flags to his possibility of enacting terrorism.
Prison is a place where folks can easily be radicalized. Prisoners are generally bored and angered at being locked up, are surrounded by criminal thinkers and may be exposed to extremist thinkers and their ideologies. Many are vulnerable, long for belonging and may gravitate easily to a group that promises them some kind of future—even if it's only in the afterlife—and even more so if it offers protection in the here and now. A lot of extremist groups that work in prisons protect one another and if they are Muslim, pray regularly together, so there is a deep sense of belonging, sense of purpose and protection that may have been missing in childhood and adulthood.
We know now that terrorists are acting with less and less lead-time these days. Part of that is because troubled and lost people are getting radicalized over the Internet with the so-called "university of jihad" as my now deceased friend Reuven Paz liked to call it. Over the Internet, the potential terrorists, i.e. person with vulnerabilities and motivations to strike out in hate can find all they need to radicalize, equip themselves, and strike out. But even before ISIS and groups like them became so adept at social media we saw individuals volunteering themselves to terrorist groups—among Palestinians and Chechens for instance and enacting terrorism very quickly. This is because the ideology of "martyrdom" and violent propaganda has seeped into the wider culture and there has been a wider acceptance of terrorist violence as means for powerless people to strike out in anger against so called oppressors or in the case of Muslim groups against those who insult Islam. We saw a similar attack in Texas only days ago in the U.S., although we still need to learn the radicalization profile there.
The facts are that many people are angry and hurt and can easily expose themselves to a terrorist group and ideology that attempts to justify violent responses to their problems and by glorifying such actions offers them a sense of meaning, significance and purpose along with belonging, perhaps some protection and friendship it can channel all their anger and concern over injustices done to them over their lifetime into a focused hatred and terrorist action. And this can happen fast.
For Muslims who join extremist groups and who have low ego strengths, the unnecessary baiting and provoking actions of drawing the Prophet as a pig, or a terrorist, can also be an overwhelming insult that can trigger him or her to activate quickly into violence if an extremist group is behind them with the "justification" for violent action and suggestions for how to enact violence. In most of our open democratic societies the exposure to terrorist groups and their ideologies are readily available over the Internet and so are weapons that can be easily procured so they can move fast and act in a matter of days or weeks as el-Hussein did. Once a vulnerable person has taken on the extremist mindset and decided he doesn't mind dying for it he can activate and become lethal nearly instantly. The Internet these days makes finding information so easy, and guns are sadly readily available in many of our societies.
Denmark has been leading the way on trying to de-radicalize and disengage those who take on the ISIS ideology but here we see a case that was not recognized until the actor became lethal. It's horrible but just underlines the fact that we need to do much more on terrorist prevention—by delegitimizing the acceptance in all sectors of society, but particularly with youth, that using terrorist violence for any cause is ever justified and by identifying those who have taken on such ideologies and intervening in meaningful and effective ways before they act.
Role of Pak-Military in Combating Terrorism: Post-2017 Analysis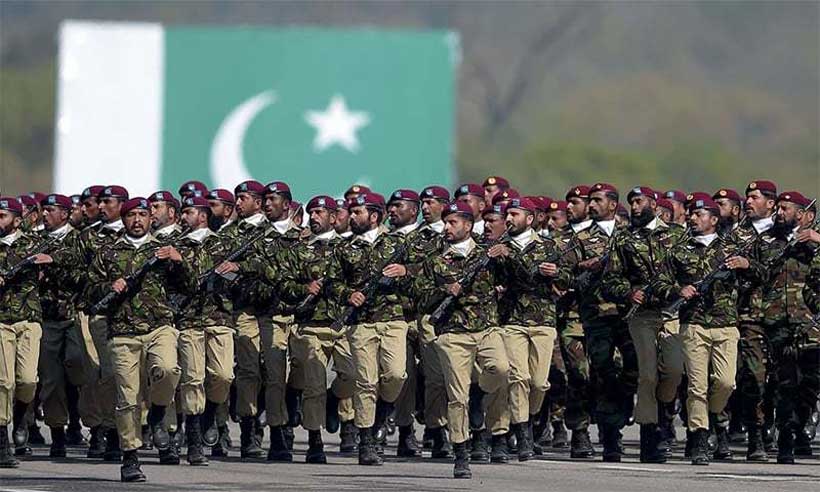 Over the past 20 years, Pakistan has continued to be a target of terrorism. It has endured a great deal of hardship as a frontline nation in the fight against terrorism being led by the United States. In the past 20 years, the bloodstained war against terrorism has claimed thousands of lives, including both civilians and security force members. Pakistan adopted a comprehensive plan and carried various operations to eradicate terrorism from its territory. The importance of Pakistan's military cannot be overstated, especially given how successful that country has been in the last five years in combating terrorism.
In reaction to an increase in "terrorist attacks," The Pakistani government declared a nationwide military operation with the codename Radd-Ul-Fasaad on February 22, 2017. This operation was not restricted to one area, but had been carried out across whole Pakistan and succeeded in driving out terrorist elements from Lahore, Sehwan Sharif, Khyber Pakhtunkhwa, and the former FATA. The operation included the involvement of Pakistan's air force, Pakistan's navy, Pakistan's police and other civil armed forces however, the Rangers performed special tasks 'to operate in Lahore and different parts in the province of Punjab.
Similar to this, the Pakistani army began Operation Khyber-IV in July 2017 to purge the Rajgal Valley of militants in the Khyber tribal district. The primary objective of Khyber-IV was to eliminate the threat of IS in the tribal district of Khyber Pakhtunkhwa. the declared the Operation was concluded On August 21, 2017.
According to sources (PIPS), systematically compile data on militant and anti-state violence in Pakistan claim that 2018 saw an improvement in the overall security situation compared to previous years. The total number of raids and operations carried out against militants in 2018 were 31 as compared to 2017 i.e. 75. In addition to these operational assaults, security forces and militants engaged in 22 armed confrontations in 2018. This represents a 68% drop from 2017 levels.
In accordance with data from the Global Terrorism Index, terrorist attacks have decreased in Pakistan since 2018. The total number of terrorist incidents decreased from 369 in 2018 to 279 in 2019. While the number of terrorist deaths in Pakistan I.e.300, reached its lowest annual total since 2006.
The nature of the violence in 2018 was diverse the figure below presents a breakdown of the nature of violent incidents and the number of casualties' recorded in 2018:
Source: PIPS, Pakistan Security Report 2018, 6 January 2019, p. 20
In comparison to 2018, the security situation was even better in the first half of 2019. Numerous counterterrorism operations captured several top commanders from various militant organisations, including the Tehrik-e Taliban Pakistan (TTP) and the Islamic State Khorasan Province (ISKP). According to the data, the security forces engaged in 23 operations against militants in the first seven months of 2019. In addition to these operational assaults, security forces and militants engaged in 15 armed encounters.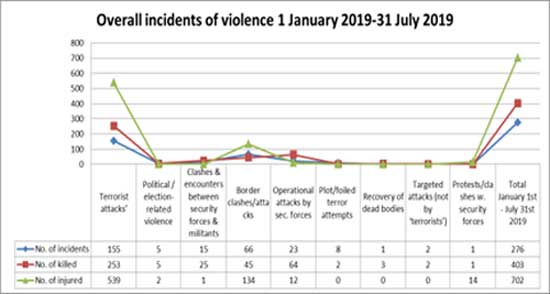 Source: 2019-EASO-Pakistan-Security-Situation-Report.pdf
There were 276 total violent incidents in the first seven months of 2019. As a result, 403 people died and 702 were hurt. A breakdown of the types of violent incidents and the number of fatalities reported in 2019 can be seen in the figure above.
In 2019, the Pakistani government also contributed positively to the US-Taliban negotiations. Moreover, the National Counter Terrorism Authority (NACTA) and the United Nations Office on Drugs and Crime (UNODC) collaborated to develop Pakistan's Action to Counter Terrorism (PACT) with a specific focus on Sindh in order to equip the criminal justice systems with the tools necessary to prevent and combat terrorism in a proactive manner. The goal of PACT Sindh is to improve the capabilities and coordination processes of national and local counterterrorism and criminal justice institutions. PACT Sindh's primary goal is to enhance the criminal justice system's investigation, prosecution, and adjudication procedures. By working with other departments, it will increase the ability of the police, prosecutors, and judiciary. These counter terrorism efforts of the security forces and especially Pakistan Army are significant indeed, considering the ratio that Pakistan faced in the last two decades.
Terrorism intensifying across Africa, exploiting instability and conflict
The growth of terrorism is a major threat to international peace and security, currently felt most keenly in Africa, the deputy UN chief told the Security Council on Thursday. "Terrorists and violent extremists including Da'esh, Al-Qaida and their affiliates have exploited instability and conflict to increase their activities and intensify attacks across the continent", Amina Mohammed said on behalf of Secretary-General António Guterres.
"Their senseless, terror-fuelled violence has killed and wounded thousands and many more continue to suffer from the broader impact of terrorism on their lives and livelihoods".
Spreading terror
With misogyny at the core of many terrorist groups' ideology, women and girls in particular, are bearing the brunt of insecurity and inequality.
And over the last two years, some of the most violent affiliates of Da'esh have expanded, increasing their presence in Mali, Burkina Faso and Niger as well as southward into the Gulf of Guinea.
"Terrorist and violent extremist groups aggravate instability and human suffering. And they can plunge a country emerging from war back into the depths of conflict", reminded the senior UN official.
Threatening States
Meanwhile, terrorists, non-State armed groups and criminal networks often pursue different agendas and strategies, fuelled by smuggling, human trafficking and other methods of illicit financing – sometimes impersonating legitimate armed forces.
And as digital tools spread hate and disinformation, terrorists and other criminal groups are exploiting inter-communal tensions and food insecurity triggered by climate change.
Globalization of terrorism
In today's hyper-connected world, Ms. Mohammed remined that the spread of terrorism in Africa is "not a concern for African Member States alone".
"The challenge belongs to us all. Countering international terrorism requires effective multilateral responses", she flagged.
From the climate emergency to armed conflict and poverty and inequality to lawless cyberspace, and the uneven recovery from COVID-19, she also pointed out that terrorism is converging with other threats.
For a holistic, comprehensive approach, the deputy UN chief cited the New Agenda for Peace – part of the Our Common Agenda report.
Amidst increasing polarization, she maintained that it proposes ways to address risks and revitalize our collective peace and security system.
Pushing back on terror
Outlining five suggestions to advance counter-terrorism efforts in Africa, Ms. Mohammed reminded that "prevention remains our best response".
"We must address the instability and conflict that can lead to terrorism in the first place, as well as the conditions exploited by terrorists in pursuit of their agendas".
Secondly, she called for community-based, gender-sensitive "whole-of-society" approaches.
Noting "complex links between terrorism, patriarchy and gender-based violence", she said counter-terrorism policies needed to be "strengthened by the meaningful participation and leadership of women and girls".
She underscored in her third point that "countering terrorism can never be an excuse for violating human rights or international law" as it would "only set us back".
Fourth, she stressed to importance of regional organisations which can address challenges posed by terrorist and violent extremist groups in the local context.
Finally, Ms. Mohamed called for "sustained and predictable funding" to prevent and counter terrorism.
From economic deprivation to organized crime and governance challenges, "the magnitude of the problem calls for bold investment", she told ambassadors.
In closing, the Deputy Secretary-General welcomed the planned October 2023 Summit on counterterrorism in Africa as an opportunity to consider ways to strengthen the UN's efforts across the continent overall.
She expressed confidence that today's debate would offer insights for the summit, and "help to build peaceful, stable communities and societies across the continent".
Restoring authority: Ghanaian President
Chairing the meeting with his country assuming the presidency of the Council for November, Ghanaian President Nana Addo Dankwa Akufo-Addo, attested to the importance of restoring effective State authority and promoting inclusive governance across the continent. He also urged the Council to support AU-led counter-terror operations, including with predictable funding.
African Union (AU) Commission Chair, Moussa Faki Mahamat, drew attention in his briefing, to the daily physical and psychological damage caused by terrorism and reminded that conventional responses and old models are no longer relevant to counter evolving threats on the ground.
And as terrorism extends to new parts of the continent, Benedikta von Seherr-Thoss, Managing Director for Common Security and Defence Policy and Crisis Response with the European Union's diplomatic wing (European External Action Service) noted the need for security support while underscoring the role of sustainable development for nourishing peace.
Comfort Ero, President and CEO of the International Crisis Group, also briefed the Council, and maintained that technical and military solutions would not end terrorist threats on their own, calling for a new counter-terror toolkit that includes more dialogue with armed groups and can promote local ceasefire arrangements.
Crime and terrorism thriving again in Afghanistan amid economic ruin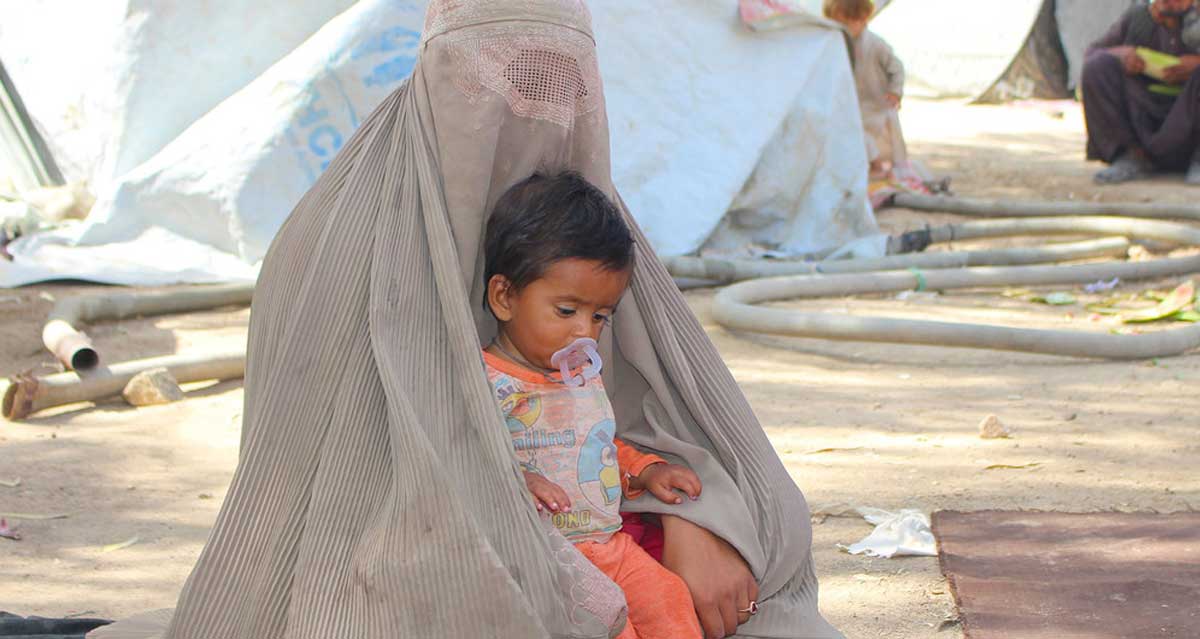 Two-thirds of Afghans are going hungry, with girls' education subject to "random edicts" of the Taliban, while crime and terrorism are thriving once more buoyed by a large spike in opium production, warned the President of the UN General Assembly on Thursday.
Csaba Kőrösi painted a near apocalyptic picture of ordinary life in the Taliban-ruled nation that has endured almost five decades of "relentless conflict", urging the international community to make up the $2.3 billion shortfall in the UN humanitarian appeal for $4.4 billion.
'Moral imperative'
In a powerful speech to ambassadors in New York, during a full session of the UN's most representative body, he said that there was "a moral and also a practical imperative for the international community to support an inclusive and sustainable peace in Afghanistan."
The resolution expressed deep concern over Afghanistan's current trajectory and the volatility there since the Taliban takeover.
It urges Afghanistan to honour and fully respect and implement all treaties, covenants or conventions, bilateral or multilateral, which is has signed up to.
Drugs and terror
Beyond the disastrous humanitarian and human rights situation, he said the country was now "awash with heroin and opium."
"Organized crime and terrorist organizations are thriving once again. Afghanistan is facing complex and interlinked challenges that the Taliban have shown they cannot – or would not – solve."
Now is the time to come up with some concrete solutions that put the Afghan people first, he said, suggesting one concrete way the General Assembly could help right away:
"I encourage the country's reengagement with the international science community. And to allow women who used to be respected members of the country's science community, to resume their research and their studies.
Alone in denial
Afghanistan is now the only State in the world, denying girls the right to a full education, he added, noting that their prospects are totally uncertain, "amid seemingly random edicts from the Taliban."
For even the most powerful women in the country, "dreams of becoming President have been replaced by the reality of child marriage. Arrests if women and girls leave their home without a male chaperone.
Protect all Afghans
"I reiterate my call for the protection of fundamental rights and freedoms of all Afghans, especially women and girls."
Mr. Kőrösi urged the Taliban to ensure the safety of all Afghans – regardless of gender, ethnicity, religion or politics – protection for journalists and civil society members, and the unhindered delivery of aid.
Amid the economic meltdown, he pointed out the shocking fact that narcotics constitute the biggest sector in the country, with the UN Office on Drugs and Crime, revealing a 32 per cent growth in illegal opium cultivation.
"We know where these drugs are sent. And we know who profits from these drugs. The threat from drug trafficking is linked with the threat of terrorism, regional and global security."
Get serious
He said Taliban leaders needed to engage in serious dialogue about counter-terrorism to reverse the flow of foreign extremists into the country – and prevent their own from becoming foreign terrorist fighters elsewhere.
"Afghanistan must never again become a breeding ground and safe haven for terrorists. I call on the Taliban, other Afghans and members of the international community to cooperate with the Special Representative (for UN Assistance Mission, UNAMA) as she implements the Mission's mandate.
After debating the resolution, it was adopted by the General Assembly with 116 votes for, and 10 abstentions – Belarus, Burundi, China, the Democratic People's Republic of Korea, Ethiopia, Guinea, Nicaragua, Pakistan, Russia and Zimbabwe.