Silk Road Fund debuts in Pakistan
China's $40-billion Silk Road Fund for investment, part of the nation's commitment to the Belt and Road initiative, announced its first project on April 20 during President Xi Jinping's visit to Islamabad.
Silk Road Fund Co, the management arm of the fund, has signed a memorandum of understanding with China Three Gorges Corp and the Pakistan Private Power and Infrastructure Board to provide capital to build the Karot Hydropower Project on the Jhelum River in northeast Pakistan.
It is the fund's first investment project since it was established in Beijing in December.
According to the agreement, the fund will provide capital and serve as a major shareholder in China Three Gorges South Asia Investment, a subsidiary of China Three Gorges Corp, to support clean-energy development projects in Pakistan.
The fund will also provide loans to the project by joining a consortium led by the Export-Import Bank of China.
Karot Hydropower station is a priority project within the broader China-Pakistan Economic Corridor initiative, proposed by Premier Li Keqiang in May 2013. The initiative aims to build a $46-billion 3,000-kilometer-long route from China's Xinjiang Uygur autonomous region through the Karakoram mountain range and Pakistan's Balochistan, to the Gwadar Port, connecting China, Pakistan and the Arab world.
The project is in the fourth stage of the river's five-stage development plan, with an installed capacity of 720,000 kilowatts and an annual power generation capacity of 3.2 billion kilowatt-hours. It requires a total investment of about $1.65 billion.
Chinese companies plan to develop a total capacity of 3,350 megawatts along the Jhelum River through new developments, and mergers and acquisitions, according to a statement from the fund.
Construction of the project is to start by the end of this year and commence operations in 2020, the statement said. "The station will be operated by the Chinese side for 30 years and then transferred to the government of Pakistan."
As a market-oriented investment fund targeting medium- and long-term projects, the Silk Road Fund will focus on key projects along the Silk Road Economic Belt and the 21st Century Maritime Silk Road while continuing to find potential targets, the company said.
In November, Xi announced during the Beijing Asia-Pacific Economic Cooperation meetings that China would contribute $40 billion to set up the Silk Road Fund. He emphasized that the fund will be used to provide investment and financing support for infrastructure, resources, industrial cooperation, financial cooperation and other projects in countries involved in the Belt and Road initiative.
Zhou Xiaochuan, the Chinese central bank governor, has described the fund as a "private equity" investor with a longer investment return.
Jin Qi, chairwoman of the fund management company, said the projects will also support the development of Chinese high-tech and equipment manufacturing industries by helping enterprises go overseas.
First published by the China Daily
Business disorder between Europe and U.S.
The European Union remains cautious in the economic battle with the White House. U.S. President Donald Trump continues to pursue his protectionist policies in international trade system. This has led to raising concerns and serious discontent among the United States' European partners.
Disputes between the United States and other countries around the world are continuing on trade and economic issues. The fact is that U.S. President Donald Trump intends to exacerbate tensions until the presidential elections of 2020. Many international experts and analysts believe that a major part of the economic approach to the world of Trump has an electoral and political goal.
Many international analysts now talk about the conflicts between the United States and Europe over imposing sweeping steel and aluminum tariffs as a transatlantic "trade war".
Conflicts that may extend in the near future and affect the widespread relations between Washington and Europe.
On the other hand, the authorities of Germany, Britain and France have not taken a proper approach to the policies of the President of the United States.Though politicians such as Emmanuel Macron, Angela Merkel and Theresa May seek to manage the situation and prevent the exacerbation of tensions with Washington, but people, business owners and European opposition parties are so angry at Trump and the U.S. government that the European troika's authorities aren't capable to control or even hide it.
One of the most important reasons for the continuation of Trump's economic policies in the world is the passivity of European leaders against the White House. Under such circumstances, Europe has threatened to retaliate against the U.S. if Trump imposes steel and aluminum tariffs on European exports.
After Trump made his first announcement on the tariffs, European Commission President Jean-Claude Juncker threatened to put tariffs on American goods in response to Trump's decision. That could decrease demand for those products inside EU borders and consequently lead to U.S. workers losing their jobs. But practically, European countries did not do anything about this.
Although some European citizens thought that the Chancellor of Germany would have a more determined approach than other European politicians, this was also a mistake!The German Chancellor stated that European Union member states must give the EU trade commissioner a clear mandate for negotiations with the United States over a long-term exemption from U.S. metal tariffs. Markel added: "Of course, we think it's important that there are exemptions not only for a limited period of time … So far, we have had a very united stance, namely that we view these tariff demands as unjustified and that we want a long-term exemption."
The fact is that Merkel's implicit threat, which she didn't address directly and explicitly because of her conservative policy towards the United States, is the same as the "European countermeasures" against the United States.
For months now, there have been months of anti-European measures taken by the White House and customs duties on European aluminum and steel. However, European countries have preferred to keep Silent instead of confronting Washington!
Indeed, the prolonged U.S.-EU talks on steel and aluminum tariffs is going to increase the dissatisfaction and anger among the European public opinion. It will also affect the performance of American companies in Europe.
First published in our partner Tehran Times
Citizen Capitalism: How a Universal Fund can provide Influence and Income to all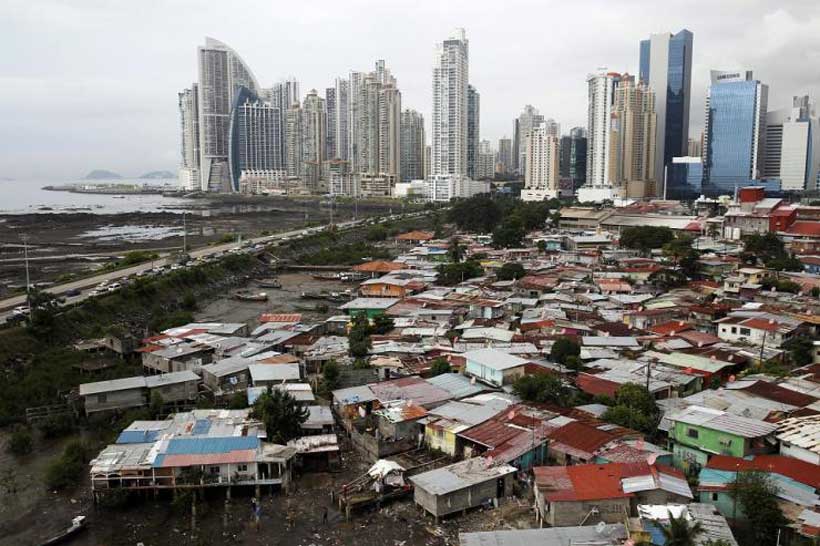 In the face of growing wealth inequality worldwide, more and more people are discussing alternatives to the current laissez-faire capitalism status quo.  Tamara Belinfanti, Sergio Gramitto and the late Lynn Stout offer up their own solution in Citizen Capitalism: How a universal fund can provide influence and income to all.
Our authors have devised up a concept they call the Universal Fund.  It's like a sovereign wealth fund, but is privately created and funded via private ordering. That means that the Universal Fund is to be created from donations of stocks by companies and philanthropists.  The government would hence be uninvolved; the Universal Fund is not a socialist venture.  Rather, it is in part modeled on the structure of NGOs like the Sierra Club and the Red Cross. The Fund would provide an annual dividend to every citizen, with no maximum income cap.  Though it may seem absurd to send welfare payments to the wealthy, it's politically savvy framing.  A free public college bill was passed in ultraconservative Tennessee thanks to having no maximum income cap; conservative detractors weren't able to use the "class warfare" and "welfare queen" arguments. It should be noted that charitable tax deductions, estate tax reductions and lowered tax brackets would act as a de facto government incentive for the wealthy to donate to the Universal Fund.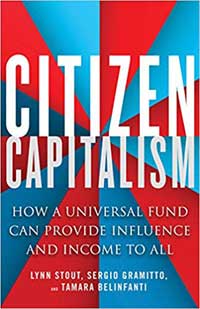 The goals of the Universal Fund would be to decrease wealth inequality, encourage long-term investment and increase civic engagement in corporate culture.  On the last point, the authors remind us that, "The top 10% [of wealthiest Americans] hold more than 90% of all shares."  Even in regards to the other 10% of shares owned, most of them are passively owned.  Most small-time investors don't have time to vote in the annual general meetings of every company in which they are invested in.  Thus, boardroom votes are dominated by two shareholder proxy advisory firms and individual investors who own a substantial percentage of shares, as well as fund portfolio & hedge fund managers.
These Wall Street elites naturally tend to vote based upon their elitist interests.  Thus, they usually make decisions that are insane in terms of employee welfare, long-term corporate growth, executive pay and the environment. For example, `the authors remind us of the recent case of Martin Shkreli, the hedge fund manager who acquired Turing Pharmaceuticals and then raised AIDS medication prices from $13.50 to $750. This is the embodiment of the Reagan-era Golden Rule of maximizing shareholder value.  Not only is this Gordon Gekko truism objectively crazy, it's actually legally unfounded.  Contrary to what you hear on CNBC or Fox Business, there's no legal requirement that companies only focus on maximizing shareholder value.  The book relates the following quote from Supreme Court Justice Samuel Alito comments in the recent case Burwell v. Hobby Lobby:"Modern corporate law does not require for-profit corporations to pursue profit at the expense of everything else, and many do not do so."
CITIZEN CAPITALISM points to the ongoing successes of the sovereign wealth funds of Norway and Alaska, an ultraliberal and an ultraconservative society, respectively.  The Alaskan fund generally provides each citizen with a dividend payment of a few thousand dollars each year, via the state's oil revenues.  The Government Pension Fund Norway is a more pertinent example, since it's funded through a $1T stock portfolio.  Norway is not only able to fund its citizens' pensions through the Fund, but also exert a moral influence on the market.  The Fund boycotts various egregious companies, like cigarette manufacturers, and will sell its shares in a company that gets exposed for abusive practices, like say employing child labor.  Our authors likewise want the Universal Fund to use a carrot-and-stick approach in regards to corporate ethics.
The thesis of CITIZEN CAPITALISM is, as the title suggests, rooted in optimism for capitalism.  Though they write about the success of socialist program in Alaska specifically, a conservative state in the US, the authors are convinced that a sovereign wealth fund bill could never be passed in Congress.  Recent polls and election results, however, show that Americans are starting to overwhelmingly favor ambitious government-program proposals like Medicare for All and a Green New Deal.  As I wrote before, the Universal Fund would mostly be feasible due to tax incentives; these government incentives would likely need to be greatly expanded in order to encourage enough stock donations to build the Fund to a substantial size.  Even America's greatest philanthropists still stockpile billions of dollars in their offshore bank accounts.  Thus, one shouldn't expect the Universal Fund or other private UBI schemes to become a replacement for state management of wealth inequality through programs like public school funding and marginal taxation.  Nonetheless, CITIZEN CAPITALISM is a stimulating little primer for rethinking the relationship between Wall St and Main St, managing the looming crises of a rapidly aging workforce and automation, plus the balancing of private and public sectors in regards to solving societal problems.
Working for a brighter future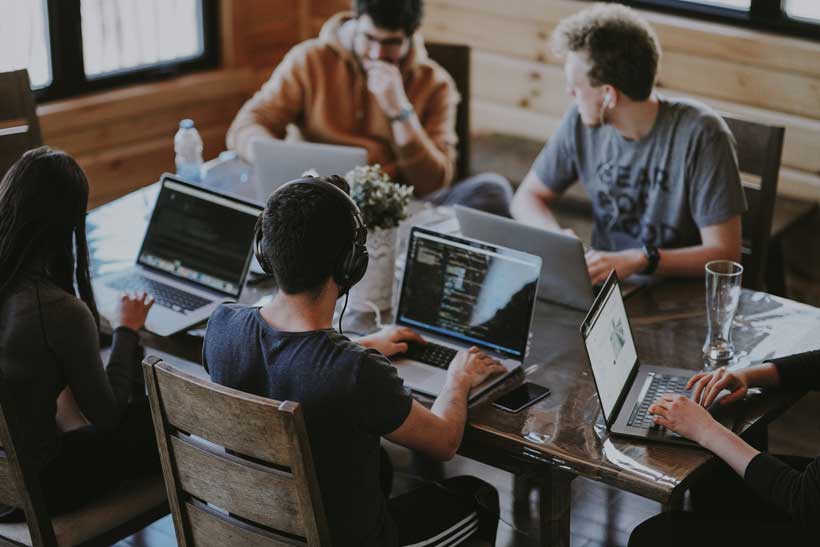 Authors: Cyril Ramaphosa and Stefan Löfven*
We stand at a crossroads as seismic shifts take place in the world of work.
Technological advances are changing the nature of many jobs, and leading to the need for new skills. The urgently required greening of economies to meet the challenge of climate change should bring further employment possibilities. Expanding youth populations in some parts of the world, ageing populations in others, may affect labour markets and social security systems.
On one path, countless opportunities lie ahead, not only to create jobs but also to improve the quality of our working lives. This requires that we reinvigorate the social contract that gives all partners a fair stake in the global economy.
On the other path, if we fail to prepare adequately for the coming challenges, we could be heading into a world that widens inequalities and leads to greater uncertainty.
The issues are complex. As co-chairs of the Global Commission on the Future of Work  we, and our fellow members of the Commission – leading figures from business and labour, think tanks, government and non-governmental organizations – have been examining the choices we need to make if we are to meet the challenges resulting from these transformations in the world of work and achieve social justice.
We call for a new, human-centred approach that allows everyone to thrive in a carbon neutral, digital age and affords them dignity, security, and equal opportunity. It must also meet the changing needs and challenges facing businesses and secure sustainable economic growth.
The opportunities are there to improve working lives, expand choice, close the gender gap and reverse the damage that has been wreaked by global inequality.
But it will need committed action on the part of governments and social partners to turn those opportunities into reality.
So how do we achieve this? Three areas of increased investment are needed:
First, we have to invest more in people's capabilities: This means establishing an effective lifelong learning system that enables people to skill, reskill and upskill – a system that spans early childhood and basic education through to adult learning. It also means investing in the institutions that will support people as they go through transitions in their working lives – from school leavers to older workers. Making gender equality a reality and providing social protection from birth to old age are also critical. These social investments will not only increase productivity. They will also allow for a more inclusive growth, where informal workers and business can both benefit from and contribute to a sound formal economy.
Second, we must invest more in the institutions of work – including the establishment and implementation of a Universal Labour Guarantee. This will ensure that all workers enjoy fundamental rights, an "adequate living wage", limits on their hours of work and safe and healthy workplaces. Linked to this, people need to have more control over their working time – while meeting the needs of enterprises – so that they can fulfill the full range of their responsibilities and develop their capabilities.
Collective representation through social dialogue between workers and employers needs to be actively promoted. Workers in the informal economy have often improved their working conditions by organizing. Unions need to expand membership to informal workers, whether they work in the rural economy, on the city streets of an emerging economy or on a digital platform. This is a critical step towards formalization and a tool for inclusion.
We're also calling for governance systems for digital labour platforms that will require these platforms and their clients to respect certain minimum standards.
Finally, we need to invest more in decent and sustainable work. This includes incentives to promote investments in key areas, such as the care economy, the green economy, and the rural economy, as well as high-quality physical and digital infrastructure. We must also reshape private sector incentive structures to encourage a long-term, human-centred approach to business. That includes fair tax policies and improved corporate accounting standards. We need to explore new measures of country progress to track important aspects of economic and social advancement.
Beyond these critical investments, there is a further opportunity: to place discussions about the future of work at the heart of the economic and social debates taking place at the high table of international policy-making. This could revitalize the multilateral system at a time when many are questioning its legitimacy and effectiveness.
Yet none of this will happen by itself. If change is the opportunity, we must seize the moment to renew the social contract and create a brighter future by delivering economic security, equal opportunity and social justice – and ultimately reinforce the fabric of our societies.
Stefan Löfven, Prime Minister of Sweden, co-chairs of the ILO Global Commission on the Future of Work