Oil price and the potential impacts to the global economy
It seems one cannot go a day without seeing a headline about the low price of oil and the potential impacts to the US and global economy and the oil and gas industry. In order to help make sense of the myriad of information available, we have broken down the issue into the following fundamental questions.
Why did oil prices correct so suddenly? Is the current low price environment due to lower demand or increased supply or a combination of both?
The answer is a combination of both. The correction is a net result of lower-than-projected demand growth and a remarkable increase in supply. On the demand side, in July 2014 the Energy Information Administration (EIA), International Energy Agency (IEA), and OPEC forecast 2015 global liquids growth to be 1.7 percent on average. However, these expectations declined to just 1.1 percent by December 2014, despite a low price environment that typically would have been conducive to boosting demand.i One reason for the muted demand response to the low price signal has been the increasing strength of the US dollar relative to other major world currencies. Notably, the US Dollar Index has risen nearly 15 percent to 97.4 since July 2014. A stronger dollar makes dollar-denominated crude more expensive for buyers using foreign currency. Consequently, while the United States is enjoying the full benefit of low prices, many other countries are only experiencing a portion of the price decline, giving them less reason to consume more petroleum products.
On the supply side, several years of $100/bbl oil drove tremendous production growth in many countries. US crude output, including lease condensate production, increased by over 2 MMbbl/d from 2012 to 2014. This domestic supply surge greatly offset US net crude oil imports, shrinking them from 8.5 MMbbl/d in 2012 to less than 7 MMbbl/d in 2014. Meanwhile, Brazil, Iraq, and Canada collectively added nearly 1 MMbbl/d over the same two-year period.
All told in 2014, production growth of 1.9 percent exceeded demand growth of 1 percent, leading to an inventory build-up of 500 thousand bbl/d with another 400 thousand bbl/d projected for 2015.
Is OPEC content to wait it out until high-cost producers fall by the wayside? Or, will OPEC cut production?
When oil prices first started to fall, many thought OPEC members might agree to cut production to support prices. However, members rejected that idea during their regularly scheduled meeting in November 2014, leaving OPEC's official crude production target unchanged at 30 MMbbl/d. In light of the news, the market responded with an immediate 10 percent decline in the price of WTI crude.
Why couldn't OPEC members agree on a strategic response despite the urgency of the situation? The opposing concerns of two different factions split the camp.
The fiscal breakeven cost is the price that OPEC producers need to receive for their oil in order to balance their government budgets, which are heavily reliant on oil revenue. When prices fall below the fiscal breakeven cost, oil-exporting economies must make up for the shortfall by drawing on cash reserves or reducing expenditures. Countries such as Iran, Venezuela, and Nigeria have high social costs and low cash reserves. The collapse in oil prices not only puts them under financial pressure but also potentially threatens the stability of their governments if transfer payments cannot be made. These fears make them more amenable to crying "uncle" and cutting production to boost prices.
Meanwhile, other OPEC members, such as Saudi Arabia, Kuwait, and the U.A.E., have cash reserves to finance the shortfall for many months. Their biggest fear is not near-term financial collapse, but instead long-term loss of market share. Here, the strong oil prices over the last few years have worked against them in some ways. Prices in the neighborhood of $100/bbl have facilitated significant growth in global crude production, particularly in North America. Today, the increasing volume of unconventional production in the US and Canada is changing import/export dynamics and decreasing western reliance on OPEC producers.
Rather than acting to defend prices, the Gulf producers within the organization, led by Saudi Arabia, are working to defend their global market share. In doing so, they are gambling that as the lower cost producers, OPEC members will ultimately prevail over more costly unconventional operators. Indeed, Saudi Arabia's oil minister Ali al-Naimi has stated directly that the kingdom will not intervene to support prices. "Whether it goes down to $20, $40, $50, $60, it is irrelevant … it is not in the interest of OPEC producers to cut their production, whatever the price is".
However, conventional oil field development generally requires years of planning and construction before the first barrels of oil are produced. Today's low prices may not be enough to curtail the numerous development projects already underway.
What is happening in China, the leading contributor to global growth? Is it rebalancing its economy or has it started a painful correction?
In 2014, the Chinese economy officially grew at a rate of 7.4 percent, down from 7.7 percent, which represented the slowest rate of growth in 24 years.ix In the fourth quarter of 2014, the economy was up 7.3 percent from a year earlier, a figure that was a bit better than what investors had expected, but still indicative of a continuing slowdown.x Moreover, the IMF now predicts that GDP growth will fall below the psychologically important 7.0 percent level in 2015.
This raises questions about China's future oil demand. In the past, China's focus on infrastructure and capital projects made it the second largest consumer of crude oil in the world, and it imported large volumes of it at market prices—however high. But its transition to a more consumer-oriented economy might make it more price-sensitive in the future. Regardless, industry stakeholders should stay abreast of economic developments in China, since the nation has been responsible for 55 percent of total growth in oil consumption worldwide between 2005 and 2013.
How much new supply is poised to come online in 2015 and 2016?
In 2014, new non-OPEC large-field projects (i.e., those producing over 25 thousand bbl/d each) collectively brought on 2.3 MMbbl/d in new supply. These efforts spanned diverse geographies and production methods, ranging from Brazil's offshore projects in the Roncador, Parque, Iracema, and Sapinhoa fields to Mars B in the Gulf of Mexico, and to Russian and Canadian oil sands projects. Notably, these supply additions excluded the numerous shale oil fields being developed in the US. OPEC also contributed to the expanding large-field supply picture, adding another 1.4 MM bbl/d of new oil production capacity in 2014.
For 2015, a Deloitte MarketPoint analysis suggests large-field projects could bring on 1.835 MMbbl/d in new supply (i.e., 1.2 MMbbl/d from non-OPEC producers and 0.635 MMbbl/d from OPEC members). These projects are well underway and are unlikely to be halted, even in the current low-price environment. Taking this momentum into account, the analysis further forecasts large-field production additions of 2.676 – 3.434 MMbbl/d from non-OPEC producers and 0.759 MMbbl/d from OPEC members in 2016.
For the past two years, US tight oil production has grown at an annual rate of approximately 1 MMbbl/d. This growth is expected to continue in 2015, but at a slower rate.xvii While the recent drop in crude prices has squeezed the capex budgets of shale producers, some reportedly have been able to lower their operating costs to below $40/bbl through efficiency gains and better economics in the "sweet spots" of the shale plays. As a result, production growth is expected to continue in the short term despite low prices, albeit more slowly than in prior years. While there is no consensus on the extent to which growth will slow, many analysts expect declines of 300-500 thousand bbl/d off the 2014 pace.
It is important to note that the world experiences a four to five percent production loss per year just from normal depletion. So the added production has to equal this amount if we are to stay even with no additional growth.
Will the industry stabilize and balance after 2016?
Based on current data, demand should grow faster than supplies starting in 2016. Low prices over the next few years will likely inhibit investment in new projects—especially those in the early stages of discussion or in the engineering and design phases. It should also bolster demand, due to price elasticity,much faster than otherwise would be the case.
What does the future look like in 2020?
By simulating how the aforementioned variables could affect market conditions, the Deloitte MarketPoint World Oil Model (the Model) provides some insight into where prices might be headed. The findings from the Model's output include the following:
• Based on the EIA's estimates, production is expected to continue to outpace demand in 2015 by approximately 400 thousand/bbd. This assumption is driven largely by continued production growth through the first half of 2015 as many producers strive to complete projects falling into the "too late to turn back" category and as yet-to-expire hedging contracts allow them to continue producing despite uneconomic market conditions.
• On a half-cycle basis, oil prices could fall below $40 bbl. There have been several periods in the last 25 years where prices have dipped well below this level. However, in the current market environment, some of the very low prices witnessed in the past are unlikely to reappear, at least on a sustained basis. Since oil markets are self-correcting, market forces should trigger an adjustment, mainly through low prices that engender more demand, decrease marginal, high-cost supply, and encourage supply depletion. This suggests that historically low prices could not be sustained for more than 3 to 12 months, absent other drivers affecting demand.
• If the low-price environment continues as expected through the first half of 2015, it should trigger a demand response that will likely be felt in the second half of the year. This is the same time period when cut-backs on the number of shale drilling rigs in operation, expiring hedging contracts, and other production-related belt-tightening should start to have a more prominent effect on production growth and market perception.
• As a result, Deloitte MarketPoint forecasts crude prices to rise in the second half of 2015, elevating the average annual price above present levels. Additionally, the forecast expects the average 2015 WTI price to reach $62/bbl and then to rise gradually over the next few years until it reaches a new steady range of $75-$80/bbl (i.e., combined WTI and Brent world crude price) as early as 2018. This new equilibrium price is approximately $20/bbl lower than the steady state achieved in previous years, because it reflects two new circumstances in the marketplace:
Prior to the "shale revolution," there was a scarcity premium of $10-$20/bbl in place. With the newfound abundance of tight oil in the US and potentially in other areas around the globe, that scarcity premium has been reduced.
Producers in high-cost regions, such as the Canadian oil sands and certain tight oil plays in the US, have continued to improve their margins through technological innovation. While their margins will be lower in the new equilibrium-price environment, they should still be able to operate profitably.
The Deloitte MarketPoint price forecast is only one possibility among a multitude of potential outcomes. Changes in key assumptions, such as the magnitude of the demand response as well as the trajectory of tight oil production growth, would greatly change this picture. With only negligible shifts in demand or production in the next 12 to 18 months, the average price could likely be lower, and the recovery would likely be "U" shaped, reinforcing the price signal to shale producers to decrease production.
Forces that could potentially make upside price scenarios more likely include any number of black swan events affecting supply or the perception of supply scarcity. However, since oil markets are highly cyclical, they tend to overshoot or undershoot most long-term outlooks. The current price environment has, or soon will, curb many development plans. These can be restarted in the future once the pricing environment becomes more favorable, but the lag could just be the catalyst for pushing the market back into a scarcity mindset sooner than expected.
History has demonstrated that the oil and gas industry is resilient. Oil prices are rarely stable for extended periods of time, and the industry has shown a remarkable ability to adapt and thrive as cycles change. Even after analyzing market fundamentals and other variables, the questions keep coming: Will demand continue to moderate or grow in the face of lower gasoline prices? Will companies become more efficient, leading to lower breakeven prices for US shale plays? How will global/political circumstances change?
While forecasts can be helpful for thinking about possibilities, the future is never entirely visible. However, one thing is clear: Many oil and gas companies will need to retrench and determine how they can best adapt and manage change in this challenging environment. Enlightened companies will use this time as an opportunity to improve their organizations by continuing to focus on:
• Enhanced efficiency and performance through business process and/or supply chain optimization
• Strategic and operational improvements
• Reduced and/or refocused capital expenditures
• Portfolio upgrades through acquisitions and/or divestitures
• Talent acquisitions
Cambodia: Electricity Access Increased, Reliability Needs Improvement
While access to grid electricity has expanded in Cambodia to 71.5 percent, reliability of electricity supply can be improved, as nearly two-thirds of households with access face frequent power shortages, says a new World Bank report.
The report, called Cambodia Beyond Connections: The Energy Access Diagnostic Based on a Multi-Tier Framework, looks at, among other factors, the capacity, reliability, affordability, and safety of the country's energy sector. Nationwide, nearly 90 percent of Cambodian households have access to at least four hours of electricity a day.
"Cambodia has made rapid progress in increasing access to electricity for villages and consumers, but progress has been achieved at a cost. It is time now to turn our attention to strengthening the reliability and quality of electricity supply, which would enable families and business to flourish," said H.E. Ty Norin, Chairman of Electricity Authority Cambodia.
Some 30 percent of rural households rely on off-grid power for electricity, including solar home systems, solar lanterns, and rechargeable batteries. With improvement of transmission and distribution systems, as well as promotion of expanded grid connections and solar home systems, Cambodia will strengthen the potential of its economy.
"Energy is critical for enhancing industrial competitiveness that create more jobs, and improving public services that broaden opportunities – leading to a better quality of life for all Cambodians," said Inguna Dobraja, World Bank Country Manager for Cambodia. "Cambodia is the first country in the East Asia and Pacific region to carry out the Multi-Tier Framework survey, which offers detailed household data on energy that will strengthen policy-making for the energy sector."
The report's policy recommendations include expanding access to modern energy cooking solutions. More than 66 percent of households still use biomass stoves, hence helping families – particularly low-income and female-headed households – gain access to clean fuels and stoves would reduce health risks.
"While tremendous strides have been made in expanding access to electricity, gains in efficiency, reliability and affordability will lead to even brighter prospects for families, business, and the country. We stand by to assist the government in their efforts to achieve reliable, affordable, and modern energy service by 2030," said Julia Fraser, Manager for the World Bank's Energy and Extractives Global Practice in East Asia.
Global energy demand grew by 2.1% in 2017- carbon emissions rose for the first time since 2014
Global energy demand rose by 2.1% in 2017, more than twice the previous year's rate, boosted by strong global economic growth, with oil, gas and coal meeting most of the increase in demand for energy, and renewables seeing impressive gains.
Over 70% of global energy demand growth was met by oil, natural gas and coal, while renewables accounted for almost all of the rest. Improvements in energy efficiency slowed down last year. As a result of these trends, global energy-related carbon dioxide emissions increased by 1.4% in 2017, after three years of remaining flat.
But carbon emissions, which reached a historical high of 32.5 gigatonnes in 2017, did not rise everywhere. While most major economies saw a rise, others – the United States, the United Kingdom, Mexico and Japan – experienced declines. The biggest drop in emissions came from the United States, driven by higher renewables deployment.
These findings are part of the International Energy Agency's newest resource – the Global Energy and CO2 Status Report, 2017 – released online today, which provides an up-to-date snapshot of recent trends and developments across all fuels.
"The robust global economy pushed up energy demand last year, which was mostly met by fossil fuels, while renewables made impressive strides," said Dr Fatih Birol, the IEA's Executive Director. "The significant growth in global energy-related carbon dioxide emissions in 2017 tells us that current efforts to combat climate change are far from sufficient. For example, there has been a dramatic slowdown in the rate of improvement in global energy efficiency as policy makers have put less focus in this area."
Other key findings of the report for 2017 include:
– Oil demand grew by 1.6%, more than twice the average annual rate seen over the past decade, driven by the transport sector (in particular a growing share of SUVs and trucks in major economies) as well as rising petrochemical demand.
– Natural gas consumption grew 3%, the most of all fossil fuels, with China alone accounting for nearly a third of this growth, and the buildings and industry sectors contributing to 80% of the increase in global demand.
– Coal demand rose about 1%, reversing declines over the previous two years, driven by an increase in coal-fired electricity generation mostly in Asia.
– Renewables had the highest growth rate of any fuel, meeting a quarter of world energy demand growth, as renewables-based electricity generation rose 6.3%, driven by expansion of wind, solar and hydropower.
– Electricity generation increased by 3.1%, significantly faster than overall energy demand, and India and China together accounting for 70% of the global increase.
– Energy efficiency improvements slowed significantly, with global energy intensity improving by only 1.7% in 2017 compared with 2.3% on average over the last three years, caused by an apparent slowdown in efficiency policy coverage and stringency and lower energy prices.
– Fossil fuels accounted for 81% of total energy demand in 2017, a level that has remained stable for more than three decades.
Forum held in Kigali on increasing access to sustainable energy in East Africa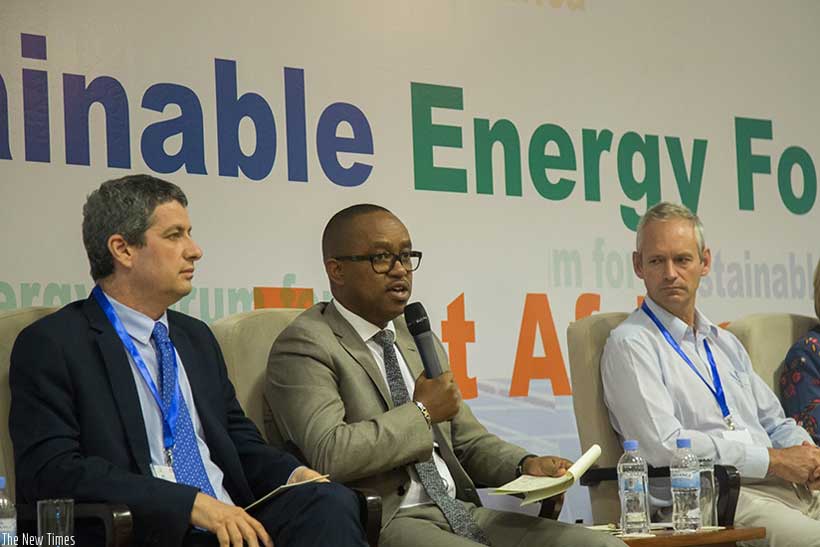 The Sustainable Energy Forum for East Africa took place between 19 and 21 March 2018 in Kigali, Rwanda. Over 400 high-level representatives from government, business, civil society and international organizations came together to discuss how to increase access to sustainable energy in East African countries.
Three days of discussions focused on the actions needed to scale up sustainable energy development in the region.
"There is need to work together with partners and identify key areas for development of the sustainable energy in the  region as part of our  efforts of  fulfilling the pledge made in the 2030 Agenda for Sustainable Development and the associated Sustainable Development Goals', said James Musoni, Rwanda's Minister of Infrastructure.
While the various sessions showcased a diverse set of country experiences in sustainable energy, from scaling up access to electricity to clean cooking fuels, there was a general agreement on the need for new policies and enhanced financing for renewable energy sources and energy efficiency worldwide. To meet these goals, a combination of public and private, and domestic and international resources will be required. Engaging all relevant stakeholders is critical to stimulating progress in the energy transition and achieving the global energy goals.
Rachel Kyte, Special Representative to the UN Secretary-General and CEO, Sustainable Energy for All, said: "There is a lot of good happening in East Africa's energy transition. However, progress is not at the speed or scale we need to ensure that we don't leave anyone behind. Continued strong political leadership is crucial to achieve energy productivity across economies, accelerate progress on access to electricity and clean fuels for cooking, and to further increase the share of renewable energy in the mix. East Africa has abundant renewable resources and business ingenuity, and can attract financing. With disciplined leadership and greater ambition, it can deliver an energy future for everyone."
Another topic highlighted by participants was the relationship between energy and gender. There was a general understanding that the different needs for men and women should be taken into account in sustainable energy programmes and policies in order to increase their effectiveness.
Three reports produced by the United Nations Industrial Development Organization (UNIDO) were released in support of the activities conducted at the Forum. The first study reflects on the main barriers to, and achievements of gender equality in the energy sector in the EAC. Another provides an inventory of ongoing and planned initiatives of sustainable city development across the region. The third study examines clean cooking fuels in the EAC.
Tareq Emtairah, Director of Energy, UNIDO, said "it is important to recognize the vast renewable energy potential in the EAC Partner states. Exploiting these locally available renewable energy resources is a great way to address major challenges such as poverty, energy security, industrial development and environment."
The Sustainable Energy Forum for East Africa was organized by the East African Centre for Renewable Energy and Energy Efficiency (EACREEE) in collaboration with UNIDO, the EAC Secretariat, the Austrian Development Agency (ADA), Sustainable Energy For All (SEforALL), and the Ministry of Infrastructure of the Republic of Rwanda (MININFRA), and is hosted by the Government of Rwanda.
It was the first of a series of events that will take place in 2018 with the aim of increasing progress on Sustainable Development Goal 7, which focuses on the global effort to ensure access to affordable, reliable, sustainable and modern energy for all.
"Renewable energy and energy efficiency technologies and interventions should be deployed to address global challenges such as population growth and migrations, urban development, climate change mitigation and adaptation, poverty, social, political, health and gender inequalities. Let us double our efforts and keep the momentum high," said Jesca Eriyo, EAC Deputy Secretary General in charge of Finance and Administration.