Oil price and the potential impacts to the global economy
It seems one cannot go a day without seeing a headline about the low price of oil and the potential impacts to the US and global economy and the oil and gas industry. In order to help make sense of the myriad of information available, we have broken down the issue into the following fundamental questions.
Why did oil prices correct so suddenly? Is the current low price environment due to lower demand or increased supply or a combination of both?
The answer is a combination of both. The correction is a net result of lower-than-projected demand growth and a remarkable increase in supply. On the demand side, in July 2014 the Energy Information Administration (EIA), International Energy Agency (IEA), and OPEC forecast 2015 global liquids growth to be 1.7 percent on average. However, these expectations declined to just 1.1 percent by December 2014, despite a low price environment that typically would have been conducive to boosting demand.i One reason for the muted demand response to the low price signal has been the increasing strength of the US dollar relative to other major world currencies. Notably, the US Dollar Index has risen nearly 15 percent to 97.4 since July 2014. A stronger dollar makes dollar-denominated crude more expensive for buyers using foreign currency. Consequently, while the United States is enjoying the full benefit of low prices, many other countries are only experiencing a portion of the price decline, giving them less reason to consume more petroleum products.
On the supply side, several years of $100/bbl oil drove tremendous production growth in many countries. US crude output, including lease condensate production, increased by over 2 MMbbl/d from 2012 to 2014. This domestic supply surge greatly offset US net crude oil imports, shrinking them from 8.5 MMbbl/d in 2012 to less than 7 MMbbl/d in 2014. Meanwhile, Brazil, Iraq, and Canada collectively added nearly 1 MMbbl/d over the same two-year period.
All told in 2014, production growth of 1.9 percent exceeded demand growth of 1 percent, leading to an inventory build-up of 500 thousand bbl/d with another 400 thousand bbl/d projected for 2015.
Is OPEC content to wait it out until high-cost producers fall by the wayside? Or, will OPEC cut production?
When oil prices first started to fall, many thought OPEC members might agree to cut production to support prices. However, members rejected that idea during their regularly scheduled meeting in November 2014, leaving OPEC's official crude production target unchanged at 30 MMbbl/d. In light of the news, the market responded with an immediate 10 percent decline in the price of WTI crude.
Why couldn't OPEC members agree on a strategic response despite the urgency of the situation? The opposing concerns of two different factions split the camp.
The fiscal breakeven cost is the price that OPEC producers need to receive for their oil in order to balance their government budgets, which are heavily reliant on oil revenue. When prices fall below the fiscal breakeven cost, oil-exporting economies must make up for the shortfall by drawing on cash reserves or reducing expenditures. Countries such as Iran, Venezuela, and Nigeria have high social costs and low cash reserves. The collapse in oil prices not only puts them under financial pressure but also potentially threatens the stability of their governments if transfer payments cannot be made. These fears make them more amenable to crying "uncle" and cutting production to boost prices.
Meanwhile, other OPEC members, such as Saudi Arabia, Kuwait, and the U.A.E., have cash reserves to finance the shortfall for many months. Their biggest fear is not near-term financial collapse, but instead long-term loss of market share. Here, the strong oil prices over the last few years have worked against them in some ways. Prices in the neighborhood of $100/bbl have facilitated significant growth in global crude production, particularly in North America. Today, the increasing volume of unconventional production in the US and Canada is changing import/export dynamics and decreasing western reliance on OPEC producers.
Rather than acting to defend prices, the Gulf producers within the organization, led by Saudi Arabia, are working to defend their global market share. In doing so, they are gambling that as the lower cost producers, OPEC members will ultimately prevail over more costly unconventional operators. Indeed, Saudi Arabia's oil minister Ali al-Naimi has stated directly that the kingdom will not intervene to support prices. "Whether it goes down to $20, $40, $50, $60, it is irrelevant … it is not in the interest of OPEC producers to cut their production, whatever the price is".
However, conventional oil field development generally requires years of planning and construction before the first barrels of oil are produced. Today's low prices may not be enough to curtail the numerous development projects already underway.
What is happening in China, the leading contributor to global growth? Is it rebalancing its economy or has it started a painful correction?
In 2014, the Chinese economy officially grew at a rate of 7.4 percent, down from 7.7 percent, which represented the slowest rate of growth in 24 years.ix In the fourth quarter of 2014, the economy was up 7.3 percent from a year earlier, a figure that was a bit better than what investors had expected, but still indicative of a continuing slowdown.x Moreover, the IMF now predicts that GDP growth will fall below the psychologically important 7.0 percent level in 2015.
This raises questions about China's future oil demand. In the past, China's focus on infrastructure and capital projects made it the second largest consumer of crude oil in the world, and it imported large volumes of it at market prices—however high. But its transition to a more consumer-oriented economy might make it more price-sensitive in the future. Regardless, industry stakeholders should stay abreast of economic developments in China, since the nation has been responsible for 55 percent of total growth in oil consumption worldwide between 2005 and 2013.
How much new supply is poised to come online in 2015 and 2016?
In 2014, new non-OPEC large-field projects (i.e., those producing over 25 thousand bbl/d each) collectively brought on 2.3 MMbbl/d in new supply. These efforts spanned diverse geographies and production methods, ranging from Brazil's offshore projects in the Roncador, Parque, Iracema, and Sapinhoa fields to Mars B in the Gulf of Mexico, and to Russian and Canadian oil sands projects. Notably, these supply additions excluded the numerous shale oil fields being developed in the US. OPEC also contributed to the expanding large-field supply picture, adding another 1.4 MM bbl/d of new oil production capacity in 2014.
For 2015, a Deloitte MarketPoint analysis suggests large-field projects could bring on 1.835 MMbbl/d in new supply (i.e., 1.2 MMbbl/d from non-OPEC producers and 0.635 MMbbl/d from OPEC members). These projects are well underway and are unlikely to be halted, even in the current low-price environment. Taking this momentum into account, the analysis further forecasts large-field production additions of 2.676 – 3.434 MMbbl/d from non-OPEC producers and 0.759 MMbbl/d from OPEC members in 2016.
For the past two years, US tight oil production has grown at an annual rate of approximately 1 MMbbl/d. This growth is expected to continue in 2015, but at a slower rate.xvii While the recent drop in crude prices has squeezed the capex budgets of shale producers, some reportedly have been able to lower their operating costs to below $40/bbl through efficiency gains and better economics in the "sweet spots" of the shale plays. As a result, production growth is expected to continue in the short term despite low prices, albeit more slowly than in prior years. While there is no consensus on the extent to which growth will slow, many analysts expect declines of 300-500 thousand bbl/d off the 2014 pace.
It is important to note that the world experiences a four to five percent production loss per year just from normal depletion. So the added production has to equal this amount if we are to stay even with no additional growth.
Will the industry stabilize and balance after 2016?
Based on current data, demand should grow faster than supplies starting in 2016. Low prices over the next few years will likely inhibit investment in new projects—especially those in the early stages of discussion or in the engineering and design phases. It should also bolster demand, due to price elasticity,much faster than otherwise would be the case.
What does the future look like in 2020?
By simulating how the aforementioned variables could affect market conditions, the Deloitte MarketPoint World Oil Model (the Model) provides some insight into where prices might be headed. The findings from the Model's output include the following:
• Based on the EIA's estimates, production is expected to continue to outpace demand in 2015 by approximately 400 thousand/bbd. This assumption is driven largely by continued production growth through the first half of 2015 as many producers strive to complete projects falling into the "too late to turn back" category and as yet-to-expire hedging contracts allow them to continue producing despite uneconomic market conditions.
• On a half-cycle basis, oil prices could fall below $40 bbl. There have been several periods in the last 25 years where prices have dipped well below this level. However, in the current market environment, some of the very low prices witnessed in the past are unlikely to reappear, at least on a sustained basis. Since oil markets are self-correcting, market forces should trigger an adjustment, mainly through low prices that engender more demand, decrease marginal, high-cost supply, and encourage supply depletion. This suggests that historically low prices could not be sustained for more than 3 to 12 months, absent other drivers affecting demand.
• If the low-price environment continues as expected through the first half of 2015, it should trigger a demand response that will likely be felt in the second half of the year. This is the same time period when cut-backs on the number of shale drilling rigs in operation, expiring hedging contracts, and other production-related belt-tightening should start to have a more prominent effect on production growth and market perception.
• As a result, Deloitte MarketPoint forecasts crude prices to rise in the second half of 2015, elevating the average annual price above present levels. Additionally, the forecast expects the average 2015 WTI price to reach $62/bbl and then to rise gradually over the next few years until it reaches a new steady range of $75-$80/bbl (i.e., combined WTI and Brent world crude price) as early as 2018. This new equilibrium price is approximately $20/bbl lower than the steady state achieved in previous years, because it reflects two new circumstances in the marketplace:
Prior to the "shale revolution," there was a scarcity premium of $10-$20/bbl in place. With the newfound abundance of tight oil in the US and potentially in other areas around the globe, that scarcity premium has been reduced.
Producers in high-cost regions, such as the Canadian oil sands and certain tight oil plays in the US, have continued to improve their margins through technological innovation. While their margins will be lower in the new equilibrium-price environment, they should still be able to operate profitably.
The Deloitte MarketPoint price forecast is only one possibility among a multitude of potential outcomes. Changes in key assumptions, such as the magnitude of the demand response as well as the trajectory of tight oil production growth, would greatly change this picture. With only negligible shifts in demand or production in the next 12 to 18 months, the average price could likely be lower, and the recovery would likely be "U" shaped, reinforcing the price signal to shale producers to decrease production.
Forces that could potentially make upside price scenarios more likely include any number of black swan events affecting supply or the perception of supply scarcity. However, since oil markets are highly cyclical, they tend to overshoot or undershoot most long-term outlooks. The current price environment has, or soon will, curb many development plans. These can be restarted in the future once the pricing environment becomes more favorable, but the lag could just be the catalyst for pushing the market back into a scarcity mindset sooner than expected.
History has demonstrated that the oil and gas industry is resilient. Oil prices are rarely stable for extended periods of time, and the industry has shown a remarkable ability to adapt and thrive as cycles change. Even after analyzing market fundamentals and other variables, the questions keep coming: Will demand continue to moderate or grow in the face of lower gasoline prices? Will companies become more efficient, leading to lower breakeven prices for US shale plays? How will global/political circumstances change?
While forecasts can be helpful for thinking about possibilities, the future is never entirely visible. However, one thing is clear: Many oil and gas companies will need to retrench and determine how they can best adapt and manage change in this challenging environment. Enlightened companies will use this time as an opportunity to improve their organizations by continuing to focus on:
• Enhanced efficiency and performance through business process and/or supply chain optimization
• Strategic and operational improvements
• Reduced and/or refocused capital expenditures
• Portfolio upgrades through acquisitions and/or divestitures
• Talent acquisitions
Role of Renewable Energy in Mitigating Climate Change as part of Saudi Vision 2030
Growing up in Saudi Arabia between the first and third decade of the 21st century, I, like most others, was aware of the slow yet noticeable changes in the Saudi climate over the years. The curse of climate change became apparent, with rain getting intense and flash floods ravaging coastal cities frequently. I was in Jeddah during the 2009 flash floods and witnessed firsthand the horrors the locals went through, with 122 dead and more than 350 never to be found again. Such a harrowing change in climate in a short span is concerning for the public as well as the policymakers who have begun to look for solutions, particularly in renewable energy.
The kingdom is part of some of the countries that are most vulnerable to climate change. Saudi Arabia has an acute water shortage issue that poses a threat to its people and the environment. Besides water scarcity, the kingdom is also a potential victim of rising sea levels (a 3mm increase per year), with about 210,000 people at risk of flooding by 2050. Temperature rises are also a concern for the Saudis, studies predict an increase between 3 to 4.2 degrees Celsius of daily surface mean temperature in the long run. According to The Climate and Atmosphere Research Center, about 600 million people in the Middle East and North Africa are at risk of heat exhaustion and heart attacks due to heat waves by the start of the next century. Extreme rainfall is also a potentially lethal impact of climate change on Saudi Arabia, as evident by the 2009 and 2018 flash floods. Precipitation in the kingdom is anticipated to increase by around 23%-41% in the long run due to climate change, which only aggravates existing issues.
Since Saudi Arabia depends on oil for its income, any factors affecting it will affect the economy and the people. Due to changes in trends, oil demand is constantly decreasing due to the increased popularity of green energy, causing oil prices to fluctuate since 2014. Studies show that the kingdom must keep about 68% of its oil reserves and 85% of its fossil fuels untouched to keep warming below 1.5 – 2 degrees Celsius. Moreover, the Middle East must abandon 40% of its oil and 60% of its natural gas reserves. Since the kingdom relies on oil for most of its income, such measures will prove detrimental to its economy and ultimately its people.
Therefore, in 2016, the kingdom announced plans for Vision 2030, which aimed to curtail many of the issues surrounding climate change using renewable energies. For this purpose, the Saudi Green Initiative was launched in 2016 and aimed to eliminate emissions by 2060. The kingdom plans to invest more than $100 billion into the project to achieve its objectives. However, there is reasonable doubt about these goals, which may sound overly ambitious. As the country continues to receive criticism from the Climate Change Performance Index which gives it an average ranking of 62nd. Therefore, there is considerable risk involved as the country is currently not on track with the Paris Agreement's 1.5-degree Celsius limit.
During the past seven years, Saudi Arabia has invested approximately $400 billion into renewable energy, with plans to invest an additional $30 billion in the next two years. As part of Vision 2030, the government plans to achieve renewable and sustainable energy projects for 9.5 GW of RnSE (Renewable and Sustainable Energy). However, energy demand is projected to rise to 120 GW by 2032, which is much more than what is currently being worked on. The government plans to invest in solar, wind, and hydropower energy to achieve its energy demands and mitigate climate change.
Saudi Arabia has immense potential for solar power, after the government's testing through 46 weather stations across the country. It has a large surface area and lies in the Global Sunbelt. Through solar power, the kingdom plans to generate 42.7 GW of energy. In 2019, the kingdom connected the 300 MW Sakaka power plant, 10 MW Layla al-Aflaj power plant, and 50 MW Waad al-Shamal power plant to the rest of the country. Furthermore, the Saudis have shown interest in seven additional plants in Madinah, Rafha, al-Qurayyat, al-Faisaliah, Rabigh, Jeddah, and Mahd al-Dahab with a combined capacity of 1.52 GW. In 2020, further progress was made by embarking on four more plants with a total capacity of 1,200 MW. The Saudis have made promising progress in solar energy, as evidenced by the kingdom becoming the 6th largest in solar energy generation, with plans to generate a third of their energy from solar power. However, there are large sums of costs associated with solar panels, along with dealing with external factors such as high temperatures, dust, and humidity that reduce efficiency. It can also backfire and damage the environment by causing soil erosion. On the other hand, it has been argued that the benefits outweigh the drawbacks as it is renewable and produces zero air and water pollution, which is why the Saudi government should continue to explore this option with the same momentum they currently maintain as it provides the opportunity to explore other economic policies such as carbon taxes.
The kingdom has also invested in wind energy to generate 16 GW of energy. A $500 million wind project in Daumat al-Jandal was funded by the government in 2017. ARAMCO also installed two 2.75 MW plants in Turaif and Huraymila in 2017 and 2019. Aiming to exploit its wind potential, the kingdom intends to become one the largest wind energy markets in the next half of the century. However, it requires a constant volume of wind, which is projected to decrease in the kingdom. It can damage the environment by harming the land and killing birds. However, this drawback has been explored by researchers and newer models of wind turbines are more efficient at maximizing productivity and minimizing drawbacks. Moreover, the wind farms often add to the scenic beauty which can come in handy for the kingdom that is seeking to make tourism 65% of its GDP by 2030.
The kingdom currently relies on desalination plants to curb its water shortage, producing around 4 MCM per day. It seeks to increase the number to 8.5 MCM per day by 2025 with its 28 distillation plants to achieve climate objectives. The desalination plants can also be used to produce hydropower, particularly the Ras al Khair plant, as well as others such as the ones in Jubail, Khobar, al-Khafji, Jeddah, al-Shuaibah, Yanbu, and al-Shuqaiq. However, the kingdom faces drawbacks in maximizing hydropower production due to its unfriendly landscape for dams and the lack of water bodies. Moreover, the kingdom is a tribal society at heart in its vast deserts which retains the propensity of social conflicts between the government and the locals, as had happened in the Tabuk region between the state and Huwait tribe due to the construction of NEOM and The Line. Therefore, hydropower may not be a viable option for Saudi Arabia, but it is still a viable substitute.
Renewable energy will provide unsurmountable benefits to Saudi Arabia. Studies show that the GCC region can rid itself of almost one gigaton of carbon emissions and save around $87 billion in reserves. Renewable and sustainable energy will also create many jobs for Saudis, estimated to be 80,000 by 2030. It will also preserve the rapidly depleting oil reserves of the country and reduce carbon emissions by almost 3kgs for every m3 of produced water.
There are certain challenges and risks that the Saudis currently face. There is a lack of coordination between different institutions of the state to execute policies and collect data. This causes a gap in accessible knowledge and data, clouding analysis and making it difficult to measure progress. Professionals and academics must be aware of the intensity of climate change and that is not possible without concrete data produced by trustworthy sources such as government institutions. This could also result in the misallocation of funds and resources which hinder further progress as policymakers would have a low-resolution picture of the cost of operations. Therefore, organizations like King Abdulaziz City for Science and Technology (KACST), King Abdullah University of Science and Technology (KAUST), King Abdullah Petroleum Studies and Research Center (KAPSARC), King Abdullah City for Atomic and Renewable Energy (KACARE), and others, must increase collaboration, coordination, and integration to make data more readily available both to the government and the public. Moreover, it is not possible to counter climate change solely through national programs, neighboring countries in the Middle East also need to cooperate with the Saudis to collectively deal with the issue, however, that is not always possible due to domestic issues such as civil wars, terrorism, natural disasters, and so on. These issues will jeopardize any efforts toward a sustainable future and further worsen the impact of climate change in the Middle East.
Italian Eni: Energy Transition and Economic Development as Fundamental Pillars of Approach in Africa
Eni, an Italian multinational energy giant headquartered in Rome, in its latest 2022 report has outlined the main outcomes and objectives in the energy transition pathways for a number of African countries. It described Eni's contribution to a just transition that ensures access to efficient and sustainable energy, sharing the social and economic benefits of the path towards net zero emissions by 2050 with employees, suppliers, communities, and customers with an inclusive and transparent approach.
"In addressing the challenges in the energy sector that Eni faces, we keep our priorities firmly on track with an ongoing commitment to promote energy access, local development, and environmental protection," said Claudio Descalzi, Eni's Chief Executive Officer.
She explained that the success of Eni's strategy could not be achieved without collaboration with key stakeholders, from private individuals to the public sector, international organizations, civil society associations, and research institutes. "Today, more than ever, it is necessary to pool resources and human capital, through a broad vision that allows us to align our common goals, to reduce geographical gaps and promote global human progress," said Claudio Descalzi.
With regards to the carbon neutrality strategy, Eni remained firm in its commitments towards net zero emissions by 2050 and confirmed all its decarbonization targets, which are anchored on sound investments.
The company achieved a 17% reduction in Scope 1, 2 and 3 emissions, compared to 2018 levels, and continued implementing the necessary measures to achieve Scope 1 and 2 net zero emissions in the Upstream by 2030, by investing in emission-reduction technologies and developing low-carbon projects. In this context, in 2023, Eni launched the FPSO that will be used for production from the Baleine field in Côte d'Ivoire, the most important discovery ever made in the country and the first net zero development for Scope 1 and 2 emissions in Africa.
In Eni's strategy, the United Nations Sustainable Development Goals are a fundamental reference for conducting activities in the countries of operations. Agri-business projects, for example, embodies the fundamental pillars of Eni approach for the just transition, an energy transition with a strong innovative component combined with a concrete focus on the social dimension.
In this context, Eni is committed to ensure that the decarbonization process offers opportunities to convert existing activities and develop new production chains with significant perspectives in the countries where it operates.
In 2022, the first cargo of vegetable oil produced in Kenya not competing with the food production chain, from waste and raw materials produced on degraded land, was delivered to Eni's biorefining plant in Gela, with substantial positive impacts on employment and local development. The model will be replicated in other countries.
To achieve a just transition, particular attention was paid to initiatives to promote access to energy and education in the countries of operation. These include the projects in Côte d'Ivoire, Mozambique, and Ghana to facilitate access to clean cooking.
In Côte d'Ivoire, more than 20,000 cooking stoves were distributed in just six months, reaching more than 100,000 beneficiaries. Eni has promoted the right to education in Congo, Ghana, Iraq, Mexico, Mozambique, and Egypt, where it opened the Zohr Applied Technology School to significantly increase the number of youths with upgraded technical and professional skills in the energy and technology fields.
With revenues of around €92.2 billion, Eni ranked 111th on both the Fortune Global 500 and the Forbes Global 2000 in 2022, making it the third-largest Italian company on the Fortune list (after Assicurazioni Generali and Enel) and second largest on the Forbes list (after Enel). Per the Fortune Global 500, Eni is the largest petroleum company in Italy, the second largest based in the European Union (after TotalEnergies), and the 13th largest in the world.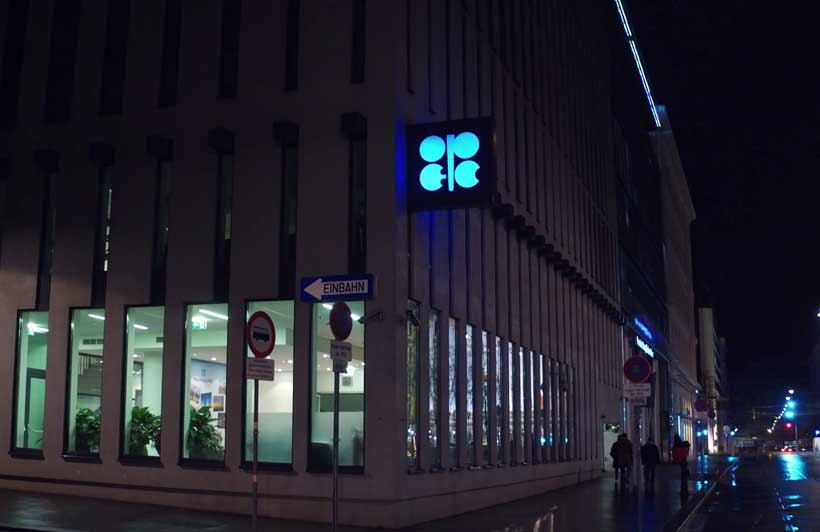 On April 3, 2023, OPEC published a press release saying that a number of countries, both members of this cartel and those participating in the extended OPEC+ format, decided to cut oil production. This was unexpected for the market as OPEC+ managed to keep things in secret until the official publication. Previously, media usually did receive some information about the forthcoming decisions. Alternatively, numerous officials would openly state that the possibility of altering the crude production volumes was under consideration. Moreover, public statements intended OPEC+ willingness to influence the market by changing the quotas have traditionally been an independent instrument of manipulating the oil market. Such moves are known as "verbal intervention." Yet, OPEC+ has scrapped the trick this time, realizing that its effect is too short-lived, whereas the goal of oil-exporting nations is wielding at least mid-term influence on the market.
The volumes to be reduced, as announced by the OPEC+ member states, were also quite unexpected. On April 3, they declared their intention to cut production by 1.16 million bpd starting in May 2023, but if we take into account Russia's announced cut by 500 thousand bpd from March 2023, the total reduction of global supply will be close to 1.66 million bpd. These are significant volumes on a global scale. At present, the market is close to equilibrium in terms of demand and supply, so the 1.66 mln cut in crude oil production may tip the scale towards the deficit, which will affect the prices.
Early in April, it was also announced by the countries willing to comply with the OPEC+ quotas that they would make extra cuts voluntarily, which might unbalance the market even further. The fact of the matter is that many parties to the agreement, for their own internal reasons, cannot produce as much oil as they are permitted as per OPEC+ quotas. By the way, since 2021, Russia has been one of those producers. Yet, it was the states actually fulfilling the quotas that announced the reduction in April 2023.
| | |
| --- | --- |
| Country | Production Cuts, thousand bpd |
| Saudi Arabia | 500 |
| Iraq | 211 |
| UAE | 144 |
| Kuwait | 128 |
| Kazakhstan | 78 |
| Algeria | 48 |
| Oman | 40 |
| Gabon | 8 |
| Total | 1,157 |
Source: OPEC
One important pattern is worthy of note. Previously, OPEC+ generally cut production quotas proportionally for all parties to the agreement. This meant that the actual supply reduction was less than the declared curtailment of quotas as some countries do not produce as much as they are allowed under quotas. For such countries, quota cuts simply result in narrowing the gap between their actual production and the allowed "cap." In the April decision, the OPEC+ countries formally proceed from the quotas—however,since they mostly reached the cap in their production, the gap between the declared and the real reduction will be tiny.
Russia, for its part, declared a reduction starting in March 2023 without reference to the existing quotas but to the average level of production in February. This means that Russia intends to cut real production by 500 thousand barrels rather than virtual quotas. Another factor that made the decision of the oil-producing countries even more significant was the long-term nature of the measures taken. The OPEC+ member states declared that the cut would last till the end of 2023. Russia immediately followed suit by declaring that it would also prolong its voluntary cut of production till the year's end in an bid to strengthen the effect on the market (earlier, the end date for the voluntary cut had not been determined), on the one hand, and to get in sync with its OPEC+ partners acting as a "united front", on the other hand. The latter factor is important for Russia in terms of OPEC+ political posturing.
The development amps up the announced decision to cut production volumes. Immediately after the OPEC+ participants announced production adjustments, the commodity exchange saw a surge of oil prices. But this was a psychological response of the market, as other countries plan to start the actual reduction in May.
Russian interests
Russia benefits greatly from the decision of OPEC+ to cut production. Back in February 2023, Deputy Prime Minister Alexander Novak, who is in charge of the energy sector, announced the decision of the national leadership to voluntarily reduce production by 500 thousand bpd. That is, Russia would have cut oil production anyway. But the fact that OPEC+ partners are now joining this thrust means that concerted action will have a much greater impact on the market, keeping oil prices at a high level. Russia has its own reasons for the decision to cut production. The country's leadership is trying to demonstrate to the main buyers of Russian oil—primarily India, China and Turkey—that maintaining pre-sanction oil exports is not an end in itself. It is important for Russia to monetize our hydrocarbons profitably, which is why Russia is trying to reduce the discount on its oil. Moscow shows that, to achieve this goal, it is ready to reduce production and export volumes. This is a clear signal to the buyers of Russian crude: let's negotiate a reduction of the discount—otherwise, with a decrease in production, a deficit will emerge, and all the crude will become more expensive globally. Other OPEC+ countries simply want to balance the oil market in order to keep prices high.
General benefits also exist. Under a joint cut in production, the demand for tankers will diminish, and hence the cost of transportation. The point is that the global oil market had become inefficient by early 2023, as all exporters were affected by an increase in their transportation leg. Russia now has to redirect its crude to Asian markets, while producers from the Middle East had to replace Russia and redirect their crude to Europe. It turns out that more tankers are needed to transport the same amount of crude. As a result, the cost of oil tanker freight has markedly increased. Lower export volumes as a result of the OPEC+ decision will alleviate this problem, leaving oil companies, including Russian, with more money from the sale of hydrocarbons. Russia's budget will also benefit from higher oil prices. Even with the discount accounted for, Russian oil prices may rise, which will generate more revenue from the export duty and MET.
From political perspectives, the OPEC+ decision to cut production is also beneficial. After the February statement of Mr. Novak regarding Russia's intention to cut oil production, many critics interpreted it as a forced measure. They say the sanctions are doing their job, and Russia can no longer produce enough oil without Western technologies, trying to disguise the actual drop in production as a planned voluntary reduction. Following this logic, other producers also face problems, which is, surely, not true. Furthermore, Russia can present the OPEC+ decision in the information space as a proof that the country is not in isolation, as the Collective West struggles to prove. We cooperate and implement joint programs with many states, OPEC+ members being just one example.
Geopolitical dimension
Western media and decision-makers criticized the decision of the OPEC+ countries to reduce oil production volumes. This is a real economic risk for them, since both the U.S. and the EU are net importers of oil. The share of the oil cost in a liter of fuel is very high in the West, so a rise in oil prices quickly leads to an increase in prices on the fuel market for the end consumer. This generates discontent among citizens, as they take more and more money out of their pockets when they fuel their cars. Consequently, support for incumbent politicians is waning. For the U.S., this is extremely relevant in connection with the actual beginning of the presidential campaign. On the other hand, the rising cost of fuel spins up inflation, as the cost of delivery is built into the cost of goods. Western media also accuse the Arab nations of helping the Russian economy by these cuts in production.
Such accusations expose the real problem. Western nations do not want to listen to explanations of OPEC+ member states as to why they decided to reduce oil production. Such a conflict of interests makes itself felt on a regular basis. A telling incident occurred on October 5, 2022, at an OPEC+ press conference after the decision to cut production quotas by 2 million bpd was announced. At the time, Saudi Energy Minister Abdulaziz bin Salman refused to talk to a Reuters reporter. It turned out that the minister had previously given a 30-minute interview for Reuters explaining the reasons for the OPEC+ decision. The editors, however, did not publish the text of the conversation, having replaced it with an article saying that Saudi Arabia and Russia are allegedly colluding as they seek to push oil prices above USD 100 per barrel.
This shows that Western political circles and the media believe that OPEC+ decisions are directed against them, denying OPEC+ members the right to pursue their own legitimate economic interests and instigating a conflict instead, especially between the U.S. and Arab oil-producing countries—above all, Saudi Arabia. Indeed, the decision by a number of OPEC+ states is negative for the U.S. economy, but their motivation has nothing to do with a desire to hurt Western nations as they just want to retain their own revenues. The decision was made in response to the U.S. and the EU policies, whereby the Fed and the ECB, respectively, keep raising the interest rates. This leads to a slowdown in their economies, which means a lower demand for oil. In addition, when the U.S. Fed raises interest rates, money supply shrinks so that less money enters the stock market. That means traders close fewer deals, not buying oil futures, among other things. When demand falls, so does the price of oil futures. Both the U.S. and the European Union never look back on the interests of the oil producing nations as they push down oil prices using monetary instruments. The latest increase of the FRS rate took place on March 23, 2023, that is, a week and a half before the OPEC+ decision to cut the production of crude. So, the oil producers immediately reacted to the U.S. policies. They are eager to keep oil prices from falling rather than hiking them above USD 100 per barrel. Apparently, unless the OPEC+ states decided to cut production, oil prices, given the pressure of monetary factors (rising rates of the Fed and the ECB), could have dropped to USD 60-70 per barrel.
No doubt, there is a certain political implication of the decision made by some OPEC+ countries to cut oil production. It lies in the fact that relations between the U.S. and Arab oil-exporting countries have been cooling of late. The point is that, thanks to the "shale revolution in the U.S.," oil production has significantly increased since 2010. Even though the U.S. remains a net importer of oil, it cut purchases from other countries. Statistics show that the U.S. prefer to give up on oil from the Middle East, while supplies from Mexico remain stable since 2016 and supplies from Canada are on the rise for several decades in a row.
Source: Energy Information Administration
Such dynamics can be perceived by the Arab countries as a formal U.S. strategy aimed at reducing the dependence on Middle East markets, in order to have a free hand in their Middle East policies. In response, Saudi Arabia will cross over to alternative centers of power, China and Russia. Especially since it is China that has become the largest buyer of Saudi oil.
As for the future, we can foresee a spiral of tensions between the U.S. and OPEC+ states. After all, rising oil prices will continue to whip up inflation. To fight inflation, the U.S. and the EU are raising the key interest rate, putting pressure on oil prices. In response, producers may cut production still further in an attempt to support prices, forming a sort of a vicious circle. To put pressure on Saudi Arabia and other producers, the U.S. could pass the NOPEC (No Oil Producing and Exporting Cartels Act), which would allow the U.S. to impose sanctions on OPEC+ nations under the pretext of antitrust violations. This will cause a backlash down to the imposition of an embargo and a repeat of the 1973 energy crisis. For now, such a scenario is unlikely to happen, though recent developments suggest that no scenario can be totally ruled out.
From our partner RIAC