The Domino Effect at the South of the Border — A Geopolitical Scenario
Background
It is December 2017. In six months, Mexican President Enrique Peña Nieto is about to leave office. After the Marihuana regularization revolution, started successfully by President Jose Mujica of Uruguay in 2013 and, out of public pressure in Montevideo, later implemented by Uruguayan President Tabaré Vazquez at the end of 2015.
The marihuana legalization revolution was followed by Argentina, Paraguay, Chile, Brazil, Peru, Bolivia, Panama, Costa Rica, and Nicaragua throughout 2016 and 2017. The aforementioned countries gained an unexpected high amount of fiscal revenue out medical and non-medical marihuana. Colombia, Guatemala, Honduras, El Salvador, and Mexico, who were pressured by the American government, because of border proximity, decided not to implement the regularization of Marihuana.
Nicolas Maduro's regime collapsed in early 2016, giving birth to what political analysts called 'the new year's eve coup of state', which was influenced by the 2015 economic meltdown, and taken over by the American-accused drug lord, Lieutenant. (Ret.) Diosdado Cabello. But out of fear of been invaded, as was the case of Noriega's Panama, Diosdado Cabello became an American ally. President Cabello imprisoned his ex-Chavistas comrades, exiled Maduro and Cilia Flores to Habana, and brought Caracas into Washington's sphere of influence.
Nevertheless, in Mexico, after Calderon's six-year term, the death toll was 120,000, while during the Peña Nieto six-year term administration, the death toll doubled to 240,000. The crime rates skyrocketed stemming from drug-related crimes alongside political kidnappings, making the Iguala case the first one of its kind; for it was followed by an unprecedented wave of massive kidnappings and killings of left-wing oriented political student movement in southern Mexico. These events gave birth to southern Mexico's guerrilla, a.k.a. PLNM (Partido por la Liberacion Nacional de Mexico—Party for the National Liberation of Mexico), which was based in the mountainous regions of Guerrero, Chiapas, Oaxaca and Michoacán states. Their policy was bold: the PLNM was anti-Mexican private sector elite and anti-American.
After an imprisoned Julian Assange leaked governmental official documents, protests across Mexico erupted. The United States Government was secretly giving heavy weapons to both the cartels and the newly left-wing guerrilla forces, as part of a DEA-CIA coordinated cover task operation. The American intelligence wanted to uncover a human contraband structure of potential ISIS militants, hiding in Michoacán, Oaxaca, Chiapas and Guerrero, and who potentially be smuggled onto American soil by the PLNM armed forces, using the selling of heavy weaponry as a covert operation. The DEA-CIA led operation was a catastrophe. It was leaked. And now the increasingly frustrated Mexican population turned their anger not only against the Mexican government, for its complacency with the American government, but against all of the American consulates and tourists in Mexico, including the American embassy. Washington had never seen such massive and violent protests in Mexico against American interests. As an effect, in March 2018, everything was pointing toward the fact that the Mexican voters would choose an anti-American, PLNM candidate.
Guatemala, El Salvador and Honduras continue to have the highest combined criminal rates per capita in the world. Because of high political corruption and lack of political commitment, Washington, has not implemented its 2015 North Triangle $ 1 billion plan at the frustration of Central American leaders; a dysfunctional Republican-controlled congress continues to have the plan blocked, until Guatemala city, San Salvador and Tegucigalpa, implement tougher strategies against illegal immigration, corruption and organized crime. Central American Presidents were increasingly resentful of Washington policies.
Colombia, despite a tumultuous year-long negotiation, at the end of 2015, President Juan Manuel Santos successfully signed the long-sought peace plan with the FARC and ELN left-wing guerrilla forces; however, a new cartel, funded by unhappy FARC and ELN guerilla commanders, alongside criminal gangs, such as the Rastrojos gang and unemployed ex-guerrilla fighters, gave birth to what would be Colombia's newest cartel: The Magdalena Valley Cartel, which operates out of the Colombian Cordillera Occidental, ramping up the Magdalena river valley as their main corridor of narcotics and guns, while controlling the ports from Buenaventura to Barranquilla and everything standing west of the Cordillera Occidental. Because of its guerrilla command structure and training, the Magdalena Valley Cartel is powerful enough to combine both guerrilla and cartel textbook style of attacks on the Colombian armed forces.
Colombia, is regaining worldwide attention as it once had during Pablo Escobar and the Rodriguez Orejuela reign of fear. The European Union imposed entry visas in conjunction with many Latin American countries. Additionally, Colombian intelligence suspects there is a drug and weapons contraband structure between the Magdalena Valley Cartel and Mexico's PLMN guerrilla forces. However, what has President Juan Manuel Santos worried, is that the Central American Northern Triangle governments, through their proxies—MS 13, MS18 and the Zacapa cartel—have facilitated both the Magdalena Valley Cartel and the PLNM their criminal business structure. In spite of this, President Santos, was tired to fight another war against another cartel.
To Washington's surprise, President Santos, during June 2018, a month before the Mexican presidential elections scheduled on Sunday, July 1st, the Colombian President decided to travel to Mexico to meet the PLNM candidate Rodrigo Juarez Viloria. Surprisingly, Juarez Viloria had lessened his anti-private sector rhetoric, influenced by his Chinese advisors. President Santos learned how Juarez Viloria wanted a politically controlled Mexico, yet with Chinese-like capitalistic policies. But whose main difference from his counterparts was his fierce anti-American sentiment.
Candidate Juarez Viloria had a history of personal tragedy: he lost many of his family members, on the war against drugs, fueling his grief and blaming America, meanwhile, his politically left-oriented eldest son was kidnapped by the Nuevo Jalisco Cartel, bolstering his hatred against the Mexican private sector, who he suspected were behind the massive killing of socialist and communist-inclined students. Juarez Viloria, emboldened by the image and spirit of Pancho Villa, bowed revenge against the cartels, Mexican oligarchs and the United States for its stubbornness of not changing anything related to the war against drugs. Mexico had already surpassed Spain and Brazil as the economic leader of the Hispanic and Latin American world. And Juarez Viloria is keen to fill the leadership power vacuum left in the region with a massive popular support in Mexico and throughout Latin America.
Three weeks before the presidential election, American intelligence services, intercepted a conversation between Rodrigo Juarez Viloria and President Juan Manuel Santos: Should Colombia support him as a presidential candidate, and if elected, the Mexican PLMN candidate would dismantle the PLMN-Magdalena Valley Cartel narco-structure by legalizing not just Marihuana, but the whole drug trade, allowing free mobility of drugs across Mexican territory, and by imprisoning the leaders of the structure—even if it means to imprison members of his own party. Juarez Viloria wanted the Mexican Presidency badly; and Santos was voicing out his support. Washington was now extremely concern of a possible domino effect south of the border.
On the eve of Sunday, July 1st, post-presidential elections, the unthinkable for Washington has happened: Juarez Viloria is proclaimed winner of one of the most contested presidential elections in Mexican history. United States would have to share the border with an anti-American, and potential de-facto leader of Latin America.
It was December, 2018, Juarez Viloria, during his inaugural address, proclaimed a massive fervent, inspiring speech:
"It is on this day that I will bring the sovereign right of Mexico, and sign an executive order, by allowing and legalizing drugs within our territory,officially ending Mexico's war against drugs. And because I know how Washington will react to this announcement, I hereby declare the DEA A-Sack and the American Ambassador persona non grata. And because, I know Washington will expulse our Ambassador, I recall him right now, telling our Ambassador, that Mexico, as in the times of our great heroes, Benito Juarez and Pancho Villa, will not leave a Mexican son to succumb and be humiliated, as the American Empire always had humiliated the Mexican people. And to this, I only have to say to my countrymen on the other side of the border: No! This time Latin America, and the new global leader, China, stands with Mexico. Come back to Mexico, because I will provide a better future for all of Mexico and for all Mexicans! And will not be humiliated, nor allow Mexico to be humiliated by the Empire, north of our border. Today, I declare our full independence!
The people erupted in joy. It was the first time Mexico stood up against its northern neighbor. And Guatemala, El Salvador, Honduras, and Colombia, inspired by his speech, followed the Mexican policy and legalized the free flow and regularization of drugs with presidential executive orders.
American intelligence failed to predict the outcome of Mexico, the Republicans were outraged and the Democrats were shocked: They knew Juarez Viloria was a radical, but for Mexico to go against the geographical and global realities was something Washington did not expected.
Weeks later, following the congressional-approved law, Juarez Viloria's signed the regularization agreement. The American President held an emergency meeting with its top cabinet members, military Joint Chief of Staff, congress majority leaders, national security advisors, and South Com. General. Kelly.
The White House, with streamlined congressional approval, decides to take emergency prerogatives by signing the domino-effect détente act, implementing the immediate precautionary and preemptive security and economic actions:
Reinforcement of the Mexican-American border, with options to militarily intervene Mexican border cities;
The siege and check of the ports of Buenaventura, Barranquilla and Cartagena ports in Colombia;
The securization of the Mexican-Guatemalan border;
Blocking immigrant remittance exports to Mexico, Colombia, Guatemala, El Salvador, and Honduras;
Sanctioning Mexican and Colombian banking, manufacturing and petroleum industries;
The American Intervention
With the analogy of the Afghan, Iraqi and Vietnamese foreign interventions, the American Federal Government decides to deploy 150,000 members of the National Guard to the American side of the border—from California to Texas—limiting a full blown invasion of Mexico. Also, the U.S. Navy dispatched three amphibian assault ships (USS America, USS Bataan, USS Boxer), one amphibious transport dock (USS Anchorage), and two destroyers (USS Bainbridge and USS Barry), with the purpose of showing force to the President Juarez Viloria to change his drug policy.
When the Norfolk-based destroyers and the San Diego-outbound amphibian assaults ships were stationed in the outskirts of the ports of Veracruz and Acapulco—nearest entryways into Mexico City—the American President decides to call President Juarez Viloria.
"President Juarez Viloria, good afternoon, this is the President of the United States of America. I congratulate you for a clean, democratic electoral victory. Unfortunately, the impulsive decision you have taken, can have dire consequences for the health of the American people. I had to take preemptive measures, Mr. President. This said, I encourage you to have a thorough and candid talk with our Secretary of State, and who is ready to board a plane towards Mexico City, to find a solution for your new policy. For the moment, our National Guard members have been deployed in our side of the border, enforcing maximum restraint, by not incurring into Mexican border cities, however, if we must incur, we will incur. The sake of the American people's health is something I will not negotiate. Also, a small maritime force is stationed near Veracruz and Acapulco, holding their position as well. This can be called off, if you decide to repel this law that could affect America as a whole. The decision is on you, Mr. President." The American President point out.
A furious Juarez Viloria responds:
"Mr. President, rather than holding an honest dialogue amongst neighbors, and respecting our sovereignty to enforce the free mobility and legalization of drugs, you indirectly threaten me with the use of military force, so let me tell you this, because I will only say It once: Mexico and Latin America are tired of putting the death. For you it is a matter of healthcare but for us it has been a matter of life and death. However, I can assure you that as long drugs are illegal in your country, I will hem the entry of such into your countr. And concerning our armed forces, should you incur on our side of the border, I can also assure you that our armed forces will have maximum restraint. I will not risk Mexican blood; yet, I can not assure the same from some members of my party who are part of the PLMN defense forces, and have their own ideas of business and governance; and needless to mention the cartels operating on our side of the which I lack control. At this moment, I think it would be counterproductive to engage in a dialogue with your Secretary of State, until you back off from your bullying."
The American President, unwilling to drop his guard, makes a last remark to President Juarez Viloria.
"I Understand Mr. President. But, as a precautionary measure, I wanted to let you know that today, along members of congress, I have signed the domino-effect détente act, which will compel your government and policymakers, to drop such regulation which can hold an unprecedented healthcare crisis for our American citizens in our soil, and American citizens living in Mexico. 150,000 members of our National Guard, stand combat ready, should they intervene the principal border cities of Mexico in conjunction with army rangers and marine rapid deployment forces. Mr. President, I look forward to work with you and the Mexican people. Good evening, Adios…
Weeks later, following this brief yet striking conversation between the American and Mexican presidents, United States sends a combination of ground military forces to Tijuana, Mexicali, Nogales, Ciudad Juarez, Ciudad Acuña, Piedras Negras, Nuevo Laredo, Ciudad Miguel Aleman, Reynosa and Matamoros, with the excuse of containing a potentially massive influx of drugs on American soil. Additionally, vigilante militias organized by Sheriff Arpaio and John McCain, stand prepared to defend American soil from California to Texas. And shoot-to-kill any illegal immigrant, further severing ties between Mexico and United States.
Likewise, 10 C-130J Super Hercules land on Tapachula airport containing the drug flow from the Mexican-Guatemalan border, particularly Tapachula and La Mesilla borderlands. Nevertheless, La Mesilla border city was hard to secure since it was located in the heart of the Sierra de los Cuchumatanes Mountains, and whose mountains sheltered the PLNM armed forces. As a result, a contingent of US Navy Seals, Army Rangers and Green Berets were dispatched to this particular border city.
Furthermore, the Pentagon decides to send four amphibious cargo ships to the Colombian ports of Cartagena, Barranquilla and Buenaventura, inspecting Colombian shipping vessels.
And to finalize their securization operation, United States, with congressional approval, imposed sanctions on the manufacture, banking and petroleum industries of Mexico and Colombia as well as the flow of remittances to Colombia, Mexico and the Central American North Triangle.
South American governments, except for Caracas and Habana, were furious with United States that, as a sign of protests, recalled their ambassadors, as a protest, to empathize with Mexico, Guatemala, El Salvador, Honduras and Colombia.
Mexico Strikes Back
President Juarez Viloria was an avid reader of American military history, so thus he knew that one of the least comfortable military scenarios for the Americans was to fight against both urban and mountain guerrillas. Moreover, Rodrigo Juarez Viloria knew that a Pakistan-like scenario would irritate the American military forces, and if successful, he would push for negotiations with the American president. His strategy was clear: a complacent Mexican government with the American forces, but fierce guerrilla warfare, with whom the Mexican government had nothing to do with; Juarez Viloria would play a scenario similar to the one the Pakistani Pashtun tribes and Haqqani network fought the Americans in Afghanistan from Pakistan.
President Santos, in turn, complied with American military forces, up to the point that, the controversial regularization of drugs, was repelled, and the ports of Cartagena, Buenaventura and Barranquilla were liberated, followed by the lifting of sanctions. President Santos felt humiliated by the Americans, and protests through all of Colombia erupted against Santos.
The protests of remittance-dependent peasants was becoming so agonizing for Guatemala City, San Salvador and Tegucigalpa that a decision was made to drop the mobility and regularization of drugs within their territory. Washington lifted the blockage of remittances. However, though economically poor, Guatemala and El Salvador militarily had an average of 30 years of experience combined, in mountainous and jungle terrain. Politically and economically, Guatemala and El Salvador could not stand up to the Americans, not even within Guatemalan territory, but the Guatemalan Kaibil Special Forces and the renewed Atlacatl Salvadorian battalion, were how the Guatemalan and Salvadoran presidents would aide their Mexican counterpart. Honduras decided not to participate.
President Juarez Viloria, with the aide of top Guatemalan Kaibiles and the Salvadoran Atlacatl battalion, decided to give the order through his guerrilla proxies, to conduct small operations of attack on the American station post of La Mesilla and Tapachula, by making hit-and-run type of military operations, with the purpose to drag and fight American ground forces in La Sierra de los Cuchumatanes Mountains of Chiapas and Huehuetenango in Guatemala. A terrain that, in Vietnam and Afghanistan, resulted uncomfortable for American ground forces.
At 3:00 a.m., La Mesilla border post along with the Tapachula airport, which hosted American forces, were attacked by the PMLN death squads, resulting in a low-level casualty attack. American forces stationed in Tapachula and La Mesia would be forced to retaliate in the Sierra de los Cuchumatanes mountains. With a force of three Black Hawk helicopters and ten Humvees, decided to track down the PNLM forces. Because of landmines and IED, Army Rangers, Navy Seals and Green Berets were forced to fled their Humvees, consequently, engaging in a full-flown combat in the mountains; the Black Hawk helicopters, in spite of their shoot and destroy tactics, drastically failed to destroy important targets, finishing their ammo, forcing them back to Tapachula airport to reload, and living the thirty-men special forces squad to their luck in the Sierra. The result was fatal: 25 killed in combat and 5 captured and beheaded. President Juarez Viloria denied involvement, blaming a local drug cartel.
United States, furiously responded by bombing important infrastructure, in cities such as Monterrey, Guadalajara and Mexico City. Moreover, Chiapas villages in the mountains, where guerrilla forces were hiding, were unmercifully bombed. Also, after knowing the involvement of both Guatemalan and Salvadoran governments, United States sanctioned the Guatemalan and Salvadoran military chain of command, political elite, important private sector oligarchs, by removing their American tourist visas, freezing their assets and bank accounts on American soil. Sanctions would be lifted until Guatemala and El Salvador stopped supporting the Mexican PNLM guerrilla force.
After the bombings, President Juarez Viloria furiously summoned the American charge d'affaire to stop bombing Mexico and to remind him how the 1916 American incursion of Mexico ended badly for American military forces.
As a notable schemer, President Juarez Viloria, unwilling to repel his controversial drug law, organized massive protests held by Mexican immigrants, working in the construction and restaurant industries, and from the cash harvest to the vehicle maintenance industries, Rodrigo Juarez Viloria vigorously appealed to the patriotic sentiment of Mexico. In turn, the Guatemalan and Salvadoran governments addressed their own diasporas living in United States: If they were to stop working for a three months, then, as a result, they would show their true, patriotic character in the defense of their invaded and humiliated countries.
Out of surprise, massive protests took place in the cities of Los Angeles, San Diego, Chicago, San Francisco, Austin, Dallas, New York City, Miami, New Orleans, Houston and so forth. The protests by the Guatemalans, Salvadorans and Mexican diasporas, costed billions of dollars to the American economy.
A resentful Santos, convinced the members of UNASUR, to impose an unorthodox sanction, named, similar to the one OPEC had pressed United States during the 1970s, however, this time, using their own resources as economic weapons: A mineral, agricultural and livestock commodity, six month embargo by the members of UNASUR, Central American Isthmus and Mexico. Venezuela decided not participate, since it was still recovering from the 2015 economic meltdown. The goal was clear: To send Washington a clear message: We are all America and we are all intertwined.
This outcome had a dire affect for the American economy. Wal-Mart, Publix, Whole foods, Chipotle and especially Starbuck's, , were amongst some of the most important corporations suffering greatly. The American economy suffered billions in losses and thousands of direct and indirect jobs as a result of the Latin American-led embargo. Oil prices were staggering and increasingly dependent upon the Middle East and Canada; Africa and South East Asia could not keep up in replacing both soft and hard commodities; Automobiles and clothing produced in Latin America, increased the prices for American retailers; and the American Chamber of Commerce, in addition with the support of 40 states—especially Colorado and Washington, were marihuana was legal and were looking forward to commerce with Latin America—were starting to feel the economic pressure and local protests of increasing prices. The Mexican economy was on its knees alongside most of the South American economies. Beijing had provided enormous bailouts to most of the Latin American economies.
Mexicans living in the borderlands were started to violently resist and push the American forces back, while the American ground forces started the use of force more violently. Washington was risking sending more troops to Mexico and, more importantly, could risk a full-blown war in northern and southern Mexico, between government, cartel and PNLM forces. A nightmare neither Mexico City nor Washington would of wanted.
Washington and Mexico City had to reach a deal to overcome this cold war.
The Mexican-American Deal
After a year and a half of the known Mexican-American cold war, UNASUR members were poise to end the war on drugs: They were ready to legalize the rest of the drug trade. Following Brazil's lead, an emboldened Colombia and Central America, in the 2020, CELAC summit, officially legalized drugs.
Washington was completely overwhelmed that it would have to politically and economically declare war on the rest of Latin America. However, policymakers and the IRS chief decided that, perhaps, it was time for Washington legalize and regularize Marihuana.
In the summer of 2020, Habana and Caracas acted as mediators between Mexico City and Washington. As a result, in August of 2020, the Mexican minister of foreign affairs in coordination with the Secretary of State happily informed the press on the agreement both parties have reached.
The deal followed as:
Mexico could only legally trade with American states that had legalized medical and non-medical Marihuana, if caught in the act of selling illegal drugs, sanctions would be imposed to the Mexican government and private corporations who sold it;
The PLNM guerrilla forces commanders would face American extradition and justice and would be dismantled by the Mexican, Guatemalan and Salvadoran governments, while supervised by the U.N. Chiapas Mission;
Mexico would comply to dismantle and/or fight the remaining drug cartels under the supervision and help of the DEA;
United States would pay war reparations to the villagers that died during the drone strikes of Oaxaca, Chiapas, Michoacán and Guerrero;
United States would provide aid to repair civilian infrastructure that was bombed during the short-lived conflict between Mexico and United States;
Mexico and the rest of Latin America would pay economic damages to American corporations for violating in forced free trade agreements;
After this tumultuous epoch, Latin America and United States became closer than ever before. And now, President Juarez Viloria and the American President, were drinking tequila celebrating the new deal…
General Colin Powell: A Decent Man in Indecent Society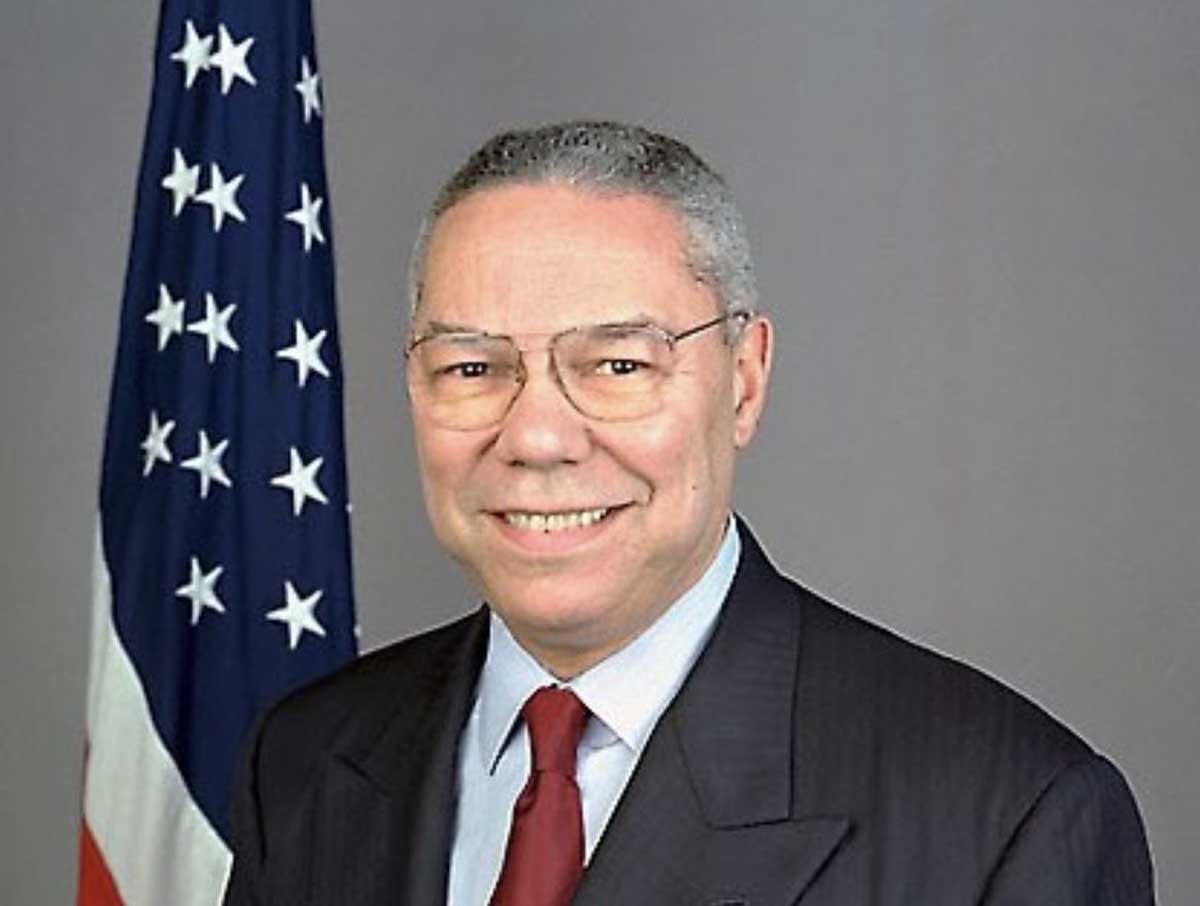 Theologian Reinhold Niebuhr's (1892-1932) famous treatise Moral Man and Immoral Society (1932) needs significant revisitation through a personal case: former Jamaican-American Secretary of State and Chair of Joint Chief of Staff General Colin Powell who, at age 84, died on October 18, a few days ago, from the effects of COVID-19 while fully vaccinated as he struggled against cancer. Our present still early 21st Century era, remains very much like the interworld war time context of Niebur penning his classic .Namely "now" continues to be a time in America in which truth telling is, in too many respects,much more myth making rituals than the presentation of reliable and valid knowledge based evidence .This is especially the case when it comes to matters of racial justice and the justice problems of other historically marginalized and oppressed populations such as girls and women, the disabled, the mentally ill, and the poor at large; particularly those who are Non-White.
Plus through the generations, there have been American power elites using disproportionately the bloodshedded lives of the poor and otherwise marginal on their conceived battlefields , who choose to make wars be it during their internal theft of land from indigenous peoples or other peoples such as the Mexicans of the West and South West ;the World War II internment of the too competive Californian Japanese American farm owners, and Polynesians in late 19th century Hawaii or the grabbing of land from the crumbling Spanish and French empires such as the Philippines, Puerto Rico, and Hati or aiding European colonial rulers engagements in their thirst for controlling Africans, Asians, and Latin Americans in their more or less conquered societies.
As the contemporary American right is making much to do over critical race theory, whatever that really is, wanting the continued White Supremacy coverups about the historical inequalities and deep insidious prejudices which cripple the well being of all Americans and brings injury to efforts to be a role model of justice to a world which knows what the deal of hypocrisy really is, we reside in a society in which the emperor declaring decency no more has clothes, as scanty as they have been. Even much weaker nations let alone our mortal superpower rivals are no longer afraid when it comes to casting stones at the blatant moral decency lies, we Americans have been taught to live by and have encouraged or forced others to live by over the generations.
It is difficult to get over to people like the American far right and their foes neoliberal progressives, ironically enough, and those elsewhere in the world with glitters in their eyes when the name America is conjured up ,to realize how much truth has been tainted in America since its slave holding and indigenous people's extermination colonial origins. The compromise of truth about the dehumanizations which pathologically marks the lives of all Americans in the effort to paint America as the land of freedom and milk and honey for all has come to propagate generations of injustices which have sources and manifestations of massive amnesia or placed in siloed boxes of marginality or exclusion such as the authentic history telling of too usual abysmal Non-Whites experiences in America.
But as untruthfulness has been so much a norm in the telling the truth about America, we have in recent times fallen into the deepest gutter of indecency as a society. We began to slip and slide into being an indecent society with the questionable if not unsolved Kennedy brothers, Martin Luther King, Jr., and Malcom X assassinations of the 1960s and Viet Nam and Watergate ending in disgrace in the 1970s.
It was also a time when Colin Powell began to make his climb in the military and in public service. It was when there remained the Jim Crow norms, still very much here, which dictated that if you were Black and wanted to climb in a society opening you had to have a clean nose and a willingness to conform to racist standards which required you to be a gentle soul with a charming, good sense of humor. He was a symbol of success in the 1970s and 1980s era to the extent to which in the 1990s his name was touted as a possible candidate for the Presidency as he was so popular.
But what made Powell so popular was getting himself involved in leading militarily an unjust war which even he later regretted. A war began by the first Bush I which he would be unjustly rewarded by Bush II who fired him after he did public dirty work which as he would note, tarnished his sterling career for good. But it was the beginning of the rotten eggs era where Presidents from Nixon through Trump and now Biden would find themselves being entangled in webs of indecency if not weaving themselves. Preferring to look the other way and pretend that which was indecent was righteous patriotic duty.
It came to the point that Powell as the decent man he was became a rarefied symbol of pioneering racial change in an integrating society which was becoming increasingly indecent by the day where morality became associated more with right wing ideologies than the basic meaning of morality meaning decency. In fact, much later even right-wing evangelicals such as Jerry Falwell, Jr. and his wife like Jim Baker in the 1980s would become illustrations of how much morality became empty in true meaning as they became engulfed in public indecent charges while waddling in their private jets and mansions.
So, when Trump came along in 2016 with his indecent immorality charges and his love for constantly lying, it was the result of the normalization of indecent politics where lobbyists hold elected officials in their deep monied pockets coaxing them to stand up against measures to promote taking care of the human rights of their constituencies. Where nothing is done about gun violence due to the lobby power of the National Rifle Association and where fossil fuel companies hold efforts to clean the air up through dipping money into the bank accounts of Congress men and women. Where drug companies and medical insurance companies keep the quality of medical care low while Americans pay health costs through our noses. Trump did not create indecency in American mainstream politics, it has been emerging for years and now is well here. He just made indecency fashionable as seen in his post-election fan club fawning over his lying claims of really winning the 2020 Presidential election.
It is here in the emerging indecent society, where we see Powell feeling compelled to support policies which he was morally against only to regret the consequences. He was in the second Bush administration the failed stopping gate of Bush II, Cheney, and Rumsfeld who shoved the United States into an unconstitutional pro-active war with Iraq and fake nation building claims for invading Afghanistan all for the oil, opium, race against the Russians and the Chinese, and to make arms selling profits. As said earlier in a slightly different way, after Powell's Weapons of Mass Destruction UN speech, a grotesque gesture of public political indecency, with a tarnished reputation for the rest of his life, Bush II in the beginning of his second term fired him.Powell did not see it coming from the jovial Bush II who once told him jokingly in front of Biden then Chair of the U.S. Senate Foreign Affairs Committee to make sure he packed clean underwear as he prepared for a trip to Europe.
Powell's support of Democratic candidates and Presidents in the aftermath of his push out from the Bush administration made it clear there was no more place for him in a Republican Party veering to the right eating its own decent luminaries such as John McCain ,Lyn Cheney, and Mitt Romney in the process.
His support for Democrats did not mean he became one and in fact described himself as being party less. That is a long way from the mentoring he received from Nixon, Regan, and Bush I Republicans in their patronizing way felt that Powell was a deserving symbol of racial integration in an opening desegregating key sector in American society to admire while of course they tied his hands since though it is a tad bit better now, it has always been the case if you are Black and wish to climb to the top of some system you have to be what one Black Chair of a University search committee told me in the late 1980s, you got to be a good boy or girl though of course in an adult body. You must be decent even though decency may not be the norm environment. Certainly not a standard requirement for status climbing ill-tempered White men and even increasingly White women who are given a pass due to their intellectual gifts or
/and high technical skills,even though they are cold, humorless, ego maniacs allowed to climb and climb to the highest berths of politics and other key systems such as corporate business, law, medicine, and higher education.
I remember vividly living in London in 1990 when Bush I was gearing up to invade Iraq. The British press was in a feeding frenzy not only about the coming war with Maggie Thatcher in full support swing but most importantly in fascination with the Black man Colin Powell being the Chair of the Joint Chief of Staff. Journalists were more interested in conveying how nice and charming Powell was forgetting he was the most authoritative American military man not a pastor. And that has remained the public relations image of Powell while being characterized as being more of a technician or as he would put it, a pragmatist, rather than as a big picture visionary guy, which is usually an image reserved for White male military leaders in contemporary America such as General John Mattis and David Petraeus. Meanwhile, from the 1990s through the day he died, Powell, who insisted that race made no difference in his career climb though he was always characterized in the media as the first Black this and that, so it was always a factor in the equation of his promotion and climb, became increasingly a marginalizing icon of decency in a society in which indecency has become the driving norm. Joining Bush II's administration after he got over through such indecent means engineered through Republicans on the U.S. Supreme Court should have been enough for him to realize it was a bad omen for things to come, which did. But he felt his decency, his love for country, his love for American in military garb and civilian dress would be enough to be a moral counterweight in an indecent administration. Instead, he would lose battles to keep us out of un-necessary wars; ignored and then fired.
General Colin Powell then is a tragic symbol and indicator of how indecent public life has become in American society over the course of the last 50 years. And then we wonder why. We wonder why there is so much avoidance of public service by young people who are decent people, our future but who refuse to become involved in what has become a rotten society. We see what is happening to decent Joe Biden, going down the tubes quickly since he came into office only to find decency, trying to do the right thing is not on the mind of those who hold the purse strings in politics. They don't care about climate control, they don't care about providing provisions to help the poor, the unemployed, and the sick. They don't care about voting rights or the rights of women, older persons, or the disabled. Any effort to help is called socialism unless it is to help the wealthy and otherwise privileged.
Religion has become a plaything for entertainment and to generate revenue than caring for the souls of people and being a voice for decency in a society becoming increasingly indecent regarding public norms and expectations. It is no wonder why religious leaders are the last to be thought about when it comes to public policy consultation or comforting protestors advocating their human rights, or boldly standing up for what is right in their own congregations, in society, and in the world. Religious leaders are more concerned about remaining employed by their congregations and supervisors and moving up the career ladders of their organized faiths than telling them the truth and urging them to tell the truth about the need for decency in an indecent society.
God in an indecent society becomes a trinket worn around our necks for show and tell and nothing else except perhaps a circus clown or an ATM machine. We don't need God any more in an indecent society since we have all the brains and all the answers. We live prosperous lives and when that is indeed the case, we have the benefits to cover our health care, home mortgages, and educating our kids. We don't need God anymore to bless us and deliver us since we become gods. All we need to do, to paraphrase Powell on the eve of invading Iraq, is, when need arises, to get the enemy in our crosshairs and kill them because we have the arms which can do so and who cares. And then when it is all over, when we too have been crumbled up and tossed away like a soiled paper bag, we still don't get it since God does not live in an indecent society or at best if so, God is in some small corner some whereas an exotic old man with a beard who has nothing to do with the rest of us.
So, what is to come of us, those who are still walking on earth still breathing as we grieve the death of this decent man who tried his best to maneuver in a society which lost the little it had like the sort of decency which his hard-working immigrant parents had only to be outstripped and replaced with expectations of indecency in public life as he began to climb up. What is our calling, what is our task? Is it to continue to go with the flow of public indecency thinking and practices we will get to kiss a golden ring one day of ultimate success only to find that rot begats rot? And the begatted rot gets worst and worst and never leads anywhere except the worst dying with tarnished legacies of lives which meant well but got caught up in what becomes normal in an indecent society which abuses its young and those trying to do decent things in need of some bodies and minds for justice finding their backbones and standing and speaking out for what is right and telling what is wrong. If not a person of faith, that is at least what a patriotic person does in the interest of the citizens of their nation. We are living in an America in which more of us need to quit and speak up about why like Biden's envoy to Haiti in protest of the treatment of Haitians attempting to be refugees rather than going along for the ride to get career perks.
Or Colin Powell quitting rather than putting up a public front in supporting a war he knew was wrong. And now there will always be a " but" or a question mark after remarks about him while preserving the least important in terms of his racial break through symbolism and his charm. He deserves to be remembered for much more than that and could have if he had just quit and told the American public why since what was going on was indecent in how the structure of the web, he was entangled in was and no one person can fight against structural rot.
So, when you are there and have stature, have the backbone to quit before they toss you away anyways. My prayers and condolences to the Powell family. God bless this decent man in such an indecent society who did the best he could but could not but could.
Global Warming And COP26: Issues And Politics
The president's massive social services and infrastructure package is under consideration by Congress. The problem is Senator Joe Manchin, a Democrat from West Virginia.
Not only is West Virginia a coal-producing state but Mr. Manchin owns two coal companies. Although in a blind trust operated by his son, it is clear that coal companies make money when they sell coal.
But coal is a serious polluter, possibly the worst among fossil fuels. Any serious attempt to reduce the impact of climate change will replace coal with at least natural gas — available in abundance and emitting almost 50 percent less CO2 according to the US Energy Information Administration.
Republicans — many of whom deny global warming following Trump's lead — adamantly oppose the plan en bloc, so Senator Manchin's vote is crucial. For the moment then, the fate of the planet lies in the hands of one man because, quite simply, if the US backs off, China will be relieved of pressure — also Russia which has an abundance of fossil fuels.
Hence the importance of the COP26 climate summit scheduled for October 31 – November 2 in Glasgow. Originally planned for 2020, the meeting was postponed to 2021 due to the pandemic. The town is preparing for an influx of 25,000 people as lobbyists, conference attendees and demonstrators arrive.
It is an interesting meeting, liked by some to a teacher requiring a class to prepare and bring term papers. The 200 countries represented will be bringing their plans to meet the goals of the Paris accords. These require the signatories to commit to enhance ambitions every five years — thus 2020 postponed to 2021 — under the so-called 'ratchet mechanism'. The Paris Accords aimed to limit global warming to less than 2 degrees Celsius and to aim for 1.5 degrees Celsius.
As often, people leak documents to help their agenda. This time a huge leak shows how important fossil fuel using and producing countries are attempting to modify a crucial scientific report. Oil producer Saudi Arabia, coal producer Australia and heavy user Japan are among those questioning a rapid change from fossil fuels. Saudi Arabia for one also lobbied previously in 2015 with some success.
This time the lobbying effort consists of more than 32,000 submissions (by governments, corporations and other interested parties) to the team of scientists preparing scientific reports designed to coalesce the best science on tackling global warming. One can imagine the headache for the scientists, who for the most part have a regular job, often as professors. Produced as "assessment reports" by IPCC (the UN's Intergovernmental Panel on Climate Change) these represent a consensus of the views of different governments, and are used by them to decide what action will be needed.
The many bodies involved, the complicated murky politics and the enormous pressure from different parties all point to the crucial fact that billions of dollars are involved now in today's dollars versus promises of a better and distant future.  We can only hope we have  decision makers with foresight, and leaders without Trumpian climate change ignorance and excess.
America's Two-Tiered Justice System
The Constitution states only one command twice. The Fifth Amendment says to the federal government that no one shall be "deprived of life, liberty or property without due process of law." The Fourteenth Amendment in 1868, uses the same eleven words, called the Due Process Clause, to describe a legal obligation of all states. These words have as their central promise an assurance that all levels of government must operate within the law and provide fair procedures to all its citizens.
In this politically divisive climate, the central promise has been broken with little to no assurance that one can trust the American democratic system where some courts have disavowed their responsibility to uphold the Constitution's meaning of the laws passed by Congress. For instance, the Bill of Rights was passed because of concepts such as freedom of religion, speech, equal treatment, and due process of law were all deemed so fundamental to protect every legal resident in the nation; yet we are now witnessing politically charged judicial appointments eradicating these principles under which all persons and entities are accountable to equally enforce and independently adjudicate, as well as being consistent with international human rights.
On the heels of the Chinese coronavirus, there is an escalating epidemic of unequal justice and character assault where much of the news media is politically aligned with the rulers in turning a blind eye or complicit in the coverup; and in some cases, ravenously endorses the demise of what has essentially now become political dissidents falsely accused, intimidated, and jailed. While many Americans are attempting to scrape by in difficult times, they remain astute to the moral failure of the elites in power as well as the tacit elected opposition's assiduous silence in whitewashing the legal duplicity. Historical trends over centuries of betraying the peasants eventually succumbs to a reckoning where the privileged corrupt politician and their corporate fascists will be exposed and held accountable in some fashion.
Americans are confounded by the coronavirus decrees requiring masks to be worn for thee and not for me double standards. The politicians hammer away at enforcing mask mandates on the common folk, yet they do not adhere to their own edicts while attending fine dining with their elite backers. Speaker of the House Nancy Pelosi, Californian Governor Gavin Newsome, and Chicago Mayor Lori Lightfoot all violated their own mask mandates in public venues while the masked servants waited on them.
President Biden was caught on video walking maskless through a swanky Washington restaurant in violation of the District's laws on facial coverings, yet regular citizens are subject to civil penalties which result in fines of $1000.00 or revocation of licenses during the COVID-19 emergency. In defending the emperor, White House press secretary Jen Psaki said we should 'not overly focus on moments in time that don't reflect overarching policy.' These double standard by the progressives are a far cry from Americans being punished and ostracized all over the country for not wearing a mask.
Identity politics has resulted in two systems of justice – one where BLM rioting and looting is described by the media as peaceful demonstrations and where assaulting police has no criminal consequences; yet the January 6th actions at the Capital has resulted in the largest round up of protesters ever seen in America. It is estimated that the Federal Government has upwards to 70 rioters/trespassers in solitary confinement and they are only let out in a larger area for one hour at 2 am due to COVID. Some of those being held in detention have been charged with trespassing on restricted grounds, others with assault and obstruction, and some haven't been charged with anything. There are no bail hearings for these political activists yet BLM and Antifa rioters typically spend one night in the brig and let out the next day to rejoin the frontlines of carnage.
Senate Majority Leader Chuck Schumer has vocally pushed for the January 6th 'insurrectionists' to be added to the TSA no-fly list. Civil liberties are being trampled by exploiting insurrection fears with people in attendance no longer permitted to take a flight in their own country and they have not been convicted of a crime. This action by the government had previously only happened to suspect foreign terrorists, and now it is happening to Americans under suspicion. We see no similar actions taken against the militant Antifa anarchists who attacked and torched federal buildings in Portland.
Washington DC has essentially been abusing these inmates in captivity. There have been complaints on the nourishment of their fellow Americans where they are served white bread and a packet of tartar sauce. This is ultimately a violation of the 8th Amendment that prohibits the federal government from imposing excessive bail, nor cruel and unusual punishments, and from inflicting unduly harsh penalties. Some judges are expressing concern at the length of these pretrial incarcerations, however they've largely deferred to the Justice Department. Meanwhile anarchists who burn down buildings and shoot projectiles at police officers and federal buildings have charges dismissed. Justice is not equal.
One female trespasser was shot dead by police during the Capital unrest and there was no outcry or charges against the officer. She was white and a Trump supporter. Federal prosecutors are not seeking criminal charges against the police lieutenant whose single shot killed Ashli Babbit, the 14-year veteran who served four tours with the US Airforce. If the unarmed Babbit committed any crime, it would have been for trespassing, a misdemeanor that should have seen her arrested and not slain. The lieutenant's life was not at risk nor was he saving the lives of others as he stood with numerous police officers in riot gear and strapped with submachine guns. If a member of BLM was shot dead by police during an unlawful riot, there would have been an immediate racial outcry from political elites and from across the news media for justice followed by looting local retailers and ransacking a police precinct. The action by BLM is considered righteous violence whereas the slain Babbit had it coming to her.
On a very disturbing and new level of injustice is the threatening actions being taken against parents of schoolchildren by the Department of Justice. Most Americans are familiar with the Patriot Act following 9-11 where the National Security Division conducts counterterrorism operations against foreign adversaries planning suicide bombings and stealing nuclear secrets. Now the Biden Administration, under Attorney General Merrick Garland, has turned the NSD's crosshairs against everyday Americans conducting their civil duties and free speech as school board meetings.
Garland's actions followed the National School Boards Association's (NSBA) claim that American public schools and its education leaders are under immediate threats and intimidation as parents grow frustrated over the divisive neo-Marxist Critical Race Theory being injected into their children's curricula. This is clearly an injustice to weaponize the DOJ and FBI investigators to intimidate and arrest parents under the same counterespionage to that of Al Qaeda and ISIS. Parents may be angry, but they are certainly not domestic terrorists in taking on the powerfully partisan school unions who somehow believe they are justified to influence civilization by indoctrinating their children.
Garland's poster boy for his hideous partisan support of the NSBA is a Virginia father who was arrested at a school board meeting when he attempted to raise the alarm over his young daughter being raped in the school washroom. The father became the symbol of angry parents confronting school officials when he was taken down by several police officers and apprehended for disorderly conduct and resisting arrest. He became vocally upset when school officials denied the attack on his daughter, but he was not physically confrontational.
The father said it is scary that our government will weaponize themselves against parents and they're using my video across the nation to spread fear; while the school officials did not seem to want to listen to him regarding his daughter being assaulted by a boy wearing a skirt who took advantage of transgender rules to access the girl's washroom. The boy has now been charged with two counts of forcible sodomy, one count of anal sodomy, and one count of forcible fellatio related to the incident at that school. At a later date, the same boy was charged for a similar attack at neighboring school where he allegedly forced a victim into an empty classroom where he held her against her will and inappropriately touched her. Regardless of the raped daughter, Garland and the NSBA still have their video of the father being wrestled down to support the use of the FBI against parents and send a chilling effect on harmless dissent.
The Russian collusion narrative against then President Donald Trump may seem dated, however it can never be swept aside or forgotten in what may well have been the biggest political scandal and injustice to a man in American history. The country endured four years investigating Russian collusion into the legitimacy of Trump's 2016 presidential win with senate and congressional impeachment hearings over a Clinton-paid-for fake dossier, the biased Obama hatchet men overseeing the FBI and CIA shirking the law, a frenzied media that never let up on Trump's guilt, and a special counsel comprised of Clinton partisans that turned over every leaf that eventually found the nearly crucified Trump to be innocent of the false charges. The former president had to withstand an incessant blitzkrieg of injustice through his entire presidency while leading the most powerful country in the world.
On the hand, there is compelling evidence that President Joe Biden spent years while in government enriching himself through family ties, specifically his son Hunter, to the tune of millions of dollars in foreign money from China, Russia, and Ukraine. The foreign players simply used the unqualified son to leverage access to Biden while satisfying Hunter's greed and questionable lifestyle. Biden has little to no ability to stand up to China or Russia knowing they are holding damaging transactions over his head. There have been no investigations into Biden's quid-pro-quo against Ukraine or the transfer of tens of millions of dollars to Biden family members, no impeachments, and the news media buried these stories; including damaging information found on Hunter's laptop during the 2020 presidential election. Had Trump and his sons engaged in these activities, there would have been a very different level of justice.
What of this injustice that is making its mark on history? If we take a moment to think through the confusion of the moment and see the morale issue involved, then one may refuse to have this sense of justice distorted to grip power rather than for the good of the country. Those who have sown this unjust wind may eventually reap a whirlwind that provokes reform by convulsion of the people instead of a natural order of business. We must all remember that democracy lies with the people of this land and whether the nation will be stirred to stand for justice and freedom in this hour of distress and go on to finish in a way worthy of its beginning.