NATO and the Russians: Can NATO be Diplomatically Relevant?
One of the biggest obstacles in understanding Russian foreign policy of late for NATO is that it still seems a bit too tied to American assumptions. There seems to be an element of purposeful animosity in the way Russia is viewed, analyzed, and engaged, especially at the so-called expert level and most prominently within the now Republican-controlled United States Congress.
Perhaps one of the worst examples of this 'analytical animosity' comes with the over-reliance on 'insider knowledge' without actually vetting the source's objectivity. As we will see below, what would be automatically deemed a horribly flawed research structure in academia, full of selection bias, too often ends up powering the opinions of major decision-makers in Washington DC and is subsequently transferred to NATO thinking.
None of this is meant to say NATO, or the United States in turn, shouldn't be critical of Russian motivations or Russian interests. In many areas we are naturally pure rivals, let alone the long intense history of competition between them. I am simply critical of the foreign policy hubris America so often exhibits and ultimately passes on to NATO. I offer this not as a plea for diplomatic humility or being a better global partner: on the contrary, I simply fear the presumptuousness of NATO posturing comes off in such a way that makes NATO look silly rather than intimidating. That is the real problem. Talking the talk without ever walking the walk with Russia serves no purpose other than to undermine your own self-perception of impressiveness. To wit: western commentators need to stop crowing about 'Russian exceptionalism.' There is a humiliating irony being dangerously missed when they speak of such things. To the Russians the only other country in the world with a richer, deeper, and more pronounced sense of exceptionalism is the United States and its affiliated organizations like NATO. American sides criticizing Russia for exceptionalism is like the Great White telling the Bull Shark not to be so aggressive in the water.
I believe this is part of the reason you can detect such frustration and irritation in the statements and positions of Putin and Lavrov, who sometimes almost seem exasperated by the situation, fighting off a narrative they really aren't interested in but are constantly being asked on the world stage to address. This is especially apparent when the ridiculous subject of Ukraine joining NATO comes up. Lavrov stated during the Welsh summit that NATO should avoid 'derailing' the process both Russia and Ukraine are trying to hammer out. Worse still is how incredibly cruel this line of argument is from NATO towards Ukraine: there is no chance that Ukraine will be invited to join the group. While Obama says officially to the microphones that all options will remain open for global security and peace, France and Germany are both formally opposed to offering membership to Ukraine. As long as that is the case, Obama's comments are just empty gestures, more a tease to Ukraine than a deterrent to Russia. Does anyone in their right mind think Russia worries more about microphone side comments from the American President compared to official French and German policy when it concerns NATO?
Russia's actions within, around, and about Ukraine are no doubt self-serving, in pursuit of its own priorities, and with only a modicum of consideration as to what is in the long-term interests of Ukraine. More pertinently, it couches those actions with declarations of constitutionality, stability, normalization, and international assistance. And in doing so Russia, in its own mind and with some foreign policy evidence, thinks it is acting as the United States has countless times in countless arenas over countless years, thereby making any NATO concern or protest over its actions irrelevant and hypocritical in its eyes. This is the true nature of REAL foreign policy power to Russia: to do as you please while getting everyone else to drag their feet and ultimately do nothing. Such old-school realist POWER has not left the global stage, despite all the good NATO intentions to create greater adherence to international law.
Perhaps NATO's best strategy would be to deftly engineer a path not beholden to American 'Cold War Triumphalism.' In basic terms, since Russia lost the Cold War it was and should be treated as a de facto defeated nation. This triumphalism has arguably never left American decision-making power, given that the advent of this attitude began with President Bill Clinton and has lasted through three presidencies (two Democrat, one Republican), totaling six terms and 24 years. In other words, the American attitudinal perspective toward Russia has witnessed a literal generation passing where the United States has felt justified in selective cooperation, one-way bargaining, uneven playing fields and reluctance on its own part to bury the ghosts of the past because said ghosts give it a decided political advantage. But that political advantage hurts NATO relevance if it is made to adhere to the same attitude. It is clear the United States does not seem to understand that the geostrategic prom queen in the end isn't really a queen, after all, and on the global dance floor there is always more than one self-professed belle of the ball. NATO needs to be the emcee of this dance, rather than the man stuck holding the American prom queen's corsage. The former role gives it great relevance. The latter gives it none. The choice, hopefully, will be up to NATO.
The real problem NATO must try to avoid is that too many powerful decision-makers in the West feel a bit bamboozled and outplayed. They feel, rightly or wrongly, as if they have ended up with proverbial diplomatic egg on their faces and they don't like it. Even worse, they cannot stand the possibility that this game of chicken ended with only one round and no opportunity to regain the upper hand. Thus, it really isn't about how horrible it was for Russia to 'annex' Crimea (with Crimean consent) and do it basically without any violence. What is most horrible to these strategists still stuck in and/or pining for the return of a Cold War environment full of purpose and dire circumstances is that they won't get the chance to beat Russia back or deliver a diplomatic defeat of the same intensity that they feel they just themselves received. Thus, this situation cannot just be about Crimea. Russia must not be satisfied with this as the end game. There simply must be another shoe to drop or chess piece to be moved. Because…just because: because Russians aren't supposed to be diplomatically agile and astute. And they most certainly cannot be strategically deft and subtle. At least, not when they are compared to their counterparts in the West, who think Russians are rash; Russians are emotional; Russians are capricious; Russians are sneaky; and quite frankly, Russians are a bit daft. All of these things they can be because all of these things suit the players at the other end of the chess board. And for this very simple and seemingly minor reason alone, Russia is far better off letting Crimea be its one and only move on the board and then chuckle dementedly as its rivals worry about an 'expansionism' that is not coming. What victory could be better than checkmate and confounding your opponents who had previously thought they had completely understood your psyche, methods, objectives, and purpose?
If NATO can begin to engage Russia in a manner that recognizes and embraces this perception of reality, then it will have a strategic relevance that will go far beyond the United States, the European Union, or Ukraine. For it will be the only organization on the board seeing Russia as the Russians themselves see it. Once you have that vision there will be far many more diplomatic moves available.
From the Mat to the World: How Yoga Diplomacy amplifies India's Global Voice
The lawn at the United Nations Headquarters echoed with slogans of 'Bharat Mata ki jai', as the much-anticipated Yoga event was held on the occasion of International Yoga Day on June 21. The Indian Prime Minister is on a four-day trip to the United States, and the journey begins with leading the Yoga event at the UN headquarters in New York. Ahead of the event, the Prime Minister paid tribute to the statue of Mahatma Gandhi at the venue. Commemorating the event, PM Modi said that Yoga is free from patents, royalty payments and copyrights. The event was registered in the Guinness Book of world record for witnessing the participation of most nationalities in a Yoga session.
The world is celebrating 9th International Yoga Day and the Indian Prime Minister is leading the event at the UN Headquarters, the venue speaks for India's rising global clout. And the impressive participation around the world on the occasion stands in depositions to India's immense reservoir of soft power. Soft Power, as suggested by Joseph Nye is the ability to shape preferences of others through appeal and attraction, or may be through aides. The classic example of implementation of soft power is America's use of the Marshall Plan. After the end of the second world war, the US pumped billions of dollars into Europe, in order to prevent it from falling to the influence of Communist Soviet Union. Be it educational exchange programmes with countries like China, India or exporting soft-drink and fast food culture. All this has led to an exponential rise in America's influence in the world.
India has long been an advocate of cultural diplomacy, that is putting soft power to use to propel the nation on the global stage. The event at the UN Headquarters turned global with the participation of over 180 countries, alongside the presence of President of the 77th UN General Assembly Casaba Korosi, New York City Mayor Eric Adams, actor Richard Gere, Grammy award winner Rickey Kej among others. Bringing 180 countries together is a difficult task, given the current political climate. There is visible ghettoisation in the global forums over the Russia-Ukraine crisis. At this juncture, India is proving its ability to bring nations together and bridge gaps through its Yoga Diplomacy, enhancing its soft power.
The importance of cultural diplomacy was first realised by India's first Prime Minister Jawaharlal Nehru. Nehru along with Education Minister Abul Kalam Azad had set up the Indian Council for Cultural Relations, as early as, in 1950. The ICCR was entrusted with the responsibility to showcase India's rich civilisational history. Former Prime Minister Rajiv Gandhi, further, added momentum to the cause by launching Indian festivals around the world. With the LPG reforms, the 1990s saw a growing interest in India's culture around the world- ranging from Yoga, idea of peace and non-violence, Indian cuisine, Bollywood films and handicraft.
However, with leaders having their credit, the cultural diplomacy could not propel India on to the global stage and complemented with contemporary factors failed to convert India into a major player. The efforts like the expansion of ICCR or establishing a small public diplomacy division within the Ministry of External Affairs (2006) remained pale in comparison with the efforts of the West or China.
For turning India's cultural diplomacy into its soft power, Prime Minister Narendra Modi relied on two aspects, first mother-language and second Yoga. The first method adopted by the Indian Prime Minister for an outreach to the 25-million strong diaspora overseas, was delivering his addresses in Hindi. PM Modi had directly asked the overseas Indians to join hands and serve Mother India, help him boost India's international image and bring in foreign direct investments. While Hindi speeches helped him gain traction, Yoga proved to be his bet.
First practised by Hindu sages, in the pre-Vedic and Vedic era, Yoga has now become India's most popular cultural export. With Prime Minister Modi energetically promoting it, it was his government's way of stretching India's influence on the global stage when PM Modi himself persuaded the United Nations to designate 21st June as International Yoga Day during his first address. The resolution was passed unanimously at the UN conference, with countries like China, the United States, the United Kingdom, Germany, Japan, the Russian Federation, Egypt, Turkey, Iran, Iraq and other OIC countries co-sponsoring the proposal. Another testimony to India's influence was that before the United Nations General Assembly adopted the resolution, it already had 177 co-sponsors. In 2015, the entire world celebrated the first International Yoga Day. Fast forward to 2023, the world is celebrating its 9th International Yoga Day with the Indian Prime Minister leading the UN event.
As Joseph Nye suggested, there are three pillars of soft power- political values, culture and foreign policy. In today's era, the countries cannot function in the binary of political values. If a country like America- the preacher of democracy- decided to only align with governments upholding democratic values, NATO would become a thing of the past. With this, India has two ways for attaining global clout, first asserting its cultural heritage-one of them being Yoga and practising independent foreign policy.
Influence in international relations is understood in two contexts, military and economic might. India has already attained the status of fifth-largest economy in the world, and is currently the fastest-growing one. As far as the military is concerned, the Global Firepower Index, 2022 suggests that India is the fourth most powerful military nation in the world. However, Nye argues that successful states need both hard and soft power as hard power (military and economic might) helps the nation exert influence, soft power helps shape long term attitudes and preferences, thus, promising a long-term alliance.
Propagating Yoga- as an Indian contribution to the world for attaining a healthy lifestyle- helps New Delhi achieve the same. PM Modi is strengthening India's global clout, not by amassing weapons or launching a military operation but by offering a life-changing Indian product called Yoga. In the 21st century, the mode of battle has probably changed- today, battles are waged with soft power which helps countries forge financial and security alliances. Yoga, in the same manner, has helped India capture the minds and hearts of the entire world. While the Indian diaspora participates at the Yoga event at the UN headquarters, they must have swelled with pride.
Any country with only hard or soft power alone cannot achieve a goal it wants to. Like China can flex hard power but enjoys little to no soft power despite its much popularised Panda-diplomacy. On the other hand, Tibet has only soft power and no hard power. India is moving towards achieving a sweet spot in which a mix of both hard and soft power will be used to achieve the ideal goals for the nation. With the world in dire need of a way towards spiritualism- India has placed its bet. The bet to be the vishwaguru- leader of the world paving the way for the future.
Breaking Barriers, Building Equality: Honouring Women in Diplomacy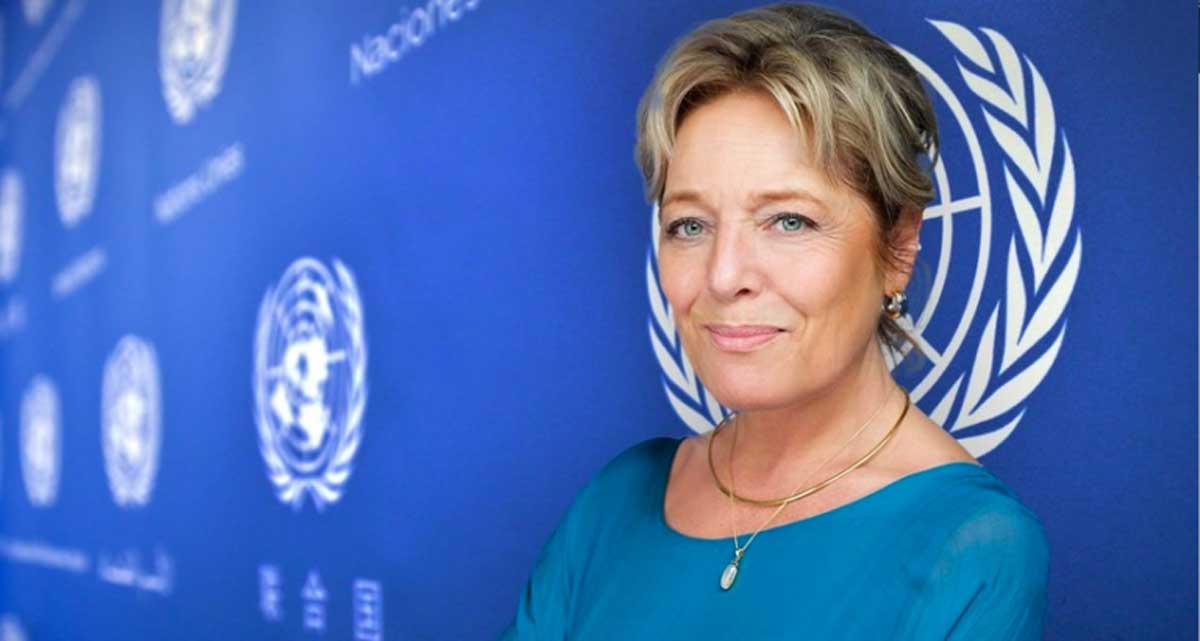 Today we honour the brave, fearless and dedicated women who have broken through confining norms and stereotypes in order to build peace, equality and human rights through diplomacy and leadership.
While women throughout history have not been given the full recognition they deserve as diplomats, dealmakers, leaders and visionaries, we are half of the global population, with a full potential to unleash.
I think of women leaders in the United Nations: UN Deputy Secretary-General Amina J. Mohammed, UNICEF Executive Director Catherine Russell, WFP Executive Director Cindy McCain, UN Women Executive Director Sima Sami Bahous, UN Under-Secretary-General for Global Communications Melissa Fleming and many more – along with the multiple visionary and bold women leaders who work with me at the ECW Secretariat. I think of the courageous Sarah Brown, Chair of Theirworld, who recently celebrated the 21st anniversary of her organization, which among other things mentors so many young women towards leadership. And I think of Sherrie Westin, President of Sesame Workshop, who has done so much for early childhood education.
I also think of the women who practice a more quiet, but equally important type of diplomacy, mothers and daughters everywhere, teachers, humanitarians, activists like Mother Teresa and Malala, visionary scientists such as Madam Curie and Katherine Johnson, and our own ECW Global Champions: Somaya Faruqi – who defied all odds to lead the Afghan Girls' Robotics Team; Folly Bah Thibault – world-renowned journalist, who launched her own girls' education foundation, Elle Ira à l'Ecole; and, Christina Lamb – award-winning journalist and best-selling author who helped bring the stories of Malala Yousafzai and Nujeen Mustafa to the world.
As Amina J. Mohammed so eloquently states: "We must all do everything possible to ensure women are at the table, our voices heard and our contributions valued." Still – despite progress and innumerable achievements and contributions to our world – that glass ceiling remains. Out of the 193 Member States of the United Nations, only 34 women serve as elected Heads of State. That's only 17%.
We cannot fail to include women at the highest levels of diplomacy and leadership in today's era.
Inasmuch as men, women too are the stewards of our planet. Inasmuch as men, women are leaders of policies that lift nations out of poverty and conflict. Still, wide gaps persist in women's participation and women remain grossly underrepresented in many weapons-related fields, including technical arms control.
The gap in economic rights is also a major barrier. Nearly 2.4 million women globally don't have the same economic rights as men, according to the World Bank.
More concerning still, women are being denied their human rights in countries across the globe, especially their right to 12 years of quality education. In Afghanistan, steps taken by the Taliban deny women of their access to secondary education, employment and power is one of the most egregious human rights abuses of the 21st century.
We can do better and we must do better.
The answer is education. Education enlightens and evolves humankind, education transcends biases and stereotypes, and it empowers girls and women to reach their full potential. For every dollar invested in girls' education, there will be US$2.80 in return. Investments that enable girls to complete secondary education could boost GDP by an average of 10%.
We must ensure the next generation of women diplomats and leaders are able to build the confidence, and access the tools, training and opportunities they need and deserve. With education for all, we can shatter that glass ceiling.
About Education Cannot Wait (ECW):
Education Cannot Wait (ECW) is the United Nations global fund for education in emergencies and protracted crises. We support quality education outcomes for refugee, internally displaced and other crisis-affected girls and boys, so no one is left behind. ECW works through the multilateral system to both increase the speed of responses in crises and connect immediate relief and longer-term interventions through multi-year programming. ECW works in close partnership with governments, public and private donors, UN agencies, civil society organizations, and other humanitarian and development aid actors to increase efficiencies and end siloed responses. ECW urgently appeals to public and private sector donors for expanded support to reach even more vulnerable children and youth.
Water Diplomacy – A Tool for Peace and Well Being
Authors: Kiran Bhatt, Prof Dr Sanjay Pattanshetty, Prof Dr Helmut Brand
On March 22nd every year, World Water Day is celebrated. The theme for 2023 focused on accelerating changes to resolve the water and sanitation crisis as part of the Agenda 2030. Starting in 2015, Sustainable Development Goal 6 aims to achieve everyone's access to water and sanitation by 2030, while Goals 14 and 15 focus on conserving water to ensure sustaining marine and freshwater ecosystems. In 2018, the United Nations General Assembly initiated the "International Decade for Action: Water for Sustainable Development – 2018-2028" to promote the management of water resources in an integrated manner. Further, UN Secretary-General António Guterres, as part of its Action Plan, stated that the demand for freshwater is estimated to grow more than 40 per cent by 2050. He added that the increased demand and the adverse impact of climate change would make water scarcity worrisome. Scholars and reports have highlighted that tackling the increasing stress on natural resources such as freshwater while battling climate change would be a primary challenge in the coming years. Thus, with the challenge evolving to affect worldwide, there is a spike in demand for international and regional cooperation despite trends of disregarding globally accepted agreements and geopolitical tensions.
Water as a Source of Conflict?
With the increasing water demand, managing transboundary water basins has become challenging for countries. Although wars or conflicts are not directly instigated by tension over water sharing, using water resources to intimidate the belligerents can potentially drive conflicts, both at the internal and international levels. In addition to the impact on security, scarcity and accessibility to water resources threaten individuals' socio-economic conditions, including food insecurity. Therefore, water impacts regional and international relations through its ability to control tensions and conflicts. As per the United Nations, a territory is termed "water-stressed" if it withdraws 25 or more per cent of renewable freshwater. Statista, an online consumer and market data platform, recently published a report highlighting the regions facing the highest water stress by 2040. Going by the definition given by the UN, the regions of Central and Southern Asia experience high levels of water stress. At the same time, it is critical in the case of Northern Africa and West Asia.
SDG 6 targets equitable access to safe and affordable drinking water. However, in many developing countries, contaminated water and poor sanitation facilities have resulted in the transmission of water-borne diseases like cholera, diarrhoea, and typhoid. Further, the absence of sanitation also enhances the breeding of vectors, which exposes threats of individuals to vector-borne diseases. Another impact of water scarcity and sanitation is its critical role in food security – from food production to ensuring adequate nutrition, which is possible through safe drinking water and improved hygiene practices. Water insecurity also has a far-stretching impact on the well-being of individuals. One of the aspects is social impact, where women are seen to encounter repercussions since they bear the responsibility of water acquisition for household tasks. Studies have further established that gender-based violence is closely related to the factors such as access, adequacy and reliability of water insecurity. Most research linked violence against women to gendered norms that justified aggression, made water and related household activities the primary responsibility of women, and limited women's capacity to seek help.
Figure 1: Sustainable Development Goals Related to Water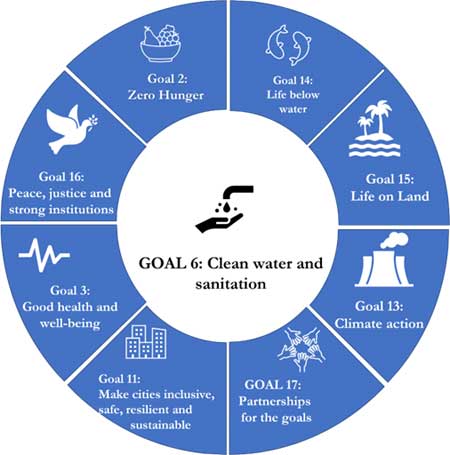 Source: Authors' own
Conflict and Crisis due to Scarcity – A Case of Sub-Saharan Africa
Fast-growing urban centres with a booming population dot the African continent on one side while it suffers from increased stress on the already overburdened water systems on the other. Multiple conflicts in the region trace their origin to increased competition for accessing depleting natural resources, among which water is placed high. The issues have risen at all levels of society; for example, the states of Sudan and Egypt have continuing disputes over the Grand Ethiopian Renaissance Dam with Ethiopia. While in 2021, a dispute between fishermen and herders in Cameroon turned violent, claiming the lives of 22 people while displacing close to 100,000 due to the continued clashes. The dispute was rooted in disagreements over the rights to water from Lake Chad. While water shortage triggers violent clashes, it also leads to food insecurity in the region due to the adverse impacts on agricultural output and wildlife. The impact of water scarcity has taken a severe turn on agriculture, thereby affecting agrarian economies. For example, South Africa, a relatively stable economy in the continent, depends on the agricultural sector for job creation, food supply and development through foreign exchange. However, the water shortage has negatively impacted commercial and subsistence farmers, affecting the latter more severely.
The nexus between climate change and conflict is a complex issue with context-specific factors playing an important role. However, water scarcity has proven to be a threat multiplier affecting lives and impelling migration. While the scarcity of water alone might not be able to explain tensions between conflicting parties, it can be used as a tool to enhance cooperation due to the mere necessity of water for survival.
Water – A tool for peace?
Water can trigger clashes between neighbours, especially in transboundary water basins, and lead to political tensions between upper and lower riparian states. Various factors, such as geography, influence these transboundary water interactions within a basin. For example, while considering the geographical setting of the course of a river, the states upstream are considered more advantageous merely because they can control the flow and volume of water. Actions such as building dams or diverting water to meet their demands are claimed to showcase power to other members. However, an upper riparian state is not always necessary to be the dominant player. This is evident in the case of the Nile basin, where Egypt has a more significant say.
It is in this context that one must view the importance of negotiations surrounding water sharing. Water negotiations provide an opportunity for the riparian states to discuss, debate and deliberate agreements on various critical factors, such as sharing technical information to agreeing upon commitments related to sustainable management of water resources. A further step in the process is water diplomacy, wherein water could be used to build diplomatic relations between states and international relations in general. While water may itself be a cause of conflicts, situations include groups competing for scarce resources. Disagreement may arise over water used for unilateral or mutually beneficial gains. Hence, the failure to address such disagreements could turn into potential conflicts. It is in these scenarios that water diplomacy becomes a tool for preventive tool. Such a diplomatic tool ensures regional cooperation by bringing stability and peace.
A good example of problems arising from water sharing can be analysed in the case of India. India and Bangladesh are known to share cordial relations, but water sharing has been an issue between the South Asian neighbours. The Ganges Water Treaty was signed in 1996, and the recent developments in signing an MoU regarding sharing water from the Kushiyara are some of the successes of water negotiations. However, an exception is the Teesta water sharing which has yet to be implemented due to remonstrance from West Bengal. On the other hand, a commonly sighted example of successful water diplomacy is the Indus Water Treaty, signed between India and Pakistan in 1960. The Treaty, which the World Bank mediated, aimed to ensure equitable access to water in the Indus River basin. Despite numerous flashpoints, the pact is viewed as a milestone not just in the political relations between the two countries but a model to negotiate, collaborate and address other outstanding concerns. The conflicts that had erupted in the Darfur region of Sudan also find water scarcity as one of the root causes of the dispute between the farmers and pastoralists communities. The international community has employed water to address the conflict that killed several and displaced thousands. Led by the African Union-United Nations Mission in Darfur (UNAMID), a project was initiated for sustainable recovery of peace in the Darfur region by enabling efficient water management, which helps build peace.
As a bottom line, water diplomacy ultimately works towards preventing and mitigating issues arising due to disputes and disagreements related to water sharing. But its success depends on the parties' willingness to cooperate. This willingness depends on the interests and motivations of the riparian states. A question arises if a powerful riparian might stall the entire process or the need for such engagements for a comparatively weaker riparian state even if there is no improvement in the prevailing imbalances. One angle to explain such unlikely cooperation is maintaining diplomatic relations and securing unexpected future circumstances that are dubious. The cooperation, if successful, could be extended beyond water management to include economic and security matters, ultimately bringing stability and peace to the region. While the success of such diplomacy centred around water depends on political will, linking the financial aspect to ensure further its implementation is also necessary. Political will is needed to establish relationships and networks for mobilising essential actors. It is also a requisite to bring all the crucial actors around a single table during disputes or crises. India's G20 presidency, along with Lifestyle for the Environment (LiFE), has provided an opportunity to share its successful programs related to water conservation, such as Jal Jeevan Mission (JJM), Namami Gange Programme  Atal Mission for Rejuvenation and Urban Transformation and Pradhan Mantri Krishi Sinchayee Yojana. By explaining and sharing the sustainability of such programmes, India can lead the way for other countries in designing action plans which ultimately help achieve the SDG targets. This would also help address the over-stressing water resources in South Asia. On the other hand, there is also a need to involve other players like the Finance Ministry within the government, regional organisations, Multilateral Development Banks and International Financial Institutions, which ensures financial support. In addition, they also provide a third perspective and act as a binding force for the entire process. Water diplomacy can be used as a practical approach that will ensure a link between sustainability and security.
*Sanjay Pattanshetty is Professor and Head of the Department of Global Health Governance and Coordinator of Centre for Health Diplomacy at Prasanna School of Public Health, Manipal Academy of Higher Education, Manipal, Karnataka, India. He completed Doctor of Medicine in Community Medicine (MD) from Manipal Academy of Higher Education, and Double master's in public policy and human Development with a specialization in Foreign Policy and Development from United Nations University and Maastricht University, The Netherlands. He has over a decade of experience in Public Health policy education program development, implementation, field research and practice. He has several scientific projects, and publications in reputed journals and has contributed to policy briefs in relevant areas.
*Helmut Brand is Jean Monnet, Professor of European Public Health and head of the Department of International Health at Maastricht University, The Netherlands. He studied Medicine in Düsseldorf and Zürich and holds a Master's in Community Medicine from the London School of Hygiene and Tropical Medicine and the London School of Economics. Prof. Brand is a specialist in Public Health Medicine. He holds an honorable doctorate from Sofia Medical University. After working in several Health Authorities and Ministries of Health, he was director of the Public Health Institute of North-Rhine Westphalia, Germany. Since then European Integration in Health is the main topic of his work. He is past president of the Association of Schools of Public Health in the European Region (ASPHER) and the European Health Forum Gastein (EHFG) president.
As a policy advisor he serves on the European Advisory Committee on Health Research (EACHR) of WHO Europe and served on the Expert Panel on "Investing in Health" (EXPH) for the European Commission. At MAHE, India, he is the Founding Director of the Prasanna School of Public Health.