The quest for sustainability: Energy, trade and the economy
Globalization's most important aspect is the economic one. This goes hand in hand with the gradual economization of modern life. The ideological faith in progress enshrined in the Enlightenment, together with the Industrial Revolution and subsequent liberal economic understandings, have reached their apogee in the neo-liberal globalization of the 20th and 21st centuries.
This is grounded upon the premise of infinite growth; the ultimate goal is to do more, produce and consume more, have our economies grow exponentially.[1]
This growth rationale has given way to three crises: In particular,
Global climate change

is, according to the most authoritative resource, the Intergovernmental Panel for Climate Change working under the auspices of the United Nations, anthropogenic and mainly due to high emissions of fossil fuels.

Scarcity of resources

, with many of the Earth's valuable non-renewable resources diminishing or following a downward slide.

Huge indebtedness,

with most countries highly indebted. Because growing our economy presupposes investments, we print and circulate money to such an extent that it does not correspond to the actual values of the products and services available. If everybody asks their money back now, only a small part can be repaid. The rest exists only virtually, through iconic financial transactions.[2]
In this context, this book aims to provide an alternative paradigm of development. After articulating its main tenets, it applies them to the case of Greece and, on this basis, formulates concrete policy proposals for the Greek case. It poses development against growth as the leading motor of the global society. While growth call for more, development calls for better; while the former puts more pressure on the Earth's sinks and sources, the latter looks at alternative ways of delivering equal services without inflicting further damage to the environment. Since the economic system is a sub-system of, and dependent upon, the ecological system, we should measure and understand the biophysical limits and organize the economy within them.[3]
Ecological Economics, the theoretical framework of the book, is a field where natural and social sciences are brought together in order to synergistically and harmonically drive humanity into a hard and challenging 21st century. Its proponents proceed to a reorganization of the basic economic problems. Instead of giving primacy to the allocation of resources and, only secondly and to a lesser extent to redistribution, as mainstream economic thought does, they proceed to a reconfiguration of the basic economic problems of the global society.[4] More specifically, they
Posit the scale of economic activity as the number one problem to be tackled, which is currently ignored in mainstream economic thought.

Within this defined scale, they look at redistributive mechanisms that mirror social justice and provide a welfare net.

Only then do they allow for market mechanisms to ensure the most appropriate allocation of resources into the economy.[5]
With the above in mind, the book establishes a number of crucial points for the re-organization of the economy and the energy sector and provides a fresh eye to globalization and financial and economic global governance. In particular:
GDP counts only quantitative, not qualitative, factors and should be substituted by the more encompassing Index of Sustainability and Welfare (ISEW), which counts both costs and benefits, traces environmental and resource costs and measures progress and welfare.[6]
It is essential to apply an ecological tax reform, summarized in the motto "tax bads, not goods". In this understanding, pollution, use of fossil fuels, overt consumption of resources etc. should be highly taxed. In return, taxes on employment and income should be respectively reduced, since they discourage employment and income, both of which is necessary for people's welfare. This alternative tax system carries the potential to reorder motives and penalties and guide economic transactions to more viable and cost-effective pathways.[7]
The keyword to the organization of the economy is dematerialization, meaning that we aim to use less resources in the economy without decisively bringing down our welfare level. The emphasis, then, shifts from products to services. There are many ways in which we can burn less energy, or use less resources, to heat our homes, move around, and dress ourselves etc. Innovative business models on shared services (in informatics, clothing, heating etc.) can decisively add to the much wanted de-materialization of the economy.[8]
In the energy sector, a switch against fossil fuels and towards alternative, renewable forms of energy is equally fundamental and possible. The first step would be to remove the gigantic subsidies to fossil fuels, so that wind and solar energy projects, among other renewables, can have a chance at being competitive. Second, implementing the ecological tax reform means that the balance tilts in favor of clean energy for environmental and social reasons. Thirdly, renewables can yield the most if used at a local basis. Reorganizing our energy structures, then, is a necessary prerequisite for cleaning the energy mix and at the same time serving humanity's needs. Fourthly, renewables are mostly used at a local basis, meaning that economic activity and profits remain at the local vicinity thus helping its economic vitality. Under this light, we should profoundly re-conceptualize pipeline politics and huge investments on fossil fuel energy infrastructure, since they will tie us to non-sustainable forms of energy production and consumption for decades to come.[9]
Finally, it is essential to reconsider the current form of globalization. The comparative advantage argument of the classical liberal scholars of the 18th century echoed the virtues of free trade in a world where capital was immobile. Today, however, with capital being more mobile than anything else, the concept of comparative advantage loses its meaning, since with the transfer of capital it appears only in the forms of limited or absent environmental protection that costs a lot, and suppressed wages that translate into exploitation. In this way, production moves to the regions with the worse environmental and working standards, a suboptimal outcome both for our planet and the economies around the world.[10] In this light, it is essential to reconsider free trade policies. It is proposed that the West, where the highest, albeit at cases inadequate, ecological and working standards are to be found,
Applies eco-tariffs to imports by states and companies that do not comply with environmental regulations and standards. This will act as pressure to these companies and states to meet high eco-standards. Once this is achieved, tariffs should be instantly withdrawn.

Applies social tariffs to imports by states and companies that do not meet basic social and working standards in their production procedures. Once these are met, tariffs should again be instantly removed. The World Trade Organization's workload should revolve mostly around these cases, rather than the opening of free trade to other regions on uncertain grounds.

Paves the way for a different theorization of free trade based on the free movement of ideas and knowledge that will generate more collective human knowledge for all. The regime of intellectual rights, hence, is up for re-conceptualization. This is so since they block knowledge transfer, from which the whole of humanity can benefit.[11]
Lastly, the creation of money has gone totally out of control. From a means to serve society, it has become an instrument in the hands of profit-making organizations, banks, to maximize their profits and expand the growth of the economy. This, however, translates into a highly indebted world, where the circulated money far exceeds the actual value of goods and services currently at play, as well as the biophysical limits. Since resources and the upper limits of pollution have become the limiting factor in the global economy, it is prudent and essential to make money circulation contingent upon the biophysical limits. Only this way can the financial and ecological systems work harmonically and symbiotically to the benefit of human existence and welfare.[12]
Overall, the ecological economics framework applies an ecological lens on most problems of the global society. Under this light, it aims not only to weigh a balanced critique against the deficiencies of the global economy, but also to provide fresh new ideas and perspectives as to how they can be tackled with. It proposes a holistic new framework for energy, trade, economic and global governance restructuring that can lead us into a truly sustainable future.
Book: Development and Welfare in the 21st Century. The approach of ecological economics and the case of Greece. (IWrite, 2013)
---
[1]Douthwaite, R. 1992. The Growth Illusion: How Economic Growth Enriched the Few, Impoverished the Many, and Endangered the Planet. Canada: New Society Publishers.
[2]Heinberg, R. 2011. The End of Growth: Adapting to the new economic reality. Canada: New Society Publishers.
[3] Wackernagel, M. and Rees, W. 1998. Our Ecological Footprint. Gabriola Island, B.C.: New Society Publishers; Latouche, S. 2009. Farewell to Growth. Cambridge: Polity Press.
[4] Daly, H. and Farley, J. 2004. Ecological Economics. London: Island Press; Costanza, R. (ed.) 1991. Ecological Economics: TheScience and Management of Sustainability. New York: Columbia University Press; Capra, F. 2003.The Hidden Connections: A Science for Sustainable Living. HarperPerennial.
[5] Daly, H. 1996. Beyond Growth. The Economics of Sustainable Development. Boston: Beacon Press.
[6] Daly, H. and Farley, J. 2004. Ecological Economics. London: Island Press; Daly, H. 1996. Beyond Growth. The Economics of Sustainable Development. Boston: Beacon Press.
[7] Lawn, P. 2007. Frontier Issues in Ecological Economics. Cheltenham: Edward Elgar; Daly, H. and Farley, J. 2004. Ecological Economics. London: Island Press.
[8] Jackson, T. 2009. Prosperity without Growth? The Transition to a Sustainable economy. Sustainable Development Commission.
[9] Daly, H. 1996. Beyond Growth. The Economics of Sustainable Development. Boston: Beacon Press.; Wackernagel, M. and Rees, W. 1998. Our Ecological Footprint. Gabriola Island, B.C.: New Society Publishers; Proedrou, F. 2015. Rethinking Energy Security: An inter-paradigmatic debate. ELIAMEP Policy Paper.
[10] Daly, H. 1996. Beyond Growth. The Economics of Sustainable Development. Boston: Beacon Press.
[11] Lawn, P. 2007. Frontier Issues in Ecological Economics. Cheltenham: Edward Elgar; Daly, H. 1996. Beyond Growth. The Economics of Sustainable Development. Boston: Beacon Press.
[12] Douthwaite, R. 2006. The Ecology of Money. Ireland: The Foundation for the Economics of Sustainability.
Boosting Energy Access through Parliamentary Action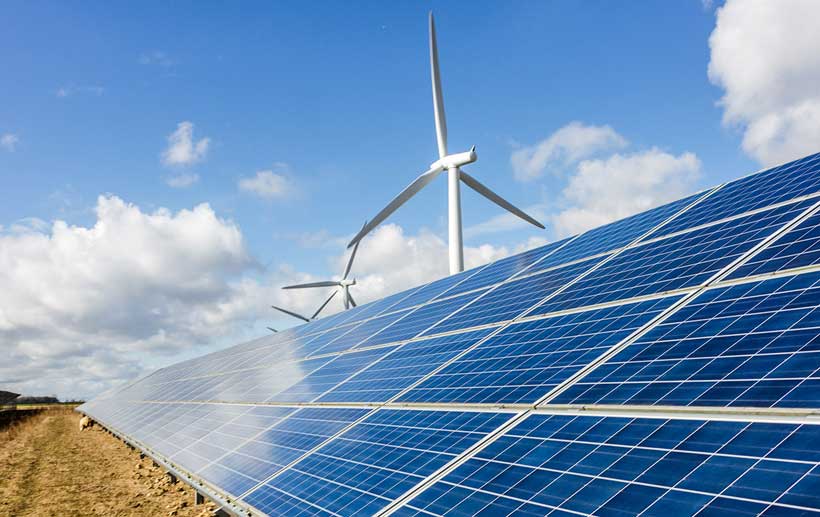 Belgian Parliamentarian, Andries Gryffroy, shares his views on enabling energy access through pro-renewables policy making
Parliamentarians from around the world will gather next week in Geneva, Switzerland, for the 138th Assembly of the Inter-Parliamentary Union (IPU), an international organisation of 178 Member Parliaments. While the institution has been around since the 19th century, this year's meeting will – for the first time – discuss a resolution focused on deploying clean, affordable and sustainable forms of energy, which is recognised as a key pillar of the global sustainable development agenda.
According to the International Renewable Energy Agency (IRENA), one of the global custodians of the Sustainable Development Goal (SDG) 7 indicators, off-grid renewable energy may serve around six million households worldwide – helping change the lives of approximately 30 million people. A further 120 million people currently without grid access, use solar lights.
To address this issue, a new resolution called 'Engaging the private sector in implementing the SDGs, especially on renewable energy' has been proposed by Mr. Andries Gryffroy, Member of the Flemish Parliament, IPU focal point and spokesperson on energy for his party, N-VA , together with his co-rapporteur, Mr. Duong Quoc Anh, member of parliament from Vietnam, in consultation with IRENA.
Though non-binding, IPU resolutions are drafted and adopted by parliaments around the world, distributed at the United Nations, and have the potential to influence national legislation. This new and yet-to-be-adopted renewable energy-focused resolution identifies what parliaments can do to maximize engagement around SDG 7 — ensuring access to affordable, reliable, sustainable and modern energy for all.
Andries Gryffroy, outlined the magnitude of the energy access challenge, ahead of the meeting. "Today, about 1.1 billion people lack access to energy powered by the grid. Unhealthy wood stoves, hazardous kerosene lanterns, loud and environmentally unfriendly gas and diesel generators are being used instead. These forms of energy are costly and labour intensive, yet, in remote areas, it is not financially viable to develop high voltage distribution networks. Installing small windmills, or solar systems in villages or homes, represents a sound alternative to more conventional sources of energy."
Drawing attention to the potential of off-grid and mini-grid renewable energy projects (including small-scale electricity generators converting power from renewable energy sources) for contributing to the implementation of SDG 7 in developing countries, the resolution encourages parliaments to facilitate, and account for, the risk management needs of small local project developers. It advocates for the establishment of enabling legal frameworks, and for incentivising public-private partnerships to speed up the transition towards a more sustainable system of energy production and consumption.
"Access to finance remains the issue even though such projects represent a relatively small investment," Gryffroy points out. "Investors are less attracted by those projects because they have limited visibility on the financial risks. The cost of assessing an off-grid project's viability is also higher than for larger projects. Therefore, one needs reassurances, such as a clear and long term agreement on price of electricity. Projects can also be facilitated when investors have obtained the expressed support both from the government and the local population." He adds that, "establishing an enabling environment to accelerate the deployment of sustainable off-grid energy solutions, will require a collective effort. Being a member of the Flemish Parliament and of the Senate, I am regularly in contact with various stakeholders, which is of crucial importance to undertake any legislative work."
The draft resolution, which will be debated throughout next week's IPU meetings, and submitted for adoption to the IPU Assembly, represents a unique opportunity for parliamentarians to act decisively. "Ultimately," says Andries Gryffroy, "legislators must seize the opportunity to act now."
Source: IRENA
Sustainable energy at affordable prices precondition for prospering economies in OSCE region and beyond
Energy security, the protection of critical energy infrastructure, the development and integration of renewable energy and the best use of digitalization for energy security were the focus of the OSCE Mediterranean Contact Group meeting held today in Vienna.
Today's discussion was the first conducted under the 2018 Slovak Chairmanship of the Mediterranean Contact Group. Participants highlighted that sustainable and reliable energy at affordable prices is the precondition for prospering economies and peace and security throughout the OSCE region and its Mediterranean partner countries (Algeria, Egypt, Israel, Jordan, Morocco and Tunisia).
"Secure, affordable and available energy is vital for national and regional economies across the OSCE region and beyond – a major driver for today's policymaking and an important part of the 2030 Sustainable Development Agenda," said the Slovak State Secretary of the Foreign and European Affairs Ministry and Special Representative for 2019 OSCE Chairmanship, Lukáš Parízek.
"Governments need to provide their citizens with affordable energy, at the same time meeting the growing energy demand by the industries, while making them more energy efficient and sustainable," said Parízek. "Investing in new and more resilient energy infrastructure is crucial. Improved energy connectivity and co-operation in securing the energy supply, transit and demand chains can lead to a better future."
Participants noted that there is hardly any domain other than energy in which the indivisibility of Euro-Mediterranean security is more consequential for the stability of states and the well-being of the people.
Representative of Italy's OSCE Chairmanship and Chairperson of the Permanent Council Alessandro Azzoni said that Italy commends Slovakia's decision to engage with Mediterranean Partners to foster co-operation in the energy domain. "Countries on both shores of the Mediterranean, and thus all OSCE participating States, stand to gain from increased energy security in the Euro-Mediterranean region."
Azzoni recalled that while Italy was chairing the Mediterranean Contact Group in 2017, it launched the "OSCE GEMS Award for young green entrepreneurs in the Mediterranean region making a social impact".  "The GEMS Award is a clear example of our efforts to promote co-operation between the OSCE and Mediterranean partners on issues including energy security," he said.
Recent challenges such as blackouts caused by an increased amount of extreme weather conditions, terrorist and cyber-attacks on physical and digital infrastructure and a changing energy mix were also discussed.
"One of the central energy security challenges of today is how to effectively protect critical energy networks from existing and emerging security threats such as natural and man-made disasters and terrorist cyberattacks," said the Co-ordinator of OSCE Economic and Environmental Activities, Vuk Žugić. "We stand ready to provide a platform to exchange best practices and build capacity, effectively addressing these issues."
The Mediterranean Contact Group meeting brought together a number of experts to share perspectives on energy security from both sides of the Mediterranean, with a focus on the growing role of technology.
Energy is at the heart of the sustainable development agenda to 2030
Three years ago, all countries of the world adopted 17 ambitious policy goals to end poverty, protect the planet, promote gender equality, or ensure prosperity, as part of the United Nations Sustainable Development Agenda, and vowed to achieve specific targets by 2030.
Energy is at the heart of many of these Sustainable Development Goals – from expanding access to electricity, to improving clean cooking fuels, from reducing wasteful energy subsidies to curbing deadly air pollution that each year prematurely kills millions around the world. One of these goals – commonly known as SDG 7 – aims to ensure access to affordable, reliable, sustainable and modern energy for all by the end of the next decade.
All these topics are fundamental to the work of the International Energy Agency. As the world's leading energy authority, the IEA has unmatched analytical capabilities based on its unique data collection, technological network, research, and policy recommendations, which we put in the service of understanding the energy system. As I have often said – in the world of energy, data always wins.
The adoption of energy specific sustainable development goals was a milestone in moving the world towards a more sustainable and equitable system. The IEA continues to support this critical goal with unbiased data and projections. This has long been a personal and professional priority for me. Fifteen years ago, we recognized this basic fact when we first compiled data for electricity access and mapped out a scenario for delivering universal electricity access by 2030 in the World Energy Outlook, the IEA's benchmark publication.
As a result, the IEA has been tracking country-by-country progress on energy access (SDG 7.1) on an annual basis since 2002. As the world's most authoritative source of energy statistics, the IEA is also the lead custodian agency for reporting progress towards substantially increasing the share of renewables in the global energy mix (SDG 7.2) and doubling the global rate of improvement in energy efficiency (SDG 7.3).
The United Nations will have the first in-depth review of SDG 7 goals at the High-level Political Forum on Sustainable Development organized in New York, in July this year. This will be a good time to assess where we stand with our global energy goals, where existing national policies are taking us, and how to steer the global energy system towards a more sustainable path. To assist this critical process, the IEA has decided to create a new online resource to centralize all of our data and scenario projections in support of the 2030 Agenda.
It is clear that the energy sector must be at the heart of efforts to lead the world on a more sustainable pathway. But our data and analysis show that the current and planned policies fall well short of achieving our critical energy-related sustainable development objectives.
There has been tremendous progress in delivering universal electricity access (SDG 7.1.1) in Asia and parts of sub-Saharan Africa, with the number of people without access declining to 1.1 billion in 2016, from 1.7 billion in 2000. But on the basis of current progress, more than 670 million people are still projected to be without electricity access in 2030. Much work remains to be done in this field.
The picture is even dimmer when it comes to access to clean and modern cooking facilities (SDG 7.1.2). About 2.8 billion people rely on polluting biomass, coal and kerosene to cook their daily meals, a number which has not changed since 2000. Without greater ambition, 2.3 billion will still remain without clean cooking access in 2030, with grave health, environmental and social consequences.
The share of modern renewables in global final energy consumption (SDG 7.2) has been growing steadily in the past decades, reaching nearly 10% in 2015. However, to achieve a truly sustainable energy system, this share needs to more than double to 21% by 2030. But while wind and solar deployment has accelerated, thanks to falling costs and policy support in many parts of the world, this goal is still out of reach under current policies.
Finally, 2015 was an impressive year for energy efficiency (SDG 7.3), with global energy intensity falling by 2.8%, the fastest annual improvement since 1990. However, the average improvement between 2000 and 2015 of 2.2% still falls short of the 2.6% target needed to achieve the SDG target, and the 3.4% annual improvement needed to meet more ambitious long-term climate objectives.
Tracking progress towards these goals is only one aspect of our sustainable development work. Through our new Sustainable Development Scenario, introduced in 2017, we also seek to map an integrated path for achieving critical global goals in the next three decades: delivering universal energy access by 2030, an early peak in carbon emissions (SDG 13), and reducing deadly air pollution (SDG 3). One of the main finding of this new scenario is that these three goals are not incompatible. Indeed, our analysis shows they can successfully be met together.
But there is an urgent need for action on all fronts, especially on renewables and energy efficiency, which are key for delivering on all three goals – energy access, climate mitigation and lower air pollution. The IEA is committed to keep leading this agenda, and stepping up efforts to support the clean energy transition. We will do so with our unparalleled data, unbiased analysis, and our determined policy support to help move the world towards delivering the 2030 Agenda.