Crisis Briefing: Restless South Sudan
South Sudan with capital Juba is a country in northeastern Africa. Young state has a population over 11 million people with diverse ethnicity of 18 ethnic groups.Among the largest ethnic groups are Dinka, Nuer and Shilluk. Unlike the predominantly Muslim population of Sudan, the South Sudanese follows traditional religions, while a minority is Christians. South Sudan has six neighboring countries and is divided into ten states.
After independence on July 9 2011 country had no internal capacity to build all of the institutions that takes to build a successful state. Following several decades of civil war with Sudan, industry and infrastructure in South Sudan are severely underdeveloped and poverty is widespread. Between 1955 and 2005, Sudan and South Sudan experience conflict and war for all but few years. Relationship between countries is of special importance since South Sudan relies on pipelines, refineries and Port Sudan's facilities in Red Sea in Sudan.South Sudan has the third largest oil reserves in Sub-Saharan Africa and it is estimated that 75% of all the former Sudan's oil reserves are in South Sudan. There are still conflicts between two mentioned countries. Beside oil dispute there is also ongoing border dispute in the region of Abyei, over land. South Kordofan and Darfur are still open topics. Oil production in South Sudan and its dependence on oil has an impact on the economic situation.
It is acknowledgeable that South Sudan has some of the worst health indicators in the world. More than half of the population lives below the poverty line. Based on The Fund for Peace and itsFragile states index, country was the most fragile state in the world in 2014. The youngest country in the world has suffered internal conflicts since its independence.Fighting started on 15 December 2013 after President Salva Kiir accused his ex-vice president, Riek Machar of an attempted coup. Conflict spiraled out of control and spread across the country.Machar assumed leadership of "rebellion" and the army split as clashes occurred around the country.Violence began along ethnic lines, but the dynamics are very complicated.The political crisis and the break-up of security forces affected states in South Sudan in different ways. Jonglei, Unity, Upper Nile and Central Equatoria (Juba County) have seen the worst of the fighting. In Lakes and Warrap States were and still are thousands of internally displaced persons (IDPs). In the other four remaining states there was no fighting and only small numbers of IDPs. It is sad and frustrating that South Sudan, with catastrophic humanitarian crisis and civil war does not even hit the headlines anymore.
Since the fighting started tens of thousands of people have been killed, and more than 1, 5 million are IDPs. According to World Food Program (WPF) 2, 5 million people in country urgently need food. Based on World Health Organization (WHO) life expectancy in the country is only 55 years. There are also a lot of refugees in and outside the country. United Nations High Commissioner for Refugees (UNHCR) reports that more than 500,000 individuals have crossed the borders to seek refuge in neighboring countries. The number of refugees in the country is 259,232. Amnesty International and other international organizations reported of systematic and widespread human rights violations. There is also no accountability for crimes and atrocities. Children are forcibly recruited on both sides of the conflict. Furthermore, sexual and gender-based violence is constantly reported. The legacy of civil war and chronic underdevelopment impact heavily on the ability of the new state to provide basic services and respond to humanitarian needs, rendering communities vulnerable to the effects of insecurity, displacement, food shortages, outbreaks of disease and seasonal floods.
There are different options or courses of action that should be considered in order to resolve problems in South Sudan. We have seen negotiations and mediation in South Sudan but they do not reflect the diversity of armed groups and interests in the country and region. In 2014 Intergovernmental Authority on Development (IGAD) began mediating a political dispute between the Sudan People's Liberation Movement (SPLM) which escalated into an armed conflict between forces loyal to President Kiir and those loyal to Riek Machar. East African sub-regional body began mediating between the government of South Sudan and Sudan People's Liberation Movement/Army-in Opposition (SPLA/M-IO). A cessation of hostilities agreement was signed in January 2014 and also on 9 May, but fighting continued. In June negotiations was broadened to include other stakeholder groups. IGAD leaders further authorized the IGAD region to intervene directly in South Sudan to protect life and restore peace. To date, there is no agreement between the fighting parties. The conflict cannot be resolved by engaging only two of the nearly two-dozen armed groups in the country and ignoring groups that had not yet engaged in fighting. There is a nationwide trend of fragmentation of armed groups.
In order to reach peace in South Sudan African Union (AU) established a Commission of inquiry in March 2014. The commission was given three month mandate to investigate human rights violations and other abuses during the armed conflict. Report that still has not been made public is an assurance of accountability for crimes and atrocities. The body decided not to release the report because it feared that its publication would disrupt peace negotiations.
The UN Security Council in December 2013 approved an increase in the military strength of the UN mission in South Sudan (UNMISS) to 12,500 troops and 1323 police personnel. The focus of UNMISS is on protection of civilians, monitoring and investigating human rights, humanitarian assistance and supporting the implementation of the cessation of hostilities agreement. After failed talks in March this year the United Nations Security Council unanimously adopted resolution to impose sanctions on any party that disrupts efforts to restore peace in South Sudan.
Civil war and conflicts have disrupted agriculture and food production. More than seven million people are put at risk of hunger and disease. Humanitarian organizations do not have access to all people in need. There were even reports of obstructing UN mission UNMISS in the country and that puts even greater risk to stability and peace. No free access to lands and the plant corps because of fear of violence has a negative impact on every aspect of the country.
What needs to be done in South Sudan? There is an urgent need for humanitarian assistance and adequate funding. Agreements which were signed in January and in May must be respected by both parties – Government of South Sudan and opposition – SPLM/A-IO. All fighting groups must be considered. Violence against civilians must stop. Crisis Group recommends national dialog, a new constitution, credible elections, addressing the root causes and redefining relations between the state and its citizens. Despite the wealth of natural resources, especially oil, water, gold, silver, iron ore and copper South Sudan remain one of the poorest countries in the world. Problems related to livelihoods, economic development, lack of basic services and extremely weak infrastructure need to be addressed. Due to lack of maintenance, qualified staff, equipment, medicine, medical centers and schools barley function. A new approach is required from UN Security Council. An arms embargo should be posed. There should be an examination of sources that fund the war and actions that will enable leaders from using oil revenues to fund further conflicts. Engagement with the wider community is needed. China is the largest investor and buyer of South Sudan's oil, and some of the 700 troops of its troops are in the UN peacekeeping force. USA and Washington played a key role in winning independence from Khartoum in 2011. USA and China should persuade Uganda and Sudan to de-escalate the conflicts and pressure their South Sudanese allies to work toward agreements that will enable further development and peace.Cross-border activities should be reduced. So far two agreements to end hostilities have been signed, but the fighting still continues. The one scheduled in March did not come to a light but we hope negotiations will bring more results in the future. Establishment of the hybrid court system with international assistance and independent investigations is needed. There can be no reconciliation without accountability.
Situation in central Mali 'deteriorating' as violence, impunity rise
The growing violence has contributed to a deteriorating security situation in central Mali, with impunity being one of the aggravating factors, an independent UN human rights expert warned on Friday.
"In central Mali, I observed an accumulation of security, judicial and administrative failures that facilitates mass violence with impunity. The Malian Armed Forces and MINUSMA (UN Multidimensional Integrated Stabilization Mission in Mali) have failed to provide adequate security for the civilians of the region," Alioune Tine, the UN Independent Expert on the human rights situation in Mali, said in a statement following his visit to the country.
He said that civilians have been victimized by transnational criminal organizations, terrorist groups and armed militia which are grasping control of the region.
The human rights expert was told that the perpetrators of previous attacks in different regions have not been held accountable, thus making impunity as one of the aggravating factors of the current violence.
The slow judicial process is due to the security situation, which makes arresting the alleged perpetrators complicated, as well as the climate of fear, with witnesses and victims afraid of reprisals.
"The current violence is increasingly difficult to control and could become a major threat to the entire sub-region," Mr. Tine warned, adding that the Economic Community of West African States (ECOWAS) and the African Union must urgently find effective remedies to end violence and serious human rights violations in central Mali.
He also urged the UN Security Council to reassess the situation and adjust the mandate of the MINUSMA accordingly.
Improvement in northern Mali a 'major turning point'
Despite the worsening situation in central Mali, there has been some positive progress in the north.
"The implementation of the Algiers Agreement in 2015 in northern Mali, with the gradual redeployment of the rebuilt Malian Armed Forces (FAMA) in Kidal and Timbuktu and their upcoming deployment in Menaka and Taoudeni, is an important step towards the return to peace," said Mr. Tine.
Calling this improvement "a major turning point", the UN expert also commended the efforts of the Malian state, armed groups and MINUSMA throughout this process.
"The resolutions currently being implemented bring a new hope for peace and for a gradual return to a peaceful political process in northern Mali, through the organization of legislative elections," he said.
The 2015 Algiers Agreement is an Algerian-brokered agreement for peace and reconciliation in Mali, signed among the Government of Mali, the Coordination of Movements of Azawad and the Plateforme armed group.
Independent experts are appointed by the Geneva-based Human Rights Council to examine and report back on a specific human rights theme or a country situation. The positions are honorary and the experts are not UN staff, nor are they paid for their work.
Escalating Burkina Faso violence brings wider Sahel displacement emergency into focus
Deadly attacks on villages in Burkina Faso have forced 150,000 people to flee in just the last three weeks, the UN refugee agency (UNHCR) said on Friday, warning of a displacement emergency in the wider Sahel region.
Amid a devastating surge in terrorist attacks against civilian and military targets which the UN says have risen five-fold in Burkina Faso, Mali and Niger since 2016, UNHCR spokesperson Andrej Mahecic said that survivors needed safety, shelter, food and water "everywhere".
Help is particularly needed in northern Burkina Faso, where displaced families are staying with host communities who have little in the way of resources themselves.
Some 4,000 people a day flee violence
The new arrivals are "occupying whatever space is available", the UNHCR official explained, stressing that more than 4,000 people a day have fled attacks in Burkina Faso, since 1 January.
"So far, 765,000 people have already been displaced, of whom more than 700,000 in the past 12 months," he noted.
Those forced to flee "report attacks on their villages by militant groups, killing, raping, and pillaging," the UNHCR official said. "Terrified of these attacks, residents have left everything behind to find safety."
A similar pattern of violence has driven people from their homes in Mali and Niger, adding to the longstanding insecurity crisis further afield in the Lake Chad region, where the UN humanitarian coordination office (OCHA) estimates that 2.3 million people are displaced.
Following a recent string of attacks in Niger's Tillaberi and Tahoua regions, UNHCR reported that 4,400 people have fled into neighbouring Mali, while the same wave of violence has displaced around 11,000 people inside Niger.
"They have found refuge in nearby towns of Banibangu and Ouallam, where assistance is being provided," Mr. Mahecic said, noting that the regions of Tillaberi and Tahoua host 58,000 refugees from Mali and nearly 81,000 displaced people.
In central Mali, the UNHCR official noted that the latest attacks on the village of Ogossagou on 14 February had claimed 30 lives.
'Too afraid to move'
"Safety is needed for these people," he said. "In some of these situations, people are so afraid of the insecurity and violence around them that even though they are under attack or fearing of an attack, they do not dare to move."
The Sahel region encompasses an area south of the Sahara Desert spanning 10 countries from Senegal in the west to Eritrea, in the east.
Violence there intensified after the 2011 revolution in Libya, and an uprising in Mali a year later. As a result, terrorist groups, organized criminal groups and others took advantage of weak governance and ethnic tensions to move across borders and terrorize local populations.
Highlighting severe challenges in accessing the needs of victims of violence throughout the Sahel region, Mr. Mahecic explained that safety, shelter food and water were a priority.
Clothing and other basic items, including dignity kits for women and girls, were also urgently needed, he said, along with counselling for survivors of atrocities.
"What we know right now, is that the violence and the frequency of these attacks have increased, the intensity has increased, and we know that this is the key reason behind this massive displacement," he said.
Safe access vital to traumatized communities
UNHCR and its partners have stepped up their response, including by strengthening health and education facilities for communities, Mr. Mahecic added, before appealing for safe access for humanitarians to deliver assistance.
According to the UN Special Representative and Head of the UN Office for West Africa and the Sahel (UNOWAS), violence in the Sahel claimed more than 4,000 lives in 2019, compared to 770 in 2013.
In a briefing to the Security Council last month, Mohamed Ibn Chambas described "relentless attacks" that had shaken public confidence in the authorities.
"Most significantly," he said, "the geographic focus of terrorist attacks has shifted eastwards from Mali to Burkina Faso and is increasingly threatening West African coastal States."
Mr. Chambas also explained how the attacks were often perpetrated by extremists looking to engage in illicit activities that included capturing weapons and illegal artisanal mining.
"Extremists provide safety and protection to populations, as well as social services in exchanged for loyalty", he said.
Violence in North and West Africa increasingly targeting civilian and border areas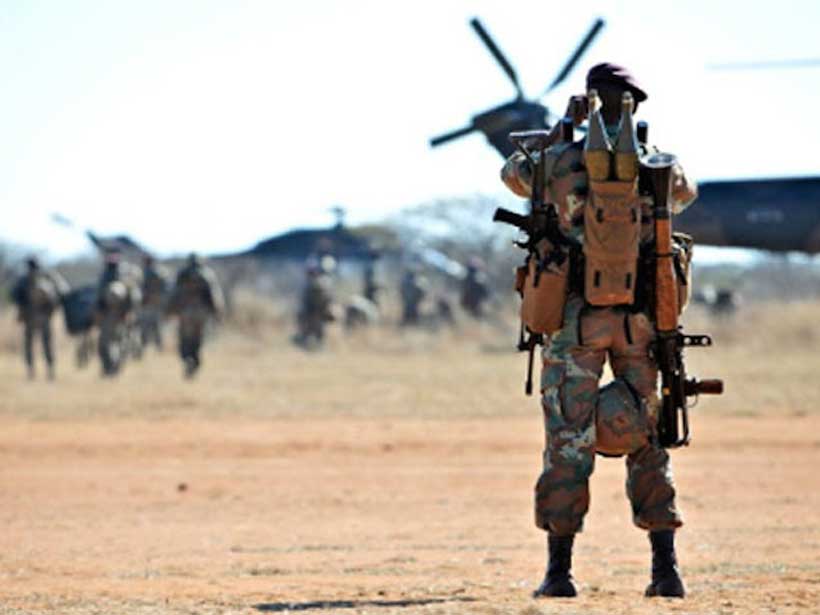 Violence in North and West Africa is increasingly targeting civilian and border regions as today's conflicts involve non-state actors with diverging agendas, according to a new report by the OECD's Sahel and West Africa Club (SWAC).
The report uses granular data to assess the intensity and geographical distribution of violence in the region since 1997. It finds that the last five years have been the most violent recorded in North and West Africa, with more than 60,000 people killed between January 2015 and the end of 2019. More than 40% of violent events and fatalities occur within 100 km of a land border, and 10% of deaths from political violence occur less than 10 km from a border. Civilians are increasingly specific targets of violence, rather than just being caught in cross fire.
The report uses a "Spatial Conflict Dynamics Indicator" to show which regions of North and West Africa experience the most conflict, how conflicts evolve geographically over time and how military interventions affect the intensity and spread of violence. It notes that attempts to stabilise the region are complicated due to the number of players involved and their shifting alliances.
"Paying close attention to the geography and dynamics of these deadly conflicts and the complex interactions between the large numbers of actors involved may help to find ways to resolve this worsening insecurity," said OECD Secretary-General Angel Gurría, presenting the report at the Munich Security Conference.
The Sahara-Sahel region is suffering from exceptional levels of political instability involving a combination of rebellions, jihadist insurgencies, coups d'état, protest movements and illegal trafficking of drugs, arms and migrants. Conflicts tend to regionalise across borders as armed groups defeated by counter-insurgency efforts relocate to other countries. The geographic spread and opportunistic relocation of conflicts is exacerbated by a lack of controls on many African borders that facilitates the circulation of fighters, hostages and weapons.
The study calls for states in the region and the international community to promote regional initiatives to restore state legitimacy, increase investment in border regions and improve protection of civilians — creating secure regions where inclusive forms of policies are put in place and a strong dialogue between states, local actors and populations is reinforced.