The funk of politics – What the demonstrations in Brazil show us
Brazilians are no longer satisfied with the current panorama of the country – at least, that is what they have been showcasing in various ways. Ultimately, on March 15th, more than a million citizens took the streets around the country and abroad to protest over issues such as corruption, weak economy and contradictory measures taken by the government of Dilma Roussef, the left-wing President re-elected at the end of 2014.
The political pressure comes at the time in which the country is shaken by the scandal of Petrobras, the Brazilian state-run oil company. It has been revealed under investigation that more than 40 politicians, some of them from the President's Workers' Party and the ruling coalition, including the speakers of the House and the Senate, former executives and construction companies were involved in a massive bribery scam and money-laundering case that embezzled billions of dollars. Even though the President was not accused of wrongdoing, it was during her years as Energy Minister and chairwoman of the company that the alleged corruption probe happened. The publicity of it provoked heated discussion among Brazilians – the faithful party's supporters, the incredulous middle class and the afflicted industrialists. It is hardly shocking that such action applied this particular reaction, if anything we can be relieved that it did. Democracy is still alive and kicking.
A 'Dilmother' lode of opinions
The citizens are outraged not only because of the political situation – which they tend to summarize with one word, 'corruption', no matter what kind of scandal it is – , but also over Brazilian economy facing tough times, since it is nose-diving in one of the highest inflation rates in the last decade (7,7%) and the currency plunges. All those factors have led the President to take unpopular measures that were previously proposed by the opposition, but promptly condemned by her staff during the campaign- the 'I am in charge now' discrepancy, witnessed in every political system all over the world all the time.
All this instability resulted in the political dissatisfaction that gathered people in many capitals across the country. Curiously enough, the events were organised through Facebook and websites by non-partisan groups, thus following the patterns of the manifestations in 2013 and 2014, and reunited a myriad of opinions that longed for changes in the government, despite the differences amongst them.
Once again, we witnessed Brazilians absolutely and passionately divided as in a football match between the ruling parties and the opposition. Many times and regretfully enough, they were not able to understand the similarity of their demands, which is probably due to the way information is ruled and consumed in loco.
In spite of having plenty of information, people tend to absorb it in a passionate, sometimes dangerously non-critical way. In Brazil, an instructive example is that whereas some call President Dilma a 'mother', others tend to demonise her and her government, demonstrating that in a country where the number of magazines and newspapers greatly surpasses the number their consumers, press has its share when it offers incomplete and, sometimes, heavily biased analysis on the latest news. On top of that, citizens do not make a habit of going deep into the facts and are prone to adopt a political posture by following closely only one side of the story, deeming those who have different opinions as 'political illiterates'. At this point, it is clear that willingness to make changes in the way the country is ruled abounds to the degree at which the process of political thinking lacks fruitful, open discussion.
Before the rally on March 15th, about 40 thousand marched on March 13th in defence of Petrobras and the Workers' Party. Two days later, those chanting on the street were mostly right-wing oriented, but their claims were not homogeneous and the experts would actually arrange the citizens into democratic, moderate and even ultra-conservative right-wings. Accordingly, several asked for impeachment, others for democratic changes, while some even supported military intervention and secession.
Although the demonstrations were not alike when it comes to the profile of those involved, be that for economical class or political orientation, Datafolha Institute indicates that their reasons, not their views, were convergent. In the contemporary world where 99 % of people live in a different micro cosmos than the remaining 1 %, this is not at all a surprising fact. Moreover, this fusion of views into one voice should be viewed as a positive sign towards a possible future rebellion against the current (political, economic, social and cultural) world order.
The story before March: the 20 cents that woke up the giant and the Cup that tucked him in
It would be ignorant to say this newest manifestation of dissatisfaction is an isolated episode. It has been two years since the first action took place, at that time because of the increase in bus fares, and the authoritative measures taken against the protesters stemmed a series of other protests for bigger and deeper political changes that lasts until today. The Brazilian giant was awake again, craving for changes and, in a cathartic 2013, sure of what he wanted. Today, he still has legit demands, but his voice lowers as the people cannot reach a consensus on what to protest for, which has been making him numb ever since. Hopefully, 2015 will be the wake-up call for every Brazilian to reflect on their political principles and move together towards a common objective.
The initial demonstrations in 2013 can be divided into three distinct acts, all of them organised and sponsored via social media. The first of them counted mostly with students that were outraged about the raise in the fair related to transports. In a non-violent march, those students were brutally supressed by the local police and deprived of their rights. The second phase involved representatives of the society as a whole – old people, children, teachers, workers – that were not only dissatisfied by the way the students had been treated but also demanded broader improvements, better hospitals, well-trained policemen, education for the people and the end of corruption, chanting that the Brazilian giant was finally awake. The third phase was led by a group of black blocks, who acted violently and destroyed several public and private places. This was the first time Dilma's approval rates amongst electors have fallen significantly since her presidential inauguration.
In 2014, amid the preparation for the World Cup in the country, Brazilians found themselves in a huge scandal for misusing the public funds, corruption and overbilling for the construction of stadiums.
The general tension also mounted with the leaks about the shabbiness in public healthcare and education. As opposed to what was done in the countries that hosted the World Cup before Brazil and also in contrary to what the government announced, most part of the public money was destined for stadiums, whilst the public facilities needed for the event did not receive many investments.
All those reasons incensed the citizens to go to the streets once more in peaceful, yet persistent protests that took place in the first semester of the related year, including during some of the matches.
This time, however, the event was successfully executed and the aftermaths were at the same time confusing and astonishing. Besides having increased the number of tourists and, thus, the money they spent in the country, some of the work was arguably necessary, such as the Stadium in Amazonas, where there is a lack professional soccer teams and the weather is challenging.
It is paramount, therefore, to make it clear that these latest local protests did not occur out of the blue, green and yellow. They happened as a result of sequential factors that led to new political consciousness and habits that include a wider and wider range of citizens, even if this process is still ongoing. By sharing their views through social media, spreading the news in a rapid and effective way and allying themselves with potential supporters who share the same mind-sets, protesters could on the one hand hold a big event and, on the other, increase the power of pressure.
A government that is half of a kind
Now President Dilma has to deal with an ever increasing part of the population that does not feel properly represented by the government, which is especially true for the Brazilian middle class. Researches show that rejection rates achieved 62%, the highest percentage since September, 1992, right before President Fernando Collor de Mello suffered impeachment. Experts disagree on whether impeachment would be a legal or even an acceptable solution, with the population having similarly polarized opinions.
The Worker's Party, known for its social policies, constantly relates the resistance from the middle class to wealth redistribution – hence, the desired improvement for those in need. Yet, the President now loses adepts in the lower economical layers of society, too, which evidences that her acceptance rates have decreased even among less favoured and illiterate electors.
At this point, it is as important to remember that President Dilma won re-election by a tiny margin as it is worth noting that it happened less than half a year ago. This shows us that even though social media recently played a major role in exposing the government's weaknesses and pushing it for changes, we should also be reminded that political consciousness should have been taken seriously ages before the chants, and that is on polls.
At that tumultuous Sunday night, the government reacted to this rejection by recognizing the democratic legitimacy of demonstrations, but downplaying their suitability, claiming that the protesters were not able to win during the elections– the demonstrators responded by banging pots and pans and honking car horns.
Now it tries to put the country back on track and desperately hopes to find a magic bullet for the animosities, such as the quick sanction of an anti-corruption law that aims to penalize enterprises involved in corruption scams. Moreover, since the beginning of her new four-year term, the President has changed some of the ministers in her staff, being the newest of them the Education Minister, the philosopher and Ethics professor Renato Janine Ribeiro.
Nevertheless, the next steps in Brazilian politics remain very unclear. Despite making some changes, the government still receives heavy criticism, especially from the organisers responsible for the manifestations, who believe it did not quite understand the needs presented. They claim the government responded insufficiently, by designing fragile policies, and demand more energetic measures towards themes like corruption and the number of ministries. Even they suffer the pressure from the right-wing now, and some of them have recently adjusted the movement's premises, consequently supporting impeachment.
Some citizens will be rallying against the government again, on April 12th. Until then, we still need to expect few shiny new moves from both sides, the governmental and the protesting part of population. Then, hopefully, the clouds will clear and we will see how much of it is just hot air in our tropical fall.
The coup in Bolivia shines yet more dark light on America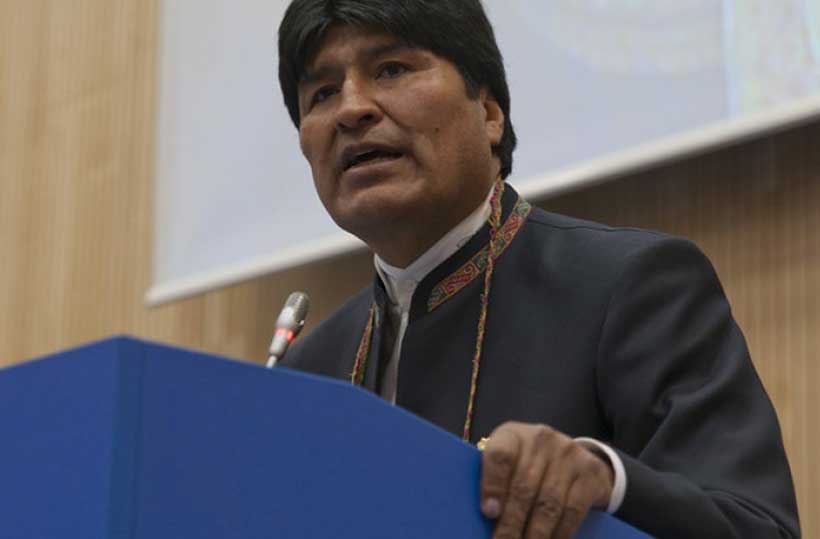 Just when one might have thought things geopolitical might be about to turn for the better, which means the worldwide geopolitical nightmare engineered by the U.S. and Trump and all the rest of the mob in Washington might fade a bit, it just gets worse.
Bolivia's recently re-elected and then self-resigned President Evo Morales because he is graciously trying to avoid more upset and possible carnage in Bolivia, was on the chopping block of the U.S., and chopped he was although he is not dead yet and apparently hiding out among his indigenous supporters somewhere in Bolivia but has accepted asylum in Mexico.
Yes, Morales may have tried to overstay his presidential term by extending the term limits and maybe, just maybe, there were some very minor "irregularities" in the voting process in his country, but that's immaterial. He still won a huge plurality of the votes against his challenger. The U.S.'s government changing machine has been out for his head for over a decade, and he had the guts at the U.N. not long ago with Trump and Pompeo nearby to point out to the world just what the U.S. has been about for far too long: criminal meddling all over the globe.
It's weird, though. Evo did a good job for over a decade. You cannot argue about his economic record in Bolivia. He created, surprisingly, what might be termed a "prosperous socialism" wherein ALL boats were lifted, and especially the prospects for the poor majority. One would think the oligarchs and the "rich" in Bolivia might see some benefit in a society where most everyone got at least something better than they had. But the "rich" and particularly the obscene rich, and imperialists, they can never get enough. Any diminution in their wealth, or more importantly any restrictions on how wealthy they might become because some sharing with the poor is mandated by good government, has now been forbidden. Do they not realize that social calm for all, relatively, is better than total societal discord? Apparently not. Whatever new government is formed in Bolivia, the country is going to regress violently and the poor set back forcefully, with extreme prejudice. People who are by nature cruel and lacking compassion, feeling themselves exceptional, like oligarchs, never learn…until they are strung up on lamp posts and finally destroyed, as has happening time and again in history in various locations.
It may be hard to believe, but the U.S., which is largely controlled by multi-billionaire oligarchs (and this is a phenomenon that has been building for 30 or 40 years) under an increasing "neoliberal" regime (and not just in the U.S.), may see a day when even they will see their fortunes vanish both materially and socially. Lamp posts likely await them, too, when things become unbearable for the 95 percent of the citizenry. For the privileged, greed really is bottomless for most of this class of people. They live in a fantasy world. But of course there are exceptions. Yet the U.S. aims for resources overseas that it does not control – like Venezuela's oil, like Bolivia's as yet mostly untapped lithium, like Afghanistan's riches, and much more.
Which begs the question whether it was a good idea that President Rouhani told the world this week that Iran has discovered an additional 53 billion barrels of oil. Even if only 25 percent of this can be eventually extracted, it's fabulous. Iran IS wealthy, fabulously so in every respect, especially in its people, except that for now it can't market its petroleum wealth. Maybe that is a good thing temporarily, for Iran appears to be growing other industry, including the growth and export of saffron to name just one item.
Meanwhile, as risky as it may be, Iran has allegedly "blown past" uranium enrichment levels mandated by the JCPOA. This is absurd. Iran is allegedly enriching uranium up to levels of 4.5 percent. That nowhere close to bomb material at over 90 percent. The JCPOA permits 3.6 percent, allegedly. The IAEA and the European signatories to the JCPOA are concerned and want Iran to go back to the limits of the deal. This includes limits on the size of the stockpile of enriched material, too, which is currently, according to reports, less than 100 kilos above that limit.
However, Iran is doing just what it said it would and no more — inching away from the JCPOA because the signatories of the JCPOA, the Europeans, have done virtually nothing, cowards that they are, to stand up to the Trump mobsters and realize that their long-term interests reside east of the Bosporus. At least Nordstream 2 is soon going to be a delivering fact. Europe did not back down to U.S opposition to that, and should have stood by Iran when Trump, caving to Netanyahu, abandoned the JCPOA. As far as many observers are concerned, particularly after the U.S.- coup in Bolivia, Iran is doing just the right things and the world, literally, prays that pariah America falls on its own swords.
From our partner Tehran Times
Floods, Fires, Coups and Impeachment Make a Busy Week
Venice is flooded. The water is hip high in St. Mark's Square threatening the church and the expensive shops and restaurants on its perimeter. The mayor blames climate change.
In Australia, the bush fire season is underway. One in New South Wales is scorchingly close to nearby homes having already destroyed two buildings on a country property owned by the actor Russell Crowe.
Floods, too, in the north of England, while Boris the chameleon has a comfortable 10-point lead in the polls over his labor opposite number, Corbyn the plonker. No matter how outrageous or inept, Boris might be, the plonker makes nary a dent on that voluminous target. So much for the left in Britain as it awaits another drubbing at the polls.
Then in Bolivia, Evo Morales has fled to Mexico claiming his life was at risk. If he clearly looks Bolivian Indian, his successor, the leader of the senate, Jeanine Anez is just as clearly white. As in South America elsewhere, the white Spanish elite are at the top of the food chain, followed by the mixed mestizos and at the bottom the indigenous people. The exceptions are Argentina where the original inhabitants were massacred out of existence, and Chile which is German immigrants from long ago.
Trump welcomed the coup in Bolivia — was there covert support? If Morales won plaudits for fighting poverty and as the country's first indigenous leader, he also overstayed his welcome, at least internationally. He defied constitutional limits by running for a fourth term in a close election which the Organization of American States faulted for "clear manipulation". Mr. Morales promised fresh elections. But the elite-run military and police clearly saw an opportunity. Morales supporters are organizing demonstrations.
The US does not have coups; it has impeachment. Bill Clinton notable for his expression, "It depends on what the meaning of 'is' is" … and for a new low in disgusting personal behavior, was impeached. The procedure requires the House to determine articles of impeachment and then send a team to prosecute in the senate. The individual being impeached has the right to his own lawyers to mount a defense. The senate eventually retires to consider and deliver a verdict. A two-thirds majority is required for conviction. Bill Clinton survived despite his impeachment being based on facts unearthed by Special Prosecutor Kenneth Starr. Can anyone then imagine a Republican senate convicting Donald Trump over a sentence in a phone call?
So what is the purpose of this futile exercise in the House of Representatives? Perhaps Democrats hope to sling enough mud to sway the independent note in the forthcoming election. Perhaps they want a few moments in the limelight, and TV interviews before, during and after.
A fraught world with real climate issues the legislators prefer to ignore — after all they are well-funded by fossil fuel interests. Forget the actual storms, our elected representatives prefer storms in a tea cup. The House Intelligence Committee, which is holding the hearings, will probably forward the matter to the full house as the political games continue.
Meanwhile, record numbers of homeless sleep under bridges as temperatures plunge to -15C (5 F) in the midwest and the east of this wealthy country. Do the politicians care?
Another Sign of Turkey Turning Away from U.S.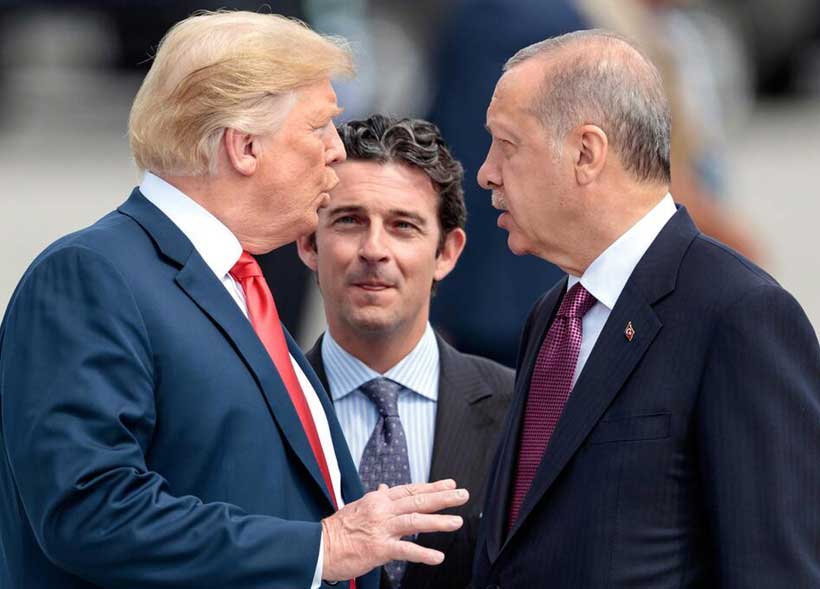 On November 6th, Ibrahim Karagül, who is an extremely influential Turkish media baron and newspaper columnist, and is considered to be a mouthpiece for Turkish Prime Minister Tayyip Erdogan's boldest positions in international relations, virtually declared war against the U.S. and its main allies in the Middle East, and called them promoters of terrorism.
In 2014, Karagul was himself described in the Al-Monitor online newspaper that's published in Washington DC, as being the "editor-in-chief of the daily Yeni Safak, which is considered one of the most dedicated mouthpieces of the government." That's the view, at least, of America's allies, Saudi Arabia and UAE, two countries that have been working with the U.S. to conquer Yemen, and that are intimately connected to the U.S. Government in the formulation of all U.S. policies regarding the Middle East. The leaders of both of those two countries were described in Karagul's November 6th article as being masterminds of terrorism. And Karagul, as his newspaper's Editor-in-Chief, actually is Yeni Safak. His opinions in the columns he writes for the newspaper are, in effect, the newspaper's editorials. Those opinions can fairly be taken to represent the opinions that Erdogan wants to become the opinions of the Turkish population, even if (for reasons of international diplomacy) he won't overtly express these views himself. (After all, Yeni Safak expresses them; he doesn't.)
Karagul said there: "The global black market for terrorism: Who requests these tenders? The EU establishes a terrorist organization, but the US and Israel are its true masters. UAE's MBZ and Saudi Arabia's MBS, the two crown princes who are 'brokers of terror'." Basically, Karagul's allegation in this article is that Washington and its closest allies (Crown Prince Mohammed bin Zayed of UAE, and Crown Prince Mohammad bin Salman of Saudi Arabia) are behind terrorism — especially behind Islamic terrorism.
However, Karagul went even farther, to implicate most especially Hamas leader, Mohammed Dahlan. Karagul's article opened: "A warning to Turkey: Hostility towards our country has a new home. There is now a fourth terrorist organization after FETÖ, PKK and Daesh. Two princes. Two 'terror barons.' Two relentless enemies of Turkey… The first intervention in our country will be conducted through this gang. Mohammed Dahlan should be declared as a ringleader of a terrorist group; there should be a bounty on his head."
He went on:
Turkey, which has been battling the Kurdistan Workers' Party (PKK), the Fetullah Terrorist Organization (FETÖ) and Daesh on the field, and their bosses at the diplomacy table, is going to be propelled into a zealous and urgent fight against a new and much more lethal terrorist organization.
The PKK, FETÖ and Daesh were the U.S., Israel and Europe's project. But this new structuring is the terror group of Egyptian intelligence, the UAE's Mohammed bin Zayed and Saudi Arabia's Mohammed bin Salman.
New terrorist organization is under Mohammed Dahlan's control
This new terrorist organization is under the control of Mohammed Dahlan, the man of dirty business, the hitman of the Middle East, who was involved in almost all the terror activities in our region. Despite having been able to project the façade that they are "fighting Iran," their sole target is Turkey.
Turkey must include this terrorist organization among the PKK, FETÖ and Daesh. This is an organization involved in every operation against Turkey, ranging from internal policy and coup attempts to money laundering, to supporting FETÖ and the PKK – and even cooperating with them – from financing Daesh, to the terror corridor and chaos in Libya and the East Mediterranean.
Erdogan had clearly gone all-out in exposing the role of Saudi Crown Prince Mohammed bin Salman behind the murder and alleged chopping-up of Washington Post columnist Jamal Khashoggi, but the animus seems now to run more broadly than that. And Karagul is going after U.S. President Donald Trump's biggest supporters in the Middle East, other than Israel's Benjamin Netanyahu.
On 24 April 2003, CNN headlined "Palestinian Security Ace: Muhammad Yusuf Dahlan" and opened:
During seven years as a security chief in the Gaza Strip, Muhammad Yusuf Dahlan arrested, and also released, many leading Palestinian militants. Along this tricky path, he skillfully cultivated influential supporters who urged his promotion.
Today, despite fierce opposition by the Palestinian leader, Yasir Arafat, Mr. Dahlan, 41, was named to an even more influential security post, with the blessing of the United States, Israel, Egypt and other countries, as well as the incoming Palestinian prime minister, Mahmoud Abbas.
Clearly, that slant was favorable toward Dahlan, and fit into Karagul's allegation that Dahlan is a secret U.S.-and-allied agent. CNN is just as much a mouthpiece for the U.S. Government as Yeni Safak is for the Turkish Government. For any of America's mainstream 'news'-media, and even for the vast majority of its 'alternative news' media, everything that is published is acceptable either to the Democratic Party or to the Republican Party, or to both — it's acceptable, in other words, to the U.S. Government. This is the case in the United States, just as it is in Turkey. The range of acceptable expression might be a bit narrower in one country than it is in the other, but what CNN said in that article was just as mainstream as is this article by Karagul.
Here is more of what Karagul said about Dahlan:
If open war has been declared against the anti-Turkey terrorist organizations founded by the U.S., Israel and Europe, it should also be the case for this organization and its activities.
Mohammed Dahlan, who is leading the organization and intelligence network, should be declared as ringleader and, as is the case with the PKK and other terrorist organizations, a bounty should be put on his head if necessary, and the region and world should be warned against this threat.
Dahlan should be held responsible for his covert and dirty actions, including involvement in coups and an assassination attempt on President Recep Tayyip Erdoğan.
A terror group hiding in UAE, Saudi palaces
This man and his gang — controlled by UAE Crown Prince Mohammed bin Zayed and Saudi Crown Prince Mohammed bin Salman — who [Dahlan] is, as a matter of fact, working for Israeli intelligence, should be identified as the most effective terrorist organization whose influence transcends the region.
Because he is protected in the palaces of some of the region's countries, hiding within the system, using all the opportunities provided by these states and carrying out terrorist activities.
He was also involved in the July 15 [2016] coup attempt in Turkey. He established a partnership with FETÖ, held coup meetings with this organization in Dubai, and provided them with financial support. Of course, he did all this under the protection of his bosses: Israel, bin Zayed and bin Salman.
They were also the ones who killed Arafat
Dahlan's murders extend all the way to Yasser Arafat's poisoning. This assassination was organized in cooperation with Israeli and Egyptian intelligence, and Dahlan is at the center. Israeli intelligence and Dahlan's men had managed to infiltrate the home of Arafat, whose personal bodyguards were shot in the head execution style.
When Hamas took over administration in Gaza, Dahlan's intelligence center was raided, and the horrifying truth were revealed. Israel's intense attacks on Gaza back then were conducted with support from Dahlan and Egyptian intelligence.
What is the most important thing here isn't whether Karagul's account is accurate or true, but the very fact that it is being published by him.
NATO is being pulled at the seams, and might not be able to hold together.
Further of significance is that Karagul equally boldly expresses a position about U.S. domestic politics, and he sides strongly with Trump against the Democratic Party, whose President Barak Obama is viewed by Erdogan as having been behind the 15 July 2016 coup-attempt to overthrow Erdogan.
When interpreting the reliability of Karagul's statements, it is especially important to recognize that Erdogan has, until now, supported both Al Qaeda and ISIS, as has been extensively documented in the few alternative news-media that are not controlled by America's Deep State. In fact, on 18 March 2019, Homeland Security Today, which was founded in 2004 by corporate suppliers to the homeland-security industries, headlined "The ISIS Ambassador to Turkey", and interviewed in Baghdad a key ISIS official who described how he had helped bring tens of thousands of jihadists from around the world to join the war in Syria in order to overthrow Bashar al-Assad, and how he had set up the system to approve each one coming in there, through Turkey. According to his account, Turkish intelligence was fully cooperative. Here's an excerpt:
"My job was to direct operatives to receive the foreign fighters in Turkey," Abu Mansour explains, referring to the network of ISIS-paid people who facilitated foreign fighter travel from Istanbul to the Turkish border towns of Gaziantep, Antakya, Sanliurfa, etc. "Most of them were paid by Dawlah [ISIS]," Abu Mansour explains, but differentiates them from ISIS members, due to their non-ideological motivations. "Most of those working on the Turkish side, their goal is money," he said. Although when asked about ISIS networks inside Turkey, he also admits, "Many in Turkey believe and give their bayat [oath of allegiance] to Dawlah. There are ISIS guys living in Turkey, individuals and groups, but no armed groups inside Turkey."
In addressing the foreign fighters, Abu Mansour explains: "[They came from] different places, from North Africa mostly. The numbers of Europeans was not a big number, 4,000 total."
"Tunis 13,000, 4,000 from Morocco. There were less fighters from Libya because they had a front there [in Libya], fighting less than 1,000. I'm just talking about up to 2015," he adds. Not surprisingly, his figures confirm data collected on the origins and numbers of foreign fighters who joined ISIS – that the most came from Tunisia. It was interesting how he can rattle off the numbers.
"So, you were more than a simple clerk working in the ISIS reception center registering new recruits?" I ask, suspecting he was much more important than that, given his grip on ISIS statistics.
"[My job was] guarding the borders between Syria and Turkey and to receive the fighters," Abu Mansour explains, smiling at being recognized as more powerful than he was originally conveying. "I oversaw reception at Tal Abyad, Aleppo, Idlib, all their borders," he answers.
It's clear he was in charge, so I ask him, "So, you were an ISIS emir?"
"Yes," he admits, seemingly happy to be "caught out" and recognized for who he really was. "At the beginning I was registering people, then I became the supervisor. I was the emir."
It is acceptable for that magazine, which is addressing American security professionals, to publish this after the 15 July 2016 coup-attempt, because Turkey now is drifting away from the American orbit; but, prior to that time, such an article would have been difficult if not impossible to publish in any 'respectable' American 'news' medium.
Erdogan definitely is against Kurdish separatists who threaten (with CIA support) to break off a chunk of Turkey and form a Kurdish nation (perhaps to include chunks also from Syria, Iraq, and Iran). However, there seems to be little, if any, evidence that he opposes jihadists. This is what everyone currently is wondering about: will he turn decisively against the jihadists, now that he is distancing Turkey from the U.S. group. But that's not really the main question here, regarding Karagul's article. The main question is whether NATO will continue to support jihadists when the jihadists are fighting to overthrown a head-of-state, such as the secular Assad, whom they want to overthrow and replace. Erdogan is no longer fully on the U.S. side about regime-change in Syria. However, the American public continue, just as before, to support these regime-change invasions. Tulsi Gabbard refers to these invasions as "regime-change wars," and she opposes it, but only 2% of polled Democrats, thus far, support her candidacy in the Democratic Party's Presidential primaries, and none of the other candidates is campaigning on this "bring-the-troops-home" theme — it separates her from all the others, and Democratic Party voters apparently oppose her strongly on it. One may then reasonably infer that at least in the Democratic Party, a continuation of those wars (which started in 2003 with Iraq, but then went to Libya, and then to Syria) is being demanded by almost all of the voters. So: if Turkey will split from NATO, then it won't be due to Turkey's support for jihadists (if it still does). It would likelier be mainly because Erdogan is striking back against Barack Obama, who had tried to overthrow him. That failed coup-attempt seems to have drastically changed Erdogan's view. He fears the American political Party that continues to honor Obama: the Democrats. He fears that they could back yet another coup-attempt against him.
In line with that interpretation, Karagul headlined a strongly pro-Trump commentary, on November 9th, "The tables have turned! Trump says: 'Stop the coup.' The opposition declares: 'Coup has started.' Powerful leaders locked in showdown with the establishment. There's now an 'Erdoğan model.' Impeachment process will fail, Trump will be reelected. Will there be an American Perestroika?" This time, he's attacking the Democrats' attempts to replace Donald Trump by Mike Pence to lead the United States, and not their attempts to replace Tayyip Erdogan to lead Turkey.
This support for Trump is despite Trump's recently having tweeted, "As I have stated strongly before, and just to reiterate, if Turkey does anything that I, in my great and unmatched wisdom, consider to be off limits, I will totally destroy and obliterate the Economy of Turkey (I've done before!)." Of course, the public don't know what Trump has communicated privately to Erdogan. It might be nothing like his bellicose public pronouncements.
Trump is widely despised by the Turkish public, but Obama was despised there only 2% less than Trump is; so, whereas Erdogan might considerably prefer Trump, his public seem not to. In this matter, he is leading them, not really following them. Furthermore, by 58% to 23%, far more (more than twice as many) Turks disapprove of NATO than approve of it — and no NATO country among the 12 that were surveyed except Greece comes anywhere near that preponderance of disapproval for NATO. This marketing organization for the weapons that are made in the U.S. and its allied nations is overwhelmingly approved of in the other 10, especially in the two most anti-Russian among those 12: Poland and Netherlands.
Because of that overwhelming disapproval of NATO by the Turkish population, Erdogan would probably not need to do much convincing of them if he were to decide to kick NATO out of Turkey's Incirlik Air Base (which contains "up to 50" huge nuclear bombs for potential use against Russia). He has bargaining chips. But if what Karagul is publishing is at all like Erdogan's view, then Erdogan is already in the process of abandoning NATO, and switching Turkey's alliances to Russia, China, and Iran. This, however, would also require him to reduce if not end his former support to ISIS, Al Qaeda, and other fundamentalist-Sunni groups — jihadist groups, which have always been financed overwhelmingly by the royals of Saudi Arabia, UAE, and Qatar — America's main Arab allies. Karagul's articles seem to indicate Erdogan is moving in that direction, too — separating Turkey from those Arab fundamentalist Sunni regimes. If so, it would be an enormous change.