The Imagined Journals of Sylvia Plath
The page frees me in a sense, in ways I cannot describe. I write and that is my life. I am a mother and a wife, a lover, a poet, and I feel that is also just a part of my life. Sometimes the two meet and sometimes they do not. Sphere upon sphere upon another sphere. If depression happened in nature, what would we call it then?
Poetry is a god to me. When I write I am a woman on her own. Reality is out of the picture and it does not seem to count for anything really. It is never enough for me. I stand and watch the busyness of life, observing nature and most of all human nature and I slowly empty out. It is a useful exercise kind of like transcendental meditation. I know nothing about it. It is just something I read as a girl in a book long ago when I was at college and at the time, it was just too much for me to handle. The thought of going out of myself made me go numb and cold. It gave me the shivers. If I was, alone I would go mad with grief and rage and I would be that girl again.
I think I have been supportive. I have been encouraging. All I see is constellations in words and it is driving me sweetly out of my mind. I am the rabbit in Wonderland and there I go down that hole. There are people out there who have peace around them all the time. Why can't I be one of those people? Life is a cruel trick. I want to escape from my reality. Women do not set out to alienate men. It is not their lot in life. Men and women are supposed to get along so they can walk down that sunny road, settle down, marry, have those kids, and start the modern family. Sylvia and Ted are just complex, endlessly searching particles bumping into each other for clarity like oil and water, like acid rain. Now we, the both of this 'us' that he keeps on talking about have this one thing in common and that is poetry and the goal was for us to work together but now it is working against us. I never dreamed that this would be kismet.
Last night I was electric. I told him where to get off and come hell or high water I am going to stick to it. So sticking to my guns, that is me. I put the universe under observation. To be a wonder, I sometimes long for that. To sparkle, to vibrate, to feel that there is enough in the world, to bask in the revelation that there is an abundance healing the world of all its iniquities through ritual, that there is healing across family bloodlines. I go inside. Inside the deepness, the thoroughfare of the sense, sensibility of female poets and what do I find there wherever I look. Boxes that are locked and keys that need to be found. My children are my everything.
Poetry has become my life work, my death of self, a force to be reckoned with steely-eyed determination, my love, my creative impulse and passion. It is the fruit of my spirit and the way of my soul. I have found the world, worlds really that exist in my consciousness, that state I can only reach when I am very still and quiet. The state I could reach when I was young. You only have that kind of inclination when you are young and you do not live in a constant state of denial of fear and the ego and insecurity. Therefore, I have found consciousness, that clear and fluid stream of thought that tends to linger. The heavenly creation of a dream does not. And when you wake up in the morning there is action and vision and doing your ablutions, brushing the curls out of your hair, there is a sense of orderliness in the routine. There is always something human. I must have courage now. This is not my first hurt.
I see myself as a poet and a female writer second. There is no contest. All of life is feeding ghosts that came before and after, running on your own personal velocity, the flow of poetic motion, a writer saying, 'I need an ending to this' blasting through his or her dream. Inside the mind/vision of a poet means going into the black and that there are always two possibilities within reach, life or death, feeding the gods of beasts or feeling ghosts near your fingertips, depression or feeling that you're more normal, stable than the next person. I think I have found my ending. Once you are there you are running, running with scissors (and did not even know it). For writers all of life is childhood continued. As a writer, now is the time of my life. Sylvia write every day, that is the purest sum of parts of a writer. Do not edit. Do not censor yourself. Before you show 'the work' to anyone else, journal with intent.
When I enter the body of poetry a sense of fulfilment and satisfaction washes over me. There are explosions of tiny waves behind my eyes. My soul has made it thus far. I have to end the poverty in my mind but I find a cold comfort in the not knowing of things. If depression happened in nature, what would we call it then? Would it be organic in origin? In a marriage when it ends whom is to blame for its demise. Who is the culprit? On the approaching betrayal in any relationship, I have this to say. Lock down your heart dear and look away. It means that there may be something incomplete in the moving against the current of love. It means to love and die simultaneously. I think there is a theory behind light. When my body feels full of that stuff, the light, and the hidden energies in my aura, I feel as if I have free tickets to the centre of winter.
Loss is a hard fall. You are standing and then the world becomes something of a hallucination. Writing no longer is a task for me. Feeling broken is a splendiferous stain. Held up to the world it is my main inspiration. It packs it in, crosses thresholds, divides, and flaunts, what it is not is anonymous. In my writing, I do not have to don a mask and mask my pain. I do not have to filter my moods and then I turn to my reflection and say, 'Bravo, Sylvia. You have done the impossible. Bravo.' Perhaps it is true. I am behaving like a spoilt, coddled child. However, if I take him back what does that say about me, all my principles, the family values I cherish. People talk and what if they do. It is none of my business what they think of me, of us, of this wounded relationship. Poets do not know how to live. We only know how to die.
Political Parties, Church and Grand Mufti in Bulgaria: No Rights for Women
On 12 March, the European Parliament called upon EU countries including Bulgaria to ratify the Istanbul Convention. However, only one Bulgarian MEP was present at the debates. And he was against the treaty.
Just on the eve of International Women's Day on the March 8, the Bulgarian government, attacked by political parties, the Holy Synod and Grand Mufti, said it would abandon its plans to send the Istanbul Convention to parliament for ratification. This situation clearly shows that Bulgarian society is not ready yet for the European future that envisages rights equality.
The Council of Europe Convention, known as the Istanbul Convention, was signed in 2011 in Istanbul to prevent and combat violence against women and domestic violence. So far, it has been supported by 45 member states of the Council of Europe amid having been ratified in 28 countries with only 17 of them being EU members.
Unfortunately, the Convention still faces fierce opposition in many European Union countries. Thus, when in late February Bulgarian PM Boyko Borissov said the motion to ratify the document had been rejected, Slovakia announced it would also withdraw its request for the ratification of the Convention under the pressure of similar conservative politicians.
Having signed the Convention in April 2016, the Bulgarian government announced it was going to ratify the treaty only at the end of 2017. A statement came from Deputy Minister of Justice Desislava Ahladova during the round table discussion Prevention of Violence through Education organized by the Bulgarian Fund for Women.
The announcement of Bulgarian Prime Minister Boiko Borissov's ruling coalition GERB sparked off a wave of criticism. First, the United Patriots, a group of three parties known for their radical views lashed out at the government's decision. "A woman cannot refuse her husband sex. That is why she gets married," said Volen Siderov, chairman of the parliamentary bloc. In another statement, the United Patriots claimed that the Convention would legitimize the "third gender" and open the door to "transvestites from Iran."
Soon, the Holy Synod of the Orthodox Church joined the criticizing group, though it backed the Convention in January 2015. Urging the National Assembly not to ratify the document, the Synod published a declaration blaming the government for introducing "a new understanding of man – man as an absolute master, the man without God who follows his desires and passions to such an extent that he can even determine his gender." According to the Church, the term gender is the one that raises much concern. "The consequences of denying biblical truths are tragic and we are witnessing them in many societies where "gender" ideology has long been a state policy," the Synod stressed. The Orthodox Church even called for prayers against the ratification.
Just a day after the Orthodox Church came up with comments, the Bulgarian Grand Mufti followed the suite. In a quite lengthy statement, the supreme body of Muslims in the country provided a number of theistic and secular arguments against the ratification. First of all, some legal uncertainties are a reason for the Grand Mufti's disapproval. Although the government officials have stated several times that no changes would be made in the Constitution if the Istanbul Convention is adopted, the Mufti worries that important documents such as The Family Act, the Anti-Discrimination Act, the Young People's Act, the Internal Policies Act would have to undergo substantial change in order to fulfill the Convention's requirements. Both Christianity and Islam stand for traditional values, so it's not really surprising that their positions in this matter coincide.
On the 25th of January Bulgarian Socialist Party introduced an initiative to submit a referendum proposal in the National Assembly. "[The convention] has generated enormous tension in the Bulgarian society and diverging opinions. That's division," BSP leader Kornelia Ninova said, as quoted by public broadcaster Bulgarian National Television. "We think that the one who has to have their say on this issue is the Bulgarian people. This is why tomorrow we will be tabling the necessary signatures of Bulgarian Socialist Party MPs to ask for a decision to hold a referendum on the Istanbul Convention."
However, her initiative failed as on the same day the government changed its mind and withdrew the proposal for ratification.
Obviously, the reaction of confessions and politicians depends on the current mood in Bulgarian society. Recent surveys show that the majority of Bulgarians are against the proposed Convention. Thus, according to the Barometer Bulgaria pollster, 63% of respondents said they disapprove of ratifying such a document. However, it is not shocking as four in five people in Bulgaria think that the most important role of a woman is to take care of her home and family, per a November 2017 Eurobarometer survey.
The story of the Istanbul Convention in Bulgaria is a vivid example of how conservative politicians and clergymen can influence the political agenda in a country and impede new motions in the human rights sector.
United Nations Drowning Prevention Group launched on World Water Day 2018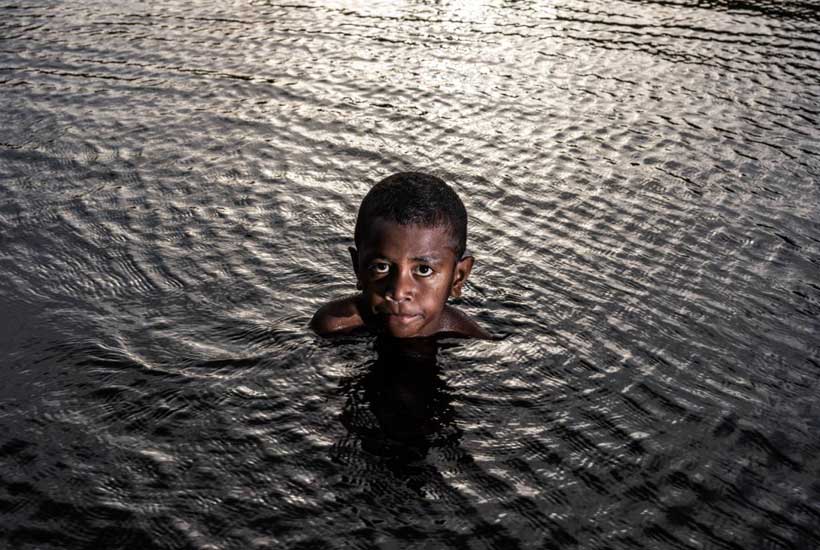 Ambassadors from across the world have highlighted the need for global drowning to be tackled if the United Nation's Sustainable Development Goals are to be met by 2030.
In an open letter on World Water Day (22 March), members of a newly formed UN group on drowning prevention, launched today, have called on the international community to recognise safe access to water as a global development priority alongside access to safe water.
With drowning claiming 360,000 lives a year across the globe, the UN Group of Friends on Drowning Prevention – with founding members including the governments of Bangladesh, Vietnam, Fiji, Thailand, Tanzania and Ireland – has called for drowning to be recognised and resourced in line with its impact on communities worldwide.
This comes as the UN launches the International Decade for Action on Water for Sustainable Development, focussed on addressing water-related challenges including access to safe water and sanitation.
Royal National Lifeboat Institution (RNLI) Head of International Advocacy Helen Morton said:
"Drowning is a silent epidemic. Responsible for more deaths each year than international development priorities including malnutrition and maternal mortality, it goes unrecognised and under-resourced. Drowning hits the most vulnerable first and worst; children and young people represent the majority of lives lost and almost all occur in low and middle income countries. Wasted lives and preventable deaths on an epidemic scale.
"Rightly, resource in recent decades has focused on delivering the human right to water, but it's now critical that we focus on water access in the fullest sense; recognising safe access to water as well as access to safe water as a pressing development problem, and as a means to enable development.
"The RNLI has been working with governments across the world committed to helping to end this silent epidemic, and we're encouraged that a new dedicated UN group has launched today on World Water Day to prove that prevention is possible."
The full open letter is available below.
A letter from the UN Group of Friends on Drowning Prevention
Today, on World Water Day, we celebrate that water enables the lives and livelihoods of billions of people across our planet. The launch of a new United Nations Decade of Action on Water is an opportune moment to reaffirm our commitments to this urgent and important issue.
But in our efforts to achieve the Sustainable Development Goals (SDGs) and make the UN Decade on Water successful, we must address the issue of water access in the fullest sense – that includes recognition of the realities in which those who are left behind live.
While our focus has been on access to safe water, it is critical to draw the attention of the global community to the need for safe access to water.
Each year, drowning is responsible for more deaths than malnutrition or maternal mortality. It affects the most vulnerable first and worst; almost all of the 360,000 drowning deaths occur in low- and middle-income countries. Among these, children and young people represent the majority of lives lost. Every other minute, a child loses their life to the water. Drowning is the number one cause of child mortality in many countries across South East Asia and the Western Pacific.
In committing to the SDGs every country in the world has committed to deliver a set of Goals for their citizens by 2030. Ensuring safe access to water will be critical to reducing child mortality and to achieving sustainable development as a whole. Drowning prevention is a forgotten but fundamental enabler to ensure that every child survives and thrives; while insuring investment in nutrition, education and immunisation and providing a set of required survival skills that will protect our future generations.
Drowning is not fate, nor inevitable.
Every life lost to the water is preventable. Simple and scale-able solutions, such as survival swim lessons, community crèches and flood response skills, can be delivered at a large scale and low-cost, saving hundreds of thousands of lives. This is ever-more important with growing exposure to water due to climate change and increased risks of natural disasters, yet to date drowning has been absent from political debate, and has not received the level of public attention it deserves.
So, today, we officially launch the Group of Friends on Drowning Prevention, to mobilise governments from across the geographic and political spectrum to act on this common cause; to ensure that the issue of drowning prevention is recognised and receives resources commensurate with its impact on communities worldwide.
As the President of the General Assembly launches the Decade of Action on Water for Sustainable Development, we call upon him, and fellow leaders, to recognise the importance of safe access to water alongside access to safe water. If we are to achieve the Sustainable Development Goals and ensure that no one is left behind, inaction is not an option.
Signed by:
Masud Bin Momen, Ambassador of Bangladesh to the United Nations Luke Daunivalu, Ambassador of Fiji to the United Nations Virachai Plasai, Ambassador of Thailand to the United Nations Nguyen Thi Phuong Nga, Ambassador of Viet Nam to the United Nations
Seven Out of 10 Top School Systems Are in East Asia Pacific
The East Asia and Pacific region has seven of the top ten performing education systems in the world, with schools in China and Vietnam showing significant progress, according to a new World Bank report released today. This is a major accomplishment that offers important lessons to countries around the world. In the rest of the region, however, up to 60 percent of students are in under-performing schools that fail to equip them with the skills necessary for success.
Growing Smarter: Learning and Equitable Development in East Asia and the Pacific argues that improving education is necessary to sustain economic growth and highlights the ways that countries in the region have been able to improve learning outcomes. Drawing on lessons from successful education systems in the region, it lays out a series of practical recommendations for key policies that promote learning so that students acquire foundational skills in reading and math, as well as more complex skills that are needed to meet future labor market demands.
"Providing a high-quality education to all children, regardless of where they are born, isn't just the right thing to do. It's also the foundation of a strong economy and the best way to stop and reverse rising inequalities," said Victoria Kwakwa, World Bank Vice President for East Asia and Pacific.
A quarter of the world's school-age children – some 331 million – live in East Asia and the Pacific. Up to 40 percent of them attend school in education systems whose students are ahead of the average students in OECD countries. These schools are not only in wealthy countries such as Singapore, Korea and Japan, but also in middle-income countries such as China and Vietnam. And, as the report highlights, student performance isn't necessarily tied to a country's income level. By age 10, for example, the average Vietnamese student outperforms all but the top students in India, Peru and Ethiopia.
But many countries in the region are not getting the results they want. In Indonesia, for example, test scores showed students were more than three years behind their top-performing peers in the region. In countries such as Cambodia and Timor-Leste, one-third or more of second graders were unable to read a single word on reading tests.
Another key finding of the report is that across the region, household incomes do not necessarily determine children's educational success. In Vietnam and China (Beijing, Shanghai, Jiangsu and Guangdong provinces), for example, students from poorer households do as well, if not better, in both math and science, as compared to average students in the OECD.
"Effective policies for the selection, motivation, and support of teachers as well as sound practices in the classroom are what determine how much students learn. For policymakers looking to improve their school systems, allocating existing budgets efficiently, coupled with strong political commitment, can make a real difference in the lives of children across the region," said Jaime Saavedra, the World Bank's Senior Director for Education.
The report lays out concrete steps for improving learning for lagging systems in the region and beyond, starting with ensuring that institutions are aligned so that objectives and responsibilities across the education system are consistent with each other. The report also urges a focus on four key areas: effective and equity-minded public spending; preparation of students for learning; selection and support of teachers; and systematic use of assessments to inform instruction.
The report found that top-performing systems spend efficiently on school infrastructure and teachers, have recruitment processes to ensure the best candidates are attracted into teaching, and provide a salary structure that rewards teachers with proven classroom performance. It also found that schools throughout the region increased preschool access, including for the poor, and have adopted student learning assessment into their educational policies.
The report complements and builds on the World Bank's World Development Report 2018: Learning to Realize Education's Promise, which was released in September 2017 and found that without learning, education will fail to deliver on its promise to eliminate extreme poverty and create shared opportunity and prosperity for all.