Generation of massive consumption and waste
On timetable is confrontment with the truth. Answer to yourself how many things you have in your life that you actual do not use neither need. Furthermore how much did you so far give or throw away. With capitalism and our way of living, we are creating urgent need for more and more.
Welcome to consumer society wheremore than 7 billion people every year make a massive dump of 2.12 billion tons of waste. OECD (Organization for Economic Co-operation and Development) countries produce almost half of the world's waste, while Africa and South Asia regions produce the least. High-income countries are responsible for 46% and lower income countries for about 6% of all waste generated. OECD estimated that 1% of increase in national income creates 0, 69% increase in municipal solid waste amount.
On one hand we throw away great amount of food and on the other 12, 5% of world population – about one in eight of the world – was starving between 2010-2012 based on FAO (Food and Agriculture Organization of the United Nations). According to WHO (The World Health Organization) hunger and underweight are most common in Africa, India and Asia. Hunger goes hand in hand with poverty. Not to mention that the number of overweighed is growing. In 2014 more than 1, 9 billion (39%) adults were overweight.
Do we really need so many new cars, telephones, computers and other electric components, clothes and other material things, and so much food we cannot possible consume? Predictions for growth of population for around 2040 are showing a figure of 9 billion. Furthermore by 2100 population could reach 11 billion. Even today we are producing gigantic amount of waste, imagine what the future holds if our way of living does not change, and population continues to increase. Based on report from the World Bank municipal solid waste increase will be seen in developing countries and rapidly growing cities.
Things we throw may vanish from our minds but need to go somewhere. We collect, recycle, compost, incinerate, landfill and dump. But statistics show we have much work to do if we do not want to drown in waste in the future. It is hard to get information and data that correspond to the whole world. There are some numbers regarding waste in EU (European Union) and USA (United States of America) that need to be shown. Since this part of the world is more developed imagine what waste management looks like in developing or failing states, where waste management is not high priority. Waste is not collected in a big part of the world. Environmental Data Centre on waste has shown us that of all waste generated in EU only 36% were recycled. There are considerable variations across the EU member states. EUROSTAT report says each person in the EU generated 481 kg of municipal waste in 2013. 43% was recycled or composted, 31% was landfilled and 26% incinerated. Municipal waste consists to a large extent of waste generated by households, but may also include similar waste generated by small businesses and public institutions and collected by the municipality. Waste from agriculture and industry is not included. If we include waste from demolition and construction activities, mining and from industry sector, we can see that we are creating large mountains of which some have permanent consequences on environment and usage of natural resources. Ecological footprint calculated for year 2010 shows that the humanity has already overshot global bio capacity by 30% and now lives unsustainably by depleting stocks of "natural capital" (fish, forest, soil) and eroding critical life-support functions. With this lifestyle we are using ecological services quicker as Earth can renew them. Worldwatch Institute estimated that each year, 500 billion to 1 trillion plastic bags are consumed worldwide. That's over one million plastic bags used per minute. In USA less than 5% of them were recycled. Scientists estimate that every square mile of ocean contains about 46,000 pieces of floating plastic. This information was released for year 2002. Packaging is becoming a big problem not to mention plastic, food and e-waste. Worldwide private and public consumption has grown and is still growing. With economic globalization, consumption patterns are becoming similar all over the globe.
With creating more and more waste we are becoming a threat to ourselves. What have we done with the only planet we know so far is livable, can be seen in documentaries such as Garbage Island, Inside the Garbage of the World and Plasticized. Just to mention some of them that are concerned with amount of waste we produce, destruction and threat we represent to different animal and plant spices, world and all in all to our future. But there is also some good news. The more we develop the more advance and effective waste management systems and technologies will be put in place.
We need to prevent, minimize, reuse and recycle things. Furthermore we must reduce volume of waste. Less consumption needs to be taken into an account. Better separation of waste and better awareness of population about necessity of recycling and reusing in complex and growing waste production is needed. As an individual we can help keep earth cleaner by separating different kinds of waste and with careful consideration with buying things and materials. Households are responsible for about 10% of total waste and that has an impact on environment. It impacts the quality of water, soil, air and also with waste management on public health. We can make it out victorious and meanwhile create jobs that are becoming more and more important with economic crisis. With lower population, denser, more resource-efficient cities, and less consumption, along with higher awareness we can tackle waste problem before it gets uncontrollable. We need to act more in accordance with sustainable development otherwise we are going down the path of self-destruction.
Conflicts and extreme climate change threatens access to food in 39 countries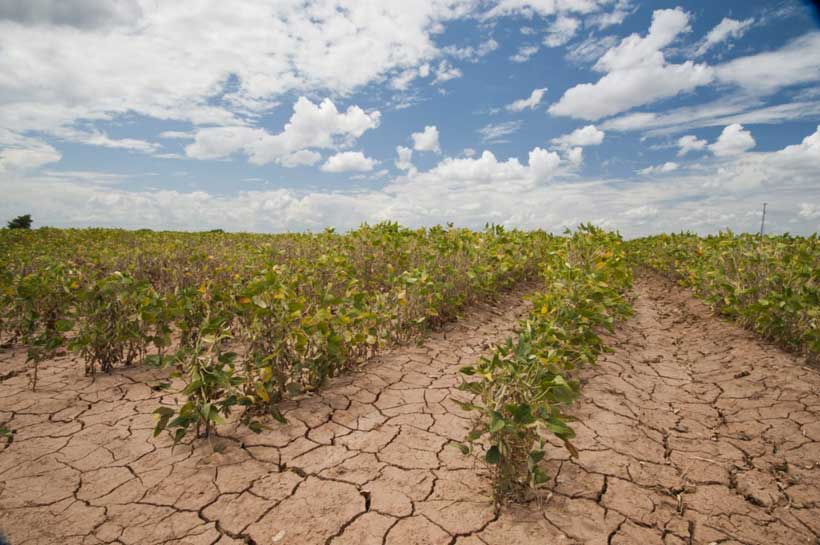 Unrelenting conflict and rapid climate change is continuing to reshape agriculture across the world, and contributing to major food shortages across 39 countries, which continue to rely on help from the United Nations to meet their food needs, the Food and Agriculture Organization (FAO) said on Thursday.
FAO's  Crop Prospects and Food Situation report, spelled out that 31 countries in Africa, seven in Asia, and Haiti in the Caribbean, remain in need of external food assistance.
According to the report, civil conflicts and population displacement are the key drivers of food insecurity in East Africa and the Near East, whereas dry-weather conditions have led to reduced cereal outputs in Southern Africa.
Civil conflicts, often coupled with extreme climate events, continue to hamper food access to vulnerable populations in Central African Republic, Nigeria, South Sudan, Syria, Yemen, among others.
Ongoing conflict has left 17.8 million Yemenis in need of humanitarian assistance, and around two million in the Central African Republic, which is also fueled by reduced food production and poorly functioning markets.
Cereals remain key
The global importance of cereal crops to the human diet "cannot be over stated," according to FAO. Cereals are hugely adaptable, especially in regions that rely mainly on plant sources for protein and calories.
Against this backdrop, unfavourable weather conditions curbed Southern African cereal outputs so far this year, heightening food insecurity, while abundant rains in East Africa boosted production but resulted in localized flooding.
In the continent's North, favourable spring weather prompted a production upturn, while in the West, harvests are expected to revert back to average levels.
In the Near East and Central Asia's Commonwealth of Independent States, rainfall deficits have prompted predictions that 2018 cereal harvests will be "below-average levels," while ongoing conflicts in parts of the Near East continue to impede agricultural activities.
The Far East is forecast to rise slightly, driven by a larger paddy output.
At the same time, weather conditions have impacted cereal production in the Latin America and the Caribbean area.
"Dry weather in South America has lowered 2018 cereal outputs relative to last year's record," the report stated, noting maize in particular. In Central America and the Caribbean, it says: "unfavourable rains affected 2018 maize production, except in Mexico."
The report notes that cereal production in the 52 Low-Income Food-Deficit Countries (LIFDCs) is projected at around 490 million metric tonnes; about 19 million above the past five-year average.
The full list of the 39 countries currently in need
Afghanistan, Burkina Faso, Burundi, Cabo Verde, Cameroon, Central African Republic, Chad, Congo, Democratic People's Republic of Korea, Democratic Republic of the Congo, Djibouti, Eritrea, Eswatini (former Swaziland), Ethiopia, Guinea, Haiti, Iraq, Kenya, Lesotho, Liberia, Libya, Madagascar, Malawi, Mali, Mauritania, Mozambique, Myanmar, Niger, Nigeria, Pakistan, Senegal, Sierra Leone, Somalia, South Sudan, Sudan, Syria, Uganda, Yemen and Zimbabwe.
Building Sri Lanka's Resilience To Climate Change
38-year-old Sivasidambaram Vasugi is the General Manager of one of the first cooperative-owned seed paddy processing centers in Killinochchi, Si Lanka. The Integrated Farmers Thrift and Credit Cooperative Society (IFTCCS) provides local farmers with high-quality seeds, but these days, there are no buyers walking in the door.
Her community is facing a crippling water shortage following many months of drought. Nearly 18,000kg of processed paddy seed stock sits unclaimed on Vasugi's factory floor, while weeds sprout in the paddy fields all around.
"Only when the rains come again, they will buy the seeds," she says. "In the meantime, we have no sales, and we are not making any profits." Farming households are coming undone thanks to this drought. Vasugi sees local men migrate to work as day laborers, while their families stay behind and fight to make ends meet. Many merely struggle to put food on the table.
Vasugi lives in a climate hotspot.
Areas like this are the focus of the World Bank's new regional flagship report South Asia's Hotspots: The Impact of Temperature and Precipitation Changes on Living Standards.
The report examines how 800 million people, or half the population of South Asia, could see their living standards worsen by 2050.
While floods and other extreme weather events can have an immediate and terrible impact, rising temperatures and unpredictable precipitation – what we might consider 'average weather' – can prove as devastating.
"These weather events have one thing in common: They affect the lives of the poorest and most vulnerable the most," said Andrew Goodland, World Bank program leader for Sustainable Development covering Sri Lanka and Maldives.
Speaking at the launch of South Asia's Hotspots he added: "We need to both scale up actions and strategies to build a more resilient world, and target interventions to help the most vulnerable."
Climate change could undermine living standards for the poorest
Changes in average weather unfold over months and years. As Vasugi can testify, in such hotspots, rising temperatures and changing rainfall patterns can dampen agricultural productivity, leave farming households floundering and drive migration.
Simultaneously, a warmer climate can also increase the propagation of vector-borne and other infectious diseases. For those working outside air-conditioned cubicles, extreme heat takes a toll on productivity and subsequently, income. It doesn't help that many hotspots are already in socially and economically vulnerable areas
At the frontlines in Sri Lanka are those living in the island's North, North Eastern and North Central districts, including Jaffna, Puttalam, Mannar, Kurunegalla, Trincomalee and Killinochchi, where the paddy seed processing center is located.
Vasugi's home has something in common with other hotspots across the region, such as Hyderabad in Pakistan, Cox's Bazar in Bangladesh and Chandrapur in India. Households in these areas tend to report low household consumption, poor road connectivity, limited access to markets, and other development challenges. Combined, these conditions make them deeply vulnerable to climate change.
These experiences on the ground inevitably impact the national economy. "In Sri Lanka, living standards could go down by around 5 percent, and in the worst-case scenario may decline by around 7 percent," said Muthukumara Mani, a lead economist in the World Bank South Asia Region and author of the report. "Under the worst-case scenario, GDP will decline by 7.7 percent, an estimated loss of 50 billion dollars."
19 million Sri Lankans could live in moderate or severe hotspots by 2050
While policymakers are worried by this information, Mani knows it doesn't necessarily help them prepare. So this report seeks to unpack where exactly changes will occur most, who will be impacted and what can be done to build resilience.
He and his team analyzed two future climate scenarios — one that is "climate-sensitive," in which some collective action is taken to limit greenhouse gas emissions. The other is "carbon-intensive," in which no action is taken. Both scenarios show rising temperatures throughout the region in the coming decades but it's no surprise that the carbon-intensive scenario is more worrying.
While policymakers are worried by this information, Mani knows it doesn't necessarily help them prepare. So this report seeks to unpack where exactly changes will occur most, who will be impacted and what can be done to build resilience.
He and his team analyzed two future climate scenarios — one that is "climate-sensitive," in which some collective action is taken to limit greenhouse gas emissions. The other is "carbon-intensive," in which no action is taken. Both scenarios show rising temperatures throughout the region in the coming decades but it's no surprise that the carbon-intensive scenario is more worrying.
According to the report, approximately 19 million people in Sri Lanka today live in locations that could become moderate or severe hotspots by 2050 under the carbon-intensive scenario. This is equivalent to more than 90 percent of the country's population.
Granular details include how effects will differ from country to country and from district to district throughout South Asia. In Sri Lanka, the Northern and North Western provinces emerge as the top two hotspots, followed by the much less densely populated North Central Province.
The highly urbanized and densely populated Western Province, which includes Colombo, is also predicted to experience a living standards decline of 7.5 percent by 2050, compared with a situation without changes in average weather. This is a substantial drop, with potentially large implications for the country, given that the province contributes more than 40 percent of Sri Lanka's GDP.
Overall, the analysis concludes that Sri Lanka's average annual temperatures could rise by 1.0°C to 1.5°C by 2050 – even if carbon emission reduction measures are taken as recommended by the Paris Agreement of 2015. If no measures are taken average temperatures in Sri Lanka could increase by up to 2.0°C.
Mani points out that this might not seem like a lot until you consider how just a two-week delay in monsoons can derail a farmer's harvest, or how a scorching day can drain a construction worker laboring on a scaffolding.
Investing in sustainable development could build resilience
"We need to follow an inclusive green growth path here," says Mohan Munasinghe, who was the keynote speaker at the launch. He drew on his experiences as Vice Chair of the UN Intergovernmental Panel on Climate Change (IPCC-AR4) and the Chairman of the Presidential Expert Commission on Sustainable Sri Lanka 2030 Vision, saying: "We have to make development more sustainable in a way that is climate-proof and which integrates mitigation and adaptation."
It is hoped that this information can help build a development blueprint by focusing resilience-building efforts on the most vulnerable locations and population groups. "The report provides the right data and climate simulations to help us put in place incentives, policies and smart solutions to protect communities across the country and boost their future development," said Anura Dissanayake Secretary of Mahaweli Development and Environment Authority.
In particular, the report explores how three strategies, already essential components of Sri Lanka's sustainable development programs, could help buffer vulnerable communities.
By increasing non-agricultural jobs by 30 percent relative to current levels, Sri Lanka could reduce the living standards burden from −7.0 to 0.1 percent. Other initiatives like reducing the time to reach a market and increasing average education attainment could also reduce the overall severity of climate-related living standards impacts. The report emphasizes that if these interventions were implemented together, they would likely yield greater benefits than if implemented individually.
In the end, the focus has to be on ensuring that climate change does not undo the considerable progress that South Asian countries have made in alleviating extreme poverty and raising living standards.
The key takeaway may be that governments don't have to choose between investing in development or climate-resilience – the two go hand in hand. As Mani concluded: "Sustainable development is the best adaptation strategy since it is associated with improved infrastructure, market-oriented reforms, enhanced human capabilities, and stronger institutional capacity to respond to the increasing threat of climate change and natural disasters."
Global Waste to Grow by 70 Percent by 2050 Unless Urgent Action is Taken
Without urgent action, global waste will increase by 70 percent on current levels by 2050, according to the World Bank's new What a Waste 2.0:  A Global Snapshot of Solid Waste Management to 2050 report.
Driven by rapid urbanization and growing populations, global annual waste generation is expected to jump to 3.4 billion tonnes over the next 30 years, up from 2.01 billion tonnes in 2016, the report finds.
Although they only account for 16 percent of the world's population, high-income countries combined are generating more than one-third (34 percent) of the world's waste. The East Asia and Pacific region is responsible for generating close to a quarter (23 percent) of all waste.  And by 2050, waste generation in Sub-Saharan Africa is expected to more than triple from current levels, while South Asia will more than double its waste stream.
Plastics are especially problematic. If not collected and managed properly, they will contaminate and affect waterways and ecosystems for hundreds, if not thousands, of years. In 2016, the world generated 242 million tonnes of plastic waste, or 12 percent of all solid waste, according to the report.
What a Waste 2.0 stresses that solid waste management is critical for sustainable, healthy, and inclusive cities and communities, yet it is often overlooked, particularly in low-income countries.  While more than one-third of waste in high-income countries is recovered through recycling and composting, only 4 percent of waste in low-income countries is recycled.
Based on the volume of waste generated, its composition, and how the waste is being managed, it is estimated that 1.6 billion tonnes of carbon-dioxide-equivalent were generated from the treatment and disposal of waste in 2016 – representing about 5 percent of global emissions.
"Mismanagement of waste is harming human health and local environments while adding to the climate challenge," said Laura Tuck, Vice President for Sustainable Development, World Bank. "Unfortunately, it is often the poorest in society who are adversely impacted by inadequate waste management.  It doesn't have to be this way.  Our resources need to be used and then reused continuously so that they don't end up in landfills."
The report notes that good waste management systems are essential to building a circular economy, where products are designed and optimized for reuse and recycling. As national and local governments embrace the circular economy, smart and sustainable ways to manage waste will help promote efficient economic growth while minimizing environmental impact.
"It makes economic sense to properly manage waste," said Silpa Kaza, World Bank Urban Development Specialist and lead author of the report. "Uncollected waste and poorly disposed waste have significant health and environmental impacts.  The cost of addressing these impacts is many times higher than the cost of developing and operating simple, adequate waste management systems. Solutions exist and we can help countries get there."
Supporting countries to make critical solid waste management financing, policy, and planning decisions is key.  Solutions include:
Providing financing to countries most in need, especially the fastest growing countries, to develop state-of-the-art waste management systems.
Supporting major waste producing countries to reduce consumption of plastics and marine litter through comprehensive waste reduction and recycling programs.
Reducing food waste through consumer education, organics management, and coordinated food waste management programs.
Since 2000, the World Bank has committed over $4.7 billion to more than 340 solid waste management programs in countries across the globe.
What a Waste 2.0 was funded by the government of Japan through the World Bank's Tokyo Development Learning Center (TDLC).