Generation of massive consumption and waste
On timetable is confrontment with the truth. Answer to yourself how many things you have in your life that you actual do not use neither need. Furthermore how much did you so far give or throw away. With capitalism and our way of living, we are creating urgent need for more and more.
Welcome to consumer society wheremore than 7 billion people every year make a massive dump of 2.12 billion tons of waste. OECD (Organization for Economic Co-operation and Development) countries produce almost half of the world's waste, while Africa and South Asia regions produce the least. High-income countries are responsible for 46% and lower income countries for about 6% of all waste generated. OECD estimated that 1% of increase in national income creates 0, 69% increase in municipal solid waste amount.
On one hand we throw away great amount of food and on the other 12, 5% of world population – about one in eight of the world – was starving between 2010-2012 based on FAO (Food and Agriculture Organization of the United Nations). According to WHO (The World Health Organization) hunger and underweight are most common in Africa, India and Asia. Hunger goes hand in hand with poverty. Not to mention that the number of overweighed is growing. In 2014 more than 1, 9 billion (39%) adults were overweight.
Do we really need so many new cars, telephones, computers and other electric components, clothes and other material things, and so much food we cannot possible consume? Predictions for growth of population for around 2040 are showing a figure of 9 billion. Furthermore by 2100 population could reach 11 billion. Even today we are producing gigantic amount of waste, imagine what the future holds if our way of living does not change, and population continues to increase. Based on report from the World Bank municipal solid waste increase will be seen in developing countries and rapidly growing cities.
Things we throw may vanish from our minds but need to go somewhere. We collect, recycle, compost, incinerate, landfill and dump. But statistics show we have much work to do if we do not want to drown in waste in the future. It is hard to get information and data that correspond to the whole world. There are some numbers regarding waste in EU (European Union) and USA (United States of America) that need to be shown. Since this part of the world is more developed imagine what waste management looks like in developing or failing states, where waste management is not high priority. Waste is not collected in a big part of the world. Environmental Data Centre on waste has shown us that of all waste generated in EU only 36% were recycled. There are considerable variations across the EU member states. EUROSTAT report says each person in the EU generated 481 kg of municipal waste in 2013. 43% was recycled or composted, 31% was landfilled and 26% incinerated. Municipal waste consists to a large extent of waste generated by households, but may also include similar waste generated by small businesses and public institutions and collected by the municipality. Waste from agriculture and industry is not included. If we include waste from demolition and construction activities, mining and from industry sector, we can see that we are creating large mountains of which some have permanent consequences on environment and usage of natural resources. Ecological footprint calculated for year 2010 shows that the humanity has already overshot global bio capacity by 30% and now lives unsustainably by depleting stocks of "natural capital" (fish, forest, soil) and eroding critical life-support functions. With this lifestyle we are using ecological services quicker as Earth can renew them. Worldwatch Institute estimated that each year, 500 billion to 1 trillion plastic bags are consumed worldwide. That's over one million plastic bags used per minute. In USA less than 5% of them were recycled. Scientists estimate that every square mile of ocean contains about 46,000 pieces of floating plastic. This information was released for year 2002. Packaging is becoming a big problem not to mention plastic, food and e-waste. Worldwide private and public consumption has grown and is still growing. With economic globalization, consumption patterns are becoming similar all over the globe.
With creating more and more waste we are becoming a threat to ourselves. What have we done with the only planet we know so far is livable, can be seen in documentaries such as Garbage Island, Inside the Garbage of the World and Plasticized. Just to mention some of them that are concerned with amount of waste we produce, destruction and threat we represent to different animal and plant spices, world and all in all to our future. But there is also some good news. The more we develop the more advance and effective waste management systems and technologies will be put in place.
We need to prevent, minimize, reuse and recycle things. Furthermore we must reduce volume of waste. Less consumption needs to be taken into an account. Better separation of waste and better awareness of population about necessity of recycling and reusing in complex and growing waste production is needed. As an individual we can help keep earth cleaner by separating different kinds of waste and with careful consideration with buying things and materials. Households are responsible for about 10% of total waste and that has an impact on environment. It impacts the quality of water, soil, air and also with waste management on public health. We can make it out victorious and meanwhile create jobs that are becoming more and more important with economic crisis. With lower population, denser, more resource-efficient cities, and less consumption, along with higher awareness we can tackle waste problem before it gets uncontrollable. We need to act more in accordance with sustainable development otherwise we are going down the path of self-destruction.
Thirty years on, what is the Montreal Protocol doing to protect the ozone?
The Montreal Protocol to protect the Earth's ozone layer is to date the only United Nations environmental agreement to be ratified by every country in the world. It is also one of the most successful. With the parties to the Protocol having phased out 98 per cent of their ozone-depleting substances, they saved an estimated two million people from skin cancer every year.
Following the thirty-first meeting of the parties in Rome during 4–8 November, Stephanie Haysmith, the communications officer for the Ozone Secretariat, explained why the Montreal Protocol has been so successful and what lies ahead for the treaty.
The 2019 ozone hole is the smallest on record since its discovery. How does the ozone repair and how long will it take?
The Montreal Protocol has been successful in reducing ozone-depleting substances and reactive chlorine and bromine in the stratosphere. As a result, the ozone layer is showing the first signs of recovery. It is expected that the ozone layer will return to pre-1980s levels by the middle of the century and the Antarctic ozone hole by around 2060s. This is because once released, ozone-depleting substances stay in the atmosphere for many years and continue to cause damage. The 2019 hole is indeed the smallest since recording of its size began in 1982 but the ozone is also influenced by temperature shifts and dynamics in the atmosphere through climate change. In 2019, the stratosphere was particularly warm during the Antarctic winter and spring.
The Kigali Amendment, which came into force January 2019, requires countries to limit hydrofluorocarbons in refrigerators and air-conditioners by more than 80 percent. Yet, there is a growing demand for cooling. How can the two needs be met?
While there is a growing global demand for cooling systems for personal well-being and in the commercial sector, improving energy efficiency with low or zero global-warming-potential will be needed to meet needs while minimizing adverse impacts on climate and environment. Research and development have kept pace: equipment design has changed and improved with the ozone-depleting substances phase-out.
At the Rome meeting, parties were made aware of an unexpected increase in global emissions of trichlorofluoromethane, or CFC-11. Why is that, and what is being planned to address it?
The issue of unexpected emissions of CFC-11 was brought to the attention of the parties in 2018. Global emissions of CFC-11 had increased in the period after 2012. This unexpected trend suggests that there is illegal production and consumption of CFC-11. The exact sources of these emissions have yet to be found. The parties take this very seriously and a decision was made at the MOP30 [30th Meeting of the Parties to the Montreal Protocol] to cooperate in further scientific research. In addition, the parties will assess the mechanisms of monitoring for the Montreal Protocol and the Multilateral Fund.
What is meant by "a sustainable cold chain" and how does it reduce food loss?
A cold chain is a connected set of temperature-controlled facilities (pack houses, cold stores, refrigerated transportation, etc.) that ensures perishable foods maintain their freshness and quality while in transit. Access to cold chain allows local producers to link with high-value markets locally, nationally and internationally. By enabling perishable food commodities to be stored and transported in a temperature-controlled environment not only ensures quality and safety, but reduces overall food loss, while improving economic gains and increasing sustainability.
From an environmental perspective, it is important that increasing demand for cold chain is sustainable with increased use of green fuels, energy efficiency and low or zero global warming potential technologies.
What do you hope the Montreal Protocol will inspire?
The Montreal Protocol is one of the world's most successful environmental treaties and since its adoption, it has encouraged countries to commit to phasing out the production and consumption of ozone-depleting substances. The parties to the Protocol, on realizing that the alternatives, known as hydrofluorocarbons, are potent greenhouse gases contributing to global warming, agreed to address this. After protracted discussions, in 2016 the parties adopted the Kigali Amendment. The global partnership, stakeholder involvement and overall commitment of the countries lent to the success of the ozone protection regime. A successful hydrofluorocarbon phasedown is expected to avoid up to 0.4°C of global temperature rise by 2100, while continuing to protect the ozone layer.
Consequences of U.S. formal exit from Paris climate pact: More isolation globally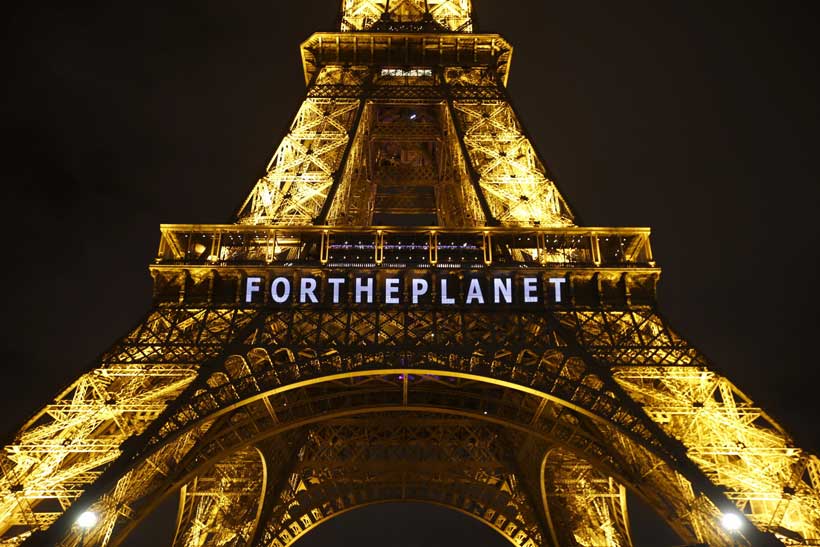 The U.S. has formally begun to exit the Paris climate agreement. Regardless of whether or not the Paris Agreement is legally binding, the U.S. has committed to cut 26-28% of its greenhouse gas emissions by 2025 from 2005 levels, and donate three billion dollars to poor countries by 2020.
The U.S. is now the world's second-largest emitter of greenhouse gases after China. In other words, U.S. greenhouse gas emissions in 2015 were about 7000 million metric tones, which is more than total emissions of the entire EU countries. However, the U.S. president claimed that he has decided to pull his country out of the Paris climate pact because his job is to "protect America and its citizens".
Commenting on the reason for withdrawing from the agreement, the U.S. president said that the pact is favorable for other countries not the United States, because it puts the country at a very big economic disadvantage. Trump also presented statistics showing that implementation of the agreement for the U.S. will result in losing 2.7 million job opportunities by 2025 as well as 440,000 industrial opportunities inside the country. The president added that this is not what the U.S. needed. This issue is not acceptable to Trump that China can continue to emit greenhouse gas for another 13 years, and India is able to continue its greenhouse gas emissions till 2020, while receiving billions of dollars.
The U.S. president also complains that his country has already donated about one billion dollar to Green Climate Fund, which is founded to help developing countries, while no other country has spent such a large sum in this field.
Trump, despite his decision to exit the Paris Agreement, has announced that he is ready to "begin negotiations to reenter either the Paris Accord or a really entirely new transaction on terms that are fair to the United States, its businesses, its workers, its people, its taxpayers". He also said that if they reach an accord, that will be great and if they do not, that will be fine.
Consequences of U.S. withdrawal
It should be noted that the withdrawal from the Paris climate accord by the U.S. is not its first unconventional action toward valid international documents. After coming to the White House, in one of his first moves, Trump ordered to pull the country out of the Trans-Pacific Partnership (TPP) that was signed in 2016. The TPP is the greatest trade agreement in the world, which was signed between 12 countries around the Pacific Ocean with the exception of China, and aimed to remove trade barriers to the countries that signed the agreement.
However, the Paris Agreement is of particular importance for the current generation and the world's future in terms of environmental and international rights. Obviously, legal and political consequences of the Paris accord is more serious than those of the TPP. The following is the summary of the effects of the U.S. withdrawal from the Paris climate pact:
1. U.S. political and legal isolation: the U.S. will be seriously isolated if it withdraws from the Paris accord, because besides Europeans, countries like Canada, Russia, and Asian countries such as China and Japan have signed the agreement. German Chancellor Angela Merkel and the Chinese president reaffirmed that they will be committed to the pact even after the U.S. withdrawal.
Jean-Claude Juncker, the president of the European Commission, at a meeting in Berlin, described the U.S. withdrawal as a completely wrong move. Juncker said that the U.S. cannot exit the agreement just like that. He added that Trump says he will exit the Paris climate pact because he is not well aware of this pact. This is while, he said, in 2015, about 200 countries signed an accord in 2015 in Paris, based on which they were committed to keep the increase in global average temperature to well below 2 °C to prevent global warming.
2. Lack of states' trust on the U.S. to reach an agreement on other issues: this move by Trump shows the U.S. non-compliance with international agreements that could disturb its prestige and position in the world. The move also will cause other Western partners, especially Europeans, lose their trust of the United States. Following the U.S. withdrawal from the agreement, other countries will hesitate to cooperate and sign contract with the White House on other issues.
3. Distrust of environmental rights: one of the important issues in legal subjects is environmental right, which is being taken into account at national and international level. The U.S. withdrawal from the pact means disregard to international documents related to environmental rights. This approach can be a serious threat to plans to control global warming. Furthermore, the approach indicates that the world's second largest polluter does not pay much attention to environmental protection, which has been one of most important challenges for environmental rights in recent decades.
From our partner Tehran Times
Climate Risks: Wildfires, Glacier Melt, Coastal Flooding … A Beautiful Antelope
California wildfires are again in the news as the Kincade Fire now raging risks 50,000 people, who have been evacuated. It might come as a surprise but there have been 41,074 wildfires compared to 47,853 in 2018 for the first nine months of the year. Blame the downslope Santa Ana winds for fanning them. Fires can occur naturally through lightning strikes but these days some 90 percent are due to human carelessness: discarded cigarettes, unquenched campfires and the like, all exacerbated by a warming climate. Killing 85 people, the deadliest wildfire in the state's history seemed to have been caused by Pacific Gas and Electric power lines (although it is still under investigation), and they are suspected in the present Kincade Fire. Wildfires do clear brush — 4.4 million acres burned off this year — ensuring a worse fire will not occur in the future.
As can be expected, such fires also place property at risk. California, Texas and Colorado have the highest numbers of properties at risk, while Montana and Idaho are tops in percentage terms; in Montana 29 percent and in Idaho 26 percent of properties are in the danger zone.
If the west is prone to wildfires, the east has an opposite problem: flooding. Sea levels are rising. The Greenland ice sheet holding enough water to raise the water line by 7 meters is melting. Scientists estimate two-thirds of the ice loss is due to glacier calving as chunks of ice detach from the 300 odd outlet glaciers that end in the fjords. As reported in Science magazine recently, (October 11, 2019), Helheim, a major glacier responsible for 4 percent of Greenland's annual ice loss is being observed by a team headed by Fiamma Straneo of the Scripps Institution.
In severe retreat since 2014, the glacier has reduced "by more than 100 meters, leaving a tell-tale ring on the rock around the fjord." This summer its water temperature is 0.2C above the previous high in a relentless rise. Also the data collected will improve mathematical modeling to predict future consequences.
Coastal flooding on the East Coast has been noted by the New York Times (October 8, 2019) in a feature article, As Sea Levels Rise, So Do Ghost Forests. Trees in coastal areas are dying off due to frequent total incursions of saltwater.
An excellent estimate of coastal flooding on the East and Gulf coasts, Encroaching Tides, was prepared by the Union of Concerned Scientists a few years ago. Sober reading, it forecasts coastal innundation over the next three decades. It talks about adaptation to the new norms, the responsibility of Municipalities, States and the Federal Government, sea walls, economic consequences, and a retreat from heavily impacted areas. Is anybody listening, and when they called for reducing emissions was the US listening?
When more than 190 countries signed up to almost all of the rulebook buttressing the 2015 Paris Agreement, it made the 24th International Climate Conference in Katowice, Poland (Dec 2018) a major success. This December the 25th International Climate Conference will convene in Santiago, Chile. A primary issue before it is how to avoid double counting i.e. counting the same emission reduction more than once. Countries have so far failed to reach common ground on how to avoid it despite the threat to carbon markets underpinning the Paris Agreement. Is bashing heads together in Santiago one answer?
Meanwhile on the top of the world, inhabiting the Tibet plateau, the beautiful and majestic chiru or Tibetan antelope, once in trouble from excessive poaching and then recovering, is at risk again. This time it is due to climate change. It has caused excessive melt and a burst natural dam that used to surround Lake Zonag right beside their calving site.