Climate change part of systemic failure: Democracy, Equality, Survival
How 28th March Started Changing Everything
We're living in a broken system: the war on terror, the Great Recession, the climate crisis and a definition of democracy no one believes in anymore. And our generation is living at the tipping point of planetary history.
Rainforests and farmlands are being reduced to desert and acid rains from the sky. Every hour, three species of animal become extinct. Our food, water and air are being polluted. Over the past 40 years, Co2 emissions have skyrocketed by 80% and natural disasters increased fivefold. Of the last 13 years, 12 have been the hottest on record.
Leading scientists are warning that without radical change, entire islands and major cities will be swallowed by the sea while mega-storms, droughts and pollution will make great swathes of the earth uninhabitable, triggering resource wars and a global refugee crisis. Of course this changes everything. The question is how.
"It's a civilisational wakeup-call. A powerful message, spoken in the language of fires, floods, droughts and extinctions, telling us that we need an entirely new economic model and a new way of sharing this planet." – Naomi Klein
That's the clarion call at the heart of Naomi Klein's new book, This Changes Everything: Capitalism vs. the Climate. It's also the message that brought a thousand people together with campaigners and academics for a mass participatory gathering last weekend to discuss some of the most urgent questions facing our generation: about the crises we face; what a fair and sustainable alternative might look like; and what kind of movement it will take to get us there.
The event, which took its name from the book, was packed out. It attracted a young and diverse crowd mostly 'new to politics' and an international audience for the livestream. People are already planning their own This Changes Everything events in Bristol, Brighton, Nottingham as well as France, Germany and the USA.
Appearing via skype at the beginning of the day, Naomi summed up her argument: "We're on the road to catastrophic levels of warming. It isn't too late to get off that road… to do that we have to change everything about our corrupt political system and our profit-driven economic system… our leaders aren't going to be the ones to grab the wheel and swerve because they're embedded in that logic, they're products of it, and so it's going to have to be social movements that lead from below… the work you guys are doing is why I wrote the book."
For many of us, September's People's Climate March was a catalyst. The sound of 40,000 pairs of feet hitting the streets in London while 400,000 joined the historic march in New York and actions took place in over 160 other countries around the world shattered any notion that the climate movement couldn't mobilise, that people didn't care or that it was too late to act.
The Copenhagen Summit's failure to change anything had renewed commitment to the idea that this fundamental change we were calling for would have to be fought for and won from below; that those who could force the system to change were those disillusioned and exploited by it – not, as some environmentalists would have it, by cupping our hands for concessions from those at the top, who have everything to gain from perpetuating business as usual.
This Changes Everything was organised by a growing, independent network of activists. It brought leading figures from organisations like Friends of the Earth, War on Want and the Green Party around a table with students and activists from groups like Occupy, Join the Dots and Brick Lane Debates. That diversity was echoed on the day itself with a symphony of radical voices: leading environmentalists in Asia and Africa spoke with radical economists and campaigners. The closing session heard from Russell Brand and Francesca Martinez alongside leading voices from the climate justice and trade union movement.
As Mark Sertwotka, General Secretary of the trade union PCS told the assembly: "We will not fall for the lie that says if you are pro environmental issues you are against the interests of workers. If we all unite, if we get on each other's demonstrations, we can rock them to their core. That's what my union wants to see." In the UK, the absence of organised labour on the People's Climate March was a gaping hole. Also felt was an absence of meaningful political content. There were the people – but where were their demands? We all wanted to save the planet, but how could we actually do it? What was the vision? Who were we holding responsible? In whom should we put our faith? These were the great unanswered questions This Changes Everything set out to ask.
On 28th March the answer was deafening. In the morning a mass, interactive assembly heard from leading progressive voices about the crisis we face and visions of how a fairer, more sustainable and democratic economy could work for both people and planet. In the afternoon, everyone joined in with participatory workshops to share ideas about how we could meet a joined-up crisis with a joined-up movement. In the workshops people talked honestly about the difficulties of uniting different struggles and identified the key strategic fights where we can come together and win. During the final session, key ideas from all the workshops were collated into a single consensus that was presented to everyone and met with applause.
The conclusion, in a nutshell, was this: climate change changes everything, but it's part of a deeper crisis of the system. And the solution isn't just about Co2 – it's about justice, not just for the planet but for people here and across the world who were losing their jobs or their land for the same reason they were losing clean water and clean air, losing access to welfare, healthcare and education; living in fractured communities, working longer for less and feeling evermore disempowered: a system that divides and conquers, cultivates violence, exploits the whole world and puts profit first every single time we let it.
More than anything, that's what 28th March was about. People weren't debating the science of climate change. They weren't debating whether war, inequality or austerity was part of the problem. 28th March was about taking the next step – trying to understand how all these things are linked, to sketch a vision for a common solution and start talking about how we come together to create it.
Now, on the basis of the consensus we reached together, groups of people are coming together throughout London, the UK and beyond. They'll be working on a broad spectrum of fronts: from media and education to protest and direct action, on a range of related issues from fracking, food sovereignty and fuel poverty to green social housing and democracy in the workplace. For many this is the first time they've tried to change anything. For others we hope to create new spaces for joined-up action and mutual support for all the great work already being done in the movement. The door is open for a whole new layer of people to get involved and take ownership of what we're building.
There is one thing we have in common. We know that justice for people and planet will be won together, or not at all. The democracy movement has become part of the struggle to survive. We know progressive politics has ecology at its heart and that the climate movement needs the courage to get radical, now.
If you want to find out more, you can check out our website, like us on Facebook and follow @TCEuk on Twitter. You can also drop us an email at thischangeseverything2015(at)gmail.com.
Teaching youth to plant for the planet and change the world from the heart of Europe
A project run from a remote and beautiful part of the German countryside is transforming young people into climate scouts with a powerful message to share.
The Sustainability Guides and Climate Scouts project is run from the International Meeting Centre, St. Marienthal in Ostritz in the Free State of Saxony near the border with Poland.
Established in 1992, the centre conducts around 60 Education for Sustainable Development (ESD) events for more than 2,500 families, youths, adults and experts each year.
The guides and scouts project started in 1998 and welcomes groups of students for intensive courses that combine study with practical outdoor activities, and make good use of its forest experience trail and nature protection station.
Over 1,100 youth have taken part so far including 680 learning-disabled and socially disadvantaged young people who traditionally have very little access to ESD. Its geographical location means it is perfectly placed to bring together students from Germany, Poland and Czech Republic. And a new model project is currently underway which opens the door to ESD for refugees as well.
One of the most exciting aspects of the project is the Plant for the Planet scheme where children have planted around 34 hectares of forest and undertaken more than 30 small-scale energy and water conservation initiatives.
Project Manager Georg Salditt said: "Our message is really twofold: we are teaching peace and the environment. We are well placed at the very heart of Europe to bring young people together who may not normally have met and to demonstrate to them that we are all human beings and we must respect each other and the planet."
The work with refugees who come from Syria, Afghanistan and African countries and elsewhere also has a double aim.
"We want to make sure that if they make their lives here they know how important it is to protect the environment, but also if they are able to return home or to another country that they carry those messages back with them," said Georg.
Not only is the centre itself a model of sustainability with its own environment management system: when children leave the course they take back with them ideas on how to transform their own schools. The centre ties all theory very tightly to practice. In some schools, environmental representatives have been appointed and students introduced permanent energy saving routines for heating and ventilation and for the reduction of paper use and waste.
As part of the project young people also learn about the effects of climate change on societies in the form of soil erosion, extreme weather phenomena , rural depopulation, economies and the environment especially with regard to forest damage. They are motivated by quick feedback on successes in energy and water conservation and updates on the amount of forest planted.
Crucially children also take part in communication workshops to learn how best to share and pass on what they have learned at open school days or town halls.
For Georg one of the most satisfying aspects of his work is watching the transformation take place before his eyes.
"It might sound silly but students do actually write to me one or two years after the course and say that these five days changed their lives not only as far as the environment is concerned but as a human experience. Some had never met anyone from another country at all. And they got to plant a tree!"
And there is a new project already underway.
"We are now working to introduce a project to protect bees and insects. Everyone loves honey and honeybees so we think it will be a success," he said.
World looks to nature-based solutions for urgent water challenges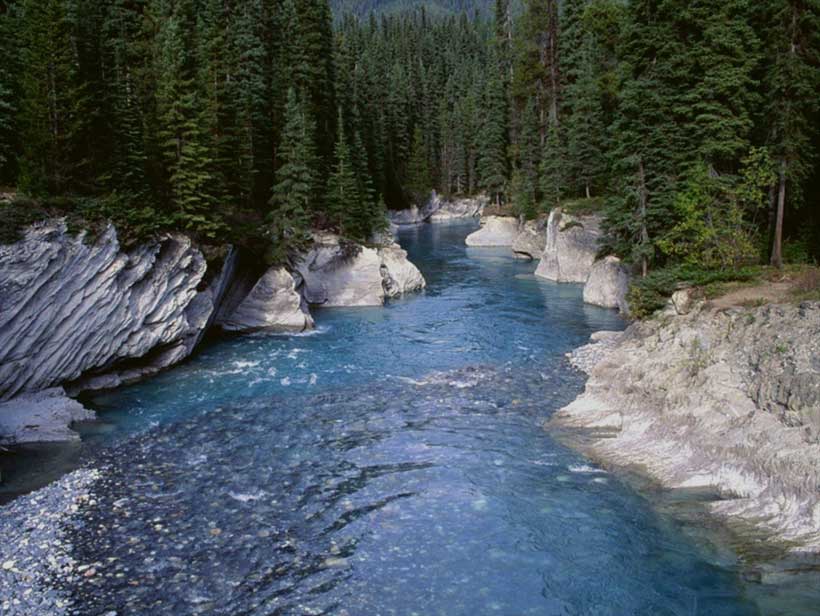 As more than 2 billion people lack access to safe drinking water and more than double that number lack access to safe sanitation, the international community is drawing attention to nature-based solutions for the water challenges of the 21st century on this World Water Day.
The theme of this year's commemoration highlights the unique and fundamental role that nature-based solutions play in regulating the water cycle, keeping freshwater clean and improving the water security of our water cycles.
With the global population continuing to grow rapidly, demand for water is expected to increase by nearly one-third by 2050, while our freshwater ecosystems are degrading at an alarming rate ­– 64-71% of the natural wetland area worldwide has been lost due to human activity in the last century. Furthermore, water pollution has worsened in almost all rivers in Africa, Asia and Latin America since the 1990's
"We need to deal with the water paradox," said Erik Solheim, head of UN Environment, calling attention to the need to work together towards a solution for our water challenge. "Water is the essence of life, but we don't save it enough. It's time to change mindsets, it's not about development versus the environment."
The 2018 edition of the UN World Water Development Report outlines a range of nature-based solutions for water management, from personal measure that can be applied in the home, to examples of "green" infrastructure that can be applied to rural and urban landscapes – such as planting new forests, restoring wetlands, and constructing green walls and roof gardens.
The report further clarifies that despite recent advances in the application of green infrastructure, a holistic approach to water management is to identify the most appropriate, cost-effective and sustainable balance between grey infrastructure and nature-based solutions.
"Today, more than ever, we must work with nature, instead of against it," said Audrey Azoulay, Director-General of UNESCO in the foreword of the report. "Demand for water is set to increase in all sectors. The challenge we must all face is meeting this demand in a way that does not exacerbate negative impacts on ecosystems."
World Water Day is celebrated every year on March 22nd. This year, the commemoration coincides with the World Water Forum, held in Brasilia, Brazil. The Forum is the world's biggest water-related event, organized by the World Water Council. The Forum brings together water experts from around the world to collaborate on making long-term progress on global water challenges. http://www.worldwaterforum8.org/
Category 5 storms: A norm or exception?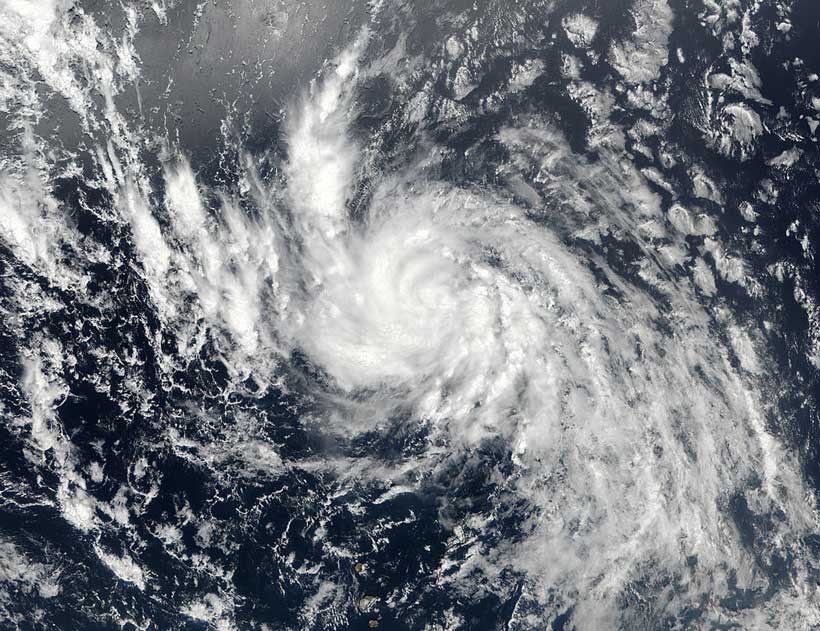 Compared to their larger counterparts, small states are at a higher risk of extreme weather events, which threaten to wipe out their developmental gains, and to some extent, their very existence.
According to the IMF, the economic cost of the average natural disaster during 1950-2014 was nearly 13 percent of GDP for small states, compared to less than 1 percent of GDP for larger states. During that same period, the average natural disaster affected 10 percent of the population in small states, compared to just 1 percent for other countries.
In recent times, the frequency of disasters affecting small states has been far much greater, reflecting small states' proximity to cyclone and hurricane belts. In addition, there has been a rapid expansion in the number of higher category cyclones.  These have left a trail of devastation in their wake, and are estimated to have generated costs in the billions.
In March 2015, category 5 cyclone  Pam struck Vanuatu, and in Fiji, category 5 Tropical Cyclone Winston left over 40 percent of the population negatively impacted. A few weeks ago, Tropical Cyclone Gita, the worst storm to hit Tonga in 60 years, caused significant damage to infrastructure and unprecedented disruption to amenities.
As recent as last year, the Caribbean experienced widespread destruction and substantial loss and damage due to category 5 hurricanes Irma and Maria. These hurricanes damaged critical infrastructure in Anguilla and Barbuda, whilst; and the Bahamas suffered remarkable damage to physical structures.  Moreover, there were damages to over 80 percent of homes, electricity and telecommunications in Dominica; and the list goes on.
Is this growing frequency of robust and destructive category 5 storms a norm or exception?
Well, there is a growing body of evidence that seems to suggest that the recent increase of these highly destructive storms are indeed linked to climate change. According to the Intergovernmental Panel on Climate Change (IPCC) model projections, in particular, global warming is expected to cause an intensification of devastating cyclones by the end of the 21st century. I believe that should this projection come to fruition, such weather events will most-likely push small states beyond their coping point, given their already weak adaptive capacities.
The real question is this:
What does all this mean for the economic development and very existence of small states, and can this be solved through increased financing for development?