"Be more like us" say German policymakers to their EU partners. But Philippe Legrain warns that appearances can be deceptive as Germany suffers from stagnant wages, broken banks, inadequate investment, poor productivity growth, a dismal demographic outlook and anaemic output growth
When Germany won the World Cup last summer, it wasn't just the soccer fans who rejoiced; most Germans are convinced that their economy too is a world-beater. Finance minister Wolfgang Schäuble boasts of it as Europe's most successful economy, and German policymakers lecture their neighbours on the need to be more Germanic. Chancellor Angela Merkel celebrated her re-election 18 months ago by saying, "What we have done, everyone else can do."
Not just can do, must do: Germany is using its clout in the EU's institutions to try to reshape the eurozone in its own image. But the truth is that far from being successful, Germany's economy is dysfunctional – so trying to impose its model on the eurozone is dangerous for Europe and potentially damaging for the rest of the world.
Germany's economy is dysfunctional – so trying to impose its model on the eurozone is dangerous for Europe and potentially damaging for the rest of the world
If you drive a Volkswagen or a BMW, and have a house full of Bosch or Miele appliances, it is easy to leap to the conclusion that Germany's economy is a hot ticket. Appearances can be deceptive, for Germany also suffers from stagnant wages, broken banks, inadequate investment, poor productivity growth, a dismal demographic outlook and anaemic output growth. Merkel's mercantilist model, which involves suppressing wages to subsidise exports, is beggaring Germans and also their neighbours.
Back at the euro's launch in 1999, Germany was being dismissed as the "sick man of Europe". Its economy was stagnant and there were four million unemployed. The German myth is that thanks to Chancellor Gerhard Schröder's labour-market reforms a decade ago, the country is now, in economic terms, an Olympic athlete. While it is true that unemployment has plunged with millions of Germans finding low-paid and often part-time "mini-jobs", the rest of its economic record is unimpressive.
Germany's economy is once again stagnant: it was no bigger in the third quarter of 2014 than six months earlier. Since the crisis struck in early 2008, it has grown by 3.1%, which isn't as awful as the rest of the eurozone but a bit less than Britain and only half as much as Sweden, Switzerland and the United States, the epicentre of the financial earthquake. Since 1999, Germany's GDP growth has averaged only 1.2% a year, placing it 14th out of what until this January had been the 18 countries in the eurozone, less than France and well behind Britain (1.7%) and America (1.9%).
With global demand weak, the eurozone as a whole cannot rely on exports as a way of growing out of its debts
Germany has not become more dynamic since the sick-man era; it has simply cut costs. Businesses have stopped investing and so has the government. Investment has plunged from 22.3% of GDP to 17% in 2013 – lower even than in Italy. After years of neglect, infrastructure is crumbling: highways, bridges over the Rhine, even the crucial trade artery of the Kiel Canal that connects the North Sea to the Baltic. The education system is flagging too, with the number of its much-vaunted apprentices at a post-reunification low. The country has proportionately fewer young graduates (29%) than Greece (34%), and its top-rated university ranks 49th globally.
Handicapped by under-investment, Germany's sclerotic economy struggles to adapt. Despite Schröder's reforms, it is harder to lay off a permanent employee than in any other OECD country. Starting a business is a nightmare: Germany ranks 114th place globally, behind Tajikistan and Lesotho, according to the World Bank's Doing Business rankings. No wonder 50,000 German entrepreneurs have emigrated to Silicon Valley. Its major corporations are all old and entrenched; there is no German Google – its nearest equivalent in business software, SAP, was founded in 1972. The services sector – over three-fifths of the economy – is particularly hidebound. Productivity in those sectors – everything from transport to telecoms – is often dismal, not least because they tend to be tied up in German officialdom's red tape.
The regulation of professional services is stricter than in all but five of the 27 countries ranked by the OECD. In the liberal professions, which account for a tenth of the economy, strict rules dictate who may offer what sort of service, the level of charges allowed for professionals and how they may advertise. Only qualified pharmacists, for example, can own a pharmacy, and they are each limited to four outlets. Other shops may not compete, even for non-prescription drugs. The government has itself also become complacent, introducing fewer pro-growth reforms over the past seven years than any other advanced economy, again according to the OECD. The upshot is that productivity growth has averaged only 0.9% a year over the past decade, less even than in Portugal.
The country's policymakers should focus on boosting productivity, not "competitiveness", with workers paid their due
German workers have paid the price for this poor performance. Starting with the corporatist agreement struck between government, companies and unions back in 1999, wages have been artificially held down. While German workers' productivity has advanced by 17.8% over the past 15 years, their pay has actually fallen when set against inflation. Schäuble and others perversely celebrate this wage stagnation as part of Germany's superior competitiveness, but countries are not companies. While a business owner may wish to minimise wage costs, for society as a whole wages are not costs to be minimised but benefits to be maximised, provided they are justified by productivity. Suppressing wages also harms the economy's longer-term prospects, because it erodes incentives for workers to upgrade their skills and businesses to invest in moving upmarket.
Stagnant wages sap domestic demand, and have left Germany reliant on exports for its growth. And exports have indeed doubled since 2000, subsidised by Germans' artificially low wages and with the euro itself providing a triple boost: it has been much less buoyant than the Deutschmark, it has prevented French and Italian competitors from devaluing and until recently it provided booming export markets in southern Europe. Germany has also been lucky because its traditional exports – capital goods, engineering products and chemicals – are precisely those that China needed for its breakneck industrial development since the turn of the 21st Century.
With southern Europe now in a slump and with China's growth slowing and shifting towards services, the German export machine is beginning to sputter. Its share of global exports fell from 9.1% in 2007 to 8% in 2013, as low as in its sick-man era. Since cars and other "made in Germany" exports now contain many parts and components produced in central and eastern Europe, Germany's export share is, in value-added terms, at a record low.
Germany's export obsession has resulted in a whopping current-account surplus of $289.6bn up to October last year, dwarfing even China's $206bn in the year to the third quarter and exceeding 7% of GDP. Schäuble and others see this surplus as emblematic of Germany's superior competitiveness. But if Germany is so competitive, why don't more businesses want to invest there?
Germany's huge surplus is in fact a symptom of a sick economy. Stagnant wages swell corporate surpluses, while subdued spending, a stifled services sector and stunted start-ups suppress domestic investment, with the resulting surplus savings often squandered overseas. A study by the DIW economic research institute in Berlin suggests that Germany lost €600bn, the equivalent of 22% of GDP, on the valuation of its foreign portfolio investments between 2006 and 2012.
Compressing wages to subsidise exports is bad for Germany and disastrous for the rest of the eurozone. Far from being an "anchor of stability" as Schäuble claims, Germany is spreading instability. German banks' reckless lending of excess savings to southern Europe financed property bubbles in Spain and Ireland, funded a consumer boom in Portugal and lent the Greek government the rope with which to hang itself. Then, since these bubbles burst, Germany has exported debt deflation. Nor is Germany a "growth locomotive" for the Eurozone; on the contrary, its weak domestic demand is a drag on growth elsewhere, this making it less likely that German banks and taxpayers will recover their loans to southern Europe.
Foisting the German model onto the rest of the eurozone risks making matters worse. It is a myth that wages in southern Europe are too high; they fell as a share of GDP everywhere in the pre-crisis years. Slashing them further is depressing domestic spending and making debt burdens harder to bear than ever. With global demand weak, the eurozone as a whole cannot rely on exports as a way of growing out of its debts. For struggling southern European economies whose traditional exports have been undercut by Chinese and Turkish competition, the solution is not to try to produce the same old products at much lower wages, but rather to invest in moving up the value chain so as to produce new and better products for higher wages.
Trying to turn the eurozone into a greater Germany is also harmful for the rest of the world – not least Britain, the eurozone's biggest trading partner. Stagnant demand crimps other countries' exports. The eurozone's $327.3bn (and rising) current account surplus is also so vast that it risks provoking protectionist responses. Meanwhile, German capital that once gushed into southern Europe is now being sprayed around elsewhere, with Germany's notoriously badly-managed banks misallocating capital more broadly than ever.
Germany's economic model urgently needs to be overhauled. The country's policymakers should focus on boosting productivity, not "competitiveness", with workers paid their due. Unleashing competition and enterprise would be a good place to start. With a balanced budget, a triple-A credit rating and a stagnant economy, the government should take advantage of near-zero interest rates to invest, and encourage businesses – especially start-ups – to do likewise. Germany would also do well to welcome more dynamic young immigrants to stem its demographic decline. That would be good for Germany, a better example for the eurozone and a welcome boost for the global economy.
This article first appeared in the Spring 2015 issue of Europe's World. Reposted per author's permission.
Tech layoffs and Indian IT Professionals
According to a report in the Washington Post, nearly 30%-40% of the 200000 workers laid off by IT companies like Google, Microsoft etc, since November 2022 are Indians. Several of these workers are on non-immigrant visas — H1B and L1 Visas. H1B is a non-immigrant work visa which enables US companies to employ individuals with specialised skills. If those on H1B visas do not find a new job within 60 days, they will have to leave the US. This would result in numerous logistical problems – for instance children of many of these individuals are enrolled in schools, and these individuals would also have to sell their properties. One suggestion which had been made is that these companies can extend the termination date for IT professionals on H1B visas by a few months.
It would be pertinent to point out, that several organisations are trying to help Information Technology (IT) professionals in their job search and also in influencing US policy makers of US Citizenship and Immigration Services (USCIS). While some of these individuals may be fortunate enough to find opportunities within the US, and a few would also be willing to relocate to India, if they are economically sound, others need to look at possible alternatives. While one possible alternative is Canada, which in recent years has been going all out to attract skilled tech professionals. After the inward immigration policies of the Trump administration, several professionals shifted to Canada (in 2019 the number of Indians who received permanent residency of Canada was over 80,000 while in 2016 less than 40,000 Indians received Canadian residency). Under the Global Skills Strategy program – the Canadian equivalent of the H1B – the processing time of immigration process for skilled workers to two weeks this has also resulted in Canada being a preferred destination for Indian IT professionals in recent years.
These professionals can also explore the possibility of options like UAE. UAE has been making a special effort to attract skilled professionals through its Golden Visa Program – a 10 year residency visa. Earlier, one of the reasons why the west was a preferred destination for Indian professionals vis-à-vis the UAE was that the latter did not provide long term visas. The introduction of the golden visa could make the UAE as a favoured destination for IT professionals given its proximity to India as well as the high living standards. Apart from this, the Golden Visa does not impose restrictions regarding dependents and family members can be sponsored regardless of their ages.
It is not just the UAE, even Japan is trying to attract professionals and has recently announced that individuals who have graduated from top universities can stay back for a period of two years (currently they can only stay for 90 days). Singapore which in recent years has emerged as preferred destination for Indian professionals has also emerged as an attractive destination for IT professionals. Between 2005 and 2020, the proportion of Indian professionals in Singapore has doubled and this has been driven to a large degree by the demand for tech professionals.
Many of the individuals who have been laid off by US companies can also take advantage of the increasing opportunities in India in the start-up sector and the recent thrust on digitalisation in India. Both the central and state governments should try to woo some of these individuals. A number of state governments, such as Kerala, have devised policies aimed at assisting expats who have returned from overseas to start business ventures.
Seeing the changes which are taking place in the IT Sector globally as well as some of the increasingly insular immigration policies of western countries, it is important that Indian students as well as professionals think innovatively and look at alternative avenues. Western companies as well as companies also need to bear in mind, that if other countries like UAE, Singapore, Japan and possibly countries like Vietnam and Taiwan, with strong research eco-systems and infrastructure, begin to open their doors to skilled IT professionals, then the west is unlikely to remain the primary choice for IT professionals in the longer run.
Free-Market Capitalism and Climate Crisis
Free market capitalism is an economic system that has brought about tremendous economic growth and prosperity in many countries around the world. However, it has also spawned a number of problems, one of which is the climate crisis. The climate crisis is a global problem caused by the emission of greenhouse gases, primarily carbon dioxide, into the atmosphere. These externalities are chiefly a consequence of day to day human activities, such as the burning of fossil fuels, deforestation, and conventional agriculture. The climate crisis is leading to rise in temperatures, sea levels, and more erratic weather patterns-The floods in Pakistan and depleting cedars of Lebanon are vivid instances for these phenomena, which are having a devastating impact on the planet.
One of the main reasons that free market capitalism has contributed to the climate crisis is that it prioritizes short-term economic growth over long-term environmental sustainability. Under capitalism, companies are primarily motivated by profit and are not required to internalize the costs of their pollution. This means that they are able to pollute without having to pay for the damage that they are causing. Additionally, the capitalist system is based on the idea of unlimited growth, which is not sustainable in the long-term. As long as there is an infinite demand for goods and services, companies will continue to produce them, leading to ever-increasing levels of pollution and resource depletion.
Another pressing issue that free market capitalism is recently going through is that it does not take into account the externalities of economic activities. Externalities are the unintended consequences of economic activities, such as pollution and climate change. Under capitalism, companies are not required to pay for the externalities of their activities, which means that they are able to continue polluting without having to pay for the damage that they are causing. In her book "This Changes Everything: Capitalism vs Climate" Naomi Klein argues that the current system of capitalism is inherently incompatible with the urgent action needed to address the Climate crisis.
To address the climate crisis, it is necessary to put checks and balances over the free market capitalism and/or make a way towards a more sustainable economic system. This can be done through a number of different effective policies, such as:
Carbon pricing: This can be done through a carbon tax or a cap-and-trade system, which would make companies pay for the carbon emissions that they are producing. In the article "The Conservative Case for Carbon Dividends" authors suggest that revenue-neutral carbon tax is the most efficient and effective way to reduce the carbon emissions.
Increasing renewable energy investments: an increment in the investments in clean energy technologies, such as solar and wind power, can result in the reduction in the use of fossil fuels.
Regulating pollution: Governments can regulate pollution to limit the amount of greenhouse gases that are emitted into the atmosphere.
Encouraging sustainable practices: Governments can encourage sustainable practices, such as recycling and conservation, to reduce the use of resources.
It is remarkable that evolving Capitalism can be harnessed to address the climate change. The private sector has the resources and innovation to develop and implement new technologies and sustainable practices, but they need the right incentives and regulations to do so. Finding the balance between economic growth and environmental protection must be a priority for capitalists.
The free market capitalism has been the driving force behind global economic growth, but at the same time, it has contributed to the ongoing climate crisis. The solution to this problem is not to reject capitalism, but rather to reform it to the societies' suitable demands. Government should consider providing a level playing field so as to make the probable transition from fossil-based energy systems to Green energy technologies possible. The capitalists should not consider short-termism over long term environmental sustainability. Government intervention to put a price on carbon emissions, invest in renewable energy, regulate pollution, and encourage sustainable practices is necessary to avoid the worst impacts of the climate crisis and build a sustainable future for all. However, here is the catch: Is achieving net-zero-carbon emissions by mid-century a probable target? The answer is quite uncertain, however it is critical point to strive for in the face of escalating Climate Crisis.
Egypt's "Too Big to Fail" Theory Once Again at Test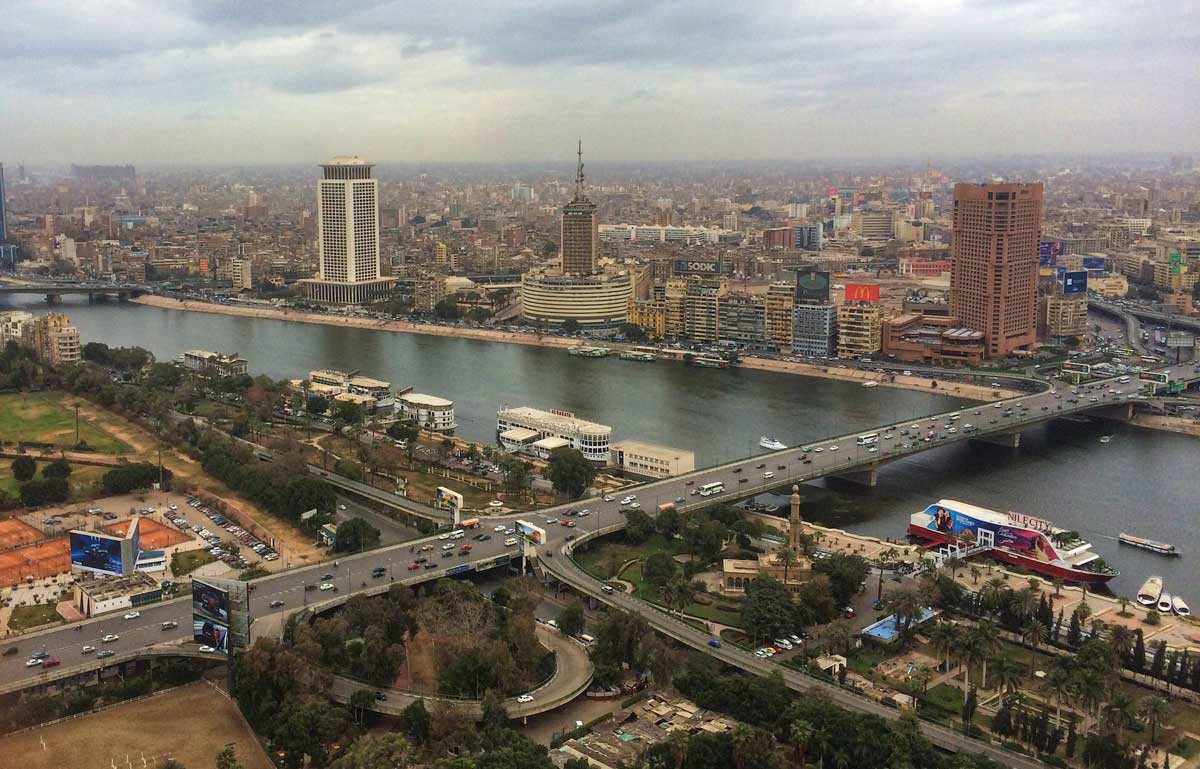 Authors: Reem Mansour & Mohamed A. Fouad
In the wake of 2022 FED's hawkish monetary policy, the Arab world's most populous nation, Egypt, saw an exodus of about USD20bn of foreign capital. A feat that exerted pressure on the value of its pound against the dollar slashing it by almost half. This led to USD12bn trade backlog accumulating in Egypt's ports by December 2022.
Meanwhile, amidst foreign debt nearing USD170bn, inflation soaring to double digits, and a chronic balance of payment deficit, Egypt became structurally unfit to sustain global shocks; the country saw its foreign debt mounting to 35% of GDP, causing the financing gap to hover at USD20billion.
While it may seem all gloom and doom, friends from the GCC rushed to inject funds in the "too big to fail" country, sparing it, an arguably, ill-fate that was well reflected in its Eurobond yields spreads and credit default swaps, a measure that assesses a sovereign default risk.
For the same reason in early 2023, the IMF sealed a deal worth of USD3bn, with the government, which unlocked an extra USD14bn sources of financing from multilateral institutions, and GCC sovereign funds, to fill in a hefty portion of the annual foreign exchange gap, albeit a considerable amount averaging USD6bn per annum is yet to be sourced from portfolio investments.
With the IMF stepping in, the Egyptian government agreed on a structural reform program that requires a flexible exchange rate regime, where the Egyptian pound is set to trade within daily boundaries against the US dollar, rationalize government spending, especially in projects that require foreign currency; and most importantly the program entails stake-sales in publicly owned assets, paving the way for the private sector to play a bigger role in the economy.
In due course, through its sovereign fund, Egypt planned initial offerings for shares in companies worth about USD5-USD6bn, and expanded the sale of its shares in local banks and government holdings to Gulf investment funds.
Through the limited period of execution of these reforms, the EGP hit a high of 32 against the greenback, and an inflow of portfolio investments amounting to USD1bn took place, according to the Central Bank of Egypt.
Simultaneously, Citibank International, cited a possible near end of the devaluation of the Egyptian pound against the US dollar. Also, in a report to investors, Standard Chartered recommended to buy Egyptian treasury bills, and pointed to the return of portfolio flows to the local debt market in the early days of January, 2023. Likewise, Fitch indicated the ability of the Egyptian banking sector to face the repercussions of the depreciation of the pound, and that the compulsory reserve ratios within Egyptian banks are able to withstand any declines in the value of the pound because they are supported by healthy internal flows of capital.
While things seem to be poised for a recovery, the long term prospects may lack sustainability. The Egyptian government needs to accelerate its plans to shift gears towards a real operational economy capable of withstanding shocks and dealing with any global challenges. Egypt, however has implicitly held the narrative that the country is 'too big to fail". This is largely true to the country's geopolitical relevance, but even this has its limitations when the price to bail far outweighs the price to fail.
Former President George W. Bush's administration popularized the "too big to fail" (TBTF) doctrine notably during the 2008 financial crisis. The Bush administration often used the term to describe why it stepped in to bail out some financial companies to avert worldwide economic collapse.
In his book "The Myth of Too Big To Fail" Imad Moosa presented arguments against using public fund to bail out failing financial institutions. He ultimately argued that a failing financial institution should be allowed to fail without fearing an apocalyptic outcome. For countries, the TBTF theory comes under considerable challenge.
In August 1982, Mexico was not able to service its external debt obligations, marking the start of the debt crisis. After years of accumulating external debt, rising world interest rates, the worldwide recession and sudden devaluations of the peso caused the external debt bill to rise sharply, which ultimately caused a default.
After six years of economic reform in Russia, privatization and macroeconomic stabilization had experienced some limited success. Yet in August 1998, after recording its first year of positive economic growth since the fall of the Soviet Union, Russia was forced to default on its sovereign debt, devalue the ruble, and declare a suspension of payments by commercial banks to foreign creditors.
In Egypt, although the country remains to face a number of challenges, signs remain relatively less worrying than 2022, as global sentiment suggests that leverage will be provided in the short-term at least. Egypt's diversified economy, size and relative regional clout may very well spare the country the fate of Lebanon. However, if reforms do not happen fast enough, the TBTF shield may become completely depleted.
Hence, in order to avoid an economic fallout scenario a full fledged support to the private sector's local manufacturing activity and tourism is a must. Effective policies geared towards competitiveness are mandatory, and tax & export oriented concessions are required to unleash the private sector's maximum potential and shift Egypt into gear.