Europe: A Defeat at the Hands of Victory?
Having won the Cold War (perhaps largely due to the courage of the Russian people who threw off a communist dictatorship and were prepared to take risks), Europe seems to be losing the peace. The region is entering the next stage of international relations disunited and weakened, and poised for a confrontation or maybe even a large-scale war.
Wonderful slogans about "a common European home" (Mikhail Gorbachev), "A Europe whole and free" (George H.W. Bush), and the beginning of a "new era of democracy, peace, and unity" (the 1990 Charter of Paris for a New Europe) – all of which looked achievable twenty-five years ago – produce a sad smile today.
All of this is happening amid Islamic radicalization, unprecedented destabilization in the Middle East, unresolved traditional global challenges, an extremely vulnerable international financial system, the emergence of new areas for rivalry between China and the United States, growing de-globalization, and a virtually collapsing system of international relations and law… The massive re-nationalization trend in world politics will inevitably sweep across the European Union – an island of stability – especially amid the systemic slowdown both in Russia and the EU.
The list of challenges continues to grow, while Western Europe and Russia – the strongest country on the continent – are wrangling on the verge of a civilized "divorce." Western Europe can try to tuck its head under the U.S.'s wing again, of course, and Russia could form a de-facto strategic alliance with China, but either option will destroy the hopes for the united Europe everyone wanted to build at the end of the Cold War.
Is there any way for us not to lose the peace? I think so. But we must first understand how things got this way.
There are four reasons: the first is the inability to understand that Russia, on the one hand, and a majority of other countries on the continent, on the other hand, were and are diverging in socio-economic, moral, and psychological terms. We have lived largely in different eras. Second is the inability and reluctance to set a common goal for long-term co-development. Instead, and this is the third point, we have been witnessing the disagreement over the Soviet heritage and attempts to pin Russia down geopolitically, which initially led to war in South Ossetia and then to the conflict in Ukraine. The Cold War never ended de facto and is now reemerging. And the fourth reason is that there has been no serious and systemic dialogue between the two sides for almost twenty-five years. Instead Russia either was lectured to or assured of a common future. Russian President Vladimir Putin's speech in Munich in 2007, initially designed as an invitation to a serious dialogue, met with a hostile reaction. Had the Europeans listened to Putin, many problems would have been avoided, including the current tragedy in Ukraine.
For Russia, relations with Europe are not so much a question of geopolitical orientation or economic ties as identity. Can Russia, plagued by political differences and the departure of a considerable number of European elites from European values as Russia understands them, give up its centuries-old cultural foundations that date back to Byzantium? The odds are actually quite high that it could, especially considering an ascending Asia, which for the first time in history is offering a geopolitical and economic alternative. In fact, current disagreements with the West provide a strong argument in favor of an economic and even political turn towards the East.
The situation is complex for Europe as well. Without an alliance with Russia Europe will lose its five-hundred-year political, economic, and cultural leadership. What would that mean for the self-sentiment of many, if not all, Europeans and their chances to keep their identity?
Russia and Another Europe
Despite the illusory hopes of the early 1990s, Russia and Europe within the EU developed at different speeds and in diverse directions. There were objective reasons for these processes, but European elites almost never assessed or discussed them. And that was their mistake. They failed to see the truth and had no wish to do so. This is why the current crisis came to them like a thunderbolt from a blue sky. Now some are feverishly trying to demonize Putin, while others are blaming "Merkel the betrayer."
Hopes that Russia would choose the "European" path did not come true. But Europe is also changing; it is no longer the Europe that attracted the Russian people after their revolution. Russian impatience, an almost complete lack of real, rather than theoretical, experience of building capitalism, and unfortunate circumstances troubled Russia at the dawn of its new era.
A shock privatization campaign was launched to break the backbone of communism, but the overwhelming majority of Russians condemned it as robbery. The shock therapy reforms produced one of the ugliest forms of oligarchic quasi-capitalism. In fact, many Russians still consider huge amounts of private property as morally illegitimate.
Much worse, while lacking the necessary knowledge and seeking to get everything done as quickly as possible, the Russian reformers failed to grasp (or simply ignored) the main point – property without property rights is a sham. Their successors proclaimed the "dictatorship of law," but did not introduce the right of ownership, because that would have interfered with privatization and the subsequent redistribution of property. Therefore, on top of its moral questionability, ownership had no legal protection. This is the major reason for the current economic slowdown and capital flight. It appears risky to invest or even keep assets in Russia. This is also the root cause of the lack of patriotism among the elites. The authorities are beginning to address this issue now, but they refuse to recognize its root causes. Indeed, as the prime source of systemic corruption, property can only be protected if it is "married" to power.
This is the actual result of Russia's transition. Some in the West applauded it, delighted at the outward signs of Russia's "Europeanization" or hoping to get a chunk of its property or power. However, Russia did not follow the European path which means, above all, the rule of law in both society and the economy.
A strategic mistake was also made in political reforms. Liberal-minded communists and their opponents thought that people did not have enough democracy. And so democracy was created from above by electing parliaments, governors, and mayors. Yet responsible citizens, the key element of human capital in any country, were never cultivated. Work only began recently to build the breeding grounds for civil society, which include the grassroots and municipal levels, and county self-rule.
As a result, "premature" top-tier democracy slowed development. By 1999, Russia had virtually turned into a failed state. If there had been a little Maidan in Moscow, the country would have fallen apart quickly. I always say and will keep saying that of all the explanations for the miracle of Russia's salvation, the one that appears to be most plausible to me is that God forgave Russia for its sin of communism.
External circumstances were not favorable either: former adversaries did not try to finish us off, yet neither did they help (except for the humanitarian aid in 1990-1992 and the 11 billion Deutsch marks Germany provided to pay for the withdrawal of Soviet troops from East Germany). When the West "helped," it did so by offering commercial loans conditioned on reforms, which angered many people. The Russian elite accepted the proposed rules of the "Washington consensus" and failed. As we know now, the success of developing countries generally comes from their refusal to play by these rules.
In Russia, the defense and protection of sovereignty has always been the principal national idea. Yet Russia was looked down upon and sometimes even told (not by Europeans) who should be appointed to the government, with those favored receiving explicit support. The West's approach to Moscow objectively was a mild version of the Versailles policy even though this was never stated openly as a goal, and most politicians in Europe probably did not even suspect that. There were no scoffing, annexations, or contributions, but there was a policy of "victors," who consistently drove the "defeated party" to bay, seeking to control its economic, political, and military interests. However, Russians did not feel defeated and the policy of NATO expansion engendered the Weimar Syndrome. Its first outburst was quashed only by a hard-won victory in the second Chechen war, which made Putin a national leader.
Europe within the European Union
Let me explain again where we differ conceptually. While Russia was restoring its sovereignty and statehood, the European Union was trying to overcome sovereignty and state nationalism, and to build a supranational community. This divergence became manifest when European countries almost unanimously condemned the Chechen war.
Essentially, the systems of values developed in the opposite direction. Most Russians sought to revive traditional moral standards destroyed during communism and embrace previously banned Christian beliefs. A public demand emerged for state patriotism that was not based on communist messianism, as well as for a new national identity and conservatism as the antithesis of revolutionary ideas that had brought so much suffering and trouble to the country and its people in the 20th century. It was believed that this was the way for Russia not only to regain itself, but also return to the Europe it had left in 1917.
However, European elites had tired of these values and considered them obsolete or even reactionary. The Old World set itself the goal of doing away with nationalism and even national patriotism, rejected many traditional moral principles, and drifted farther away from Christianity. No one knows whether this trend of the past thirty years will continue or if it will eventually be reversed. Yet Russian and Western European societies are at the opposite ends. Russia's intent to make traditional values its banner meets unconcealed antagonism and raises concerns among the leading, and ruling, European elites, since they know that the majority of people in their countries share these values too.
Having burnt its fingers on top-tier democracy, which had almost brought the country to collapse and which people associated with the chaos, poverty, and humiliation of the 1990s, the Russian elite made an unpleasant, but unavoidable, turn towards "controlled" democracy; that is, a semi-authoritarian regime.
At basically the same time European elites started to advance their own democratic model and experience as the basis of "soft power." From the early 2000s the EU policy has been increasingly dominated by democratic messianism that until then had only been found across the ocean.
Russian and European elites once again found themselves in opposition to each other. There is yet another explanation for this. Most societies and ruling circles in the West have long forgotten their revolutions. But top echelons of power in Russia do not want to see new disastrous upheavals similar to those that occurred in February 1917; or the democratic revolution of 1991, which has not yet ended in horror, but has almost led to the collapse of statehood. (Naturally, there is a minority within the Russian elite who were a majority in the 1990s, who do not share these conservative views and who even long for a new revolution. But society is not on their side, at least for now).
European politicians state repeatedly that the Old World could unite only on the basis of common values. They said so at first in order to get rid of the Russians, who were eager to become part of Europe. But eventually, the orators came to believe their own mantras. Given the ideological opposition described above, there was no question of drawing Russia into the unification process. However, this stance was contrary to the European political tradition where interests often united countries, leaders, and societies. Otherwise Nazi Germany would have won World War II. If one follows this logic, he would come to the conclusion that anti-European forces, such as Islamic radicals or non-European competitors, should gain the upper hand today.
Discordant systems of priorities were another reason why the "Greater Europe" concept failed. At first, the European Union had more important matters to deal with than Russia. Carried away by euphoria after the end of the Cold War, the EU was too preoccupied with its unbridled drive for enlargement and the creation of the euro. By the beginning of the 2000s, it had become clear that excessive enlargement without a political alliance had adversely affected the union's stability and governability. By mid-decade it was obvious that the European Union had entered a long systemic crisis. The West – both the U.S. as its flagship and the EU – suffered a series of bitter and even humiliating failures.
On the one hand, the crisis distracts Europe from complex external projects, including the Russian one; on the other hand, it makes it unconsciously look for an external impulse for integration or even an external enemy. At one point it was the Soviet Union, a cautious and therefore not very dangerous, yet convenient, opponent. In addition, the countries that joined the EU almost genetically inclined to take revenge for past defeats and humiliations. In 2011-2012 those countries started making an enemy of Russia.
A counter-process was underway in Russia that led nowhere. Its elites did not want to, nor could they, admit previous mistakes and begin a new round of reforms. They sought to justify the deadlock or break it by looking for an external enemy and escalating confrontation in order to silence the dissenters and consolidate society at a minimum, or prod themselves into carrying out rapid modernization. The Russians succeeded in this only once, in the second half of the 20th century.
As a result, new confrontation is escalating, and, instead of becoming a third pillar for a future world order (along with the U.S. and China), Europe could actually become a problem for it.
EU countries with their problems and Russia with its partly flawed and partly uncompleted transformation will have to embark on extensive reforms in order to survive and preserve their status in a new world. If they worked together and supplemented each other, they could make changes easier and more effectively. Otherwise, they may never start them or may eventually fail. This is yet another argument in support of a new round of the "big European project." It has not succeeded so far, thus endangering both the EU and Russian projects.
Moscow – Brussels
The enthusiasm of the first few post-revolution years (the Russian prime minister even spoke about the advisability of joining the European Union, and the Partnership and Cooperation Agreement was signed in 1994) gradually gave way to growing estrangement, then to mutual irritation. Since the 1990s, the prevailing opinion in the EU has been that Russia should remain a junior partner. However, Russia sought to restore its sovereignty and establish equal relations. Prime Minister and then President Vladimir Putin made quite bold proposals in 1999-2000.
But those proposals, just like many others, were ignored. Russia continued to suggest various forms of union, while EU bureaucrats viewed Russia as just one of Europe's fringe countries. As a result, a new treaty that would have replaced the Partnership and Cooperation Agreement was never signed. Biannual summits, aimed at demonstrating Russia's special status, were losing steam. Moreover, their agendas were filled with secondary issues, such as payments for flights over Siberia, bans on the re-export of meat from Poland, or restrictions on the sale of round timber to Finland. The inability to launch educational exchanges and scientific integration programs became another proof of failure. Thus, skilled professionals are leaving both the EU and Russia.
The rituals of shallow meetings and loud banners have replaced the initial realistic understanding of common interests (one of the worst banners, made in the East Germany-Soviet Union spirit, is the Petersburg Dialogue, on which Berlin has given up not because it is worthless, but because it wanted to irritate Russia). The latest banner is "Partnership for Modernization." Russia's top elite spoke much about it, but did not take any real steps. Russia's European partners used it to mask their desire to continue to treat Russia as a junior partner, to hide their lack of a clear plan of action, and to conceal their intention to support an "agreeable" leader (Dmitry Medvedev). Such actions were futile and are one more cause for mutual irritation.
Russia made its last attempt to build closer and equal relations by inviting the EU not only to establish dialogue with the Customs/Eurasian Union, but also to build it within the European regulatory framework in order to facilitate further integration. But Brussels refused to play along and instead tried to continue expanding its own zone of influence. Eventually the EU agreed, but only after the disaster in Ukraine.
Among the reasons for the failure of Russia-EU relations, the most important is the unwillingness or inability to set a strategic goal. Without it both sides became mired in red tape and petty, albeit sometimes quite fierce, competition. The European Union sought to expand its soft control over territories that Russia considered its zone of interests. Gradually, this transformed into a zero-sum game and led to the Ukrainian crisis, although it was not the main cause.
However, the main problem in Russia-EU relations was elsewhere. EU enlargement was accompanied by NATO expansion. The latter was clearly regarded as a potentially hostile, if not altogether aggressive, organization, especially after the three-month NATO bombing campaign in Yugoslavia in 1999, which shocked even pro-Western politicians in Russia.
NATO enlargement was considered as treachery and a direct violation of written and unwritten agreements reached when the Soviet Union ceased confrontation, pulled out its troops from the Warsaw Pact countries, and agreed to and even assisted Germany's reunification. Russia swallowed its pride after two rounds of NATO eastward expansion (which was probably a mistake), but it could not reconcile itself with NATO expansion into Ukraine. That would have created a completely unacceptable situation with a 2,000-km unprotected border with an alliance prone to aggression. Russia regarded such moves almost as a reason for a large-scale war. Attempts to draw Kiev into NATO were made in 2007-2008. The desire to see Ukraine in the alliance was stipulated in NATO's Bucharest Declaration of 2008 and has been reaffirmed repeatedly in the last several years.
Against this background, the West's support for the Maidan protests and the overthrow of Ukrainian President Victor Yanukovich triggered a preemptive strike from Russia. It seems that the incorporation of Crimea and the support for the rebels in Donbass were undertaken by Russia to ward off an even bigger catastrophe. The strike targeted the very logic of NATO expansion, but it also impacted empty and competitive, yet quite peaceful, relations with the European Union.
Berlin – Moscow
The growing estrangement, if not concealed animosity, between Moscow and Berlin is a major failure of the European policy. At risk is one of the main pillars of peaceful order in Europe – the special friendly relations between the two countries and their people established by German chancellors Willy Brandt, Helmut Schmidt, Helmut Kohl, and Gerhard Schröder, and their Soviet and Russian partners. The other pillar is the European Union, where the fading Berlin-Paris axis still exists, but is becoming increasingly fractured. It remains to be seen how deep these fissures can go if the Russian-German pillar collapses.
While not completely giving up national egoism and occasional involvement in doubtful campaigns like the bombing of Yugoslavia and the operation in Afghanistan, Germany has built a new identity by protecting and advancing its interests using mainly soft economic power. German policy has been so efficient at this that the country has become a leading force in the EU. Germany's political system, created on the ruins of the Third Reich and probably the most effective in the world, has secured the country's development and the loyalty of a majority of its citizens.
Russia, which had to rebuild its statehood and identity, did so in the Bismarckian manner, the old German way that was almost completely opposite to that used in modern Germany. No serious effort has been made to analyze this difference in the two countries' historical experience and development paths.
The Russian elite and society view the confrontation with Germany over Ukraine as either (the simplest view) "the chancellor is hooked" by the U.S. National Security Agency or (a more sophisticated view) as Berlin adapting the Old World to its own needs to save "the German Europe." Another view which has become ever more noticeable in the yellow press and especially in online blogs is that the Germans have decided to create "a fourth Reich" and consider Ukraine an integral part of this plan.
Germany believes that Russian policy in Crimea and Ukraine stems solely from the Putin regime's desire to retain power. So Germany has to restore the status quo ante in order to preserve the peaceful order in Europe as its guarantor. However, Russia, a country with an outlook that goes beyond Europe, holds that the recklessness and lawlessness committed in Yugoslavia, Iraq, and Libya, and Western support for the suicidal Arab Spring have destroyed the international order, and either its legitimacy should be restored or countries should live by the law of the jungle. Whether current views are fair or not is irrelevant. In the absence of serious dialogue and attempts to sort things out, this is the prevailing reality.
Was this confrontation unavoidable? To some extent it was: the countries and their societies did not come closer, as they had when the Soviet Union was about to do away with the old regime. Instead they moved apart. This confrontation was largely caused by the failure of the elites, which did not want or were unable to understand each other and to set common realistic co-development goals.
At stake now is not only the second pillar of the European peaceful order, but also the historical integration of the two nations. After all, the Russian people forgave the Germans for their horrible crimes during World War II. If the past comes back, it will also come to the rest of Europe, where anti-German sentiment is ever more pronounced, and the continent will morally be thrown back fifty years. Vladimir Putin and Angela Merkel, who already have no special liking for each other, and the Russian and German people are facing a truly historic challenge. They must make sure that history does not repeat itself.
Prospects for a way out
The sides could of course try to revive the Cold War by strengthening NATO, moving its forward deployed forces towards the Russian border, deploying new Russian missiles, and restoring some elements of systemic confrontation. They could try to arm Ukraine or limit not only economic, but also human contacts between Russia and the West, and further increase, if even possible, the exchange of slander and lies.
What would make this confrontation different from the Cold War is that the current Russian elites remember how the West acted after Soviet President Mikhail Gorbachev and his allies had decided to end the Cold War in a dignified manner. They no longer have any illusions about politics. Also, despite the crisis, the positions of Russia are stronger than those of the former Soviet Union. It would not be a problem to feed the people now. Russia is confronted not only by the monolithic West together with China as before, but also by a West that has found itself in a completely different historical paradigm. China and the rest of the Non-West, which has gained so much strength recently, sympathize with Russia. And Russia is unlikely to wait for the still strong West to finish it off. So, if the sides do not stop and come to an agreement, the crisis will worsen.
Ukraine will be strangled or most likely destroyed if it receives military assistance. And then it will be time to see whether Western leaders and people have come to their senses after realizing that the current and previous rulers brought Europe and the world to war. If the policy does not change, things could escalate further. This could also occur because of another "black swan;" that is, an unexpected catastrophe or provocation.
I do not want to think about what Europe will be like after such a clash, even if Russia prevails. All the efforts of Europeans to build a peaceful continent after World War II will have been hopeless, just like the hopes of the early 1990s which are about to turn into ashes. In this kind of situation, well-intended attempts to resolve the Ukrainian crisis without eliminating its root causes will be doomed.
There is a solution, of course.
First, intellectual and political mistakes made over the past twenty-five years should be jointly reviewed in a fair and open manner.
Second, the difference in values should be recognized as legitimate, with the basic cultural principles shared by both sides. Russian and other European societies should be allowed to develop in their own way and at their own pace. Faced with international competition, Europeans outside of Russia will most likely become more realistic or even conservative. Under normal circumstances, Russian society will start building a state ruled by law and eventually its own, mature and full-fledged democracy.
Third, one must understand that confrontation, even under the "best case" scenario without a head-on collision, would cost dearly and distract the EU from the internal modernization crucial for its survival. European society is so strongly opposed to confrontation that it cannot be consolidated by declaring Russia a common enemy.
Russia will face the increased risk of becoming too dependent on China even though that country is only a semi-ally. Many in Russia believe that confrontation will spur internal development. On the contrary, it distracts attention and resources from domestic reforms and the overdue economic turn to Asia through the development of regions east of the Urals.
Fourth, the sides should realize that the opening up of the economic, human, and energy space between the European Union and the Eurasian Economic Union from Lisbon or Dublin to Vladivostok will not solve all of their problems, but will boost their development.
This is precisely what Russia offered to do when it proposed to institutionalize the OSCE, join NATO, sign a new European security treaty, create a Union of Europe, promote closer integration between the EU and the Eurasian Economic Union through dialogue and harmonization of legal and regulatory frameworks, and gradually open up the markets. These steps would not run counter to the special relations between the EU and the U.S., nor between Russia and China; that is, if one does not set them against each other intentionally (as some have been doing in fact, which indeed is a shortfall policy).
I understand what should be done, but it should be done together. I would also like to discuss what should not be done.
Arms limitation should not be allowed to become the focal point of relations again, for it would only revive bloc mentality and remilitarize European politics in much the same way as what happened in the late 1980s.
The OSCE as a pan-European organization should not be bypassed. But as an organization that also bears the mark of the Cold War and its own institutional memory, it should not implement reform itself. Its reformation should be carried out within the OSCE, but initiated outside of it. The OSCE is an important practical instrument, an indispensable tool for resolving local conflicts, using tested mechanisms for easing tensions, and stabilizing a situation wherever a confrontation occurs. This is an important enough mission to focus on rather than try to "burden" the OSCE with even more ambitious European governance functions.
The Helsinki process should not be repeated since it could revive bloc diplomacy for years to come, with questionable results. It would be better to ask a team of experts to draft a new treaty, the text of which can then be coordinated and agreed on at the top level.
There is one more point to make. Europe is not the center of the world, nor is it an isolated territory where its destiny is decided. Its current problems are part of a more complex global system where everyone affects everyone else. For this reason it is impossible to view Europe separately from Eurasia or the Middle East. In fact, everything is closely intertwined in the world. Perhaps it would be useful to think about engaging China and other key Central and Eastern Eurasian countries in the discussion, just as the United States and Canada were brought into the European processes before.
A new world architecture should also accommodate countries located between Russia and the EU/NATO, acknowledge some unrecognized states, coordinate the resolution of frozen conflicts, and, just as important, take joint and concerted efforts to keep Ukraine from social and state disintegration and turn it into an area of cooperation rather than struggle.
This may seem illusory at a time when mistrust has reached unprecedented levels and the U.S. is apparently seeking further European divisions. But it is the lack of truly joint work over the past twenty years that largely has precipitated the current crisis.
When at the end of the 1940s and the beginning of the 1950s the architects of European integration and the farsighted Americans who supported them came up with ideas that led to the creation of the European Coal and Steel Community (and later the European Economic Community and eventually the European Union), most European nations hated each other and all of them hated Germany. But the founding fathers had the courage to put forth breakthrough ideas that brought peace and order to the biggest part of Europe.
The last twenty-five years have largely been wasted. The world has become a more dangerous place, Europe is about to split up and become weaker or even slide into a large-scale war. Europe is not united enough to influence the world. Unless it works out a new ambitious and unifying idea on the way to a distant but palpable and, most importantly, common goal, Europe will inevitably fall apart along old and new dividing lines. The Ukrainian crisis and its demons will continue spreading.
If the leaders of Russia, the rest of Europe, the U.S., and those countries that would like to join them set such goals for themselves, it would be much easier to work in the Minsk, Normandy, or any other format in order to stop or curb the conflict in Ukraine and help it build its future. Unless there is a common goal, I am afraid that the people of Ukraine, who are facing the watershed, and the whole of Europe will be doomed to experience the worst time ever.
There are significant difficulties ahead and many opportunities have been missed, but it is worth trying. Otherwise, both Russians and other Europeans will throw away one more common value – their belief in common sense.
Republished from MD Partner RIAC
Exporting Religious Hatred to England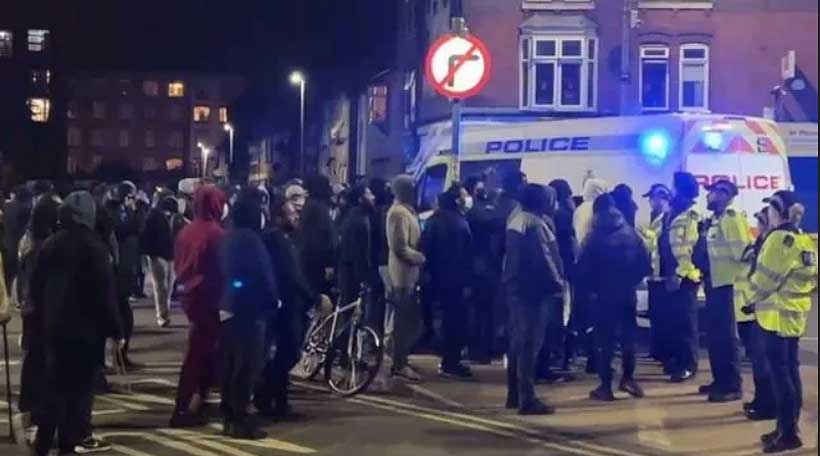 Not a place hitting the main news channels often, Leicester is a small town of 250,000 inhabitants about a hundred miles north of London and 40 miles east of Birmingham the UK's second largest city.
But an imported ideology is now the cause of religious violence that has profoundly affected Leicester's ethnic community of South Asians. This Hindutva ideology represents a belief in the transcendence of Hinduism and its culture.
Leicester prides itself as a city of tolerance and diversity where different religions and races all live together in relative harmony — a sort of 'live and let live and mind your own business' philosophy that had worked until recently. But under the surface simmering tensions burst forth recently. The trigger was a South Asia Cup cricket match between Indian and Pakistan held in Dubai and won by India.
Couple Hindutva with India's win and groups of Hindu young men were keen to demonstrate their might, and did so on isolated young Muslims. The latter then formed their own groups ready for revenge.
Where were the police one might ask. Well, a couple of beaten up Asian teenagers did not register as exhibiting anything more than random teenage violence. They were slow to react and did not discuss the ominous truth of religion as the prime mover behind the violence.
Civic leaders on both sides are now trying to quell the attacks. But the damage has been done and the seeds of ill-feeling have been sown within the community meaning Hindus vis-a-vis Muslims and vice versa.
India's per capita GDP is higher than for Pakistan or Bangladesh, the two countries bordering it, which together constitute the subcontinent. Thus the three countries are similar culturally. The next question to ask is why then is India hugging the bottom on the 2020 World Happiness Report, next to ill-fated war-torn places like Yemen. India is ranked 144 while its rival and neighbor Pakistan, although lower in per capita GDP, ranks a shocking (for India) 66. Bangladesh also ranks much higher than India at 107, despite its devastating floods and typhoons.
Perhaps the answer lies in the pervasive hate that is the currency of the ruling BJP (Bharatia Janata Party), a currency spent liberally during general elections to the detriment of the Congress Party, which has stood for a secular India since independence.
But hate yields more votes as BJP leaders Norendra Modi and Amit Shah know well. After all, they came to power via the destruction of the historic nearly five century old Babri Mosque, built on a Hindu holy site in an effort to ally Hindus by an astute Babur, the Mughal whose hold on India, just wrested from the Muslim Pathan kings, was still weak. It worked for Babur then; its destruction worked for the BJP in the 21st century
Has India become more civilized since?
Giorgia Meloni: a return to Mussolini's Italy?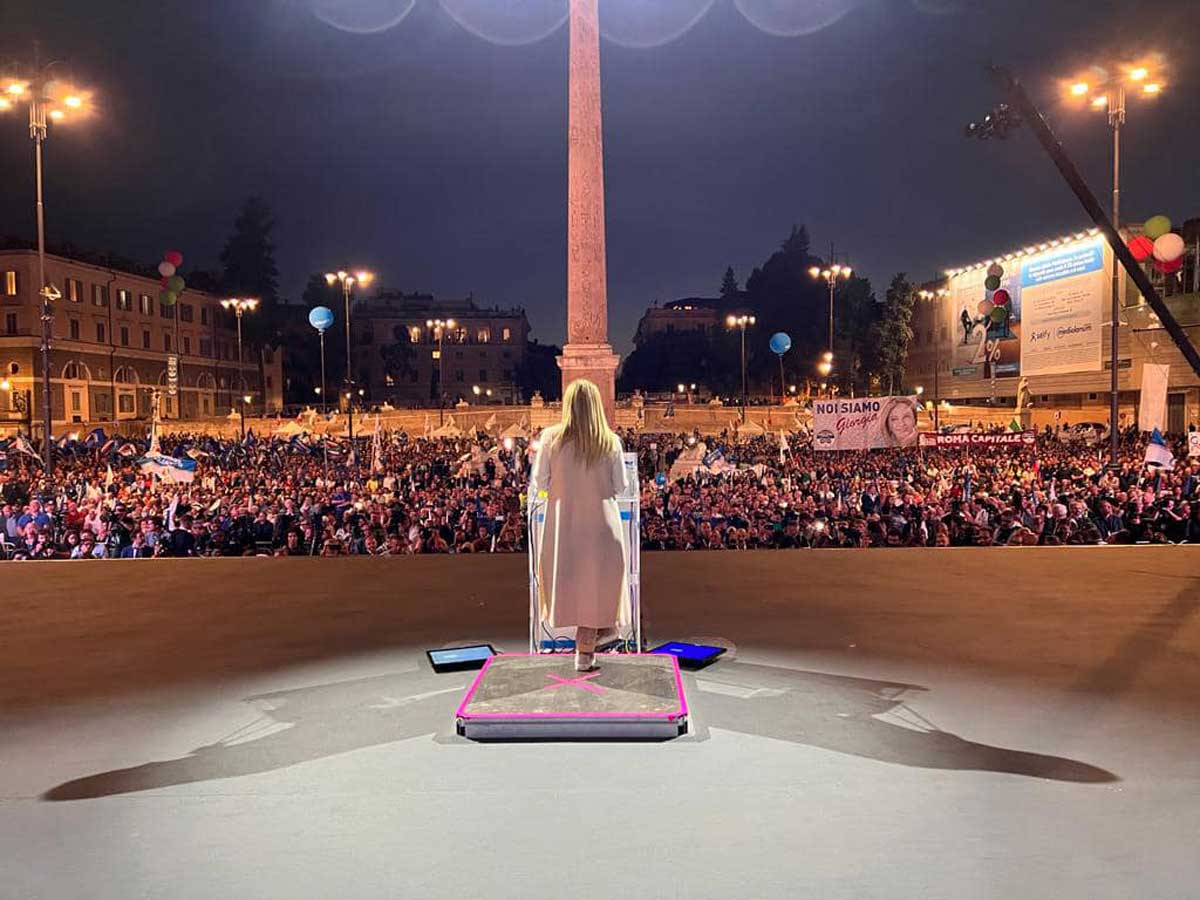 In recent years there has been a dramatic increase in the number of far-right political parties across Europe. They have managed to use the widespread discontent from society with the values and functioning of democracy to establish strong footholds in many countries, including those that were thought to be immune to such radicalisation. The reach of the far right does not recognise boundaries, and it is not a new phenomenon either. It has had a considerable historical role in Latin America, in Indonesia, Japan, Australia, Myanmar, India, South Africa, Germany, Italy, the United States, and more recently in Turkey, Brazil and Hungary which have suffered serious damage to their democratic rules and institutions. It is in this context that the election of Giorgia Meloni in Italy as the possible next Prime Minister.
Italy has a long history with fascism and far-right extremism that has forever characterised Italian politics. Italy's history after the WWII can largely be blamed for this slow but steady radicalisation of its political landscape. Unlike Germany that went through a serious process of denazification after allied victory, Italy was not cleared of vestiges of fascism. After 1945, and with the emergence of the USSR as a rival power, the allies focused their attention and efforts on fighting Communist USSR. Italy, surprisingly, had a considerable number of communist supporters, therefore fascism was seen as something positive in the fight of USSR ideology expansionism. Fascism was good to fight communism, and allies turned a blind eye to it, and the creation of the Italian Social Movement (MSI) in 1946 did not raise any red flags. The party managed to become the fourth largest in Italy in 20 years.
The woman who will become Italy's next Prime Minister leads a conservative party that can be traced back to the MSI: The Brothers of Italy, whose logo revives the MSI emblem. Meloni´s victory should be read against the backdrop of recent triumphs for the far right elsewhere in Europe. In France, despite the loss of Le Pen in the presidential election, the share of popular vote shifted the French political centre to the right; in Sweden the Sweden Democrats are expected to play a major role in defining Swedish politics after having won the second largest share of seats at the general election earlier in September; the same in happening in Hungary and Poland.
This revival of far-right extremism is not new. The collapse of the USSR allowed formerly dormant far right movements to flourish. This resurgence should also be understood as the inability of centre and centre-left parties to connect with voters, and to appear attractive. Italy's recent economic crisis has made Italians particularly susceptible to anti-establishment ideas. Italy was one of the countries that suffered the most during the pandemic specially fairly early on: Lots of people died, a lot of businesses had to close down, Italy found it hard to get support from the rest of the European Union. Meloni and her coalition capitalised this discontent. Meloni has chosen to fight the same enemies as other populist leaders: the LGBTQ+ community; immigrants, the European Union, Muslims; former Italian leaders and multiculturalism. She echoes Mussolini's natalist obsession; Volume Mussolini argued that the Western race was in danger of extinction by other races of colour, Meloni has focused on ethnic substitution, defined as the loss of Italian identity as a result of globalisation and uncontrolled mass immigration fostered by the European Union. This has translated into harsh xenophobic policies.
Meloni's election ironically coincide with the 100th anniversary of the March on Rome in October 1922 that brought Mussolini to power. 100 years later Italians. May have elected its first woman to become a Prime Minister, while this represents a break with the past and it symbolises a good step forward in theory, she also represents one of Italy's worst chapters in its past: Mussolini's Fascism. Meloni was a former MSI activist, and she is likely to form a government deeply rooted in populism and fascism, are very dangerous combination for contemporary European politics. We should not also allow to be fooled by her election as a woman. She has followed a similar path to Marie Le Pen called gender washing. She has adopted unknown threatening image as a female politician to mask the force of her extremism. For someone who is not familiar with Italian politics, her victory could be read as the triumph of female empowerment and gender equality. Throughout her campaign, she posed as a defender of women, however, her party has rolled back on women's rights, especially access to abortion.
Gender washing is particularly predominant among right wing parties, as they do a better job at promoting women. Women like Meloni and Le Pen Are protected by the elite, because they support, the very pillars of male power and privilege, these women very often behave in the same way as the men in power. Meloni's slogan God, Fatherland, and Family echoes the man-dominated and conservative model dating back to the Italy of Mussolini in the 1920s. Meloni's politics should become more important than her gender, especially as she does not advance women's empowerment, on the contrary, her victory means a drawback for women's rights in Italy. Meloni is simply one more far-right candidate that has made it to power.
This should be worrying for Europe as a whole. There has been a constant failure to address the growing threat of the far-right movement at national and on a European level. In recent years, we have seen a slow and steady shift of European politics to the right, and the normalisation of a less inclusive and more racist and discriminatory discourse. This shift to the right should be seen as a ticking time bomb for the pillars of democracy. The pandemic and the current war in Ukraine have not helped the case for democracy.
There are rising living costs in the continent that are undermining governments and European institutions, and making people feel less satisfied with the way their countries are handling these issues. Crises have always been excellent breeding grounds for extremism, whatever political ideology it is. People are more scared during a crisis, allowing the politics or fear to work, and swing voters towards far-right extremists in particular. People that are more likely to vote for far-right alternatives, favour certainty and stability amidst societal changes. Change is perceived as a threat to conservative voters. Under current conditions, there are enough real or perceived changes for extremist to put the blame on. This is one of the greatest paradoxes and dangers of populism and extremism: it often identifies real problems, but seeks to replace them with something worse, the slow and almost imperceptible destruction of democratic values, institutions, and liberties.
The irony behind this is that although populists are usually extremely bad at running a country, the blame will never be placed on them. Populist leaders consolidate support by creating enemies and dividing the population between "us" and "them". Failure in public policies, inability to provide viable solutions to crises will never be attributed to their elected officials, but rather to the enemies they have decided to use as scapegoats. In this way, as populist governments are unlikely to solve crises, things will eventually worsen, and more crises are inevitable; meaning more fear is also unavoidable. This creates a vicious circle that provides populists and extremists with further opportunities for power.
If there is something to be learnt from the current shift in international politics to the right, is the fact that voting behaviour differs from country to country. All politics is local. Voters are influenced by charismatic leaders, local events, regional issues etc. However, when it comes to the rise of extremism, common ground can be found between countries: the existence of a political, economic, or social crisis. Some far-right narratives have been able to cross borders, namely, anti-immigration and white and male supremacism. The Europe of today may be very dissimilar to the Europe of the near future should far-right movement continue to attain power in most countries. Far-right populist parties are a pan-European concern that should be addressed if we want democracy to survive in the long run.
What lies ahead for Meloni's Italy
Not many would have predicted that 100 years after Benito Mussolini's Black Shirts marched on Rome, a leader claiming lineage from the same political ideology would ascend to power. Georgia Meloni is on her way to become the first woman Prime Minister of Italy, hailing from a party that emerged out of the neo-fascist Italian Social Movement (MSI). Her rise to power is as dramatic as that of the fascist dictator. Brothers of Italy, which Meloni founded in 2012, recorded a measly 4.3% of vote in the 2018 elections. In the four years since, the party has gained significant ground and is now set to win 26% of the vote in a coalition with Matteo Salvini's Lega and Silvio Berlusconi's Forza Italia. With the right wing coalition coming to power, major shifts in Italy's domestic and foreign policy are expected. But taking command at such a turbulent time will be a task easier said than done. Hence, it will be interesting to see what course Meloni's coalition might take.
As things stand, Italy is edging towards a major economic crisis. The continued war in Ukraine has terribly affected Italy's economic growth in the post-pandemic era. The rising prices of energy resources and supplies have held back household consumption, slowing the rate of recovery. The economic growth projection for 2022 stands at 2.5% while 2023 is estimated to see a further fall to a mere 1.2%. Italy's debt crisis has also severely worsened with rising interest rates in the post-pandemic years. The national debt currently stands at about $2.9 trillion which is estimated to rise steadily, touching $3 trillion i.e. around 150% of the GDP by the end of 2023.
In her election campaign, Meloni has addressed these economic woes with a populist vigour. Meloni advocates for a protectionist stance. Her policies include a business-friendly dispensation, steep tax cuts for all, early retirement and amnesties to settle tax disputes. While the right-wing coalition manifesto pledges ambitious spending plans, Meloni has promised to keep the public finances in check. Key to keeping the economy afloat and achieving these targets will be the new government's efforts to meet the reforms and targets agreed by the Draghi administration and the European Union to obtain the €750 billion Covid recovery and resilience fund. Meloni has already indicated that she will seek some changes to the agreed plans, making it a priority for her new coalition.
While Meloni will become Italy's first woman Prime Minister, her case presents an example of weaponising women empowerment to further autocracy. Under her leadership, Brothers of Italy has rolled back women's rights in the localities it governs. These rollbacks include making abortions harder to access. Her party's slogan – "God, Fatherland, Family" – is reflective of their intentions of leading a patriarchal setup in the guise of a woman leader. With their coalition coming to power, it is likely that Meloni and her party will continue on the route of further cutting back on women's rights and freedom.
The right-wing parties have stressed on the importance of Christian conservative familial values in their election campaign. This has resulted in vicious attacks on what Meloni calls "the LGBT lobbies" who have "harmed women and family by destroying gender identity." Last year, Brothers of Italy and Lega blocked ratification of the Zan bill which sought to categorise violence against the LGBTQ+ community as a hate crime. The two parties opposed the bill, calling it unnecessary and against freedom of expression.
Another part of Meloni's populist rhetoric are her claims of "ethnic substitution." She has repeatedly claimed that Italian identity is being erased by the globalists and EU officials, who have "conspired" to unleash "uncontrolled mass immigration." In the past, she has infamously proposed a naval blockade of the Mediterranean to stop migration to Italy. While the coalition has promised stricter border controls, blocking boat landings and establishing EU centres to evaluate asylum applications; they have also assured to regulate legal migration more smoothly, with initiatives to integrate recent immigrants.
Meloni's stance on the European Union has been the highlight of her election campaign. While she no longer advocates for a complete withdrawal from the organisation, Meloni is vehemently against its current state of operations. "I want a Europe that does fewer things and does them better, with less centralism, more subsidiarity, less bureaucracy, and more politics," she said. She has pushed for an 'Italy first' approach, countering the regional integration of the EU. Addressing a rally in Milan earlier this month, Meloni said, "In Europe they are a bit worried. The fun is over, Italy will start to defend its national interests, as others do." Meloni has indicated her support for Poland and Hungary in their current ongoing dispute with the European Commission and the European Court of Justice. She has previously made her admiration of Hungarian Prime Minister Viktor Orban clear, calling him a 'democratic leader' in the face of stark EU criticism over authoritarian measures.
While Meloni and her coalition have been critical of the European Union, it is unlikely that it will lead to drastic changes in the Italian policy towards EU integration. The economic challenges that the new government finds itself in will largely affect its decision making. To obtain a much needed relief fund from the organisation, it is important for the coalition to agree to certain terms proposed by the EU. Hence, while they can be a bit more assertive in their approach, complete rejection of the EU is not on the cards.
However, Italy's foreign policy is set to see new developments. Meloni has previously condemned Russia's war on Ukraine, supporting sanctions against Russia and supplying weapons to Ukraine. "It is the tip of the iceberg," she said, calling the conflict's objective as "revision of world order." Meloni has also been critical of China, condemning the country's "economic expansion measures." In 2019, Italy became the first major nation to participate in the Chinese Belt and Road Initiative (BRI), a programme to expand Beijing's economic outreach. Meloni has since criticised the pact as a "big mistake," indicating that Italy will re-evaluate its stance on the pact under her administration. She has also been vocal about the Taiwan issue, calling it an issue of "essential concern for Italy." She also described Chinese threats against the island "unacceptable," calling Taiwan and Italy's relationship a "sincere friendship."
Giorgia Meloni is not so different from the Trumps and Bolsonaros of our world. She gained popular support on the back of economic failure under the previous administrations and emerged as the clear winner once Mario Draghi resigned following the economic and political turmoil. Meloni fills the void that the centre-left parties have failed to address so far. She has presented herself as a new alternative against an opposition that now seems much distant from the needs and aspirations of the people. Her populist rhetoric has only helped to further fuel her rise to power. Facing economic catastrophe for the longest time, the Italians now demand security and stability. However, her anti-immigration and anti-EU policies do not present an answer to the problems Italy faces. Her populist rhetoric is highly unfortunate and raises the threat for hate crimes in the future. Her authoritarian stance coupled with the 'Italy first' rhetoric will not fare well in the future. In deep economic stress, Italy needs to welcome immigrants who can actively contribute to their economy and stabilise the turbulent waters.
Furthermore, Meloni's election presents a threat to the democratic system in Italy. The right-wing coalition is in a position to negotiate a constitutional amendment that approves the President to be elected directly by the people. Currently, the President is elected by an electoral college which was setup in 1948 as a measure to prevent the future possibility of a government takeover by the fascist forces. While the Presidency is a figurehead role in the country, Brothers of Italy have advocated for a more robust head of state with a popular mandate. This advocacy for "Presidentialism" may have grave repercussions for Italy's democratic setup, making the President a politically motivated role which will severely affect the system of checks and balances in the present system.
It is difficult to say whether Meloni's coalition will be able to weather the storm in the coming years but one thing that is certain is that this election is one for the history books where victors are set to write the fate of Italy, once again.