Unity through Diversity: The Cultural Anthropologist as Conspirator
On the European side of the Atlantic one hardly ever hears mentioned the contributions of American academics to the fierce debate on multiculturalism going on in Europe. Given that America is a symphony of cultures, or a nation of nations, it seems obvious to me that the American contribution to such a debate would prove at the very least valuable, if not essential.
Alas, that is not always the case, more often than not it is simply dismissed with spurious condescending charges that somehow American popular culture has vulgarized and reduced to a lower common denominator the more sophisticated culture of Europe. That may contain a kernel of truth but it is that kind of rather superficial analysis that, in my opinion, renders a great disservice to a serious dialogue on multiculturalism between the two sides that that ought to be going on but is often missing. I'd venture to say that frankly, this phenomenon smacks of elitism and condescension. When Matthew Arnold finally visited America in the 19th century he realized that his own European culture had fed him with many misconceptions about America and changed his mind on quite a few of them.
In my various postings and contributions for Ovi in the last three or four years I have attempted, as best as I could, to point out how unfortunate such a persistent tendency is. I have briefly introduced the Ovi readership to several academics and intellectuals within the field of philosophy, specifically the philosophy of history of Giambattista Vico and Benedetto Croce who are actually Europeans but outside the mainstream of empirical materialistic positivism; others are Americans born in Europe. My hope was that, once those authors were introduced, the interested reader would then deepen the search on her/his own. To mention a few that come to mind: Voegelin, Rorty, Strauss (albeit mostly as a severe critique of what I consider his misguided anti-historicist stand and distortions of Vico), De Chardin, Said, Thoreau, Searle, Dawson, Chomsky, Pierce, Whitehead, Judt, Danto, Beardley, Goodman, Piper, Dewey, Fish, Siskind, Shroeder, Nasr, Weiler, Ulanowiez, Frye, Berry, Palmer, just to mention a few.
Each of the above listed authors were accorded a brief contribution in Ovi designed to introduce them to the educated readership. They are all academics and authors who either were American born or lived and worked in the US extensively and eventually became American citizens. Just listing their names should convince the reader of how important it is to pay attention to the cultural and intellectual ferments going on this transatlantic side of Western civilization and to the cultural bridges of understanding and conviviality between the two continents that those great intellectuals have attempted to build.
Indeed, there is much more to American culture than Disney's Mickey Mouse and Las Vegas, and making money on Wall Street, and global business and the assorted vulgarities of popular culture and entrepreneurship, as the caricaturists love to assert. I am always bewildered, when I visit Europe, at how many Europeans who consider themselves well educated have no inkling of the fact that Disney and Las Vegas are not the whole of American culture, and not even an important part of it, even if millions of Europeans flock to it every year and then proceed to make negative judgments on the whole culture. Admittedly American culture is slightly different from European culture, if for no other reason that it has the Afro-American and the Native-American and Asian-American component, but I would submit that it is a culture worth knowing on more than a superficial level.
I'd like to now introduce to the Ovi readership Claes G. Ryn, another American author and academic who originally ailed from Sweden, but was educated in America (Ph.D in 1974 from Louisiana State University) and subsequently taught at the University of Virginia and Georgetown University. He presently teaches political philosophy and Ethics at the Catholic University of America. One of his later books is A Common Human Ground: Universality and Particularity in a Multicultural World (2003), a highly commendable book on the subject of historicism and multiculturalism. He is also the editor of the academic journal Humanitas and president of the Academy of Philosophy and Letters.
Ryn's fields of teaching and research include ethics and politics; epistemology; historicism; politics and culture; the history of Western political thought; conservatism; the theory of constitutionalism and democracy. He has written on ethics and politics and on the central role of culture, specifically, the imagination, in shaping politics and society, has sought to reconstitute the epistemology of the humanities and social sciences, paying close attention to the interaction of will, imagination and reason.
Most importantly, he has criticized abstract, a-historical conceptions of rationality as inadequate to the study of distinctively human life and to the study of real universality. He has argued that there is a much different, experientially grounded form of rationality, the reason of philosophy proper, that is capable of at once humble and penetrating observation. He has therefore developed a philosophy known as value-centered historicism, which demonstrates the potential union of universality and historical particularity and is redolent of Vico's philosophy. In political theory he has been a sharp critic of Straussian anti-historical thinking and so-called neo-conservatism. He has argued that in essential ways neoconservatism resembles the ideology of the French Jacobins and is in fact neo-Jacobin.
Many in the Western world trust in "democracy," "capitalism," "liberal tolerance," "scientific progress," or "general enlightenment" to handle this problem. Ryn argues that the problem is much more complex and demanding than is usually recognized. He reasons that, most fundamentally, good relations among individuals and nations have moral and cultural preconditions. What can predispose them to mutual respect and peace? One Western philosophical tradition, for which Plato set the pattern, maintains that the only way to genuine unity is for historical diversity to yield to universality. The implication of this view for a multicultural world would be a peace that requires that cultural distinctiveness be effaced as far as possible and replaced with a universal culture. The Enlightenment set the pattern for this view.
A very different Western philosophical tradition denies the existence of universality altogether. It is represented today by postmodernist multiculturalism—a view that leaves unanswered the question as to how conflict between diverse groups, especially when originating from religious principles, might be averted. Ryn questions both of these traditions, arguing for the potential union of universality and particularity. He contends that the two need not be enemies and mutually exclusive, but in fact need each other. Cultivating individual and national particularities is potentially compatible with strengthening and enriching our common humanity. His book embraces the notion of universality, while at the same time historicizing it. His approach is interdisciplinary, discussing not only political ideas, but also fiction, drama, and other arts. This is an approach proposed by Vico in the 18th century, and by Croce in the 20thcentury.
Ryn's discussion of modern democracy emphasizes that popular government can assume radically different forms, only some of which can be judged compatible with a higher, ethical striving. Theories of what he calls plebiscitary democracy assume romantic and utopian notions of human nature and society. Constitutional democracy is based on a more realistic view of man and is more consonant with the actual moral terms of human existence. This form of government has demanding moral and cultural preconditions and is endangered wherever those preconditions are not satisfied.
In the year 2000 Ryn gave the Distinguished Foreign Scholar Lectures at Beijing University, which also published this lecture series in Chinese translation as a book, Unity Through Diversity (2001). He has lectured and published widely in China. In 2007 he gave a keynote address at the Chinese Academy of Social Science in Beijing. The Chinese edition (2007) of his book America the Virtuous became one of the most hotly discussed in China. Dushu, China's preeminent intellectual magazine, described it as "the kind of classical work that will be read over the generations."
The above background ought to convince the reader of how important is Ryn's thought for present philosophical political and ethical concerns. I believe that his most signal contribution is in the field of historicism, or the restoration of Vichian historicism in an academic world devastated by a-historical abstract absolutistic Straussian thought. In 2005 Ryn published a devastating critique of Straussianism in Humanitas (Vol. XVIII, n. 1 and 2) in an article titled "Leo Strauss and History: the Philosopher as Conspirator." The article points out how dangerous it is for those teaching philosophy to choose a pet philosopher (in Strauss' case, Plato) from the ancient world and subsume the whole philosophical enterprise to his thought as a sort of footnote, as if nothing had been thought and nothing had happened in the field of philosophy in two thousand plus years.
Here is a selected but relevant excerpt from the article which renders the idea and hopefully will motivate the reader to pick it up and read it in its entirety:
"So radical and seemingly forced is this dichotomy between philosophy and history that one has to suspect that its origins are mainly non-philosophical. The dichotomy seems to have more to do with a felt need to discredit tradition, presumably to advance a partisan interest. It might be said that Strauss and the Straussians are simply following the pattern set by Plato, who also taught disdain of what he thought of as history. But Strauss is presenting his arguments more than two millennia after Plato, and in the wake of philosophical developments that can only make the adoption of a Platonic conception of the relation of history and universality appear to the philosophically educated to be archaic and far-fetched.
Strauss is also more radically anti-historical than any ancient Greek could have been. It might be retorted that Strauss and the Straussians are not alone today in ignoring centuries of philosophical development, but this means merely that the question of extra-philosophical motives must be raised with regard to others as well. It is not uncommon in intellectual history for groups to avoid facing up to profound philosophical challenges to themselves by acting as if nothing had really happened and by hiding behind some old, more pleasing figure who is accorded the status of unimpeachable authority and is interpreted as representing just what the group thinks he should represent. This is philosophical evasion, group partisanship intensified by intellectual insecurity, for which the particular group pays a high price in the long run [stress is mine]. Strauss's exaltation of Plato, as he chooses to interpret him, would appear to be in large measure an example of such evasion, however helpful it may be in discrediting tradition and dislodging corresponding elites.
Though not a philosopher in the more narrow, 'technical' sense, Burke sees deeply into the connection between history and universality. Other philosophically more systematic and conceptually precise minds, including Hegel in the nineteenth and Benedetto Croce in the twentieth century [and I would add Vico in the 18th century], have, in spite of philosophical weaknesses of their own, provided a more penetrating account of what Burke understood more intuitively.
One of the weaknesses of modern American intellectual conservatism has been its failure fully to absorb the historical consciousness that gave rise to and gave distinctiveness to modern conservatism. A certain resistance in the Anglo-American world to philosophy above a certain level of difficulty helps explain this problem. One finds, for example, in a thinker like Richard M. Weaver a failure similar to Strauss's to grasp the possibility of synthesis between universality and the particulars of history. To be sure, that deficiency does not make Weaver as unfriendly as Strauss towards tradition, but, although Weaver himself may not recognize it, it does give tradition a philosophically precarious existence. The absence in Weaver's thought of the idea of synthesis makes him see the need for a choice between 'imitating a transcendent model,' which is to him the appropriate stance, and giving prominence to individuality.
What will invest life with meaning is 'the imposition of this ideational pattern upon conduct.' To Weaver, 'ideas which have their reference to . . . the individuum . . . are false.' Echoing an ancient notion that had long been challenged by historicist philosophy when Weaver wrote, he asserts that 'knowledge' has to be of the universal, not the individual. He decries 'the shift from speculative inquiry to investigation of experience.' That universality might be a concrete, experiential reality rather than a purely intellective, a-historical truth does not here occur to him.
Eric Voegelin provides a much needed counterweight to the abstractionist intellectual trend that affects even a thinker like Weaver. Voegelin does so by drawing attention to the experiential reality of what he calls the Ground. Unfortunately, he at the same time and inconsistently gives aid-and-comfort to anti-historicism by propounding a notion of radical transcendence. That notion, too, tends to rob history as such of meaning and contradicts the possibility of incarnation. Straussians and Voegelinians find common ground at the point where their respective positions are philosophically the weakest. Straussianism has been able to invade American conservatism on its philosophically perhaps most unprotected flank, which is its halting, fumbling conception of history and its correspondingly weak notion of universality or 'higher values.'"
P.S. This article has already appeared in the Ovi Magazine's 47th symposium meeting on March 12, 2015.
Modernizing Higher Education for Economic Growth
Malawi has fewer affordable universities than it has students who want to go to them, leaving college out of reach for many. Enrollment in tertiary education is low, but more and more Malawians hunger for it. With IDA financing from the World Bank, Malawian citizens now have more options.
The five-year, $51 million Skills Development Project is helping public universities to strengthen and increase public access to programs that cater to sectors critical to Malawi's economic growth. These include engineering, natural resources extraction, agriculture, construction, health services, tourism, and hospitality.
Beyond the establishment of the National Council for Higher Education, project funding supports a range of activities at institutions, including improving course offerings and staff skills, renovating infrastructure, and setting up satellite facilities.
Market-relevant course offerings
To expand the range of scientific skills and mid-level technicians needed to fuel Malawi's economy, 39 new programs have been developed by universities, with the participation of the private sector ensuring their relevance to the economy. By 2017, these programs contributed 44 percent of the new student intake to public universities.
Diploma programs at universities have also been bolstered to increase the training of mid-level career personnel needed by various trades. For example, the University of Malawi's Polytechnic now offers 10 technician-level engineering diploma programs in subjects like mining, telecommunications, and health. By 2019, these programs are expected to have enrolled 750 diploma students.
Modernized facilities
One of the major constraints to increasing student enrollment at public universities has been space. At Chancellor College, where most of Malawi's secondary school science teachers are trained, more and better infrastructure is expected to make it possible to boost student intake by 65 percent. This includes modernized laboratories and four new lecture halls seating 350 students each.
This will go a long way toward meeting an increase in the demand for science teachers, following the introduction of physics and chemistry as separate subjects in the secondary school curriculum.
Mzuzu University is heading to be the country's center of excellence in tourism training. It is constructing a purpose-built tourism and hospitality facility that will produce graduates who are industry-ready.
Online and distance learning
The Lilongwe University of Agriculture and Natural Resources (LUANAR) and Mzuzu have introduced online and distance learning (ODL), resulting in increased enrollment at both. At LUANAR, online students make up 10 percent of the total student population. Between 2014 and 2016, Mzuzu increased its intake of online students tenfold. With more affordable fees and flexible options, the ODL system has helped to open access to higher education for many people nationwide.
"I enrolled through ODL because of its flexibility. I continue with my everyday life and yet I am studying at the same time. This is wonderful," says 45-year-old Joe Mwenye, a father of five and a teacher in Ngabu in Chikwawa district. He is studying at LUANAR for a Bachelor of Science in Agricultural Extension.
LUANAR has three ODL centers: one in the town of Mzuzu, another in Lilongwe, and another in Blantyre. Mzuzu University is opening satellite centers in Balaka, Karonga, Mulanje, and Lilongwe.
The Depth of Taboo: Social Issues in South Asia
Rarely does a geopolitical handbook also make such large and important contributions to uncomfortably critical social issues. This handbook is that rare example. The author Aryal takes our MD readers deep into some disturbing discussions – caste systems, systematic violence against women, rape, honor killings, gender stigmatizing, and societal sexism – not to just anecdotally expose people to some of the continued living horrors afflicting important regions of the world but to systematically analyze such atrocities so that their long-term political, economic, social, and diplomatic consequences are revealed.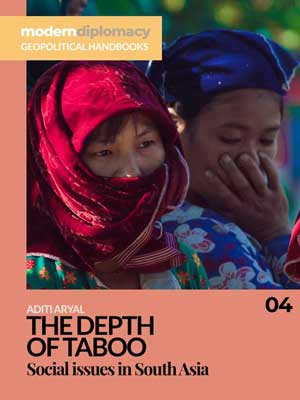 What many around the world do not realize is how crippling these gross abuses of human decency can be for a nation and region writ large: these are not just individual crimes to be noted and then forgotten. The failure of societies, the failure of GLOBAL society, to make more effective progress and take a more rigid stand against injustice is a black mark on all countries, on all of us. This handbook in its own small way strives to be a light within that darkness and as such it is both informative and courageous. While the readers of MD will not find the content of this particular handbook for the faint of heart, the importance of acquiring this knowledge, of becoming more aware of the world that we live in as it truly is in so many places, should be considered a duty of all those fortunate enough to not be born into states where such systemic violence still exists and largely goes unchallenged.
The title of this work is no accident and no shameless marketing attempt to attract more readers. Rather, it is exposing in a single word the reason why overcoming systemic violence based on gender is so difficult. Social taboos run deep in every region, state, city, town, village. We will likely not succeed in eliminating them from the social conscience of people. But the attempt to ameliorate the power of taboo, its power to push rationality out and pull insanity in, is a noble one that all of us at the editorial staff at MD recognize as silently essential for the cause of future peace on so many different levels. The battle against taboo is the secret front end of the war against gender violence and oppression. Ultimately, the criminal justice systems of societies must improve to remedy those actions not prevented from occurring. But the real long-term comprehensive solution will be the effort to eliminate the fear of social taboos, to eliminate the stigma that drives many to commit ignorant violence in the first place.
Women and girls with autism must be empowered to overcome discrimination they face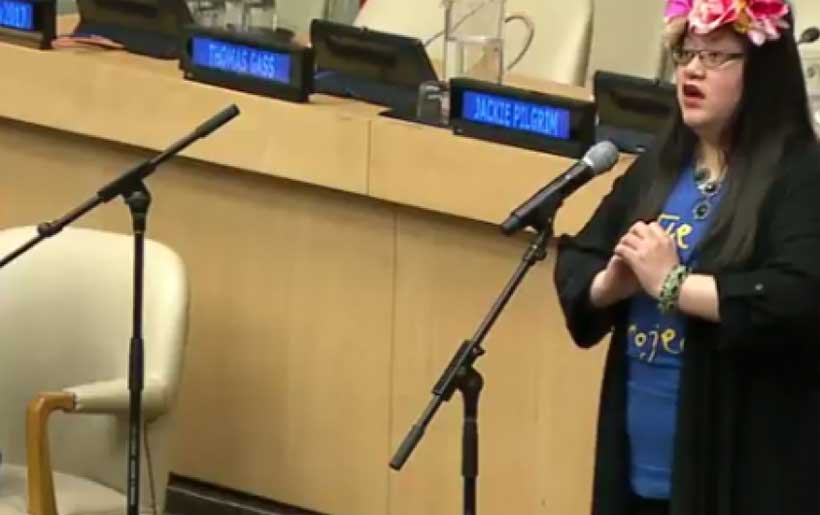 On World Autism Awareness Day, United Nations Secretary-General António Guterres has joined the global call to empower women and girls with autism and involve them and their advocates in policy and decision-making to address the discrimination and other challenges they face.
"They face […] barriers to accessing education and employment on an equal footing with others, denial of their reproductive rights and the freedom to make their own choices, and a lack of involvement in policy making on matters that concern them," said the Secretary-General in his message on the Day.
Emphasizing that "our work for gender equality and women's empowerment must reach all the world's women and girls," he stressed that the international community's efforts to achieve the Sustainable Development Goals (SDGs) must uphold the 2030 Agenda's core promise to leave no one behind.
The Goals and the landmark framework from which they emerged were adopted by UN Member States three years ago. Together they aim to wipe out poverty and boost equality by putting the world on a more sustainable economic, social and environmental path by 2030.
"On World Autism Awareness Day, let us reaffirm our commitment to promote the full participation of all people with autism, and ensure they have the necessary support to be able to exercise their rights and fundamental freedoms," concluded the Mr. Guterres.
Autism is a lifelong neurological condition that manifests during early childhood, irrespective of gender, race or socio-economic status. The term Autism Spectrum refers to a range of characteristics.
Autism is mainly characterized by its unique social interactions, non-standard ways of learning, keen interests in specific subjects, inclination to routines, challenges in typical communications and particular ways of processing sensory information.
The rate of autism in all regions of the world is high and the lack of understanding has a tremendous impact on the individuals, their families and communities.
The World Day is marked annually on 2 April, and this year's official UN commemoration will be on Thursday, 5 April, with a half-day programme in New York entitled Empowering Women and Girls with Autism, that will feature a keynote address from Julia Bascom, Executive Director, Autistic Self Advocacy Network.