Why Vladimir Putin is the man the West loves to hate
There is such a massive industry in the West that is focussed on peddling lies, fear and rumour about Vladimir Putin that the jobless rate in these countries would spiral out of control if the Russian President were to suddenly quit office.
Putin hasn't been seen in public for a few days and the industry has been making noises like a monkey that has not been fed its daily dose of bananas. All sorts of wild theories are being bandied about. Some say he's ill. Others go to the extent of claiming the President is dead.
It's understandable why the West – or more precisely the Anglo-American axis – hates Putin's guts. To be sure, they can't stand any independent leader who works for his country's best interests. They got Salvador Allende of Chile assassinated for nationalising Chilean assets. They deposed Mossadeq of Iran because he wanted a fair price for Iranian oil that British Petroleum was stealing. They got rid of Saddam Hussein because he wanted to unpeg Iraqi oil from the US dollar.
But Putin is no Saddam; he's the head of the country with the world's second most powerful military – a military that can wipe the United States off the map in 30 minutes. What irks the Anglo-Americans is that Putin takes care of Russia's interests the way they protect theirs. He's especially anathema to them because he has single-handedly taken on the US and exposed its naked militarism. In Syria, he showed the world that American aggression against small countries can be stopped. He has signalled that US unilateralism is over.
Putin represents that moment when Russia was transformed from an economic basket case into a resurgent power. How can the West forgive him for that?
Drunk with triumphalism after the dissolution of the Soviet Union, the Americans and the English in particular sat back and enjoyed the collapse of their old enemy, only to see Putin return and give all of them a collective hangover.
More significant is the impact on western morale. The Russian military is once again able to operate out of its bases. Russian strategic bombers – with America in their crosshairs – are back over the Atlantic and the Pacific. On one notable occasion, two Blackjack bombers (armed with nuclear tipped cruise missiles) flew past the unprotected southern flanks of the US, causing panic in the Pentagon.
All this was too much for the West, which was used to seeing Russia stagnating and shrinking.
The man for all seasons
During the US presidential elections in late 2008, Hillary Clinton, while campaigning for the Democratic nomination, said, "He was a KGB agent, by definition he doesn't have a soul," to which Putin coolly replied, "I think that a head of state must have a head as a minimum." That's the kind of devastating comeback that few global leaders would have the wit or courage to make.
In October that year, after the war in Georgia, Putin famously described Western lackey Mikheil Saakashvili of Georgia as "this corpse". The Georgian leader never showed signs of life after that – despite mouth to mouth resuscitation by his mentors such as John McCain.
Indeed, Putin's steely gaze is truly presidential. For comparison, how about George W. Bush's shifty, darting eyes, Tony Blair's smarmy smile, or Barack Obama's empty words?
Then there's the strongman syndrome. Where the clumsy Dick Cheney shoots his hunting partner in the face, Putin uses a tranquilizer to snag a Siberian tiger. (Even if it was choreographed it is better than Cheney's act by several orders of magnitude). While British Prime Minister David Cameron is refused service by a waitress at an Italian cafe, the Russian leader makes news for his bare-chested photos, making Russian beauty queens draft marriage proposals.
These are not the images people in Washington and London want to see. Putin makes Western leaders look inadequate. What they really want to see is a vodka-fortified Russian stuttering on TV. That's why former president Boris Yeltsin was the West's blue-eyed boy.
The democracy drivel
The Economist once described Putin's job swap with Dmitry Medvedev as making a mockery of Russian democracy. Really? How about George W. Bush's stealing of the US Presidential election? Didn't the US Supreme Court and the Governor of Florida (Jeb Bush, George W's brother) collude to deny Al Gore of a win, in an election where Gore got more votes than Bush? In fact, if The Economist looks at its own backyard, it will find how Iraq sleaze was used by Gordon Brown's backroom boys to oust Tony Blair as Prime Minister.
The Economist didn't publish such idealistic tripe when Yeltsin was selling off Russia's crown jewels to rapacious Western transnationals and plunging the country into Third World status. This was the same Yeltsin who ordered tanks against the Russian parliament. As tank rounds thudded into the Russian 'White House', killing dozens of deputies inside, TIME magazine described him as "the handsome Yeltsin". Really? Handsome in the eyes of which species?
What Putin's detractors fail to see is that democracy is not an end in itself but rather a means to an end – which is economic prosperity and security for the people. Putin himself has said that he doesn't want the kind of democracy we now see functioning in Iraq and Libya. Authoritarian prosperity as practised by much of Asia and Russia is a viable option to the crumbling democracies of the West.
Setting the record straight
Okay, forget the machismo, let's judge the man by his record and governance.
During Putin's first stint in power (from 1999-2008), the Russian economy recorded an average growth of 7 per cent annually. During this period, industry grew 75 per cent, while real incomes more than doubled. The monthly salary of the man in the street went from $80 to almost $600. The IMF, which worked overtime to destroy Russia's state owned corporations and banks, admits that from 2000 to 2006, the Russian middle class grew from 8 million to 55 million. The number of families living below the poverty line decreased from 30 per cent in 2000 to 14 per cent in 2008.
When Putin's nationalist economic policies paid off (the Russian stockmarket jumped 17 per cent the day he got the job in 1999), the western media rubbished his achievements, and said Russia's resurgence was solely due to its oil and gas. But what the paid media doesn't realise is that Russia has always had oil and gas. Didn't Norway and Britain build their welfare state from North Sea oil profits?
Historically irreconcilable
There is an underlying historical reason why the West caricatures Russia. Starting from the Crimean War—in which czarist Russia's serf army exposed the military and logistical immaturity of the 'professional' British army – to the Great Game in Central Asia, it is true that Russia and Britain have had incompatible interests. The Americans, who have taken the baton from the British, now share the same historical prejudices of Britain. It's simply the Anglo-American bloc vs the Slavic world.
No place for weak leaders
Putin's Russia may not be perfect. It has organised crime, the oligarchs still control a good chunk of the economy, Russian companies are yet to come up with world class consumer goods, and the Soviet era infrastructure needs an overhaul. It is precisely because of such problems that strong leaders are needed. Russians have seen enough of the Yeltsin era chaos, and the last thing they want is a return to the days of lumpen democracy.
A decade ago it was popular to pronounce that Russia was in a coma; that it would take decades to establish a post-Soviet system. But compared with the discontent that's brewing next door in Europe or across the ocean in the United States, Russia's problems, although huge, aren't insurmountable. Russians, you see, aren't fighting for bread like in those places.
The Anglo-American axis and their hangers-on must realise that a foreign leader who protects his country's interests is not a tyrant. Around 2300 years ago, Chanakya, the original master of statecraft and policy in India, said in the Arthashastra (Economics): "The foremost duty of a ruler is to keep his people happy and contented. The people are his biggest asset as well as the source of peril. They will not support a weak administration."
Putin's "January Sermon": Is it a path to democratization of Russia or a hoax?
The volatile political trajectory and its subtle actions in Russia have always created awe among the political pundits in the West who are immensely obsessed with the geopolitical space in Ruski Mir. However, history has always aggrandized Russia as a state that cannot be easily fathomed. Just like how a dull and calm plot reaches its most unexpected culmination in a Dostoyevsky's novel, the political trajectory in Russia has always been thrilling. The most recent political events followed by president Vladimir Putin's annual speech in the state Duma on 15th of January is an epitome for the uncanny political nature of the world largest state.
The speech delivered by president Putin on 15th of January in the Duma was entirely an unexpected political explosion. In his speech, he proposed a serious of constitutional changes that would escalate the powers of the parliament eventually leading to an increase of prime minister's power. Article 83 and 84 of the Current constitution in Russian federation have vested considerable power in the hands of the president over the state duma and the proposed changes would inevitably revoke them. A legitimate question appears before any inquisitive person on Russian politics is "Why Putin would allow Duma to curtail his power ". Political history of president Putin has aptly proven his sharp political acumen as a politician who properly kept his grip. However, this time he opted for rather a completely a different strategy by empowering the state Duma, which is the lower house of Russian parliament to appoint the prime minister who is currently being appointed by the president with Duma's consent.
The increasing the power of a national council happens to be the most notable proposition of these recommendations and Putin indicated the need to strengthen the constitutional role as a crucial factor. The state council was a creation of Putin during his first term in Kremlin. Thus far it has served as an advisory body and it is consisted of regional governors, speakers of the both houses in the parliament and the party leaders. The proposed constitutional recommendations will boost its power and it is still unclear the way it would safeguard Putin from a political ebb. It not clear what role president Putin fancies in empowering the national council from nonentity to a powerful tool in Russian state apparatus. The evasive step taken by the former president of Kazakhstan Nursultan Nazarbayev in 2019 seems like a potential strategy Putin determines to implement. The last holdover from the Soviet era Kazakhstan resigned from the presidency and retained the influential job of leading country's security council as the leader of the nation. Perhaps, Putin will embrace the same strategy of symbolizing an honorable step down while keeping his grip in a different way such a making himself as the head of the national council. Yet, making such an arm chair prediction about his possible strategy to remain in power beyond 2024 may be rather futile as Vladimir Putin has always shown a political unpredictability in his actions.
The appointment of Mikhail Mishustin to the prime minister post after Dmitry Medvedev stepped down along with his cabinet is the next notable incident emerged after 15th of January. Unlike Putin's protégée Medvedev the newly appointed president holds no significant political activism as an ally or at least as a panegyric. He is being described as a technocrat and apolitical figure who was responsible for transforming the aged old Russian tax service into an era of digitalization. From a vantage point, the choice of Putin appears to be a wise move with the meritocratic capability of Mishustin regardless of his lack of affinity with the politics. Since the Ukrainian crisis in 2014, the economy of Russia has been in the doldrums and some economists have described the last decade as a stagnant decade for Russia's economy. Given his solid background in economics and practical experience with taxation may prove his competence to become the premier in midst of an economic stagnation. Mishustin's appointment reminds of the count Sergei Witte's appointment by Tsar Nicolas II in 1905 whose capacity as an econometrician boosted Russia's industrial growth for a shorter period.
The democratic reforms have always been sort of tough moves throughout Russian history. Especially the centralization of political power has always impeded Russia from reaching democratization. The confrontation between president Yeltsin and the parliament in the fall of 1993 eventually ended up in Yeltsin's outrageous move of sending armed tanks to the parliament building. The current Russian constitution which has placed enormous power under in the hands of the president is an offshoot of the constitution adopted in Yeltsin era. Putin's abrupt decision to reduce that will at least theoretically undo the damage wrought by 1993 constitution. In principle, the transition of power from the president to the parliament will pave the way to increase the high chances of check and balance in power crating a greater change in Russian political culture.
All in all, the ostensible motive of the constitutional reforms will assist Russia to get into better strides as a normal democracy without enabling the centralization of power around one man. But can we believe that country that has never undergone a proper western democracy will be adamant for such a mammoth change? The real politic in Russian history has always shown the rise of lesser known political characters to the zenith of power by taking the advantage of chaos. When Russian state was in a verge of extension Mikhail Romanova came out of nowhere and created the house of Romanovs that lasted for three hundred years. When Lenin died creating chaotic power vacuum in 1924, lesser known Stalin exterminated all his foes and tightened the power of newly born USSR and finally made it a super power. The sudden power shift Putin proposed on 15th of January is simply a tranquil sign before a great political storm in Russia and ironically Russians are no strangers for such political storms.
Putin and the "Xi Jinping" Model in Russia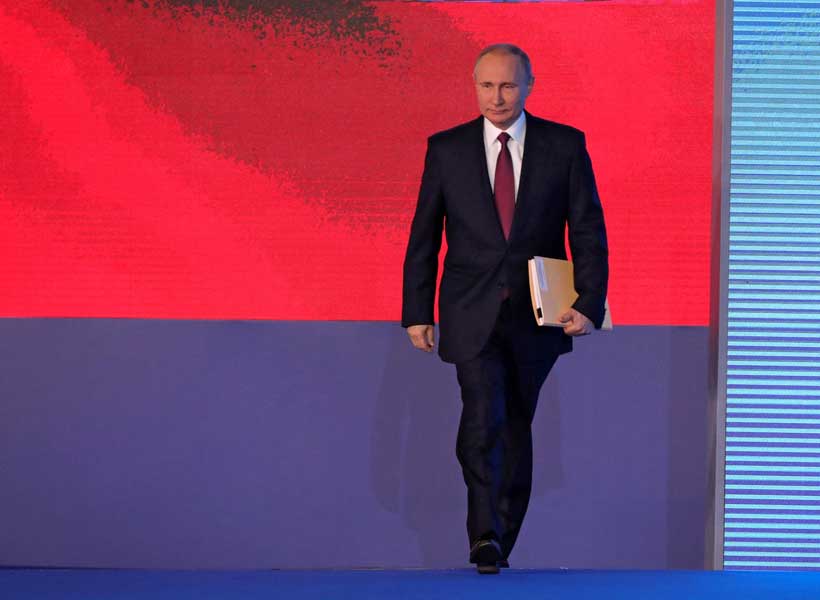 The first month of this new decade would be remembered in future for one of the very significant events which could mark a drastic shift in the world order. Putin has tried to outplay the very constitutional values of the country and it could prove very dangerous to Russia and its citizens.
Putin tries to get the "Power" For-ever
Russian President Vladimir Putin, on 15th January 2020, announced few drastic changes which he was planning in the country. He announced his plans to hold a referendum to make major constitutional changes which would change picture of Russian politics and internal governmental system completely. Firstly, as per the Russian Constitution the limit to Presidential term for a candidate is two-consecutive terms which clearly means that Putin, who had acquired power by swapping his office with the then President in 2012, has a constitutional mandate to leave his office in 2024 without being any chance to be re-appointed. Also given the fact that 2012 swapping was also followed by the massive protests in the country, he could not plan the same strategy for yet another time as there are chances that if he does so then even more protests are bound to take place. Furthermore, he has tried to reduce the Presidential powers and has decided to resist the political powers of one his closest political ally – the Prime Minister who quit – Mr Dmitri Medvedev and has succeeded in making Mr Mikhail Mishustin the next PM of the country. This move is very clever one as Mishustin was more of a bureaucrat without any strong political image. This further means that there would be no one in the government who could politically compete with Putin in near future. The constitutional changes also include vesting more powers with regards to judiciary in the parliament which indicates that it would serve as a resistance, to some extent, for a free and fair judicial system of the country which might be a good sign for politicians but is surely worrisome for the common citizens. Putin thus has tried to make a way for himself as a politician and has seek his self-interest keeping Russia's political system at stake. The already "not so democratic" Russia will further find itself in a worsened situation.
All may not go well within Kremlin
The attempt by Vladimir Putin to get a permanent solution for his political career by outplaying the constitutional norms may not be welcomed by the Russians. Firstly, the move might be facing a great backlash in form of the protests which were also used to greet Putin in 2012 after he swap his constitutional position with the then President in order to get his term as President. Those protests were shut down anyhow but these might not. These may further create an additional chaos in the upcoming years, given the fact that Putin's Presidential term still has 4 more years left. Furthermore, vesting more constitutional powers for him clearly means that further suppression of the rights of Russians which have taken place in recent years.
The recent laws and legislations which are effective taken up to censor the media from reporting against state, to curb internet rights by not allowing "Foreign" media, to not respect the voices of people that are against the regime, suggests that if Putin gets an eternal political power in Russia then further depletion of democratic norms are probably inevitable in the country. Moreover, another impact of this step would be a complete rupture of the "opposition" in the country. Leaders and political opponents would no longer be able to counter Putin or even prominently challenge any of his decisions in the future as judiciary itself would be under eyes of the parliament.
This further means that "One-man rule" is a future scenario in Russia, if these steps which Putin has planned and is planning gets implemented successfully. The proposal of setting upper limit for total number of terms of President as two in number and not allowing any candidate to hold the post who either hasn't been a resident in the country for past 25 years or else has held any foreign passport or residential permit in past is also to curb the opposition. This proposal is clearly targeting the candidates who might have a liberal western influence in their ideology and work, thereby depleting the citizens from even having proper opposition leaders.
Although he has still sought the referendum on the proposals, given the present circumstances and past records, the decision by Putin is expected to face protests throughout the country. Earlier, in 2012, Putin had ruptured down the protestors and thereby Putin has cleverly tried to make this decision seem a Public opinion through referendum but it would be interesting to watch how transparent the referendum is actually going to be.
A future trajectory for Policies getting Influenced
Putin having a "life-long" political power being in the governmental system might set up few new trajectories in the Russian policies and for the long term in the global order as well. Putin remaining permanently means further improvement in Russia's bonding with Beijing and thereby broadening of the scope for Chinese influence in Central Asia affecting many countries which were part of the former Soviet Union. Furthermore, these countries would see themselves sandwiched between two major communist countries having "One-man Rule". This would further mean diminishing the chances of Russian pull-off from Syria which further implies a non-stable Middle East indulged in a tug of war between various non-regional powers. Moreover, if Putin gets extraordinary power without any scrutiny from any organ of the government inside the country, he would further continue giving its support to the oppressive Asaad regime in Syria clearly stopping any further attempts of de-escalation in the region.
It should come as no surprise if US finds itself more uncomfortable in various regions and policies as China – which has a "Permanent Xi-Jinping" term and Russia – which is expected to have a "Permanent Putin" term will always keep Washington annoying in various aspects of foreign policy. Thus, it would be notable to see how Americans vote in 2020 for their presidential elections and if Republicans are able to retain power or not.
However, main concern for Kremlin is going to be its economy in the future. After disintegration of former USSR, Russia has always found difficulty in competing in the global markets and has relied mainly on the weapons for gaining a boost in their economy, however Putin has shifted from this trend and has started exploring African subcontinent for Russian advantage. Thus, Putin gaining a permanent power means a reinforce of this strategy and a more prominent use of regional partnership including BRICS and SCO.
Thus, Putin getting a permanent leadership role of Moscow has its own implications for country's internal politics as well as its various foreign policy aspects. If the referendum is held just for the name's sake then Russians would the most vulnerable among all the players involved in this constitutional change as the change certainly makes their future most uncertain. It is a high time that Russians understand their basic rights and Putin understands the past of the Revolutions.
Meet Mikhail Mishustin, Russia's new Prime Minister
Plucked from obscurity and little known in wide national political scene, the Head of the Federal Tax Service, Mikhail Mishustin, to become the new Prime Minister was a complete surprise, but not the first time in Russia's politics. President Vladimir Putin was pulled upto the top political field, in a similar way, by Boris Yeltsin. In August 1999, Putin was appointed one of three First Deputy Prime Ministers, and later on, was appointed acting Prime Minister of the Government of the Russian Federation by Yeltsin.

Yeltsin announced that he wanted to see Putin as his successor. Readily, Putin agreed to run for the presidency and later approved by State Duma with 233 votes in favor (vs. 84 against, 17 abstained), while a simple majority of 226 was required, making him Russia's fifth PM in fewer than eighteen months.

On his appointment, few expected Putin, virtually unknown to the general public, to last any longer than his predecessors. He was initially regarded as a Yeltsin loyalist, like other prime ministers of Boris Yeltsin, Putin did not choose ministers himself, his cabinet was determined by the presidential administration.

Now, with a new chapter opening, Mikhail Mishustin eventually replaces Dmitry Medvedev who served as Prime Minister until mid-January 2020. Putin and Medvedev worked together and even switched positions between President and Prime Minister. This switch was termed by many in the media as "Rokirovka", the Russian term for the chess move "casting" and later Medvedev said he himself would be ready to perform "practical work in the government" with under Putin.

On January 15, in his address to the Federal Assembly, Putin explicitly explained: "Our society is clearly calling for change. People want development, where they live and work, that is, in cities, districts, villages and all across the nation. The pace of change must be expedited every year and produce tangible results in attaining worthy living standards that would be clearly perceived by the people. And, I repeat, they must be actively involved in this process."

Meeting with the Cabinet thereafter, Putin said: "For my part, I also want to thank you for everything that has been done so far in our joint work. I am satisfied with the results of your work. Of course, not everything was accomplished, but things never work out in full." He thanked the government and added that Medvedev served as President and for almost eight years now he has been the Prime Minister, which is probably the longest stint in this post in Russia's recent history.

Further, Putin held a separate working meeting with Head of the Federal Taxation Service Mikhail Mishustin and proposed him to take the post of Prime Minister. Having received his consent, the President submitted the candidacy of Mikhail Mishustin for consideration to the State Duma.

On January 16, the State Duma (lower house) endorsed Mishustin, as the new Prime Minister of the Russian Federation. As many as 383 lawmakers supported Putin's choice, none were against, and 41 parliamentarians abstained. "Colleagues, the decision has been taken. We have given consent to the appointment of Mishustin Mikhail Vladimirovich as Prime Minister by the president of the Russian Federation," Duma Speaker Vyacheslav Volodin said, summing up the results of the vote.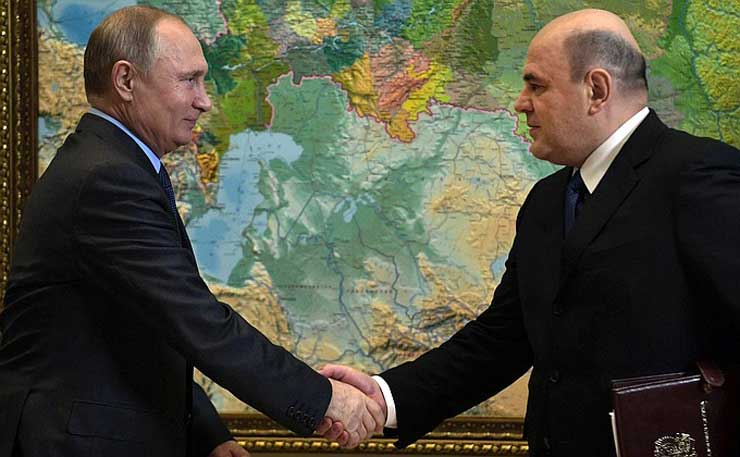 President Vladimir Putin has signed a decree appointing Mikhail Mishustin as the country's Prime Minister. "In accordance with Article 83(a) of the Russian Constitution, Mikhail Vladimirovich Mishustin is appointed as Russia's Prime Minister," says the decree published on the Kremlin's website. The decree comes into force on the day of its signing.

Mikhail Mishustin was born on March 3, 1966 in Moscow to a father of Russian-Jewish origin and a mother of Russian origin. He completed postgraduate studies in 1992. He is married and has three sons. His interest is in sport, playing ice hockey. He is a member of the supervisory board of HC CSKA Moscow.

In 2003, he defended a thesis, headlined "Mechanism of state fiscal management in Russia" and received a PhD in economics. In 2010, he received a doctoral degree in economics at the Academy of National Economy under the Government of the Russian Federation (currently Russian Presidential Academy of National Economy and Public Administration).

Since graduation, he has worked in several enterprises. In February 2009, he joined the personnel reserve of the President of Russia. In 2010, Mikhail Mishustin was appointed as the Head of the Federal Tax Service (FTS). From 2011-2018, he was a member of the Presidential Council for Financial Market Development.

During this period, the tax service was criticized for its overly strict approach to business, and Mishustin rejected this accusation, citing a significant reduction in the number of inspections. So, with the arrival of Mishustin in 2010, the Federal tax service changed its approach to the organization of control events, focusing on analytical work.

As a result, the number of on-site tax audits has sharply decreased, while their efficiency has increased. If earlier every tenth taxpayer was checked, in 2018, the tax authorities checked only one small business company out of 4,000. The number of inspections of large and medium-sized businesses has also decreased significantly.

"This candidacy comes absolutely unexpectedly, but that does not mean he is a figure who brings about repulsion. Perhaps even the contrary. Not all fiscal heads are likeable and agreeable. In my view, Mishustin is largely seen by the public as agreeable," Federation Council Deputy Speaker Ilyas Umakhanov told Interfax News Agency.

"This is yet more proof that our president relies on professionals at this difficult, critical moment when the country needs a qualitative leap, primarily in the economic sphere. This is down to new technology, digitalization; this is precisely where Mishustin made a mark as the Russian tax chief. He has huge experience under his belt, which has been embedded into the system," added Umakhanov.

First Deputy Head of the Federation Council Committee for the Budget and Financial Markets Sergei Ryabukhin, for his part, described Mishustin as a very successful public administrator. "A top professional, a very big statesman and individual who has achieved great successes within the system of public administration in the tax and financial sphere. I think his is a good candidacy," according to Ryabukhin.

According to experts, the surprise shake-up could have been triggered by launching a reset of the Russian political system and the upcoming power shift. Political Analyst Konstantin Kalachev believes that Putin's decision to pick Mishustin as the new premier is related to his political neutrality, and he is also known in the business and corporate community. However, the new head of the government is unlikely to become Putin's successor.

All officials interviewed by Vedomosti have described the choice as a surprise but a good one. Taxation is the only sector that has demonstrated a breakthrough in Russia's state administration. The Russian Tax Service is one of the best in the world in terms of collecting taxes and developing technologies, an official linked to the financial system said. Mishustin is well-known in the government as a good administrator and his service was a lifesaver during the crisis, according to several media reports.

Mishustin is tasked with fulfilling Putin's economic program, namely the National Projects to the tune of 26 trillion rubles ($424 billion) up to 2024. The program's slow implementation and weak economic growth were among the reasons Medvedev's government came under fire, the paper says. Mishustin's major achievement is turning the tax-collecting agency into a service tool, said Partner at Taxology Alexei Artyukh.

He reformed the administration of major taxpayers and businesses can coordinate deals in advance in exchange for the Federal Tax Service's access to companies' accounting systems. If these approaches are extended to other services, this would result in huge progress, Alexei Artyukh said.

Kommersant, a local Russian newspaper, reported that Russia would remain as a strong presidential republic, and all the upcoming changes are linked to the the upcoming presidential election in 2024. Unreservedly, Mishustin stated during a plenary session of the State Duma that Russia has sufficient funds to achieve all goals set by President Vladimir Putin. Implementation of all the social obligations the president enumerated in his State of the Nation Address would require $64.8 billion.

Russia, with the largest territory in the world, has a wide natural resource base, including major deposits of timber, petroleum, natural gas, coal, ores and other mineral resources that can be used to support the expected economic development and raise the overall living standards of the population.