Mongolia: dancing between the bear and the dragon
Since the establishment of a democracy in Mongolia following the collapse of the Soviet Union, foreign interests have attempted to reassert control over the landlocked piece of steppe between China and Russia.
Mongolia's position, located between two ambitious powers, means that it is the target of Chinese and Russian influence, often to the detriment of the fledgling democracy and its people. Historically Mongolia's geographical position and nomadic inhabitants (of which there are still many) has made it vulnerable to the influence of its neighbors. Mongolia was subjugated to both Beijing and Moscow at different times and still struggles with the political influence of both powers.
Economics further complicates Mongolia's diplomatic issues; vast amounts of mineral wealth have been discovered in Mongolia since the early 90's including large reserves of copper, gold, and coal. Previously Mongolia's weak economy, based on pastoral products such as beef and cashmere production, meant that it provided very little potential wealth for powers seeking to control it. These discoveries have led to serious interest from a resource-hungry China, which accounts for 89% of Mongolia's exports, as well as Russia, which faces more competition for resources in an ever more hostile Europe.
Despite the renewed interest from its neighbors, most foreign companies involved in the Mongolian mining sector have been Canadian or Australian, of the 11 foreign companies invested in copper production, 9 of them were Australian or Canadian. In most sectors the primary owners of the mining companies have been Canadian or Australian, with a few from Hong Kong or the UK. These firms often own and operate mines in conjunction with the Mongolian Government, which creates friction when the negotiations go sour, such as with the massive Oyu Tolgoi mine that has seen constant delays from shareholder disputes and concerns over the operating cost.
The access to fossil fuels and raw minerals have given some measure of control over Mongolian politics and makes government corruption all the more dangerous to the Mongolian people. On February 26th the president of Mongolia pardoned 3 foreign nationals involved in the mining industry who had been convicted of tax evasion. The foreign nationals were accused of evading 6.8 Billion USD, a sum so ridiculous that the arrests shook foreign confidence and caused complaints in the UN over human rights violations. The simultaneous state of unprecedented economic growth and unrelenting economic exploitation have left the Mongolian authorities and people with as much resentment for foreigners as gratitude. A former member of Mongolian parliament and minister of foreign affairs stated "It is no secret that small Chinese, Korean, and Vietnamese investors are commonly robbed, threatened, and slandered in cases brought on false charges." An ineffectual and divided Mongolian Government coupled with widespread corruption enables foreign interests to undermine the welfare of the state over the acquisition of its resources.
Submitting to foreign nations for political reasons over economic ones often holds serious financial consequences for Mongolian taxpayers. In 2009 the Mongolian government passed a nuclear energy law, and, under Russian pressure, revoked the uranium licenses of Khan Resources, a Canadian company that owned the Dornod Uranium property. The government then seized Khan Resources' assets with no compensation, resulting in a lengthy legal battle between the company and the government. On March 2nd an international arbitration tribunal determined an award of 100 million USD to be paid by the Mongolian government to Khan Resources. It is speculated that Russian companies were interested in entering the uranium sector in Mongolia and pressured the government to pass the nuclear energy law and attack the competition, especially since the law came right on the heels of an announced joint venture to mine uranium between the Russians and Mongolians.
The Chinese are also muscling in on foreign companies, especially ones that produce the construction materials that China needs to power its real estate boom. The Canadian mining company, Turquoise Hill Resources, recently sold its entire stake in SouthGobi Resources to Novel Sunrise Investments. Novel Sunrise and its affiliated groups intend to use their logistics and marketing experience to leverage their way into procuring raw materials for construction, iron ore and coal, that companies such as SouthGobi produces. Many of the mining firms in Mongolia are based in Hong Kong and seek a larger share of the untapped mineral wealth.
While most mining companies in Mongolia are not owned by either the Chinese or the Russians, the local geography means that nearly all imports and exports come from those two countries. The next 3 biggest importers, South Korea, Japan, and The United States, account for about 19% of imports combined, nearly 10% less than Russia alone and less than half of China's imports. These are all major regional players whose imports have been impeded by Mongolia's dependence on the rail systems through China or Russia to transport goods to and from the pacific. This level of dependency has upset Mongolia, which claims that China takes advantage of its isolation by buying Mongolian coal for less than it's worth. There is very little competition for Mongolian exports, even Russia only makes up 1.5% of Mongolian export value, preferring to export to, rather than from, Mongolia. Mongolian officials have tried to reach out to other nations, most recently Japan and the DPRK, but the government can only do so much to escape the limitations of its physical location.
Foreign investment in the mining sector has spurred serious economic growth; for a period of time Mongolia had the world's fastest growing economy, the mines provided better jobs for Mongolians and fostered urbanization to replace the pastoral nomadic lifestyle that remained pervasive throughout the country. However, this massive influx of investment now represents the vast majority of the economy; so in recent times where commodity prices have slumped for Mongolians and international confidence in the Mongolian government is low, growth has been significantly stunted. In response the Mongolian government formed a super-coalition last December consisting of members from all major parties attempting to deal with the economic problems. The main policy goals of the coalition were to alleviate the economic downturn by reducing the government restrictions on mining to get foreign investment back on track while continuing to pursue economic ties with nations outside China and Russia.
This series of policies gets to the root of the Mongolian problem: Mongolia cannot prosper without foreign investment and by opening itself up to political and economic influence from interests that have very little concern for the welfare of Mongolia or its inhabitants. Mongolia's vulnerability to the economic interests of its neighbors means that its needs from Russia and China translate into political capital that undermines Mongolia's economic and political independence.
First published by the International Policy Digest under the title Mongolia: Between a Rock and a Hard Place
3 Ideas for Your Essay on Diplomacy
Taking up diplomatic studies is a practice that long ago earned admiration from young people due to the impressive range of opportunities and prospects it gives them. To chase a degree in diplomacy means to keep pace with the business, political, and even social tendencies circulating in society. And, as it happens, pursuing professional and academic goals in diplomatic studies can be pretty challenging, given the somewhat complex nature of this global field of study. And this especially gets tough when it comes to writing papers on diplomacy.
And this is where individuals, for whom diplomacy is a true obsession, come to help! We have decided to compile the top ideas for your diplomacy essay. Now, brace yourself!
Write About Poignant Issues
Although political and social studies are where current challenges of life are mainly explored and highlighted, diplomacy also displays a lot of problems and pitfalls that require prompt reaction and sound solutions. For this reason, covering relevant problems and subjects that the world is dealing with today is a pretty reasonable solution for writing your paper in diplomatic studies! Make sure to find the most critical and trending subjects connected with diplomacy and pick the one to your liking. Remember that, before you start writing, you need to properly research the problem you've chosen to explore as well as use reliable scientific sources.
Chose the Subject Relevant to Your Country and Its Diplomatic Relations With Other Countries
In your paper in diplomatic studies, it's important to cover the issues that have global diplomatic significance. However, depending on the current political situation in your country, it might be better to dedicate your essay to the problems that have to do with diplomacy in your particular country. Study the issues your country is currently facing and pay close attention to every major problem your government handles. And, to make your paper look like the excellent pieces they develop at the services where your pals buy cheap courseworks, be sure to write from an unbiased, impartial point of view.
Write About Trending Challenges Connected to Diplomacy
Today's poor world witnesses a lot of hot-button issues encapsulating people and events. And, of course, not all of these issues are related to diplomacy, obvious as it might sound. The confrontation between vegans and non-vegans, sexism, racism, the controversial activism of Greta Thunberg, and many other manifestations of the world's rapid development and tragic decadence – these challenges of today can be smartly connected to diplomacy in your paper, brightly highlighted within the context of diplomatic relations. All you need to do is conduct substantial research of the problem, connect it to the world's diplomatic situation, and sketch a plan of your future paper.
Chinese soft power winning hearts and minds
Soft power cheaper than hard power, winning hearts and minds of the people, is prerequisite for the state in international politics. Joseph Nye, the pioneer of soft power argues "It is the ability to get what you want through attraction rather than coercion or payments". Solely relying on hard power in digital era proves to be counterproductive for the state, tarnishing its soft image, causing destruction, squandering a colossal amount of money being spent on military. Seduction, likewise, appears to be more effective and more instrumental than coercion in interstate relations.
Rise of China is imminent, for rising power in 21st, soft power is as crucial as hard power. China's preoccupation with its soft power has resultantly been accelerating by leaps and bounds, giving positive image to the world that it would be a benign power in the foreseeable future, crafting consent rather than coercion in its foreign policy. China in the last couple of centuries remained isolated from the world, intimidated by the external powers, has currently been emerging as a dominant player on account of its robust economy, initiating Belt and Road Initiative(BRI), making a headway in technological development, settling territorial disputes with its neibouring states, contributing in UN peacekeeping mission, supporting countries in ongoing pandemic disease that invariably promote its soft power spectacularly.
China possesses components of soft power, having 5,000 years of civilization, 1.3 billion people and 960 million square kilometers of territory. China, remained a great power, the Tang dynasty from the seventh century to the tenth century conceives to be a golden era of Chinese history. Glorifying Chinese civilization and history by Chinese statecrafts as their soft power is on the card. China till December 1, 2015 had built 500 Confucius institutes and 1,000 Confucius classrooms in 134 countries with enrolment of nearly 1.9 million students, promoting Chinese language, culture, and facilitating cultural exchanges.
China, presently remains the hub of foreign students. In 1978 there were merely 2,000 foreign students studying in mainland China, in 2007 the number outstripped to 200,000. Under current juncture, nearly 28,000 Pakistani students are studying in China. China by granting foreign scholarships wishes to exploit foreign talent, ensuing strengthening of its economy, resulting in its soft power projection.
The classic book titled "Research Outline for China's Cultural Soft Power" authored by Guozuo Zhang. Zhang in the book sheds lights on Chinese culture and its civilization arguing that soft power is deeply entrenched in Chinese history giving reference of Chinese sixth century BC strategist Sun Tzu's book "Art of War". The writer quotes Sun Tzu" The supreme art of war is to subdue the enemy without a war." "The best tactics is to take by strategy," "Those who win people's heart can win the world."Sun Tzu's adages unambiguously illustrate functions of soft power in Chinese history.
Another insightful book titled "Charm Offensive How China's Soft Power is Transforming the World" authored by Joshua Kurlantzick. Kurlantzick in the book states that China's charm offensive as soft power triggered in 2000s,attributed to desired stability and harmony with all its fourteen neighboring states. Chinese charm offensive maintains that "Safeguarding peace, promoting development and enhancing cooperation, which is the common desire of all peoples, represents the irresistible historical trend,". The term hepingjueqi, or Peaceful Rise coined by Zheng Bijian a renowned and senior adviser to the Chinese leadership, was soon inculcated into Chinese leaders' speeches and in foreign policy.
The term Peaceful Rise is being used tactfully in Chinese foreign policy reflects its soft power; realizing its fourteen neibouring states that China unlike the US believes in peaceful co-existence and shuns warmongering strategies. If China eschews Peaceful Rise in its foreign policy, its neibouring states by all means would become sceptical about Chinese belligerent intentions.
China is increasingly using public diplomacy as a soft power. In 2010, the Beijing Foreign Studies University, launched China's first ever Public Diplomacy Research Centre, aimed at orchestrating positive image of China, invalidating distorted overseas reports regarding China, improving surroundings of Chinese peripheral states and influencing policy decisions of foreign countries. China through public diplomacy has successfully been trying to reinforce its narratives as the saying of Nye goes "narratives become the new currency of soft power".
Under current circumstances, Covid-19 a highly contagious virus has tightened its grip on the entire world, states are in dire need of help instead of looking towards the US title towards China. Realistically, speaking, Covid-19 oriented in China should have tarnished its image instead China seems to be a torch bearer of the world, supporting states, providing medial aids. Nouriel Roubini, an American economist at NYU, maintains that during the pandemic "China is building its soft power," he further reiterates that China assures to the world that ''Our political system is better, our technological model is better, our economic model is better."
To sum up, China has bad reputation in the US; The US and Western states including India will inevitably strive to malign Chinese soft image, demonizing it's an authoritarian regime, human rights violation in China, its debt trap policy under BRI and labor exploitation in African states. China, thus, needs to engaged into introspection and should ponder over these areas in order to further bolster its soft power.
Covid19: Upgrading Diplomacy and Statecraft to prepare the new normal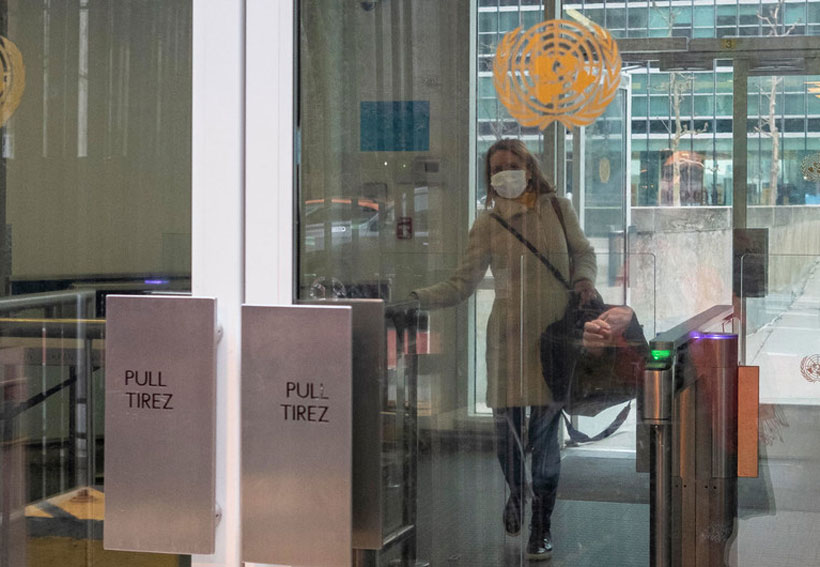 The world is abruptly changing and this requires adaptation. The transformations are targeting not only individuals and specific countries, but the entire international ecosystem. The pandemic will only accelerate the trends we have seen for years in global politics, so the window of opportunity is closing for those who want to play an increased role in the post-Covid world, but do not fully understand or master the tools necessary to succeed in such a complicated context. I will sketch some of the elements that diplomats and decision-makers involved in international politics have to consider as they seek to navigate the new contours of power politics. Beyond talk of wolf warriors or video summits – and fatigue – diplomacy deserves a strategic comeback during and after corona: international affairs professionals needs to be conversant in both the old and new paradigms; in Western, Eastern, non-aligned and Global South vernaculars; and in both technological and old school human terrain navigation. To well serve their countries and organizations, diplomats (and also, as intellectual framework providers, Diplomatic Academies and Institutes) will have to be more adaptable than ever and willing to quickly learn and deploy new tools and techniques.
In this quest, one first has to acknowledge the challenges on the substance (beyond communications issues, such as disinformation in the latest form of the infodemic) and understand that they pose problems we never had to face before. Climate change will bring about coastal entropic systems collapse, desertification and food insecurity, with potential consequences related to increased refugee influx, civil wars and inter-country tensions. Pandemics are also here to stay: Covid19 is only the first major outbreak of this decade and, with the right technology, almost any country with minimal biotech capabilities can turn sneezing into anti-personnel weapons. Catalyzed by great power competition, deglobalization, protectionism, and the restructuring of global value chains, non-market and imperial economics revival will become a staple of the new era. Tech dominance and informational supremacy will be a highly sought after prize and the competition will only increase. Strategically, with the rise of China and a relative decline of Europe and the US, we should be ready for a world order that values a different type of multilateralism and is polycentric and non-Western based. The Gulf, as an ambitious global hotspot abundant in global and regional medium powers, is watching power shifts closely and adapting its strategies and actions accordingly. It also has, via Saudi Arabia and its chairmanship of the G20, a key role to play in "annus horibilis" 2020 global solutions.
Institutional transition and reform is complicated not so much because of inertia, but because since World War Two we were asked to focus and solve one problem at a time, by keeping all other variables constant. Given the above mentioned changes, to cater to institutional transition needs, we have to develop our capabilities to include the most unusual and un-practiced skills and knowledge that now has become, in our estimate, a must have in order to navigate from an age of certainty to a state of continuous flux. By being programmed to combine technological foresight, cultural intelligence, transversal inter-generational multicultural and integrated disciplinary approaches to statecraft and grand strategy, diplomats 2.0 (during and after corona) will be ready to engage comprehensively with a wide range of situations, geographies, and objectives. Research and innovation in international relations, grand strategy, statecraft and identity development strategies should be combined with communication efforts that integrate tools related to cognitive patterns discovery, subversive frameworks neutralisation, and multi-stage communication strategy development.
Organizations need to function more like networked capabilities and teams of teams, rather than relying on traditional multi-tiered track diplomacy and traditional engagement practices. In my experience, the more non-central and non-mainstream actors are, the more they will engage asymmetrically. Furthermore, their engagement tends to be more reputational and personalised than the traditional Western expectations of structure, objectivity, and calculated gains would have us believe. For a long time, with the exception of the actions of great powers, the policy and academic discussion has focused on how the international environment overwhelmingly shapes domestic politics. The international will continue to matter, but we will see a strong pushback from national politics to shape the conversation in global affairs. Diplomats, as the platform between the state and the rest of the world, are on the forefront of meeting the challenge. The context of economic crisis and uncertainty generated by the pandemic will mean additional pressure on mainstream parties and a threat to political stability, so populism and protectionism will also affect diplomatic action, and nationalism diminish diplomatic efforts.
Based on the experience of South Korea, Japan, Singapore, the Nordics and the Baltics, one can encourage International Relations and Diplomatic institutes and academies to develop general public content and training to increase societal resilience, governance and democratic literacy, and citizen esprit de corps. From an elements of power perspective, these vectors need to be developed within every national strategic studies institution to complement the traditional areas of preparedness for which nation states prepare. Five topics are particularly important, in my opinion: T-profile development of people: transversal, interconnected, broad knowledge, with one vertical in depth (versus the current extremes of either breadth or ultra-specialisation); Bellingcat type of skills for information acquisition from OSINT, use of digital means, and understanding of online behaviours (social media aggregation and analysis would also play an important role); increased attention to global Architectures and competition between "Old" and "New" global and regional organisations; IP Diplomacy that focuses on networks of innovation, capital, technology and entrepreneurship – today, intellectual property diplomacy is practices by a handful of countries currently (Singapore, Switzerland, China, Israel), but will become the cornerstone of future exchanges, the same way Silicon Valley is for tech, and NY for global capital. Last but not least, each MFA Academy and IR institute should create its own simulation of the world based on AI, behavioural and statecraft modeling capabilities, and its own "handbook of world views and strategic interests". Interestingly, in context, wargaming and redteaming of policies and strategic decisions are currently under development in a handful of institutions and will start rolling out to national security establishments towards the end of 2020.
All these points are relevant especially for countries that want to punch above their weight, both regionally and globally, especially current middle powers and aspiring middle or great powers. But they also carry lessons for other states, in case they want to deal with the pressures and risks attached to great and middle power competition in a diplomatic-efficient manner.