The reason I am writing this is to help someone who is in the same situation where I found myself eighteen years ago, so they can benefit from my own funny, unique, sometimes hurtful, painful, and uncomfortable and even humiliating personal experience.
Bipolar or manic depression is a psychiatric illness also known as bipolar mood disorder or having mood swings. I have lived with this debilitating, mysterious and deadly disease my whole life. I have struggled to overcome the stigma attached to this disease by people who are intimidated by anything that they do not have any control over.
This is my story. Sometimes I imagine that I am standing on a stage giving a seminar when I say those words.
I am just like you. I believe there is nothing extraordinary about my life except the way I choose to live it. Some people have to have physical proof that something is amiss with their body. We put so much of our faith into the hands of healers. Faith is a supernatural force of will. Time, God, homeopathy, holistic repatterning, reflexology, full body massage, tea, herbal infusions, therapists, psychiatrists and doctors are all healers. We do not have time to visualise and reflect what our bodies are trying to tell us why we are hurting.
The illness was there for a long time. Now when I look back the truth about it is undeniable. It can be cured, or at best prevented from recurring, to the best of the patient, the doctor and the pharmacist's ability.
I do not believe in labels like gifted, talented, creative genius or eccentric or savant.
It is such a fine illness that influences subtle nuances in an individual's behaviour, that it takes a cluster of specific symptoms to diagnose it. It takes charge of your brain's serotonin and dopamine levels. The feel- good hormones in your brain and that are when your slow descent into a personal and very private hell begins – your secret pain.
I was brought up in a liberal-minded household by parents who believed that love, happiness and peacefulness where greater aspirations than prestige, position and status. I am part of only a lucky few. I was taught not to bear grudges. I was told when someone hurt my feelings to ignore him or her and see him or her for who they truly were. I was taught to be forgiving and understanding and that there was not any difference between the rich and the poor children at the schools I went to. I was taught that the noblest profession in the world was being a teacher. Re-enforcing values and excellence, as well as enriching wonderfully young lives filled with so much hope and promise.
My parents taught by example. My father is a community leader and my mother is a teacher.
What I do believe is that the word stigma is a synonym for phobia. I believe people choose to see the very best in someone and that their judgement is clouded when they ignore the rest. Acceptance is something that I think we all think comes at a very high price. It is the denial of human dignity that comes at a great price with unforeseeable circumstances.
The signs and symptoms of a hypomanic episode are as follows. You behave wild and free, have depressive slumps, spiralling depression. You do not sleep. You do not nap. You are the focus – the centre of the universe. You are beautiful, smart, determined but the reflection that everybody else sees is militant, horribly annoying and irritating.
You feel humiliated in later introspection while others felt uncomfortable in your presence. You, Dr. Jekyll incognito and Mr Hyde in the flesh.
There is a genetic predisposition to depression and mania as well. There has been a history of mental illness on my father's side including alcoholism, depression and suicide. Depression is a devastating illness that affects millions of people worldwide. The more family values are on the decrease the more suicide is on the increase.
People refer to their depression as sadness and stress. Mental health seems not to be a moot point for people in government.
I am writing this is to answer questions I had about the suicidal illness and myself. The discovery that my depression was not clinical depression but that it was manic depression, the onset of my mood swings and Christianity in my own life. If North America can be described as the 'Prozac Nation' by the North American author Elizabeth Wurtzel and the USA coined the terms 'hype' and 'spin' then why is mental health such a low on the list of priorities of the people we voted into power when it basically affects everyone around us directly or indirectly, in a significant manner or otherwise?
Note by Abigail George: The following essay was published in the book 'Being Bipolar: Stories from Those Living with the Disorder and Those Who Love Them' by Rachel Ellen Koski (Editor) as well as the 34th Ovi Symposium in Ovi Magazine: Finland's English Online Magazine.
Modernizing Higher Education for Economic Growth
Malawi has fewer affordable universities than it has students who want to go to them, leaving college out of reach for many. Enrollment in tertiary education is low, but more and more Malawians hunger for it. With IDA financing from the World Bank, Malawian citizens now have more options.
The five-year, $51 million Skills Development Project is helping public universities to strengthen and increase public access to programs that cater to sectors critical to Malawi's economic growth. These include engineering, natural resources extraction, agriculture, construction, health services, tourism, and hospitality.
Beyond the establishment of the National Council for Higher Education, project funding supports a range of activities at institutions, including improving course offerings and staff skills, renovating infrastructure, and setting up satellite facilities.
Market-relevant course offerings
To expand the range of scientific skills and mid-level technicians needed to fuel Malawi's economy, 39 new programs have been developed by universities, with the participation of the private sector ensuring their relevance to the economy. By 2017, these programs contributed 44 percent of the new student intake to public universities.
Diploma programs at universities have also been bolstered to increase the training of mid-level career personnel needed by various trades. For example, the University of Malawi's Polytechnic now offers 10 technician-level engineering diploma programs in subjects like mining, telecommunications, and health. By 2019, these programs are expected to have enrolled 750 diploma students.
Modernized facilities
One of the major constraints to increasing student enrollment at public universities has been space. At Chancellor College, where most of Malawi's secondary school science teachers are trained, more and better infrastructure is expected to make it possible to boost student intake by 65 percent. This includes modernized laboratories and four new lecture halls seating 350 students each.
This will go a long way toward meeting an increase in the demand for science teachers, following the introduction of physics and chemistry as separate subjects in the secondary school curriculum.
Mzuzu University is heading to be the country's center of excellence in tourism training. It is constructing a purpose-built tourism and hospitality facility that will produce graduates who are industry-ready.
Online and distance learning
The Lilongwe University of Agriculture and Natural Resources (LUANAR) and Mzuzu have introduced online and distance learning (ODL), resulting in increased enrollment at both. At LUANAR, online students make up 10 percent of the total student population. Between 2014 and 2016, Mzuzu increased its intake of online students tenfold. With more affordable fees and flexible options, the ODL system has helped to open access to higher education for many people nationwide.
"I enrolled through ODL because of its flexibility. I continue with my everyday life and yet I am studying at the same time. This is wonderful," says 45-year-old Joe Mwenye, a father of five and a teacher in Ngabu in Chikwawa district. He is studying at LUANAR for a Bachelor of Science in Agricultural Extension.
LUANAR has three ODL centers: one in the town of Mzuzu, another in Lilongwe, and another in Blantyre. Mzuzu University is opening satellite centers in Balaka, Karonga, Mulanje, and Lilongwe.
The Depth of Taboo: Social Issues in South Asia
Rarely does a geopolitical handbook also make such large and important contributions to uncomfortably critical social issues. This handbook is that rare example. The author Aryal takes our MD readers deep into some disturbing discussions – caste systems, systematic violence against women, rape, honor killings, gender stigmatizing, and societal sexism – not to just anecdotally expose people to some of the continued living horrors afflicting important regions of the world but to systematically analyze such atrocities so that their long-term political, economic, social, and diplomatic consequences are revealed.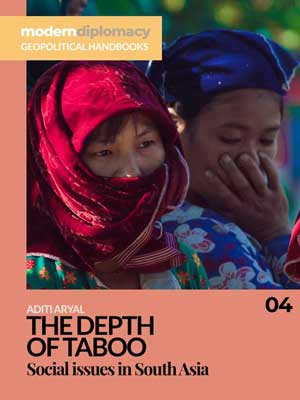 What many around the world do not realize is how crippling these gross abuses of human decency can be for a nation and region writ large: these are not just individual crimes to be noted and then forgotten. The failure of societies, the failure of GLOBAL society, to make more effective progress and take a more rigid stand against injustice is a black mark on all countries, on all of us. This handbook in its own small way strives to be a light within that darkness and as such it is both informative and courageous. While the readers of MD will not find the content of this particular handbook for the faint of heart, the importance of acquiring this knowledge, of becoming more aware of the world that we live in as it truly is in so many places, should be considered a duty of all those fortunate enough to not be born into states where such systemic violence still exists and largely goes unchallenged.
The title of this work is no accident and no shameless marketing attempt to attract more readers. Rather, it is exposing in a single word the reason why overcoming systemic violence based on gender is so difficult. Social taboos run deep in every region, state, city, town, village. We will likely not succeed in eliminating them from the social conscience of people. But the attempt to ameliorate the power of taboo, its power to push rationality out and pull insanity in, is a noble one that all of us at the editorial staff at MD recognize as silently essential for the cause of future peace on so many different levels. The battle against taboo is the secret front end of the war against gender violence and oppression. Ultimately, the criminal justice systems of societies must improve to remedy those actions not prevented from occurring. But the real long-term comprehensive solution will be the effort to eliminate the fear of social taboos, to eliminate the stigma that drives many to commit ignorant violence in the first place.
Women and girls with autism must be empowered to overcome discrimination they face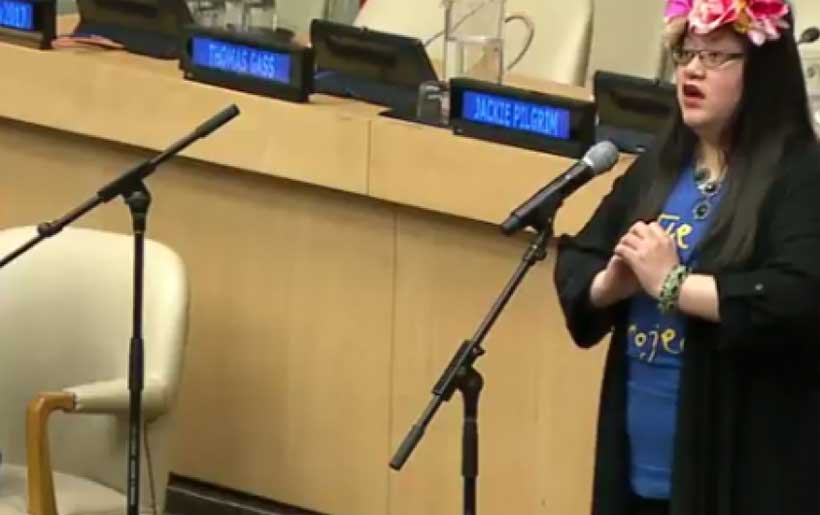 On World Autism Awareness Day, United Nations Secretary-General António Guterres has joined the global call to empower women and girls with autism and involve them and their advocates in policy and decision-making to address the discrimination and other challenges they face.
"They face […] barriers to accessing education and employment on an equal footing with others, denial of their reproductive rights and the freedom to make their own choices, and a lack of involvement in policy making on matters that concern them," said the Secretary-General in his message on the Day.
Emphasizing that "our work for gender equality and women's empowerment must reach all the world's women and girls," he stressed that the international community's efforts to achieve the Sustainable Development Goals (SDGs) must uphold the 2030 Agenda's core promise to leave no one behind.
The Goals and the landmark framework from which they emerged were adopted by UN Member States three years ago. Together they aim to wipe out poverty and boost equality by putting the world on a more sustainable economic, social and environmental path by 2030.
"On World Autism Awareness Day, let us reaffirm our commitment to promote the full participation of all people with autism, and ensure they have the necessary support to be able to exercise their rights and fundamental freedoms," concluded the Mr. Guterres.
Autism is a lifelong neurological condition that manifests during early childhood, irrespective of gender, race or socio-economic status. The term Autism Spectrum refers to a range of characteristics.
Autism is mainly characterized by its unique social interactions, non-standard ways of learning, keen interests in specific subjects, inclination to routines, challenges in typical communications and particular ways of processing sensory information.
The rate of autism in all regions of the world is high and the lack of understanding has a tremendous impact on the individuals, their families and communities.
The World Day is marked annually on 2 April, and this year's official UN commemoration will be on Thursday, 5 April, with a half-day programme in New York entitled Empowering Women and Girls with Autism, that will feature a keynote address from Julia Bascom, Executive Director, Autistic Self Advocacy Network.