I'm a modern everyman. I make use of books to find for myself a dwelling place, if only a temporary one, within the pastiche of narratives and experiences, facts and fantasies.
I leaf through the books, do not drink and do not drive – I smoke and fly, through the tunnel under the city castle and over the main square, hovering for a second under the feet of monument to Valentin Vodnik, the first Slovenian poet that did not write only religious verse, I'm lingering under the old linden tree before darting through the unsuspecting flock of dust-covered sparrows, and disappearing among the arcades of cajoling shop windows.
For me, the geography of towns, harbors, streets, and squares overlaps with literary topography. The poems and novels I read are chapters in a story about a particular place with which any place can identify. The tension between the fearful anxiety and the thrilling exploration that propels me on my wanderings around my imagined city delineates the modern mentality in which inescapable loyalty to a home place challenges one's need to freely choose identity.
I'm not an exception. I remain attached to my birth town. And to my armchair, my comfortable nest for my reading sessions. It stands in the living room of my family house. The house stands in Ljubljana in what was a workers' colony before the World War Two.
Zvezna ulica or Union Street is a generous place for our family house. It's a dead-end street, though. Perhaps that's the reason why it can afford to be safe for kids at play, and amicable for neighbours to trade gossip over the low garden fences. It streches from the main cemetery to the railway tracks for Trieste-Budapest trains, and ends a stonethrow away from our house.
My street's name does not simply denote a generic union, a bond that ties together "more than one" entity. Its primary meaning evokes Yugoslavia, the union that emerged out of the ashes of Austro-Hungarian empire in 1918 and collapsed in the flames of Yugoslav federation in 1991-1999.
In Slovenia, an eager member of the European Union since 2004, political unions with others have long been a staple of collective life, even though Slovenians traditionally appeared as "junior partners" at best. Its geographical location helps explain the fact that Slovenians never had an independent state. Nestled at the northwestern gulf of the Adriatic Sea, their lands appealed to a sucession of Western invaders as the easiest entry-point to the Mediteranean. The Slovenians' historical memory brings up the rule of Charlemagne, Habsburg Empire, Napoleon, Third Reich, Fascist Italy, royalist and communist incarnations of former Yugoslavia.
All the while, however, Slovenians maintained a collective sense of a specific ethnic identity, invariably articulated in resistance to comprehensive state-sponsored and violent politics of conversion. In 19th century, they were exposed to the unbridled apetites of rival European empires to the extent that prompted Fran Levstik, one of the founding fathers of modern Slovenian literature, to rally his people to the nationalist cause by unambigously pointing out the choice for Slovenians: either they'll become "Russians or Prussians". Unless, of course, they will manage to use their own language to produce ther own literature.
In doing so, Slovenians grew accumstomed to treat literature and culture as a "second best", as a substitute for the then-largely absent political institutions of their own. From this vantage point it is easy to see why is the establishement of Slovenian independence in 1991 celebrated as the fullfilment of the popular collective desire. However, the very status of independence paradoxically rendered obsolete the uses of shared communal experience, the experience of union.
Consider: the most popular slogan of political discourse in Slovenia before it joined EU was deceptively simple. It called for a "Return to Europe". But what was hiding in plain sight was its ugly side which—in the eyes of both, the elites and the populatuion at large—implied a "Retreat from the Balkans". It implied severing the ties between Slovenia and the other republics that used to share a common Yugoslav house. The slogan was based on the widely shared Slovenian assumptions about their legitimate historical connections to the West (Roman Empire, Charlemagne) and their supposedly forced cohabitation with the despised and feared Balkan lands (Yugoslavia). This leading trope of public debate has encouraged the manipulation of exclusionist sentiments that ultimately ended up equating Europe with unadultarated good and the Balkans with unfettered evil.
But I refuse to accept such equation. I lend instead my ear to poets and writers from across the field as I freely choose my home. I'm at home in books about Zagreb that strive to provide evidence for the ironic insight of the great Croatian bard, Miroslav Krleža, that Central Europe begins on the terrace of the town's most illustrious Esplanade Hotel; I'm at home in Belgrade, whose head resides in cosmopolitan heights thanks to writers Danilo Kiš and David Albahari, while its legs are entrenched under the swinging lamp of a noisy and violent Balkan tavern!
And I'm at home, truly at home, in Sarajevo, defined by ineffable suffering but also with an ethical determination to continue to talk in many voices about the right of a person to have many identities, through the supreme works of art such as can only be born out of extreme circumstances, finding expression in the quivering elegies of Izet Sarajlić, the noble urban sentiment of Abdulah Sidran, or the broad-minded epics of Dževad Karahasan.
But I readily respond to the melancholic gaze of a deer that flashes by through the morphine-laden verses of Georg Trakl; I trace the vestiges of a personal drama in the wet flowers on the façades of bourgeois palaces under the slopes of Kapuzinerberg; and I am unmistakably, although temporarily, at home in Salzburg!
The book flutters its pages and old-fashioned raincoats fan out in an effort to protect the dry loneliness of night strollers passing by the craft shops of Alfama, the heart of old Lisbon; the portrait of Fernando Pessoa emerges from under the jutting roofs of the past colonial glory written in sea salt and pigeon droppings; the portrait of a poet who produced an eternal homage to his Lisbon using the voices of imaginary authors who sing various songs but share one soul. His Lisbon is my Lisbon!
The book spreads its tattooed pages and I'm embraced by the smell of sea-worn cliffs of the northern Adriatic; the tower of the Thurn und Taxis castle appears for a moment, a fleeting pulsation, and I slowly surrender to the recognition that I'm at home in Trieste; it is here that Rainer Maria Rilke wrote two of his dizzily inspiring Duino Elegies, and it is where I now find home, under the hills of the "gulf city" depicted in the books of Boris Pahor. I'm at home in the nostalgic "chiusa tristezza" from Umberto Saba's poem Three Streets; the steps of Nora Joyce rustle through the whiteness of the book while she paces around a rented apartment, one of a dozen she and her husband lived in fleeing from creditors; I can hear the argument of far-sighted Henrik Tuma, who as early as before World War I wanted to establish the first Slovenian university in cosmopolitan Trieste, the chief port of the Habsburg Empire, rather than in landlocked Ljubljana; although it is not visible to my eyes, I can nevertheless see Dragutin Kette's sad promontory of San Carlo in Trieste, where the poet went to soothe the wounded heart and the needs of the swollen body; I imagine that I can understand the dialect of šavrinke, the peasant women traders from the Karst high plateau who together with the readers of Marjan Tomšič's novels head daily towards the vegetable market in the harbor as they did during the distant times of the Habsburg monarchy; the inscription on Italo Svevo's grave in St. Ana Cemetery tells me that he "smiles at evanescent life and glory which crowned his work late." Roberto Bobi Bazlen, a publisher and a critic, despairingly reminds me from the desks of Biblioteca Civica that there is no other way to write modern books but as footnotes.
The poems of Czeslaw Milosz, Tomas Venclova, and Eugenius Ališanka open for me the door to Wilna or Vilnius, the "city of ash" amidst Lithuanian forests that lives a secret life of another reality, one that has been sifted through the sieves of my literary memory. I suck in the smoke, leaf through the books of poems and stories, and fastidiously sip the verses and passages in which the creative talent succeeded in conjuring up the shared destiny of immigrants and refugees, nomads and displaced people, roaming the streets and courtyards of the town whose walls demarcate the ultimate frontiers of freedom.
To be at home in a place where the sky meets the earth is to make the experience real! To be at home in a place that offers the elementary, emotionally laden and full-blooded experience! To be at home in a place in which every thing has a name! To breathe the metropolitan air which ever since the Middle Ages has been inviting all the citizens of the urban republic to get rid of old communal ties! I myself would like to become a map of the city, a written page, a thin cobweb through which older and dimmer biographies and urban chronicles shine!
While I'm getting lost wandering along the boulevards of real megapolises and among the covers of borrowed books, I actually search for my imaginary city. Wherever I discover it, a provincial village easily emulates the dwelling of gods and becomes the capital of the world! More precisely: it is the capital of my world that, along with many other and different worlds of other and different readers, travels the orbits of the "Gutenberg galaxy."
It is true that we, readers, are the citizens of various nation-states each with our own home address and hometown. Yet the moment we open a book and yield, in our unique ways, to the adventurous challenge, we take part in the same ritual. We assert that our place of residence is in the same community, in the republic of letters. It cannot be found in any world atlas; its borders are unstable and are passionately negotiated time and again. With every story read, with every verse quietly recounted, we renew our citizenship in the republic of letters. Many opportunities arise and dissolve within it, faces distorted by horror offer a hand to fantastic patterns of paradise, and every page read turns a new chapter in a reader's biography.
We can all become citizens in this republic, without restrictions. The only condition required to obtain citizenship is a human capacity for empathy, that is, the capacity to put oneself in someone else's shoes. No one's human rights are curtailed in this republic, no one is discriminated against, sentenced, or erased from the register.
Moreover, no one in the republic of letters is forced to speak the language of the majority. The literary republic of letters speaks in one language. It is the language of translation. Literature is not what gets "lost in translation," as Robert Frost famously exclaimed in defense of poetic singularity. As for me, I'd rather go along with the Turkish poet Nazim Hikmet who said that the reading of poetry in translation resembles "a kiss through a veil." I could not care less for the ascetic chastity that, fearing loss, remains innocent, while with my lips parted in expectation I leaf through the pages of books written in languages I haven't learned. I take my hat off thankfully to translators, the exemplary citizens of the republic of letters, who continually make it possible to every reader, all of us, to be part of the story of a temporary community committed to the lost cause that represents our true home.
First published by the British-based New Metropolitan, reposted per author's permission.
Useful Tips On How To Commission An Artist
Tips for Commissioning a Piece of Art
For centuries, people have been commissioning artists to create a piece that has special meaning for them, something to hang in their house, or a piece that communicates a message that the owner wants to express.
If you are one of these people, and you want a portrait or a piece of London canvas art, there are a few things you need to remember when commissioning a work of art.
Remember Important Details
The first thing you need to do is, have a concise list of what you want the piece to look like and include; do you like art deco, or do you want something more classic? Unless the artist, and you, are ok with the artist using their imagination, it is on you to have the idea.
You can be as specific or as vague as you want, but the artist will need some direction when it comes to the style, elements, colour palette, etc.
Every Artist Won't Accept Your Request
It doesn't matter how much you love an artist or even how much you are willing to pay; some artists won't accept your commission. This could be due to several reasons, such as a tight timeframe, the artist not feeling like they could do the work justice, or any other reasons.
What you need to remember is to not fight them on it. If they don't think they can do it, ask if they may know someone who can or if it would be better to contact them later in the month or year.
The Price
Regarding the price, it is typically frowned upon to haggle. You are asking them to spend their time and use their immense skill and talent to create a piece for you; through years of working and mastering their craft, they know how valuable said time and skill is worth.
You must also know that you need to accept the price, and you can also get a quote for the work if you have enough details of what you want the piece to look like and include. Lastly, art is also more expensive than you may think, even if the piece is small or not as "detailed" as other work.
Know What You Want
Once an artist gets a week or two into creating your piece, you are going to struggle to get them to change anything; and if you do, there is a very good chance the price is going to go up, or you will need to pay for a new commission completely.
This is why it is essential to know exactly what you want, what style and paint the artist must use, the size of the work etc., before a pencil or paintbrush even touches the canvas.
Accept That Skill Varies
While many artists are highly talented and skilled, you need to accept that there may be some elements or styles that they aren't masters of; maybe they can make incredible backdrops but struggle with faces, or they're brilliant with people and not with animals.
While this may be more common with younger, less experienced artists, do your due diligence and find out if there are any aspects they aren't completely confident with, and adjust them.
Time & Price Can Change
Another thing you need to be prepared for is the timeframe or the price to change. Artists can give you rough ideas for when they can finish a piece, but they are still humans with lives, and you never know what could happen that might slow them down.
The price can also change if they discover that your piece needs a specialised tool or expensive paint they didn't have. While some may not charge you for this, others may.
Keep in Contact
It is essential to stay in contact with the artist while they are working on your piece. It would be best if you weren't asking for updates every hour on the hour, but a weekly update to find out the progress or any problems helps keep the process running smoothly.
This also ensures that there are no surprises when reveal day comes, as you would already be aware of and signed off on any changes or alterations.
Don't Expect Miracles
As mentioned, most artists who take commissions are incredibly talented and skilled, but they aren't miracle workers. You must know that there are potentially things that aren't possible, or at least not possible, within the parameters you provide; not everyone can do a Sistine Chapel or Jackson Pollock.
While artists can do and create a lot, it is essential to remember that there are limitations and that not everything you can imagine is possible.
Be Patient
Finally, you need to always be patient. There is a reason great tattoos take 20 or 30 hours or why growing the perfect garden may take a few years; awe-inspiring art takes much more time than you may think.
Even if you get given a timeline, it is still important to wait until the artist is fully satisfied with the work. This also means that you can't rush the artist if you decide that you want the piece earlier than the agreed-upon finishing time.
Europe's major tourist sites battle climate change to survive
Climate change is destroying heritage sites across Europe and globally. Ancient historical landmarks could disappear completely unless swift action is taken to protect them from environmental damage, researchers are warning.
Climate change is destroying heritage sites across Europe and globally. Ancient historical landmarks could disappear completely unless swift action is taken to protect them from environmental damage, researchers are warning.
Future generations may never get to explore streets conquered by medieval knights in Greece, city quarters built by the Islamic empire in Spain, 10th century cliff-top castles in Slovakia and many other historical wonders in Europe.
Floods and rising temperatures are already damaging ancient buildings, said Angelos Amditis, project coordinator of a project called HYPERION which is helping major sites in Greece, Italy, Spain and Norway, adapt to the impacts of climate change.
'If we don't act fast, if we don't allocate the right resources and knowledge, and … create a common alliance to address the climate change issues, we will pay very dearly,' he said.
'We may (completely) lose well-known landmarks in Europe and globally … our children may not have a chance to see them except on video,' said Dr Amditis, who is director of Research and Development in the Athens-based Institute of Communication and Computer Systems (ICCS).
Historical vulnerabilities
The HYPERION project is developing tools for mapping out the risks and helping local authorities find the most cost-effective ways to reduce the vulnerability of historical sites.
Mapping the risks includes assessing the structure and condition of buildings and monuments and installing sensors to monitor the ongoing impacts of climate change and other threats to the sites.
The project also uses data from Europe's Copernicus satellites to map the areas at risk and gather climate data.
What can make conservation work particularly complex is that different buildings on a single site were often constructed in different eras and using different materials. Each building must therefore be individually assessed, and may need different forms of protection.
For example, early builders in Venice often re-used stones and other bits of buildings found locally. As the city became wealthier, it began importing fresh materials which were better quality, and are proving more resistant to the impacts of rising tides and floods.
Viking towns
And in Norway's Viking town of Tønsberg, buildings were constructed over several centuries, and made with different types of wood or stone. Local temperatures are rising, and affecting each building material differently, said Dr Amditis.
Many monuments and sites are made more vulnerable to the impacts of climate change because they are already suffering damage from pollution, earthquakes or other hazards.
So, to boost their resilience to climate change, they need to be restored and protected from all the hazards they face, said Dr Amditis.
For example, Greece's beautiful city of Rhodes is hit by frequent heatwaves, earthquakes and flooding. But its medieval buildings also need protection from damage caused by heavy delivery lorries. This could involve finding a less harmful way to transport goods to the local population, said Dr Amditis. The HYPERION project is not involved in this aspect of the city's resilience planning.
Locals' solutions
Authorities must involve local communities when planning ways to protect heritage, said Daniel Lückerath, project coordinator of a project called ARCH.
'The danger is that they will not like the solution you provide and then they might not use the historic area anymore,' said Dr Lückerath, who is a project manager at Germany's Fraunhofer Institute for Intelligent Analysis and Information Systems (IAIS).
'People are what make historic areas … what give those areas value,' he said. Without them, 'you would just have a ghost town,' he added.
Like HYPERION, the ARCH project is developing tools for authorities to assess and protect their local heritage. ARCH is co-designing these with authorities in Slovakia's ancient capital Bratislava, the Italian village of Camerino, Valencia in Spain and Germany's harbour-city, Hamburg.
Sometimes there is a difficult trade-off between protecting heritage and allowing new developments which benefit the local community. For example, Hamburg recently carried out major dredging work to allow larger container ships to reach its port.
Water levels
This work, combined with climate change, is changing the water levels in the city's 19th century warehouse district which is a World Heritage Site, said Dr Lückerath. This change in water levels could weaken the foundations of the old warehouses so they will need ongoing monitoring, he said.
Major heritage sites are not the only ones that need to be preserved. 'Any site in danger is a problem for the communities living there,' said Aitziber Egusquiza, coordinator of the SHELTER project which is developing risk assessment, early warning systems and conservation tools for communities, including those with few financial and technical resources.
In some cases, local authorities do not monitor the impacts of climate change and other risks, lack information about the age and state of their local heritage, and lack the political will to protect it. As a consequence, communities living near some of Europe's most exposed sites are not necessarily aware of their vulnerability, making it very difficult to conserve them.
'That worries me,' said Egusquiza, who is senior researcher at Tecnalia, an independent research and technology organisation in Spain.
It is important to convince the leadership to invest in conserving these sites, especially as they bring tourism and jobs – both of which will be lost if that heritage is lost, said Egusquiza.
'We need to put more numbers on what will be lost if we don't act,' he said, referring to projections about economic impacts on local communities.
Community heritage
The tools developed by SHELTER, ARCH and HYPERION projects will be tested by the cities and communities which helped design them, and then trialed in other regions to see if they can be replicated in different situations. Ultimately, the aim is to help all communities protect their heritage.
But with Europe and other regions facing the combined crises of the COVID-19 pandemic, war in Ukraine, and rising cost of living, it is easy for leaders to push preserving cultural heritage down the list of priorities, said Dr Amditis.
'It is a very expensive and time-consuming exercise, but it is worth the time and the resources. If you lose even one site, it's a big loss for humanity,' he added.
The research in this article was funded by the EU. This article was originally published in Horizon, the EU Research and Innovation Magazine. 
The Evil Russian on American Screens: Stranger Things Season Four Short Review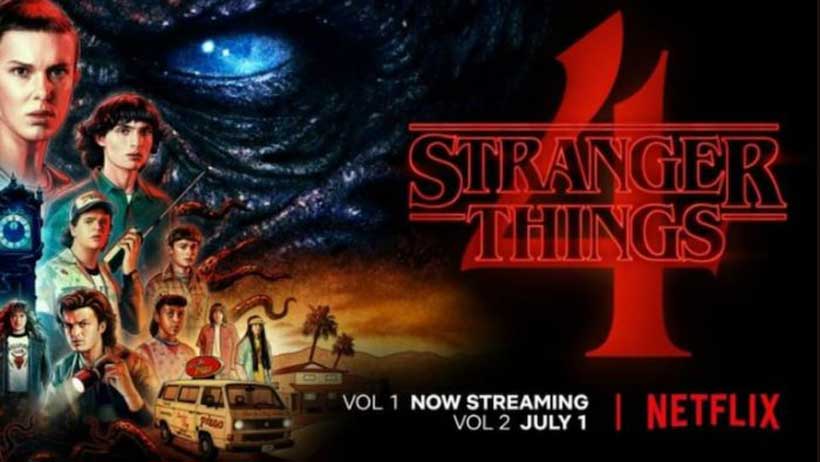 After the collapse of communism in Russia a few years ago, the frequency of propaganda through the media carried out by the United States that presents Russians as evil, ruthless, and very cruel was expected to decrease. This alleged decline is because the United States' attention has been diverted to many Arab and Middle Eastern countries after the 9/11 incident. However, these American filmmakers have retained the depiction of Russians as "the bad one" in their film masterpieces, whether for merit or business reasons.
Maybe it's not just a hobby or a business, but as a form of counter-resistance from the West to a series of events and political steps taken by the Russian side during that period to the present day. Russia, which often shows the power and absoluteness of its government—even though it has taken the form of a communist state—wants to show its identity as a true geopolitical enemy of the United States. As if invited to return nostalgia, the Russian government now feels more like a reincarnation of the Soviet era.
The depiction of Russians as criminals on the screen of the United States is the most concrete and decisive manifestation of the Soviet Union's communist regime, which is all associated with being antagonistic and full of oppression. The above is still relevant today for most Americans that Russians tend to be scary and have bad intentions. The reason is that the Russian government, which Vladimir Putin currently leads, gives the impression of being hard, fierce, and scary. The ex-KGB, Vladimir Putin, has been heavily criticized for his policies during his time in power. Putin has been criticized for his big ambitions to expand his country's geopolitical capacity to defend himself against future NATO attacks. The 2014 annexation of Crimea evidences this ambition—it did not stop there—Putin showed a fierce side of himself by supporting the Bashar al-Assad regime in Syria until the invasion of Ukraine in early 2022.
The portray of Russian citizens as cruel and terrible antagonists has been produced in many American films, such as in the movie John Wick—whose dog was killed by Russian criminals. Not only that, but the American series also took part in projecting this. Call it Stranger Things. Regarding the depiction of Russia as "the bad one" and America as "the good and superhero," the author will discuss the sub-plot of saving Jim Hopper in the fourth season of Stranger Things which was just released on 27 May 2022 and 1 July 2022 then.
In this fourth season, the depiction of the Stranger Things story is divided into several settings, one of which is the story of Jim Hopper being a prisoner of Russia. This Jim Hopper sub-plot shows the audience the horrors of Russia's prisons. This plot presents the impressions of prisoners being treated harshly like slaves who deserve to die and several scenes showing the violence of the prison guards on Jim while being interrogated about his friend Joyce Byer in the third season of Stranger Things. The highlight of the depiction of the Russian character as a party with bad intentions is to reveal research on the terrible monster "Demogorgon" in Stranger Things that have appeared since its first season. We can assume that the Russians are deliberately keeping the monster for later testing. This little depiction is enough to allow the audience to be furious. Jim Hopper, who unexpectedly managed to escape from a Russian prison, suddenly wanted to crush the Demogorgons instead of escaping and flying to America when the opportunity was at hand. Through this, The Duffer Brothers seem to give the impression that the bad and unwanted things in the future tend to be caused by Russia, while America comes to save the world.
Still around the story of Jim's rescue and attempted escape as a Russian prisoner, the character of Yuri Ismaylov—an airplane pilot from Russia—played by actor Nikola Djuricko also received quite a bit of attention. The reason is, that Yuri's character is described as a braggart and a con artist who causes Jim to have difficulty escaping many times. Again, the Russians are illustrated as the wrong side and the source of trouble.
There are several analyses related to the reasons for the American film embedding the Russian side as an antagonist. One is America's desire to maintain a superior image to its geopolitical opponents. America has so far maintained its desires and ambitions due to the old story of the great ideological feud in the past Cold War era—between communists and liberals. From this old story, the depiction of good and bad in American films is still felt today.
However, apart from the reasons above, which emphasize the ideological war and show off between the two sides, it is also possible that these films were made in the context of business interests. To be precise, American Screens don't want to get out of their comfort zone. The success of films portraying the Russian character as cunning, cruel, and full of intrigue gave American filmmakers an exhilarating feeling. For example, American films entitled The Equalizer, Atomic Blonde, and Mission: Impossible-Ghost Protocol managed to make big money. For this reason, maintaining the image of Russia's antagonist can be said to be done for smooth business.
Now, the question is, how long will America place its geopolitical enemy as a villain in its cinematic masterpieces? The answer to the question above is the same as asking a question about how long America and Russia will be enemies and show off against each other in the eyes of the world. Our job as film lovers is to sit back and chew popcorn on a comfortable sofa. Eliminate the bad stereotypes brought by the media because the truth is that the media are not always right and often exaggerate problems. Truly, people are different from government, may be we will have many unexpected things in common. So, release endless hatred.