The Asian Square Dance – Part VII : The Role of the USA
The United States is today the hegemon, alone able to alter events to match its own strategy with the ability of fighting long wars far away from its home base. In spite of important engagements in Afghanistan and Iraq, a large part of its air and naval capabilities are still in the Pacific.
Nevertheless, it does not appear to have followed a consistent policy in Asia. After conducting a strategy of preventing any country in the area from assuming a leadership position, it encouraged China's rise and tolerated exceptional shows of force against the country's population such as after the Tien An Men square. It was followed by the Asian pivot and the militarization of its presence in the area and an attempt to ensure that in spite of China's actions it will continue to have access to the South China Sea, a vital crossing point between the Indian Ocean and the Pacific.
The changes have been due to different considerations by succeeding administrations, with, more recently, President Obama declaring that the US was a Pacific nation. Russia's actions in the Ukraine and possible developments of this action in Europe is another issue absorbing time and resources.
With the rise of China's power, the US must commit increasing amounts of resources to counterbalance it. It should be expected that small states in the area will play the two powers one against the other.
The US has been running a very large trade deficit – estimated at around $ 300 billion dollars, absorbing the major part of the global capital flows – and it has been focusing on attempting to convince China to revalue the yuan. The Chinese government has in fact allowed the yuan to revalue slightly.
The US is simultaneously China's, India's and Japan's biggest customer. The US is also India's largest supplier.
The US could allow its currency to depreciate further to the point where its goods would be significantly more competitive than they are today. The country would also be a major attractor of foreign direct investment. China would then be the only country that would have a positive trade balance with the US due to its low labor costs.
The US might, alternatively, put pressure on China to encourage spending abroad. There have been no new developments in that direction, rather to the contrary.
The US is the protector of Taiwan which China has repeatedly threatened to invade and which it considers part of its own territory.
With regards to India, the US has agreed to a pact assisting India in its efforts in the realm of peaceful nuclear energy in the hope that this will prevent the country from strengthening its relationships with Iran and Russia.
The US' interest in India is a relatively new development since the recent past has shown the US concentrating on the Pacific and attempting to make it a US sea, somewhat in the manner that the Romans had considered the Mediterranean to be a Mare nostrum. The US has declared that the majority of its fleet will be deployed in the Pacific by 2020. Until then, the US has to rely increasingly on Australia and Japan, and allow APEC (Asia-Pacific Economic Cooperation) to flourish as a tool to spread the American doctrine of liberal trade – even though it has played as much in favor of China than in favor of the US.
The US has increased the strength of its marines on Guam, an island close enough to give support to Japan and has earmarked up to USD 1 billion for military constructions over the next five years. It has also increased cooperation with Australia and the Philippines.
The danger of a confrontation with China lies in an accidental hit of a component of either country's nuclear program, such as a launcher, or a disarming of a nuclear deterrent. If China were afraid of an intentional disarming, it may decide to use it early on in a critical situation, to prevent losing its nuclear capabilities.
To avoid any such misinterpretation of one another's intentions, an agreement has been signed between presidents Obama and Xi, his Chinese counterpart, whereby the two countries will inform one another of any major military movements.
Thailand and Kon La Krueng Co-payment Scheme: A Challenge towards Sustainable Consumption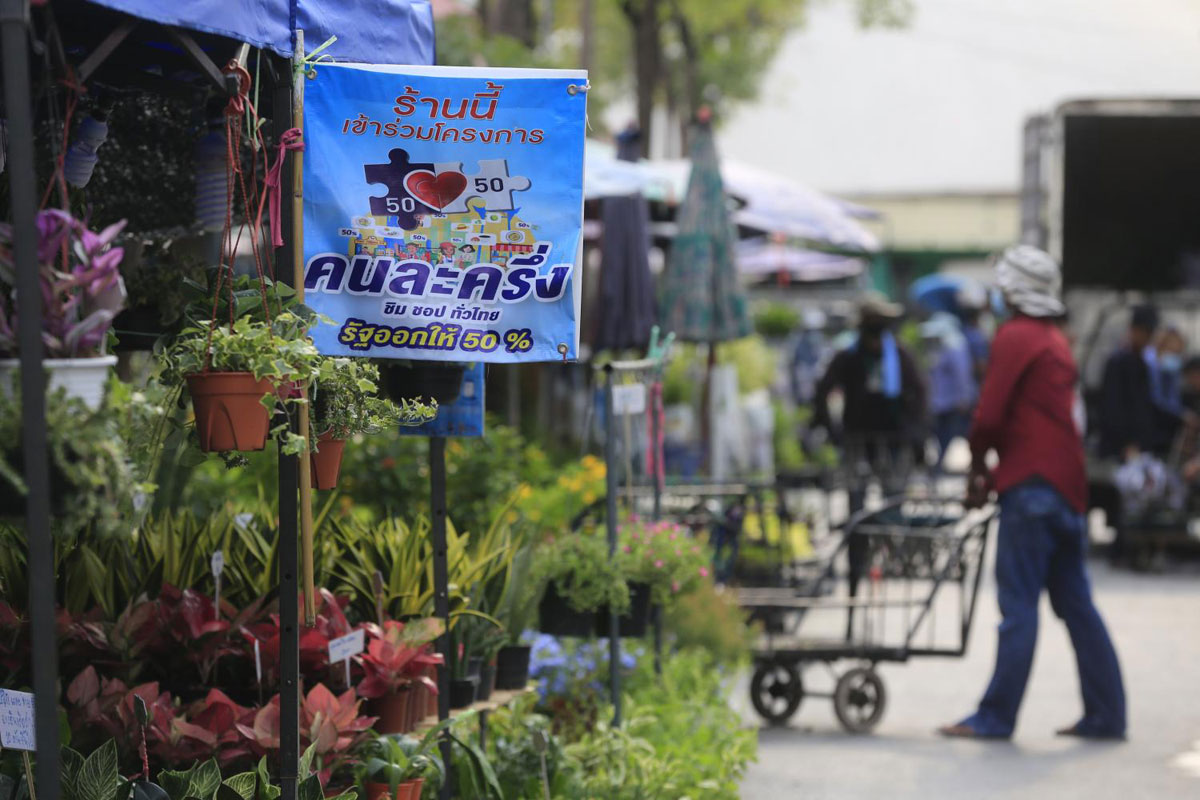 The COVID-19 has impacted many people around the world, particularly the poor people who are unable to meet their fundamental needs through self-sufficiency. These hard times of the COVID-19, it has taught us that our world is becoming more complex and that we must be prepared for unexpected events, such as this severe pandemic. From this case, it is evident that many poor people all over the world have been disproportionately affected by the COVID-19; as a result, surviving during this adversity is not easy for them.
Since the first outbreak of the COVID in early 2020, Thailand has been on lockdown and un-lockdown alternately. The closure of the country's borders has not allowed foreigners to enter the country. This is to prevent the COVID-19 infection from spreading throughout Thailand. Nonetheless, the country's closure has resulted in a slew of issues, including a drop in GDP growth.
According to the World Bank, Thailand's economy is still suffering from the COVID-19 pandemic and is expected to grow at a low 2.2 per cent in 2021, down from the 3.4 per cent anticipated in March of the same year. It is obvious that due to this pandemic, the country's growth could be that surprising. Nonetheless, it is not only Thailand that couldn't achieve its expected growth but also many other countries worldwide. If we focus specifically on the ASEAN countries, most countries are facing the same situation; the GDP growth projection has dropped this year compared to last year's. Indonesia is one of the countries that have been facing this slow growth because of the pandemic, the GDP Growth Rate Projection of Pre-COVID was 6.0 per cent and has dropped to 3.2 per cent for this year.
Apart from affecting the country's GDP growth, it is undeniable that it also heavily affects people in the country. There is a wide range of impacts on people, especially vulnerable people, poor people, informal workers, etc. Many Thai people lost their jobs and returned home without money to feed their families. This is a bad thing that happens to them. Poor people have been affected heavily by the COVID-19 pandemic; many could not find work during these times. During the country lockdown, many informal workers such as street vendors were not allowed to go outside of their houses; thus, this badly affected their lives to find money to feed their families.
Moreover, this also led to unemployment issues in the country, not only in Thailand but also in other countries across the world. For Thailand's case, the unemployment rate of this year was likely to reach 2.5% in the second quarter, representing about 937,500 unemployed workers, up from 1.96% in the first quarter, representing 758,000 unemployed workers. Therefore, it is obvious that the COVID-19 has impacted the country in many ways. Thus, the government should take action to help their people to overcome these hardships during the pandemic.
Thailand has shown a satisfying solution for this issue. The Thai government has come and played a critical role in helping people who have been suffering from this pandemic's negative impacts. There are some financial schemes or programmes that were released by the Thai government to help the Thai people. One of those is the Kon La Krueng (Half-Half) co-payment scheme which is a project that the Government expects to stimulate domestic consumption and boost the economy by giving pocket money to Thai successful registrants.
The first phase of this project began on October 16, 2020, with payment beginning on October 23 – December 31, 2020. Registration for the second phase began on December 16, 2020, and payments were accepted from January 1 – March 31, 2021. While the third phase, round 1, opened for registration on June 14, 2021, the payment period ran from July 1 – December 31, and the second round's phase 3 registration ran from October 16 – December 31, 2021, the payment period ran from October 4, 2021, to December 31, 2021.
For eligible and successful registrants above the age of 18 who are not state welfare or other financial scheme cardholders, the government provides 8,000 Baht. The length of time it takes to pay varies. If she or he had fully registered for the first phase, she or he will earn 3,000 Baht and an additional 500 Baht for the second phase without having to re-register. As a result, the total cost is 3,500 Baht. In phase 2, new registrants will receive a total of 3,500 Baht right away. And for phase 3, everyone will earn an additional 4,5000 Baht, with the first 1,500 Baht being given out during round 1's phase 3 and the remaining 3,000 Baht being given out at round 2's phase 3 on October 1 and November 1.
There are roughly 43 million registrants for all three phases of this financial scheme, which allows both sellers and buyers to register and take a critical benefit from this financial support from the government. Only food, beverages, general items, and service charges (massage, spa, manicure and pedicure, public transportation) are permitted to be sold under this scheme. Every purchase will be subsidized by the government to the tune of 50%. A successful registrant is permitted to spend the scheme subsidy at a rate of not more than 150 Baht per day or no more than 300 Baht for the shared cost. Every payment will be made through the Pautang G Wallet application.
Kon La Krueng (Half-Half) Co-payment Scheme has helped both consumers and local vendors positively across the country. Local businesses are growing as the money is spent in the local community which is positively affecting the local economic growth. Many vendors are also benefiting from this project; it grows local business and higher the consumption of local businesses. Moreover, it is promoting a cashless society as those involved with this scheme will have to pay online through G Wallet in the Pautang application. So, this is a change in people's behaviour and adaptability toward a cashless society. From all this, it is undeniable that the government spending through this half-half scheme has grown the local consumption across the region and the nation positively. The government spending on the half-half scheme for phase 3, round 2 (October – November) has increased the country's GDP to 0.24 per cent. This means that this financial scheme has increased national consumption which positively affects GDP growth.
The spending behaviour of Thai people through this scheme during this pandemic is increasing, particularly local consumption across the country. This has a beneficial impact on overall national consumption. Local companies are flourishing, and local vendors can generate more income. Nevertheless, this consumption behaviour leads to some concerns about sustainable consumption. People are delighted while spending their money on common necessities, which can lead to rapid consumption both locally and nationally. As a result, the government may need to consider sustainable consumption so that people are more conscious of it, particularly their rapid consumption during this scheme, which may influence their negative money-spending behaviour and less sustainable daily consumption.
To conclude, the Kon La Krueng co-payment scheme provided by the Thai government has helped Thai people to consume more which is benefiting most Thai people in the country during the COVID-19 pandemic. Also, it helps increase the GDP growth, particularly from national consumption and government spending. Nevertheless, this rapid consumption of Thai people during this pandemic has arisen some concerns, particularly sustainability in which the government should promote this awareness so that people will be more aware of their daily consumption behaviour.
Vietnam's President Phuc visit to Switzerland and Russia
Vietnam's President Nguyen Xuan Phuc visited Switzerland and Russia(November25-December 2) to promote his country's bilateral ties with the two countries. During the visit to Switzerland, the Vietnamese president initiated a link between the Swiss state and Vietnam. For Vietnam, which has already ordered and administered eight different vaccines in its country to protect its citizens from the COVID-19 pandemic, the need is to procure more vaccines. The immediate urgency is to get medical equipment and to import resuscitation supporting machines so that critically ill patients should be saved. In terms of medical equipment and diagnostics procedures, Switzerland is one of the foremost countries for research in fields of diagnostics, pharmacy, lifesaving medicines and new kinds of vaccine development. Vietnam has been facing immense threat from the new variants of COVID-19 and related complications. The country is looking for conclusion of free trade agreement with European free trade association. The European Free Trade Association comprises of Norway, Switzerland, and Lichtenstein, There are also immense possibilities of improving the trade basket between the two trade partners. Vietnam is slowly emerging as an alternate manufacturing destination too.
The total volume of trade between Vietnam and Switzerland is more than 3.5 billion U.S. dollars. Vietnam which was the permanent member of the UN Security Council for the year 2020-21 is looking for developing better understanding and greater participation in international institutions such as United Nations, its affiliate organizations and the World Trade Organization(WTO).
Switzerland is also one of the enticing destinations for Vietnamese travelers and it is expected that there might be possibility of more flights between the two countries. During the visit to Switzerland discussions were held also with regard to promoting defence relations, interaction between the legal bodies of the two countries, promoting science and technology interactions between different institutions, encouraging investment from Switzerland to Vietnam, and also celebrating five decades of establishment of diplomatic relations between the two countries. President Phuc concluded his visit to Switzerland on November 29th and went to Moscow to hold meetings with its counterpart Vladimir Putin.
During the visit to Russia, the two sides discussed areas to promote further cooperation in realizing the true potential of comprehensive strategic partnership and developing coordination in areas such as humanitarian and disaster relief. One of the important milestones during the visit of President Phuc has been the signing of bilateral agreement on vaccine production so that Sputnik V could be produced in Vietnam. The agreement which was signed between Vabiotech and Russian Direct Investment Fund(RDIF) would promote development of Sputnik V vaccine research in Vietnam, and developing resilient supply chains within Vietnam so that the vaccine can be produced in that country. One of the interesting aspects of this agreement is development of a Research Center and a small lab to look into efficacy of the vaccine and develop new formulations to counter the new variants of Coronavirus. Other prominent areas include developing cyber security architecture, exchange of cultural troupes, research in renewable energy and promoting sports between the two countries. Vietnam is emerging as one of the important sources for iron ore and therefore Vietnam now wants to diversify its vehicle manufacturing facility.
In fact, that Vietnam is increasingly reliant on Russia for its defence imports and in the past have imported sophisticated frigates, Sukhoi 30 aircraft, and Kilo class submarines. The growing defence relationship between the two sides is also expected to further expand in terms of sonar systems, supersonic missiles, air defence equipment, and training of sailors and technicians.
Vietnam and Russia have a long-standing relationship even after the disintegration of the USSR. Russia has been very supportive of Vietnam efforts with regard to countering the three major powers which included France, the US, and China. The three Vietnam wars and the valor of the Vietnamese soldiers were much appreciated in erstwhile Soviet Union and thereafter by Russia. The historic ties between the two countries was much appreciated and there has been much research which has been done with regard to cultural, historical, and political interactions between the two sides.
The visit of President Phuc is seen as a new addition to the relationship as the president stated in one of the business interactions that the two sides should lift their trade by 15 times and also facilitate investment in each other's countries. During one of these interactions, he clearly stated that Vietnam has emerged as one of the top 20 priority countries and therefore Russian investors should look forward for investing in Vietnam. He urged the Russian companies to capitalize on the free trade agreements that Vietnam has signed with Eurasian Economic Union and also understand the liberalization measures that Vietnam has undertaken in the recent past.
In the joint statement, which was released between the two sides it was clearly articulated that there is mutual respect and friendship between the two countries. The foundation of this relationship has been through mutual trust, territorial integrity, right to self-determination, and no use or threat of force against each other. The joint statement clearly stated that the two countries will work together in the field of security, military interaction, defence, and developing new technologies in defence sector. In the joint statement it was also stated that the two sides should work on capability planning, training, developing better science and technology cooperation, and forge strategic partnership in areas such as international law and promote interactions in UN agencies. The joint statement also alluded to the 1982 UN Convention on the Law of the Sea(UNCLOS) and it was particularly important in the context of developing issues in South China Sea.
President Phuc used his diplomatic acumen to issue a joint statement in which there was clear reference with regard to developments in South China Sea. Russia supported Vietnam's endeavor for full and effective implementation of the Declaration of the Code of Conduct of the South China Sea parties (DOC) under the 2002 agreement. Another important aspect was looking into sectors for promoting ASEAN Russia relationship and realize the potential of the comprehensive action plan between the two sides. The visit to Switzerland and Russia was effective and it met the objectives which were laid out in terms of achievements and new ideas which would be put into practice for the future.
Local Wisdom Brings Everybody Towards Sustainability
Climate change, carbon emission, zero waste, circular economy, and sustainability. If you are anywhere on the internet just like 62% of the world's population, chances are you must be familiar, have understood, or at least have heard of these 21st century buzzwords. If you Google search the word 'sustainable', it would give you more results than if you search for 'Titanic', 'globalization', even 'BTS'. Clearly, people all around the world has been putting more and more attention towards the concept of sustainability.
The question is, how well do we understand sustainability? What is being sustainable in development, business, and life in general entail?
Sustainability concepts were built on the foundation of protecting the resources of the Earth and the wellbeing of humankind which are negatively impacted by our abusive patterns of production and consumption. The Commission on Environment and Development (WCED) in its highly-cited Brundtland Report, also called Our Common Future, formally defined sustainable development as development that meets the needs of the present without compromising the ability of future generations to meet their own need. The Triple Bottom Line (TBL) first coined by John Elkington in 1994 is the fundamental concept in business to balance Profit, People, and Planet[1]. The concept really gained its momentum when the United Nations (UN) in 2015 set out 17 Sustainable Development Goals (SDGs) to be adopted and achieved through global partnership by its Member States in 2030.
As a way of thinking, however, balancing wealth, society, and the environment has actually been a part of traditional belief systems, religious teachings, medieval philosophies, and communal ways of living for centuries. Indigenous people all over the world for years have developed and for the most part maintained cultural knowledge, norms, and rules that stem from the adaptation process to the environment, commonly referred to as the local wisdom. Long before the natural, organic, free-this-and-that-synthetic skincare boom, People of Bajo or the Sea Gypsies community have been harnessing the ingredients provided by Earth as their recipe to having healthy and firm skin despite being out in the sea under the sun for most of the time. They would make use of the clams' shells or rice grain mixed with herbs like turmeric to make powder that would protect their skin from the scorching sun.
Local wisdom is also at the heart of many customary rules, including activities to manage their natural resources. For instance, many indigenous coastal communities in Eastern Indonesia implement Sasi Laut that would only allow fishing in certain areas for around two weeks to three months and close for one to two years. This local wisdom embodies the concept of marine conservation and has been passed down from generation to generation. Globally, indigenous people that constitutes less than 5% of the world's population is protecting around 80% of the planet's biodiversity.
Moreover, economic, environmental and social issues come in different form and intensity in different countries and communities. It might be pollution for urban area, declining water quality for tourism destination, or the non-existence of proper waste management system for rural area. Thus, achieving sustainability would require a bottom-up approach in identifying the most pressing problem in a particular country or community. The integration of local wisdom would contextualize the existing varied frameworks, concepts, tools, and innovations on sustainability to be positively perceived, better understood, and well implemented. It is the bridge to include the less represented voice, common people, and indigenous communities to be parts of climate and sustainability conversation; making sure to leave no one behind.
---
[1] Elkington, J. (1998). Cannibals with forks: The triple bottom line of 21st century business. Gabriola Island, BC: New Society Publishers.