Je Suis(se) HSBC! – The austerity odd or ad?
While the wealthy evade billions in taxes, ordinary citizens continue to bear the burden of budget cuts. Meanwhile, those who resist are punished for it. Is our austerity world an upside-down normalcy and reality? Je Suis(se) HSBC!! Isn't it odd, or it's just another (unintentional) ad?
"What is rewarded above is punished below … Profits are privatized, losses are socialized."
Ultimately, major scandals like HSBC's Swiss tax evasion scheme are merely flash points offering us a clearer view of the hidden dynamics at work in the world economy. Credits: telegraph.co.uk
This week it was revealed that HSBC — Europe's biggest bank — has been actively running and propagating a massive tax evasion scheme through its Swiss subsidiary, allowing some of its wealthiest international clients to hide over $120bn in undeclared assets in 30.000 secret Swiss bank accounts. Leading British regulators, MPs and government officials were aware of the malpractices and the names of potential tax evaders (including movie stars, drug lords and heads of state), but never pressed criminal charges.
Instead, the UK — like the rest of Europe — ushered in an age of austerity. Where the billions of the rich escaped to Switzerland and the Caymans, the benefits of the poor were cut "to balance the budget." Last year, David Cameron pledged to slash "wasteful" public spending for another decade, as it "comes out of the pockets of the same taxpayers whose living standards we want to see improve." The irony of the Prime Minister speaking from a golden throne was hardly lost on anyone. Welcome to the topsy-turvy reality of austerity politics.
As for HSBC, of course the diligent observer will not have been very surprised by the news of the bank's umpteenth mega-scandal. Already back in 2012, financial journalist Matt Taibbi made it clear that HSBC had been engaged in "more or less the worst behavior that any bank can possibly be guilty of." So far, the bank has managed to avoid prosecution despite laundering billions of dollars for some of the most notorious Mexican drug cartels as well as a Saudi bank linked to Al Qaeda, and systematically rigging interbank interest rates and reaping lavish profits in the infamous LIBOR scandal.
The decision of US and UK regulators to reach deferred prosecution agreements with HSBC and not to press criminal charges in these scandals signals the double standards at the heart of our contemporary justice systems. In the US, where more than half of the prison population is doing time for minor drug offenses, the white collar criminals who aid and abet the violent traffickers of these same drugs get off with a slap on the wrist. As Taibbi puts it, "for the crimes [HSBC] committed, getting away with just [a fine] — and it's not even their money, it's the shareholders' money — it literally is a get out of jail free card."
Yet it is very important not to let the criminal behavior of a single bank distract us from the bigger picture. HSBC is but one notoriously scandalous player in a financial system that is dominated by some of the most criminal organizations of our times. Focusing our wrath on individual acts of misbehavior risks missing a deeper dimension. While it is the illegal practices that mostly hit the headlines and cause indignation, the real theft still occurs within the bounds of the law — in the everyday transactions and ordinary financial operations at the heart of these banks' business models.
In this sense, the greatest scandal of our times is systemic in nature and rests upon the wholesale transformation of the world economy over the past four decades. With the onset of financialization in the 1970s, the international banking system began to act like Galeano's magnifying glass: grossly amplifying pre-existing inequalities and inverting reality in the process. In the first instance, the system sucks up billions in interest and tax money from below. Starting with the bankruptcy of New York City in 1975 and the Mexican debt crisis of 1982, austerity became the key mechanism whereby the banks effected a historically unprecedented redistribution of resources from the bottom to the top.
At the other end, the magnifying glass created the preconditions under which the world's wealthiest businesspeople, Third World dictators and white-collar criminals could further increase their accumulated capital — obtained through decades' worth in pillage and plunder of state resources and common property — and stuff it in offshore bank accounts and foreign assets, where this immense stolen wealth largely escapes taxation, regulation and criminal investigation.
The financial privileges obtained through this process, which has been referred to by David Harvey as "accumulation by disposition", stand in direct relation to the fiscal deprivation at the bottom. Ultimately, major scandals like HSBC's Swiss tax evasion scheme are merely flash points offering us a clearer view of the hidden dynamics at work in the world economy: what is taken from one side shows up at the other. In a word, there is no such thing as austerity; there is only an outrageously skewed redistribution of resources. In this upside-down world of financial capitalism, money doesn't trickle down — it steadily flows upwards.
The result is a stable set of outcomes in which profits are perennially privatized and losses are systematically socialized. Those who question this state of affairs are told that "there is no alternative," and those who actively resist — like the social movements and progressive governments in Latin America and Southern Europe — are ruthlessly punished for it. First the cops will beat ordinary citizens over the head when they protest, then investors will beat popular governments over the head when they do the same. Foreign capital is withdrawn, bond yields spike up, stock markets collapse. Where the bankers above are rewarded for criminal behavior, those who struggle for justice from below find themselves imprisoned within the narrowing perimeters of the permissible.
It should be clear by now that to this systemic injustice there can only ever be systemic answers. Of course regulators should actively pursue criminal charges against HSBC for its latest mega-scandal, but without powerful anti-systemic movements to carry demands for social justice forward, meaningful change remains unlikely. To turn the looking glass around and put the world back on its feet will require mass mobilization and political organization on a scale we have not been able to imagine so far. Now more than ever we need to take back to the streets and start developing a coherent transnational project to confront the criminal rule of global finance head on.
First published by the ROAR Magazine.
BRICS acts as a collective will to safeguard global multilateralism
Authors: Zhou Dong chen &Francis Kwesi Kyirewiah*
On November 13-14, the 11th BRICS Summit was held in Brasilia, capital of Brazil, where Chinese President Xi Jinping alongside the leaders of Russia, India, South Africa and the host country—Brazil—met and discussed the issues of global and regional dimensions. According to the data in 2018, the BRICS member states have already accounted for 23.6% of the world economy (GDP) and nearly 20% of all world trade, in addition to contributing more than half of all global economic growth. Now, as it enters the second decade of cooperation, BRICS aims to enhance intra-bloc cooperation covering all economic, political and security cooperation as well as cultural and people-to-people exchanges. Can the BRICS members stand together in international affairs?
The concept of the "BRIC" came to the limelight in 2001. Since then, it is argued that the relative size and share of those countries in the world economy has risen exponentially, and most likely it would gradually imply that the G7's economic hegemony would be rearranged. Scholars like Dominic Wilson further echoed this in his study on "Dreaming with BRICS: The Path to 2050". He put it that, in all likelihood, by 2025 the BRICS could account for over half of the size of the G7 in terms of GDP. And in less than 40 years the BRICS' economies together could be larger than the G7.
Although it was debatable, the key assumption behind all the discourse is that China and India have risen as the world's principal suppliers of manufactured goods and services, while Brazil and Russia are already becoming equally dominant as suppliers of raw materials.In addition, what the BRICS have in common is that they all have an enormous potential consumer market, complemented by access to regional markets and to a large labor force. Wilson argues that three key issues the BRICs have to embrace for their partnership development are as follows: Inclusive growth, sustainable solutions and foreign policy consultations in the post-Western world. Echoing his discourse, Andrew Hurrell put it, "since all the BRICS nations are now members of the G20 which is a major symbol of the structure of global governance, the bargaining power of the BRICS vis-à-vis US-dominated global institutions is inevitably growing."
It is quite coincident that during the 2017 G20 Summit in Germany, the leaders of the BRICS held an informal meeting reaching key agreements on building an open world economy and improving global economic governance. On the occasion, Chinese leader called on that the BRICS itself would establish an open economy, maintain a multilateral trade system and advance inclusive, balanced and win-win economic globalization with a view to making the fruits of economic growth accessible for all people. There is no doubt that the BRICS countries also have their own internal challenges and external divergences on many issues. Yet, the central point of the role of the BRICS in global affairs is not where the world order is now, but where it will be in the near future, say by 2050.Building on the common sense that "a shared voice is stronger than a single shout", the emerging powers are well-aware of the closer cooperation among them and even beyond in order to push forward their own agenda.
Yet, no matter which theory, realism or constructivism, is used to assess the BRICS, it is unlikely the bloc having moved to a geopolitical organization like NATO, but only a new-typed geo-economic forum that incorporates a strong component of people-to-people relations between institutions and individuals. Two of its main goals are as follows: to bring people closer together through socio-economic means, and to take a constructive part in settling geopolitical flashpoints. As such, the BRICs is generally regarded inclusive and its members are willing to cooperate with other countries or institutions that share their interest in making the world a fairer, and therefore a better place. In line with this spirit, the BRICS, though a grouping of five major emerging national economies, aims from its inception to establish an equitable, democratic and multilateralism-based world order.
If the first decade of the BRICS has formalized its existence and also represented many opportunities for the 21st century, the key concern remains how to turn the bloc into a functional grouping rather than just a global forum in the next decade. Strategically, it is vital for the BRICS to become a knowledge base for other developing countries, such as the areas of solar energy, ethanol products, urban landscape development, slum alleviation and biotechnology use, and share their best practices with southern countries. To that end, it is essential for the BRICS to act and talk differently from the G7 and other Western institutions, which are deemed to retain economic hegemony over the vast developing areas. Put it more bluntly, the BRICS should be committed to multilateralism, human development and social welfare in accordance with UN charters and the relevant resolutions.
Given this, looking ahead into the next decade, the BRICS is supposed to follow this line as proposed by Xi when he addressed the current global challenges such as unilateralism and protectionism, and he called on BRICS countries to champion and practice multilateralism. Thus he put three-point suggestions as follows: first, he urged the five members to safeguard peace and development for all, uphold fairness and justice and promote win-win results. Globally, it is vital for the BRICS to uphold the purposes and principles of the UN Charter and the UN-centered international system, which rejects any sort of hegemonic order and power politics and take a constructive part in settling geopolitical issues.
Second, the BRICS en bloc should pursue greater development prospects through openness and innovation. Therefore, it should uphold the WTO-centered multilateral trading system and increase the voice and influence of emerging markets and developing countries in international affairs. In addition, BRICS member states should prioritize development in the global macro policy framework, follow through the UN 2030 Agenda for Sustainable Development and the Paris Agreement on climate change. All in all, the BRICS makes all efforts to promote coordinated progress in the economic, social and environmental spheres. Third, in a long run, the BRICS needs to be more proactive in promoting mutual learning through people-to-people exchanges and take their people-to-people exchanges to greater breadth and depth. Xi did indeed appeal to other four partners that "BRICS Plus" should serve as a platform to increase dialogue with other countries and civilizations to win BRICS more friends and partners.
This is a truly strategic proposal. People agree that the next decade will see accelerating change in global patterns of economic growth, development, and governance. The BRICS can achieve a second golden decade if they can remain united and work together in the face of the challenges and opportunities to come. Although all BRICS members have no intention to challenge the status quo which is still dominated by the U.S.-led globalization system, the first decade of self-discovery of the BRICS has paved the way for the second decade of confident outreaches to other countries and institutions and will predictably see the new bloc becoming a powerful global platform for change by 2029.
In summary, the huge potentials of the BRICS are far beyond the current five powers. In effect, Valdai Club, a Russia's top think tank, once put it, the BRICS starts by bringing together the regional integration groups that each country is a part of (e.g. Russia, the Eurasian Economic Union, Brazil and Mercosur) through the BRICS+ framework in order to broaden its reach in the most realistic way possible without overextending itself. In view of its one-decade vicissitude, it can say that this visionary outlook is definitely doable since all the BRICS members certainly have the political will to pull it off, plus their combined economic power is attractive enough to naturally make their counterparts interested in cooperating. The BRICS could therefore transform into the core of a larger global reform structure bringing together non-Western countries and even those within the West that are dissatisfied with the U.S.-led status quo, which would then enable it to truly become a global force capable of carrying out meaningful development governance. It has actually exercised a positive impact on each of its five members, so it's time to spread the benefits beyond the original five. Considering the second decade of its development, the BRICS would aim to make further reform in terms of the fairer governance.
*Francis Kwesi Kyirewiah, a PhD student in International Affairs, at SIPA, Jilin University, China.
CHETRA Eyes Africa for Expansion
CHETRA is a Russian company that sells industrial equipment and spare parts under the brand "CHETRA" produced by the Promtractor plant, as well as supplies spare parts and components from the company. It uses a unique technique in the construction of production sites, seaports, development of natural resources and pipelines in 30 countries and in all climatic zones.
The goal is to provide its partners and customers with modern high-performance equipment for successful projects, even in areas with complex climatic and geological backgrounds. More than 3,000 units of equipment under the brand "CHETRA" are now in operation in the Russian Federation and beyond.
Executive Director Vladimir Antonov has been working in engineering industry for 19 years. He has successful experience in product export to the CIS countries and Ukraine, the Baltic States, Europe, Argentina, Africa and Cuba. He has been leading company as its Executive Director since 2018. During his leadership, the share of the company's machinery in the Russian market has doubled.
In this snapshot interview, Vladimir Antonov talks about his company's plans in the direction of Africa. Here are the interview excerpts:
Q:First, tell us briefly about tPlants previous working connection with Africa? What are your products and services, what African regions or countries are keen using products?
A:Our company has a long experience of cooperation with African countries which began in the Soviet times and continues today. Traditionally we collaborate in the African continent with such partner countries of Russia as Egypt, Algeria, Zimbabwe. About 50 units of CHETRA machines have been supplied to these countries over the last ten years. Our goal is to enlarge our footprint in the African continent. Nowadays, we are negotiating cooperation with potential partners in West Africa and the SADC region (Southern African Development Community, South Africa).
Q:Compared to other foreign players, how competitive is the African market? From the previous experience in the African regions, what key problems and challenges the company faces in Africa?
A:Today the market of mining and construction equipment in Africa is characterized by high competition, all our competitors work in the region, both from the West and from the East. This has led to the fact that the market applies high requirements to new products. For that reason today we do not just sell our machines to customers: we offer a range of services, which includes commissioning of the machines, training of local staff, organization of after-sales maintenance service at the customer's site. The main challenge for us today when working in Africa is the need to find a local partner who has qualified staff, equipment, maintenance facilities and not bound by contracts with other manufacturers of similar machines.
Q:What kind of business perceptions and approach could be considered as impediments or stumbling blocks to business between Russia and Africa?
A:Another challenge for us when working in Africa is that many consumers have no free funds to purchase new machines. This often diverts our partner from the renewal of the fleet or makes them buy used machines on the after-market. We are trying to solve this problem by attracting Russian government agencies of export support, such as the Russian Export Center, in order to finance transactions.
Q:Business needs vital information, knowledge about the investment climate and so forth. Do you think that there has been an information vacuum or gap between the two regions?
A:Taking into account the level of development of information technology today there are no particular problems in obtaining information about the investment level of any country or about business situation of a particular company. Besides that, we are in constant contact with Trade missions at the Embassies of the Russian Federation in the countries of our interest, which are also a good source of information about the conditions of the market.
Q:And now how would you envisage the level of investment and business engagement with Africa? Is Sochi an opportunity for expanding business to Africa?
A:In my opinion the Economic Forum in Sochi was organized at the highest level. A lot of guests from Africa visited it. We held a number of meetings with companies that are new to us, and I hope that these will lead to long-term cooperation and geographic growth of supplies of CHETRA machines in Africa.
The Bust: WeWork's diminishing stature of the perfect "start-up"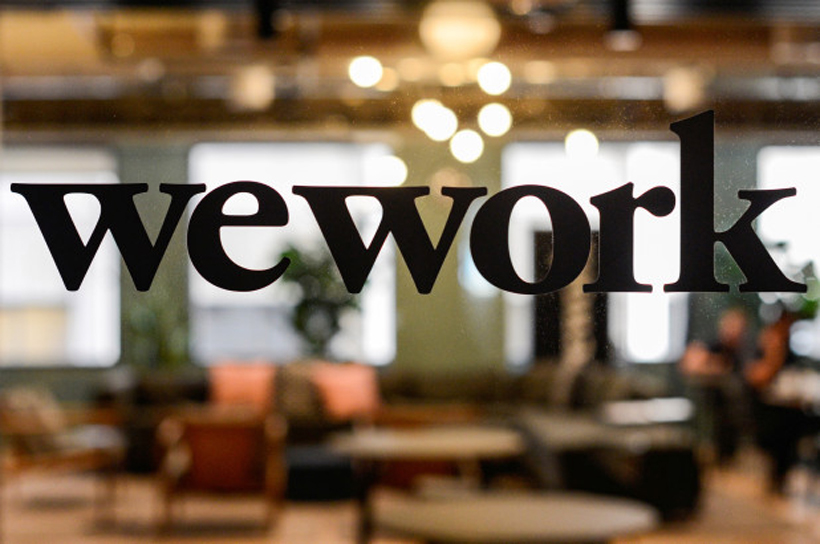 Until recently, the globally acclaimed startup, WeWork was transforming the future of office spaces and staff hiring processes. Truly, it was transformational in the sense that the startup was providing a vital service point to many multinationals around the world. However, Mark Dixon, the cofounder of IWG, another workspace solutions company, was not getting the trick. Here was IWG, a decently profitable startup with consistent annual growth, still unable to compete with the superstar of the industry. Soon after SoftBank poured cash into the company, WeWork was valued for more than $40 bn. Then, it was making headlines for overwhelm; now, WeWork is in a state of awe. As market reports suggest, WeWork even lacks the cash to fire its existing employees.
As Adam Neumann, the chastened cofounder of the dwindling company once proclaimed, co-working was the future and that employees would prove to become more productive and efficient. In his own words, different cultures and organizational goals would inspire the entire floor. Much as the concept is about renting an office space, Mr. Neumann deliberately did not elaborate on the nuisances of dealing with office neighbors, as seen from a tenant's perspective. The idea would have charmed many organizations; it was a great opportunity to redeem operating costs or dealing with unwarranted office culture problems. Or, as many renting executives thought, WeWork would define the ground rules, aptly in accordance with global standards. For many, it was also an experiment for the future. Also, nobody could take away the fact of losing varied insights from "not" participating in what at first seemed like a once in a time revolution.
SoftBank, a Japanese conglomerate investing fund is writing the most important plot in the story. Strangely, both the rise and fall of WeWork has been catalyzed by SoftBank. However, the fact that WeWork was blessed by an investing fund is not strange, or surprising. Amongst sovereign funders, there is competition to stay one foot ahead of another. The Europeans have long stressed on how very few startups from their region go onto becoming a global giant. SoftBank's associations elsewhere is a testimony to its deliberate strategy of staying ahead in the future. Notwithstanding the fact that the Japanese investors would have loved the idea of co-working space more than others. In early 2017, WeWork's market value, shot over $40 bn, even though the company was registering profits below what Mr. Dixon's firm were accounting to. There was a strange gossip in the market around why other investors were not jumping to what the SoftBank deemed as highly profitable. For many like Mr. Dixon and other investors, answers were soon to be found. If it could only be timely, Japanese angels would have anticipated why Mr. Neumann would sell his rights of the name, "We" in WeWork. It was a five million dollar (plus) exit for the charismatic man, whose venture was taken over by those who thought of multiplying their fortunes. SoftBank will be sorry for its decision to trust the hierarchy in Mr. Neumann's leadership. Nevertheless, post takeover, Mr. Dixon will not be contemplating any further on why it has decided to appoint two CEO's. Nor will there be any sort of contemplation on why the new appointees have secured their severance package before paying out dues.
As it stands, IWG is not doing a bad business in comparison to WeWork's downfall. The American start-up was destined for success from its early years. Co-working will still be a grand idea in our times but filthy abundance in a short period of time has brought a winning project to a standstill. There will be other co-working competitors for IWG, but it will learn from the mistakes of a competitor who was bigger than the entire industry. If anything, Mr. Dixon will be smelling opportunities ahead.