Je Suis(se) HSBC! – The austerity odd or ad?
While the wealthy evade billions in taxes, ordinary citizens continue to bear the burden of budget cuts. Meanwhile, those who resist are punished for it. Is our austerity world an upside-down normalcy and reality? Je Suis(se) HSBC!! Isn't it odd, or it's just another (unintentional) ad?
"What is rewarded above is punished below … Profits are privatized, losses are socialized."
Ultimately, major scandals like HSBC's Swiss tax evasion scheme are merely flash points offering us a clearer view of the hidden dynamics at work in the world economy. Credits: telegraph.co.uk
This week it was revealed that HSBC — Europe's biggest bank — has been actively running and propagating a massive tax evasion scheme through its Swiss subsidiary, allowing some of its wealthiest international clients to hide over $120bn in undeclared assets in 30.000 secret Swiss bank accounts. Leading British regulators, MPs and government officials were aware of the malpractices and the names of potential tax evaders (including movie stars, drug lords and heads of state), but never pressed criminal charges.
Instead, the UK — like the rest of Europe — ushered in an age of austerity. Where the billions of the rich escaped to Switzerland and the Caymans, the benefits of the poor were cut "to balance the budget." Last year, David Cameron pledged to slash "wasteful" public spending for another decade, as it "comes out of the pockets of the same taxpayers whose living standards we want to see improve." The irony of the Prime Minister speaking from a golden throne was hardly lost on anyone. Welcome to the topsy-turvy reality of austerity politics.
As for HSBC, of course the diligent observer will not have been very surprised by the news of the bank's umpteenth mega-scandal. Already back in 2012, financial journalist Matt Taibbi made it clear that HSBC had been engaged in "more or less the worst behavior that any bank can possibly be guilty of." So far, the bank has managed to avoid prosecution despite laundering billions of dollars for some of the most notorious Mexican drug cartels as well as a Saudi bank linked to Al Qaeda, and systematically rigging interbank interest rates and reaping lavish profits in the infamous LIBOR scandal.
The decision of US and UK regulators to reach deferred prosecution agreements with HSBC and not to press criminal charges in these scandals signals the double standards at the heart of our contemporary justice systems. In the US, where more than half of the prison population is doing time for minor drug offenses, the white collar criminals who aid and abet the violent traffickers of these same drugs get off with a slap on the wrist. As Taibbi puts it, "for the crimes [HSBC] committed, getting away with just [a fine] — and it's not even their money, it's the shareholders' money — it literally is a get out of jail free card."
Yet it is very important not to let the criminal behavior of a single bank distract us from the bigger picture. HSBC is but one notoriously scandalous player in a financial system that is dominated by some of the most criminal organizations of our times. Focusing our wrath on individual acts of misbehavior risks missing a deeper dimension. While it is the illegal practices that mostly hit the headlines and cause indignation, the real theft still occurs within the bounds of the law — in the everyday transactions and ordinary financial operations at the heart of these banks' business models.
In this sense, the greatest scandal of our times is systemic in nature and rests upon the wholesale transformation of the world economy over the past four decades. With the onset of financialization in the 1970s, the international banking system began to act like Galeano's magnifying glass: grossly amplifying pre-existing inequalities and inverting reality in the process. In the first instance, the system sucks up billions in interest and tax money from below. Starting with the bankruptcy of New York City in 1975 and the Mexican debt crisis of 1982, austerity became the key mechanism whereby the banks effected a historically unprecedented redistribution of resources from the bottom to the top.
At the other end, the magnifying glass created the preconditions under which the world's wealthiest businesspeople, Third World dictators and white-collar criminals could further increase their accumulated capital — obtained through decades' worth in pillage and plunder of state resources and common property — and stuff it in offshore bank accounts and foreign assets, where this immense stolen wealth largely escapes taxation, regulation and criminal investigation.
The financial privileges obtained through this process, which has been referred to by David Harvey as "accumulation by disposition", stand in direct relation to the fiscal deprivation at the bottom. Ultimately, major scandals like HSBC's Swiss tax evasion scheme are merely flash points offering us a clearer view of the hidden dynamics at work in the world economy: what is taken from one side shows up at the other. In a word, there is no such thing as austerity; there is only an outrageously skewed redistribution of resources. In this upside-down world of financial capitalism, money doesn't trickle down — it steadily flows upwards.
The result is a stable set of outcomes in which profits are perennially privatized and losses are systematically socialized. Those who question this state of affairs are told that "there is no alternative," and those who actively resist — like the social movements and progressive governments in Latin America and Southern Europe — are ruthlessly punished for it. First the cops will beat ordinary citizens over the head when they protest, then investors will beat popular governments over the head when they do the same. Foreign capital is withdrawn, bond yields spike up, stock markets collapse. Where the bankers above are rewarded for criminal behavior, those who struggle for justice from below find themselves imprisoned within the narrowing perimeters of the permissible.
It should be clear by now that to this systemic injustice there can only ever be systemic answers. Of course regulators should actively pursue criminal charges against HSBC for its latest mega-scandal, but without powerful anti-systemic movements to carry demands for social justice forward, meaningful change remains unlikely. To turn the looking glass around and put the world back on its feet will require mass mobilization and political organization on a scale we have not been able to imagine so far. Now more than ever we need to take back to the streets and start developing a coherent transnational project to confront the criminal rule of global finance head on.
First published by the ROAR Magazine.
Former African Envoys advocate for more economic engagements with Russia
Former Ambassadors have strongly urged African leaders and business entrepreneurs to prioritize the most sustainable development needs as the best approach to seeking Russian investors in fixing their economies in Africa when they converge this October for the first Russia-African summit planned in Russia's southern coastal city of Sochi.
In separate interviews, they believed what was abundantly clear how to stimulate African governments into exploring investment opportunities in Russia and Russian investors into Africa within some framework of mutual-cooperation.
Former South African Ambassador, (H.E.) Mandisi Mpahlwa, said that Sub-Saharan Africa has understandably been low on post-Soviet Russia's list of priorities, given that Russia is not as dependent on Africa's natural resources as most other major economies. It is important to point out that Soviet and African relations, anchored as they were on the fight to push back the frontiers of colonialism, did not necessarily translate into trade, investment and economic ties, which would have continued seamlessly with post-Soviet Russia.
"Of course, Russia's objective of taking the bilateral relationship with Africa to the next level cannot be realized without close partnership with the private sector. Africa and Russia are close politically, but they are also geographically distant and the people-to-people ties are still far under-developed. This translates into a low level of knowledge on both sides of what the other has to offer. There is perhaps also a measure of fear of the unknown or the unfamiliar in both countries," according to Mpahlawa.
Former Ethiopian Ambassador, Professor (Dr) Teketel Forssido, said that one of the biggest problems has been keen competition from the United States, Europe, China and India as more developed countries with more advanced technological and development oriented solutions, and have become, for the past decades, " investment patrons" in African countries. These are what Africa need, – foreign policy directed towards the development needs of Africa.
Former Nigerian Ambassador, Air Commodore Dan Suleiman, told me that Africa's drive for sustainable democratic governance backed by an enhanced economically viable environment is of paramount importance. Many African leaders are emphasizing the quest to eradicate poverty and give people a sustainable environment for budding democracy.
"It is Africa's hope that foreign authorities will back us in this direction. It is important to remind foreign investors that investment opportunities for developing large and medium scale enterprises are abound in Africa. The importance of the informal sector in generating employment and promoting self-reliance through higher productivity. We implore Russian investors to take advantage of these new potentials," Air Commodore Dan Suleiman stressed in his discussion.
Undoubtedly, the Russian government stance on supporting the policy of Africa to employ plausible solutions to resolve their infinite problems should be extolled assertively, wrote former Tanzanian Ambassador, Dr Jaka Mgwabi Mwambi.
He said, for instance, "Tanzania is currently on the verge of a bitter wrangle with iniquitous restraints, in order to redress all government systems, for the bright future of its wrath citizens. Thanks, it is discernible that the country is proactively moving steadfastly in a middle-income economy."
Former Kenyan Ambassador to the Russian Federation, H.E. (Dr) Paul Kibiwott Kurgat explained in a recent interview discussion that any platform created for African leaders has to address thoroughly development-oriented questions, Kenya's diplomacy has mostly focused on strengthening economic cooperation with foreign countries.
"Looking at the global development, Kenya would always like to build on this long history of strong and comprehensive engagement, first and for most, through developing closer ties with Russia in trade, investment and economic cooperation. So, my advice is that African leaders have to think objectively, first about effective ways how to improve the economy," he said.
The Government of Kenya's priority sectors range from infrastructure and energy development, industrialization and agriculture, manufacturing, tourism and among others. The development opens a myriad of investment opportunities to all potential foreign investors across the globe including Russia, Paul Kurgat added in his emailed comments from Nairobi, Kenya.
Former Mozambican Ambassador to Russia, Dr. Bernardo Marcelino Cherinda, emphasized that the changes in Russia have provided a greater impetus for forging new diversified relations, especially in the economic sectors, in Africa.
By this measure, African leaders have to relentlessly work towards a more effective cooperation and use political dialogue to remove obstacles that might hinder smooth progress and development. Whether they like it or not, African leaders have to make rational decisions to align their efforts and policies with this key goal of developing or building their economies, according to him.
Both Russia and Africa have to facilitate participation in the private sectors, to get also involved in medium-sized economic partnership, joint ventures, agro-processing industries, health and education. African leaders do not have to, in the least, doubt the enormous potentials that exist for these, according to the former envoy.
"And, I think it's equally important Russia and Africa focus seriously on cultural aspects in their activities in order to bridge the widening information gap between the two countries. Russia has made the mark and it's respected for its indelible historical achievements, literature and for the human values. The use of soft power as an instrument for new image-making initiatives has to be intensified," Cherinda concluded.
Stergomena Lawrence Tax, Executive Secretary of the Southern African Development Community (SADC), assertively stressed in discussion with Russian authorities that strengthening ties in a broad range of economic fields would show that SADC truly remains as one of Russia's key partners in Africa. SADC is an inter-governmental organization with its primary goal of deepening socio-economic cooperation and integration in the southern region.
Foreign Minister Sergey Lavrov and H.E. Dr. Nkosazana Dlamini-Zuma, the first woman to lead the bloc of 54 states, had discussed several times about Russian companies or industries participation in major infrastructure projects on the continent. Currently, Chad's Moussa Faki Mahamat has also held discussion on Africa's Fourth Industrial Revolution and has made efforts at enlisting Russia's effective support for the Agenda 2063 of the African Union (AU).
For the past one and half decades (since his appointment in 2004), Foreign Minister Lavrov has held in-depth discussions on the current situation in Africa and always pointed to the possibility of continuing to promote effective bilateral cooperation in many spheres and to work together towards using fully the existing potentials. He always reminds that Moscow firmly supports the principle "African solutions to African problems" within a framework of achieving the Sustainable Development Goals (SDGs) formulated by the African countries.
Business disorder between Europe and U.S.
The European Union remains cautious in the economic battle with the White House. U.S. President Donald Trump continues to pursue his protectionist policies in international trade system. This has led to raising concerns and serious discontent among the United States' European partners.
Disputes between the United States and other countries around the world are continuing on trade and economic issues. The fact is that U.S. President Donald Trump intends to exacerbate tensions until the presidential elections of 2020. Many international experts and analysts believe that a major part of the economic approach to the world of Trump has an electoral and political goal.
Many international analysts now talk about the conflicts between the United States and Europe over imposing sweeping steel and aluminum tariffs as a transatlantic "trade war".
Conflicts that may extend in the near future and affect the widespread relations between Washington and Europe.
On the other hand, the authorities of Germany, Britain and France have not taken a proper approach to the policies of the President of the United States.Though politicians such as Emmanuel Macron, Angela Merkel and Theresa May seek to manage the situation and prevent the exacerbation of tensions with Washington, but people, business owners and European opposition parties are so angry at Trump and the U.S. government that the European troika's authorities aren't capable to control or even hide it.
One of the most important reasons for the continuation of Trump's economic policies in the world is the passivity of European leaders against the White House. Under such circumstances, Europe has threatened to retaliate against the U.S. if Trump imposes steel and aluminum tariffs on European exports.
After Trump made his first announcement on the tariffs, European Commission President Jean-Claude Juncker threatened to put tariffs on American goods in response to Trump's decision. That could decrease demand for those products inside EU borders and consequently lead to U.S. workers losing their jobs. But practically, European countries did not do anything about this.
Although some European citizens thought that the Chancellor of Germany would have a more determined approach than other European politicians, this was also a mistake!The German Chancellor stated that European Union member states must give the EU trade commissioner a clear mandate for negotiations with the United States over a long-term exemption from U.S. metal tariffs. Markel added: "Of course, we think it's important that there are exemptions not only for a limited period of time … So far, we have had a very united stance, namely that we view these tariff demands as unjustified and that we want a long-term exemption."
The fact is that Merkel's implicit threat, which she didn't address directly and explicitly because of her conservative policy towards the United States, is the same as the "European countermeasures" against the United States.
For months now, there have been months of anti-European measures taken by the White House and customs duties on European aluminum and steel. However, European countries have preferred to keep Silent instead of confronting Washington!
Indeed, the prolonged U.S.-EU talks on steel and aluminum tariffs is going to increase the dissatisfaction and anger among the European public opinion. It will also affect the performance of American companies in Europe.
First published in our partner Tehran Times
Citizen Capitalism: How a Universal Fund can provide Influence and Income to all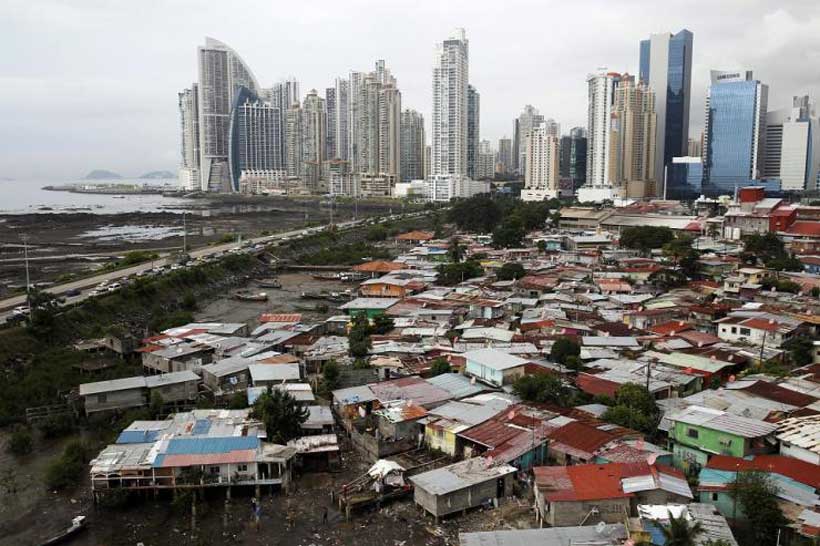 In the face of growing wealth inequality worldwide, more and more people are discussing alternatives to the current laissez-faire capitalism status quo.  Tamara Belinfanti, Sergio Gramitto and the late Lynn Stout offer up their own solution in Citizen Capitalism: How a universal fund can provide influence and income to all.
Our authors have devised up a concept they call the Universal Fund.  It's like a sovereign wealth fund, but is privately created and funded via private ordering. That means that the Universal Fund is to be created from donations of stocks by companies and philanthropists.  The government would hence be uninvolved; the Universal Fund is not a socialist venture.  Rather, it is in part modeled on the structure of NGOs like the Sierra Club and the Red Cross. The Fund would provide an annual dividend to every citizen, with no maximum income cap.  Though it may seem absurd to send welfare payments to the wealthy, it's politically savvy framing.  A free public college bill was passed in ultraconservative Tennessee thanks to having no maximum income cap; conservative detractors weren't able to use the "class warfare" and "welfare queen" arguments. It should be noted that charitable tax deductions, estate tax reductions and lowered tax brackets would act as a de facto government incentive for the wealthy to donate to the Universal Fund.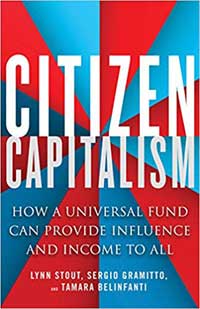 The goals of the Universal Fund would be to decrease wealth inequality, encourage long-term investment and increase civic engagement in corporate culture.  On the last point, the authors remind us that, "The top 10% [of wealthiest Americans] hold more than 90% of all shares."  Even in regards to the other 10% of shares owned, most of them are passively owned.  Most small-time investors don't have time to vote in the annual general meetings of every company in which they are invested in.  Thus, boardroom votes are dominated by two shareholder proxy advisory firms and individual investors who own a substantial percentage of shares, as well as fund portfolio & hedge fund managers.
These Wall Street elites naturally tend to vote based upon their elitist interests.  Thus, they usually make decisions that are insane in terms of employee welfare, long-term corporate growth, executive pay and the environment. For example, `the authors remind us of the recent case of Martin Shkreli, the hedge fund manager who acquired Turing Pharmaceuticals and then raised AIDS medication prices from $13.50 to $750. This is the embodiment of the Reagan-era Golden Rule of maximizing shareholder value.  Not only is this Gordon Gekko truism objectively crazy, it's actually legally unfounded.  Contrary to what you hear on CNBC or Fox Business, there's no legal requirement that companies only focus on maximizing shareholder value.  The book relates the following quote from Supreme Court Justice Samuel Alito comments in the recent case Burwell v. Hobby Lobby:"Modern corporate law does not require for-profit corporations to pursue profit at the expense of everything else, and many do not do so."
CITIZEN CAPITALISM points to the ongoing successes of the sovereign wealth funds of Norway and Alaska, an ultraliberal and an ultraconservative society, respectively.  The Alaskan fund generally provides each citizen with a dividend payment of a few thousand dollars each year, via the state's oil revenues.  The Government Pension Fund Norway is a more pertinent example, since it's funded through a $1T stock portfolio.  Norway is not only able to fund its citizens' pensions through the Fund, but also exert a moral influence on the market.  The Fund boycotts various egregious companies, like cigarette manufacturers, and will sell its shares in a company that gets exposed for abusive practices, like say employing child labor.  Our authors likewise want the Universal Fund to use a carrot-and-stick approach in regards to corporate ethics.
The thesis of CITIZEN CAPITALISM is, as the title suggests, rooted in optimism for capitalism.  Though they write about the success of socialist program in Alaska specifically, a conservative state in the US, the authors are convinced that a sovereign wealth fund bill could never be passed in Congress.  Recent polls and election results, however, show that Americans are starting to overwhelmingly favor ambitious government-program proposals like Medicare for All and a Green New Deal.  As I wrote before, the Universal Fund would mostly be feasible due to tax incentives; these government incentives would likely need to be greatly expanded in order to encourage enough stock donations to build the Fund to a substantial size.  Even America's greatest philanthropists still stockpile billions of dollars in their offshore bank accounts.  Thus, one shouldn't expect the Universal Fund or other private UBI schemes to become a replacement for state management of wealth inequality through programs like public school funding and marginal taxation.  Nonetheless, CITIZEN CAPITALISM is a stimulating little primer for rethinking the relationship between Wall St and Main St, managing the looming crises of a rapidly aging workforce and automation, plus the balancing of private and public sectors in regards to solving societal problems.