Greed is good…but only for cancer
Don't be bad with 1%, don't accuse them for having it all and doing nothing to earn it. 99% firmly believes that a greed is good… Spoiling mood, but being good for your food, as it should?
Amidst the many maladies of today's global society, a tide of optimism brought by the latest cancer research news reflects a defiant response to one of the biggest challenges facing humanity. But although massive investments that involve venture capital companies and funds may be necessary for the pursuit of current and future large-scale scientific projects and ambitions, it is still sensible to ask the following questions: To what extent should capitalism be credited for rapid progress in cancer research and treatment? Moreover, can the profit motive, being an essential feature of capitalism, justify future investments in bioscience and related fields?
American-born British politician Boris Johnson draws attention to the importance of these questions, as much as he draws attention to himself, as he visits the US for second time in three months. The charismatic London mayor and Conservative Party politician who will be returning to the Commons as an MP in May this year is a staunch defender of capitalism who is also very much keen to promote his image as a global statesman in the run-up to this year's British general election. During his visit to Boston a few days ago he states that 'capitalism is essential if are to meet the biggest challenges facing the human race', including fight against cancer. Boasting patriotically about the British scientists' recent achievements he complains that they are not making any profit from their work, that this is not justifiable and that we need venture capital to cure cancer. Speaking from what has been described as a life-science Mecca given its world's top research institutions, big pharmaceutical companies and clinical collaborations, Mr Johnson does a very good job at promoting Britain as 'the place to come and invest'. However his enthusiasm not only smacks of morbid excitement, it also entails an absurd logic as well as dangerous contentions.
Mr Johnson's claim has, of course, an important connection with the relevant facts. Cancer is on the rise. In the UK for example, in 1992, the proportion of people who got cancer was 32%. This increased to 44% in 2010, and according to Macmillan this figure will continue to rise, reaching around 47 between 2020 and 2030. Similarly, Cancer Research UK most recent analysis shows that one in two people who were born after 1960 will be diagnosed with cancer. This prognosis is chilling enough. On the positive side of things, cancer survival in the UK has improved a great deal; it has doubled since the 1970s through earlier detection and improved treatment, and the records show that half of those diagnosed with cancer will survive for at least 10 years. The increase in efficient cancer treatments is thus quite encouraging; in 1992, only 21% of those who had cancer did not die from the disease, while in 2010 this percentage rose to 35% and by 2020 this will rise to 38% surviving cancer and dying from another cause.
The implication of these figures and forecasts is that our society needs more resources and investments to cope with the challenges ahead. Since more people are likely to survive cancer, more people will need public health services. A major worry for the UK is that the National Health Service (NHS) – introduced by the post-war Labour Government in 1946 – will soon be brought to a standstill and unable to cope with the big increase in demand for services. Therefore whoever wins the next general election in the UK will have to do some very careful health care planning. Here is where Boris Johnson leaps in. The conservative London major who in 2013 said that economic inequality was useful because it encouraged people to work harder, argues that the Labour leader Ed Miliband suffers from 'intellectual failure' because he allegedly fails to grasp the fact that the profit motive can be both good and necessary for progress. Clearly, for Johnson, income inequality and the fact that the UK is the only G7 country where wealth inequality increased between 2000 and 2014, this being caused by the richest part of the population, is not a big problem.
One of Johnson's points of inconsistency is that he also says in the same breath that capitalism is 'compatible with satisfying the wants of the poorest and neediest in our country'. This means, to follow Johnson's logic, that people like him – an upper-class Oxford graduate – are those who know best what the poorest people in a society really want and need. And this is absurd. High business acumen is good for business, however it does not follow that this disposition determines or that it is even compatible with one's capacity to empathise let alone understand the poor. And anyway, what are the wants and needs of the poorest members of a society? Are they fundamentally different from the needs of those who are not poor? In thinking that the human needs are solely determined by their wealth and social status, Johnson exemplifies what Karl Marx once described the condition of 'alienation' in which people are divided from others, their world, their own activity and even themselves. And this goes for all people, whether workers or capitalists, poor or rich. Then, we may ask if it is Johnson who suffers from intellectual failure – capitalism-induced detachment.
Now even those who do not subscribe to the Marxist analysis of human nature and social conditioning could still appreciate the plausibility of the view that at least as far as health care is concerned, a major motivational drive is or should be altruism. Unless we are very sceptical, we might think that some form of practical philanthropy would exist in the absence of capitalism, motivated by motives other than profit making. Or at least, we have a good reason to believe that the profit motive will always be difficult to reconcile with our concept of morality. We need go no further than Michael Moore's film Sicko which sends a powerful message that 'we should have no talk of profit when it comes to helping people who are sick'. Johnson, on the other hand, whilst thinking that Britain could have 'great and glorious future' outside the EU, recommends that in terms of future heath care projects, we need to be 'more ambitious, more tycoon-like, more ready to build vast commercial empires: in short, to be more American in our outlook.'
To add the twist, if not ambiguity, Johnson also believes that venture capitalists who invest in cancer research are not motivated by the profit motive only; they are also 'fired by a desire to better the world'. Who is such a better world aimed for? This question lends itself to Johnson's most dangerous contention. The makers of the glorious future Johnson envisages are people like scientists and successful businessman, in other words those with high IQ who, according to him, stand a better chance of being wealthy. We should therefore be ploughing more resources into helping those with higher IQ's. We cannot deny the fact, he goes on, that people with IQ's below 85 are destined to be less wealthy. Now, we can spell out Johnson's contention more clearly: the needs of the poorest members of a society are modest because they can never achieve much anyway. However capitalism, he thinks, even with its good old-fashioned profit motive, is best placed to respond to the needs of the poor. And once again, what are the needs of the poor? Do they need to be cured from cancer as much as the rich people do? Do they need to eat healthy food, stop smoking, moderate their alcohol intake, play tennis and relax in art galleries? Are they even capable of appreciating art? And if the answers to these questions are 'no', in what sense is Johnson's better world better for such people also?
This line of questioning could force Boris Johnson to make himself clear as a proper Nietzschean fancying himself a hero from Ayn Rand's novel Atlas Shrugged who represents 'the men on strike against an altruist-collectivist society'. In the meantime, his competence with the monoclonal T-cells coupled with his fuzzy logic and dangerous views leaves the British voters and the world at any rate puzzled about his blazing advertising of capitalism as a cure for cancer. Some will also wonder whether Johnson's clumsiness amount to no more than a desperate cover-up for the fact that capitalism itself is in the stage of cancer. And why not think this way; the very characteristic of cancer – its invasive growth – is what is has in common with modern capitalism. Like cancer, capitalism threatens to break down our society's immune system, reversing also all the progress that has been made toward social equality and stability.
The facts that scientists world-wide, those who are devoted to revealing the secrets of human life and how we can be protected from the most vicious diseases, need sufficient funds to support their research does not imply capitalists' rightful ownership of their noble cause. Neither does it imply that capitalism helps cure cancer. Boris Jonson and his, and he calls them, transatlantic friends must be discouraged by a political environment they fear most: the environment that is sneery enough and depreciating about the very idea, if this means their idea, of suffering elevation and wealth creation. And not just in order to prevent absurdity, but more crucially to prevent a deceptively benevolent stroll down the Nietzschean road. We have been there once before.
How Climate Change Affects Water Resources in Costa Rica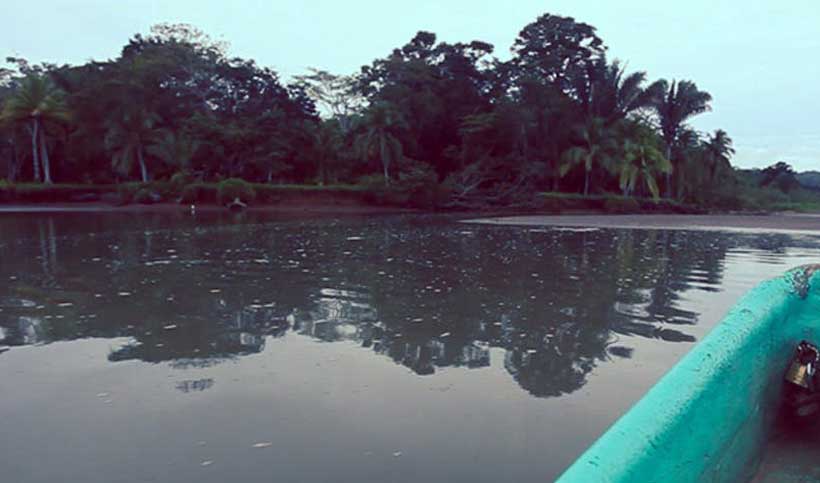 Sitting on the thin stretch of land that separates the Pacific from the Caribbean, Costa Rica has in recent years experienced above-average ocean temperatures and the first hurricane ever recorded. With the help of the IAEA, its scientists are now turning to isotopic techniques to monitor these extreme weather events and protect the country's water and population, in a region that has been identified as an area that could be particularly affected by climate change.
"Water has memory," said Ricardo SánchezMurillo, coordinator of the Stable Isotopes Research Group at the National University of Costa Rica in Heredia. "With isotopes, we can record this memory and use the current information we gather in precipitation to understand past climate events and improve Costa Rica's planning to face future meteorological events, including hurricanes." In 2015, after a severe drought period, Central America saw one of the strongest El Niño Southern Oscillations — a warming of the ocean surface that has been happening in the region for centuries. One year later, Costa Rica faced the first hurricane recorded to date in the southernmost region of Central America.
"We didn't have any historical records of hurricanes impacting Costa Rica," SánchezMurillo said. "So we were susceptible and suffered the consequences, because we didn't know how to respond."
Such phenomena carry with them a collection of isotopic fingerprints that scientists like Sánchez-Murillo can capture using special nuclear-derived techniques. Once recorded, they use the isotope data, coupled with climatic models and past climatic records, to predict the frequency, magnitude and intensity of future meteorological events and inform authorities, who in turn can be better prepared. The science behind this is called isotope hydrology (see Isotope hydrology).
"We now have the tracers, which act as a sentinel," Sánchez-Murillo said. "These techniques give us the capacity to see what conventional instruments cannot reach. Where conventional methods cannot see, isotopes can."
Using isotopic techniques to study poorly understood water systems, experts are also finding solutions to water challenges related to climate change that are affecting even the wettest regions, including Costa Rica. With these techniques, scientists can determine the quantity and quality of water supplies. They use naturally occurring isotopes as tracers to find out where groundwater comes from, if it is recent or old, if it is being recharged or polluted, and how it travels.
Through the IAEA's technical cooperation programme, hydrologists in Costa Rica have received support and training to develop a monitoring network that traces precipitation and underground water processes.
Understanding rainfall patterns helps hydrologists know where, when and how water is recharged — information that is key to devising land and water management plans. With isotopes, they have studied water in the Central Valley, a biological corridor between the Pacific and Caribbean slopes that supplies drinking water to approximately a fifth of Costa Rica's population, around one million people. And today, they know the exact height and zones from which aquifers get new water.
"Understanding the key factors controlling rainfall patterns and their relationship with groundwater recharge is essential for government and environmental agencies to prioritize resources and efforts," Sánchez Murillo said. "Now that we know the critical recharge areas and how groundwater travels, we can prioritize the conservation of these areas over commercial activities."
Impacting policy
The work by Sánchez-Murillo and his team is intended to enable the government to target conservation measures at the most critical areas of recharge. This would, in turn, allow residents, farmers, or businesses to continue developing activities without having a negative impact on the sources of water.
"While we have always had regulations in place to protect our water, the difference is that now we can be more precise, more efficient," Sánchez-Murillo said. "We know exactly which areas need special attention, and we know how to protect them to ensure water supply for now and the coming decades."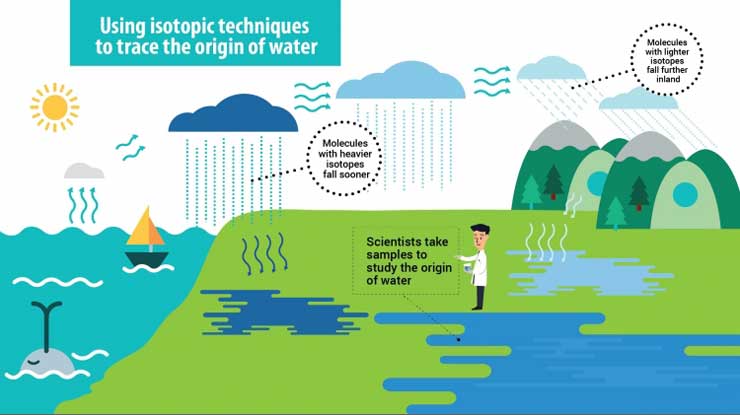 THE SCIENCE
Isotope hydrology
Every water molecule has hydrogen and oxygen atoms, but these are not all the same: some atoms are lighter and some are heavier.
"All natural waters have a different hydrogen and oxygen isotopic composition," said IAEA isotope hydrologist Lucía Ortega. "We use this isotopic composition as the fingerprints of water."
As water evaporates from the sea, molecules with lighter isotopes tend to preferentially rise. As rain falls, molecules with heavier isotopes fall sooner. The further the cloud moves inland, the higher the proportion of molecules with light isotopes in rain.
When water falls to the earth, it fills lakes, rivers and aquifers, Ortega said. "By measuring the difference in the proportions between the light and heavy isotopes, we can estimate the origin of different waters."
In addition, the abundance of naturally occurring radioactive isotopes present in water, such as tritium and noble gas isotopes dissolved in the water, can be used to estimate groundwater age — from a few days to one millennia. "And this is key to help us assess the quality, quantity and sustainability of water," she said.
Climate change and water were topics discussed during the IAEA's 2018 Scientific Forum. See more information about the Forum, titled Nuclear Technology for Climate: Mitigation, Monitoring and Adaptation, here.
How Genetics and Pollution Are Threatening Wild Dolphins
Dolphins are beautiful, highly intelligent and uncannily human in their interactions. Yet, they also have a language we humans cannot fully hear, and a culture that is in some ways similar to our own, and in others, a complete mystery.
Like us, they have circles of friends and acquaintances, with different greetings for different individuals, as if by name. They travel swiftly within a home range of about 100-square kilometers but can go further when they want to. They have the sleek design of a jet plane fuselage and the intelligence that comes with a 1,600-gram complexly structured brain. (The human brain is 1,300 grams.)
Found in almost all the world's oceans, they communicate with friends and family through clicks and whistles, and echolocation allows them to view the world around them. They pass on knowledge of culture and tools through the generations from mother to daughter, a matrilineal line that preserves and protects their heritage.
Approximately 40 species of dolphins exist. Many belong to the Delphinidae (ocean dolphin) family, including the orca; others live in rivers. Collectively, there are approximately 90 species of cetaceans, the order comprising whales, dolphins and porpoises.
Scientists analyzing the dolphin brain have determined that, like us, they possess a very complex neocortex — a region of the brain linked to awareness, emotions, problem-solving and other human-like abilities. Further, the limbic (emotional) system in some species is even more complex than humans.
These sensitive creatures have made the headlines in the past few months. An endangered orca known as Tahlequah mourned the tragic loss of her baby, carrying her dead calf for a record 17 days and 1,000 miles on what some have deemed a "tour of grief."
Shortly following Tahlequah's tragedy, the Center for Biological Diversity filed a lawsuit against the National Marine Fisheries Service regarding the species of orca on the West coast of the US that has become critically endangered. The suit alleged that the agency has neglected to establish habitat protection for the orcas. With only 75 of these orcas left, the population is the lowest it has been in 30 years.
Meanwhile, a combination of factors is threatening the very survival of these animals.
Genetics and Pollution
A recent study published in the journal Science delivers a serious warning as to the likelihood that dolphins and other marine mammals could be extirpated by pollutants. The discovery concerns an evolutionary change to DNA approximately 53 million years ago, which makes cetaceans particularly sensitive and therefore vulnerable.
Their bodies underwent various gradual changes during this evolutionary period. One of these changes was the alteration of DNA that codes for a particular enzyme known as PON1. Scientists believe the enzyme's metabolic processes were no longer needed for a life underwater. Terrestrial mammals, by contrast, maintained the intact DNA and its enzyme, which humans have to this day.
But 53 million years later, the genetic change has become marine mammals' Achilles' heel, thanks to human invention. The enzyme has a second function — an ability to defend against neurotoxins found in pesticides. Without PON1, these animals are unable to break down the neurotoxin and can be poisoned.
Dolphins and other sea creatures with the PON1 problem are thus defenseless against agricultural runoff containing pesticides. Part of the reason the endangered infant orcas off the coast of California are having trouble is this kind of pollution. Marine mammals by the Florida coast are at risk as well, as scientists sampling waterways have found significant levels of chlorpyrifos pesticide contamination.
Dolphins have also been disappearing from areas around the globe they once inhabited, such as off the coast of Argentina. There, where dolphins were once common, only "a single resident population" is believed to be left. Heavy metal contamination and overfishing are likely contributors the decline. Elevated levels of lead, zinc, copper and cadmium have been found in mollusks, crustaceans and sea lions, as well as elevated levels of mercury, cadmium, zinc and copper in bottlenose dolphins. Metals pass from mother's milk to the baby, resulting in the newborn dolphin having a weakened immune system and a lower probability of survival. The bottlenose dolphin is believed to be a common species globally and consequently people are less concerned about it than they should be; in certain localities these dolphins are quietly disappearing, as along the Argentinian coast. Scientists warn that the Argentina study "provides an example of how the failure to recognize local population declines can threaten the national (and eventually the international) status of a once common marine species."
To be sure, dolphins are facing similar toxic threats around the world. While metal pollution off the coast of Argentina is assumed to have resulted from decades-old mine waste, it is by no means unique to South America. Scientists examining the waters of Lake Geneva, Switzerland, discovered high levels of toxic metals including bromine, lead, mercury and cadmium. The toxins came from plastics, some of which had been banned or restricted decades ago, indicating the toxins remain in the environment for years. Plastic pollution is especially pervasive in oceans that dolphins inhabit – estimated at 150 million metric tons, with 8 million more tons added annually. Tellingly, a Malaysian dolphin was found dead after digesting nine pounds of plastic bags.
Chemicals can have a lasting and sometimes irreversible impact on the environment. Without containment, poisons that were banned years ago seep out of landfills, into streams and oceans, permanently contaminating water. For some species, a death sentence has already been passed. Change has come too late for the orca variety of dolphin, also known as the killer whale. This is the sad revelation recently published in the journal Science regarding polychlorinated biphenyls (PCBs) and orcas. PCBs banned more than 30 years ago have leached into the oceans, and killer whales as apex predators are "the most PCB contaminated mammals in the world," say the researchers, who found some of the killer whales had 1,300 milligrams per kilo of PCBs in their blubber – 50 milligrams per kilo has been shown in previous research to be sufficient to cause infertility and serious immune system problems. As with metals, mothers pass the PCBs on to their babies through milk. The researchers predict that "PCB-mediated effects on reproduction and immune function threaten the long-term viability of [more than] 50% of the world's killer whale populations." They forecast a population collapse of orcas near industrialized regions, as well as in regions where orcas feed on larger prey. In short, half of the world's orcas will be gone in just a few decades.
Some dolphin species are already very close to extinction. The Yangtze River dolphin, also known as "baiji," has lived in the river for 20 million years. There were thousands in the 1950s, but in the year 2000, there were a mere 13. By 2006, scientists pronounced the species extinct after an unsuccessful six-week hunt by conservationists. Its current status is either extinct or near extinction — in 2016, some amateurs believe they may have seen a baiji, although they are not certain. The baiji would be the first dolphin made extinct by humans, in this case through pollution, dam-building, overfishing and boat traffic.
Dolphins face threats from climate change as well. Twelve dolphins were washed ashore in one week this summer in Florida, as a result of a red tide disaster, due in part to rising temperatures, with six killed in 24 hours. Such numbers have usually been an annual loss in the past.
Dolphins face a particular and cruel peril in Japan. The town of Taiji holds an annual dolphin "drive hunt" in which more than 1,000 dolphins are massacred each year. Hunters find a pod of dolphins and first create a clamor to disrupt the dolphins' sonar, upsetting the dolphins and driving them into a cove, where they are then killed one by one, as the water in the cove turns red.
Even when dolphins are captured and kept in captivity, they react to their surroundings.
Dolphin Intelligence and the Future of the Animal Population
That dolphins are highly emotional is well-known. Peter — a dolphin kept in captivity after being moved to a smaller facility and permanently separated from the regular keeper he loved — fell into depression. Dolphins do not breathe air automatically the way humans do; each breath must be made consciously. A dolphin who has lost the will to live does not swim to the surface for his next breath. This was the fate of Peter; imprisoned and friendless at the new facility, he did not swim up for air and was found lifeless on the tank floor.
The emotional intelligence of dolphins reveals that trauma and separation will hurt dolphin families for years to come. The bloody waters of Taiji might hold the carcasses but not all the casualties. The many Peters of the world, having lost loved ones forever, can also lose the will to live.
At the 2010 annual meeting of the American Association for the Advancement of Science, scientists pondered the ethical and policy implications of dolphin intelligence. Neurobiologist Lori Marino argued that they may be Earth's second-smartest creature. One can only agree.
A philosopher at the meeting proposed that dolphins perhaps ought to be considered "nonhuman persons." He marvels at how, in addition to emotions and self-awareness, dolphins have personalities, exhibit self-control and even treat others ethically.
If a dolphin species becomes extinct, we lose not only a beautiful animal but a society and its culture. Dolphin habitat often spans the seas of many countries. Preserving them at home only to have them slaughtered on another shore is heart-wrenching. Preserving them abroad only to see them poisoned by pollution here is equally tragic. Countries must work together to ensure the survival of dolphins who swim beyond our borders, particularly as risks are compounded by climate change and pollution. The killing of whales for commercial purposes has been banned for many years. At the very least, this can be extended to their cousins now that we know they are under threat.
Pesticide use has to be regulated, particularly along the coasts to minimize PON1-related neurotoxic poisoning. Allowing a 53-million-year-old Achilles' heel to be shot with the dart of human invention would be a tragedy. Minimizing plastic pollution is essential to dolphins as well. Preventing further PCB leakage into the oceans must also be a priority to save the orca populations, half of which are already facing collapse due to PCB-poisoning.
We have already witnessed the long-lasting effects of chemical runoff, from the decades-old plastic-derived toxins in Lake Geneva, to the 30-year-old PCBs seeping into oceans around the world. Once waters are contaminated, no one can go back. It is already too late for some orcas. Consequently, while we still can, we must prevent further contamination.
If nations can work together to minimize ocean pollution and affect laws to prevent chemical runoff, perhaps then Tahlequah and her fellow orcas will have greater success with the next generation of calves, and our children and grandchildren will continue to know the pleasure of seeing an orca or a bottlenose dolphin leap magnificently from the ocean.
Author's note: this article first appeared in Truthout.org.
Does the Latest IPCC Report Offer Hope For Earth
Hurricanes and storms on both sides of the Atlantic appeared to encore the Inter-Governmental Panel on Climate Change.  It had just concluded the finalization of a special report on the impact of a 1.5 degree Celsius global warming above preindustrial levels.  Meeting in Incheon, South Korea (October 1-5), its three working groups of experts and government officials have huddled and jousted to strike a consensus on what will be necessary to restrict warming to 1.5 degrees Celsius when the globe is already up one degree.  What will earth be like with this level of warmth and what will happen if we fail?
Two earlier versions (January and June 2018) of the report were depressing to frightening.  They were made available for about a month for comment by experts and interested parties.  The real problem is a narrow window because human activity in the world emits 40 billion tons of CO2 per year — about 90 times the emission from volcanoes.  At some point, there will be enough in the atmosphere where the 1.5 degree rise will be a foregone conclusion.  While guesswork to some extent, it appears we have about 12 years before we exhaust the 'carbon budget'; if we accept a 2C rise the date is 2045.
The tone may have been softened in the second report, but there is 'substantial' certainty the 2 degrees C target of the 2015 Paris Agreement, once considered safe, would be dangerous for humanity.  As the agreement also required governments to pursue efforts to limit temperature rise to 1.5 degrees C, the remit to IPCC was to prepare a report comparing the consequences of the two alternatives as well as the feasibility and effort required to limit the rise to the lower figure.  The final report released on Oct 8, 2018 reviews 30,000 publications.
The fact that parts of the earth are already warmer than the 2 degree C figure and the results are observable should be a driver for governments.  In the Arctic, for example, where temperatures have risen up to 3 degrees C, the effort has seen chunks of icebergs breaking off and polar bears having difficulty in catching seals because of fewer blowholes — where they normally wait in ambush.  Current temperatures are higher than they ever have been in the past two millennia.
For low-lying Pacific Islands the 1.5C goal is critical for many there would lose habitat and some islands are expected to disappear under the 2C target.  The Maldives in the Indian ocean are partly under water, and some Pacific islands have already disappeared as average world sea levels rise by 3 mm a year.  Yet Tuvalu has become an exception and its land area, studied from 1971 to 2014, is growing.  Eight of its nine atolls are found to be still rising, increasing the "area by 29 percent, even though sea levels in the country rose by twice the global average."
Even so the consequences of the earth already being 1 degree C higher than preindustrial times are apparent in the  proliferation of extreme weather events.  Unduly powerful hurricanes as in Puerto Rico or Houston, record-breaking forest fires in the U.S. and Australia, monsoons in South India this year that in Kerala have been the worst in this century, and the record temperatures in northern Europe are a few examples.  Last week the 155 mph Category 5 Hurricane Michael, 5 mph short of Category 6, devastated the Florida panhandle and continued its destruction onward into Georgia and beyond.  It was the strongest to hit this part of Florida since records began in 1881.  On the other side of the Atlantic within a week, storms and hurricanes battered Europe:  Hurricane Leslie in Portugal, storm Callum in Britain and heavy rains in France causing flash floods in the Aude region of south-west France.  All of which can be expected to worsen as the earth's mean temperature rises, increasing in both frequency and intensity.
The IPCC report presents four pathways (p.19 Executive Summary) each with net zero CO2 emissions within the next quarter century.  The least interventionist scenario utilizes only afforestation to remove CO2.  The report is optimistic in demonstrating synergies (p.27) with sustainable development goals.  That CO2 removal technologies known as direct air capture (DAC) are also being developed successfully adds to the optimism.
At the same time the warnings are clear.  All the options require a rapid decarbonization of the fuel s:upply i.e. no fossil fuels — coal just about gone by 2050 and three-quarters of the energy from renewables (p.19 after four pathways graphs).  The risks for fisheries and coral reefs will remain high (p.13) even with the 1.5C scenario and coastal populations and farming will be worse off than now.  Severe weather consequences can be expected to worsen.  But all that is the world to be.  Hence the argument for the most interventionist scenarios where the atmospheric CO2 is eventually reduced.
For all this the need to act now is clear in the facts and numbers.
Author's Note:  An earlier version of this article appeared on counterpunch.org.