The Asian Square Dance Part V: The Koreas
The two countries occupying the peninsula are the only countries in the world surrounded by the world's major powers – China, Japan, Russia and the US which is slightly removed geographically, but very present on the territory of South Korea.
South Korea is one of the world's top 20 economies and home to high-tech companies. The country's population is the major user of cellphones and internet in the world. North Korea is mired into major problems and famines due to mismanagement by the dynasty that rules it.
The country's major problems are access to energy and the situation in North Korea, particularly the possibility of a regime collapse leading to massive immigration towards the South. South Korea would be unable to sustain economically a large number of immigrants fleeing the North even if China would be willing to accept part of the flow of refugees such a situation would entail.
The best way to prevent such a collapse is reunification and this appears at this point to be most unlikely.
The two countries are still technically at war with each other. North Korea has a nuclear program, has repeatedly tested its delivery capabilities, has transferred nuclear technology to other countries and engages regularly in provocations.
The South Korean army is believed to be one of the world's best with a budget of close to USD 30 billion which compares favorably with North Korea's lower than USD 10 billion. South Korea's hardware, whether tanks or planes, are recent while that of North Korea dates back to the 1940s, 1950s and 1960s.
While Russia has very recently agreed to conduct joint maneuvers with North Korea, that country's most important backer is China. Should North Korea escalate its provocations, China might decide to move troops into North Korea and occupy the country risking a wider conflict in which no doubt not only South Korea, but also the US, might be drawn. It would run contrary to China's present need of the existence of North Korea which is to act as a buffer between itself and the US troops stationed in South Korea.
Another major danger is that skirmishes between the two Koreas escalate and lead to an all-out war.
ASEAN's Role in Bangladesh-Myanmar Border Tension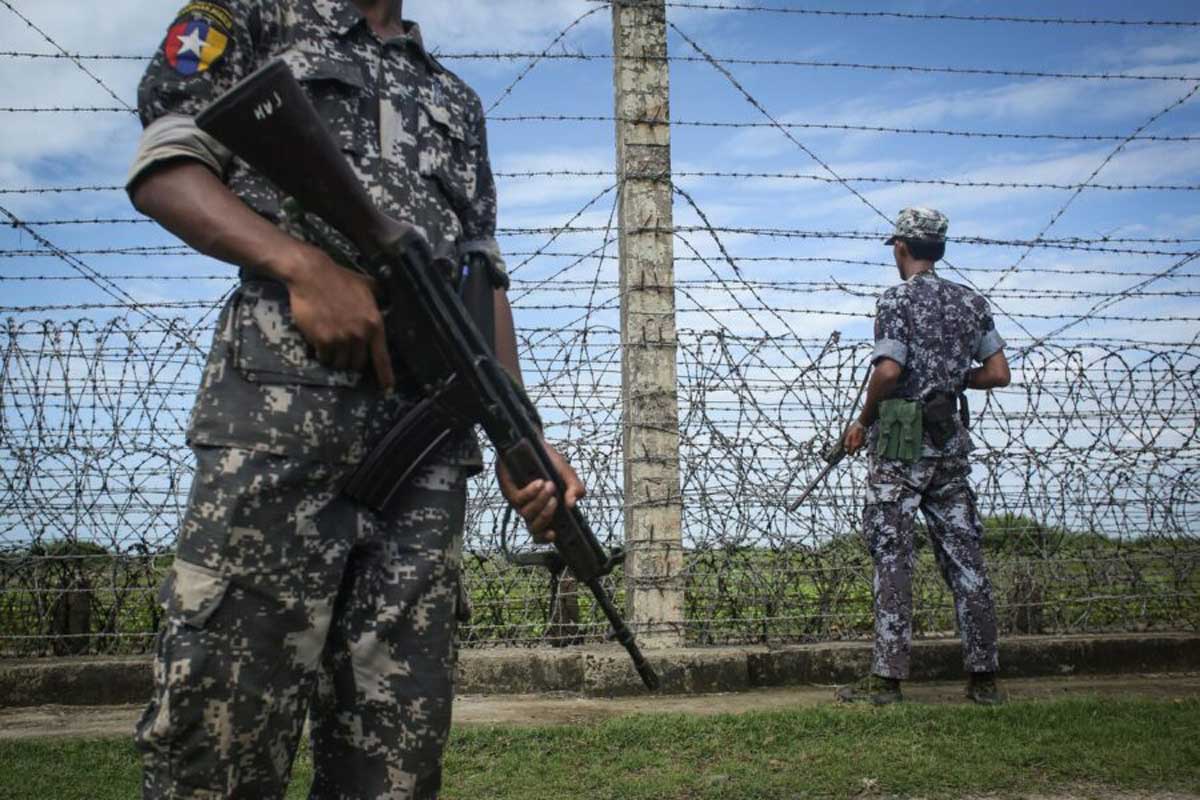 For the past few days, Myanmar is continuously violating Bangladesh's air space and territorial sovereignty. It has now done so at least five times. Apart from violating border laws, Myanmar is also responsible for firing mortar shells that killed two people. Moreover, the landmines at the border also injured one. It is worth mentioning that the use of landmines in the border region during peacetime is a clear violation of international law.
Against this continuous foul play by Myanmar, Bangladesh is dealing with the situation patiently and carefully considering the sensitivity of the border area. Many are seeing Myanmar's mischievous activities as a provocation, Bangladesh hardly wants any clash in its borderlands as it may have a wide range of adverse impacts upon it such as unstable borderland, new tensions bordering districts, a new refugee crisis from Rakhine, and hindering its peaceful development.
So, the country is resorting to diplomatic options and regional and international pressure on Myanmar. The Foreign Ministry of Bangladesh has already called the Myanmar Ambassador fourth time since August and briefed the ASEAN ambassadors about the situation. Dhaka is likely to raise the issue in the upcoming United Nations Assembly also.
In return, Myanmar Foreign Ministry also called Bangladesh's Ambassador on 20th September and blamed Arakan Army (AA) and Arakan Rohingya Salvation Army (ARSA) blamed for the attacks. The ministry also claimed previously that there are AA and ARSA terrorists inside Bangladesh. But it seems Myanmar's claim is unbelievable and it is a part of its 'blame game'. Prominent Journalist Subir Bhoumik analyzed that claim that neither AA nor ARSA is known for using heavy artillery and do not have air support, it was the military helicopter that violated Bangladesh's airspace.
Moreover, the claim of AA and ARSA's presence inside Bangladesh is also problematic. Bangladesh's counter-insurgency measure and counter-terrorism measure is well-known in the region. And there is hardly any official claim that foreign rebels are operating from inside Bangladesh. Surely, it's a tactics of Myanmar to create confusion about the tension and play a blame game.
However, Dhaka's briefing the ASEAN ambassadors and seeking ASEAN's role in mitigating the issue is a quite fair one considering ASEAN's structure and ambition.
The Association of Southeast Asian Nations, known as ASEAN in short is a union between 10 Southeast Asian nations. The members are Brunei, Cambodia, Indonesia, Laos, Malaysia, Myanmar, Philippines, Singapore, Thailand, and Vietnam. The areas of cooperation include political, economic, security, military, and socio-cultural with a desire for integration. Since the early 2000s, ASEAN also followed a community approach and established several communities among it. So, ASEAN is following the supra-national model of the European Union (EU). As a result, in any matter regarding its member-state, it has a stake in it.
ASEAN also has a deep engagement in the situation in Myanmar. Since the February coup in 2021, ASEAN is playing an important role. ASEAN has also banned the Junta Chiefs from the association until a peace process follows. It is pressurizing the Junta to end the turmoil. However, many ASEAN state is already engaging with the Shadow government, National Unity Government (NUG). For instance, the Malaysian Foreign Minister met with NUG leaders and since then gradually NUG is emerging as an important stakeholder in Myanmar for ASEAN.
ASEAN can also play an important role in mitigating Myanmar's foul play at the border. Bangladesh is not the only sufferer. Thailand- an ASEAN member also suffers greatly from Myanmar's disrespect for borders. Quite often, Myanmar violates the Thai border; it is also a source of refugees and illicit trades such as arms and drugs.
Bangladesh also suffers from similar issues. Myanmar border is the largest source of drugs and refugees for the country. As a war-like situation is already going on in Rakhine between the Tatmadaw and the Junta, it is also a worry for Bangladesh. The conflict has already displaced many ethnic Rakhines and Rohingya. About 589 Rakhine has already sought refuge in India's Mizoram. Bangladesh also has a fear that the conflict may trigger a new wave of Rohingya refugees, which is the last thing the country wants.
As ASEAN is a successful regional organization among Myanmar and its Southeast Asian Neighbors, it can play an important role in pressurizing Myanmar to stop its foul-play to ensure stability on the ASEAN border. Moreover, Bangladesh also has a close relationship with ASEAN as it could become an observer. Bangladesh Police has already got observer status in ASEANPOL this year. Even, the conflict zone- Rakhine, and its habitants are also part of the ASEAN community. Therefore, ASEAN should take the matter seriously and engage in one of the 'ASEAN borders'.
Myanmar's Union is failing miserably at the hand of the Junta regime. The Armed conflicts in almost all states and the resistance of the People's Democratic Force (PDF) against the Junta are bringing further turmoil to the country where ASEAN is seeking a peace process. The ongoing conflict in Rakhine between the Junta and Arakan Army is a part of this turmoil also. Moreover, the Rakhine state is a very sensitive region as it is the home of the Rohingya. A new wave of refugees and violations of human rights can bring further instability to the region. The tension on Bangladesh- Myanmar border is a symptom of it. So, ASEAN should be more active in ending the conflict in Rakhine and it should pressurize Myanmar to end its provocative actions on Bangladesh border for greater regional stability. After all, this is what the regional organizations are made for!
Myanmar spiralling 'from bad to worse, to horrific'
Since the Myanmar military launched its "disastrous" coup last year, UN-appointed independent human rights expert Tom Andrews said on Wednesday that conditions have worsened, "by any measure".
"With each report I have warned that unless UN Member States change course in the way they collectively respond to this crisis, the people of Myanmar will suffer even further," he told the Human Rights Council in Geneva, saying that conditions have "gone from bad to worse, to horrific for untold numbers of innocent people in Myanmar".
'Stakes could not be higher'
Mr. Andrews presented a grim assessment of 1.3 million displaced people; 28,000 destroyed homes; villages burned to the ground; more than 13,000 children killed as the death toll for innocent people rises significantly; a looming food crisis; and 130,000 Rohingya in de facto internment camps while others suffer deprivation and discrimination rooted in their lack of citizenship.
"Let me be frank: the people of Myanmar are deeply disappointed by the response of the international community to this crisis. They are frustrated and angered by Member States that are working to prop up this illegal and brutal military junta with funding, trade, weapons, and a veneer of legitimacy," he spelled out.
"But they are also disappointed by those nations that voice support for them, but then fail to back up their words with action. The stakes could not be higher".
War crimes
The Myanmar military is committing war crimes and crimes against humanity daily, including murder, sexual violence, torture, and the targeting of civilians, Mr. Andrews continued.
And conflict is spreading throughout the country as increasingly more civilians take up arms against the junta.
Moreover, a humanitarian catastrophe is unfolding because military leaders are obstructing aid deliveries to displaced populations and communities they perceive to be aligned with pro-democracy forces.
"Untold numbers of innocent people have been left without access to food, medicine, and the means to survive," he said.
Failed response
Observing that the international response has failed, the UN expert said that "first and foremost," Member States must more forcefully deprive the junta of revenue, weapons, and the legitimacy it needs to attack the Burmese and suppress their democratic aspirations.
"Many in Myanmar have come to the conclusion that the world has forgotten them, or simply doesn't care. They ask me why Member States refuse to take measures that are both possible and practical, measures that could save untold numbers of lives," he said.
"Frankly, I do not have an answer".
Reminding that the Human Rights Council is referred to as the UN's conscience, he appealed to its members to "re-think status quo policies" that aren't working and set a new course of action for UN Member States to stand with and for those are "fighting for their lives, their children, their future".
Indonesia's G 20 chairmanship: Balancing on a diplomatic tightrope
Indonesia's geopolitical plate is piling up as the archipelago state prepares to host the Group of 20 (G20) summit and associated gatherings in November, including the Religion 20 (R20), a high-level meeting of religious leaders, the first under the G20's auspices.
The challenges and opportunities for Indonesia are multiple and often unique.
In June, Indonesian President Joko Widodo persuaded the leaders of the Group of 7, which brings together Canada, France, Germany, Italy, Japan, the United Kingdom, the United States and the European Union, to join the summit in Bali of the G20, made up of the world's largest economies, even if it is attended by Russian President Vladimir Putin.
The G7 leaders had threatened to boycott the summit if Mr. Putin were invited in protest against Russia's invasion of Ukraine.
Even so, much can derail Mr. Widodo's achievement in the months leading up to the summit, although he has, for now, prevented a fracturing of the G 20 even before the leaders convene.
Pulling the G20 back from what could have constituted a devastating fiasco is just one of the pitfalls, Indonesia has been seeking to maneuver. With two months to go until the Bali summit and a world mired in conflict, bifurcation, and economic crisis, Indonesia's G-20 presidency is hardly out of the woods.
Insisting that Mr. Putin should attend the summit helps Mr. Widodo maneuver Indonesia through the minefields of a world increasingly polarized by the rise of civilizationalist leaders who think in civilizational rather than national terms, and the power struggle to shape the world order in the 21st century.
Yet, in a potential preview of the summit, Russian Foreign Minister Sergei Lavrov walked out of a meeting of G20 foreign ministers in Bali in July when Russia came under fire for its war in Ukraine.
The gathering ended without the traditional joint communique, chairperson's statement and/or group photograph. It underscored the fact that Indonesia may have to walk a diplomatic tightrope to prevent the November summit from fracturing the G 20 beyond repair.
Mr. Lavrov's walk-out underscored the risks stemming from the power struggle and the expansionist ambitions of civilizationalist leaders such as Mr. Putin and Chinese President Xi Jinping.
They threaten to put a dent in Indonesia's successful track record of being inspired by the principles of a 1955 conference in the Indonesian city of Bandung that gave birth to the non-aligned movement.
That has not stopped Indonesia from rejecting Chinese claims to territory in the South China Sea, refusing China's offer to negotiate maritime boundaries, and at times conducting military exercises just beyond Chinese-claimed waters while maintaining substantial economic relations with the People's Republic.
However, increasingly, Indonesia may find that non-alignment no longer is its best option, even if that would not necessarily mean that it would pick sides in the US-China divide.
What it does mean is that the G20 is the opportunity for Indonesia to showcase itself, on the back of its diplomatic acumen, as an attractive target for badly needed foreign investment and a regional power that has long flown under the radar.
To do so, Indonesia. one the world's biggest coal exporters and carbon emitters, will have to clarify its stance on a host of issues, including climate change; perceived threats posed not only by China but also by Aukus, the trilateral security pact between Australia, the United Kingdom, and the United States that is allowing Australia to acquire nuclear-powered submarines; and the mushrooming food and energy crisis that raises the specter of a global recession.
One way, Indonesia hopes to make its mark is a summit of religious leaders that is scheduled to precede the meeting of heads of government and state. The religious summit is expected to refashion the G-20's erstwhile Interfaith 20 track or IF20 as the Religion 20.
But even that is not without its pitfalls.
Organised by Nahdlatul Ulama, the world's largest Muslim civil society movement in the world's largest Muslim-majority country and the Islamic world's foremost democracy, in cooperation with the Indonesian government, the R 20 constitutes at first glance a significant shift away from the approach of the IF 20.
In contrast to the IF 20 that was dominated by scholars and activists, the R 20 intends to bring together religious leaders to globally position religion as a source of solutions rather than problems. It is a call that resonates coming from the world's most populous Muslim majority country and democracy.
Some 200 religious leaders and politicians, including Nahdlatul Ulama general chairman Yahya Cholil Staquf, World Evangelical Alliance secretary general Bishop Thomas Schirrmacher and former US ambassador to the Vatican Mary Ann Glendon are expected to attend the summit.
On the surface of it, the R 20 constitutes an opportunity to energize the world's major faith groups to rally around shared civilizational values that would empower religion as a force for good that goes beyond lofty statements that are not worth more than the paper they are written on.
That is a tall order given the role that religious and identity groups play in perpetuating rather than resolving conflicts based on international law, justice, and equity.
Think of the Russian Orthodox church as a driver of extreme Russian nationalism and the definition of Russia as a civilizational rather than a national state, resulting in the invasion of Ukraine and the potential threat to other former Soviet republics.
Or the uncritical support by Christian and Jewish groups of Israeli policies that violate international law, deny Palestinian rights, and long-term put at risk Israel's existence as a democratic Jewish state.
The R20's organizers appear to have opted, at least for now, to co-organize the summit with the Muslim World League rather than representative non-Muslim faith groups less beholden to a government.
The League is Saudi Crown Prince Mohammed bin Salman's vehicle to garner religious soft power, help polish the kingdom's tarnished image, and propagate a socially liberal but autocratic interpretation of Islam that preaches absolute obedience to the ruler.
An R20 press release quoted the League's secretary general, Mohammed al-Issa, as saying that "working alongside Nahdlatul Ulama…will strengthen our mission. This partnership with Nahdlatul Ulama will serve as an excellent platform for dialogue that will amplify and extend the Muslim World League's noble mission."
Even so, the R 20 could undergird Mr. Widodo's vision of applying the principles of the Association of Southeast Asian Nations (ASEAN) to the G 20.
Indonesian officials argue that the nature of ASEAN has allowed its ten members, despite their different political and economic systems, to prevent the once war-torn region from confronting another abyss and finding ways to peacefully manage or resolve disputes and tackle common problems.
Like with the religious summit, Indonesia faces a tall order in attempting to pull back from the brink a world consumed by the war in Ukraine as it seeks to maneuver the pitfalls of mounting tensions between the United States and China over issues like Taiwan that, like Eastern Europe, could spark a war with a global fallout.