Why the 'Geo' in Geopolitics Still Matters
Geopolitics is one of the most difficult sciences to have a single—and precise—definition, as it can have a wide array of interpretations.
A political analyst could perceive geopolitics as the exercise and distribution of power within the legislative branch of a government, analyzing the power dynamics—within a congress—of who and which party will support a new foreign policy towards another country (e.g. United States and Cuba); an ambassador may interpret geopolitics as the status of his native country's relations with his assigned country, the conflicts that may unfold and what interests to uphold; and a hedge fund manager may perceive geopolitics in terms of what events could impact international commodity markets, therefore affecting international investments and his clients' portfolios. In general the concept is often contextualized, reported, and thought of in terms of international conflicts, risks, and vulnerabilities between one country and another, or multiple parties fighting for influence in a specific part of a territory—i.e. ISIS/ISIL, Crimea, Syria, Korean peninsula. Yet this overlooks the root meaning of the word and the fact that physical geography — if not completely determines — still heavily influences the dynamics of many conflicts, whether military, resource-driven, ethnic, political and so on.
To understand the different meanings of the word, we must first grasp the rationale behind the two leading schools in the realm of geopolitics, which are the classical geopolitics and the more academically-based critical geopolitics schools. The former stems from late nineteenth and early twentieth century writings, primarily those of Sir. Halford Mackinder, Friedrich Ratzel, Alfred Mahan, and Nicholas Spykman, whose work, to this day, is still taken into account in contemporary analysis (the Eurasian landmass as the holy grail of natural resources, the state as a living organism, the paramount importance of controlling the seas, and the importance of littoral/rimland territories in the Asian continent). The critical geopolitics school, championed by prominent scholars such as Simon Dalby, John Agnew, Gerard Toal, and Klaus Dodds, has advocated another point of view within the field of geopolitical studies: that geopolitics is the spatialization of international politics, generally portrayed via words and images by an elite, the media, or academia itself.
Both schools are valid when discussing contemporary geopolitics. However, do they leave any room for the inclusion of physical geography when analyzing a nascent geopolitical conflict? Unfortunately, the theory of environmental determinism – the limits of human development owing to geography and environment – is automatically discarded and viewed pejoratively, as if it were an archaic interpretation of a particular human occurrence. My response to those who would automatically discard such matters: The 'geo' in geopolitics still matters.
Which climate type is the most ecumene for human living conditions? Which climatic conditions are most favorable to produce an adequate amount of food and water? Could physiographic conditions isolate certain types of groups that could eventually become guerrillas or terrorists? For example, stretching from Oregon to the Midwest, the United States is blessed with a favorable, temperate climate, balanced enough to have the right quantity of rain, temperature, and soil fertility, which as a result produces enough potable water, rich farmlands, and temperate forests to aid – not determine – the geopolitical condition of the United States as a whole. In Europe, if you are a farmer in the north European plain or in the lowlands of the British Isles, well, most likely you will not have much to worry about planting and harvesting cash crops, since the temperate climate provides similar climatic features to that of United States, thus providing a stable and moderate temperature that is perfect for farming.
Now what if you are a born in the central highlands of Afghanistan, with an unfavorable soil type for planting and harvesting, obligating you to become a pastoral nomad by raising cattle in the foothills of the mountains? What type of life and behavior do you think these herders would have after generations in the harsh, indomitable, fluctuating weather of the unforgiving central Afghan highlands? Most likely it would not be the community-oriented attitude of a farmer living in the Corn Belt region of United States. Possibly your comportment would evolve into a protective, reserved, distrustful-of-others variety, for in animal grazing you most prevent the theft of your only resource to provide a living for your family: your cattle. Thus, honor and reputation would be your dearest, most sacred elements to prevent others from trying to steal from you. As a result, you would rather be feared than loved, for the only respect and honor comes that from your kinship and clan. This is how Afghanistan has been for hundreds of years, given the numerous feuds the country has had amongst tribes and clans.
What if your cattle and your fellow tribesman live in a disconnected and inaccessible mountainous region where hunting, grazing cattle, and felling trees is imperative for the survival of your clan? Possibly, you would develop a separate identity given the isolation of your group over time, forming a different concept of what governance is and how you should be governed according to your own codes and laws. Now, this has been the social structure of the Russian North Caucasus nations—from Karachay-Cherkessia to Dagestan—as well as northern Albania, Kosovo, Montenegro, Iraqi and Turkish Kurdistan, the Basque region of Spain, northern Greece, the highlands of Guatemala, southern Mexico, and parts of southern Italy, particularly Calabria and Sicily. These regions have been fashioned by a 'pastoral/mountain culture'- protecting your resources, your kinship and honor – which in turn affects the cultural character of their contemporary societies.
Now to the formula of geopolitical analysis, please add culture, religious beliefs, political concepts of governance, ethnic affiliation, and production means – all the elements of what make a geographic entity 'unique.'
Nigeria, like many countries in the tropics, enjoys substantial levels of precipitation in the south, consistently up to Nassarawa state in central Nigeria. And as in many tropical/equatorial climates, there are favorable climatic conditions to animal and plant life in the southern lowlands of Nigeria. Yet this is not the case for Borno state – the symbolic hub of Boko Haram. Northern Nigeria is affected by what a physical geographer would call 'the rain shadow effect,' originating in the humid waters of the Gulf of Guinea, which, to put it simply, means that it rains more on one side of a mountain (windward side) or plateau range than the other (leeward side). This produces the arid and dry, Sahel-like climate that exists in most of Nigeria's Islamic north—Kano, Sokoto and Borno. As a result, this type of geographic phenomena has given the local population in the north—the leeward side of Nigeria—a less favorable climatic condition than in the predominantly Christian south, providing both populations with different means of production and different conditions to manage their local economies, in great extent influencing their behavior and shared experience given the uniqueness of each group's territory.
It's worth noting that the insurgency problem of northern Nigeria is not exclusively a consequence of climate and agricultural productivity. Borno state lies right in the middle of the African Transition Zone — the cultural border dividing North Africa from Sub-Saharan Africa (different climatic conditions alongside religious and cultural dynamics). Now add the political history of Borno: a part of Nigeria that was not entirely penetrated by the British colonial apparatus; was deeply affected by trade routes vis-à-vis other Muslim tribal-polities; was marginalized prior the birth of Boko Haram; and is a part of Nigeria with poor arable land that mostly depends on animal grazing. As a result—and begging the question—how do these physiographic effects shape the cultural and religious dynamics that, in turn, influence the character and behavior of northern Nigerians, more precisely Borno state villagers? What are the cultural legacies of their villages and tribes? By analyzing Borno villagers' ecosystem—arid climate and dry savannah/grasslands—alongside productivity means and cultural legacies, could it help us to understand the rise of a group such as Boko Haram and its growing geopolitical impact in Nigeria, Chad, Cameroon, and Niger?
As initially mentioned, physiographic conditions do not determine our destiny as humans, but it would be fallacy not to think that some nations are simply more favored than others in terms of physical geography. Would it be helpful to break the taboo on the importance of analyzing the climatic and topographic characteristics of a particular territory for a particular population? For instance, one thinks of human possibilism when thinking of Hong Kong, Singapore and Dubai. Yet, arguably, these ports are located in some of the most geostrategic hubs of maritime commerce, without forgetting the fact that a country like the U.A.E.—thanks in great part to their natural resources, political institutions, and migrant communities—has taken advantage of its strategic location to become the global city it is. Now could the Central African Republic have the same level of geostrategic importance as Djibouti or Crimea? Most likely not. Some territories are simply more strategic than others—mobility, location, geographic chokepoints, maritime commerce, agriculture, natural resources, and so forth.
Perhaps the secret to further understanding geopolitical events and insurgencies lies in the notion of biogeography in combination with cultural legacies. For instance, Professor Jarred Diamond points out that the main reason why Australia remained the biggest territory inhabited by hunters and gatherers for thousands of years prior to British colonization was mainly biogeographic: a very small number of plants could be domesticated. Thus it was only after the British arrived with domesticable animals and crops that Australia was put on the path of becoming the world exporter of wool and food it is today. Additionally, if you wonder in what type of climate the major Australian cities are located? Well, you guessed correctly: in the temperate climate zone—Brisbane to Adelaide and also a small regional area that circulates the city of Perth—where the most favorable climatic living and agricultural conditions occur.
Yes, political institutions and reforms were paramount in the socioeconomic transformation of countries like United States, Canada, United Kingdom, Australia and, a most recent example, Israel (prior to massive migration from Ashkenazi and Sephardi Jews, it was generally a semi-arid, deserted space). Yes, human decisions, opportunities and implementation of new technologies have made other polities more competitive than others; yes, technology, social media networks and the Internet, have shortened time and space across the globe; yes, theories like environmental/geographic determinism were written by racist, bigot-type geographers and anthropologists; and yes, it is extremely difficult to scientifically prove how climatic and biogeographic conditions may influence our behavior and political identity as human beings. Yet, human possibilism still has limits, as Professor Diamond once again argues: "the human spirit won't keep you warm north of the Artic Circle if you are nearly naked, as are equatorial lowland peoples. Nor will the human spirit enable you to herd kangaroos, whose social structure is different from that of the dozen species of herdable Old World large domestic mammals." Were the Australian aborigines – before the British settlement – less competitive because of environmental determinism and/or geographic limitations? If no, well, how could human possibilism have made the aborigines more competitive without domesticable plants and animals? This is why I still think environmental determinism should not be discarded automatically; instead one should ponder the more undeniable physiographic, climatic, and biogeographic conditions that can shape the character of the inhabitants in a particular 'place,' allowing them to become more competitive than other 'places.'
In the science and interpretation of geopolitics, it should be paramount to comprehend how different biomes (e.g. grasslands, highlands, coastal regions, deserts, lowlands, basins, valleys, and so on) and climatic conditions (e.g. tropical/equatorial, arid/dry, moderate/temperate, continental/cold, polar/extreme, and highland) could have an effect on a given communities' political and social behavior, especially and more specifically in the Global South, where many conflicts are arising, and which is why scholars, policymakers, journalists, business leaders, and all of those interested—like myself—in the realm of geopolitics, should break the environmental determinism taboo by simply asking ourselves: Could climatic and biogeographic conditions further helps us in our understanding, analysis, and forecasting of geopolitical events?
As a last remark, in his book Outliers, Malcolm Gladwell brilliantly expresses the fact that "each of us has his or her own distinct personality. But overlaid on top of that are tendencies and assumptions and reflexes handed down to us by the history of the community we grew up in, and those differences are extraordinarily specific. Why is the fact that each of us comes from a culture with its own distinctive mix of strengths and weaknesses, tendencies and pre-dispositions, so difficult to acknowledge? Who we are cannot be separated from where we're from"…
First published by the Geopolitical Monitor
Poll Shows Trump's Israel Policy Is Opposed Even by Republicans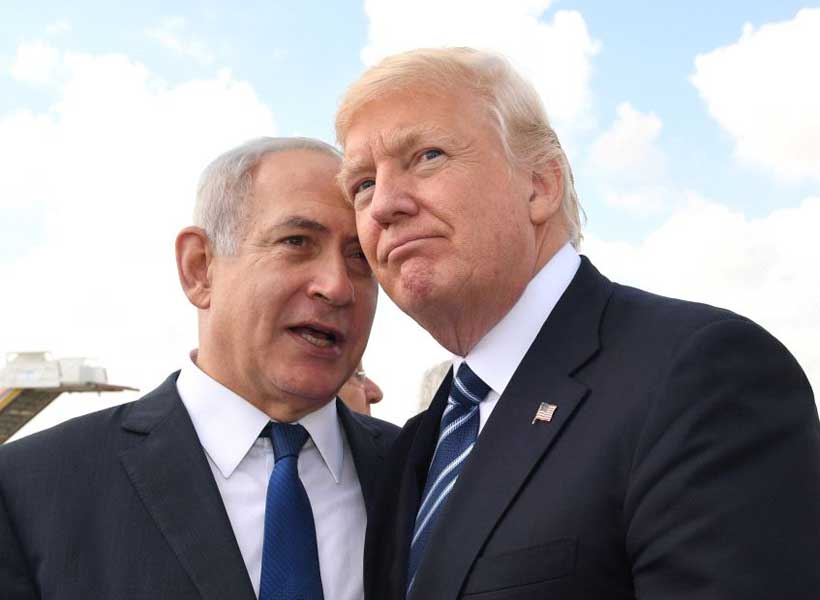 On Monday, November 18th, Reuters headlined "U.S. backs Israel on settlements, angering Palestinians and clouding peace process" and reported that, "The United States on Monday effectively backed Israel's right to build Jewish settlements in the occupied West Bank by abandoning its four-decade-old position that they were 'inconsistent with international law,' a stance that may make Israeli-Palestinian peace even more elusive." This article made clear that, of all entities Reuters could contact about the matter, only U.S. Secretary of State Mike Pompeo thought that these illegal settlements are legal, and even Pompeo was offering no other reason than that "'The establishment of Israeli civilian settlements is not, per se, inconsistent with international law,' Pompeo told reporters at the State Department, reversing a formal legal position taken by the United States under Carter in 1978." It was merely his dictat, as authority for this major U.S. policy-change.
One poll was recently taken of Americans on the matter. It was done by Scarborough Research, a joint venture by The Nielsen Company and Arbitron, and its sample size was unusually large for such a poll and employed rigorous sampling techniques. Thus, its findings should be considered to be close to the reality. Here is a summary of that poll's methodology and findings. [I add my explanations in brackets].
The survey was carried out September 12 – October 9, 2018 online from a nationally representative sample of Nielsen Scarborough's probability-based panel, originally recruited by mail and telephone using a random sample of adults provided by Survey Sampling International. The national sample was 2,352.
Q57. As you may know, the United States has been acting as a mediator between the Israeli government and the Palestinian Authority, with the aim of reaching an agreement in the IsraeliPalestinian conflict. Whether or not these efforts succeed, there is a question about what kind of future for Israel and the Palestinians the U.S. should be supporting over the long term, and many analysts feel that time is running out for some options. Here are four possible approaches that are frequently discussed. Please select the one you think the U.S. should support.
Rep Dem Ind Total
1. A two-state solution: Israel and a Palestinian state side by side. The Palestinian state would be established on the territories that Israel has occupied since 1967. 24% 48% 31% 36% [That's 24% "Rep"; 48% "Dem"; 31% "Ind"; 36% "Total."]
2. A one-state solution: A single democratic state in which both Jews and Arabs are full and equal citizens, covering all of what is now Israel and the Palestinian Territories. 33% 36% 38% 35%
3. Annexation without equal citizenship: Israel would annex the Palestinian territories, but keep a majority-Jewish state in the expanded territories by restricting citizenship rights of Palestinians. 14% 3% 4% 8%
4. Maintain the occupation of both the territories Israel has captured in 1967 and the Palestinians inhabiting them indefinitely. 18% 5% 13% 11%
Refused 11% 8% 14% 10%
[71% support either a two-state or a one-state solution (a sort of democratic solution). 19% support either "Annexation without equal citizenship" or Israel's permanent militarily imposed "occupation of both the territories (West Bank and Gaza)." On this question, only 19% support Trump's Israel policy, but 25% of Republicans do. However, 67% of Republicans don't.]
One of the issues of tension between the United States and Israel has been its construction of Israeli settlements in the territories occupied by Israel in the 1967 war. These settlements are considered illegal by most of the international community and have been opposed by every U.S. administration, both Republican and Democratic. The Israeli government has continued to build settlements. … How do you believe the U.S. should react to new settlements?
1. Do nothing: 38% 17% 33% 28%
2. Verbally criticize: 30% 22% 27% 26%
3. Economic sanctions: 17% 41% 22% 17%
4. More serious action: 9% 15% 11% 12%
[Trump's "Do nothing" is supported by 28% of American voters. That even includes only 38% of Republicans. 56% of Republicans want some type of at least criticism against Israel.]
Consequently: Trump has now gone far out onto a far-right limb here in his policies toward the state of Israel and its dictatorship over Palestinians (the people who are the descendants of what were the vast majority of Israel's population until the ethnic cleansing that slaughtered and displaced them).
The Intellectual Doomsday Clock: 30 Seconds to Midnight?
As someone who has dedicated his entire professional career to higher education, to engaging young minds and striving to advance new thinking across a whole host of critically important global issues, it is with great sadness that I write this article. Not only do all of the scientific surveys point to a coming calamity, my own career provides extensive anecdotal confirmation of the sad reality that we are, as a human society, pushing ourselves down into an intellectual abyss from which we might not be able to emerge. Perhaps most disturbing of all, this pushing momentum is not done by accident. Rather, most of society today seems hell-bent on orgiastically rejoicing in our diminishing skills and our dismissal of 'smartness.' Refined thinking, nuanced analysis, and subtle reasoning are now the supposed domain of out-of-touch elite, of people who do not know about reality and are therefore happily removed from the debate/discussion stage. This is not the same kind of anti-elitism we have seen in decades past. This is not simply a fight between the benefits of 'book learning' versus 'experiential wisdom.' This is more about total war being waged against the intellectual process itself with adjacent side-battles against research, open-mindedness, and scientific thinking. It is not about the quality of the journey of intellectual engagement. It is about the attempt to annihilate discussion in total, surrounding ourselves with our own anti-intellectual camps of sycophantic chatter amounting to nothing. It is not about inquiry leading to epiphany. It is about the biased construction of self-affirmation. We are a society of self-delusional dullards. May this be a not-so-subtle early warning to stop our own dumb and dumber destruction.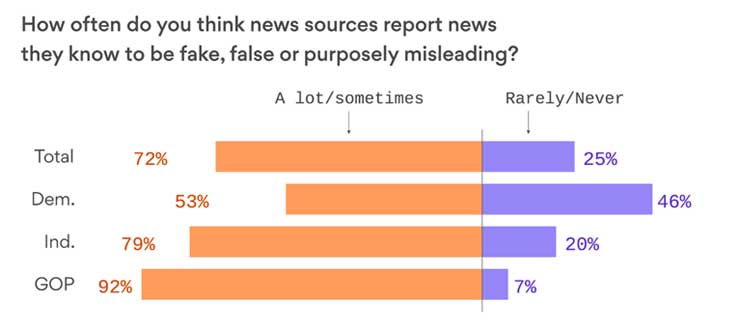 The above chart is fairly self-explanatory. The chief aspect to focus on is how most Democrats will actually use this as supposed 'proof' of their open-mindedness and ability to think more independently, far more so than the other two representative groups covering most of society in America. While I can grant it is horrifically appalling to see percentages amongst Republicans to go all the way to 92% and even "independents" proving they are not so independent at all by going up to 4/5 of their numbers, the surveys still show one out of every 2 democrats, slightly more than that actually, are in the exact same boat as the other members of society. Why does this matter? It matters because on one very crucial aspect this chart explains the secret ingredient that currently powers the base rationalization and self-justification most people use to fuel their purposeful refusal to seek out alternative arguments, embrace people with differing viewpoints, and understand the crucial humility needed in the world of politics and social order, that being there are very few, if any, questions that have one single undebatable answer that should rationally end all further debate. When you can reject all of these things, it allows you to be content with rejecting even the search for multiple sources, the comparative analysis crucial to any real truth-finding, and the rational thinking that creates true deep thought and nuanced intellectualism. The rejection of the impartiality of news sources as an entity de facto turns into behavior that rejects the need to be discerning about sources overall. If the sources are all tainted, then why do we need them at all? All we need is our own thinking, backed of course by the resident echo chambers we create by surrounding ourselves only with like-minded people. As long as the people I spend most of my time with (and that is increasingly becoming a measure based on 'virtual exposure' rather than 'face-to-face living engagement') agree with me, why do I need to care about other fools with different opinions?
The above chart clusters Republican (red) and Democrat (blue) representatives on a spectrum of ideology (defined by how often they vote with the rest of their party) then links opposite party members according to their votes together. The links grow larger and darker the more often representatives vote across party lines. In this case, that symbolizes the positive representation of independent thinking and the ability to make decisions NOT according to knee-jerk party lines or blind ideological allegiance. The graphs' evolution over time is simply remarkable in that not only does the prevalence of cross-party line votes diminish radically over the decades, the behavior by 2011 de facto evaporates while adhering staunchly to party ideology. Exclusionary thinking becomes intensely concentrated and exclusive. It is also disappointing to note that this fascinating study ended in 2011: one year before the second term of President Barack Obama and fully five years before the controversial first term of President Donald Trump. It is not scientifically radical to say the ideological tendencies in American partisanship have only worsened since that 2011 end-of-study date. In fact, heading into 2020, most political discussions in America no longer even include the possibility of any cross-party thinking, let alone behavior. The idea itself is dismissed as being symbolic NOT of independent thinking but of social betrayal that should be shunned and punished.
This final chart is the cherry on top of the stupid sundae. It shows the clear and inevitable path that global IQ is taking from 1950 all the way to 2110. Some may say that a decline from an average of 92 to a new average of 84 is not much given it is covering 160 years. Some might even be motivated to invoke the old "Malthusian Dilemma" to criticize the data, pointing out that such long-term extrapolations are only based on current trends remaining immutable and cannot, therefore, take into account what future counter-measures might be taken by society to right the wrong indicators. I would like to be a member of the Malthusian camp, quite honestly. In its own way, this article is an effort to kick-start those supposed Malthusian strategies, bringing future resolutions to our 'stupid problem' sooner to the forefront rather than later. But all of this is wishful thinking. It is not hard science. My hopes, in fact, are based on the opposite of what the data shows, what society currently rejoices in, and what so many individual people profess as being an advancement in 'popular intelligence.' As long as our global society, led most decidedly by the most powerful and influential country on earth, continues to revel in anti-intellectualism as proof of its own grassroots intelligence, as long as people rationalize away critical reasoning and analytical thinking as just so much elite ivory tower snobbery, then the only path we craft for ourselves as a society is one of blissful ignorance, confrontational delusion, and self-righteous obliviousness. The only society to emerge from this path is a dead society. A society of stagnation and regression. The intellectual doomsday clock is at 30 seconds to midnight. The ability to shift the ticking second hand backwards, back to enlightenment and dynamic knowledge engagement, may already be gone. May the Malthusian Army appear soon.
U.S.-Turkey relations: From close friendship to conflict of interests
Relations between the U.S. Turkey have strained since the failed July 2016 coup in Turkey. Now, the most important reasons for the tension is Washington's strong opposition to Turkey's plan to buy S-400 missile system from Russia and Turkish military invasion into northern Syria.
Although Turkish President Recep Tayyip Erdogan's visit to the U.S. on November 13 was intended to resolve the two countries' disputes and open a new horizon in economic and trade relations, differences still remain.
Though after the meeting at the White House, Trump made some pledges, including increasing trade ties to $100 billion, it takes a long time to fulfill these promises.
Contrary to such pledges, the Pentagon announced that it had replaced all F-35 fighter parts made by Turkey.
While the Turkish and U.S. leaders were meeting, F-35 production program executive Lt. Gen. Eric Fick said at a congressional hearing that Turkey would be completely phased out until March.
At the moment the U.S. has narrowed the number of parts down from 1,000 to 12.
Undersecretary of Defense for Acquisition and Sustainment Ellen Lord affirmed to Rep. Donald Norcross, D-N.J., that as of Wednesday, Turkey's exit from the program was not expected to cause any F-35 production delays.
The U.S. government believes Ankara's move to buy S-400 missile system from Russia is not in line with NATO policies. Washington also sees Turkey's decision as a threat to U.S. F-35 fighters. However, Ankara has announced that it will go ahead with its decision to buy the missile system.
Erdogan said it is not a right policy to ask Ankara to deprive itself of the Russian S-400 missile defense system.
Erdogan's remarks came in response to some reports that Trump had requested Turkey to cancel the purchase of S-400 system, a defense system that has been deployed in some parts of Turkey since July 2019.
But after Trump and Erdogan's meeting, the Turkish president claimed that the U.S. president had a positive view on buying the missile system.
Though Trump may seek to strike a deal with Erdogan on the S-400 missile system and F-35 fighter aircraft, based on his own businessmen approach, Ankara's military intervention in northern Syria and its insistence on buying the S-400 system are at odds with Washington. For this reason, the House of Representatives has passed two resolutions against Turkey.
On October 30, the House approved a resolution against Turkey recognizing the Ottoman massacre of Armenians in 1915. 305 representatives voted in favor of the resolution, with only three opposing it. It also passed another resolution calling on Trump to impose sanctions on Turkey over military operations in northern Syria. The resolution was also adopted by 403 votes in favor and 16 against, a move that rose Turkey's anger.
After Erdogan's meeting with Trump, attended by some Congress representatives, senior Republican Senator Lindsey Graham and chairman of the Senate Judiciary Committee vetoed the resolution recognizing the massacre of Armenians by the Ottoman Empire.
Earlier, Senate Majority Leader Robert Menendez had called for the resolution to be approved. Lindsey Graham noted that he had listened to Erdogan's speech at the White House and criticized a House resolution that recognized the Armenian genocide.
Menendez argued that "U.S. policy must be unanimous and honest in the face of human rights violations, crimes against humanity, ethnic cleansing, and genocide" and sent it to the Senate for approval.
There is a difference between the White House and Congress in how to deal with Turkey. Also, there is a difference between Republicans and Democrats despite Trump's promises to Erdogan.
From our partner Tehran Times