Why the 'Geo' in Geopolitics Still Matters
Geopolitics is one of the most difficult sciences to have a single—and precise—definition, as it can have a wide array of interpretations.
A political analyst could perceive geopolitics as the exercise and distribution of power within the legislative branch of a government, analyzing the power dynamics—within a congress—of who and which party will support a new foreign policy towards another country (e.g. United States and Cuba); an ambassador may interpret geopolitics as the status of his native country's relations with his assigned country, the conflicts that may unfold and what interests to uphold; and a hedge fund manager may perceive geopolitics in terms of what events could impact international commodity markets, therefore affecting international investments and his clients' portfolios. In general the concept is often contextualized, reported, and thought of in terms of international conflicts, risks, and vulnerabilities between one country and another, or multiple parties fighting for influence in a specific part of a territory—i.e. ISIS/ISIL, Crimea, Syria, Korean peninsula. Yet this overlooks the root meaning of the word and the fact that physical geography — if not completely determines — still heavily influences the dynamics of many conflicts, whether military, resource-driven, ethnic, political and so on.
To understand the different meanings of the word, we must first grasp the rationale behind the two leading schools in the realm of geopolitics, which are the classical geopolitics and the more academically-based critical geopolitics schools. The former stems from late nineteenth and early twentieth century writings, primarily those of Sir. Halford Mackinder, Friedrich Ratzel, Alfred Mahan, and Nicholas Spykman, whose work, to this day, is still taken into account in contemporary analysis (the Eurasian landmass as the holy grail of natural resources, the state as a living organism, the paramount importance of controlling the seas, and the importance of littoral/rimland territories in the Asian continent). The critical geopolitics school, championed by prominent scholars such as Simon Dalby, John Agnew, Gerard Toal, and Klaus Dodds, has advocated another point of view within the field of geopolitical studies: that geopolitics is the spatialization of international politics, generally portrayed via words and images by an elite, the media, or academia itself.
Both schools are valid when discussing contemporary geopolitics. However, do they leave any room for the inclusion of physical geography when analyzing a nascent geopolitical conflict? Unfortunately, the theory of environmental determinism – the limits of human development owing to geography and environment – is automatically discarded and viewed pejoratively, as if it were an archaic interpretation of a particular human occurrence. My response to those who would automatically discard such matters: The 'geo' in geopolitics still matters.
Which climate type is the most ecumene for human living conditions? Which climatic conditions are most favorable to produce an adequate amount of food and water? Could physiographic conditions isolate certain types of groups that could eventually become guerrillas or terrorists? For example, stretching from Oregon to the Midwest, the United States is blessed with a favorable, temperate climate, balanced enough to have the right quantity of rain, temperature, and soil fertility, which as a result produces enough potable water, rich farmlands, and temperate forests to aid – not determine – the geopolitical condition of the United States as a whole. In Europe, if you are a farmer in the north European plain or in the lowlands of the British Isles, well, most likely you will not have much to worry about planting and harvesting cash crops, since the temperate climate provides similar climatic features to that of United States, thus providing a stable and moderate temperature that is perfect for farming.
Now what if you are a born in the central highlands of Afghanistan, with an unfavorable soil type for planting and harvesting, obligating you to become a pastoral nomad by raising cattle in the foothills of the mountains? What type of life and behavior do you think these herders would have after generations in the harsh, indomitable, fluctuating weather of the unforgiving central Afghan highlands? Most likely it would not be the community-oriented attitude of a farmer living in the Corn Belt region of United States. Possibly your comportment would evolve into a protective, reserved, distrustful-of-others variety, for in animal grazing you most prevent the theft of your only resource to provide a living for your family: your cattle. Thus, honor and reputation would be your dearest, most sacred elements to prevent others from trying to steal from you. As a result, you would rather be feared than loved, for the only respect and honor comes that from your kinship and clan. This is how Afghanistan has been for hundreds of years, given the numerous feuds the country has had amongst tribes and clans.
What if your cattle and your fellow tribesman live in a disconnected and inaccessible mountainous region where hunting, grazing cattle, and felling trees is imperative for the survival of your clan? Possibly, you would develop a separate identity given the isolation of your group over time, forming a different concept of what governance is and how you should be governed according to your own codes and laws. Now, this has been the social structure of the Russian North Caucasus nations—from Karachay-Cherkessia to Dagestan—as well as northern Albania, Kosovo, Montenegro, Iraqi and Turkish Kurdistan, the Basque region of Spain, northern Greece, the highlands of Guatemala, southern Mexico, and parts of southern Italy, particularly Calabria and Sicily. These regions have been fashioned by a 'pastoral/mountain culture'- protecting your resources, your kinship and honor – which in turn affects the cultural character of their contemporary societies.
Now to the formula of geopolitical analysis, please add culture, religious beliefs, political concepts of governance, ethnic affiliation, and production means – all the elements of what make a geographic entity 'unique.'
Nigeria, like many countries in the tropics, enjoys substantial levels of precipitation in the south, consistently up to Nassarawa state in central Nigeria. And as in many tropical/equatorial climates, there are favorable climatic conditions to animal and plant life in the southern lowlands of Nigeria. Yet this is not the case for Borno state – the symbolic hub of Boko Haram. Northern Nigeria is affected by what a physical geographer would call 'the rain shadow effect,' originating in the humid waters of the Gulf of Guinea, which, to put it simply, means that it rains more on one side of a mountain (windward side) or plateau range than the other (leeward side). This produces the arid and dry, Sahel-like climate that exists in most of Nigeria's Islamic north—Kano, Sokoto and Borno. As a result, this type of geographic phenomena has given the local population in the north—the leeward side of Nigeria—a less favorable climatic condition than in the predominantly Christian south, providing both populations with different means of production and different conditions to manage their local economies, in great extent influencing their behavior and shared experience given the uniqueness of each group's territory.
It's worth noting that the insurgency problem of northern Nigeria is not exclusively a consequence of climate and agricultural productivity. Borno state lies right in the middle of the African Transition Zone — the cultural border dividing North Africa from Sub-Saharan Africa (different climatic conditions alongside religious and cultural dynamics). Now add the political history of Borno: a part of Nigeria that was not entirely penetrated by the British colonial apparatus; was deeply affected by trade routes vis-à-vis other Muslim tribal-polities; was marginalized prior the birth of Boko Haram; and is a part of Nigeria with poor arable land that mostly depends on animal grazing. As a result—and begging the question—how do these physiographic effects shape the cultural and religious dynamics that, in turn, influence the character and behavior of northern Nigerians, more precisely Borno state villagers? What are the cultural legacies of their villages and tribes? By analyzing Borno villagers' ecosystem—arid climate and dry savannah/grasslands—alongside productivity means and cultural legacies, could it help us to understand the rise of a group such as Boko Haram and its growing geopolitical impact in Nigeria, Chad, Cameroon, and Niger?
As initially mentioned, physiographic conditions do not determine our destiny as humans, but it would be fallacy not to think that some nations are simply more favored than others in terms of physical geography. Would it be helpful to break the taboo on the importance of analyzing the climatic and topographic characteristics of a particular territory for a particular population? For instance, one thinks of human possibilism when thinking of Hong Kong, Singapore and Dubai. Yet, arguably, these ports are located in some of the most geostrategic hubs of maritime commerce, without forgetting the fact that a country like the U.A.E.—thanks in great part to their natural resources, political institutions, and migrant communities—has taken advantage of its strategic location to become the global city it is. Now could the Central African Republic have the same level of geostrategic importance as Djibouti or Crimea? Most likely not. Some territories are simply more strategic than others—mobility, location, geographic chokepoints, maritime commerce, agriculture, natural resources, and so forth.
Perhaps the secret to further understanding geopolitical events and insurgencies lies in the notion of biogeography in combination with cultural legacies. For instance, Professor Jarred Diamond points out that the main reason why Australia remained the biggest territory inhabited by hunters and gatherers for thousands of years prior to British colonization was mainly biogeographic: a very small number of plants could be domesticated. Thus it was only after the British arrived with domesticable animals and crops that Australia was put on the path of becoming the world exporter of wool and food it is today. Additionally, if you wonder in what type of climate the major Australian cities are located? Well, you guessed correctly: in the temperate climate zone—Brisbane to Adelaide and also a small regional area that circulates the city of Perth—where the most favorable climatic living and agricultural conditions occur.
Yes, political institutions and reforms were paramount in the socioeconomic transformation of countries like United States, Canada, United Kingdom, Australia and, a most recent example, Israel (prior to massive migration from Ashkenazi and Sephardi Jews, it was generally a semi-arid, deserted space). Yes, human decisions, opportunities and implementation of new technologies have made other polities more competitive than others; yes, technology, social media networks and the Internet, have shortened time and space across the globe; yes, theories like environmental/geographic determinism were written by racist, bigot-type geographers and anthropologists; and yes, it is extremely difficult to scientifically prove how climatic and biogeographic conditions may influence our behavior and political identity as human beings. Yet, human possibilism still has limits, as Professor Diamond once again argues: "the human spirit won't keep you warm north of the Artic Circle if you are nearly naked, as are equatorial lowland peoples. Nor will the human spirit enable you to herd kangaroos, whose social structure is different from that of the dozen species of herdable Old World large domestic mammals." Were the Australian aborigines – before the British settlement – less competitive because of environmental determinism and/or geographic limitations? If no, well, how could human possibilism have made the aborigines more competitive without domesticable plants and animals? This is why I still think environmental determinism should not be discarded automatically; instead one should ponder the more undeniable physiographic, climatic, and biogeographic conditions that can shape the character of the inhabitants in a particular 'place,' allowing them to become more competitive than other 'places.'
In the science and interpretation of geopolitics, it should be paramount to comprehend how different biomes (e.g. grasslands, highlands, coastal regions, deserts, lowlands, basins, valleys, and so on) and climatic conditions (e.g. tropical/equatorial, arid/dry, moderate/temperate, continental/cold, polar/extreme, and highland) could have an effect on a given communities' political and social behavior, especially and more specifically in the Global South, where many conflicts are arising, and which is why scholars, policymakers, journalists, business leaders, and all of those interested—like myself—in the realm of geopolitics, should break the environmental determinism taboo by simply asking ourselves: Could climatic and biogeographic conditions further helps us in our understanding, analysis, and forecasting of geopolitical events?
As a last remark, in his book Outliers, Malcolm Gladwell brilliantly expresses the fact that "each of us has his or her own distinct personality. But overlaid on top of that are tendencies and assumptions and reflexes handed down to us by the history of the community we grew up in, and those differences are extraordinarily specific. Why is the fact that each of us comes from a culture with its own distinctive mix of strengths and weaknesses, tendencies and pre-dispositions, so difficult to acknowledge? Who we are cannot be separated from where we're from"…
First published by the Geopolitical Monitor
Movement of the White House towards radicalism
The removal of U.S. Secretary of State Rex Tillerson from power and the replacement of CIA chief Mike Pompeo will create new crises at the White House. In the domestic circles of the United States, Tillerson was considered one of the few symbols of political rationality in the Trump cabinet. However, Pompeo has always been a symbol of extremism in the political and security structures of the United States.
Consequently, the domestic circles of America believe that Tramps has thrown Tillerson out of power, radicalism and extremism in his government. Accordingly, Tramp will henceforth be more costly in the international system and foreign policy of his country.
The U.S. president has ousted the Foreign Minister while Washington and Pyongyang have not yet begun talks on the disagreements. Donald Trump, on the other hand, is scheduled to make a final decision on a nuclear deal with Iran in about two months. In such a situation, the U.S. Secretary of State is about to create new crises in the White House.
Although the American political structure (especially in the field of foreign policy) has little connection with the presence of people in power, the presence of Pompeo as a symbol of extremism at the top of U.S. foreign policy equations represents a more serious confrontation between Trump's government and the international community.
Pompeo's presence at the head of the U.S. foreign policy equation has raised a lot of concerns among Washington's allies, especially the European ones. One of the issues in which Pompeo and Trump are shared is to confront the existence and nature of the European Union.
Pompeo, as the head of the CIA, has played a significant role in supporting extremist right-wing and nationalist groups in Europe over the last year. In some of his positions, Donald Trump has explicitly supported phenomena such as election and called for the modeling of other European countries. Europe's return to nationalism is a major policy that Tramp and Pompeo have followed and are pursuing in the last year (especially in 2017). Obviously, this process will intensify during Pompeo's presence at the U.S. Department of State.
As Guardian reported, Rex Tillerson will go down as one of the worst secretaries of state in U.S. history. And yet, with his departure and replacement by CIA director Mike Pompeo, things could get a whole lot worse for U.S. national security.
Donald Trump made clear his disdain for diplomacy from day one of his presidency, and that he views foreign policy as an endeavor for the military, not the state department. He proposed enormous increases in the military budget while attempting to slash the state department budget by roughly a third. Trump appointed generals to be secretary of defense, national security advisor (twice) and White House chief of staff, while appointing as secretary of state someone with no diplomatic experience.
If Trump's contempt for diplomacy somehow wasn't clear, he did his best to actively undermine his secretary of state, criticizing him in public on a number of occassions. In the fall of 2017, as Tillerson attempted to open a diplomatic process with North Korea, Trump tweeted to the world, "I told Rex Tillerson … he is wasting his time trying to negotiate with Little Rocket Man." When a Middle East dispute between Saudi Arabia and Qatar broke out in 2017, as Tillerson scrambled to calm the situation and mediate, Trump undercut him by publicly siding with Saudi Arabia.
So it should come as no surprise that Tillerson would find out he was fired when his boss tweeted the news to the world.Despite this poor treatment, it is hard to shed a tear for Tillerson. He has been a good soldier in enabling a military-first foreign policy, in which the state department is relegated to an afterthought.
He has worked aggressively to gut the state department, not filling key positions, and implementing freezes on hiring, all of which have contributed to a hostile environment and low morale. The nation's most senior diplomats have resigned over the last year, leading to a wave of exits of career diplomats at all levels that has depleted the ranks of the nation's diplomatic corps. It will take years to rebuild the state department in the wake of the damage inflicted by Trump and Tillerson.
Guardian continues that On leading America's diplomacy with the world and running the state department, Tillerson has been an utter disaster – but his policy views were about as moderate as they come inside the Trump administration. He has been one of the administration's strongest voices for diplomacy with North Korea.
He was reportedly an advocate of remaining in the Paris climate change agreement. And he supposedly tried to keep the U.S. in the Iran nuclear deal.If and when Pompeo replaces him, we should be deeply concerned – both because of Pompeo's more hawkish views, and where they might take America on the critical foreign policy decisions coming down the pike.
The fate of the Iran deal is once again hanging in the balance, and with it potentially more conflict in the Middle East. Trump has set a 12 May deadline for getting European allies on board with changes to the Iran deal, and has reportedly said that he will exit the deal if those changes aren't made.While Tillerson advocated remaining in the deal, Pompeo has been a vocal critic of the 2015 agreement.
If the U.S. unilaterally withdraws from the deal, there's no telling where tensions with Iran – which is already fighting proxy wars in Syria and Yemen – could go.This development doesn't bode well for diplomacy with North Korea, either. As Trump prepares for a possible summit meeting with North Korean leader Kim Jong-un, Tillerson's exit could signal a much harder line on talks.
Whereas Tillerson has been a proponent of diplomacy with North Korea, Pompeo's public language on North Korea has been more aggressive, and he has openly hinted at regime change. A negotiation with North Korea is one of the most difficult diplomatic endeavors one can imagine – and Pompeo, like Tillerson, has no diplomatic experience.
And then there's Russia. Tillerson has hardly been tough on Russia, prioritizing attempts at cooperation over pushing back against clearly destabilizing actions by Russia, including its interference in the 2016 election. While Pompeo held critical views of Russia during his time in Congress and has admitted that Russia interfered in the election, it's unclear for which policies Pompeo will advocate.
To those ends, there are reasons for concern: at Trump's request, Pompeo met with a conspiracy theorist peddling the falsehood that the hack of the Democratic National Committee's emails in 2016 was an inside job, not Russian hacking. He also falsely claimed that the CIA concluded that Russian meddling did not affect the election's outcome. As war rages in Syria and Ukraine, and Russia continues interfering in U.S. politics, Pompeo will be a key player in leading U.S. policy on all.
At the end of the day, the president directs foreign policy, and no change in personnel will alter the unique chaos of Trump's foreign policy. But if past is prologue, Pompeo appears much more willing than Tillerson to toe Trump's line – a very dangerous prospect.This development may prove that no matter how bad things look, in Donald Trump's administration, they can always get worse.
First published in our partner Tehran Times
A Deceitful Trump Has Difficulty Filling Administration Jobs
A politician on center stage calls Mexican immigrants rapists and killers for those people send their bad guys here; says Syrian refugees are snakes and they and other Muslims could harbor ISIS among them; says African countries are sh*tholes and Haitian immigrants carry aids … .  Then without a hint of irony or embarrassment — except a permanently red face — he proclaims, "I am the least racist person anybody is going to meet."  What would a rational individual call him?
The Washington Post ran an op-ed by Bella De Paulo on Donald Trump's lies and lying, drawing on her research work and the Post's Fact Checker.  It turns out he is an inveterate liar and, worse, a cruel one for his lies are often malicious.  The op-ed was also taken up by the right-leaning Chicago Tribune, the leading such organ in Chicago.
Bella De Paulo is a social scientist who earlier on in her career as a professor at the University of Virginia studied lies and liars jointly with some colleagues there.  Since October 2017, President Trump, she notes, "told a remarkable nine lies a day outpacing even the biggest liars in our research."  It gets worse.
Most of the lies (about half) in their study of college students and general community members in the area were self-serving intended to advantage the liars.  Less often they told kind lies, like the woman telling her mother she did not mind taking her shopping.  These constituted about a quarter.
One category was so small as to warrant just a footnote in their study.  This was the cruel lie intended to hurt or disparage someone.  Only 0.8 percent of student participants' lies and 2.4 percent of community members' lies fell in this category.
President Trump is different, shockingly different.  To use his favorite adjective, an amazing 50 percent of his lies were in the cruel category, the content hurtful or disparaging.  His kind lies were few, outnumbered 6.6 times by self-serving ones.  It is not surprising then that 58 percent of voters questioned in a Quinnipiac University poll last November thought he was not honest.  As most people tend to believe others, there has to be a good reason to label someone dishonest.  The old adage, one can't fool all of the people all of the time appears to be working — the people have caught on.
The departures from the Trump administration took in the most prestigious cabinet post.  Secretary of State Rex Tillerson was fired; Mr. Trump apparently furious at his enthusiastic support for the British in their reaction to the poisoning in Salisbury of Sergei Skripal and his daughter Yulia.  The pair remain in critical condition.  The nerve agent used, Novichok, was developed in Russia.  Mr. Skripal acted as a double agent for the UK in the 1990s and early 2000s betraying many agents.  Would that assemble enemies?
President Trump, therefore, had a point.  However, within a few days he had flip-flopped.  He is now projecting a united front with the British, the Germans and the French on the issue.  Clearly, there were also other reasons for his unhappiness with Mr. Tillerson, including the latter's reported pithy description of him as 'a f***ing moron'.  Disagreements on political appointees was another issue.  Moreover, Tillerson's radical reorganization efforts were not popular with career officials in his department.
Trump's chief economic adviser resigned last week.  His successor Larry Kudlow is a long-time media personality.  He is not what one would call a professional economist.  In fact, he does not even have an economics degree.  He is a journalist.  He is also an ardent supply-sider and trickle-downer though — no doubt to Trump's liking — and he played a role alongside the conservative Heritage Foundation's Stephen Moore on Trump's tax plan during his campaign.
So the arrivals and departures at Trump Junction continue, a busier place than almost any previous administration and with numerous government vacancies.  But then, are there many who want to risk a job with the mercurial Trump when it is also difficult to believe much of what he says?
What Results When U.S. Invades a Country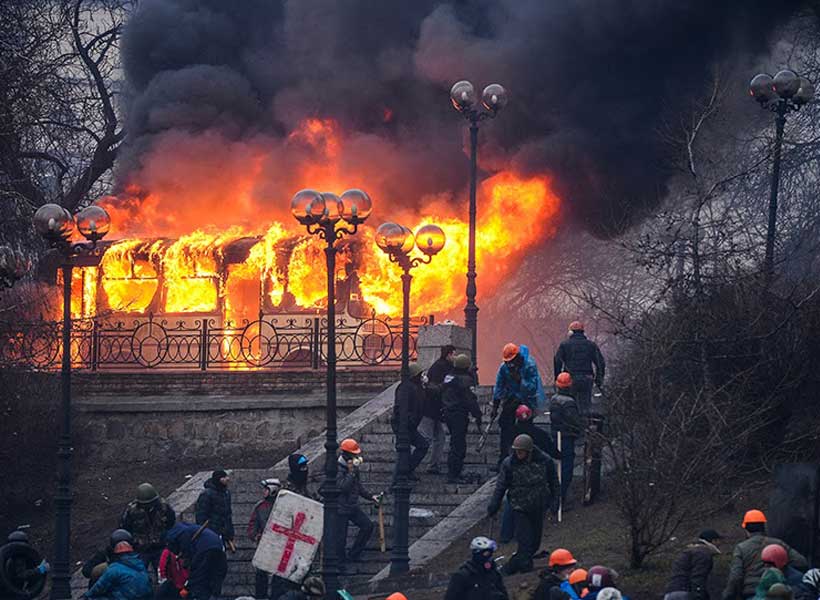 The U.S. Government certainly leads the world in invasions and coups. In recent years, it has invaded and occupied — either by military assault or by coup, but in either case followed by installing (or trying to install) a new regime there — a number of countries, especially Afghanistan, Iraq, Libya, Syria, Ukraine, and Yemen.
U.S. propaganda says that its invasions and military occupations (and it denies its coups) are to benefit the people in the invaded and militarily occupied countries, or to bring them 'democracy', and are not done merely to benefit the people who control the U.S. Government (which itself is not a democracy, and even the neoconservative — pro-invasion or "imperialistic" — American magazine The Atlantic has finally acknowledged this fact, even though it contradicts their continuing neoconservatism).
Polling and other evidences within the invaded/occupied countries shows the opposite of the U.S. claim: America's invasions/occupations (after World War II, and especially after 2000) destroy those countries, not help them.
The most authoritative such study that has yet been done on this matter was recently released, and its findings regarding this matter will here be presented, and then supplemented with other relevant data so as to provide a fuller picture.
The U.N./Gallup surveys of the happiness/misery of the residents in 155 countries, as reported in 2017, were physically in-person interviews in almost all countries, but there was at least one exception, as they explained: "In Libya, telephone survey methodology has been used since 2015 owing to the country's high rate of mobile phone coverage and ongoing instability which has made it too dangerous to use face-to-face interviewers." That's a highly euphemistic way of saying, actually: Libya was too dangerous, and perhaps too miserable, for opinions to be sampled by the ordinary methodology, the scientifically sound methodology, which is in-person interviews. It's a way of saying this without even mentioning the invasion and war there — as if those things don't even count. Therefore, the finding that Gallup reported about Libya is presumably being included in Gallup's otherwise excellent report purely for Western propaganda purposes — they know that it's not an actual scientific finding about Libya, not a finding that can reasonably be compared to the survey-findings in the other countries. As a result, Libya, which might have been the most miserable of all countries after the U.S.-UK-France-Canada invasion, scored in the top half of all countries, #68, 5.525. But, all of the other countries that the U.S. has recently invaded (the nations that are boldfaced below) scored at or below #132, 4.096 — Ukraine's score — as is shown here below from that U.N. report:
Following are the happiness-scores of the bottom 24 out of the 155 happiness/misery-rated countries. (Iraq, which the U.S. had destroyed in 2003, perhaps is now recovering, and it scored as #117, with a score of 4.497; but, here only the bottom 24, the most-miserable of all of the 155 countries, are shown.) Here they are:
132 Ukraine                                                        4.096
133 Uganda                                                        4.081
134 Burkina Faso                                              4.032
135 Niger                                                             4.028
136 Malawi                                                         3.970
137 Chad                                                              3.936
138 Zimbabwe                                   3.875
139 Lesotho                                                        3.808
140 Angola                                                          3.795
141 Afghanistan                                               3.794
142 Botswana                                    3.766
143 Benin                                                            3.657
144 Madagascar                                                3.644
145 Haiti                                                               3.603
146 Yemen                                                         3.593
147 South Sudan                                              3.591
148 Liberia                                                           3.533
149 Guinea                                                         3.507
150 Togo                                                              3.495
151 Rwanda                                                        3.471
152 Syria                                                              3.462
153 Tanzania                                                      3.349
154 Burundi                                                        2.905
155 Central African Republic        2.693
Ukraine is (other than #117 Iraq) the least-miserable of the recently invaded countries, and perhaps the reason for this is that Ukraine was taken over by means of a coup, instead of by means of an outright and direct military invasion.
(You can see this coup happening, here. The way that U.S. President Barack Obama set it up is documented here. You can hear there his agent instructing the U.S. Ambassador in Ukraine whom to place in charge of Ukraine's Government once the coup will have been culminated (which happened 22 days later, and that person did get the leadership-position). It's the full conversation. And here, you will see the phone-conversation in which top EU officials were shocked to find that it had been a coup instead of what Obama pretended, a 'revolution'.) (These evidences are some of the reasons why the head of the 'private CIA' firm Stratfor called it "the most blatant coup in history.")
The U.N. happiness surveys have been taken in Ukraine not only after the coup, which occurred in February 2014, but before it, in 2013. At happiness index you can see the happiness/misery scores shown by Ukrainians during the years 2013, 2015, 2016, and 2017 (there was no survey in Ukraine during 2014, perhaps because of the rampant violence at that time.) In 2013, Ukraine's happiness score was 5.057, but that steadily declined down to the 2017 score of 4.096, which placed Ukraine within the bottom 24 countries, all of which either were extremely poor, or at war, or both. You can also see there Ukraine's resulting "World Happiness Index" rank for each one of those four years, 2013, before the coup, and then 2015-2017, after the coup. As you see there, Ukraine, which was #132  in 2017, had been #87 in 2013 before the coup. So: within just three years after the coup, it declined 45 places in the global rankings.
Some people might retort against this by saying that "happiness" is meaningless or unimportant and only physical welfare is 'objective'," but even on the most crudely physical measures, Ukraine has been enormously harmed by the U.S. coup. In 2013, Ukraine's average annual household income was $2,601.40, and then it fell off a cliff and became $1,109.63 by 2015 and has stabilized at around that level since. Also, in 2013, Ukraine's GDP was $183.31 billion, and by 2015 that had become $91.03 billion and stabilized at that level. Furthermore, some figures aren't any longer even reported by the post-coup Ukrainian regime. For example, whereas the number of unemployed was shown in Ukrainian statistics in 2013, it disappeared in 2016 and subsequently. More information about the decline in Ukraine's economic rankings can be seen here. The U.S. regime has been toxic to the Ukrainian people, no matter how one looks at it. But happiness/misery is the real bottom-line.
Two researchers, Tom Coupe and Maxym Obrizan, published together two separate studies, both in leading economics journals, one article titled "The impact of war on happiness: The case of Ukraine", and the other titled "Violence and political outcomes in Ukraine — Evidence from Sloviansk and Kramatorsk". They reported, in "The Impact of war on happiness":
The average level of happiness declined substantially in zones that experience war directly. …
This decline is comparable to the loss of happiness a relatively well-off person would experience if he/she were to become a poor person. …
Regions that are not directly affected by the war are basically as happy as they were before the war.
In other words: all of the increase in misery occurred only in the regions that have been "directly affected by the war." The Ukrainians who reside outside those regions are "as happy as they were before the war." They're not happier than before the war; they haven't been helped by the war; but, the misery — so intense for them that it has already lowered the happiness-ranking of the entire nation, from 87 down to 132 — just hasn't bothered them, at all.
In "Violence and political outcomes in Ukraine" they reported:
We also find that property damage is associated with greater support for pro-Western parties, lower support for keeping Donbas in Ukraine and lower support for compromise as a way to stop the conflict.
In other words: Ukrainians who live close to the Ukraine-Donbass border; that is, who live inside Ukraine but close to Donbass and so are in the Ukrainian portion of the conflict-zone (not in Donbass, where the vast majority of the "property damage" is actually occurring), have "greater support for pro-Western parties" (i.e., for the Obama-installed regime), but "lower support for keeping Donbas in Ukraine." Although they endorse the overthrow that had been done of the pre-coup government (because they receive 'news'media only from the post-coup regime, in the Ukrainian language), they want to get on with their lives without the war that's since been causing them "property damage." (U.S. propaganda notes that "the separatist-controlled parts of Lugansk and Donetsk oblasts ([the two Donbass] provinces) only have access to Russian TV channels" but avoids noting that the Ukrainian regime's blocking of Russian-language media on the other side of that border — inside Ukraine — exists and is even more severe.) Apparently, Ukrainians near the border just want the war to end — no "compromise" — no negotiations, no Minsk process; they want their Government to simply quit trying to conquer Donbass, no negotiations about it, at all. And they're ignored.
Right now in Ukraine, the central political controversy is between the U.S.-puppet President of Ukraine, who promises to conquer both of the two breakaway provinces, Donbass and also Crimea — but who hasn't yet been able to do it — versus Ukraine's political parties, in western and northern Ukraine, that derived from the organizations which had supported Hitler against Stalin in World War II and who still crave to kill Russian-speakers. Those passionately racist-fascist, anti-Russian, ideologically nazi, political organizations, are determined to actually carry out those additional invasions, no matter what the cost. However, according to this finding by Coupe and Obrizon, the Ukrainians who are suffering the "property damage" and whose personal scores on happiness have thus become so abysmally low as to have dragged the whole Ukrainian nation down to a 132nd ranking, are opposed to that nazi position, and they just want the war to end. And they're ignored.
Where, then, is the support for the war to be found (except amongst the U.S. Congress and President and the U.S. arms-makers whose products have been selling so well to Ukraine's government and which are now being used against the residents of Donbass)? That support is to be found as far away from the conflict-zone as possible: in Lviv and the rest of far-western and northern Ukraine, the areas that were cheering Hitler's forces in WW II, and where the 'news' media today are owned by U.S.-supported oligarchs and their NGOs.
Ukraine was a severely divided nation even before the coup. In the last Ukrainian election in which the residents within the Ukraine that then included both Donbass and Crimea voted, which was the election in 2010, the candidate who won Ukraine's Presidency and whom Obama ousted, had won 90% of the vote in Donbass, and 75% of the vote in Crimea. However, in far-western Ukraine, his opponent — whom Obama had been hoping that Ukrainians would elect as Ukraine's President in 2014 after the coup — won 90% of the vote. That's the candidate whose party (though not herself) now dominates (in conjunction with the two outright nazi parties) the Ukrainian Government. The man whom the residents in the rump Ukraine chose, was the more moderate candidate, and he is increasingly being challenged by the nazis. (Ukraine is the world's only nation that has two nazi political parties. Both of them have been clients of the U.S. Government ever since the end of World War II, but only with Obama did they win control of the country — that is, of its non-breakaway regions.) For example, on 18 January 2018, the AP headlined "Ukraine passes bill to get occupied regions back from Russia" and reported that, "Ukraine's parliament on Thursday passed a bill that aims to reintegrate the eastern territories currently controlled by Russia-backed separatists, and goes as far as to declare support for taking them back by military force if necessary." Though that position is a minority position amongst the Ukrainian public, it authentically represents the position that Obama wanted. In fact, he even overrode his own Secretary of State, John Kerry, to push for it. That's the position of Ukraine's two nazi parties, which are trying to replace the existing President. (Trump hasn't yet made clear whether he backs them, but he is expected to.)
So: that's Ukraine — the happiest of the nations that the U.S. has recently invaded.
——
UPDATE: On March 15th, the "World Happiness Report 2018" was issued, and here are the bottom-scoring countries:
Ukraine (4.103)
Togo (3.999)
Guinea (3.964)
Lesotho (3.808)
Angola (3.795)
Madagascar (3.774)
Zimbabwe (3.692)
Afghanistan (3.632)
Botswana (3.590)
Malawi (3.587)
Haiti (3.582)
Liberia (3.495)
Syria (3.462)
Rwanda (3.408)
Yemen (3.355)
Tanzania (3.303)
South Sudan (3.254)
Central African Republic (3.083)
Burundi (2.905)
first published at The Saker