Why the 'Geo' in Geopolitics Still Matters
Geopolitics is one of the most difficult sciences to have a single—and precise—definition, as it can have a wide array of interpretations.
A political analyst could perceive geopolitics as the exercise and distribution of power within the legislative branch of a government, analyzing the power dynamics—within a congress—of who and which party will support a new foreign policy towards another country (e.g. United States and Cuba); an ambassador may interpret geopolitics as the status of his native country's relations with his assigned country, the conflicts that may unfold and what interests to uphold; and a hedge fund manager may perceive geopolitics in terms of what events could impact international commodity markets, therefore affecting international investments and his clients' portfolios. In general the concept is often contextualized, reported, and thought of in terms of international conflicts, risks, and vulnerabilities between one country and another, or multiple parties fighting for influence in a specific part of a territory—i.e. ISIS/ISIL, Crimea, Syria, Korean peninsula. Yet this overlooks the root meaning of the word and the fact that physical geography — if not completely determines — still heavily influences the dynamics of many conflicts, whether military, resource-driven, ethnic, political and so on.
To understand the different meanings of the word, we must first grasp the rationale behind the two leading schools in the realm of geopolitics, which are the classical geopolitics and the more academically-based critical geopolitics schools. The former stems from late nineteenth and early twentieth century writings, primarily those of Sir. Halford Mackinder, Friedrich Ratzel, Alfred Mahan, and Nicholas Spykman, whose work, to this day, is still taken into account in contemporary analysis (the Eurasian landmass as the holy grail of natural resources, the state as a living organism, the paramount importance of controlling the seas, and the importance of littoral/rimland territories in the Asian continent). The critical geopolitics school, championed by prominent scholars such as Simon Dalby, John Agnew, Gerard Toal, and Klaus Dodds, has advocated another point of view within the field of geopolitical studies: that geopolitics is the spatialization of international politics, generally portrayed via words and images by an elite, the media, or academia itself.
Both schools are valid when discussing contemporary geopolitics. However, do they leave any room for the inclusion of physical geography when analyzing a nascent geopolitical conflict? Unfortunately, the theory of environmental determinism – the limits of human development owing to geography and environment – is automatically discarded and viewed pejoratively, as if it were an archaic interpretation of a particular human occurrence. My response to those who would automatically discard such matters: The 'geo' in geopolitics still matters.
Which climate type is the most ecumene for human living conditions? Which climatic conditions are most favorable to produce an adequate amount of food and water? Could physiographic conditions isolate certain types of groups that could eventually become guerrillas or terrorists? For example, stretching from Oregon to the Midwest, the United States is blessed with a favorable, temperate climate, balanced enough to have the right quantity of rain, temperature, and soil fertility, which as a result produces enough potable water, rich farmlands, and temperate forests to aid – not determine – the geopolitical condition of the United States as a whole. In Europe, if you are a farmer in the north European plain or in the lowlands of the British Isles, well, most likely you will not have much to worry about planting and harvesting cash crops, since the temperate climate provides similar climatic features to that of United States, thus providing a stable and moderate temperature that is perfect for farming.
Now what if you are a born in the central highlands of Afghanistan, with an unfavorable soil type for planting and harvesting, obligating you to become a pastoral nomad by raising cattle in the foothills of the mountains? What type of life and behavior do you think these herders would have after generations in the harsh, indomitable, fluctuating weather of the unforgiving central Afghan highlands? Most likely it would not be the community-oriented attitude of a farmer living in the Corn Belt region of United States. Possibly your comportment would evolve into a protective, reserved, distrustful-of-others variety, for in animal grazing you most prevent the theft of your only resource to provide a living for your family: your cattle. Thus, honor and reputation would be your dearest, most sacred elements to prevent others from trying to steal from you. As a result, you would rather be feared than loved, for the only respect and honor comes that from your kinship and clan. This is how Afghanistan has been for hundreds of years, given the numerous feuds the country has had amongst tribes and clans.
What if your cattle and your fellow tribesman live in a disconnected and inaccessible mountainous region where hunting, grazing cattle, and felling trees is imperative for the survival of your clan? Possibly, you would develop a separate identity given the isolation of your group over time, forming a different concept of what governance is and how you should be governed according to your own codes and laws. Now, this has been the social structure of the Russian North Caucasus nations—from Karachay-Cherkessia to Dagestan—as well as northern Albania, Kosovo, Montenegro, Iraqi and Turkish Kurdistan, the Basque region of Spain, northern Greece, the highlands of Guatemala, southern Mexico, and parts of southern Italy, particularly Calabria and Sicily. These regions have been fashioned by a 'pastoral/mountain culture'- protecting your resources, your kinship and honor – which in turn affects the cultural character of their contemporary societies.
Now to the formula of geopolitical analysis, please add culture, religious beliefs, political concepts of governance, ethnic affiliation, and production means – all the elements of what make a geographic entity 'unique.'
Nigeria, like many countries in the tropics, enjoys substantial levels of precipitation in the south, consistently up to Nassarawa state in central Nigeria. And as in many tropical/equatorial climates, there are favorable climatic conditions to animal and plant life in the southern lowlands of Nigeria. Yet this is not the case for Borno state – the symbolic hub of Boko Haram. Northern Nigeria is affected by what a physical geographer would call 'the rain shadow effect,' originating in the humid waters of the Gulf of Guinea, which, to put it simply, means that it rains more on one side of a mountain (windward side) or plateau range than the other (leeward side). This produces the arid and dry, Sahel-like climate that exists in most of Nigeria's Islamic north—Kano, Sokoto and Borno. As a result, this type of geographic phenomena has given the local population in the north—the leeward side of Nigeria—a less favorable climatic condition than in the predominantly Christian south, providing both populations with different means of production and different conditions to manage their local economies, in great extent influencing their behavior and shared experience given the uniqueness of each group's territory.
It's worth noting that the insurgency problem of northern Nigeria is not exclusively a consequence of climate and agricultural productivity. Borno state lies right in the middle of the African Transition Zone — the cultural border dividing North Africa from Sub-Saharan Africa (different climatic conditions alongside religious and cultural dynamics). Now add the political history of Borno: a part of Nigeria that was not entirely penetrated by the British colonial apparatus; was deeply affected by trade routes vis-à-vis other Muslim tribal-polities; was marginalized prior the birth of Boko Haram; and is a part of Nigeria with poor arable land that mostly depends on animal grazing. As a result—and begging the question—how do these physiographic effects shape the cultural and religious dynamics that, in turn, influence the character and behavior of northern Nigerians, more precisely Borno state villagers? What are the cultural legacies of their villages and tribes? By analyzing Borno villagers' ecosystem—arid climate and dry savannah/grasslands—alongside productivity means and cultural legacies, could it help us to understand the rise of a group such as Boko Haram and its growing geopolitical impact in Nigeria, Chad, Cameroon, and Niger?
As initially mentioned, physiographic conditions do not determine our destiny as humans, but it would be fallacy not to think that some nations are simply more favored than others in terms of physical geography. Would it be helpful to break the taboo on the importance of analyzing the climatic and topographic characteristics of a particular territory for a particular population? For instance, one thinks of human possibilism when thinking of Hong Kong, Singapore and Dubai. Yet, arguably, these ports are located in some of the most geostrategic hubs of maritime commerce, without forgetting the fact that a country like the U.A.E.—thanks in great part to their natural resources, political institutions, and migrant communities—has taken advantage of its strategic location to become the global city it is. Now could the Central African Republic have the same level of geostrategic importance as Djibouti or Crimea? Most likely not. Some territories are simply more strategic than others—mobility, location, geographic chokepoints, maritime commerce, agriculture, natural resources, and so forth.
Perhaps the secret to further understanding geopolitical events and insurgencies lies in the notion of biogeography in combination with cultural legacies. For instance, Professor Jarred Diamond points out that the main reason why Australia remained the biggest territory inhabited by hunters and gatherers for thousands of years prior to British colonization was mainly biogeographic: a very small number of plants could be domesticated. Thus it was only after the British arrived with domesticable animals and crops that Australia was put on the path of becoming the world exporter of wool and food it is today. Additionally, if you wonder in what type of climate the major Australian cities are located? Well, you guessed correctly: in the temperate climate zone—Brisbane to Adelaide and also a small regional area that circulates the city of Perth—where the most favorable climatic living and agricultural conditions occur.
Yes, political institutions and reforms were paramount in the socioeconomic transformation of countries like United States, Canada, United Kingdom, Australia and, a most recent example, Israel (prior to massive migration from Ashkenazi and Sephardi Jews, it was generally a semi-arid, deserted space). Yes, human decisions, opportunities and implementation of new technologies have made other polities more competitive than others; yes, technology, social media networks and the Internet, have shortened time and space across the globe; yes, theories like environmental/geographic determinism were written by racist, bigot-type geographers and anthropologists; and yes, it is extremely difficult to scientifically prove how climatic and biogeographic conditions may influence our behavior and political identity as human beings. Yet, human possibilism still has limits, as Professor Diamond once again argues: "the human spirit won't keep you warm north of the Artic Circle if you are nearly naked, as are equatorial lowland peoples. Nor will the human spirit enable you to herd kangaroos, whose social structure is different from that of the dozen species of herdable Old World large domestic mammals." Were the Australian aborigines – before the British settlement – less competitive because of environmental determinism and/or geographic limitations? If no, well, how could human possibilism have made the aborigines more competitive without domesticable plants and animals? This is why I still think environmental determinism should not be discarded automatically; instead one should ponder the more undeniable physiographic, climatic, and biogeographic conditions that can shape the character of the inhabitants in a particular 'place,' allowing them to become more competitive than other 'places.'
In the science and interpretation of geopolitics, it should be paramount to comprehend how different biomes (e.g. grasslands, highlands, coastal regions, deserts, lowlands, basins, valleys, and so on) and climatic conditions (e.g. tropical/equatorial, arid/dry, moderate/temperate, continental/cold, polar/extreme, and highland) could have an effect on a given communities' political and social behavior, especially and more specifically in the Global South, where many conflicts are arising, and which is why scholars, policymakers, journalists, business leaders, and all of those interested—like myself—in the realm of geopolitics, should break the environmental determinism taboo by simply asking ourselves: Could climatic and biogeographic conditions further helps us in our understanding, analysis, and forecasting of geopolitical events?
As a last remark, in his book Outliers, Malcolm Gladwell brilliantly expresses the fact that "each of us has his or her own distinct personality. But overlaid on top of that are tendencies and assumptions and reflexes handed down to us by the history of the community we grew up in, and those differences are extraordinarily specific. Why is the fact that each of us comes from a culture with its own distinctive mix of strengths and weaknesses, tendencies and pre-dispositions, so difficult to acknowledge? Who we are cannot be separated from where we're from"…
First published by the Geopolitical Monitor
The future of Russia- Mexico Relations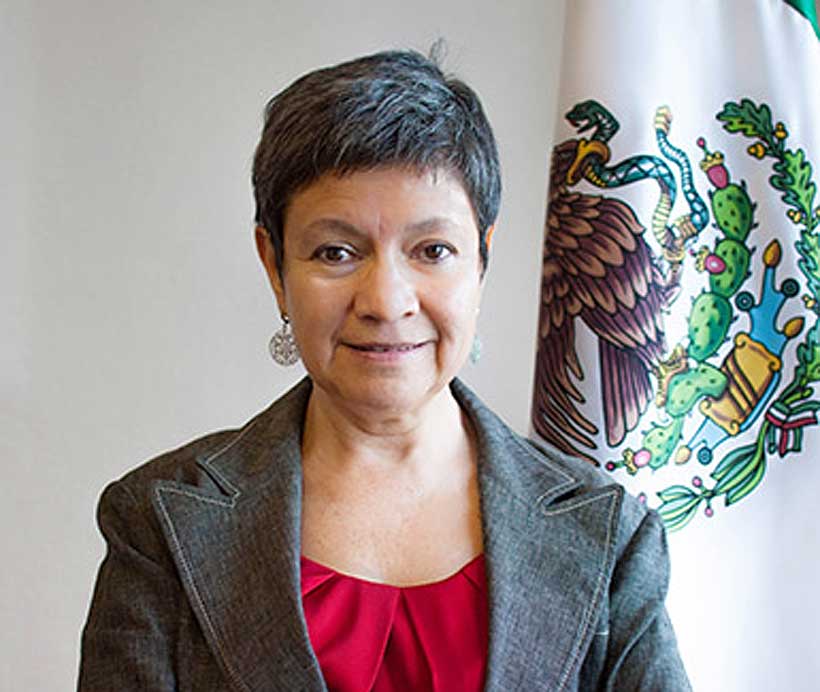 Mexico has impressive bilateral relations with the Russian Federation. During the last decade, Mexico has been exploring new opportunities with its partners in this part of Europe, in particular, with Russia. In this interview, Ambassador Extraordinary and Plenipotentiary of Mexico to the Russian Federation, H.E. Norma Pensado Moreno, talks about the key priorities, challenges and the economic changes that could possibly influence future bilateral directions of Mexico-Russia.
What are your Government's priorities in and expectations from the Russian Federation?
Mexico´s Government issued new objectives of foreign policy; one of them is building stronger relations with our partners beyond North America. In this endeavor, Eastern Europe plays a key role. Moreover, due to its dynamism during the last decade, Mexico has a special interest in exploring new cooperation opportunities with its partners in this part of Europe, in particular with Russia.
For Mexico and the Russian Federation, there is great potential in their bilateral relationship. In 2017 and 2018, considerable progress was made in its political dialogue and cooperation in various areas, but a real deepening still remains, mainly in the economic field, in order to match the size of its economies, being both among the 15 biggest in the world.
Both countries are of decisive importance in their respective regions. Within the group of Latin American countries, Mexico occupies an important place for Russia's foreign policy agenda. For Mexico, Russia is a country with high political, scientific, cultural, energy, tourist, investment and commercial potential.
The bilateral dialogue between the two countries has focused on the Mechanism of Political Consultations, official reciprocal visits, exchange and cooperation (educational, cultural, scientific and technical), energy, economy, trade and tourism. Mexico and Russia agree on positions in many International Forums and on principles such as the promotion of multilateralism. In this context, they have prioritized the issues of international security, the pacific use of cosmic space, the fight against drug trafficking and transnational crime.
The bilateral relationship is in a very good dynamic, due to the presidential meetings in BRICS and APEC summits, as well as the meetings of foreign ministers, in August and November of 2017. The celebration of the V Joint Commission of Cooperation in Culture, Education and Sports took place last February after many years, and the VI Economic Commission Mexico-Russia is expected to take place during 2019.
In short, our Government priorities and expectations are to continue and deepen the cooperation Mexico and the Russian Federation have both in our bilateral relationship in all areas and in the multilateral agenda, as well as to exploring new cooperation in areas such as energy and telecommunications, in which Russia has strengths.
Do you have the same business agenda in other ex-Soviet republics where you are accredited?
I am also accredited as Ambassador to Armenia and Belarus. Overall, Mexico's business agenda is similar in the three countries. We want to expand trade, promote investments and connect our business community to their counterparts in these countries through the organization of business missions and participation in commercial promotional events. It is also a common goal in the three countries to promote Mexico as a tourist destination.
However, we have also set specific goals based on the prospects identified in each country. Russia is a big country and it represents a wide scope of opportunities. In the case of our Armenian counterparts, we have talked about the many opportunities in the IT and renewable energies sectors. As for Belarus, we are aware of its potential in the production of tractors and agriculture machines as well as in its new industrial technologies. We need to do some work to translate this flow of information into real opportunities that can be explored by our business communities.
Could you please discuss the level of Russia's economic engagement in Mexico? Is your Government satisfied with Russia's investment interest as compared to, most probably, other foreign players in Mexico?
Both Russia and Mexico are conscious that there is significant room to grow in our bilateral economic relations given the size of our economies and the possibilities of complementarity. We want to increase economic exchanges and investments.
That said, I want to highlight that Russia has made significant steps regarding its economic engagement in Mexico. It is Mexico's most important investment partner among Eastern European countries, with a total investment of $20.9 million between 1999 and 2017. There are Russian investments in more than 80 Mexican companies, in fields such as transportation, hotels, and mining.
In June 2017, as a result of Mexico's public tender process in its oil industry, Lukoil was awarded an exploration and extraction contract in the Gulf of Mexico. In March 2018, the company announced that, in consortium with the Italian company Eni, it had been awarded another contract. This consolidates its presence in Mexico since it started to cooperate with Pemex in 2014.
Last year Minister of Trade and Industry visited Mexico heading a business delegation in sectors such as aerospace, automotive, equipment and energy. And this October, the Deputy Minister of Trade and Industry also went to Mexico with a delegation of companies in the construction sector. I can thus say that we see a positive trend in Russia's engagement in Mexico and we hope it will remain.
On the other hand, how does Mexico engage Russia? How do you view the possibility of effective trade exchanges between the two countries?
Mexican investment in Russia is also growing. In 2017 Gruma, one of the biggest producers of tortillas and other agro products opened a plant in the Moscow region with an investment of $50 million. Other companies with presence in the country are Kidzania –with an entertainment center in the Moscow region- and Nemak –with a manufacturing center for automotive components in Zavolzhie, near Ulyanovsk. Also, the Mexican air company Interjet has acquired several Russian-developed units, the Sukhoi SuperJet-100.
In addition, different Mexican governmental agencies have been encouraging Mexican producers from the agricultural sector to explore opportunities in the Russian market. As a result, representatives from more than twenty companies have visited Russia in the last four months to get acquainted with potential partners. We had a big delegation in Moscow last June, within the framework of the FIFA World Cup, and the second one in mid-September, which attended the World Food fair in Moscow.
Therefore, I can confidently say that there is keen interest from the Mexican side to strengthen its economic ties with Russia. Our goal is to translate all these steps into a substantial growth in trade exchanges.
How is Mexico's tourism business developing in Russia? Are the number of Russian tourists increasing compared to the previous years? What strategies have you adopted to further popularize your country's recreational destinations?
One of the main priorities of the Government of Mexico is tourism. Thanks to the efforts of our government in this area, in 2017 Mexico ranked sixth in the world in reception of foreign tourists, according to the World Tourism Organization, with almost 40 million visitors (39.3 million). Out of this amount, only 37,300 Russian visitors entered Mexico by airplane (an increase of 21.5% in comparison to 2016); it means less than 0.1% of all the tourists we received last year; even if it is increasing, it does not correspond to the importance of Russia in the world.
We strive for having again the numbers we had in 2013 when almost 108,000 Russians visited Mexico. The good news is that in the first 8 months of 2018, Mexico received more Russian visitors than in the whole 2017. If this trend continues we will receive more than 50,000 Russian tourists at the end of the year -something not seen since 2014-, it means almost 65% more than two years ago.
For the coming years, we are confident that the number of Russians who will visit Mexico will continue increasing thanks to the actions implemented by the Government of Mexico to popularize my country in Russia, among them:
1) the organization or participation in events aimed at the main Russian tour operators; 2) the participation in tourism exhibitions in Russia;
3) the publication of brochures or information in Russian language including the version in this language of the Website of our Tourism Office, which will be in force in the next weeks.
In this framework, a key role play the recent visit to Russia of more than 45,000 Mexican football fans to attend the World Cup who brought with them our "Fiesta", something that Russians liked very much and has motivated them to visit Mexico in the near future.
What are views about economic changes in Russia and the Eurasian region? And how would the changes possibly influence future directions in economic cooperation in Mexico?
We closely follow the economic developments in Russia, Armenia, and Belarus, including the regional integration efforts within the Eurasian Economic Union. We are aware of the challenges the countries are facing, but also of the opportunities that are being open. We want to focus on the opportunities. As I mentioned before, the interest in deepening economic relations is mutual and is growing. We will carry on with the work that has been done in the last years.
In the case of Russia, we have still to agree on a date for the next meeting of the Economic Intergovernmental Commission, which will be key to strengthen our cooperation framework. Experts from the two countries are engaged in processes that we hope will lead to the reopening of the Russian market for Mexican beef and seafood products. The trends are very positive, and we can remain optimistic in that regard.
Venezuelan refugee crisis and how it is altering the surrounding regions
Venezuela's migration crisis has been in the news lately and recent UN polls show that nearly 2.3 million have already migrated from their homeland over the past few years. However, other estimates show a figure closer to four million Venezuelan immigrants.
This crisis is rapidly sinking its claws in the neighbouring countries and if the amount of people migrating keeps increasing, it might become the worst man-made disasters since the First and Second World Wars after the Syrian refugee crisis. The Syrian crisis gave birth to more than six million refugees, and although the number here is still around half of that toll, the Venezuelan crisis doesn't seem to be slowing down anytime soon. The inflation over there is nearly a million percent – a number so absurd that the common people around the world are not able to even grasp the sheer magnitude of the situations developing every day in this country. The minimum monthly wage is a few American dollars, putting essentials like food – particularly rations like chicken – into the category of luxurious items. The economy has shrunk by half in five years. To explain the extent of this downfall, Girish Gupta – founder of Data Drum and former investigative, multimedia journalist in Venezuela/LatAm – tweeted: If you'd bought a million dollars in Venezuela's local currency when President Nicolás Maduro came to power in 2013, it'd now be worth $3.40. Diseases that were once overcome – like measles and diphtheria – are making a comeback. Infant mortality rates are going up while approximately 1.3 million refugees who have already escaped Venezuela were suffering from malnourishment (according to UN officials).
However, these are not the last of the Venezuelans' problems; the nations to whom the refugees sought to escape to are closing their doors on their faces – literally. Sunday saw Ecuador closing border crossings with Colombia to people who don't have passports. This was seen as a certain way to reduce the bulk of refugees from entering other countries as passports are fairly difficult to obtain amidst the economical and political chaos. Jonnayker Lien, a migrant standing outside the Peruvian border with his entire family said, "Imagine people like us who have sold everything, down to our beds, to come here, and they close the door on us. We don't know where to sleep, and we don't have money to go back." Crisis broke out in the town of Pacaraima, north Brazil, after local throngs started struggling against the refugees and pushed them back to the border. Already a penurious town, the locals resent sharing their remaining resources with these migrants. However, even a strong military force could not stop these migrants from coming into Brazil. Peru had twenty thousand migrants arriving in the past week.
An emergency regional summit has been called by officials from Ecuador where Venezuela and its neighbours could deal with the crisis. Yukiko Iriyama, a representative in Colombia for the U.N. refugee agency said, "The capacity of the region is overwhelmed. The magnitude of the situation really requires a regional comprehensive approach." The recently implemented passport checks by Peru and Ecuador aimed to reduce the flow of refugees into the countries. However, all it did was reduce the legal way of entering into these nations and increased the illegal border crossings.  To deal with this disaster and the refugee predicament, representatives from Colombia, Ecuador and Peru will meet in Bogota next week. Christian Kruger, the head of Colombia's migration authoritysaid in a statement, "The exodus of Venezuelan citizens is not a problem exclusive to Colombia, Peru, Ecuador or a single country. This is a regional problem and as such we must address it. Demanding passports from a nation that does not have them and whose government does not facilitate the issuance of this document is to encourage irregularity." Peru is also calling a meeting at an individual level of the permanent council of the Organization of American States to discuss the migration.
The toll of migrants entering Colombia is around a million in fifteen months but nations like Chile, Brazil, Ecuador, Peru are also receiving these refugees. Low skilled Venezuelans have flooded some Latin American job markets to find work and send money back home. United Nations Secretary-General Antonio Guterres told Colombian Foreign Minister Carlos Holmes Trujillo that he will set up a UN team that will respond to the crisis. UN spokesman Stephane Dujarric said that Guterres "told him that he would put together an internal coordination mechanism to make sure that the UN regional response is well coordinated." "This is something that is not uncommon in these types of crises," he added. Dany Bahar of the Brookings Institution suggested declaring this as a refugee crisis in order to seek help, saying, "It is up to the United Nations, together with the Organization of American States, to step up and recognize this problem as a refugee crisis so that the world can turn the proper attention to it and provide solutions." He also added that none of the nations in the regionhave taken the initiative to provide a sustainable solution to the problem.
Trump: The Symbol of America's Isolation in the World
The president of the United States, who came to power in 2016 with the slogan of "Reviving Washington's Power", has become the messenger of failure and defeat of his country in the West Asian region and in the international system. The U.S. numerous military and political defeats in countries such as Syria, Yemen, Iraq and Lebanon were so outstanding that there's no way Trump can brag about his achievements in the region.
On the other hand, many Democrats in the United States, and even the traditional Republicans, have been criticizing the President's costly and barren foreign policy in West Asia. In such a situation, Trump attempts to attribute this failure to the country's previous administrations and condemn them over what is happening in today's world, especially in the West Asian region, and he blames Obama for Washington's constant and extensive failures in this area.
Besides, Trump's other projections about the hard conditions of the U.S. in West Asia are noteworthy. In his recent remarks, Donald Trump said that if he wasn't at top of the U.S. political and executive equations, Iran would capture the Middle East (West Asia)! This is while Islamic Republic of Iran created stability in the West Asian region, and besides, has stood against the long-term, medium-term, and short-term and destructive goals of the United States and its allies in the region.
Trump's strategic weakness in the West Asia is an important issue which can't be easily overlooked. Of course this strategic weakness did exist during Obama's presidency, but the truth is that it reached its peak during Trump's presidency. And in the future, this weakness will bring severe blows to the United States.
The fact is that the strategic calculations of the United States in the West Asia region have all failed. And many of the pre-assumptions that Washington called them "strategic propositions", have never turned into reality for some reasons, including the vigilance of the Resistance movement in the region. This is the reason why America is so confused in confronting the equations of West Asia.
Under such circumstances, the only way before the President of the United States is to leave the region and confess to his defeat; an issue that many American analysts and strategists have noted. It shouldn't be forgotten that in spite of his campaign slogans for stopping the military intervention in the region, the current president of the United States has intensified conflicts and created constant security crises in West Asia.
The direct, perfect, and comprehensive support of Donald Trump for takfiri terrorists reflects this fact. Trump started his support for ISIL since the beginning of his presence at the White House in early 2017, and he stood for the terrorists until the fall of ISIL in Syria. Even now, Trump is attempting to revive terrorist and takfiri groups in Iraq and Syria.
Despite passing half of his presidency, Trump has claimed that the defeat in Yemen, Syria and Iraq was Obama's legacy. There is no doubt that Obama and his two secretaries of state, Hillary Clinton and John Kerry, played a major role in creating terrorist and takfiri groups (especially ISIL), and committed bloodshed in Syria and Iraq.
There is also little ambiguity in the strategic, operational and even tactical defeat of the Obama administration in the battlefields of Syria, Iraq, and Yemen. However, Trump can't deny his share in this defeat, and pretend as if he's the messenger of the victory of the United States in these scenes! The fact is that Trump completed the military and political defeats of the United States in the West Asia region. Today, the United States is defeated in the battlefield, and can well see that its pieces had failed in these wars.
On the other hand, the White House has lost the political arena of the region. The failure of the United States in the Lebanese and Iraqi elections, on the one hand, and the popular support for the resistance groups in Yemen and Syria, has left Trump and his companions disappointed in the region. In such a situation, attributing the recent and ongoing defeats of the United States to the Obama administration is completely expectable, and at the same time, unacceptable!
Finally, we can see that just like Obama, George W Bush, Clinton, Bush, Reagan and Carter, Trump is stuck in this strategic miscalculation in the West Asian region. Undoubtedly, in his last days in power, Trump will also understand that there's no way he can overcome this strategic weakness through Saudi and Emirati petrodollars.
However, it seems that the scope of Trump's defeat in West Asia would be wider than the previous presidents of the United States. Undoubtedly, in the near future, Trump, John Bolton, Mike Pompeo and Nikki Haley will become the symbols of failure in the US foreign policy, especially in the West Asia. In other words, the president of the United States and his companions at the White House will have to admit to defeat in the West Asian region at a great expense, and this is exactly what frightens the American authorities.
first published in our partner Tehran Times