Fair Trade – an alternative made to Aid and Free Trade?
"Trade not Aid": this used to be the slogan of third-worldist movements in the mid-1960s, an epoch when intellectual figures in the Third World were denouncing the unequal exchange between the capitalist Center and the Periphery.
The aim was then to challenge the capitalist system at its very basis. Forty years later, in a global neoliberal context, it seems that the issue of unequal exchange has resurfaced through the Fair Trade movement, a movement which purports to help the poorest and most marginalized producers of the global South. Based on the perceived failures of aid and free trade paradigms, the Fair Trade protagonists count on the generosity and solidarity of Northern consumers in order to achieve fairer trade relationships between the North and the South.
The Fair Trade movement is not monolithic however. There are at least two conflicting visions inside the movement. First, there is "historical" or "alternative" Fair Trade. In this approach, economic intermediaries are specialised in the distribution and/or sale of 'Fair' products – agricultural products or handicrafts – which are purchased from producers in the South by specialised group purchasing organisations in order to be sold in dedicated shops in the North. The rationale here is to create alternative trade channels operating outside standard distribution networks and where agrifood giants are excluded. At the global level, the World Fair Trade Organization (WFTO) federates specialised/alternative Fair Trade organisations.
Since the 1980s, another approach, the labelling one, has progressively imposed itself. It is epitomized by the Max Havelaar/Fairtrade label. Unlike the previous approach that certifies "organisations", the labelling approach only certifies "products". As there is no requirement to be '100 per cent fair-trade specialised' in order to obtain a licence for the sale or distribution of Fair Trade products, the sale/distribution of certified products is in theory available to all corporations, provided that they comply with specific standards and pay their annual licence fees to the label holder (namely the national labelling initiative). As a result, the classical sale and distribution channels can be more easily integrated.
In this approach, producer organisations in the South that wish to sell their products under Fair Trade conditions must first of all obtain certification, which is subject to complying with the standards
defined in this respect by the certification organisation. It is also important to point out that the label holder does not buy or sell any product. It rather trades the use of the said label. At the international level, Fairtrade International is the federating entity whose mission is to promote the Fair Trade label. Created in 1997, Fairtrade International is based in Bonn, Germany.
The evolution of the Fair Trade movement from an "alternative" approach to a "product certification" approach has sparked many debates. The Max Havelaar/Fairtrade approach has often been accused of having betrayed the original mission of the Fair Trade movement. By working with agrifood giants and standard distribution channels, evolution that has helped boost his sales to unprecedented levels (4.9 billion euros in 2011), it would provide an opportunity of "greenwashing" for these controversial actors.
I will not follow this line of argumentation here. Rather, I will try to defend the idea that the Max Havelaaar/Fairtrade approach (abbreviated by FT), as it is currently conceived and as it currently works, is an alternative neither to aid nor to free trade. In some ways, as we will see, it tends to reproduce their shortcomings.
I – The Fair Trade economic model in theory
Developing countries producers face generally three kinds of interrelated issues in conventional markets: the price of their product are often very volatile; the price they receive for their products tend to be low, sometimes below the cost of production, and non-sustainable ecologically and humanely; due to the influence of middlemen and inequalities of power, their share of the added value created in agricultural value chains tend to be low, even in the circumstances when the price of their products is booming.
To address the issue of price volatility, the FT economic model sets for each product a guaranteed minimum price. The second issue is addressed by making sure that the guaranteed minimum price covers the cost of a "sustainable production" (that is a production which is environment-friendly and which is associated with decent working conditions for producers) and by the payment of an additional premium (which amounts to a pre-defined fraction of the FT volume sold by each producer organisation). As for the exploitation of producers by "unfair" middlemen, the issue is supposed to be tackled by the certification process (only buyers complying with FT standards are able to enter FT value chains).
The crucial element of the FT economic model is however the availability of "ethical consumers" from the North who are ready to pay a higher price for products labelled FT. This element of solidarity forms the basis without which the model is simply impracticable. The growth of FT markets is ultimately dependent on the growth of the population of "ethical consumers". Hence the strong need for the FT movement to have recourse to awareness and marketing campaigns.
This is in a nutshell the logic, or the spirit, of the FT economic model.
Though the rhetoric of FT activists might sound progressive and opposed to free trade, as a matter of fact, the FT economic model obeys in practice to a neoliberal logic. I must add that this unexpected and unfortunate outcome derives from the premises of the FT economic model itself.
II – Some limitations of the FT economic model
For the FT economic model to be efficient and to be considered as a superior alternative to free trade, it has at least to provide to producer organisations better outcomes in terms of prices and market access compared to conventional international trade. However, owing to the way in which it has been conceived, there is no guarantee a priori that producers involved in the FT movement should be better-off than conventional producers, or at least that the FT economic model can help stabilise or improve the revenues of FT producers.
First, there are limits to the "generosity" of the FT minimum price. If it is too high relative to standard price observed in conventional markets, there is the risk that consumers will be discouraged to buy FT products. However, if the FT minimum price is not generous enough, it will probably not have a significant effect on poverty. In other words, there is a trade-off to be made between the need to ensure the growth of FT markets and the need for the FT movement to have a significant economic impact for the producer organisations involved. Given the high level of competition in the field of "ethical consumption" (with the proliferation of "ethical labels" with varying standards), there is a growing tendency in the FT movement to privilege FT sales growth, tendency which implies to lower standards and to align FT prices more closely to conventional market prices.
Second, contrary to a popular belief, the disposal of a FT label does not guarantee producer organisations that they will be able to sell all of their FT production at FT conditions. Labelling initiatives can just simply define the rules of the game for FT markets (certification, minimum price,
pre-financing, traceability, etc.) and try to ensure that standards are enforced. They cannot guarantee that each producer organisation involved in the movement will have access to FT markets. They cannot guarantee either that buyers involved in the movement will pay a price higher to FT minimum price. In other words, as in conventional markets, market access and prices are also determined on a competitive basis in the FT value chains. Free trade logic takes place once FT rules and standards are accepted by the different protagonists in the FT value chains. As underscored by one author: "Fair Trade does not pose any challenge to the free market system; rather it is a part of that system that increases the welfare of a target group through a speciality market" (Mohan, 2010: 45/6).
Following this free trade logic, it is not a surprise that FT producer organisations are generally recruited not from the most marginalized but from the better-off among them. Producer organisations that have some "social capital" and some international ties are those that are more likely to enter the FT value chains.
"Over-certification" is the other unfortunate implication of this free trade logic. "Over-certification" means that some FT production (production obtained by following FT standards) had not been sold according to FT conditions. According to estimates from F air t r a d e I n t e r n a tio n al (FLO), over- certification concerns on average 30 per cent of the volume produced by producer organisations and up to 70 per cent in the case of "hired-labour" (that is plantation wage workers) organisations. Note however that some case studies tend to report higher over-certification rates. Whatever the case, one scenario must be borne in mind: as FT producer organisations tend to have higher costs on average, they might incur huge losses in the case where their "over-certified" production is sold on conventional markets at prices below their costs.
These limitations regarding price-setting mechanisms and market access explain why the local impact of the FT movement is generally mixed. In some circumstances, involvement in Fair Trade has proved beneficial for producer organisations. In other circumstances, this had not been the case.
III – The global impact of FT
If the evidence regarding the local impact of the FT label tends to be mixed, it is all but unambiguous regarding its global impact. It is at this latter level of evaluation that the shortcomings of the FT economy are more apparent. We must say that if Fair trade has been a huge marketing success (revealed by the important sales growth rates recorded until now), it remains until now a very insignificant part of the world trade system.
As an alternative economic model which aims to supersede aid and free trade, the FT approach tends to generate low average revenues for producer organisations involved in it. In 2008, the gross average revenues that accrued to producer organisations amounted to 74 Euros annually per worker. This figure which represents 16 per cent of the average GDP per capita of the Least Developed Countries in 2008 is not measured net , i.e. costs are not deducted.
As a transfer mechanism, the FT economic model seems also to lack efficiency. To take the case of the United States, for each dollar paid by "ethical consumers" to buy a FT coffee product, only 0.03 dollars are actually transferred to producer organisations. This low rate of transfer is illustrative of the fact that the surplus paid by consumers is appropriated by intermediaries, including the labelling initiatives.
If the FT economic model is supposed in principle to benefit producers in the poorest countries, in actual practice, the FT movement targets more those in the richest developing countries. The Least Developed Countries are for example underrepresented among FT producer organisations (13 per cent of the total). This outcome derives from the bias associated with the FT certification model. To be involved in the FT value chains, producer organisations have to pay for the certification (which is to be renewed annually). Given that the certification process is relatively costly, this tends to favour producers in countries with a higher level of development. There is also the fact that the offer of certification by labelling initiatives is biased towards products exported by Latin America countries (coffee and bananas for example), a region which is on average richer than Africa and developing regions in Asia.
Besides excluding producers in the poorest countries, the FT movement tends also to marginalise the countries which are the most dependent of the revenues obtained from the exports of primary products. To illustrate this, let's take for example the case of coffee, the FT flagship product. Ethiopia and Burundi are the two countries most dependent in the world on coffee revenues which account respectively for 34 and 26 per cent of their export revenues. Until 2009, there were only three FT coffee certifications in Ethiopia and none in Burundi. Paradoxically, Mexico and Peru which are not dependent at all on coffee exports (less than two per cent of their export revenues) accounted for 31 per cent of the total FT coffee certifications, that is a share superior to those of Latin America countries like Honduras and Nicaragua which are much more dependent on coffee exports. For products like bananas and cocoa, the same pattern can be observed. In these different cases, the geography of trade flows obeys the classic determinants of conventional trade flows: development level and distance. American buyers of FT products will prefer to buy FT coffee in Mexico at lower costs than to travel until Burundi just to make the world trade exchanges "fairer"!
Conclusion
Despite the generous intentions of its protagonists, the FT economic model is not in practice an alternative to aid and free trade. It tends rather to reproduce their deficiencies, those of free trade notably. If the FT label has been more successful than previous attempts ("historical" Fair Trade) in terms of sales, it owes that performance to its association with standard distribution networks and the giants of the agrifood business, i.e. the same actors who are considered by many as responsible for a non-negligible part for the "unfairness" of the international trade system. Looking at its global socioeconomic impact, the limits of the FT economic model are certainly illustrated by the way in which it marginalises the poorest producers and the most dependent countries as well as it low average returns.
However, the most important criticism that can be levelled at the FT movement is that it does not challenge the current structure of the international trade system. Its acceptance of the current global division of labour is a serious impediment to the achievement of fairer distributional outcomes. For producer organisations in developing countries are not poor because they receive low prices. The fundamental reason is that they are trapped in low-productivity economic activities. Unless developing countries change their economic specialisation, by starting to process locally their own primary products, it will be in vain to expect a strong economic development. Centuries of history within the capitalist global system show that specialisation in the exports of primary products is not conducive to economic development. That lesson is still to be learnt by the FT movement.
The current challenge is not to adapt to the current neoliberal order (what the FT movement does) but to transform it. This radical idea of "alternative" Fair Trade remains relevant more than ever. Its practicability will no doubt necessitate stronger mechanisms of international solidarity between peoples.
References
Mohan, Sushil (2010) Fairtrade without the Froth: A Dispassionate Economic Analysis of 'Fair Trade' (London: Institute of Economic Affairs).
Sylla, Ndongo Samba (2014)
The Fair Trade Scandal. Marketing Poverty to Benefit the Rich (Pluto
Press; Ohio University Press).
Turkey's Turn to East could have Deadly Economic Affects
Turkey's appetites to be the European since when it was an Empire of Ottomans is still being pushed back as far as edged it to the East. Turkish political ties with West countries come strategically while Communism threats against Turkey and Greece was confronted by Truman Doctrine (in 1947) which began a new era in US-Turkey relations. U.S military aids and accepting Turkey's admission by NATO allies brought them closer but mostly served base on military and security supports which didn't spread to political and economical reforms what was necessitous for accepting its application to EU.
After the World War II, Turkish political condition was involved in several coups and its stagnant economy was mostly affected by import and protectionism strategies. Turgut Ozal's far reaching reformative program to shift Turkish economy toward export-led growth was the main first step which while followed by Turkish application to European Union and later entering the EU Custom Union, began improvements smoothly but not enough as much as required.
Meanwhile, Ozal's reforms improved Turkish economy smoothly during 1987 to 2002. Thestate export was over tippled and reached to $36 billion and import was raised to $51.5 billion (about 2.5 times 1991). By this duration, EU members become the main Turkish economical partner, their share in Turkish export was more than 56% and the imports to Turkey with EU origins was over 50% in 2002(1). Foreign Direct Investment in Turkey was increased smoothly and reached to $1,082 billion, about double of beginning of the period, where share of EU members were 42.05% ($455 million) (2). The improvements occurred but were poor to save Turkish economy. Continuity the crisis followed by 2001 financial crash resulted in a transition in parliament and government to a recent "Justice and Development Party(AKP)". New lira unveiling, reforms regarding freedom of speech, Kurdish language rights, reducing political role of armies, banning death… were resulted in opening Turkey accession talk to EU which increased hopes in both sides of west countries and Turkey.
Accordingly,EU-Turkey economic relation was expended rapidly and total trading amount increased from $46 billion in 2002 to $62 billion in 2003 and $154 billion in 2011 where reached to $157 in 2014 (1) and later to $165 in 2018(3), about 4 times during 15 years. Also, Turkey received more than $193 billion FDI during 2002 to 2017 while it was just $15 billion for 1973 to 2002, means around 13 timed in a half of period of time where the EU share in this investment is more than 45%, US share is about 9.3% and Japan's is 2.00% while China's share is just 1.26% and Russia's is 6.1% (both are less than each of US, Netherland or U.K). The international companies registered in Turkey, also increased from 5,600 in 2002 to 58,400, about 11 times more (4).
So, the Turkish economic was grown amazingly and west countries' share was essential but while Turkey's application wouldn't be finalized by EU members, Turkey turned to left, maybe to push EU members or it was a conceptually change in its ruling system from 2011 which accelerated from 2014, anyhow the results reacted soon, the Lira dropped rapidly (from 2.7 in 2016 to about 7 for one USD in 2018) and economic growth was slowed.
Despite the common commercial interests and partnership in NATO, the relations of Turkey with EU and US, experienced a lot of difficulties. Ruling the AKP after 2002 and its attempt for establishing the political and economical reforms, especially aligned to west values including human rights, minorities rights…, revived hopes for both sides especially in Turkey to join EU community finally but everything damaged and got back. Internal wars with PKK sparked, elected mayors in Kurdish provinces were suspended, HDP's members and parliamentarians were arrested, the tensions with west countries was intensified after Turkish coup in 2016, Turkey's unprecedented crackdown on participants and their allies in the coup as well as imposition of emergency rule encountered by Germany sanction and its limits on export guarantees to Turkey, Dutch journalists detained and deported, US NASA former scientist sentenced for 7 years (but freed after 2 years) (5), US pastor was detained which inevitably faced with Trump tariff war on Turkish steel and aluminium which affected the Turkish Lira fast to record a historical exchange rates and forced Turkey to solve the issue, as well as, Turkey threatened to enter the east of Euphrates River against Kurdish YPG / SDF forces who are backed by US forces. also, Turkey interferes in Libya and finalized the S400 contract with Russia and received them despite all US warnings. It canceled Istanbul mayor election (where AKP got a bigger loss in second round), frequently forced US for the "safety zone" in its borders with Syria and recently followed a plan for "illegal" drilling for oil and gas in waters close to Cyprus (as EU claimed) which seems would be confronted by EU more seriously than previous cases.
While Turkey expands its relations with Russia and China rapidly, it leaved West values and its challenges with the West countries are expanded by the same rate. Turning Turkey to the East is not just politically, it's also grown to the ruling and economic systems. Turkish government denied democratic results and suspend mayors or cancel the election (as done in Kurdish provinces and Istanbul), also tried to affect on Central bank and change the interest rate which appeared in TRY exchange rate. Then, the Turkish economy will be the first victim of the turn to East, not only because it was established due to Turkey – West relations, but also because affects of eastern decision gwhich could destroy it within just years and led Turkey to public uprising, now it's up to AKP's strategy regarding foreign relations and internal policies, if it remain united with no split by some powerful leaders. 
Sources:
1- POLICY DEPARTMENT, EU Parliament, (2016), "Bringing EU-Turkey trade and investment relations up to date?", Page 21
2- POLICY DEPARTMENT, EU Parliament, (2016), "Bringing EU-Turkey trade and investment relations up to date?", Page 23
3- TURKEY AND THE EU, Ministry of Trade, Republic of Turkey (September 5, 2018)
4- Investment office, Presidency of Republic of Turkey, FDI in Turkey
5- DW news
6- Euronews (August 17, 2019).
Internship tips from an intern who became an owner and CEO
Internships can be a valuable opportunity to start your full-time working career, and change your life.
Fatih Ozmen went from intern to owner and CEO of multi-billion-dollar aerospace and national security leader, Sierra Nevada Corporation (SNC).
Starting at SNC as an intern almost 40 years ago when it was a tiny and struggling engineering company, Ozmen and his wife, Eren (now the company's chairwoman and president), had the chance to acquire the company a few years later. Today, SNC is an agile, cutting-edge disruptor in government contracting with a workforce of 4,000 that supports and protects explorers and heroes. Ozmen has been SNC's CEO and owner for a quarter century.
Of his journey from intern to CEO and owner, Ozmen said, "I credit a lot of good luck and some good choices, starting with how I approached my internship." Here are his three tips to help you get the most from yours:
1. Look for companies with missions and values that inspire you.
"As a student or intern you can feel independent, like you're holding your future in your hands. A lot of business people will tell you to consider an internship a transaction to meet your needs. I would encourage you to turn that focus outward.
"Ultimately, once your basic needs are met, it's the deeper rewards that keep us going. Things like the feeling of being part of a team and making a real impact. I'd encourage young people first to identify companies or teams that are addressing challenges that really interest you. Read the bios of the people you'd work with or for. Do their stories, and the company's story, inspire you? Are people there working in their individual interest or in the interest of the team, and the overarching mission?
"It's more rewarding when you see a whole group within the company working toward a larger goal. Let me give you an example. On a number of occasions, people have come up to Eren and me to tell us how we saved their lives in the battlefield. There was one time our holiday party was crashed by people who wanted to meet the SNC people who built our technology that jams cell signals and prevents IEDs from exploding, protecting our servicemen and women. These people thanked us and cried, and we cried with them. They shared heartfelt stories about how our technologies enabled loved ones to come home safely. This is priceless."
2. Always look for an opportunity to understand the core need, to look beyond the "what" and truly understand the "why."
"As a young engineer, working to enhance jet landing systems so they work in all conditions, including rain, was the biggest privilege for me.
"One of my first experiences early on was being on an aircraft carrier at 2 a.m. Standing next to F-18s and working among sailors day and night was fascinating and inspiring. I was sleeping right below the deck and hearing the roar of the aircraft engines, and tires skidding upon landing. They operate 24 hours a day.
"It was invaluable to see firsthand the problems pilots were facing and the environments sailors had to work within. It was eye-opening to see that while we are often comfortable in our homes and warm beds, servicemen and women are deployed months at a time away from their families working within dangerous conditions with poor visibility. Imagine being an F-18 pilot, finding the ship — a postage stamp-sized object off in the distance — and landing on it. That would be difficult to do in even ideal weather and visibility conditions.
"Our engineering task was straightforward: fix a strange flaw on the existing landing system that didn't work as expected when it rained. We made it work and it's amazing that 30 years later the Navy still uses the technology we created. Importantly, I was able to witness the challenge and solution, to work alongside the sailors and see it from the pilots' perspective. This helped me to go beyond the what of our mission — a flaw in technology — to really understand the why — to save lives."
3. Embrace newness and change as a journey, not an obstacle.
"When Eren and I first came to the U.S., we were young, didn't speak much English and didn't have money. But we did have goals and an unrelenting passion to chase our dreams. Was it easy? No. And I'd be lying if I said there weren't days when it seemed impossible or challenges that we faced along the way seemed insurmountable. But this is our American dream. None of it would have been possible if we didn't look beyond the uncertainty and challenges. It's a great country that made it happen. I couldn't do it anyplace else in the world.
"We live in a world where the American dream is in reach for everyone. Don't take it for granted."
With the power of dreams, innovation and inspiration, there is no limit to what you can accomplish once you get your start, Ozmen says. Learn more about internship opportunities at www.sncorp.com/careers/students/.
Scaling up support for sustainable development: Mongolia on the rise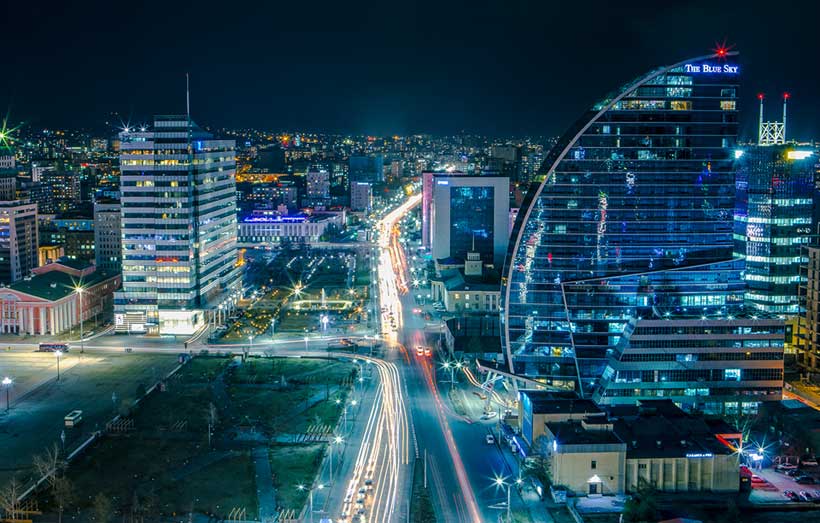 Mongolia's economic rebound in recent years reveals a country rising up to the challenges borne from adverse economic shocks. The country's economic resilience comes as no surprise. Mongolia has responded well to near-term economic challenges and chartered its long-term path towards sustainable development despite its inherent constraints as a small and landlocked economy that is also highly dependent on natural resources. Mongolia prides itself as being one of the first countries to adopt the Sustainable Development Goals (SDGs), with Mongolia's Sustainable Development Vision 2030 receiving parliament approval in 2016 just six months after the adoption of the SDGs globally.
In particular, Mongolia's policy experiences in areas of economic diversification, good governance and regional cooperation were well-exemplified by the Action Program of the Government of Mongolia for 2016-2020. So, Mongolia has utilized these policy tools to carve for itself strategic positions to weigh in on issues significant to the country's national development outcomes. For example, Mongolia leads the global agenda of the needs and challenges faced by landlocked developing countries (LLDCs). The presence of the International Think Tank for LLDCs in Ulaanbaatar further highlights the key role of Mongolia as a credible broker of the LLDCs development agenda.
Mongolia has been active in implementing intergovernmental initiatives facilitated by UN ESCAP including the distinct but interrelated intergovernmental agreements on the Asian Highway Network, the Trans-Asian Railway Network, and Dry Ports. We welcome the recent development on the entry into force of the Intergovernmental Agreement on International Road Transport along the Asian Highway Network among China, Mongolia and the Russian Federation, supporting trilateral economic cooperation.
Currently, Mongolia has substantively engaged on trade facilitation initiatives including the Framework Agreement on Facilitation of Cross-border Paperless Trade in Asia and the Pacific. There is great potential for Mongolia to strengthen its role in the related area of transport facilitation, given its position as a transit point between big economies like China and the Russian Federation. Also, we are pleased that Mongolia is soon to become the seventh member of the Asia-Pacific Trade Agreement, a preferential regional trade agreement, open to all developing member States in Asia and the Pacific.
Mongolia has also been a key driving force to advance cooperation for clean energy, especially towards a North-East Asia power interconnection, leveraging from the country's abundant renewable (solar and wind) energy resources. Energy cooperation finds strong resonance in relation to climate action and air pollution, given the North-East Asia subregion emits over one-third of global greenhouse gases and faces heavy impacts of air pollution.
With inherent constraints due to its fragile economic structure and environmental condition, Mongolia constantly needs to find balance between providing prompt policy responses in the face of volatile and unpredictable external shocks in the short-run and pursuing structural changes to address long-term socioeconomic issues. Under these circumstances, pursuing an integrated approach becomes an imperative for Mongolia to advance its national socioeconomic agenda, regional connectivity agenda and global sustainable development agenda, bolstering Mongolia's resilience towards adverse economic, social and environmental shocks. To this end, I welcome Mongolia's emphasis on the "whole of government" plus a "whole of society" approach.
Through the years, we have seen how Mongolia continues to be a steadfast partner of the United Nations Economic and Social Commission for Asia and the Pacific (ESCAP) in promoting regional trade, connectivity and development across its various interrelated dimensions. Mongolia has also provided leadership in advancing regional cooperation agenda in the Asia-Pacific region by chairing the seventy-fifth session of UN ESCAP in May 2019.
Equipped with lessons learned from past development challenges and mindful of new directions and approaches to nurture future opportunities, Mongolia's regional position and potential are on the rise. I am looking forward to partnering with Mongolia's leadership to strengthen regional cooperation and achieve sustainable development by 2030 with the United Nations family.
Originally published in Montsame-Mongolia