Fair Trade – an alternative made to Aid and Free Trade?
"Trade not Aid": this used to be the slogan of third-worldist movements in the mid-1960s, an epoch when intellectual figures in the Third World were denouncing the unequal exchange between the capitalist Center and the Periphery.
The aim was then to challenge the capitalist system at its very basis. Forty years later, in a global neoliberal context, it seems that the issue of unequal exchange has resurfaced through the Fair Trade movement, a movement which purports to help the poorest and most marginalized producers of the global South. Based on the perceived failures of aid and free trade paradigms, the Fair Trade protagonists count on the generosity and solidarity of Northern consumers in order to achieve fairer trade relationships between the North and the South.
The Fair Trade movement is not monolithic however. There are at least two conflicting visions inside the movement. First, there is "historical" or "alternative" Fair Trade. In this approach, economic intermediaries are specialised in the distribution and/or sale of 'Fair' products – agricultural products or handicrafts – which are purchased from producers in the South by specialised group purchasing organisations in order to be sold in dedicated shops in the North. The rationale here is to create alternative trade channels operating outside standard distribution networks and where agrifood giants are excluded. At the global level, the World Fair Trade Organization (WFTO) federates specialised/alternative Fair Trade organisations.
Since the 1980s, another approach, the labelling one, has progressively imposed itself. It is epitomized by the Max Havelaar/Fairtrade label. Unlike the previous approach that certifies "organisations", the labelling approach only certifies "products". As there is no requirement to be '100 per cent fair-trade specialised' in order to obtain a licence for the sale or distribution of Fair Trade products, the sale/distribution of certified products is in theory available to all corporations, provided that they comply with specific standards and pay their annual licence fees to the label holder (namely the national labelling initiative). As a result, the classical sale and distribution channels can be more easily integrated.
In this approach, producer organisations in the South that wish to sell their products under Fair Trade conditions must first of all obtain certification, which is subject to complying with the standards
defined in this respect by the certification organisation. It is also important to point out that the label holder does not buy or sell any product. It rather trades the use of the said label. At the international level, Fairtrade International is the federating entity whose mission is to promote the Fair Trade label. Created in 1997, Fairtrade International is based in Bonn, Germany.
The evolution of the Fair Trade movement from an "alternative" approach to a "product certification" approach has sparked many debates. The Max Havelaar/Fairtrade approach has often been accused of having betrayed the original mission of the Fair Trade movement. By working with agrifood giants and standard distribution channels, evolution that has helped boost his sales to unprecedented levels (4.9 billion euros in 2011), it would provide an opportunity of "greenwashing" for these controversial actors.
I will not follow this line of argumentation here. Rather, I will try to defend the idea that the Max Havelaaar/Fairtrade approach (abbreviated by FT), as it is currently conceived and as it currently works, is an alternative neither to aid nor to free trade. In some ways, as we will see, it tends to reproduce their shortcomings.
I – The Fair Trade economic model in theory
Developing countries producers face generally three kinds of interrelated issues in conventional markets: the price of their product are often very volatile; the price they receive for their products tend to be low, sometimes below the cost of production, and non-sustainable ecologically and humanely; due to the influence of middlemen and inequalities of power, their share of the added value created in agricultural value chains tend to be low, even in the circumstances when the price of their products is booming.
To address the issue of price volatility, the FT economic model sets for each product a guaranteed minimum price. The second issue is addressed by making sure that the guaranteed minimum price covers the cost of a "sustainable production" (that is a production which is environment-friendly and which is associated with decent working conditions for producers) and by the payment of an additional premium (which amounts to a pre-defined fraction of the FT volume sold by each producer organisation). As for the exploitation of producers by "unfair" middlemen, the issue is supposed to be tackled by the certification process (only buyers complying with FT standards are able to enter FT value chains).
The crucial element of the FT economic model is however the availability of "ethical consumers" from the North who are ready to pay a higher price for products labelled FT. This element of solidarity forms the basis without which the model is simply impracticable. The growth of FT markets is ultimately dependent on the growth of the population of "ethical consumers". Hence the strong need for the FT movement to have recourse to awareness and marketing campaigns.
This is in a nutshell the logic, or the spirit, of the FT economic model.
Though the rhetoric of FT activists might sound progressive and opposed to free trade, as a matter of fact, the FT economic model obeys in practice to a neoliberal logic. I must add that this unexpected and unfortunate outcome derives from the premises of the FT economic model itself.
II – Some limitations of the FT economic model
For the FT economic model to be efficient and to be considered as a superior alternative to free trade, it has at least to provide to producer organisations better outcomes in terms of prices and market access compared to conventional international trade. However, owing to the way in which it has been conceived, there is no guarantee a priori that producers involved in the FT movement should be better-off than conventional producers, or at least that the FT economic model can help stabilise or improve the revenues of FT producers.
First, there are limits to the "generosity" of the FT minimum price. If it is too high relative to standard price observed in conventional markets, there is the risk that consumers will be discouraged to buy FT products. However, if the FT minimum price is not generous enough, it will probably not have a significant effect on poverty. In other words, there is a trade-off to be made between the need to ensure the growth of FT markets and the need for the FT movement to have a significant economic impact for the producer organisations involved. Given the high level of competition in the field of "ethical consumption" (with the proliferation of "ethical labels" with varying standards), there is a growing tendency in the FT movement to privilege FT sales growth, tendency which implies to lower standards and to align FT prices more closely to conventional market prices.
Second, contrary to a popular belief, the disposal of a FT label does not guarantee producer organisations that they will be able to sell all of their FT production at FT conditions. Labelling initiatives can just simply define the rules of the game for FT markets (certification, minimum price,
pre-financing, traceability, etc.) and try to ensure that standards are enforced. They cannot guarantee that each producer organisation involved in the movement will have access to FT markets. They cannot guarantee either that buyers involved in the movement will pay a price higher to FT minimum price. In other words, as in conventional markets, market access and prices are also determined on a competitive basis in the FT value chains. Free trade logic takes place once FT rules and standards are accepted by the different protagonists in the FT value chains. As underscored by one author: "Fair Trade does not pose any challenge to the free market system; rather it is a part of that system that increases the welfare of a target group through a speciality market" (Mohan, 2010: 45/6).
Following this free trade logic, it is not a surprise that FT producer organisations are generally recruited not from the most marginalized but from the better-off among them. Producer organisations that have some "social capital" and some international ties are those that are more likely to enter the FT value chains.
"Over-certification" is the other unfortunate implication of this free trade logic. "Over-certification" means that some FT production (production obtained by following FT standards) had not been sold according to FT conditions. According to estimates from F air t r a d e I n t e r n a tio n al (FLO), over- certification concerns on average 30 per cent of the volume produced by producer organisations and up to 70 per cent in the case of "hired-labour" (that is plantation wage workers) organisations. Note however that some case studies tend to report higher over-certification rates. Whatever the case, one scenario must be borne in mind: as FT producer organisations tend to have higher costs on average, they might incur huge losses in the case where their "over-certified" production is sold on conventional markets at prices below their costs.
These limitations regarding price-setting mechanisms and market access explain why the local impact of the FT movement is generally mixed. In some circumstances, involvement in Fair Trade has proved beneficial for producer organisations. In other circumstances, this had not been the case.
III – The global impact of FT
If the evidence regarding the local impact of the FT label tends to be mixed, it is all but unambiguous regarding its global impact. It is at this latter level of evaluation that the shortcomings of the FT economy are more apparent. We must say that if Fair trade has been a huge marketing success (revealed by the important sales growth rates recorded until now), it remains until now a very insignificant part of the world trade system.
As an alternative economic model which aims to supersede aid and free trade, the FT approach tends to generate low average revenues for producer organisations involved in it. In 2008, the gross average revenues that accrued to producer organisations amounted to 74 Euros annually per worker. This figure which represents 16 per cent of the average GDP per capita of the Least Developed Countries in 2008 is not measured net , i.e. costs are not deducted.
As a transfer mechanism, the FT economic model seems also to lack efficiency. To take the case of the United States, for each dollar paid by "ethical consumers" to buy a FT coffee product, only 0.03 dollars are actually transferred to producer organisations. This low rate of transfer is illustrative of the fact that the surplus paid by consumers is appropriated by intermediaries, including the labelling initiatives.
If the FT economic model is supposed in principle to benefit producers in the poorest countries, in actual practice, the FT movement targets more those in the richest developing countries. The Least Developed Countries are for example underrepresented among FT producer organisations (13 per cent of the total). This outcome derives from the bias associated with the FT certification model. To be involved in the FT value chains, producer organisations have to pay for the certification (which is to be renewed annually). Given that the certification process is relatively costly, this tends to favour producers in countries with a higher level of development. There is also the fact that the offer of certification by labelling initiatives is biased towards products exported by Latin America countries (coffee and bananas for example), a region which is on average richer than Africa and developing regions in Asia.
Besides excluding producers in the poorest countries, the FT movement tends also to marginalise the countries which are the most dependent of the revenues obtained from the exports of primary products. To illustrate this, let's take for example the case of coffee, the FT flagship product. Ethiopia and Burundi are the two countries most dependent in the world on coffee revenues which account respectively for 34 and 26 per cent of their export revenues. Until 2009, there were only three FT coffee certifications in Ethiopia and none in Burundi. Paradoxically, Mexico and Peru which are not dependent at all on coffee exports (less than two per cent of their export revenues) accounted for 31 per cent of the total FT coffee certifications, that is a share superior to those of Latin America countries like Honduras and Nicaragua which are much more dependent on coffee exports. For products like bananas and cocoa, the same pattern can be observed. In these different cases, the geography of trade flows obeys the classic determinants of conventional trade flows: development level and distance. American buyers of FT products will prefer to buy FT coffee in Mexico at lower costs than to travel until Burundi just to make the world trade exchanges "fairer"!
Conclusion
Despite the generous intentions of its protagonists, the FT economic model is not in practice an alternative to aid and free trade. It tends rather to reproduce their deficiencies, those of free trade notably. If the FT label has been more successful than previous attempts ("historical" Fair Trade) in terms of sales, it owes that performance to its association with standard distribution networks and the giants of the agrifood business, i.e. the same actors who are considered by many as responsible for a non-negligible part for the "unfairness" of the international trade system. Looking at its global socioeconomic impact, the limits of the FT economic model are certainly illustrated by the way in which it marginalises the poorest producers and the most dependent countries as well as it low average returns.
However, the most important criticism that can be levelled at the FT movement is that it does not challenge the current structure of the international trade system. Its acceptance of the current global division of labour is a serious impediment to the achievement of fairer distributional outcomes. For producer organisations in developing countries are not poor because they receive low prices. The fundamental reason is that they are trapped in low-productivity economic activities. Unless developing countries change their economic specialisation, by starting to process locally their own primary products, it will be in vain to expect a strong economic development. Centuries of history within the capitalist global system show that specialisation in the exports of primary products is not conducive to economic development. That lesson is still to be learnt by the FT movement.
The current challenge is not to adapt to the current neoliberal order (what the FT movement does) but to transform it. This radical idea of "alternative" Fair Trade remains relevant more than ever. Its practicability will no doubt necessitate stronger mechanisms of international solidarity between peoples.
References
Mohan, Sushil (2010) Fairtrade without the Froth: A Dispassionate Economic Analysis of 'Fair Trade' (London: Institute of Economic Affairs).
Sylla, Ndongo Samba (2014)
The Fair Trade Scandal. Marketing Poverty to Benefit the Rich (Pluto
Press; Ohio University Press).
Radical Markets- Workable Ideas
We are living in a very interesting age. Call it a phase. A phase; where long cherished ideas of globalization is coming under threat, where Xenophobic attitudes are taking hold, where the right-wing has gained a lot of wind under them and seems ready to fly. Trump's election, Brexit and anti-immigrant hysteria, all point towards a disturbing trend which looks as if gaining popularity and acceptance. In such a phase the ideas and concepts, utterly novel in their nature and perfectly workable if implemented, presented in the book Radical Markets gives us a hope.
Let's start with the monopoly problem of property. Private ownership of a property while have certain advantage still cause many problems. For instance, the example, that any single person can sabotage a project if he decides to value his property at exorbitant prices after knowing it comes under a government project, for instance Hyperloop, is very common. Commenting on the "allocative" and "investment" efficiencies of a property the writers present an elaborative system to optimize both of the above mentioned functions. Surprisingly abbreviating into a very apt name, COST, the Common Ownership Self-assessed Tax, provides us with an alternative to the normal, usual taxation system. Moreover, possessing a self-regulating mechanism COST assures that the person uses the property for the best purpose. Avoiding the intricate details here, one can consider it as a system where-in one's property would be listed on a national/international database with its price along with the option of anyone able to buy it at a click. If the property is very important for a person he might keep the price at such a level so that nobody can easily buy it however, at the same time he will be paying a handsome amount of tax on the declared value (a detailed description regarding the basis of the taxation is given in the book) which should bring in the most optimal level of pricing. Too much of a price and he ends up paying a lot of tax, too little and someone else might get it.
Not only this but the above concept can also be applied to personal skills such as for doctors, engineers and others.
Other ideas include Visa for Individual Program (VIP) which might prove to be very useful to curb xenophobic attitudes. The proposal includes setting up such a system where-in an individual, for example from U.S., invites a computer scientist here in Pakistan, and vouchsafe for these immigrant while he works at the company that the person in U.S. was able to find and share his salary with this man. Such a win-win situation might help to address many questions and grievances of people from both side of the world.
One of my most favorite and a truly radical idea is that of Quadratic Voting. Democracy, of-late, is under threat all over the world. Populism is gaining momentum and rabble-rousers are seizing the opportunities. One of the major reasons is that somehow, at some point, like globalization, democracy has failed to deliver. Problems like "majoritarian cycling" make matters worse. At times, majority can trespass on the rights of minorities. To quote the example from the book let's suppose there is a society that has a certain plant due to which the utility bills have reduced. However, there are some in that society who due to certain health problems suffer due to that very plant. In case of a traditional voting process i.e. 1 person, 1 vote (1p1v) the majority would easily win however, for that particular class of society it is a matter of life and hence immensely significant. Quadratic Voting focuses preference and intensity of preference instead of a for and against approach. In such cases a minority can win over a majority.
To conclude, all of us, especially policy-makers around the world should consider, brainstorm and try to implement these ideas, albeit, at smaller scale, for the sake of experimentation, deducing results, suggesting improvements and omitting errors, if any.
Closing the Loop: Meet the Pioneers Turning our Global Economy Circular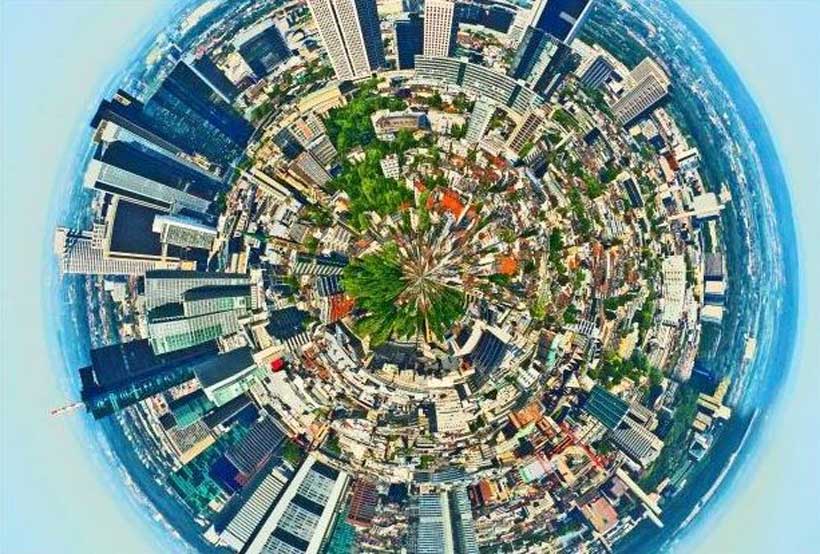 A remarkable transformation is taking place in the global economy, with more and more established and start-up businesses generating value from waste products that otherwise would end up in landfill or our oceans, rivers and lakes. This is the finding from the fifth annual Circulars award, which recognizes businesses, governments and individuals that use innovation and disruptive technologies to reduce waste, emissions and the use of harmful materials.
With the circular economy estimated to represent a potential $4.5 trillion growth opportunity for the global economy, this year's awards saw an expansion in the scope and scale of successful circular solutions. In total, close to 450 applications were received from over 45 countries, a 50% increase on last year.
"More and more businesses understand that Closing the Loop isn't just about stewardship of our natural resources, it's about gaining a competitive edge. Companies that lack a circular strategy risk being left behind in the new economy of the Fourth Industrial Revolution, said Terri Toyota, Deputy Head of the Centre for Global Public Goods, World Economic Forum.
The winners received their awards at the World Economic Forum Annual Meeting in Davos. They are:
Award for Circular Economy Multinational: Schneider Electric (France) for integrating circular concepts throughout its business including prolonging product lifespan through leasing and pay-per-use; introducing take-back schemes into the supply chain and using recycled content and recyclable materials in their products; 12% of the firm's revenues now come from circular activities and, between 2018 and 2020, about 100,000 tonnes of primary resource consumption will be avoided.
Award for Circular Economy SME: Lehigh Technologies (Atlanta, USA) for extracting resources from end-of-life tyres into new tyres and other materials. To date, the company has manufactured more than 500 million new tyres using its circular model.
People's Choice Award: TriCiclos (Chile) for building and operating South America's largest network of recycling stations. To date, the company has diverted 33,000 tons of recyclable material from landfills and saved over 140,000 tons of CO2 emissions.
Circular Economy Public Sector: The European Commission for their strategic leadership through the development and implementation of their international circular economy framework, 'The Circular Economy Action Plan.' This framework has assisted 24% of all EU SMEs in delivering circular products or services and has guided many Member State national governments to create their own circular economy strategies..
Circular Economy Investor: Impax Asset Management (United Kingdom) for encouraging circular investments by mainstream investors. Impax's environmental markets classification system was adopted by the FTSE in 2007. Today, it invests around $8 billion in more than 100 listed companies.
Circular Economy Tech Disruptor: Winnow (United Kingdom) for helping the food industry cut waste. Winnow's smart meters analyse what is put in bins, which in turn helps inform production processes. Winnow cut waste in half in thousands of kitchens globally and saved customers $25 million per year, the equivalent of 18 million meals per year or preventing one meal from going to waste every seven seconds.
Circular Economy Leadership: Flemming Besenbacher, Chairman of the Danish Government's Advisory Board for Circular Economy, for leadership in driving the circular economy in Denmark and beyond including in his role as Chairman of the Supervisory Board of Carlsberg.
In addition to the winners above, shortlisted companies include:
– AB InBev (Belgium): For circular activities including upcycling spent grains into protein-rich drinks and working with customers and suppliers to improve recovery and return of packaging; 43% of the company's volume is now packaged in returnable glass bottles
– Cambrian Innovation (USA): For its EcoVolt technology, which allows the conversion of waste water from industrial processes into clean water and energy; with nine plants across the US, the company has treated more than 320 million litres of wastewater, recycling almost 95 million litres
– Close the Loop (Australia): For keeping plastic out of landfill; by developing an asphalt additive, the company is able to use soft plastic and used printer toner cartridges to make high-performance road surfaces; every kilometre of road uses the equivalent of 530,000 plastic shopping bags and 12,500 printer cartridges
– DyeCoo Textile Systems (Netherlands): For bringing the circular economy to the textile industry; its CO2-based technology eliminates the use of water and chemicals in the dyeing process; the impact of one dyeing machine eliminates the need for 32 million litres of water and 160,000 kilogrammes of processing chemicals per year
– Enerkem (Canada): For making biofuels and renewable chemicals from waste; the company's technology allows the carbon in non-recyclable waste to be recycled in five minutes and converted into biofuels and bio-renewable chemicals
– HYLA (USA): For extending the lives of mobile phones and other devices; through its repurposing model, more than 50 million devices have been given a second life, creating $4 billion in value for their owners, keeping 6,500 tons of e-waste from landfills
– Miniwiz (Taiwan, China): For turning consumer waste into high-quality building materials; its "Trashpresso" mobile upcycling plant enables recycling without shipping waste long distances; the company has saved 17 million kilogrammes of CO2 in construction projects alone
– Tianjin Citymine (China): For pioneering the concept of "urban mining" using mobile recycling stations at waste sites to produce a reverse-logistics system of urban waste
"Consumers, employees, stakeholders and policymakers alike expect companies to lead with purpose around sustainability and are holding them accountable. Inaction or idleness can severely harm competitiveness, with a drop in stakeholder trust costing businesses globally $180 billion in potential revenues," said Peter Lacy, Senior Managing Director, Accenture Strategy. "Moving to a circular economy delivers the disruptive change needed to secure a sustainable future, while enabling businesses to unlock innovation and growth. We are proud to recognize the individuals and organizations that are leading the circular movement, creating a thriving global economy."
Former African Envoys advocate for more economic engagements with Russia
Former Ambassadors have strongly urged African leaders and business entrepreneurs to prioritize the most sustainable development needs as the best approach to seeking Russian investors in fixing their economies in Africa when they converge this October for the first Russia-African summit planned in Russia's southern coastal city of Sochi.
In separate interviews, they believed what was abundantly clear how to stimulate African governments into exploring investment opportunities in Russia and Russian investors into Africa within some framework of mutual-cooperation.
Former South African Ambassador, (H.E.) Mandisi Mpahlwa, said that Sub-Saharan Africa has understandably been low on post-Soviet Russia's list of priorities, given that Russia is not as dependent on Africa's natural resources as most other major economies. It is important to point out that Soviet and African relations, anchored as they were on the fight to push back the frontiers of colonialism, did not necessarily translate into trade, investment and economic ties, which would have continued seamlessly with post-Soviet Russia.
"Of course, Russia's objective of taking the bilateral relationship with Africa to the next level cannot be realized without close partnership with the private sector. Africa and Russia are close politically, but they are also geographically distant and the people-to-people ties are still far under-developed. This translates into a low level of knowledge on both sides of what the other has to offer. There is perhaps also a measure of fear of the unknown or the unfamiliar in both countries," according to Mpahlawa.
Former Ethiopian Ambassador, Professor (Dr) Teketel Forssido, said that one of the biggest problems has been keen competition from the United States, Europe, China and India as more developed countries with more advanced technological and development oriented solutions, and have become, for the past decades, " investment patrons" in African countries. These are what Africa need, – foreign policy directed towards the development needs of Africa.
Former Nigerian Ambassador, Air Commodore Dan Suleiman, told me that Africa's drive for sustainable democratic governance backed by an enhanced economically viable environment is of paramount importance. Many African leaders are emphasizing the quest to eradicate poverty and give people a sustainable environment for budding democracy.
"It is Africa's hope that foreign authorities will back us in this direction. It is important to remind foreign investors that investment opportunities for developing large and medium scale enterprises are abound in Africa. The importance of the informal sector in generating employment and promoting self-reliance through higher productivity. We implore Russian investors to take advantage of these new potentials," Air Commodore Dan Suleiman stressed in his discussion.
Undoubtedly, the Russian government stance on supporting the policy of Africa to employ plausible solutions to resolve their infinite problems should be extolled assertively, wrote former Tanzanian Ambassador, Dr Jaka Mgwabi Mwambi.
He said, for instance, "Tanzania is currently on the verge of a bitter wrangle with iniquitous restraints, in order to redress all government systems, for the bright future of its wrath citizens. Thanks, it is discernible that the country is proactively moving steadfastly in a middle-income economy."
Former Kenyan Ambassador to the Russian Federation, H.E. (Dr) Paul Kibiwott Kurgat explained in a recent interview discussion that any platform created for African leaders has to address thoroughly development-oriented questions, Kenya's diplomacy has mostly focused on strengthening economic cooperation with foreign countries.
"Looking at the global development, Kenya would always like to build on this long history of strong and comprehensive engagement, first and for most, through developing closer ties with Russia in trade, investment and economic cooperation. So, my advice is that African leaders have to think objectively, first about effective ways how to improve the economy," he said.
The Government of Kenya's priority sectors range from infrastructure and energy development, industrialization and agriculture, manufacturing, tourism and among others. The development opens a myriad of investment opportunities to all potential foreign investors across the globe including Russia, Paul Kurgat added in his emailed comments from Nairobi, Kenya.
Former Mozambican Ambassador to Russia, Dr. Bernardo Marcelino Cherinda, emphasized that the changes in Russia have provided a greater impetus for forging new diversified relations, especially in the economic sectors, in Africa.
By this measure, African leaders have to relentlessly work towards a more effective cooperation and use political dialogue to remove obstacles that might hinder smooth progress and development. Whether they like it or not, African leaders have to make rational decisions to align their efforts and policies with this key goal of developing or building their economies, according to him.
Both Russia and Africa have to facilitate participation in the private sectors, to get also involved in medium-sized economic partnership, joint ventures, agro-processing industries, health and education. African leaders do not have to, in the least, doubt the enormous potentials that exist for these, according to the former envoy.
"And, I think it's equally important Russia and Africa focus seriously on cultural aspects in their activities in order to bridge the widening information gap between the two countries. Russia has made the mark and it's respected for its indelible historical achievements, literature and for the human values. The use of soft power as an instrument for new image-making initiatives has to be intensified," Cherinda concluded.
Stergomena Lawrence Tax, Executive Secretary of the Southern African Development Community (SADC), assertively stressed in discussion with Russian authorities that strengthening ties in a broad range of economic fields would show that SADC truly remains as one of Russia's key partners in Africa. SADC is an inter-governmental organization with its primary goal of deepening socio-economic cooperation and integration in the southern region.
Foreign Minister Sergey Lavrov and H.E. Dr. Nkosazana Dlamini-Zuma, the first woman to lead the bloc of 54 states, had discussed several times about Russian companies or industries participation in major infrastructure projects on the continent. Currently, Chad's Moussa Faki Mahamat has also held discussion on Africa's Fourth Industrial Revolution and has made efforts at enlisting Russia's effective support for the Agenda 2063 of the African Union (AU).
For the past one and half decades (since his appointment in 2004), Foreign Minister Lavrov has held in-depth discussions on the current situation in Africa and always pointed to the possibility of continuing to promote effective bilateral cooperation in many spheres and to work together towards using fully the existing potentials. He always reminds that Moscow firmly supports the principle "African solutions to African problems" within a framework of achieving the Sustainable Development Goals (SDGs) formulated by the African countries.