"Mr. Modi came into office with a formidable piece of baggage, having been blacklisted by the United States government for nearly a decade over his handling of religious riots in Gujarat… (Ellen Barry: The New York Times)
Citing him as a metaphor, the yatri was not an ordinary person but the US President whose India yatra stayed in prime focus that kept intensifying as and when the travel date approached closer.
While his capabilities and competence over several years reflected efficiently through the prism of rigorous public scrutiny to which the US Presidents remains subjected to, Mr. Modi's posture was relatively new to watch though he broke the crust of ambiguity during his America yatra not long ago and managed to cultivate 'friendship' with Mr. Obama.
One is sure, Mr. Singh; his predecessor had no less rapport because these were India's credentials as a state having burgeoning economy, a power with significant military potentials and occupying crucial geo-political as well as geo-economic space in Asia-Pacific region that enable Indian leadership to pass through the uncompromising US friendship-filters comfortably. Modi's Obama-hug and his tea-pouring for him did not escape observers notice. Some said the magic had worked.
Mr. Obama's second visit to India and being the only US president who ever reviewed Indian Republic Day parade as the chief guest, places him at the pinnacle of much needed glory. The urge to make the occasion special, coincided dramatically on each side. Modi being aware of the whispers in US circles that India, even after striking a deal as a strategic partner with George W. Bush and securing concession from the nuclear supplier group was reluctant to embrace its role in entirety. Such an apparent psychological inhibition, deliberately carved by the Congress government appeared an eye sore for Modi's BJP government.
On the other hand, Obama has embarked at extensive damage control measures after having been bruised through not-so-brilliant, questionable gains in Iraq and now Afghanistan where US/ISAF forces have lowered their flag to shift operational responsibility to Afghan National Army. The truth has seeped through to US public who rightly demand from US administration to focus at home and take a much needed break from the era of foreign interventions. Nuclear dialogues and interim easing of economic sanctions over Iran, seeking window of opportunity with Cuba to normalize relations, though eclipsed by Russo-Ukrainian conflict and Middle East imbroglio, are some wise moves that bring added vibrancy to US foreign policy. In Ukraine case, US plea of repulsing Russian adventurism does not sound a weighty claim because Crimea is comfortably in Russian grip while Eastern Ukraine does not need Russian forces intervention. The region alone would keep Kiev busy for years unless there is break through, employing soft power of diplomacy.
The follow-up media blitz suggests that the two leaders are in absolute sync and are inclined to cooperate in nuclear, defense, science and technology, trade and environments domains. Modi gave the discourse an added dimension to bolster his inward and outward stature by creating a witty ambiguity for not revealing what the two leaders discussed in closed-door session. The media would have the reasons to make bloated conjectures as some have questioned the incentives that compelled Obama to visit India when he had yet not digested elation accruing to him at the end of his state of union address. Modi also assured Obama that he could not be pressured by any one. Whether or not the statement at this juncture was nice diplomacy-fit but one thing is clear that he did not mince words any longer to suggest that Obama was standing on the soil of changed and vigorous India who would support its allies to the hilt. Modi proved that he knew precisely how to tickle Mr. Obama who is inclined to open Asia-Pacific front once driven by China-phoebes like Ashley Tellis of Carnegie Endowment at home, "It is in U.S. interests to bolster Indian power even if no repayment is forthcoming because doing so will help limit the rise of a Chinese hegemon in Asia that could undermine the enduring strategic interests of the United States."
When the high pitch visit proceeded, there should have been natural concern to see US drift so close to India and vice versa. Russia has been India's close ally since Cold War era when India ostensibly owned non-aligned countries club. Balancing its policy parameters very shrewdly, it harvested enviable gains across the globe but equipped its forces predominantly with Russian arsenal. In recent Russo-US/EU standoff perspective, Russia would view Indo-US bonhomie grudgingly. Mr. Obama, possibly alive to international undercurrents, did speak soft about Russia that US did not wish to dent Russian economy. However, his plea could be brushed aside simply if any one raised the question, what do the economic sanctions mean against Russia? No doubt, Russia is finding its balancing acts in world power-politics rather challenging but one could go by simple arithmetic. Indo-US embrace, if it translates to supplementing US capabilities in Asia-Pacific, bringing China in the arena, Russia would prefer to support China against US and its allies.
China's perceived stance is friendly towards India which harbors tremendous mistrust against China after she drubbed Indian forces on its Himalayan borders in early sixties. China is accused of capturing and retaining Indian Territory and several attempts to normalize the relations broke down without yielding any tangible results. Besides, India sees China-Pakistan nexus with slant greedy eyes. Indo-US strategic alliance, when India appears inclined to flex its muscles, not only in Indian Ocean but also in Pacific (Modi missed mentioning 'Pacific' in the press conference on first day of visit) would now force China to draw a red line for India as well. Interested quarters are absolutely insistent that Indian forces potentials on Blue Sea are better than China, a flurry of opinions which mysteriously swamped the media just before Obama's visit that could be meaningful. US placing strategic pivot in Asia-Pacific would lead her to inspire India to perform added role along with the alliance. A small take off has already been agreed to, once both the dignitaries resolved to play stabilizing role in Afghanistan. The dimensions of the role is a matter of opinion at this stage but it could well be a small battle-inoculation exercise for Indians troops who are yet not tuned to conduct operations out of their territorial limits, UN peace-keeping mission participation once in a while notwithstanding.
For Pakistan, the US role as it draws closer to India in the sub-continent has become fraught with serious ramifications. Modi's anti-Muslims history is no secret any longer when BJP's role in torching Samjhota Express and demolition of Babari mosque had been established. Only a week before Obama's visit, three Muslims were burnt alive by BJP sympathizers' mob and forced conversion of Muslims to Hindu religion has been set as the state's theme. The bloodletting by half a million-strong Indian Army is rampant in Indian Held Kashmir. Kashmiris, having been denied the right of self-determination, are the chronic victims of Indian forces' atrocities since Indo-Pak partition in 1947. UN Security Council resolutions passed during Mr. Pundit Nehru's times have been dumped in UN archives. Several powers that champion the human rights cause have meted willful neglect to the Kashmiris' cause. The issue led to three wars among the two neighbors. Sporadic unprovoked shelling by Indian forces against civil population along its border with Pakistan is a routine matter. Mr. Obama remarkably pretended to be ignorant of the entire Indian shenanigan. The implicit fall out of making India militarily strong would be dangerous for the region, particularly for Pakistan because:
• Indian stubborn stance on Kashmir issue would further intensify to shun the need of meaningful dialogue and effective resolution of the issue.
• Kashmiris agony would continue with no hope of finding respite from the Indian Army atrocities that have already led them to suffer about 100,000 men, women and children deaths.
• Obama's visit would set in an extreme degree of despondency when the US President has not, ironically, spoken a word about Kashmir and the need to find a lasting solution according to the wishes of the Kashmiris.
• With US alliance, India's ability to trash the neighbor like Pakistan would increase. Conversely, Pakistan with lesser power potential has the ability to respond effectively. It makes a scenario clad with perils. Tanvi Madan of Brookings also predicts, "The consultations on regional issues are likely not just to focus on India's west, but also to its east—where they have identified stability in the Asia-Pacific as a shared interest." Their measures for stability in Asia-Pacific without knocking out others, considered rivals, would certainly be worth paying compliments.
• The standoff between two neighbors is ominous for the world peace also. In case of nuclear conflagration, the conflict would expand in scope and lethality for which world powers have yet not come up with a responsible answer. Instead, the fledgling capabilities when the power admittedly intoxicates would mean affording the pretext of hostilities to India.
• India has already plans in place to set its Cold Start War Doctrine in practice that envisages compact, mobile, hard hitting forces to make surprise shallow, offensive maneuvers and cause destruction (ambitious aim though relevant) or attrition on Pakistani forces system. Pakistan needs to fine-finish all passive counter measures to deny any worthwhile success to Indian Cold Start War euphoria and keep ready plans to strike back within hours in the same or different sector of its own choosing to teach her a lesson at their cost.
• Any Indian forces meddling in Afghanistan would not be a welcome proposition under any pretext. Incidentally, two developments occurred that are favorable to Pakistan. When Obama and Modi were addressing joint press conference on 25 Jan 2015, Pakistan Army Chief was reviewing the guard of honor in Beijing with Chinese military counterpart. It would be naive to assume that Obama's visit and accruing implications were not discussed by them. Also, concurrently, Afghan military delegation was conversing with Pakistani counterparts in Islamabad, a gesture almost akin to tell US/Indian hawks, thanks for the care, we had enough in last over thirteen years.
• The development in India requires skillful handling and extra vigilance by Pakistan foreign policy wizards. Pakistan foreign office initial response to Mr. Obama's visit has been disappointing that claimed that it would auger well for the regional peace, an assertion far removed from reality. In fact, Pakistan's clear interpretation of the aforementioned thrust vectors would have been sounded to US on diplomatic channel, prior to Air Force One's taking off from Washington tarmac as did Mr. Putin promptly, mustering a counter poise. He said, "Russia would not let US grab the Middle East". Whether he has the capability or not, may be a moot point but he did not leave any vacuum when Obama and Modi were manipulating the world order in a different way, right or wrong, the time would judge.
• Pakistan's foreign policy does not operate on forward foot but is reactive instead. It is time that US played its role as honest broker and bring around Modi to settle Kashmir issue once for all according to the Kashmiris wishes. To achieve such objective, our pundits have to be at par, at least one of them, with Metternich or Castlereagh to convince US administration about the urgency to explore peaceful settlement of Kashmir issue and overcome Modi's reticence.
India, despite full US shoulder-support needs to remember two vulnerabilities that would haunt her ambitions. One, UN Security Council permanent member seat-promise is a contentious issue for her. Having active hostilities with neighbors, two of them being nuclear power would make it dangerous proposition to admit India into the UNSC. There are strong arguments to give representation to Africa or Latin America who have been denied the slot in UNSC. If in post-Cold War scenario, the merit hinges on the country's contribution to peacemaking efforts with no flare for embarking on military buildup despite having the sophisticated technological edge, Germany would be the best choice. When France and Britain are UNSC members, Germany's case becomes weak from as small a continent as Europe. Muslims have no representation in UNSC either when every sixth person on the planet is Muslim. Turkey, Pakistan or Indonesia could be as deserving candidates as India, in fact better one.
Secondly, India's proclaimed desire to emerge as economic giant, soon outmatching China appears on wrong drive if Mr. Modi's body language is any guide. What transpires from his statements that somehow he has come to believe that the kind of geo-political environments India is placed in; it would be prudent to insult Pakistan and stigmatize Kashmiris, by snatching their constitutional status through an amendment that the present Indian constitution bestows on them. He also appears inclined to resort to occasional saber rattling towards China. This sequence to achieve by placing the economic objectives laced with hubris born from the heap of sophisticated military hardware appears asymmetrical. Such ruses and chicanery, at which Mr. Modi has been traditionally quite adapt, would lead Indian economic ambition for double digit growth to some silly snare. Instead India must resolve disputes with China and Pakistan through a visible pragmatic diplomacy and must not be lured in to show of force on high seas to intimidate its foes. Indian dreams can be carefully constructed by her allies but these can be shattered certainly by China or Pakistan decisively when Modi breathes too hot on their necks. Indian paradigm hereafter is complex and would also need brainstorming by Turkey and Iran because the alliance in fact is multilayered and some actors in the fold are yet to stand up at an opportune moment. An interesting hypothesis that would merits separate space to cover.
As the largest democracy, she lays claim upon, World would expect from India, strengthening of the universal peace rather than bully Pakistan, pester Kashmiris, meddle in Afghanistan or flash a sword towards China and side line Russia. Big power = Big forgiving heart, makes simple but effective equation for India to emulate. Einstein would have certainly liked this equation if he was alive, better than his theory of relativity.
Answering the CPEC Challenges
China-Pakistan Economic Corridor will help sustain the economic growth of China and will highlight the strategic importance of Pakistan. It will offer Pakistan with a chance to broaden the horizon of its economy and enlarge its foreign reserves. However, whilst venturing towards industrialization and Foreign Direct Investment (FDI), CPEC in Pakistan faces certain challenges that have so far impeded the industries in realizing their full growth potential. Principal obstructions to investment in this regard are various security and political factors as well as the non-availability of infrastructure and power crises.
The answer to these challenges is that the FDI is very much necessary for raising the value of capital. Eventually, once the high capital value is achieved it will helps in developing infrastructure and for initiating large industries. Thus through Foreign Direct Investment (FDI) the dearth of capital will be lessened to greater extent. In order to set up competitive industries in the globalized world one of the priorities is the accessibility to the productive and high tech transportation for maneuvering of raw materials and finished goods. This is an understood observation that, economic expansion strengthens infrastructure advancement and vis a vis.
The second most important aspect is how far CPEC is beneficial for the Pakistani labors and how the industrial advancement will be creating Jobs through CPEC for Pakistani people? The youth surge is often named as asset and it should be chief concern of the State, because this strength has turned into burden owing to unemployment. In this regard CPEC could offer appropriate interference in the course of employment creation to take in hand the grievances of unemployed youth. The electricity shortage and network of infrastructure further minimizes the on hand base of small industries in Pakistan. The first phase of energy projects in early harvest program of CPEC will be effective in reducing the electricity shortfall. The inexpensive and unremitting power availability is indispensable for stimulating Pakistan's manufacturing sector. This will increase the economic activities, create jobs and catch the attention of foreign investors to invest in trade zone of Pakistan. Eventually all the project which are part of CPEC, whether they are electricity production projects or infrastructural advancement projects need man power -engineers; civil mechanical, electrical. Along with disciplines of engineering technicians: masons, welders, carpenters, surveyors, steel fixer, machine operators, etc are also required. Moreover not only the labor and technical workforce, there is also a need of professional economists, finance, accounting, management HR and interpreters of Chinese language who will monitor and manage these projects. Thus to sum up the answer to the question that how far CPEC is effective in creating jobs, one can say that  according to the resources and as the above mentioned, CPEC will be generating around two million jobs implicitly or explicitly till 2030.
Moreover, this is also worth noting that if the Pakistan stakeholders are making their living and paying high tax regardless of the Chinese who are investing and they are exempt from taxes. Under such conditions how CPEC will be profitable for Pakistani investors and local industrialists if Chinese are tax exempt and local industries are not? In that case CPEC Special Economic Zones (SEZs) will be a fruitful strategy for promoting trade, employment and economic growth. Consequently to upgrade the industries, through SEZs, one of the intended objectives of the CPEC is to best serve the private sector of Pakistan to strengthen local industries through Free Trade Agreements (FTA). The proclaimed incentives which CPEC promises to offer the local enterprises include the promotion of Pakistan's industries from accumulating imported parts and components to localized production of parts by utilizing the available resources, offering employment opportunities to the people and encourage bilateral connectivity between various Chinese and Pakistani enterprises. It will also expand trade volume and logistics, business-to-business (B2B) links, two-pronged trade arrangement, regional connectivity and encourage evenhanded trade maturity. Subsequently in order to facilitate the local business sector, Board of Investment (BoI) established "CPEC-SEZ Cell" in February 2017 in order to address the concerns of the stakeholders on the matters related to the CPEC and Special Economic Zones. The prime function of this support cell is to attract, facilitate and promote both local and foreign investment in the country as per Special Economic Zones (Amendment) Act, 2016 of Pakistan.
Furthermore in line with changing global economic structure CPEC will bring trade openness. For that Pakistan has prioritized the establishment of SEZs. So far 41 sites have been identified for SEZs and the Board of Investment (BoI) has mapped out nine exclusive Industrial Zones to be built under the larger umbrella of CPEC. It is also pertinent to mention that the CPEC project is not merely a route that connects Gwadar port with Kashgar but an opportunity for both China and Pakistan to enjoy the fruits of trade openness with Europe, Middle East, South and Central Asia as well. Thus the establishment of SEZs  promises to bring  Trade Openness through a massive socio-economic development  in the country specifically in the areas of energy, trade, agricultural, infrastructural development, connectivity, industries, poverty alleviation, tourism, cooperation between financial institutions and markets, and financial cooperation between Free Trade Zones (FTZs).
Last but not the least the difficulty of capital and capacity insufficiency can be alleviated through joint ventures between Chinese and Pakistani business community under CPEC. It is necessary to enlarge the stakes of domestic industry and protect their interests under CPEC. Pakistani entrepreneurs should be given incentives similar to Chinese investors for investment in the CPEC projects.
Whether Pakistan's membership in the IAEA Board of Governors is a major diplomatic achievement?
Pakistan has once again been elected a member of the IAEA Board of Governors (BoG) for the next two years on September 20, 2018. The Board of Governors of the IAEA is one of its policy making organs. The BoG not only examines the financial statements, it also makes recommendations for the IAEA budget. It finalizes the membership applications, accepts safeguard agreements and contributes in the safety standard publications. The approval of Director General of the IAEA with the approval of General Conference is also the responsibility of the Board. Pakistan has been chosen 19 times to the Board in the past and has played an important role in the formulation of the agency's policies and programmes. It also has the honor of chairing the Board thrice in 1962, 1986 and 2010.
A prominent Pakistani nuclear expert Dr. Naeem Salikin his book "Nuclear Pakistan Seeking Security and Stability" writes that Pakistan's cooperation with the agency has been reciprocal. In other words it not only benefitted from the agency but also Pakistan's nuclear expertise and its human resources proved to be invaluable contribution to the agency. Pakistani scientists and engineers have contributed to the IAEA work in numerous fields including in the area of nuclear safety and security. It also hosted nuclear safety and security workshops with the cooperation of IAEA on the regional level. Pakistan has been beneficiary of the IAEA assistance and its nuclear establishment is fully committed to increasing this cooperation in various fields ranging from nuclear power development to that of agriculture, medicine and livestock. Pakistan's Country Program Framework (CPF) 2014-2019 provides assistance in the wide range of areas as nuclear safety and security, nuclear power development, industrial application, human health under the technical cooperation program of the IAEA.
Since the inception of Pakistan's nuclear weapons it has faced allegations and hostilities which have not been faced by any other nuclear state in the world. Although, the formation of the NSG in 1974 was the result of Indian violation of peaceful use of nuclear material for military purposes but the irony is that now the founders of NSG are advocating India for the membership of NSG. China is the only state which understands that India is not the only country but Pakistan is also capable of producing highly enriched uranium and plutonium for civil and military purposes and it can easily assist developing states in advancing their nuclear infrastructures and technology. All nuclear power plants of Pakistan are under the IAEA safeguards while the US is extending exceptional treatment to India by letting it keep its eight reactors out of IAEA safeguards that are producing fissile material in large quantities, and intentionally ignoring this.
In this regard, Pakistan advocates a non-discriminatory approach towards the non-NPT nuclear weapons states for their entry into the NSG. Nevertheless, it is the prime time for Pakistan to fight its case through the IAEA as it is going to formulate policies of IAEA for future. It should also try to introduce the policies which treat all nuclear states equally because discriminatory behaviors and policies undermine the credibility of the non-proliferation regimes.
In a nutshell, Pakistan has been facing enormous amount of propaganda regarding its nuclear safety and security and the amount of literature projecting Pakistan's perspective is inadequate and small. Therefore, it's imperative that Pakistan projects its perspective concerning its nuclear safety and security. Pakistan has been in full compliance with the agency regime for over fifty years now. Pakistan's cooperative and positive behavior towards the promotion of peaceful uses of nuclear technology and non-proliferation regimes requires equal treatment. Keeping in view the stringent nuclear safety and security record of Pakistan and its advanced nuclear fuel cycle capability, it should be considered eligible to be provided the nuclear fuel cycle services under the IAEA safeguards. Pakistan can make its membership in BOG a major diplomatic achievement by advocating its perspective with full determination.
Can India Balance Between Beijing and Washington?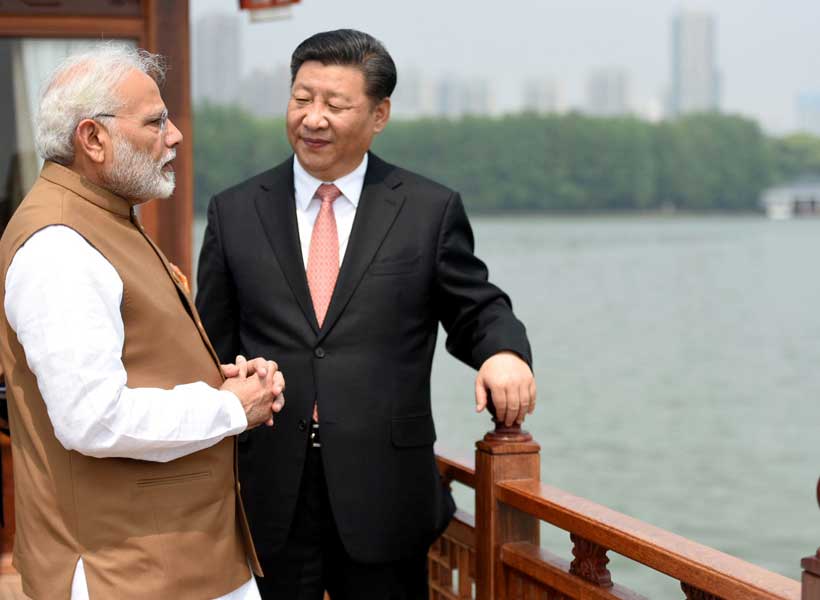 On October 10, 2018, a Senior Chinese Diplomat in India underscored the need for New Delhi and Beijing to work jointly, in order to counter the policy of trade protectionism, being promoted by US President, Donald Trump.
It would be pertinent to point out, that US  had imposed tariffs estimated at 200 Billion USD in September 2018, Beijing imposed tariffs on 60 Billion USD of US imports as a retaliatory measure, and US threatened to impose further tariffs. Interestingly, US trade deficit vis-à-vis China reached 34.1 Billion USD for the month of September (in August 2018, it was 31 Billion USD). Critics of Trump point to this increasing trade deficit vis-à-vis China as a reiteration of the fact, that Trump's economic policies are not working.
Ji Rong, Spokesperson of the Chinese Embassy in India said that tariffs will be detrimental for both India and China and given the fact that both are engines of economic growth it is important for both to work together.
The Chinese diplomat's statement came at an interesting time. US President, Donald Trump on October 2, also referred to India as 'tariff king'. Even though the India-US strategic relationship has witnessed a significant upswing, yet the US President has repeatedly referred to India imposing high tariffs on US exports to India (specifically Harley Davidson motorcyles).
It also came days after, after India signed a deal with Russia (October 5, 2018) for the purchase of 5 S-400 Air Defence system, during the visit of Russian President Vladimir Putin. The Chinese envoy's statement also came days before India attended the China dominated Shanghai Cooperation Organization (SCO). Significantly, India and China also began a joint training programme for Afghan Diplomats on October 15, 2018 (which would last till October 26, 2018).
Trilateral cooperation between India, China and Afghanistan was one of the main thrust areas of the Wuhan Summit, between Chinese President, Xi Jinping, and Indian PM, Narendra Modi, and this is one of the key initiatives in this direction.
There are a number of factors, which have resulted in New Delhi and Beijing seeking to reset their relationship. The first is difference between New Delhi and Washington on economic ties between the former and Iran and Russia. Washington has given mixed signals with regard to granting India exemptions from Countering America Through Sanctions Act (CAATSA).
US ambiguity on providing waivers to India
While sections of the US establishment, especially Jim Mattis, Defence Secretary and Secretary of State, Michael Pompeo have been fervently backing a waiver to India, there are those who oppose any sort of waiver even to India. NSA John Bolton has been warning US allies like India, that there will be no exemption or waiver from US sanctions targeting Iran's oil sector. On October 4th, Bolton while briefing the press said:
"This is not the Obama administration … is my message to them (the importers),
Trump himself has not been clear on providing India a waiver, when asked about this issue, he said India would  know soon about the US decision (Trump has the authority to provide a Presidential waiver to India from the deal with Russia). A State Department Spokesperson also stated, that the US was carefully watching S-400 agreement with Russia, as well as India's decision to import oil from Iran, and such steps were 'not helpful'. With the US President being excessively transactionalist, it is tough to predict his final decision, and with growing differences between him and Mattis, one of the ardent advocates of waivers for India, it remains to be seen as to which camp will prevail.
US protectionism and New Delhi's discomfort
Differences between Washington and New Delhi don't end on the latter's economic ties with Tehran and Moscow. India has on numerous occasions stated, that while strengthening strategic ties with the US, it was concerned about the Trump administration's economic policies. This was clearly evident from the Indian Foreign Minister Sushma Swaraj's speech at the SCO Meet (October 12, 2018) held at Dushanbe, Tajikistan where she pitched for an open global trading order. Said Swaraj:
"We have all benefited from globalization. We must further develop our trade and investment cooperation. We support an open, stable international trade regime based on centrality of the World Trade Organization,"
Even if one to look beyond Trump's unpredictability, there is scope for synergies between New Delhi and Beijing in terms of economic sphere and some crucial connectivity projects.
Economic Opportunities
For long, trade has been skewed in favour of China, and this is a growing concern for India. Trade deficit between India and China has risen from 51.1 Billion USD in 2016-2017 to 62.9 Billion in 2017-2018 (a rise of over 20 percent).
The imposition of US tariffs has opened up opportunities for China importing certain commodities from India. This includes commodities like soybeans and rapeseed meal. In a seminar held at the Indian embassy in Beijing in September 2018, this issue was discussed and one on one meetings between potential importers (China) and sellers (India) was held. India urged China to remove the ban which had imposed on the import of rape meal seeds in 2011.
Connectivity and Afghanistan
Another area where there is immense scope for cooperation between India and China is big ticket connectivity projects. During his India visit, Uzbekistan President, Shavkat Mirziyoyev invited India to participate in a rail project connecting Uzbekistan and Afghanistan.
Afghanistan has welcomed this proposal, saying that this would strengthen cooperation between China and India in Afghanistan. India-China cooperation on this project is very much in sync with the China-India Plus Model proposed by China at the BRICS Summit in July 2018.
India and China can also work jointly for capacity building in Afghanistan. New Delhi has already been involved in providing assistance to Afghanistan in institution building and disaster management, and if Beijing and New Delhi join hands this could make for a fruitful partnership. The India-China joint training program for Afghan diplomats is a significant move in this direction. India and China can also look at joint scholarships to Afghan students where they can spend part of their time in China and the remaining time in India.
Both India and New Delhi for any meaningful cooperation in Afghanistan can not be risk averse, and will have to shed their hesitation. Beijing for instance has opted for a very limited 'capacity building' , where it will work with India in Afghanistan. While Kabul had expected that both sides will invest in a significant infrastructure project, Beijing with an eye on its ally Islamabad's sensitivities opted for a low profile project.
Conclusion
New Delhi should not be too predictable in it's dealings with Washington DC, and has to do a fine balancing act between Beijing and Washington DC. While on certain strategic issues are synergies between India and the US, on crucial economic and geo-political issues, there are serious differences, and India's ties with Beijing are crucial in this context. New Delhi and Beijing should seek to expand economic ties, and the latter should give more market access to Indian goods. Apart from this, both countries should work closely on connectivity projects. If both sides build trust, the sky is the limit but it will require pragmatism from both sides. Beijing should not allow the Pakistani deep state to dictate it's links with India (especially in the context of cooperation in Afghanistan). New Delhi on its part, should not make any one issue a sticking point in its complex but very important relationship with Beijing.