Eurasian Integration Could Open Market for Africans
Early January, Russia and four other ex-Soviet republics completed finally the creation of a new economic alliance intended to bolster their integration. The Eurasian Economic Union or popularly referred to as EAEU, which includes Russia, Belarus, Kazakhstan, Armenia and Kyrgyzstan, came into existence on January 1, 2015.
It is expected that Kyrgyzstan will become a full-fledged member from May 1, 2015. In addition to free trade, it's to coordinate the members' financial systems and regulate their industrial and agricultural policies along with labor markets and transportation networks.
Russia's changing economic identity with its neighbouring ex-Soviet republics, Armenia, Belarus and Kazakhstan has opened business and economic opportunities despite the inherent teething problems associated with its creation. For instance, President Vladimir Putin said that the new union will have a combined economic output of $4.5 trillion and bring together 170 million people which means a huge potential market for business. "The Eurasian integration is based on mutual benefit and taking into account mutual interests," Putin said after business talks with his colleagues in the Kremlin.
Some experts say the union members will benefit largely members and other foreign countries if the emerging opportunities are exploited strategically, while other analysts have explained in an email to Buziness Africa that foreign countries such European countries and Asian states, expecially all three major powers of Asia – China, Japan and India are ready to take their share of the new developments. But on the other hand, the experts interviewed for this story are, however, skeptical as to what extent African business leaders, investors and political elites will recognise, interprete and explore the profitability of the new geostrategic economic arrangement in the region.
The key question is who can benefit from EAEU. According to an official statement posted on Kremlin website on Decemebr 23, 2014, "there is growing interest in cooperating with the Eurasian Union among countries in other regions. Thus, the drafting of a free trade agreement with Vietnam has entered its final stage. We are working on similar agreements with Turkey, India and Israel."
In addition, the Eurasian Economic Commission (EAEC) press office explained in an email query to Buziness Africa media that foreign countries interested in cooperation with the Union have to apply to the EAEC and if all the necessary conditions fit both parties, the consultations about one of the forms of cooperation (e.g. Free Trade Agreement) could be started.
The press office cited in the report sent by email to Buziness Africa that "EAEC has negotiations with Vietnam about Free Trade Agreement. At this time, we have eighth round of negotiations, that were dedicated to existing provisions of the future agreement. The parties believe that they manage to reach a fair balance of benefits for the both of them and provide for necessary tools that would mitigate the risks for entrepreneurs. But the work is not over yet, the remaining issues will be solved in further consultations."
According to media reports, East African Community (EAC) countries could soon be able to export tea, coffee and horticultural products to the Eurasian Economic Commission (EAEC) member states without going through Western Europe. According to the article based on official statement issued after a meeting by the EAC Ambassadors in the Russian Federation, this was one of the resolutions agreed on during a recent meeting between EAC ambassadors in the Russian Federation, "the meeting was aimed at learning about the EAEC integration process and development of the economic bloc with view of exploring business opportunities for EAC member states."
EAC diplomats agreed that traders from the region pay custom taxes at only one entry point to the EAEC bloc to boost exports from East Africa. Once in effect, the EAEC bloc will represent a single economic market of 171 million people with a gross domestic product of $3 trillion. The East African Community (EAC) is a regional intergovernmental organisation of the Republics of Burundi, Kenya, Rwanda, the United Republic of Tanzania and the Republic of Uganda, with its headquarters in Arusha, Tanzania.
Last year, a high-powered delegation of officials from the Eurasian Economic Commission also visited South Africa to explore economic relations with SA and Africa broadly. Headed by Tatyana Valovaya, a member of the Board of the Commission responsible for Integration and Macroeconomics, the delegation held discussions with South African business representatives, political actors and academics on significant economic opportunities for South Africa and Africa.
This visit received no media reports or publicity but this does not mean that it was insignificant. The key questions are what is the potential for SA-Russia relations to be the springboard for relations with the whole of Eurasia generally or the Commission area particular? What would be the key drivers and pillars of such relations? What economic and trade potential lies is such relations? How should South Africa's foreign policy and Russian foreign policy gurus be thinking through this development?
Egypt is one of Russia's leading trade partners in the Arab world and may soon conclude an agreement to establish a free trade zone with the Eurasian Economic Union (EAEU), according to the Russia's Chamber of Commerce and Industry. Experts argue that this will contribute to the revitalization of trading activities and develop deeper cooperation in a number of fields between Egypt and member countries of EAEU.
Victor Spasskiy, the director in charge of integration development, said there are initiatives to expand the bloc to include Armenia and Kyrgyzstan. Local business people were encouraged to take advantage of the immense opportunities in the bloc to develop new business ties with the EAEU business community. Possible exports from EAEC include natural resources, human capital, technology in manufacturing industry and farming machinery.
Some experts are skeptical pointing to the teething problems including differences in approach to varying issues in the region. The creation of the Eurasian Economic Union parallels two deepening interrelated crises: the growing rift between Russia and the West over the conflict in Ukraine and the looming economic crisis in Russia.
Since the beginning of 2014 the ruble lost almost half of its value and the inflation in Russia has exceeded 11%. Some of the member-states of the Eurasian Union (Belarus and Kazakhstan in particular) have been growing more and more ambivalent about Russia's increasingly heavy-handed attempts to reassert its influence in the former Soviet spaces, according to views of Maxim Matusevich, director of the Russian and East European Studies program at Seton Hall University in New Jersey.
Historically, he maintained that African states have been exceptionally sensitive to any real or perceived efforts by "developed" nations to establish neocolonial control in their former zones of influence. And by a number of measures, Russia's muscle-flexing in the so-called "near abroad" can be perceived as neocolonial.
"I wouldn't be surprised if some African states responded to such aggressive expansionism with caution or even distaste. So far only Egypt, which under the new military leadership has grown closer to Putin's regime, expressed any interest in possible closer ties with the EAEU. But there exist far more specific reasons, for which, I believe, the creation of the Eurasian Union will have little relevance for Africa," the director said.
Matusevich pointed out: "The member-states of the union have little to no manufacturing output, the two pillars of the union (Russia and Kazakhstan) have economies almost entirely based on oil and gas exports. It is not clear what exactly they can offer to African nations, especially in the context of the deepening economic crisis in Russia. I expect that just like during the previous period of economic turmoil in the 1980s and 1990s Russia and some of its post-Soviet allies will cut down on their ties with Africa rather than expand them. Africa, in my opinion, has very little either to gain or to lose from the creation of the Eurasian Economic Union."
In an address at the Supreme Eurasian Economic Council meeting in December 2014, Putin further explained that Memorandum of Understanding (MoUs) were drafted with ASEAN and Mercosur states. "I am certain that expanding ties with all countries and organisations both in the East and in the West on the basis of equality and mutual benefit meets the interests of our Union as well. There are great new challenges ahead of us. We are to ensure the stable and efficient functioning of the Eurasian Union and continue strengthening its institutional basis," Putin said assertively.
Among the priorities is the need to make the Union more competitive and attractive for investors, to launch joint projects and create high-technology jobs in the oil and gas sector, in the metals and chemical industries, aviation, machine-building and the space industry. In addition, to remove the existing barriers that impede the free movement of goods, services, capital and labour, and to implement plans to form as of 2016 a common market of pharmaceutical and medical products.
Putin added: "We will also approve a list of services sectors where the common market will become functional on January 1, 2015. This will benefit construction workers, wholesale and retail traders and companies working in tourism. It is important that we do not drag our feet with the mutual approval of licences for these activities issued by our respective countries. This will make it possible for our companies to take full advantage of the benefits of integration right from the start."
The Treaty on the establishment of the Eurasian Economic Union was signed by the presidents of Russia, Belarus and Kazakhstan on May 29, 2014 in Astana. The agreement is the basic document defining the accords between Russia, Belarus and Kazakhstan for creating the Eurasian Economic Union for the free movement of goods, services, capital and workforce and conducting coordinated, agreed or common policies in key sectors of the economy, such as energy, industry, agriculture and transport. The agreement stipulates the transition of Russia, Belarus and Kazakhstan to the next stage of integration after the Customs Union and the common economic space.
Nhaka Foundation: Transforming Education and Improving Basic Health Care in Zimbabwe
In this interview, Patrick Makokoro, the Founder and Chief Executive Officer of Nhaka Foundation, discusses the organisation's efforts at supporting education and health care in rural regions in Zimbabwe, a landlocked country located in southern Africa. According official information, Zimbabwe's total population stands at 12.97 million. Due to large investments in education since independence, Zimbabwe has the highest adult literacy rate, in 2013 was 90.70%, in Africa, but much still remains to be done in the sector.
Makokoro founded the Nhaka Foundation in 2008 as a charitable organisation that provides education, health care and counseling, and other essential services to orphaned and vulnerable children throughout Zimbabwe. In 2012, he founded the Zimbabwe Network of Early Childhood Development Actors (ZINECDA). In addition, Makokoro is a Founding member of the African Early Childhood Network headquartered in Nairobi, Kenya, which works to champion the development needs of young children in Africa.
As Patrick Makokoro discussed at length with Kester Kenn Klomegah in Harare, Nhaka Foundation plans to consolidate its relationship with the Ministry of Primary and Secondary Education and other Government departments at the local level and leading civic society organisations working in Education and Primary Health Care issues in Zimbabwe. Here are the interview excerpts:
Q: What would you say are the achievements and/or success stories since the establishment of the Harare based NGO, Nhaka Foundation?
PM: Nhaka Foundation is a Zimbabwe-based non-governmental organisation, it has developed and implemented a series of interventions designed to bridge the gap between the government's capabilities and policies mandating the requirement for Early Childhood Development (ECD) programming in primary schools and its ability to fully realise the implementation of such programmes. Along with its partners, Nhaka Foundation provides access to education, basic health care and daily sustenance for the orphaned and vulnerable children in the communities it serves. It further provides aid and support to ensure the creation of a physical environment conducive to learning, growth and the optimal development of all children.
Classroom and Playground Renovation
Nhaka Foundation has managed to partner with the Ministry of Primary and Secondary Education to work with rural area primary schools, parents and caregivers to create Early Childhood Development (ECD) Centers through the renovation of over 32 dilapidated classrooms. The classroom floors, windows, doors and roofs are repaired or replaced, and a fresh coat of paint is applied inside and outside. Each Center has its own unique personality as the exteriors are then finished with hand-painted, age-appropriate drawings by local artists.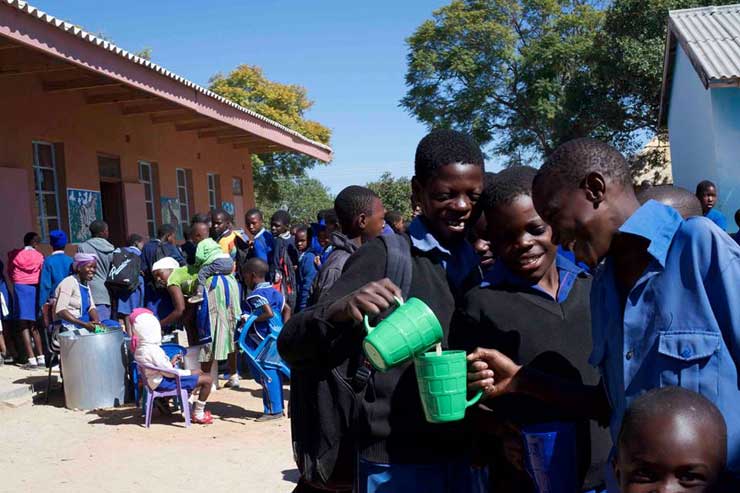 As a part of the renovation programmes, the organisation has worked with the families and members of the community to plan and build, expand or repair the playgrounds and equipment using readily available and safe materials, hence fostering a sense of community ownership and building sustainability into the initiative. Once restored to a like-new condition, the Centers would then be officially incorporated into the primary school system and sustained by the community through elected Pre-School Management Committees. This helps to ensure that the children continue to have clean and safe spaces to work and play.
Parenting Education
With the support of school and community leaders, Nhaka Foundation has facilitated meetings with the over 5000 parents and caregivers of children enrolled in the ECD Centers it serves. These meetings have been designed to educate, support and engage stakeholders in finding solutions to building a better future for the children. A lot of emphasis has been placed on building capacity and instilling a sense of community ownership and responsibility through this initiative.
The meetings have covered various topics including the importance of birth registration, immunisations, health record maintenance, HIV&AIDS education and screenings, early childhood development enrolment as well as parental involvement in the education of children. Indeed, the initiative has been successful in providing caregivers with the information and tools needed to better look after the children in their communities. It makes available a platform for voicing concerns and obtaining support from the school, the community, and the government.
Teacher Training
Nhaka Foundation has also managed to forge a cordial working relationship with the Ministry of Primary and Secondary Education (MoPSE) to facilitate the on-going training and development of the ECD teachers working in the Centers it serves. Nhaka Foundation has successfully trained over 350 early childhood development teachers in the past 5 years. On a rotating basis, the organisation accompanies District Trainers to the field to monitor and evaluate teacher performance.
Each teacher would be observed at work, given an opportunity to ask questions and express concerns, and provided feedback for improvement. Through this initiative, the organisation has managed to provide teachers with increased skills and at the same time promote a cooperative environment to share information and resources that have inevitably resulted in quality education for marginalised children.
Feeding Programme
In response to the needs of the rural communities and the children it serves, Nhaka Foundation developed an in-school feeding programme to address one of the biggest challenges faced each day in, and out, of the classroom-hunger. Many children would come to school on empty stomachs making it impossible for them to concentrate or fully participate in classroom and outdoor activities. While the organisation's work has been focused on children enrolled in ECD Centers, it simply could not ignore the remaining primary school students as the concern was pervasive.
As a consequence, the programme has provided food once each day in the form of a protein drink for all of the students in all of the primary schools it serves. The programme has benefitted well over 5,000 children a day across 15 primary schools in collaboration with the schools and communities, with food preparation and service is managed on-site by community volunteers while Nhaka Foundation manages the logistics, training and programme oversight.
Health Assessments
Nhaka Foundation has partnered with the Ministry of Health and Child Care, District Medical Offices and local health clinic practitioners to facilitate health assessments of the children enrolled in the ECD Centers it serves. On a rotating basis, the Nhaka's team members have accompanied nurses from the rural health clinics to each school to evaluate the most basic and immediate health concerns facing the children.
The assessments have captured important baseline information on height, weight, heart rate, immunisations, and personal hygiene as well as screen for common conditions such as ringworms, scabies, skin infections and cavities. Indeed this initiative has created a strong starting point to address basic medical conditions and to educate parents, caregivers and the communities on infant and child health care issues and prevention reaching over 800 children in 2019 alone
Q: In the first place, tell us about the driving reasons, in other words the motivating factors, why the idea of helping rural communities in Zimbabwe?
PM: In 2019, Nhaka Foundation contributed towards the attainment of Sustainable Development Goals (SDG) 1, 2, 3, 4 and 6 as recounted here as follows.
SDG 1: End poverty. The organisation contributed to SDG 1 through transferring skills in new systems of farming to parents, which has a potential to boost their economic status in the long-run. However, due to reasons beyond the organisation's scope such as recurrent droughts, poverty was said to be the status quo for most households in the communities where Nhaka Foundation introduced these innovations, especially grandparent-headed households.
SDG 2: Zero hunger. Nhaka Foundation's support of nutrition gardens to strengthen the Feeding Programme and its impartation of new farming skills were meant to eliminate hunger. ECD learners indeed benefited from school-based feeding, although at the schools sampled by this evaluation the feeding had stopped and some nutrition gardens no longer functional.
SDG 3: Good health and Well-being. Nhaka Foundation invested heavily into the health and well-being of its target beneficiaries, including through its trainings in personal hygiene for parents, procurement of nutritious foods like maheu and porridge as well as its facilitation of health assessments for ECD learners. At the time of this evaluation, these initiatives stopped because of limited funding to the organisation.
SDG 4: Ensure inclusive and equitable quality education and promote lifelong learning opportunities for all. Nhaka Foundation's support for ECD infrastructure development made education accessible for the ECD learners while its capacity building for ECD teachers contributed towards improved education quality. ECD teachers confirmed that they learned new techniques of teaching and effectively handling ECD learners through workshops that the organisation facilitated in partnership with MoPSE trainers.
SDG 6: Clean water and sanitation. Nhaka Foundation supported the drilling of boreholes and construction of toilets in some schools that had dire need thereof, which tellingly improved access to clean water supply and sanitary ablution facilities. The evaluation, however, revealed that with growing ECD enrolments, the need for additional boreholes and toilets remains at most intervention schools.
Q: How would you characterise the urban-rural development gap in Zimbabwe?
PM: The development gap between the urban-rural settings is still evident mostly due to unavailable funds that go towards infrastructure development. This challenge is not only limited to Zimbabwe alone but to most countries in Southern Africa Development Community (SADC) and sub-Saharan Africa. As African countries rise against the struggles and inequalities imposed by colonialism, there is the need to invest more resources in order to develop the rural areas. It is important for financial resources be directed towards creating economic hubs in the various rural areas so that there is enough investment that supports and boosts the rural economies.
Q: Under-development, diseases, illiteracy and abject poverty have something do with the Government. Could you please give your views and analysis here?
PM: Over the 20 years after independence, the government in Zimbabwe invested heavily in education, and by the end of this period, Zimbabwe had one of the finest education system (and its highest literacy rate) in Africa. The success of this programme was reinforced by the importance Zimbabweans place on education and the considerable sacrifices families are prepared to make to ensure their children are well educated.
Unfortunately, the financial and political crisis that engulfed Zimbabwe in the first decade of this century resulted in a dramatic decline in the educational sector. The impact of this decline was especially marked in rural schools. In light of these challenges, the investment in early childhood development and education programmes was minimal if any, as the government and other civil society organisations focused more on the delivery of primary and secondary level education.
Early education thus was not given the appropriate attention and action. More importantly, parents have little or no understanding of the substantial long-term benefits that early childhood development programmes have on their children's educational and social outcomes. Parents and caregivers have limited knowledge of other important child development, protection and welfare issues.
Q: Judging from the above discussion, is it correct to conclude that Nhaka's activities are closely related to the politics and policies of the Zimbabwean Government?
PM: As far back in 2005, the Zimbabwean government introduced a policy (Statutory Instrument No. 106 of 2005) mandating all government primary schools to introduce two years of ECD education before primary school entry. This was in line with the Commission of Inquiry into Education and Training's (CIET, 1999) main recommendation to democratise pre-school education, the Ministry designed a two-phased, ten-year programme to establish ECD classes at every primary school in the country. During Phase One (2005/6 to 2010), every primary school was expected to attach at least one ECD class of 4-5 year old's referred to as ECD 'B', to prepare them for Grade One the following year. In Phase Two (2011 to 2015), every primary school would attach another ECD class of 3-4 year old's to prepare them for ECD B.
Indeed, over the past 11 years, Nhaka Foundation has become a leading organisation in Zimbabwe working in partnership with the Ministries of Education, Health and Social Services to enhance Early Childhood Development (ECD) services and access to early learning opportunities reaching 15,000 beneficiaries directly through its programmes in 2019. Nhaka Foundation's preschools programme works closely with the Ministry of Primary and Secondary Education and has received its full endorsement through a Memorandum of Understanding signed in October 2017.
Nhaka Foundation is aligned with the established policy of integrating ECD centers into primary schools. The current Government in Zimbabwe is responsible for setting policy priorities and within the education sector that falls under the ambit of the Ministry of Primary and Secondary Education. Nhaka Foundation therefore works to complement government efforts in line with the Memorandum of Understanding signed between the two parties.
Q: How does Nhaka operate in terms of project financing, support from stakeholders and so forth?
PM: Nhaka Foundation promptly responds to calls for proposals as well as carries out internal fundraising activities in order to generate resources for its operations and sustainability.
Q: What are your long-term strategic plans, at least, the next half decade?
PM: Really, we have long-term plans to raise the current achievements to a higher level, especially along the lines of Sustainable Development Goals (SDGs). These are:
Goal 1: Resource Mobilisation
The organisation will focus on the development and implementation of a comprehensive resource mobilisation and sustainability strategy that will encompass both traditional and non- traditional means of fundraising as well as incorporate key principles such as financial accountability and integrity in order to retain the confidence of funding partners
Goal 2: Enhancing Nhaka Foundation's Visibility
The organisation under this focus area seeks to promote the Nhaka Foundation brand using traditional and emerging online platforms. The organisation anticipates consolidating its relationship with the Ministry of Primary and Secondary Education and other arms of government at the local level and leading civic society organisations working in ECD programming as a means of strengthening its reputation as a growing practitioner in ECD issues in Zimbabwe.
Goal 3: Governance and Institutional Capacity Development
The organisation will focus on strengthening the role of the Board of Trustees in giving oversight to implementation of this strategy as well as operations of the organisation. Strong attention will be paid towards ensuring strong internal organisational systems, controls and procedures are taken up and implemented by all organisational members.
Goal 4: Enhancing Implementation and Management of Programmes
The organisation plans to strengthen the framework of programme cycle management, including development of an indicator-based monitoring and evaluation (M&E) framework that enables drawing of important lessons and best practices. The organisation intends to build the capacity of programming staff in order to enhance efficacy in project cycle management as well as improving responsiveness to the ever changing trends in ECD-related programming such as responding to the needs of children with special needs and addressing other issues that inhibit access to education by young children.
Goal 5: Influencing Policy, Advocacy and Evidence-based ECD Programming
The organisation anticipates engaging a lot more in thought leadership in ECD issues at national and international level, spearheading and supporting various advocacy and lobby efforts aimed at improving childrens' access to affordable and equitable ECD services in Zimbabwe and in sub-Saharan Africa.
Unprecedented humanitarian crisis in Mali revealed in new report
Escalating violence and insecurity in Mali have sparked an unprecedented humanitarian crisis, rendering 3.9 million people in need of assistance and protection – an increase of 700,000 since the beginning of the year, the UN said on Thursday.
Citing a recent report from the NGO Refugees International, Deputy Spokesperson Farhan Haq told correspondents in New York that the number of internally displaced people has also jumped from around 80,000 to nearly 200,000 in one year with more than half being children and women.
The data shows that 650,000 people face food insecurity, compared to 185,000 at the same time last year and that number is projected to nearly double to 1.2 million by June 2020.
These figures are the highest recorded level over the last five years, said Mr. Haq.
The report notes that eight years after the onset of the political crisis that has destabilized Mali, "the international community remains heavily focused on stabilization and counterterrorism, at times to the detriment of the worsening humanitarian situation."
While insurgent violence in the north rages on, anti-Government elements have spread south into central Mali, where they have inflamed intercommunal tensions.
Some 70 per cent of the people affected live in the conflict regions of Mopti, Timbuktu and Gao.
Throughout the year, UN and humanitarian partners have assisted about 900,000 people with food assistance and in 2020, the Humanitarian Response Plan seeks $365.6 million to assist nearly three million in urgent need.
Needs, grievance must be addressed
Mali has been the scene of perpetual conflict and displacement for nearly eight years, when in January 2012, tensions in the marginalized north came to a head as rebels took over almost one-third of the country. A peace agreement signed in 2015 between the complex web of warring parties, has failed to take hold.
While the UN Multidimensional Integrated Stabilization Mission in Mali (MINUSMA) has restored some semblance of peace and government control there, the country's northern and central regions remain trapped in cycles of violence.
The report maintains that there is no purely military solution to the country's crisis.
Although international humanitarian aid must be strengthened, Mali's citizens also require a government willing and able to meet the needs of its people and address grievances at the root of the conflict while implementing the terms of the peace agreement in a timely and transparent fashion.
"The real war will be won by whoever wins over the population. And for now, the state is perceived to not even be trying", one UN representative said in the report.
At least 71 dead in Niger
Against a backdrop of rising extremist violence, lawlessness and extreme weather linked to climate change across the whole Sahel region, neighbouring Niger suffered a major blow after at least 71 Government troops died during an attack on a military base, claimed by the ISIL terrorist group.
Mohamed Ibn Chambas, Head of the UN Office for West Africa and the Sahel (UNOWAS) condemned Tuesday's attack on the camp located in Inates, Niger, close to the border with Mali. A further 12 soldiers were also injured during the assault involving "several hundred" militants, according to news reports.
The Special Representative extended his heartfelt condolences to the families of the victims and to the Government and people of Niger, wishing a prompt recovery to the wounded.
He also called for the perpetrators of this crime to be swiftly brought to justice.
U.S. Policy on Zimbabwe Leaves Door Open for China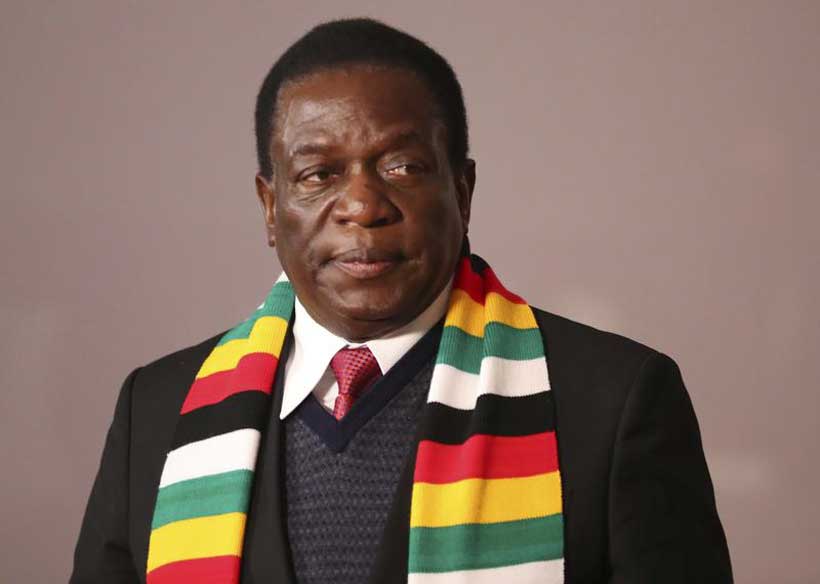 The clearest image yet of the failure of United States' policy towards Zimbabwe was on display last week when President Emmerson Mnangagwa toured the site of his country's new parliament building, funded by the Chinese government and being built by a Chinese contractor.
Scheduled for completion by March 2021, this $140 million building at Mount Hampdennear Harare will stand six stories tall as the largest building in Africa funded by China. It will soon be the seat of Zimbabwe's democracy as the country ends its decades of isolation. But rather than western democracies coming forward to support Zimbabwe in this transition, it is China which has filled the gap.
"We cannot tire in repeating our sincere and deep gratitude to China for the magnificent gesture…we are grateful," President Mnangagwa said as he toured the site.
According to the Johns Hopkins School of Advanced International Studies in Washington, China extended loans worth $2.2 billion to Zimbabwe during 2000-2017.Recent loans have been awarded for the upgrade of Harare's airport as well as construction of the Hwange 7 and 8 power plant project.
The West, on the other hand, has stuck to sanctions as its foreign policy tool. These were first imposed on Zimbabwe in the early 2000s by the U.S. and European Union in response to the alleged crackdown on political opponents by former president Robert Mugabe. This included financial and travel restrictions against specific individuals and companies.
Many of these measures are still in place today despite Mugabe's resignation in 2017 and Mnangagwa's election last year. The EU, however, has begun to normalise its relations with Zimbabwe, with only a few sanctions remaining. The start of political talks in June was perceived as a positive sign towards abandoning all EU sanctions in the near future.
An EU memo ahead of talks in Harare last week, noted that Zimbabwe has made progress by not enforcing its empowerment law, which would have required all foreign investors to cede at least 51% of their shares in local operations to Zimbabweans.
The memo also said the government's interim compensation of white farmers whose land was seized under Mugabe was a positive gesture towards re-opening export markets in the EU. In a budget statement last week, Finance Minister Mthuli Ncube set aside $24 million to compensate white farmers, 768 of whom had consented to the interim compensation scheme.
The U.S., meanwhile, has maintained wide-ranging sanctions, at least until March 2020. Officials in Washington claim this is due to Zimbabwe's failure to change laws curbing protests and media freedoms – a strange assessment since Mnangagwa's government is currently modernising 30 Mugabe-era laws to meet Western standards. A controversial emergency law has already been replaced, and media laws are being replaced with new legislations currently in Parliament.
Following decades of open hostility with Zimbabwe, the West is now jeopardising the opportunity to work constructively with the Mnangagwa government. Under Mugabe, Zimbabwe had actively pursued Chinese investment under his 'Look East' policy. But after Mugabe resigned, Mnangagwa said restoring ties with the West and western financial institutions was one of his major priorities.
That was the moment when the U.S could have helped turn Zimbabwe around, bringing in international investment and technical knowhow. But the U.S. instead chose to extend its sanctions, leaving Zimbabwe's economy reeling from high inflation and power shortages, exacerbated by the effects of climate change. Despite signals of keeping the door open, the Mnangagwa government is slowly but surely being forced to turn back to the arms of a willing China.
Guo Shaochun, the Chinese Ambassador to Zimbabwe, summed up the West's short-sighted approach."No country is perfect. No country knows Zimbabwe better than Zimbabwe. Zimbabwe doesn't need other countries to teach it to do this or not to do that. Zimbabwe needs real partners and real help without any political conditions. Zimbabwe has the wisdom & ability to address its own issues," Guo tweeted on November 16.
At the site of Zimbabwe's new parliament, President Mnangagw aexpressed his frustration last week, saying Western countries had done "nothing except criticise" Zimbabwe.
"Those countries who speak against our relations with our good friends have done nothing except to impose sanctions on us," the president pointed out.
The situation is not yet completely lost, however. If the U.S. were to reach out to Zimbabwe and acknowledge the painful reforms undertaken by Mnangagwa, it could still turn this southern African country towards the West.
The U.S. should also immediately allow Zimbabwe access to international lending agencies and provide technical expertise that is urgently needed, and, above all, eliminate sanctions when these come up for renewal in March.
Winning the hearts and minds of Zimbabweans – the most educated population in Africa – will take more than the 'stick' approach that has been tried so far; a 'carrot' will do the work much better. If the West doesn't grab this opportunity, then it should not be surprised when China steps in to reap the benefits.