Obama and Cameron, com'on – All We Need is Fromm
Where is the love? Could we get it from Fromm with wisdom?
As luck would have it, David Cameron has become Barack Obama's proper 'bro'. To be fair-minded, let us start thinking about this alleged brotherly love by not being distracted by speculative journalism in the hands of which Britain's Prime Minister looks like a college boy who has 'a major man crush' on the US president. For even if it is so, let them be; the love, whatever love means, is well-reciprocated by Obama. Or so it seems. The very personal support and admiration from a Democrat President for a conservative Prime Minister couldn't be more transparent than during their most recent meeting at the White House late last week, much to Labour's dismay back in the UK. Obama's timely pre-election boast to the UK Prime Minister, his public statement that Britain's economic recovery is proof that Cameron is 'doing something right', is the kind of thing brothers do for each other, after all.
Evidently, Cameron is doing something right, to Obama at least. Even if Labour's complaints that we have good reasons for not crediting Cameron for the falling oil prices, the prospect of business wages increasing, and more generally for helping restore economic growth are all well-grounded, Obama is convinced otherwise. And this is what counts most. With all that good masculine chemistry between the two men who are so 'comfortable working together', mesmerised by the tantalizing lures of global politics, they do perhaps in some peculiar way exemplify what Erich Fromm once called 'the most fundamental kind of love' – brotherly love. Except this is far from the truth.
60 years after publication, Fromm's seminal work The Art of Loving serves as a pertinent reminder of the love that isn't there. In the book, the renowned social psychologist, psychoanalyst and humanistic philosopher conceptualises brotherly love as the kind of love that is for all human beings, characterised by its very lack of exclusiveness, and which involves the sense of responsibility, care and respect for any other human being. This cannot be what Obama has for Cameron. For President Obama, Cameron is not just any human being; he is a super human being who has a lot to offer. A mighty British leader who promises progress on the 'new threat' of cyber security, with reference to the recent cyber attack allegedly launched by North Korea against Sony Pictures, Cameron is someone who has what it takes to join President Obama in a much needed anti-terror and global economy push. Cameron is a very good deal. As Fromm would have said, Obama perceives Cameron as an 'attractive package'. From Fromm's point of view both leaders are but splendid examples of what he termed a 'modern man', and this is far from being a compliment.
For Fromm, 'modern man is alienated from himself, from his fellow men, and from nature'. Fromm's modern man has been transformed from a human being into a mere commodity. He is an automaton whose self-understanding, as well as understanding of the world around him, is reduced to investments, market shares, profit maximisation and the wisdom of fair exchange. A man like that cannot properly think for himself, let alone love, for love as Fromm argues requires maturity of the hart, the acquisition of which has been hindered by our social conditioning, and in particular by the Western life grounded in capitalist conditions and values. A man like that confuses love with many forms of 'pseudo-love' all of which represent no more than 'disintegration of love'.
No traces of the relevant confusion can be found in a dignified wisdom characteristic of the native American Indian Chief of the Duwamish People. In his 1854 Treaty Oration, Chief Seattle made it clear that whilst he accepts the Big Chief at Washigton's offer to buy the land of his people in return for protection against the Haidas and Tsimshians who will no longer be able to frighten Seattle's women, children and old men, his soul and the soul of his people cannot be part of the bargain. Yes, we can accept your 'warm' welcome to the Hobbesian world our good White Chief, but don't try and blind us by your pretence of a fatherly love, protection and care. We, unlike your people, haven't forgotten how to love.
Naive hopes they are that Mr Cameron himself has the Kantian good will and an interest in drawing from Chief Seattle's wisdom, and that he will pull himself together and save his facial expression of a decent man and his blushes for more private occasions. As Fromm reminds us, he is not quite Obama's 'bro'. Nevertheless, we may wonder what Obama and Cameron really do talk about in quiet moments away from the public eye. Do they ever, like good palls do, get it off their chests and admit that the glaring predicaments of their shared ambitions and Western ideals at some deeper level do get to them? Do they, for example, ever talk about their well-fed and love-starved overweight nations?
Of course, they can't know what it really feels like for those who watch the last burger and the last fat chip of the night disappear inside their own insatiable jaws, and who desperately hope for just one more Face Book like for their new widely shared selfie, while playing Roberta Flack's 1972, or even more recent Black Eyed Peas', version of 'Where is the love'? It's a McFB world, as Professor Anis Bajrektarevic terms it and poignantly describes in this 2013 book Is There Life After Facebook?. And it is not a world which took us by surprise since 'in a culture in which the marketing orientation prevails, and it which material success is the outstanding value, there is little reason to be surprised that human love relations follow the same pattern of exchange which governs the commodity and the labour market.' (Fromm)
But it is also a world of many inconsistencies matched with our incredible capacity for complacency and tolerance. It should be obvious to Cameron and Obama, as much as it should be obvious to any human being capable of critical reflection, that modern capitalism needs people who self-destructively want to consume more and more and whose uncontrollable appetites, in some cases at least, lead to life-threatening diseases. It would be inconsistent to endorse capitalism and at the same time deny this crude fact.
However an acceptance of this fact about what capitalism needs inevitably entice a paradoxical nature of capitalism to emerge, and this in turn places a new demand on 'modern man': ditch the typically Freudian post Victorian-capitalist doom, ditch the self-deceptive leaders who lack internal consistency let alone egalitarian consciousness, and least but not last, being awaken by Fromm think a bit more about what love really means. Raising properly the very question – 'where is the love' – is not exclusively a romantic idea; it is also a rational requirement. Once fulfilled it is sufficient to show that it is not true that capitalism correspond to the natural needs of man.
Post Scriptum
Still fresh and accurate, hereby the excerpt from the Fromm's Art of Loving (NY, 1955) – DEFINITION OF THE MODERN MAN:
"Our whole culture is based on the appetite for buying, on the idea of a mutually favorable exchange. Modern man's happiness consists in the thrill of looking at the shop windows, and in buying all that he can afford to buy, either for cash or on installments. He (or she) looks at people in a similar way. For the man an attractive girl — and for the woman an attractive man — are the prizes they are after. 'Attractive' usually means a nice package of qualities which are popular and sought after on the personality market. What specifically makes a person attractive depends on the fashion of the time, physically as well as mentally. During the twenties, a drinking and smoking girl, tough and sexy, was attractive; today the fashion demands more domesticity and coyness. At the end of the nineteenth and the beginning of this century, a man had to be aggressive and ambitious — today he has to be social and tolerant — in order to be an attractive 'package'. At any rate, the sense of falling in love develops usually only with regard to such human commodities as are within reach of one's own possibilities for exchange. I am out for a bargain; the object should be desirable from the standpoint of its social value, and at the same time should want me, considering my overt and hidden assets and potentialities. Two persons thus fall in love when they feel they have found the best object available on the market, considering the limitations of their own exchange values. Often, as in buying real estate, the hidden potentialities which can be developed play a considerable role in this bargain. In a culture in which the marketing orientation prevails, and in which material success is the outstanding value, there is little reason to be surprised that human love relations follow the same pattern of exchange which governs the commodity and the labor market. . .
"Modern capitalism needs men who co-operate smoothly and in large numbers; who want to consume more and more; and whose tastes are standardized and can be easily influenced and anticipated. It needs men who feel free and independent, not subject to any authority or principle or conscience — yet willing to be commanded, to do what is expected of them, to fit into the social machine without friction; who can be guided without force, led without leaders, prompted without aim — except the one to make good, to be on the move, to function, to go ahead. (p. 79/80)
"What is the outcome? Modern man is alienated from himself, from his fellow men, and from nature. He has been transformed into a commodity, experiences his life forces as an investment which must bring him the maximum profit obtainable under existing marketing conditions. Human relations are essentially those of alienated automatons, each basing his security on staying close to the herd, and not being different in thought, feeling or action. While everybody tries to be as close as possible to the rest, everybody remains utterly alone, pervaded by the deep sense of insecurity, anxiety and guilt which always results when human separateness cannot be overcome. Our civilization offers many palliatives which help people to be consciously unaware of this aloneness: first of all the strict routine of bureaucratized, mechanical work, which helps people to remain unaware of their most fundamental human desires, of the longing for transcendence and unity. Inasmuch as the routine alone does not succeed in this, man overcomes his unconscious despair by the routine of amusement, the passive consumption of sounds and sights offered by the amusement industry; furthermore by the satisfaction of buying ever new things, and soon exchanging them for others. Modern man is actually close to the picture Huxley describes in his Brave New World: well fed, well clad, satisfied sexually, yet without self, without any except the most superficial contact with his fellow men, guided by the slogans which Huxley formulated so succinctly, such as: 'When the individual feels, the community reels'; or 'Never put off till tomorrow the fun you can have today,' or, as the crowning statement: 'Everybody is happy nowadays.' Man's happiness today consists in 'having fun.' Having fun lies in the satisfaction of consuming and 'taking in' commodities, sights, food, drinks, cigarettes, people, lectures, books, movies — all are consumed, swallowed. The world is one great object for our appetite, a big apple, a big bottle, a big breast; we are the suckers, the eternally expectant ones, the hopeful ones — and the eternally disappointed ones. Our character is geared to exchange and to receive, to barter and to consume; everything, spiritual as well as material objects, becomes an object of exchange and of consumption.
"The situation as far as love is concerned corresponds, as it has by necessity, to this social character of modern man. Automatons cannot love; they can exchange their 'personality packages' and hope for a fair bargain. One of the most significant expressions of love, and especially of marriage with this alienated structure, is the idea of the 'team'. In any number of articles on happy marriage, the ideal described is that of the smoothly functioning team. This description is not too different from the idea of a smoothly functioning employee; he should be 'reasonably independent,' co-operative, tolerant, and at the same time ambitious and aggressive. Thus, the marriage counselor tells us, the husband should 'understand' his wife and be helpful. He should comment favorably on her new dress, and on a tasty dish. She, in turn, should understand when he comes home tired and disgruntled, and should listen attentively when he talks about his business troubles, should not be angry but understanding when he forgets her birthday. All this kind of relationship amounts to is the well-oiled relationship between two persons who remain strangers all their lives, who never arrive at a 'central relationship,' but who treat each other with courtesy and who attempt to make each other feel better.
"In this concept of love and marriage the main emphasis is on finding a refuge from an otherwise unbearable sense of aloneness. In 'love' one has found, at last, a haven from aloneness. One forms an alliance of two against the world, and this egoism a deux is mistaken for love and intimacy."
"modern man is alienated from himself, from his fellow men, and from nature. He has been transformed into a commodity, experiences his life forces as an investment which must bring him the maximum profit obtainable under existing market conditions"
Modernizing Higher Education for Economic Growth
Malawi has fewer affordable universities than it has students who want to go to them, leaving college out of reach for many. Enrollment in tertiary education is low, but more and more Malawians hunger for it. With IDA financing from the World Bank, Malawian citizens now have more options.
The five-year, $51 million Skills Development Project is helping public universities to strengthen and increase public access to programs that cater to sectors critical to Malawi's economic growth. These include engineering, natural resources extraction, agriculture, construction, health services, tourism, and hospitality.
Beyond the establishment of the National Council for Higher Education, project funding supports a range of activities at institutions, including improving course offerings and staff skills, renovating infrastructure, and setting up satellite facilities.
Market-relevant course offerings
To expand the range of scientific skills and mid-level technicians needed to fuel Malawi's economy, 39 new programs have been developed by universities, with the participation of the private sector ensuring their relevance to the economy. By 2017, these programs contributed 44 percent of the new student intake to public universities.
Diploma programs at universities have also been bolstered to increase the training of mid-level career personnel needed by various trades. For example, the University of Malawi's Polytechnic now offers 10 technician-level engineering diploma programs in subjects like mining, telecommunications, and health. By 2019, these programs are expected to have enrolled 750 diploma students.
Modernized facilities
One of the major constraints to increasing student enrollment at public universities has been space. At Chancellor College, where most of Malawi's secondary school science teachers are trained, more and better infrastructure is expected to make it possible to boost student intake by 65 percent. This includes modernized laboratories and four new lecture halls seating 350 students each.
This will go a long way toward meeting an increase in the demand for science teachers, following the introduction of physics and chemistry as separate subjects in the secondary school curriculum.
Mzuzu University is heading to be the country's center of excellence in tourism training. It is constructing a purpose-built tourism and hospitality facility that will produce graduates who are industry-ready.
Online and distance learning
The Lilongwe University of Agriculture and Natural Resources (LUANAR) and Mzuzu have introduced online and distance learning (ODL), resulting in increased enrollment at both. At LUANAR, online students make up 10 percent of the total student population. Between 2014 and 2016, Mzuzu increased its intake of online students tenfold. With more affordable fees and flexible options, the ODL system has helped to open access to higher education for many people nationwide.
"I enrolled through ODL because of its flexibility. I continue with my everyday life and yet I am studying at the same time. This is wonderful," says 45-year-old Joe Mwenye, a father of five and a teacher in Ngabu in Chikwawa district. He is studying at LUANAR for a Bachelor of Science in Agricultural Extension.
LUANAR has three ODL centers: one in the town of Mzuzu, another in Lilongwe, and another in Blantyre. Mzuzu University is opening satellite centers in Balaka, Karonga, Mulanje, and Lilongwe.
The Depth of Taboo: Social Issues in South Asia
Rarely does a geopolitical handbook also make such large and important contributions to uncomfortably critical social issues. This handbook is that rare example. The author Aryal takes our MD readers deep into some disturbing discussions – caste systems, systematic violence against women, rape, honor killings, gender stigmatizing, and societal sexism – not to just anecdotally expose people to some of the continued living horrors afflicting important regions of the world but to systematically analyze such atrocities so that their long-term political, economic, social, and diplomatic consequences are revealed.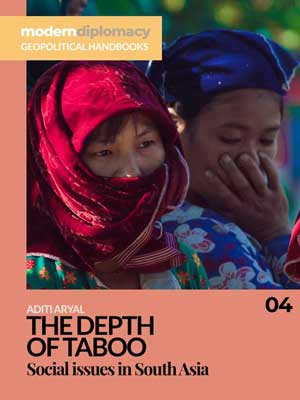 What many around the world do not realize is how crippling these gross abuses of human decency can be for a nation and region writ large: these are not just individual crimes to be noted and then forgotten. The failure of societies, the failure of GLOBAL society, to make more effective progress and take a more rigid stand against injustice is a black mark on all countries, on all of us. This handbook in its own small way strives to be a light within that darkness and as such it is both informative and courageous. While the readers of MD will not find the content of this particular handbook for the faint of heart, the importance of acquiring this knowledge, of becoming more aware of the world that we live in as it truly is in so many places, should be considered a duty of all those fortunate enough to not be born into states where such systemic violence still exists and largely goes unchallenged.
The title of this work is no accident and no shameless marketing attempt to attract more readers. Rather, it is exposing in a single word the reason why overcoming systemic violence based on gender is so difficult. Social taboos run deep in every region, state, city, town, village. We will likely not succeed in eliminating them from the social conscience of people. But the attempt to ameliorate the power of taboo, its power to push rationality out and pull insanity in, is a noble one that all of us at the editorial staff at MD recognize as silently essential for the cause of future peace on so many different levels. The battle against taboo is the secret front end of the war against gender violence and oppression. Ultimately, the criminal justice systems of societies must improve to remedy those actions not prevented from occurring. But the real long-term comprehensive solution will be the effort to eliminate the fear of social taboos, to eliminate the stigma that drives many to commit ignorant violence in the first place.
Women and girls with autism must be empowered to overcome discrimination they face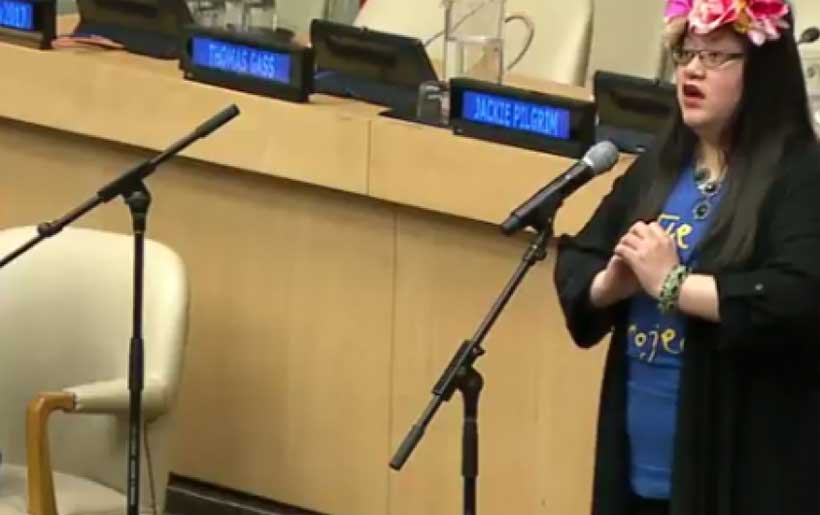 On World Autism Awareness Day, United Nations Secretary-General António Guterres has joined the global call to empower women and girls with autism and involve them and their advocates in policy and decision-making to address the discrimination and other challenges they face.
"They face […] barriers to accessing education and employment on an equal footing with others, denial of their reproductive rights and the freedom to make their own choices, and a lack of involvement in policy making on matters that concern them," said the Secretary-General in his message on the Day.
Emphasizing that "our work for gender equality and women's empowerment must reach all the world's women and girls," he stressed that the international community's efforts to achieve the Sustainable Development Goals (SDGs) must uphold the 2030 Agenda's core promise to leave no one behind.
The Goals and the landmark framework from which they emerged were adopted by UN Member States three years ago. Together they aim to wipe out poverty and boost equality by putting the world on a more sustainable economic, social and environmental path by 2030.
"On World Autism Awareness Day, let us reaffirm our commitment to promote the full participation of all people with autism, and ensure they have the necessary support to be able to exercise their rights and fundamental freedoms," concluded the Mr. Guterres.
Autism is a lifelong neurological condition that manifests during early childhood, irrespective of gender, race or socio-economic status. The term Autism Spectrum refers to a range of characteristics.
Autism is mainly characterized by its unique social interactions, non-standard ways of learning, keen interests in specific subjects, inclination to routines, challenges in typical communications and particular ways of processing sensory information.
The rate of autism in all regions of the world is high and the lack of understanding has a tremendous impact on the individuals, their families and communities.
The World Day is marked annually on 2 April, and this year's official UN commemoration will be on Thursday, 5 April, with a half-day programme in New York entitled Empowering Women and Girls with Autism, that will feature a keynote address from Julia Bascom, Executive Director, Autistic Self Advocacy Network.