2015 is Key Year for Global Action on Climate Change
This year is the year for global action. If politicians, the private sector and international organizations fail to act on climate change and sustainable development in 2015, the opportunity to create low-carbon growth and reduce poverty will be lost.
The world is at a critical crossroads. The third International Conference on Financing for Development in Addis Ababa next July is expected to result in a new roadmap to support sustainable development. The UN Summit in New York in September will adopt the post-2015 development agenda and the Sustainable Development Goals. In Paris in December, 196 countries will meet to agree on a new climate change agreement.
"With these [events] we can set our life and world on course for a better future," said Ban Ki-moon, Secretary-General, United Nations, New York. "I am very encouraged. The climate summit last September has created new political momentum. It was a far-reaching leadership decision to cut greenhouse gas emissions by 20% by 2040."
Ki-moon noted that sustainable development and climate change are "two sides of one coin" – climate action will also contribute to the Sustainable Development Goals, agreed to by world leaders at the Rio+20 UN Conference on Sustainable Development in 2012. However, success will depend on growth, which is associated with pollution and more emissions. "Growth must be more inclusive and green," he said. "By 2030 the world will make a massive investment in infrastructure, cities and agriculture. If this spending is directed towards low-carbon growth, we will be on our way to climate-resilient societies."
The UN Secretary-General reminded participants that leadership is needed if growth and infrastructure are to be considered together. "I urge you to choose wisely and to invest in the low-carbon pathway," he said.
Jim Yong Kim, President, The World Bank, Washington DC; Co-Chair of the World Economic Forum Annual Meeting 2015, said it is important to get the maths right. "With an aggressive move towards clean transport and greater energy efficiency policies, we could [boost] the global economy by up to $1.8 trillion to $2.6 trillion per year," he said. Yong Kim noted that it is important to get the incentives right. "We have to include the private sector in a way that we have never done before. We need to make growth robust [and make it] have an effect on poverty," he said.
Many developing countries are "leapfrogging" with new technologies to combat climate change, said Paul Kagame, President of Rwanda. He described simple initiatives, such as reducing deforestation by providing cooking stoves and involving women and young people in climate change and sustainable development. "You have to begin at home in terms of land management and use of resources," he said. "It is important to involve everybody. As we look forward to development, we are not making a choice between environment and prosperity; we are trying to combine both."
Energy subsidies have wide-ranging negative consequences on growth, sustainable development and climate change. A. Michael Spence, William R. Berkley Professor in Economics and Business, NYU Stern School of Business, Italy, said it is a "catastrophic policy" that produces distorted economies. Subsidies for producers and consumers come at a high cost. Fortunately, Spence noted, they are in the process of disappearing.
"We have a choice between an energy-efficient, low-carbon path or an energy-intensive, high-carbon path that will end catastrophically," he said. "The good news is that you don't pay much of a price in terms of growth by getting on the energy-efficient, low-carbon growth path." However, it will take a great deal of "commitment and creativity" to get there, he added.
Paul Polman, Chief Executive Officer, Unilever, United Kingdom, urged business leaders to pursue growth and job creation, but to make it sustainable. "Translate commitment into action in your companies," he said. "We have an opportunity to show politicians that there are solutions and that they are better from an economic and sustainable point of view. We are talking about a new moral framework. Do you want to be the one that misses this opportunity?"
Thanksgiving Also Means Giving Thanks for Our Planet
It is Thanksgiving holiday in the US. The Europeans do not celebrate Thanksgiving and the European Parliament has held an election. It has chosen former German Defense Minister Ursula von der Leyen as the new President of the European Commission. Hailing from a political family of conservatives — her father narrowly lost a party leadership election to Franz Josef Strauss — she is the first woman to hold the EU's top executive job.
Conservative or not, there is unanimity in the EU about climate change, and how the EU has to lead the transition to a healthier planet by planning the necessary upgrading of its social market economy.
If the Europeans are increasingly aware of the environmental challenges ahead, the UN Environment Programme has just issued its flagship Emissions Gap Report. As one might surmise, the 'gap' refers to the difference between what the world is doing to tackle climate change and what it needs to do to limit temperature increase to 1.5C. Our present ambitions of structural change from a fossil fuel economy is forecast in the report to lead to a catastrophic 3.2C rise.
Present California fires and coastal flooding of the eastern seaboard from the Carolinas down to Florida are just the top of the iceberg as are the European floods in Spain, Italy and France — and the temperature rise so far is a single degree Celsius.
The window to act is closing rapidly. As the UN report clarifies in stark terms, emissions will have to peak by 2020 to limit global warming to 1.5C without affecting economic growth. It turns out that of the 43 developed and emerging economies, all with the sole exception of Turkey will have peaked their emissions by 2020. Be 2030, 57 countries will have peaked. That is the good news.
By far the greatest emitters are China, the US, and then India and the EU. Together they account for 56 percent of greenhouse gasses emitted over the last decade. These therefore bear a heavy responsibility.
The bad news is that while these and other emitters have pledged to follow the guidelines of the Paris Agreement — except for the US because Trump withdrew from it — it is not enough. According to the UN report, their efforts will still result in a 3.2C rise by century's end to devastating effect.
It is logical then that efforts have to be intensified, and countries need to be more ambitious in their goals. A focus on innovation and domestic policies to encourage non-fossil fuel power generation would be clearly to their advantage. For example, energy produced from solar panels has soared from 50 Gigawatts in 2010 to 400 GW in 2015 with an expectation of 450+ GW by 2020.
The strong message of the report is for all sectors and their principals — national, state and local governments, mayors, corporations, their executives, civil society and civic leaders — to come together and act in concert if they are to avert a problem affecting our common home before it is too late. It is one way of giving thanks for what we have. The last five years have already been the warmest on record, the future can be expected to be worse if we do not act.
Venice Is Flooded: A Look at Our Coastal Future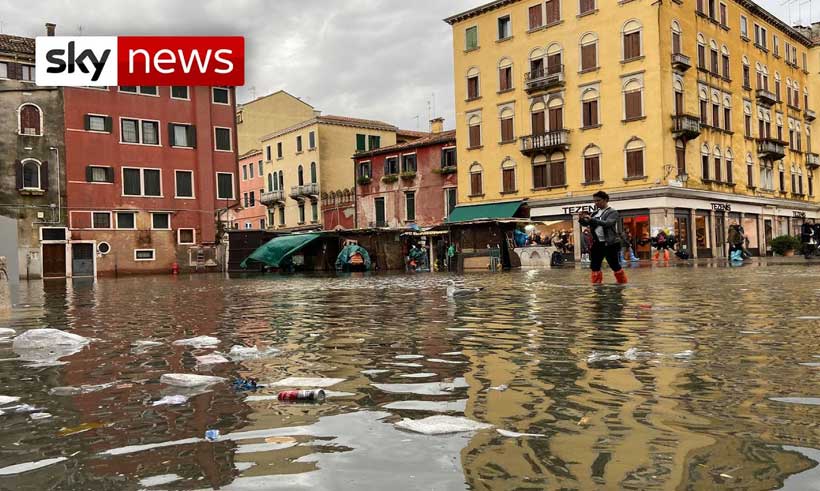 Authors: Arshad M. Khan and Meena Miriam Yust
If humans have been lucky, basking in the comforting warmth of an inter-glacial period for the last 10,000 years, that luck may be about to turn. Rest assured we are not entering a glacial period. No, our quest for greater comfort has us pumping fossil fuel residues in the air—particularly CO2—warming the earth beyond its natural trajectory. One consequence is melting Arctic (especially Greenland) ice and coastal flooding.
Problematic as that might be, new research holds worse in store… much worse, for the Antarctic has not been a passive bystander. It melted when the north was taking a rest allowing no let up.
The previous glacial age lasted from 125,000 to 118,000 years ago. A paper published November 6, 2019 in Nature Communications (Vol. 10, Article # 5040) has found the Greenland ice sheet melt insufficient to explain the highs of the rise then. In fact, it was the Antarctic ice sheet, previously thought to be inconsequential, that was key. It turns out the Southern Ocean warmed first at the start of the inter-glacial, leading to a change in the circulation pattern of the oceans and to a warming of the northern polar areas to start the ice melt in Greenland.
Temperatures then were up to 1°C higher than now but the same has been estimated for us in the future. However, this time climate changes on earth have been accelerated by greenhouse gas emissions over the industrial period, resulting in more extreme climate changes than in the last inter-glacial.
The research has also revealed that ice melt caused a 10 meter sea level rise above the present level at a rate of 3 meters (about 10 feet) per century, a rate that is 10 times higher than the rise observed in the last 150 years. If 10 ft. per century has a remote feel, try a foot every 10 years!
This is far greater than current projections of sea level rise that anticipate an increase at the most to about 3 feet above 2000 levels by 2100. The predictions, however, do not account for an important natural outcome of ice sheet melt, that of ice cliff instability. The ice cliffs form as the warm water melts their ice under the water, eating away until the cliff shears off and collapses into the sea.
The collapse is a sudden and unpredictable addition to the gradual melt in the ocean. It also means that polar ice sheet melt can affect sea levels far more intensely than has been projected so far, and it could account at least in part for the much higher rise found by the researchers in the prior inter-glacial. Are we in for a surprise!
If incoming solar radiation was greater in the last inter-glacial because of the earth's position relative to the sun, the CO2 levels were lower, at 280 parts per million as opposed to 410 plus today. Worse, in the former inter-glacial the two polar areas did not warm up simultaneously. Today's intensive climate change is propelled by greenhouse gases, and the warming is bipolar with the ice melting in both polar regions at the same time.
Another paper also published in Nature Communications a week earlier (Vol. 10, Article # 4844 October 29, 2019) examines global vulnerability to coastal flooding from rising sea levels given new metrics for measuring land elevation. The model currently in use for this measurement, developed by NASA, has a 2 meter vertical bias. Using a new Coastal DEM (Digital Elevation Model) and a mean estimate of sea level rise this century, the authors estimate 190 million people live below projected high tide lines at present. This rises to 630 million by century's end in the extreme case of high emissions. Increase the sea level rise to 3 meters (10 feet) projected in the other paper above and a billion people could be in jeopardy.
What can one expect? Well, the first signs of trouble will be when coastal flooding that used to happen once a decade becomes an annual event, or when unprecedented events occur. Venice is a current example. In a rare historic flood its iconic St. Mark's Square is hip-deep in water. The church itself and its priceless frescoes could be in danger if the water rises further.
The increased coastal flooding will be gradual of course. Our children, their children, and so on down the line will be the real innocent victims of our legacy/profligacy.
Note: This article appeared originally on CommonDreams.org
Thirty years on, what is the Montreal Protocol doing to protect the ozone?
The Montreal Protocol to protect the Earth's ozone layer is to date the only United Nations environmental agreement to be ratified by every country in the world. It is also one of the most successful. With the parties to the Protocol having phased out 98 per cent of their ozone-depleting substances, they saved an estimated two million people from skin cancer every year.
Following the thirty-first meeting of the parties in Rome during 4–8 November, Stephanie Haysmith, the communications officer for the Ozone Secretariat, explained why the Montreal Protocol has been so successful and what lies ahead for the treaty.
The 2019 ozone hole is the smallest on record since its discovery. How does the ozone repair and how long will it take?
The Montreal Protocol has been successful in reducing ozone-depleting substances and reactive chlorine and bromine in the stratosphere. As a result, the ozone layer is showing the first signs of recovery. It is expected that the ozone layer will return to pre-1980s levels by the middle of the century and the Antarctic ozone hole by around 2060s. This is because once released, ozone-depleting substances stay in the atmosphere for many years and continue to cause damage. The 2019 hole is indeed the smallest since recording of its size began in 1982 but the ozone is also influenced by temperature shifts and dynamics in the atmosphere through climate change. In 2019, the stratosphere was particularly warm during the Antarctic winter and spring.
The Kigali Amendment, which came into force January 2019, requires countries to limit hydrofluorocarbons in refrigerators and air-conditioners by more than 80 percent. Yet, there is a growing demand for cooling. How can the two needs be met?
While there is a growing global demand for cooling systems for personal well-being and in the commercial sector, improving energy efficiency with low or zero global-warming-potential will be needed to meet needs while minimizing adverse impacts on climate and environment. Research and development have kept pace: equipment design has changed and improved with the ozone-depleting substances phase-out.
At the Rome meeting, parties were made aware of an unexpected increase in global emissions of trichlorofluoromethane, or CFC-11. Why is that, and what is being planned to address it?
The issue of unexpected emissions of CFC-11 was brought to the attention of the parties in 2018. Global emissions of CFC-11 had increased in the period after 2012. This unexpected trend suggests that there is illegal production and consumption of CFC-11. The exact sources of these emissions have yet to be found. The parties take this very seriously and a decision was made at the MOP30 [30th Meeting of the Parties to the Montreal Protocol] to cooperate in further scientific research. In addition, the parties will assess the mechanisms of monitoring for the Montreal Protocol and the Multilateral Fund.
What is meant by "a sustainable cold chain" and how does it reduce food loss?
A cold chain is a connected set of temperature-controlled facilities (pack houses, cold stores, refrigerated transportation, etc.) that ensures perishable foods maintain their freshness and quality while in transit. Access to cold chain allows local producers to link with high-value markets locally, nationally and internationally. By enabling perishable food commodities to be stored and transported in a temperature-controlled environment not only ensures quality and safety, but reduces overall food loss, while improving economic gains and increasing sustainability.
From an environmental perspective, it is important that increasing demand for cold chain is sustainable with increased use of green fuels, energy efficiency and low or zero global warming potential technologies.
What do you hope the Montreal Protocol will inspire?
The Montreal Protocol is one of the world's most successful environmental treaties and since its adoption, it has encouraged countries to commit to phasing out the production and consumption of ozone-depleting substances. The parties to the Protocol, on realizing that the alternatives, known as hydrofluorocarbons, are potent greenhouse gases contributing to global warming, agreed to address this. After protracted discussions, in 2016 the parties adopted the Kigali Amendment. The global partnership, stakeholder involvement and overall commitment of the countries lent to the success of the ozone protection regime. A successful hydrofluorocarbon phasedown is expected to avoid up to 0.4°C of global temperature rise by 2100, while continuing to protect the ozone layer.