The Davos Challenge: Walk for Education
The World Economic Forum launched "The Davos Challenge: Walk for Education", a programme designed to help cut the time children travel to school in rural areas and improve their learning opportunities. The project is a collaboration with UBS and World Bicycle Relief.
Poor transport infrastructure combined with long distances to school mean that many children in Africa are not getting an adequate education and, therefore, are ill-equipped to fight the cycle of poverty. For instance, in rural South Africa many have to walk up to 9 kilometres to school every day. This cuts into their learning time or even stops them attending school altogether. Providing schoolchildren with robust bicycles built for rugged country terrain can reduce their travel times by 75%, boosting attendance and educational achievement, according to the programme.
If Davos participants walk on average 6 kilometres for education during the World Economic Forum Annual Meeting 2015, UBS and the UBS Optimus Foundation will donate 2,500 specially designed bicycles to a schoolchild in rural South Africa, one for every Davos participant. The bicycles will be provided by World Bicycle Relief, a not-for-profit organization in Africa, which is dedicated to improving access to education and increasing learning outcomes by reducing travel time for children.
"It is in the true spirit of social entrepreneurship to seek innovative ways to significantly improve the lives of children," says Founder and Executive Chairman of the World Economic Forum Klaus Schwab. "The Meeting in Davos is the ideal place to present creative solutions to improve the state of the world. That's why we support UBS for the Davos Challenge: Walk for Education, a programme that will advance the learning potential for children."
The first 1,000 participants to sign up for the challenge at the meeting in Davos will be given electronic pedometers to log the distance they walk individually in order to calculate the collective average.
"All children should have access to education and the opportunity to learn," says Axel Weber, Chairman of the Board of Directors and Chairman of the Corporate Responsibility Committee. "In our view, we have a great responsibility to children, and also a responsibility to our shareholders to ensure that our philanthropic activities are highly impactful. This programme reflects our commitment to both these goals."
Based on the projected combined results of the Forum participants, UBS and the UBS Optimus Foundation expect to donate a total of 2,500 Buffalo Bicycles through World Bicycle Relief.
Turkey's Turn to East could have Deadly Economic Affects
Turkey's appetites to be the European since when it was an Empire of Ottomans is still being pushed back as far as edged it to the East. Turkish political ties with West countries come strategically while Communism threats against Turkey and Greece was confronted by Truman Doctrine (in 1947) which began a new era in US-Turkey relations. U.S military aids and accepting Turkey's admission by NATO allies brought them closer but mostly served base on military and security supports which didn't spread to political and economical reforms what was necessitous for accepting its application to EU.
After the World War II, Turkish political condition was involved in several coups and its stagnant economy was mostly affected by import and protectionism strategies. Turgut Ozal's far reaching reformative program to shift Turkish economy toward export-led growth was the main first step which while followed by Turkish application to European Union and later entering the EU Custom Union, began improvements smoothly but not enough as much as required.
Meanwhile, Ozal's reforms improved Turkish economy smoothly during 1987 to 2002. Thestate export was over tippled and reached to $36 billion and import was raised to $51.5 billion (about 2.5 times 1991). By this duration, EU members become the main Turkish economical partner, their share in Turkish export was more than 56% and the imports to Turkey with EU origins was over 50% in 2002(1). Foreign Direct Investment in Turkey was increased smoothly and reached to $1,082 billion, about double of beginning of the period, where share of EU members were 42.05% ($455 million) (2). The improvements occurred but were poor to save Turkish economy. Continuity the crisis followed by 2001 financial crash resulted in a transition in parliament and government to a recent "Justice and Development Party(AKP)". New lira unveiling, reforms regarding freedom of speech, Kurdish language rights, reducing political role of armies, banning death… were resulted in opening Turkey accession talk to EU which increased hopes in both sides of west countries and Turkey.
Accordingly,EU-Turkey economic relation was expended rapidly and total trading amount increased from $46 billion in 2002 to $62 billion in 2003 and $154 billion in 2011 where reached to $157 in 2014 (1) and later to $165 in 2018(3), about 4 times during 15 years. Also, Turkey received more than $193 billion FDI during 2002 to 2017 while it was just $15 billion for 1973 to 2002, means around 13 timed in a half of period of time where the EU share in this investment is more than 45%, US share is about 9.3% and Japan's is 2.00% while China's share is just 1.26% and Russia's is 6.1% (both are less than each of US, Netherland or U.K). The international companies registered in Turkey, also increased from 5,600 in 2002 to 58,400, about 11 times more (4).
So, the Turkish economic was grown amazingly and west countries' share was essential but while Turkey's application wouldn't be finalized by EU members, Turkey turned to left, maybe to push EU members or it was a conceptually change in its ruling system from 2011 which accelerated from 2014, anyhow the results reacted soon, the Lira dropped rapidly (from 2.7 in 2016 to about 7 for one USD in 2018) and economic growth was slowed.
Despite the common commercial interests and partnership in NATO, the relations of Turkey with EU and US, experienced a lot of difficulties. Ruling the AKP after 2002 and its attempt for establishing the political and economical reforms, especially aligned to west values including human rights, minorities rights…, revived hopes for both sides especially in Turkey to join EU community finally but everything damaged and got back. Internal wars with PKK sparked, elected mayors in Kurdish provinces were suspended, HDP's members and parliamentarians were arrested, the tensions with west countries was intensified after Turkish coup in 2016, Turkey's unprecedented crackdown on participants and their allies in the coup as well as imposition of emergency rule encountered by Germany sanction and its limits on export guarantees to Turkey, Dutch journalists detained and deported, US NASA former scientist sentenced for 7 years (but freed after 2 years) (5), US pastor was detained which inevitably faced with Trump tariff war on Turkish steel and aluminium which affected the Turkish Lira fast to record a historical exchange rates and forced Turkey to solve the issue, as well as, Turkey threatened to enter the east of Euphrates River against Kurdish YPG / SDF forces who are backed by US forces. also, Turkey interferes in Libya and finalized the S400 contract with Russia and received them despite all US warnings. It canceled Istanbul mayor election (where AKP got a bigger loss in second round), frequently forced US for the "safety zone" in its borders with Syria and recently followed a plan for "illegal" drilling for oil and gas in waters close to Cyprus (as EU claimed) which seems would be confronted by EU more seriously than previous cases.
While Turkey expands its relations with Russia and China rapidly, it leaved West values and its challenges with the West countries are expanded by the same rate. Turning Turkey to the East is not just politically, it's also grown to the ruling and economic systems. Turkish government denied democratic results and suspend mayors or cancel the election (as done in Kurdish provinces and Istanbul), also tried to affect on Central bank and change the interest rate which appeared in TRY exchange rate. Then, the Turkish economy will be the first victim of the turn to East, not only because it was established due to Turkey – West relations, but also because affects of eastern decision gwhich could destroy it within just years and led Turkey to public uprising, now it's up to AKP's strategy regarding foreign relations and internal policies, if it remain united with no split by some powerful leaders. 
Sources:
1- POLICY DEPARTMENT, EU Parliament, (2016), "Bringing EU-Turkey trade and investment relations up to date?", Page 21
2- POLICY DEPARTMENT, EU Parliament, (2016), "Bringing EU-Turkey trade and investment relations up to date?", Page 23
3- TURKEY AND THE EU, Ministry of Trade, Republic of Turkey (September 5, 2018)
4- Investment office, Presidency of Republic of Turkey, FDI in Turkey
5- DW news
6- Euronews (August 17, 2019).
Internship tips from an intern who became an owner and CEO
Internships can be a valuable opportunity to start your full-time working career, and change your life.
Fatih Ozmen went from intern to owner and CEO of multi-billion-dollar aerospace and national security leader, Sierra Nevada Corporation (SNC).
Starting at SNC as an intern almost 40 years ago when it was a tiny and struggling engineering company, Ozmen and his wife, Eren (now the company's chairwoman and president), had the chance to acquire the company a few years later. Today, SNC is an agile, cutting-edge disruptor in government contracting with a workforce of 4,000 that supports and protects explorers and heroes. Ozmen has been SNC's CEO and owner for a quarter century.
Of his journey from intern to CEO and owner, Ozmen said, "I credit a lot of good luck and some good choices, starting with how I approached my internship." Here are his three tips to help you get the most from yours:
1. Look for companies with missions and values that inspire you.
"As a student or intern you can feel independent, like you're holding your future in your hands. A lot of business people will tell you to consider an internship a transaction to meet your needs. I would encourage you to turn that focus outward.
"Ultimately, once your basic needs are met, it's the deeper rewards that keep us going. Things like the feeling of being part of a team and making a real impact. I'd encourage young people first to identify companies or teams that are addressing challenges that really interest you. Read the bios of the people you'd work with or for. Do their stories, and the company's story, inspire you? Are people there working in their individual interest or in the interest of the team, and the overarching mission?
"It's more rewarding when you see a whole group within the company working toward a larger goal. Let me give you an example. On a number of occasions, people have come up to Eren and me to tell us how we saved their lives in the battlefield. There was one time our holiday party was crashed by people who wanted to meet the SNC people who built our technology that jams cell signals and prevents IEDs from exploding, protecting our servicemen and women. These people thanked us and cried, and we cried with them. They shared heartfelt stories about how our technologies enabled loved ones to come home safely. This is priceless."
2. Always look for an opportunity to understand the core need, to look beyond the "what" and truly understand the "why."
"As a young engineer, working to enhance jet landing systems so they work in all conditions, including rain, was the biggest privilege for me.
"One of my first experiences early on was being on an aircraft carrier at 2 a.m. Standing next to F-18s and working among sailors day and night was fascinating and inspiring. I was sleeping right below the deck and hearing the roar of the aircraft engines, and tires skidding upon landing. They operate 24 hours a day.
"It was invaluable to see firsthand the problems pilots were facing and the environments sailors had to work within. It was eye-opening to see that while we are often comfortable in our homes and warm beds, servicemen and women are deployed months at a time away from their families working within dangerous conditions with poor visibility. Imagine being an F-18 pilot, finding the ship — a postage stamp-sized object off in the distance — and landing on it. That would be difficult to do in even ideal weather and visibility conditions.
"Our engineering task was straightforward: fix a strange flaw on the existing landing system that didn't work as expected when it rained. We made it work and it's amazing that 30 years later the Navy still uses the technology we created. Importantly, I was able to witness the challenge and solution, to work alongside the sailors and see it from the pilots' perspective. This helped me to go beyond the what of our mission — a flaw in technology — to really understand the why — to save lives."
3. Embrace newness and change as a journey, not an obstacle.
"When Eren and I first came to the U.S., we were young, didn't speak much English and didn't have money. But we did have goals and an unrelenting passion to chase our dreams. Was it easy? No. And I'd be lying if I said there weren't days when it seemed impossible or challenges that we faced along the way seemed insurmountable. But this is our American dream. None of it would have been possible if we didn't look beyond the uncertainty and challenges. It's a great country that made it happen. I couldn't do it anyplace else in the world.
"We live in a world where the American dream is in reach for everyone. Don't take it for granted."
With the power of dreams, innovation and inspiration, there is no limit to what you can accomplish once you get your start, Ozmen says. Learn more about internship opportunities at www.sncorp.com/careers/students/.
Scaling up support for sustainable development: Mongolia on the rise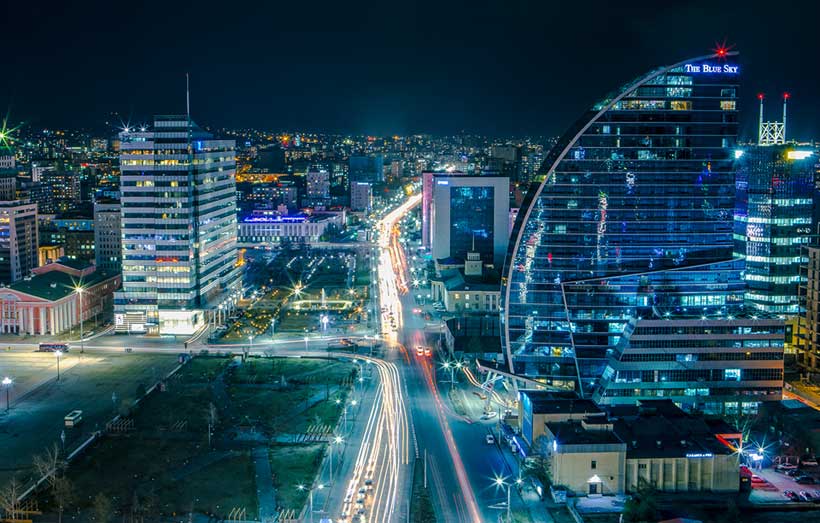 Mongolia's economic rebound in recent years reveals a country rising up to the challenges borne from adverse economic shocks. The country's economic resilience comes as no surprise. Mongolia has responded well to near-term economic challenges and chartered its long-term path towards sustainable development despite its inherent constraints as a small and landlocked economy that is also highly dependent on natural resources. Mongolia prides itself as being one of the first countries to adopt the Sustainable Development Goals (SDGs), with Mongolia's Sustainable Development Vision 2030 receiving parliament approval in 2016 just six months after the adoption of the SDGs globally.
In particular, Mongolia's policy experiences in areas of economic diversification, good governance and regional cooperation were well-exemplified by the Action Program of the Government of Mongolia for 2016-2020. So, Mongolia has utilized these policy tools to carve for itself strategic positions to weigh in on issues significant to the country's national development outcomes. For example, Mongolia leads the global agenda of the needs and challenges faced by landlocked developing countries (LLDCs). The presence of the International Think Tank for LLDCs in Ulaanbaatar further highlights the key role of Mongolia as a credible broker of the LLDCs development agenda.
Mongolia has been active in implementing intergovernmental initiatives facilitated by UN ESCAP including the distinct but interrelated intergovernmental agreements on the Asian Highway Network, the Trans-Asian Railway Network, and Dry Ports. We welcome the recent development on the entry into force of the Intergovernmental Agreement on International Road Transport along the Asian Highway Network among China, Mongolia and the Russian Federation, supporting trilateral economic cooperation.
Currently, Mongolia has substantively engaged on trade facilitation initiatives including the Framework Agreement on Facilitation of Cross-border Paperless Trade in Asia and the Pacific. There is great potential for Mongolia to strengthen its role in the related area of transport facilitation, given its position as a transit point between big economies like China and the Russian Federation. Also, we are pleased that Mongolia is soon to become the seventh member of the Asia-Pacific Trade Agreement, a preferential regional trade agreement, open to all developing member States in Asia and the Pacific.
Mongolia has also been a key driving force to advance cooperation for clean energy, especially towards a North-East Asia power interconnection, leveraging from the country's abundant renewable (solar and wind) energy resources. Energy cooperation finds strong resonance in relation to climate action and air pollution, given the North-East Asia subregion emits over one-third of global greenhouse gases and faces heavy impacts of air pollution.
With inherent constraints due to its fragile economic structure and environmental condition, Mongolia constantly needs to find balance between providing prompt policy responses in the face of volatile and unpredictable external shocks in the short-run and pursuing structural changes to address long-term socioeconomic issues. Under these circumstances, pursuing an integrated approach becomes an imperative for Mongolia to advance its national socioeconomic agenda, regional connectivity agenda and global sustainable development agenda, bolstering Mongolia's resilience towards adverse economic, social and environmental shocks. To this end, I welcome Mongolia's emphasis on the "whole of government" plus a "whole of society" approach.
Through the years, we have seen how Mongolia continues to be a steadfast partner of the United Nations Economic and Social Commission for Asia and the Pacific (ESCAP) in promoting regional trade, connectivity and development across its various interrelated dimensions. Mongolia has also provided leadership in advancing regional cooperation agenda in the Asia-Pacific region by chairing the seventy-fifth session of UN ESCAP in May 2019.
Equipped with lessons learned from past development challenges and mindful of new directions and approaches to nurture future opportunities, Mongolia's regional position and potential are on the rise. I am looking forward to partnering with Mongolia's leadership to strengthen regional cooperation and achieve sustainable development by 2030 with the United Nations family.
Originally published in Montsame-Mongolia