Over 40 heads of state and government, as well as 2,500 other leaders from business and society will convene at the 45th World Economic Forum Annual Meeting, from 21 to 24 January 2015 in Davos-Klosters, Switzerland, to discuss The New Global Context.
This context consists of 10 global challenges affecting the world today: environment and resource scarcity; employment skills and human capital; gender parity; long-term investing, infrastructure and development; food security and agriculture; international trade and investment; future of the internet; global crime and anti-corruption; social inclusion; and future of financial systems. Current affairs, such as the escalating geopolitical conflicts, pandemics, diverging growth and the new energy context are on the agenda as well.
"The World Economic Forum serves the international community as a platform for public-private cooperation," said Klaus Schwab, Founder and Executive Chairman of the World Economic Forum. "Such cooperation, to address the challenges we all face, is more vital than ever before. But it requires mutual trust. My hope is that the Annual Meeting serves as the starting point for a renaissance of global trust."
Ahmet Davutoğlu, Prime Minister of Turkey, Béji Caïd Essebsi, President of Tunisia, François Hollande, President of France, Li Keqiang, Prime Minister of the People's Republic of China, Angela Merkel, Federal Chancellor of Germany, John Kerry, US Secretary of State, Muhammad Nawaz Sharif, Prime Minister of Pakistan, Matteo Renzi, Prime Minister of Italy, Simonetta Sommaruga, President of the Swiss Confederation, and Jacob Zuma, President of South Africa, will be among the key government representatives present.
Participants also include more than 1,500 business leaders from the Forum's 1,000 Member companies, 300 public figures as well as recognized leaders from other Forum communities, including Social Entrepreneurs, Global Shapers, Young Global Leaders and Technology Pioneers. Representatives from international organizations and civil society, as well as religious leaders, cultural leaders, academia and the media will also participate.
The themes include:
Crisis & Cooperation
Resolving geopolitical crises: With conflicts continuing to destabilize Ukraine, the Middle East and other parts of the world, what can the international community do to help bring about a lasting peace? Registered participants include Abdel Fatah El Sisi, President of Egypt, H.M. King Abdullah II Ibn Al Hussein, King of the Hashemite Kingdom of Jordan, Haïdar Al Abadi, Prime Minister of Iraq, Masoud Barzani, President of the Kurdistan Region, Iraq, Petro Poroshenko, President of Ukraine.
Repercussions of climate change: As the world prepares for another round of post-Kyoto climate negotiations, what are the chances for success at the climate meeting in Paris? And how can the private sector contribute?
Registered participants include Christiana Figueres, Executive Secretary, United Nations Framework Convention on Climate Change, Ollanta Moises Humala Tasso, President of Peru, and Al Gore, Vice-President of the United States (1993-2001); Chairman and Co-Founder, Generation Investment Management, USA

Pandemics and health: As the outbreak of Ebola has shown, combating the spread of viruses is still a worldwide priority. At the same time, non-communicable diseases such as diabetes are becoming the world's biggest silent killer. What can the world do to ensure global health going forward? Registered participants include Kofi Annan, Chairman, Kofi Annan Foundation, Switzerland; Secretary-General, United Nations (1997-2006), Margaret Chan, Director-General, World Health Organization (WHO), Geneva, Alpha Condé, President of Guinea, Ibrahim Boubacar Keita, President of the Republic of Mali, and Peter Piot, Director, London School of Hygiene and Tropical Medicine; Executive Director, UNAIDS (1994-2008).
Growth & Stability
Diverging growth and monetary policies: As expansionary monetary policy in one part of the world comes to an end, central banks policies in other parts of the world are further incentivizing the growth and employment, with mixed results. What will 2015 bring in terms of growth and monetary policies around the world? Registered participants include Christine Lagarde, Managing Director, International Monetary Fund (IMF), and the Governors of the Central Banks of Brazil, Canada, England, France, Italy, Japan, Mexico and Switzerland.
The new energy context: As energy prices are dropping to five-year lows, what are the short- and long-term effects on the world? What does it mean for growth in emerging economies and the impact on climate change? Registered participants include Khalid Al Falih, President and Chief Executive Officer, Saudi Aramco, Mary Barra, Chief Executive Officer, General Motors Company, Abdalla Salem El Badri, Secretary-General, Organization of the Petroleum Exporting Countries (OPEC), Emilio Lozoya, Chief Executive Officer, Petroleos Mexicanos (PEMEX), and Patrick Pouyanné, Chief Executive Officer and President of the Executive Committee, Total, President and Chief Executive Officer.
Innovation & Industry
Future of technology: As technology expands to virtually all aspects of the economy, how does it affect our lives? What good can technology do for the world? And what is the right balance between competition and innovation in the technology industry? Registered participants include Jack Ma Yun, Executive Chairman, Alibaba Group, Marissa Mayer, President and Chief Executive Officer, Yahoo, Satya Nadella¸ Chief Executive Officer, Microsoft Corporation, Sheryl Sandberg, Chief Operating Officer and Member of the Board, Facebook Inc., Eric Schmidt, Executive Chairman, Google, USA, and Jimmy Wales, Founder and Chair Emeritus, Board of Trustees, Wikimedia Foundation.
Society & Security
Income inequality and the development agenda: While many countries are still struggling to reinvigorate growth, the discussion in other countries revolves around the redistribution of wealth. How can we incorporate the needs of developing nations, struggling western economies, and the equality and parity questions? Registered participants include Roberto Azevêdo, Director-General, World Trade Organization (WTO), Bill Gates, Co-Chair, Bill & Melinda Gates Foundation, Melinda Gates, Co-Chair, Bill & Melinda Gates Foundation, Angel Gurría, Secretary-General, Organisation for Economic Co-Operation and Development (OECD), Phumzile Mlambo-Ngcuka, Undersecretary-General and Executive Director, United Nations Entity for Gender Equality and the Empowerment of Women (UN WOMEN), and Guy Ryder, Director-General, International Labour Organization (ILO).
The Co-Chairs of the Annual Meeting 2015 are: Hari S. Bhartia, Co-Chairman and Founder, Jubilant Bhartia Group, India; Winnie Byanyima, Executive Director, Oxfam International, United Kingdom; Katherine Garrett-Cox, Chief Executive Officer and Chief Investment Officer, Alliance Trust, United Kingdom; Young Global Leader Alumnus; Jim Yong Kim, President, The World Bank, Washington DC; Eric Schmidt, Executive Chairman, Google, USA; and Roberto Egydio Setubal, Chief Executive Officer and Vice-Chairman of the Board of Directors, Itaú Unibanco, Brazil.
CHETRA Eyes Africa for Expansion
CHETRA is a Russian company that sells industrial equipment and spare parts under the brand "CHETRA" produced by the Promtractor plant, as well as supplies spare parts and components from the company. It uses a unique technique in the construction of production sites, seaports, development of natural resources and pipelines in 30 countries and in all climatic zones.
The goal is to provide its partners and customers with modern high-performance equipment for successful projects, even in areas with complex climatic and geological backgrounds. More than 3,000 units of equipment under the brand "CHETRA" are now in operation in the Russian Federation and beyond.
Executive Director Vladimir Antonov has been working in engineering industry for 19 years. He has successful experience in product export to the CIS countries and Ukraine, the Baltic States, Europe, Argentina, Africa and Cuba. He has been leading company as its Executive Director since 2018. During his leadership, the share of the company's machinery in the Russian market has doubled.
In this snapshot interview, Vladimir Antonov talks about his company's plans in the direction of Africa. Here are the interview excerpts:
Q:First, tell us briefly about tPlants previous working connection with Africa? What are your products and services, what African regions or countries are keen using products?
A:Our company has a long experience of cooperation with African countries which began in the Soviet times and continues today. Traditionally we collaborate in the African continent with such partner countries of Russia as Egypt, Algeria, Zimbabwe. About 50 units of CHETRA machines have been supplied to these countries over the last ten years. Our goal is to enlarge our footprint in the African continent. Nowadays, we are negotiating cooperation with potential partners in West Africa and the SADC region (Southern African Development Community, South Africa).
Q:Compared to other foreign players, how competitive is the African market? From the previous experience in the African regions, what key problems and challenges the company faces in Africa?
A:Today the market of mining and construction equipment in Africa is characterized by high competition, all our competitors work in the region, both from the West and from the East. This has led to the fact that the market applies high requirements to new products. For that reason today we do not just sell our machines to customers: we offer a range of services, which includes commissioning of the machines, training of local staff, organization of after-sales maintenance service at the customer's site. The main challenge for us today when working in Africa is the need to find a local partner who has qualified staff, equipment, maintenance facilities and not bound by contracts with other manufacturers of similar machines.
Q:What kind of business perceptions and approach could be considered as impediments or stumbling blocks to business between Russia and Africa?
A:Another challenge for us when working in Africa is that many consumers have no free funds to purchase new machines. This often diverts our partner from the renewal of the fleet or makes them buy used machines on the after-market. We are trying to solve this problem by attracting Russian government agencies of export support, such as the Russian Export Center, in order to finance transactions.
Q:Business needs vital information, knowledge about the investment climate and so forth. Do you think that there has been an information vacuum or gap between the two regions?
A:Taking into account the level of development of information technology today there are no particular problems in obtaining information about the investment level of any country or about business situation of a particular company. Besides that, we are in constant contact with Trade missions at the Embassies of the Russian Federation in the countries of our interest, which are also a good source of information about the conditions of the market.
Q:And now how would you envisage the level of investment and business engagement with Africa? Is Sochi an opportunity for expanding business to Africa?
A:In my opinion the Economic Forum in Sochi was organized at the highest level. A lot of guests from Africa visited it. We held a number of meetings with companies that are new to us, and I hope that these will lead to long-term cooperation and geographic growth of supplies of CHETRA machines in Africa.
The Bust: WeWork's diminishing stature of the perfect "start-up"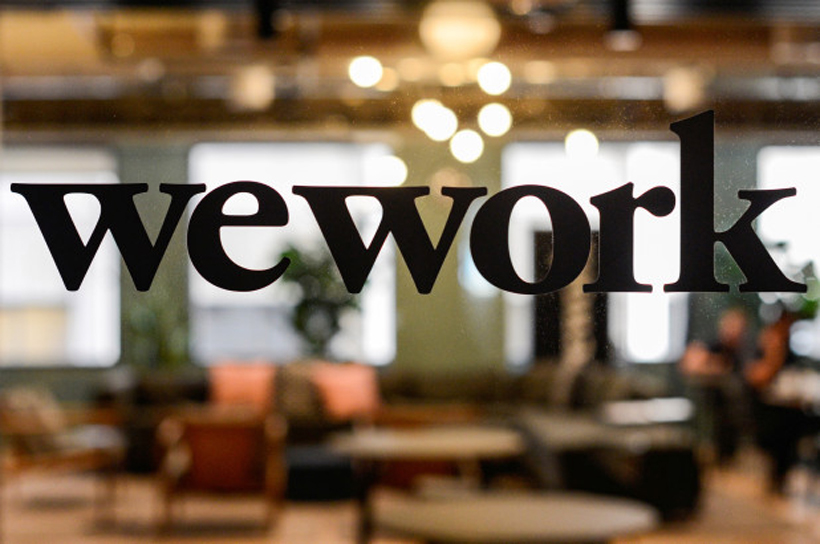 Until recently, the globally acclaimed startup, WeWork was transforming the future of office spaces and staff hiring processes. Truly, it was transformational in the sense that the startup was providing a vital service point to many multinationals around the world. However, Mark Dixon, the cofounder of IWG, another workspace solutions company, was not getting the trick. Here was IWG, a decently profitable startup with consistent annual growth, still unable to compete with the superstar of the industry. Soon after SoftBank poured cash into the company, WeWork was valued for more than $40 bn. Then, it was making headlines for overwhelm; now, WeWork is in a state of awe. As market reports suggest, WeWork even lacks the cash to fire its existing employees.
As Adam Neumann, the chastened cofounder of the dwindling company once proclaimed, co-working was the future and that employees would prove to become more productive and efficient. In his own words, different cultures and organizational goals would inspire the entire floor. Much as the concept is about renting an office space, Mr. Neumann deliberately did not elaborate on the nuisances of dealing with office neighbors, as seen from a tenant's perspective. The idea would have charmed many organizations; it was a great opportunity to redeem operating costs or dealing with unwarranted office culture problems. Or, as many renting executives thought, WeWork would define the ground rules, aptly in accordance with global standards. For many, it was also an experiment for the future. Also, nobody could take away the fact of losing varied insights from "not" participating in what at first seemed like a once in a time revolution.
SoftBank, a Japanese conglomerate investing fund is writing the most important plot in the story. Strangely, both the rise and fall of WeWork has been catalyzed by SoftBank. However, the fact that WeWork was blessed by an investing fund is not strange, or surprising. Amongst sovereign funders, there is competition to stay one foot ahead of another. The Europeans have long stressed on how very few startups from their region go onto becoming a global giant. SoftBank's associations elsewhere is a testimony to its deliberate strategy of staying ahead in the future. Notwithstanding the fact that the Japanese investors would have loved the idea of co-working space more than others. In early 2017, WeWork's market value, shot over $40 bn, even though the company was registering profits below what Mr. Dixon's firm were accounting to. There was a strange gossip in the market around why other investors were not jumping to what the SoftBank deemed as highly profitable. For many like Mr. Dixon and other investors, answers were soon to be found. If it could only be timely, Japanese angels would have anticipated why Mr. Neumann would sell his rights of the name, "We" in WeWork. It was a five million dollar (plus) exit for the charismatic man, whose venture was taken over by those who thought of multiplying their fortunes. SoftBank will be sorry for its decision to trust the hierarchy in Mr. Neumann's leadership. Nevertheless, post takeover, Mr. Dixon will not be contemplating any further on why it has decided to appoint two CEO's. Nor will there be any sort of contemplation on why the new appointees have secured their severance package before paying out dues.
As it stands, IWG is not doing a bad business in comparison to WeWork's downfall. The American start-up was destined for success from its early years. Co-working will still be a grand idea in our times but filthy abundance in a short period of time has brought a winning project to a standstill. There will be other co-working competitors for IWG, but it will learn from the mistakes of a competitor who was bigger than the entire industry. If anything, Mr. Dixon will be smelling opportunities ahead.
Alibaba on Platform Economy
Alibaba on national mobilization of entrepreneurialism on platform economy: today, Alibaba sold $38 Billion within 24 hours: Around the world, currently, there are 100 nations with less than $38 Billion dollars in annual GDP. Imagine if this single company performed at the same rate for next 365 days, it would equal to annual GDP of Japan, Germany, India, France, UK and Canada all combined. Bravo Alibaba, well done, the world in shock is now fondling in own toolboxes.

Are Nations Awake: Are there enough reasons to explore how national mobilization of entrepreneurialism on platform economies and how it will uplift local grassroots prosperity? Are there enough trade-groups, Chambers of Commerce, Trade Associations with enough skills to play in these AI centric digitally advanced and globally friendly market-places? Outside a miniscule number most seriously out-dated trade-groups are in rapid transformation so they too would become shiny butterflies for the new global-age.
Old days of old ways are now new days of new ways.

Salvaging of exportability lost during last decade: Nation by nation, the grassroots medium-size economy was basically, ignored, abandoned and rejected, killing exportable goods and services. So long the trade groups around the 200 nations stuck in their old fashioned comfort zones spanning a century, outside handful organizations most nations are in deep trouble. Observe how nations with riots have the most disorganized, disconnected trade-groups, not due the lack of funding but due to lack of poor leadership with little or no global age skills.
Uplifting working-citizenry after a lost decade on skills: So long the national leadership assumes that MBA degrees are the saviors of their next economy and so long the corporations feels comfortable that all their management is being well trained on YouTube, no additional proof of this fallacy is necessary other than decimated economies and chaos on the streets.

Understanding The Third Economy: During the first economy; rules of engagement and rules of balancing the books were established, the second economy; where fancy jargon was invented to cook the books to balance with political agenda and now the upcoming third economy where real numbers will balance the real books with real columns all managed by artificial intelligence and block-chain delivering honest picture instantly to all and all the times.
Alibaba proves the direct benefits of a Third Economy; such prosperity can only assured by respecting the balancing of pennies and cents with mobilizing millions of abandoned small and medium enterprises and using free technologies as starting base. Such deployments are only possible when leadership is skillfully equipped to understand global-age and able to serve the special transformation demands, by firing the first person for incompetence for saying they have no new funding to change and firing the next person for disorganization for saying they are too busy and have no time to change.
Public sector around the world had almost all these resources available to deploy since last decade. Nation by nation, outside the top business sectors rest of the small medium enterprise players systematically abandoned and crushed were replaced by too big to fail nonsensical hype. Now national races in the age of digital platform economy will demand clarification on their internal conflicts of "digital-divide and mental-divide" and explain dysfunctional imbalanced spending on trade expansion without "national mobilization of entrepreneurialism" …it is also a fact that majority nations need massive in-depth-training at all top leadership levels to understand the new language of the new days.

It's time to choose; either build world-class export promotion agencies, vertical trade groups to foster trade by global-age showcasing on platform economies and bring home some grassroots prosperity or allow restless citizenry and rise of populism. It time to balance, that where public sectors mostly all over the world failed on such progressive affairs, technology has now blossomed as salvage operation with dramatic tools and deployment options. Is your national leadership ready now? Not to sidetrack, this is not an exclusive IT issues; this is global age expansion and entrepreneurial mobilization issues. Deeper studies and debates are essential.
The world is changing fast is no longer just a cliché, now growing into a warning
National Transformation: Futurism of 'creating local grassroots economy' demands two distinct national mobilizations. Firstly, creating skilled citizenry capable to swing with global-age demands and secondly, creating massive digitization of midsize economy to enable global-speed-performance to match trading with 100-200 nations. Mostly not new funding dependent but execution starved. Nations with such mastery will thrive and lead; generational transformation at magical speed with full deployments of platform economy is a prerequisite. Sounds rocket science, it is, but very doable and easy.
Rules of National Mobilization of Entrepreneurialism: To deploy such blueprints, launch a nationwide business-uplifting lifelong learning agenda for the entire export promotion bodies, Chambers, trade associations and also the entire small-medium-exporters base. Review this process meticulously every 100 days. Under right situation, the export promotion of the nation can easily quadruple within a year. It is necessary to keep asking what is blocking this and who is stopping this?
How do you mobilize public and private sector leadership after a lost decade on global-age expansion? With some 100 elections in 2019 alone and million promises on podiums the realities are hidden in creating real grassroots prosperity, now pending Presidential Elections of 2020 USA the mother of all elections will provide massive debates amongst calls of Impeachments, while December 12th Election of UK amongst calls of Brexit and European Union with loud and restless citizenry, a new world is unfolding. The public is informed, and slowly realizing what's working and what's not… deep silence at the public sector is not good, a growing sign of lack of skills. Urgent debates needed as 2020 starts with some dramatic shifts of markets, ideas and visions. We are now in the age of national mobilization of entrepreneurialism and platform economies.