What is the impact of Kumtor on Kyrgyzstan's Gold Mining Sector?
Nationalization talks have started again in Kyrgyzstan about the ownership of Kumtor Gold Mine. Kumtor Gold Mine, operated and jointly owned by Canadian Centerra Gold via Kumtor Operating Company (KOC) and the Kyrgyz government, has always been a point of tension in the country. Marred by protests, both anti-Kyrgyz government and anti-Centerra, environmental controversy, and being the center of internal Kyrgyz political and social struggles, Kumtor remains Kyrgyzstan's largest and the most profitable investment project and the country's main economic asset.
The Kumtor Gold Mine, the largest gold mine in Kyrgyzstan located in the Issyk Kul Province, is located 350 kilometers southeast from the capital of Bishkek and 80 km south of Issyk-Kul Lake. The mining operation is open-pit which uses surface mining to extract rocks and minerals. The mine has been in operation since 1997; the lifespan of the mine has been extended to 2023.
The mine which is currently 100% owned by Canadian Centerra Gold (operated through Kumtor Operating Company or KOC) is a joint-stock company (JSC) which Kyrgyzstan via Kyrgyzaltyn owns "33% of the common shares or 77,401,766" and "as of March 1, 2012, Kyrgyzstan's interests are estimated at $1.546 billion."[i] Kumtor currently employs 2,617 Kyrgyz citizens (95% are full-time) out of 3,190 total employees. Kumtor accounts for 20% of Kyrgyzstan's industrial sector and output and accounts for 8% of its GDP. With current dividends, Kyrgyzstan receives 11.3 million USD per year and KOC pays 108 million USD in taxes to the Kyrgyz government.[ii]
Ata-Meken has submitted a draft law on the nationalization of Kumtor. The last round of talks/negotiations about Kumtor took place 10 December 2014. Calls for nationalization emerged out of the failure to establish a joint-venture of the mine: "due to populism we have lost the chance to set up a joint venture [for Kumtor]," Kyrgyz President Atambayev said in a 1 December 2014 interview.[iii] The currently discussion would have Kyrgyzaltyn swap 33% of its holdings for 50% ownership of the joint venture company operating Kumtor, making ownership 50/50. Alternatively, the Kyrgyz nationalist political parties (Ata-Meken and Respublika) suggest Kyrgyzaltyn own 67% while Centerra holds 33% or Kyrgyzaltyn control 100% of the mine as advocated by Respublika.[iv]
The assertiveness of the Kyrgyz when negotiating mining contracts is due to the feeling that foreign companies operating the mines are not investing in local communities and are not promoting development in the region. This is partly because of past environmental accidents.
In May 1998, a truck toppled releasing 1700-1800 kg of toxic sodium cyanide into the Barskoon River. After the accident, local villagers reported illness (some deaths were reported by never fully linked to the cyanide spill—this is speculative) as the river is used for drinking and for irrigation. After the accident and the lackluster response by both Centerra and the Kyrgyz government, locals blockaded the roads to Kumtor and demanded that the contract be cancelled. This prompted more environmental safeguards such as immediate notification of a spill was to be implemented. Another incident occurred on January 20, 2000 where a KOC truck "carrying 1,500 kilograms of ammonium nitrate, used as an explosive at the mine, crashed, [and] spilling its contents."[v] Kyrgyz authorities were not immediately notified of the spill.
Because of these accidents, there is concern about the use of land. The Kyrgyz Republic's "Law on Subsoil" introduced in 1997 "governs relationships arising between the government and individuals and legal entities, and other states while using subsoil" and regulates mineral recovery (extraction), mineral deposits of economic significance, ownership of the subsoil and there within minerals.[vi] The Law states that subsoil is the exclusive property of the Kyrgyz Republic is under protection by the state. This law has been used to regulate mining activities and has been used to justify violations of environmental regulations including operations at Kumtor.
The "Law on Glaciers"—to prevent the degradation of glaciers that supply drinking water to many local villages—was passed by Parliament in April 2014, but was sent back by the President for revisions. The new law would require companies to pay for damages to the glaciers. The glaciers affected would be Davidov, Lysyi and Sarytor as KOC has put rocks on top of glaciers and removed parts of glacial ice violating environmental provisions of the project; Centerra has adjusted their operations to stop the acceleration of water.[vii] Lake Petrov is also in danger.
It is unclear whether or not the environmental laws on glaciers or subsoil are genuine attempts to preserve the environment or are a way for the Kyrgyz government to extract concessions from foreign companies to increase their profits or holdings in a company.
There are also concerns how the mining and the chemical usages to mine the gold will affect the historic freshwater Issyk-Kul Lake. The Issyk-Kul Development Fund became part of the Kumtor operation and KOC/Centerra is required to provide 1% of its gross revenue to socio-economic development of regional sectors aligned with spending is based on government priorities. The fund was started in 2009 and since then 25 million USD was provided to the fund; 4.638 million USD was provided to the fund in 2012 alone. The fund has helped build schools, kindergartens, sports clubs, and irrigation infrastructure which has been impacted by the mining.
To mitigate any significant economic effects of the nationalization of Kumtor, additional gold mining operations exist at Ishtamberdy, Bozymchak and Taldybulak Levoberezhnyi mines. Ishtamberdy is Chinese operated, protested by Kyrgyz locals, and has experienced some controversy including Full Gold Mining JSC threatening to cease operations in September 2013. The mine was to begin production in the second quarter of 2013 creating 600 permanent jobs.[viii]
Bozymchak mine would produce mainly ore and would produce 0.8 to 0.9 tons of gold. Kazakhstan's Kazakhmys incurred an impairment charge in 2012 of $162 million USD against Bozymchak which reveals a higher operating risk in Kyrgyzstan as the company had to reduce its goodwill.[ix] The first shipment of the concentrate from Bozymchak to Kazakhstan was expected to occur in November 2014.[x] The mine was said to have completed construction in late 2013 providing 600-700 permanent jobs. Taldybulak Levoberezhnyi, an Open Joint Stock Company, is expected to be in operation until 2026: 60% belongs to Altynken (purchased by Chinese Superb Pacific Limited Company in Sept 2011) and 40% belongs to the Kyrgyz government. At the Taldybulak Levoberezhnyi, production was not expected until June 2014 according to AKIPress. In October 2012, locals picketed the headquarters of the mine in Orlovka, Kyrgyzstan. The protesters disputed the "Chinese company's illegal sacking of Kyrgyz citizens and polluting of the local environment."[xi]
There are also gold deposits that could be exploited including Makmal and Togolok but they are not as profitable. The Makmal gold mine was once extremely profitable. Operations at Makmal began in 1986 and excavated until 1996 producing 21.47 tons of gold. The mine is in past producer stage and its life has been extended to 2016. Geological reserves after 1996 were estimated at 20 tons of gold. [xii] Mining operations at Togolok will produce 800 jobs and its probable reserves are estimated at 86 tons in the mine deposit and the surrounding area.[xiii]
There are multiple promising gold deposits/sites are Karator, At-Bashy in the Naryn region, containing 5.5 gold reserves and the "Buchuk" gold reserve of 15-20 tons. Shambasei gold resource, a low-risk high-margin project, in Southern Kyrgyzstan has an estimated defined gold reserve of "2.5 million [tons] at 3.4g/t, or 277,000 ounces of gold."[xiv] Karakazyk in the Chon-Alay district in the Osh region would produce 200-300 kg per year producing 100-120 jobs for the local workforce. These identified sites combined produce less gold and revenue than Kumtor and would provide fewer jobs.[xv]
The nationalization of Kumtor must be mitigated by the countries' other mineral sectors such as copper, ore, silver, iron and tungsten. To remain economically competitive within the Eurasian Economic Union, Kyrgyzstan must develop sustainable economic and mining practices as the Kyrgyz economy is susceptible to many supply shocks; reliance on Kumtor is too heavy. By developing other sectors of the economy, Kyrgyzstan is shielding itself from a possible economic meltdown. If nationalization were to occur, would the Kyrgyz government be able to support the projects developed by the Issyk-Kul Development Fund? Poor development in the financial sector has led to poor governance of the situation prompting protests that have shut down or suspended operations.
Kumtor protests were rooted in the need to address environmental concerns, contributions to the community, and perceived unequal revenue distribution and fueled by renewed nationalism and the assertiveness of the new post-Bakiev government. South African investors (Talas Gold Company) and Australian investors (Z-Explorer of Manas Resources) have met the same challenges as Canada's Centerra. If these issues are not resolved, can cause widespread damage to Kyrgyzstan's gold mining and damage Kyrgyzstan's reputation as a reliable foreign business partner. Corruption in Kyrgyzstan is also a concern. According to Transparency International 2014 Corruption Perception Index rankings, Kyrgyzstan has a rank of 27 (0 is the most corrupt to 100 which is the least corrupt).
Kyrgyzstan would most likely be unable to run the mine itself: "[KOC] does not earn money on a daily basis. It receives financial support from Centerra for most of the year until it can sell gold and pay back all of its loans." [xvi] Pay out would not be immediate and the government would have to put the money upfront to benefit the costs. Most of the workers that Kumtor employs would most likely stay unless the nationalization of the mine were to affect their wages and Kyrgyzstan lacks the workforce to replace Centerra's sector specialists. If nationalized, there would be higher operating costs decreasing revenue. Other companies (or countries) might be interested in developing the mine, but would most likely face the same issues as Centerra Gold leading Kyrgyzstan to become more of a high political risk country.
---
[i] Kumtor Gold. 2013. FAQ: Kyrgyzstan and Centerra. http://www.kumtor.kg/en/about/faq/centerragold-and-kyrgyzstan/ (last accessed 29 December 2014).
[ii] Gullette, David and Asel Kalybekova. 2014. Agreement under pressure, Gold mining and protests in the Kyrgyz Republic. Friedrich Ebert Stiftung. http://library.fes.de/pdf-files/id-moe/10927.pdf (last accessed January 3, 2015). Page. 15.
[iii] Kg.24. 2014. Kyrgyz moves towards Kumtor nationalization. The Times of Central Asia. http://www.eng.24.kg/bigtiraj/173638-news24.html (last accessed 29 December 2014).
[iv] Gullette, David and Asel Kalybekova. 2014. Agreement under pressure, Gold mining and protests in the Kyrgyz Republic. Friedrich Ebert Stiftung. http://library.fes.de/pdf-files/id-moe/10927.pdf (last accessed January 3, 2015). Page. 15.
[v] Norlen, Doug. 2000. The Kumtor Gold Mine: Spewing toxics from on high. Pacific Environment and Resouces Center, September 2000. Bankwatch Web site. http://bankwatch.org/documents/kumtor_toxics_09_02.pdf (last accessed January 4, 2015). Page 2.
[vi] United Nations Economic Commission for Europe (UNECE). Law of the Kyrgyz Republic on Subsoil. United Nations Economic Commission for Europe Web site (UNECE). http://www.unece.org/fileadmin/DAM/hlm/prgm /cph/experts/kyrgyzstan/documents/law.on.subsoil.pdf (last accessed January 5, 2015)
[vii] Centerra Gold. 2012. Environmental and Sustainability Report 2012. Kumtor Gold. http://www.kumtor.kg/wp-content/uploads/2014/01/Eco2012_en.pdf (last accessed January 3, 2015). Page 28-29.
[viii] The State Agency on Geology and Mineral Resources of the Kyrgyz Republic. 2014. The mines of the Kyrgyz Republic. http://www.geology.kg/index.php?option=com_content&view=article&id=200&Itemid=242&lang=en (last accessed Jan 2, 2015).
[ix] Kazakhmys. 2013. KAZAKHMYS PLC HALF-YEARLY REPORT FOR THE PERIOD ENDED 30 JUNE 2013. KAZAKHMYS WEB SITE. http://www.kase.kz/files/emitters/GB_KZMS/gb_kzms_reliz_220813_en.pdf (last accessed January 3, 2015).
[x]The Times of Central Asia. 2014. Kazakhmys to start shipping concentrate from Bozymchak in Kyrgyzstan in November. http://www.timesca.com/news/9961-kazakhmys-to-start-shipping-concentrate-from-bozymchak-in-kyrgyzstan-in-november (last accessed December 30, 2014).
[xi] Trilling, David. 2012. Kyrgyzstan: Chinese Respond to latest mine attack. Eurasianet.org Web Site. http://www.eurasianet.org/node/66121 (last accessed January 2, 2015).
[xii] Kyrgyzaltyn. 2011. Makmal Gold Mining Combinate. Kyrgyzaltyn Web site. http://www.kyrgyzaltyn.kg/en/filialy/63-kombinat-makmalzoloto (last accessed December 29, 2014).
[xiii] The State Agency on Geology and Mineral Resources of the Kyrgyz Republic. 2014. The mines of the Kyrgyz Republic. http://www.geology.kg/index.php?option=com_content&view=article&id=200&Itemid=242&lang=en (last accessed Jan 2, 2015).
[xiv]
Proactive Investors. 2014. Manas Resources updates Shambesai gold resource to latest standard
http://www.proactiveinvestors.com/companies/news/58591/manas-resources-updates-shambesai-gold-resource-to-latest-standard-58591.html (last accessed January 3, 2015).
[xv] The State Agency on Geology and Mineral Resources of the Kyrgyz Republic. 2014. The mines of the Kyrgyz Republic. http://www.geology.kg/index.php?option=com_content&view=article&id=200&Itemid=242&lang=en (last accessed Jan 2, 2015).
[xvi] Gullette, David and Asel Kalybekova. 2014. Agreement under pressure, Gold mining and protests in the Kyrgyz Republic. Friedrich Ebert Stiftung. http://library.fes.de/pdf-files/id-moe/10927.pdf (last accessed January 3, 2015). Page. 10.
Kazakhstan's government is determined to enhance engagement with civil society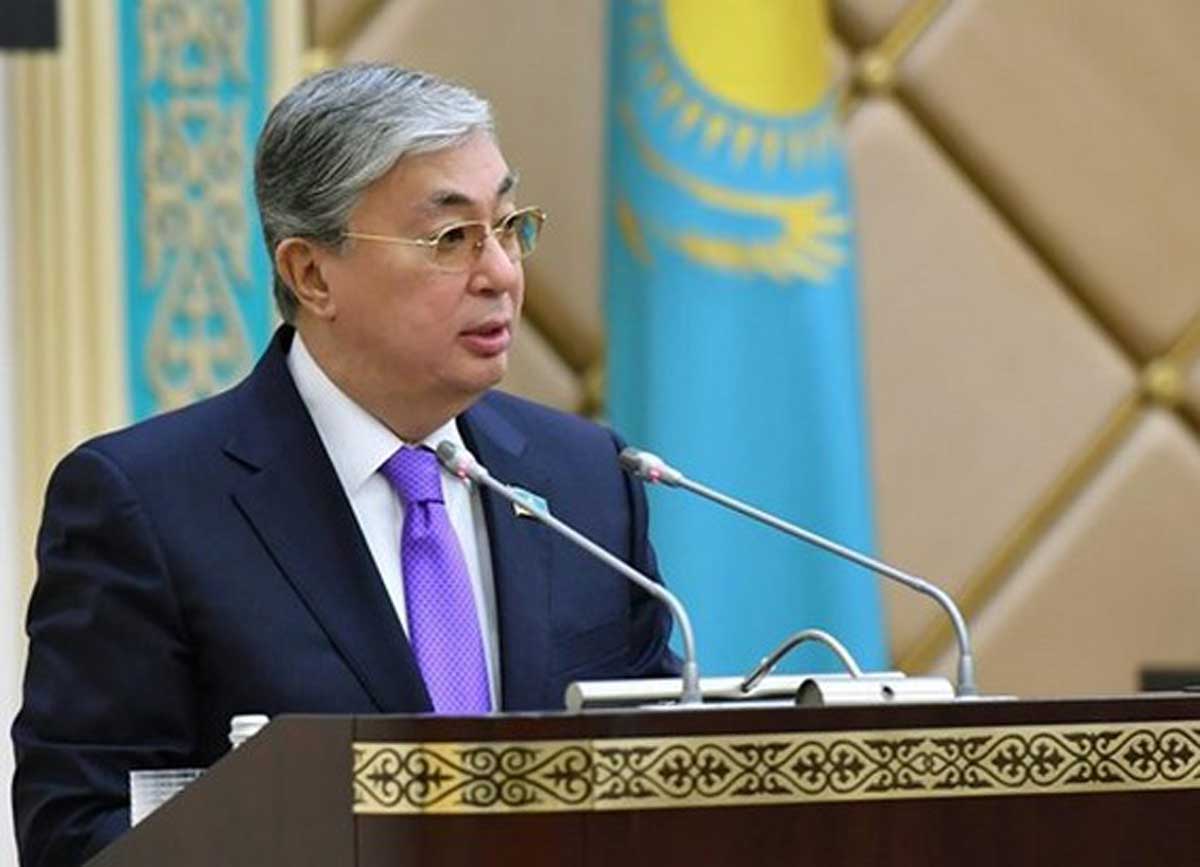 This year Kazakhstan is marking its 30th anniversary as an independent state. We have come a long way over the last three decades. Our economy has greatly expanded and our political processes are unrecognisable compared to when we just gained our independence from the Soviet Union.
A critical element of Kazakhstan's development has been the growth of our civil society, especially the increase in the number of non-governmental organisations (NGOs). It is hard to believe that in the early 1990s there were only approximately 400 NGOs in Kazakhstan. The story is much different today. By now, the number of active registered NGOs in Kazakhstan has increased 40-fold to around 16,000. Many operate in the sphere of support for socially vulnerable segments of the population or issues related to the protection of the rights and legal interests of citizens and organisations.
This dynamic is of course most welcome. A developed civil society is the foundation of any modern and thriving state. It provides an effective dialogue platform, as well as a communication bridge between representatives of the government and the public.
Therefore, the government of Kazakhstan has continued to actively support NGOs, including financially. In 2020, grants were provided worth 1.8 billion tenge (over 4.3 million US dollars). Most of the funding went towards supporting the projects related to the welfare and development of children and young people. Approximately 305.4 million tenge ($740,000) was allocated to directly promote the development of civil society, including increasing the efficiency of the activities of non-governmental organisations.
While substantial progress has been made, we are of course aware of the need to continue to develop the space for NGOs to thrive.
For this reason, the government takes active interest in this endeavour. For example, a Civil Forum, which serves as a platform for ensuring a dialogue between the state and NGOs, is regularly organised in our capital since 2003. The ninth Civil Forum held last November offered 12 virtual meetings between heads of ministries and representatives of NGOs. The participants discussed the main directions of the new concept for the development of civil society, citizen participation in decision-making, and mechanisms and opportunities for public scrutiny of government work, as well as other topics.
Another important tool for effective engagement between government and civil society is the Consultative and Advisory Body "Dialogue Platform for the Human Dimension", which was set up at the initiative of the Ministry of Foreign Affairs of Kazakhstan in 2013 to further consolidate opportunities for the NGOs to engage in direct dialogue with representatives of the Government and Parliament on the issues of human rights and democratic reforms.
Meetings are held once a quarter under my chairmanship, with the participation of representatives of NGOs, members of parliament, representatives of the Human Rights Commission under the President of Kazakhstan, the Supreme Court, the Constitutional Council and relevant ministries, as well as representatives of our international partners, including the UN Development Programme, Office of the High Commissioner for Human Rights, OSCE, the European Union, foreign diplomatic missions, USAID, and Penal Reform International.
The relevance of this platform increased considerably with the announcement by Kazakhstan's President Kassym-Jomart Tokayev of the concept of a "listening state", implying stronger focus on the government's engagement with the civil society, and implementation since 2019 of three packages of reforms in the field of human rights and further democratisation of political processes in the country.
Through open and transparent discussion, the activities of the platform have been vital to identifying systemic problems, and working together with Kazakh and international NGOs to find joint solutions. Our meetings also provide a useful arrangement to discuss recommendations of the UN convention committees on Kazakhstan's implementation of international obligations to protect human rights.
There are a number of examples where certain issues were closely discussed and reviewed by the Dialogue Platform, which resulted in adoption of new legislative acts. The updated law on peaceful assemblies in Kazakhstan is one such example. The key change is that since last year, NGOs or other groups that want to hold rallies need to only notify the local authorities five days prior to the event, instead of applying for a permit. Another example is last year's decriminalisation of Article 130 of the country's Criminal Code on libel.
The necessity for such a platform became especially clear earlier this year, when members of the Kazakh civil society raised the issue of the suspension of a few NGOs following inspections by the tax authorities. It was recommended at the meeting held in January that the suspended organisations should apply to the higher tax authorities and appeal the decision. Deputy Prime Minister and Foreign Minister of Kazakhstan, Mukhtar Tileuberdi, assured that he would take this issue under his control.
Following a thorough review with the tax authorities, only a week later, on 3 February, all charges against the affected NGOs were dropped and the decision to suspend their activities was annulled. This situation has demonstrated why it is so important for the government and the civil society to have clear lines of communication. Without the Dialogue Platform for the Human Dimension and the open conversations between civil society and Kazakh government, the issue of the suspension of NGOs may not have been resolved so efficiently. Undoubtedly, lessons need to be learned following this case, but I believe I can say with some confidence that the engagement between civil society and our government is currently tangible and practical.
​
Of course, we will not stop here. Last year, the President approved the Concept for the Development of Civil Society in Kazakhstan until 2025 last year. Its aim is to strengthen the system of partnership between the state, business, and civil society, as well as to facilitate further political transformation and modernisation in Kazakhstan. I believe we have a solid foundation to move steadily in this direction.
In Tajikistan, a Digital Future as an Alternative to Unemployment or Migration
The COVID-19 pandemic has amplified development challenges and sharpened the view on opportunities to overcome them. Evidently, policymakers were confronted with the healthcare system's limitations, and the socio-economic impacts from the crisis directed the focus on social assistance, agriculture and food processing, and the need for accelerating reforms necessary to develop more of a partnership with the private sector.
As a country with a young and growing, largely rural population, with legacy challenges of considerable connectivity constraints, Tajikistan has felt acutely institutional and infrastructure constraints during the partial lockdown and strict travel restrictions, with a growing sense of translating these weaknesses into sources of post-crisis recovery and resilience.
Central to this effort is the prospect of digital transformation, with a view to increasing the quality of public service delivery and crowding in private-sector activities, including in the country's rural and remote regions.
With a view to "leapfrogging" into a digital future, Tajikistan has the potential to respond to the pandemic's detrimental development impacts substantively—as a critical element of an economic policy package with which to strengthen the foundation for a dynamic, sustainable, and inclusive recovery over the longer term.
The digital agenda was of global strategic significance well before the pandemic, and it has grown exponentially as a result of the crisis. Indeed, COVID-19 has unleashed an unprecedented dynamism in digital innovations. Throughout the world, digital technologies have provided governments, businesses, and individuals with the means to cope with social distancing, ensure business continuity, and enable remote learning.
Reliable, high-speed internet has helped to prevent service interruptions that would otherwise have contributed to welfare, revenue, and employment losses. Governments and businesses across the globe have negotiated virtually, while families have benefited from access to online education and e-health services.
Tajikistan has already seen the benefits of an advanced ICT industry. During 2000–15, it was one of the country's fastest growing sectors, contributing to socio-economic development and, indirectly, to state budget revenues.
Through transparent licensing procedures and low licensing fees, Tajikistan translated effectively its economy's relative weakness—low penetration rates—into an ability to attract reputable international operators. In early 2015, the telecom regulator reported ICT revenue growth rates of close to 15 percent. Since then, however, gross revenues in the ICT sector have started to fall gradually, with the number of new subscribers having begun to decelerate.
This has affected the present situation. Today, Tajikistan is suffering from limited access to, and high prices for, internet services, especially in rural areas, where more than 70 percent of the population lives. In 2019, far less than one in a hundred households had broadband internet access (primarily in urban areas), and only 35 percent had mobile internet access.
Similarly, only a handful of enterprises have broadband access and fewer than one percent offer digital services. This limited use of the internet has hindered economic development, including the transformation of the country's industrial sectors. The situation is aggravated by high prices for international connectivity, the high cost of public services, limited local connections, and weak content development.
The principal question is whether the changing regulatory environment and the lack of a level playing field in the market (given the dominance of the state-owned telecom company) have contributed to the worsening sector performance. Similarly, critical are the potential links between high tax margins and the ability to reinvest funds in 3G/4G infrastructure and general industry development.
It is understood that, without the expansion of high-speed internet, digital transformation will not be possible in Tajikistan, and e-government services and mobile financial applications cannot be advanced. Without a focus on the required reforms, prices will remain among the highest in the world, even in face of limited access and low speeds.
The Government of Tajikistan has expressed interest in fostering the development of a digital economy and, in this context, joining the World Bank-financed Digital CASA project. The project aims at increasing access to more affordable internet, crowding in private investment in the ICT sector, and improving the Government's capacity to deliver digitally public services.
Related interventions are embedded in related infrastructure investments in Central Asia and parts of South Asia, through which a regionally integrated digital infrastructure is to be developed and an enabling environment supported. Tajikistan's central location in the region—it shares borders with Afghanistan, the Kyrgyz Republic, and Uzbekistan—positions it as a strategic linchpin in the regional network infrastructure as envisioned by broad Digital CASA design.
For this intervention to provide the envisaged COVID-19 response potential, Tajikistan will be collaborating with World Bank experts in implementing less restrictive regulatory policies, ensuring better connectivity, and improving the sector's operational and financial performance. These reforms and interventions would help to generate additional resources that could be re-invested in more innovative, affordable, and accessible services.
If successful, this kind of ICT strategy—with forward-looking, dynamic, and profitable firms employing (young) people countrywide—would stimulate significant socio-economic development and yield additional revenues for the state budget.
By removing entry barriers and implementing a modern regulatory framework, Tajikistan could attract more private investment, thereby creating a virtuous cycle as newly established, profitable private enterprises would co-finance the deployment of broadband infrastructure and improved network capacity, including last-mile investments.
There is considerable interest in, and potential for, the full digital transformation of Tajikistan's economy, from new tech firms to e-government, cashless payments, and smart city solutions. For this to work, however, removing the existing constraints to a more favorable business environment would have to be a policy priority
If given the right support, Tajikistan's digital transformation could help the country to emerge from the COVID-19 crisis stronger, more competitive, and ready to support efforts in addressing development challenges and creating new opportunities. Notwithstanding the inflationary use of transformational objectives, for young Tajiks it is clear: a digital future is the most promising alternative to unemployment or migration.
Win-Win or Zero-Sum Game: Relationship of China and Kyrgyzstan
In the context of the economic relationship between China and Central Asian countries, mostly Chinese officials emphasize relations as a win-win cooperation. In the context of the win-win cooperation, Central Asian countries export their products and raw materials to China and attract investment and financial assistance from China for improving their infrastructure. In return, China exports its products to these countries, gain new market, diversify its export-import and energy routes and expand its economic influence through Central Asia. With regard to the Sino-Kyrgyz relations, we analyze their economic relations in order to see whether the two countries' relations bases on win-win cooperation or zero-sum cooperation. If both of them relation basis on win-win cooperation, we may see that in the long term, two countries benefit from economic relations, increase their interdependency and improve their economy. In contrast to win-win, if the basis of the relations on zero-sum cooperation, we see that one side benefits from economic relations in the long term and increase its economic influence, but other side increase its dependency to another side and only benefit economic relation in the short term rather than the long term.
Since gaining independence in the 1990s, economic relations with China play an important role in the Kyrgyzstan economy. Kyrgyzstan was the first country among Central Asian countries that it was a member of WTO. Membership of WTO created a range of opportunities to country improve its economic relations with China. When China became a member of WTO in 2001, two countries' trade flows increased quickly (Omuralieva, 2014: 81). Kyrgyzstan located strategic geography for China because it plays an important role in diversifying China's export-import routes and provide a wholesale market for Chinese goods. Chinese officials always argue that Sino-Kyrgyz relations are mutually beneficial and base on win-win cooperation. In this essay, we especially pay attention to China-Kyrgyz economic relations in the context of trade, investment, and aid policy in order to explain the relations between two countries whether base on win-win or zero-sum cooperation.
Trade
Trade and economic cooperation play important role for the development of Kyrgyz-Chinese relations. Cooperation in this direction is carried out in the framework of the signed intergovernmental Agreements on trade and economic cooperation in 1998 and the establishment of the Kyrgyz-Chinese intergovernmental Commission on trade and economic cooperation in 1994. China is the main trade and investment partner of Kyrgyzstan. China took the first place in trade and investment in the economy of Kyrgyzstan at the end of the 2016 and 2017. Trade between China and Kyrgyzstan is inherently unbalanced. Trade turnover between China and Kyrgyzstan was accounted for 1.597 billion US dollars in 2017. Export was 97.5 million US dollars, import – 1.500 billion US dollars(Embassy of the Kyrgyz Republic in the People's Republic of China, 2018).Chinese exports to Kyrgyzstan consist of cloths, agricultural products, and light machinery while Kyrgyzstan's exports toChina agriculture products and natural resources(Reeves, 2015: 122).
Besides, Chinese merchants play a dominant role with the trade network of Kyrgyzstan. Both Dordoi and Kara Suu bazaar are the large wholesale and retail market in Bishkek. Both bazaars due the low taxes and location plays key role for Chinese merchants. 75% of the goods of Dordoi bazaar and 85% of goods of Kara Suu bazaar come from China. Kyrgyzstan import China's goods and re-export these goods to other regional countries. The monthly turnover of both Dordoi and Kara Suu bazaars were 331 million US dollars and 90 million US dollars respectively in 2012. We may say that these bazaars are the main motor of the Kyrgyzstan's economy (Omuralieva, 2014: 86-87). Furthermore, China's import of Kyrgyz products and raw materials also help to Kyrgyzstan to alleviate the impact of inflation (Tian, 2018).
In the context of the trade between two countries, despite the Kyrgyzstan's gains as an importer and transporter of goods, Sino-Kyrgyz relations consist of the asymmetrical trade relationship. Firstly, last years, Kyrgyzstan textile and apparel sectors grow so fast and China play a key role in these sectors (Reeves, 2015: 122). Because cotton and wool are produced in Kyrgyzstan and export mainly China. In addition, due the lack of modern standards low quality clusters, Kyrgyzstan do not export these goods to developed countries or cannot compete other regional exporters such as China, Turkey and Korea but export to less developed western China's cities, predominantly (Birkman, 2012: 24-25). Secondly and more importantly, Kyrgyzstan relies on China's good for its commercial service sector because Kyrgyz traders has developed its commercial sector around the China's imports which they re-export these goods to other regional countries, that is why, without Chinese imports, country's service sector would collapse or lose its main sources for economic growths (Reeves, 2015: 122-123). According to Marlène Laruelle and Sébastien Peyrouse, Beijing has transformed Kyrgyzstan into a China-dependent economy that can survive mainly by re-exporting Chinese products (Omonkulov, 2020: 76).
Investment and Finance
China also play dominant role in Kyrgyztan economy in terms of investment and finance. Since 2001, China was the main source of the all FDI investment (Reeves, 2015: 123). Between 2006-2017, cumulative gross of Chinese FDI flow as equal to 2.3 billion US dollar and for this period China provided 25-50% of total FDI of Kyrgyztan, which is equivalen to 2-7% of the country's GDP (Mogilevskii, 2019: 09).
Since 1990s, China mostly has been preferring to invest Kyrgyztan's mining and oil sector. For example, in 2011, a Chinese company namely Zijin Mining purchased mine, which is located in Talas province in Taldy- Burak region and Chinese Full Gold Mine Company operated Ishtamberdy mine in Jalalabad province in the south part of Kyrgyzstan in the summer of 2011(Omuralieva, 2014: 90-91). In 2012, Chinese company purchased old paper factor and 20 hectares of land in order to construct oil refinery. The company will invest 70 million US dollars for constructing factories. Furthermore, Chinese companies operate some 10 medium-sized mines producing gold-copper concentrate which is exported for refining to China(Mogilevskii, 2019: 10). In addition to mining sector, China also invests oil sector in Kyrgyzstan. For example, China financed two refineries in Kyrgyzstan, namely Kara-Balta and Tomok oil refineries. These refineries are supplied by CNPC-operated oil fields in neighboring Kazakhstan and produce 1.35 million refined products per year (Pradhan, 2018: 10). Moreover, China announced that it would provide $1.4 billion in FDI for constructing Kyrgyzstan-China oil pipeline (Reeves, 2015: 123).
In the context of the Belt and Road Initiative (BRI), China also prefers to invest infrastructure and energy project in Kyrgyzstan. In terms of infrastructure projects,the planned China-Kyrgyzstan-Uzbekistan railway and the North-South Highway, for which China's Exim Bank has lent 400 million dollars for the construction of its first phase, are considered as one of the most ambitious transportation projects in Beijing's Kyrgyzstan (Omonkulov, 2020: 72; Toktomushev, 2016: 02). By the help of the China-Kyrgyzstan-Uzbekistan railway, China has a chance to diversify its export and imports routes and also secure its energy routes. For Kyrgyzstan side, officials in the country hope that attract Chinese investment. In addition, Kyrgyzstan will gain 261 million US dollars per year as a transit country. However, the project has been postponed for years due to government debt and domestic political concerns in Kyrgyzstan. That is why, China and Uzbekistan introduced combined road-rail corridor – freight from China will be unloaded in Kyrgyzstan to reach the Uzbek section of the railway by road (CHOICE, 2021).Apart from railway project, China gave 60 million Yuan unreturned credit to Kyrgyzstan for the construction of China-Kyrgyzstan-Uzbekistan highway in 2011(Omuralieva, 2014: 83-85).
With regard to the energy projects, China has financed the construction of the Datka electricity substation and the 405-kilometer Datka-Kemin transmission line. These projects help to improve country's energy system and reduce its dependence from regional countries (Toktomushev, 2016: 02; Mogilevskii, 2019: 09). For securing its energy security, China also try to diversify its energy routes. From this perspective, Kyrgyzstan play a strategic role for China. In the context of the China-Central Asia gas pipeline energy project, China decided to construct one of the routes, namely gas line D, through theKyrgyzstan. Construction of the gas line started in 2018. By the way of the this project, Kyrgyzstan take a benefit as a transit country (Akıncı, 2019: 88; Omuralieva, 2014: 88).
China's investment in Kyrgyzstan have both positive and negative effects to country's economy. From the positive sides, firstly, some of the Chinese project is under the construction and some of the is completed recently, that is why we cannot expect major impact on the countries production capacity but we see these projects effects via comparison of the average annual GDP growth rates. A comparison of the average annual GDP growth rates in 2011-2017 and in 2000-2010 shows some increase from 4.2% per annum (2000-2010) to 4.8% per annum (2011-2017)(Mogilevskii, 2019: 12).There is no doubt that other factors also contribute the GDP growth but most Chinese investment increases share gross domestic products in Kyrgyzstan and affect positively to GDP. Secondly, improving the relationship with China contribute to Kyrgyzstan's developing country's total factor productivity (TFP) and help to country to develop an export-oriented economy, better market linkages. Moreover, China's investment creates new jobs for local people.Furthermore, China's investment inindustry of Kyrgyzstan inject energy to landlocked country's economy and promote flexible and innovative entrepreneurial development in Kyrgzystan. One of the example is emerging sewing industry in Bishkek (Tian, 2018).Finally, Chinese investment contribute to improve Kyrgyzstan's infrastructure.
Aid and Loan policy
Most of China's assistance to Central Asian countries mostly consist of the soft loans (i.e. concessional or low-interest loans below market rates, which do not contain grant elements – and government- backed or subsidized investments in infrastructure and natural resources). Compare to the Western assistance, China's assistance gives a great advantage to donor such asincreased access to energy resources and lucrative contracts for Chinese companies. Due the bad governance, poverty and instability, Kyrgyzstan is one the country that receive largest share of Chinese assistance. China is the one of the most important for Kyrgyzstan in terms of concessional loans and grant aid. China is the largest concessional loans provider to Kyrgyzstan which is account for more than 60% of the country's planned funding between 2013 and 2016. Most of China's loans and aid design to improve infrastructure projects, such as North-South highway or China-Kyrgyzstan-Uzbekistan railway. For example, China pledged 3 billion US dollar loans for infrastructure development. China is also main sources for the Kyrgyzstan in the context of the aid. For instance, China gives 16 million US dollar to Kyrgyzstan between 2000-2007 (Reeves, 2015: 123-124). In addition to the assistance for improving infrastructure, China also sends aid for building school and hospital, as a result of which, new and existing schools and hospitals benefit from improvement and upgrading of specialist equipment, technology and logistics. Finally, China also sends aid to Kyrgyzstan for reconstructing of the residential areas of Southern Kyrgyzstan which were affected violent ethnic riot in 2010 (Bossuyt, 2019).
Firstly, China's aid to Kyrgyzstan help to country improve its infrastructure and break landlocked geography. Furthermore, improving of infrastructure also create a chance to Kyrgyzstan diversifies its export and import routes. Secondly, sending aid for modernizing or building new hospital and school may increase people's lifestyle and contribute to education of younger people. Finally, China's aid also helps to country upgrade its electricity generation plants and transmission line. Developing electricity system contribute to the energy independence of Kyrgyzstan.
The fast development of Kyrgyz infrastructure by the way of the massive inflow of resources resulted in the growth of Kyrgyzstan's debt burden. China also main creditor of Kyrgyzstan. Kyrgyzstan's debt to China reached 1.7 billion dollars or 44% of its total foreign debt (3.8 billion dollars) as of February 2018. At the same time, Kyrgyzstan borrowed a total of $ 4.5 billion from China's credit line under the Belt-Road Project (Omonkulov, 2020: 75). Despite the positive impact of aid on Kyrgyzeconomy, growing debt also increase country's dependency on China and lead vulnerable position versus China.
Conclusion
In the context of the Sino-Kyrgyz trade relations, despite Kyrgyzstan's gains as an importer and transporter of Chinese goods, Sino-Kyrgyz relations consist of an asymmetrical trade relationship. Kyrgyzstan export mainly textiles and raw materials to China and import technological and manufactured products. Maybe Kyrgyzstan benefits from trade relations in the short term but, in the long term, Kyrgyzstan's dependence on China increases. In addition, exporting mostly export raw materials to China, Kyrgyzstan does not improve its human capital and high skilled labor force. With regard to the trade relations, Sino-Kyrgyz relations seem to bases on zero-sum cooperation in the long term rather than win-win cooperation.
With regards to the investment, despite the contribution of Kyrgyzstan's annual GDP growth rates and improve the total factor productivity and export-oriented economy, Chinese investment has different negative effects on the Kyrgyz economy. One of the main purposes of the Chinese investment in the mining, oil, and infrastructure sector is to increase the country's extraction and export of natural resources. This creates a range of problems for the Kyrgyz economy. Firstly, these sectors provide fewer employment opportunities to the local population and increase short-term employment in the country, and most of the time Chinese companies prefer to use their own people for working compared to the local people. Besides, the job creation of China's companies is limited and they mostly avoid technology transfer to the country. This situation also prevents the improvement of domestic industry. Secondly, extraction of the natural resource improves the certain sector and contribute corruption and unequal distribution of the wealth in the country. Furthermore, Chinese companies also violate the environmental standard. Finally, these sectors vulnerable the external shocks and increase the state's dependency on China. As trade relations, in the long term, China's investment affects Kyrgyzstan negatively and only let to improve the specific sector, especially mining and oil sectors, and this situation prevent the country to diversify its industry. With regard to the investment, as a trade relation, Sino-Kyrgyz relations seem to the basis of zero-sum cooperation rather than win-win cooperation.
Finally, in terms of the aid and loan policy, despite China's aid and loans help to improve Kyrgyzstan's infrastructure and develop its industry, it used to try to secure access to mining sites such as gold, ore deposits, and rare earth elements. Furthermore, it tries to involve in the exploration and development of gold deposits in the country. Despite the high unemployment rate in Kyrgyzstan, Chinese loans also promote Chinese firms for using Chinese equipment and laborers. Besides, China's cheap and handy loans increase Kyrgyzstan's dependency and vulnerabilities on China. This situation also causes to enhance China's political and economic influence.
To sum up, in the context of the trade, investment, and aid and loan policy, despite the different positive impacts, Sino-Kyrgyz economic relations basis on asymmetrical economic relations and in the long term give the advantage of China over Kyrgyzstan in the context of the economic influence. As a result, take the example of the trade, investment, and aid and loan policy, we think that two countries' economic relationship basis on zero-sum cooperation in the long term, rather than win-win cooperation, in contrast to China's officials' claims.
Reference
Birkman, Laura. (2012), "Textile and Apparel Cluster in Kyrgyzstan", Boston: Harvard Business School.
Embassy of the Kyrgyz Republic in the People's Republic of China. (2020), Trade and Economic Cooperation, https://mfa.gov.kg/en/dm/Embassy-of-the-Kyrgyz-Republic-in-the-Peoples-Republic-of-China/Menu—Foreign-/–uslugi/Trade-and-Economic-Cooperation/RC
Mogilevskii, Roman. (2019), "Kyrgyzstan and the Belt and Road Initiative", University of Central Asia Institute of Public Policy and Administration, No. 1, p. 1-25.
Omonkulov, Otabek. (2020), "China-Central Asia Relation in the Context of the Belt and Road Initiative", BölgeselAraştırmalarDergisi, Vol. 4, No. 1, p. 45-115.
Omuralieva, Alia. (2014), China-Kyrgyzstan Relations, Hacettepe University Institute of Social Sciences, Master's Thesis, Ankara.
Pradhan, R. (2018). The Rise of China in Central Asia: The New Silk Road Diplomacy. Fudan Journal of the Humanities and Social Sciences, 11(1), 9-29. doi:10.1007/s40647-017-0210-y
Reeves, Jeffrey. (2015), "Economic Statecraft, Structural Power, and Structural Violence in Sino- Kyrgyz Relations", Asian Security, Vol.11, p. 116-135.
Toktomushev, Kemel. (2016), "Central Asia and the Silk Road Economic Belt", University of Central Asia Institute of Public Policy and Administration, No. 1, p. 1-5.
Emil Avdaliani. (2021, January 20). How China is Breaking Central Asia's "Geographic Prison". Retrieved January 29, 2021, from https://chinaobservers.eu/how-china-is-breaking-central-asias-geographic-prison/
Tian, Hao. (2018). "China's Conditional Aid and Its Impact in Central Asia", (Laruelle, M.), China's Belt and Road Initiative and its impact in Central Asia. Washington, D.C.: The George Washington University, Central Asia Program, p. 21-34.
Bossuyt, Fabienne. (2019). The EU's and China's development assistance towards Central Asia: Low versus contested impact. (n.d.). Retrieved January 30, 2021, from https://www.tandfonline.com/doi/full/10.1080/15387216.2019.1581635