2015: A Year of INTENSE CONFLICTS – Why is it necessarily so?
Washington has shaped 2015 to be a year of conflict. The conflict could be intense.
Washington is the cause of the conflict, which has been brewing for some time. Russia was too weak to do anything about it when the Clinton regime pushed NATO to Russia's borders and illegally attacked Yugoslavia, breaking the country into small easily controlled pieces.
Russia was also too weak to do anything about it when the George W. Bush regime withdrew from the ABM treaty and undertook to locate anti-ballistic missile bases on Russia's borders. Washington lied to Moscow that the purpose of the ABM bases is to protect Europe from non-existent Iranian nuclear ICBMs.
However, Moscow understood that the purpose of the ABM bases is to degrade Russia's nuclear deterrent, thereby enhancing Washington's ability to coerce Russia into agreements that compromise Russian sovereignty.
By summer 2008 Russian power had returned. On Washington's orders, the US and Israeli trained and equipped Georgian army attacked the breakaway republic of South Ossetia during the early hours of August 8, killing Russian peacekeepers and civilian population.
Units of the Russian military instantly responded and within a few hours the American trained and equipped Georgian army was routed and defeated. Georgia was in Russia's hands again, where the province had resided during the 19th and 20th centuries.
Putin should have hung Mikheil Saakashvili, the American puppet installed as president of Georgia by the Washington-instigated "Rose Revolution", and reincorporated Georgia into the Russian Federation. Instead, in a strategic error, Russia withdrew its forces, leaving Washington's puppet regime in place to cause future trouble for Russia.
Washington is pushing hard to incorporate Georgia into NATO, thus adding more US military bases on Russia's border. However, at the time, Moscow thought Europe to be more independent of Washington than it is and relied on good relations with Europe to keep American bases out of Georgia.
Today the Russian government no longer has any illusion that Europe is capable of an independent foreign policy. Russian President Vladimir Putin has stated publicly that Russia has learned that diplomacy with Europe is pointless, because European politicians represent Washington's interest, not Europe's.
Foreign Minister Sergei Lavrov recently acknowledged that Europe's Captive Nation status has made it clear to Russia that Russian goodwill gestures are unable to produce diplomatic results.
With Moscow's delusion shattered that diplomacy with the West can produce peaceful solutions, reality has set in, reinforced by the demonization of Vladimir Putin by Washington and its vassal states. Hillary Clinton called Putin the new Hitler.
While Washington incorporates former constituent parts of the Russian and Soviet empires into its own empire and bombs seven countries, Washington claims that Putin is militarily aggressive and intends to reconstitute the Soviet empire.
Washington arms the neo-nazi regime Obama established in Ukraine, while erroneously claiming that Putin has invaded and annexed Ukrainian provinces. All of these blatant lies are echoed repeatedly by the Western presstitutes. Not even Hitler had such a compliant media as Washington has.
Every diplomatic effort by Russia has been blocked by Washington and has come to naught. So now Russia has been forced by reality to update its military doctrine. The new doctrine approved on December 26 states that the US and NATO comprise a major military threat to the existence of Russia as a sovereign independent country.
The Russian document cites Washington's war doctrine of pre-emptive nuclear attack, deployment of anti-ballistic missiles, buildup of NATO forces, and intent to deploy weapons in space as clear indications that Washington is preparing to attack Russia.
Washington is also conducting economic and political warfare against Russia, attempting to destabilize the economy with economic sanctions and attacks on the ruble.
The Russian document acknowledges that Russia faces Western threats of regime change achieved through "actions aimed at violent change of the Russian constitutional order, destabilization of the political and social environment, and disorganization of the functioning of governmental bodies, crucial civilian and military facilities and informational infrastructure of Russia."
Foreign financed NGOs and foreign owned Russian media are tools in Washington's hands for destabilizing Russia.
Washington's reckless aggressive policy against Russia has resurrected the nuclear arms race. Russia is developing two new ICBM systems and in 2016 will deploy a weapons system designed to negate the US anti-ballistic missile system. In short, the evil warmongers that rule in Washington have set the world on the path to nuclear armageddon.
The Russian and Chinese governments both understand that their existence is threatened by Washington's hegemonic ambitions. Larchmonter reports that in order to defeat Washington's plans to marginalize both countries, the Russian and Chinese governments have decided to unify their economies into one and to conjoin their military commands.
Henceforth, Russia and China move together on the economic and military fronts. The unity of the Bear and the Dragon reduces the crazed neoconservatives' dream of "an American century" to dangerous nonsense.
As Larchmonter puts it, "The US and NATO would need Michael the Archangel to defeat China-Russia, and from all signs Michael the Archangel is aligned with the Bear and its Orthodox culture. There is no weapon, no strategy, no tactic conceivable in the near future to damage either of these rising economies now that they are 'base pairs.'"
Larchmonter sees hope in the new geopolitics created by the conjoining of Russia and China. I don't dispute this, but if the arrogant neoconservatives realize that their hegemonic policy has created a foe over which Washington cannot prevail, they will push for a pre-emptive nuclear strike before the Russian-Chinese unified command is fully operational. To forestall a sneak attack, Russia and China should operate on full nuclear alert.
The US economy–indeed the entire Western orientated economy from Japan to Europe–is a house of cards. Since the economic downturn began seven years ago, the entirety of Western economic policy has been diverted to the support of a few over-sized banks, sovereign debt, and the US dollar. Consequently, the economies themselves and the ability of populations to cope have deteriorated.
The financial markets are based on manipulation, not on fundamentals. The manipulation is untenable. With debt exploding, negative real interest rates make no sense. With real consumer incomes, real consumer credit, and real retail sales stagnant or falling, the stock market is a bubble.
With Russia, China, and other countries moving away from the use of the dollar to settle international accounts, with Russia developing an alternative to the SWIFT financial network, the BRICS developing alternatives to the IMF and World Bank, and with other parts of the world developing their own credit card and Internet systems, the US dollar, along with the Japanese and European currencies that are being printed in order to support the dollar's exchange value, could experience a dramatic drop in exchange value, which would make the import-dependent Western world dysfunctional.
In my opinion, it took the Russians and Chinese too long to comprehend the evil that has control in Washington. Therefore, both countries risk nuclear attack prior to the full operational capability of their conjoined defense.
As the Western economy is a house of cards, Russia and China could collapse the Western economy before the neoconservatives can drive the world to war. As Washington's aggression against both countries is crystal clear, Russia and China have every right to the following defensive measures.
As the US and EU are conducting economic warfare against Russia, Russia could claim that by wrecking the Russian economy the West has deprived Russia of the ability to repay loans to the European banks.
If this does not bring down the thinly capitalized EU banks, Russia can announce that as NATO countries are now officially recognized by Russian war doctrine as an enemy of the Russian state, Russia can no longer support NATO's aggression against Russia by selling natural gas to NATO members.
If the shutdown of much of European industry, rapidly rising rates of unemployment, and bank failures do not result in the dissolution of NATO and thus the end of the threat, the Chinese can act.
The Chinese hold a very large amount of dollar-denominated financial assets. Just as the Federal Reserve's agents, the bullion banks, dump massive shorts onto the bullion futures markets during periods of little activity in order to drive down the bullion price, China can dump the equivalent in US Treasuries of years of Quantitative Easing in a few minutes.
If the Federal Reserve quickly creates dollars with which to purchase the enormous quantity of Treasuries so that the financial house of cards does not implode, the Chinese can then dump the dollars that they are paid for the bonds in the currency market.
Whereas the Federal Reserve can print dollars with which to purchase the Treasuries, the Fed cannot print foreign currencies with which to buy the dollars.
The dollar would collapse, and with it the power of the Hegemon. The war would be over without a shot or missile fired.
In my view, Russia and China owe it to the world to prevent the nuclear war intended by the neoconservatives simply by replying in kind to Washington's economic warfare. Russia and China hold all the cards. Not Washington.
Russia and China should give no warning. They should just act. Indeed, instead of step by step, Russia and China could simultaneously use the counter-measures. With four US banks holding derivatives totaling many times world GDP, the financial explosion would be the equivalent to a nuclear one. The US and Europe would be finished, and the world would be saved.
Larchmonter possibly is correct. 2015 could be a very good year, but pre-emptive economic moves by Moscow and Beijing could be required. Putin's current plan seems to be to turn away from the West, ignore the provocations, and mesh Russia's strategic and economic interests with those of Asia.
This is a humane and reasonable course of action, but it leaves the West untroubled and undistracted by its economic vulnerabilities. An untroubled West remains a grave danger not only to Russia and China but also to Americans and the entire world.
 
First published by the SC Foundation under title: "The Outlook for the New Year 2015: A Year of INTENSE CONFLICT?"
Pulwama Attacks: Pakistan takes on India again
The attacks by Jaish-e-Muhammed on Indian security forces has come at a tricky time; Modi led government's reaction to the killings, and the preparations for the 2019 general elections, are two events, that are going to intrigue imagination of wide possibilities. Forty men lost their lives, in the kind of barbarism that India expects from Pakistani non-state actors. Mind the assertion; if media sources in India can prove that Masood Azhar-the master mind, controlled the entire event from a military hospital in Rawalpindi, Pakistan has landed itself in a great limbo. Masood Azhar is no longer a non-state actor in Pakistan; instead he is a Pakistani non-state actor. Pay attention, there is a difference.
The fact that India failed to anticipate such an attack, again, is beyond sound logic. Terrorist attacks on armed convoys over bordering highways, is but a chilling script that keeps the Indian administration on their toes. Mind the lapse. What a miss!
What happened?
Nobody in India and elsewhere predicted this. PM Narendra Modi did not see this coming. Not the intent, but the magnitude of casualties. For this alone, Pakistani non-state actor(s) calculated brilliantly. They intercepted a psychological lapse of a strong, yet busy Prime Minister. Let us also pretend that there was a rare moment of blunder by the Indian intelligence. That leaves us to the only realistic assumption of what might have happened.
For many years, India has maintained the vocal discourse of Pakistan's deceitful personality in dealing with transnational issues. The Pulwama killings would have choked Narendra Modi, reminding him the lesson of how a wild animal can never be tamed. More so, not when they promise to not hurt you. Imran Khan is an icon, but no excuses this time, the blood is in his hands. From an observatory perspective, one cannot help but conclude that there is an element of serious political assurance turning into fraudulence.
After-effects
Two months prior to the 2019 general elections, the Indian Prime Minister has woken up to the challenges, that nobody in India would have not predicted. Still, the Pulwama attacks has placed him in a very awkward position. It is a well-documented fact that India can carry out surgical strikes, just like it has in the recent past. Equally, it can only be fair to assume that Pakistan will be ready this time. The story will lose all plot, if Pakistan, like India fails to anticipate another precision attack on its border. Mind the context, it actually means something more.
Reportedly, PM Modi threatened against Pakistani aggression; however, India stands on crossroads. From the Pakistani logic, time has subsided India's options. Imagine another strike gone wrong in the enemy's territory. Imagine a full-fledged war, overtaking the carousal of national elections. Islamabad is ready this time. In the worst case, they have managed to manufacture a predictable excuse to penalize India's confronting military creativity. Pay attention, there are little choices. And the consequences are alarming.
Pakistan's credibility
Regardless of all legitimate Indian accusations, Pakistan would be less worried, by Indian threats to isolate them diplomatically. While the current Indian rhetoric might be another disguise before their jets ignite for a military crackdown; Pakistan has and will operate with their elements of non-state actors. Hence, there is no question about credibility. Mind the change in Pakistani attitude. Before, non-state actors were merely a means to their ends. Now, the Pakistani military is on the front foot, itching for an Indian reaction. Calculations have been made. The Pulwama attacks are a testimony to their intentions. The international community will be hoping that India will let go this time; take it under their chin, once again. There is an acute wish to avoid a situation of hypocrisy. Given a foreseeable Indian aggression, Pakistan will seek international assurance based on equality. The rules apply the same for everyone.
Distinctive
For good reasons, the Pulwama killings will presumably lead to a peaceful solution. The Indian reaction will be gold for academic books, that are based on solving inter-state disputes. India owes a reaction to all kinds of anticipative communities, on a platform that Pakistan has calculatedly fished for their arch-rivals. The ball is in India's court. A moment of magnifique for Narendra Modi, or a strategic tit for tat for Pakistan? Mind the set-up. Evenly poised!
ISIS Smuggler: Sleeper Cells and 'Undead' Suicide Bombers Have Infiltrated Europe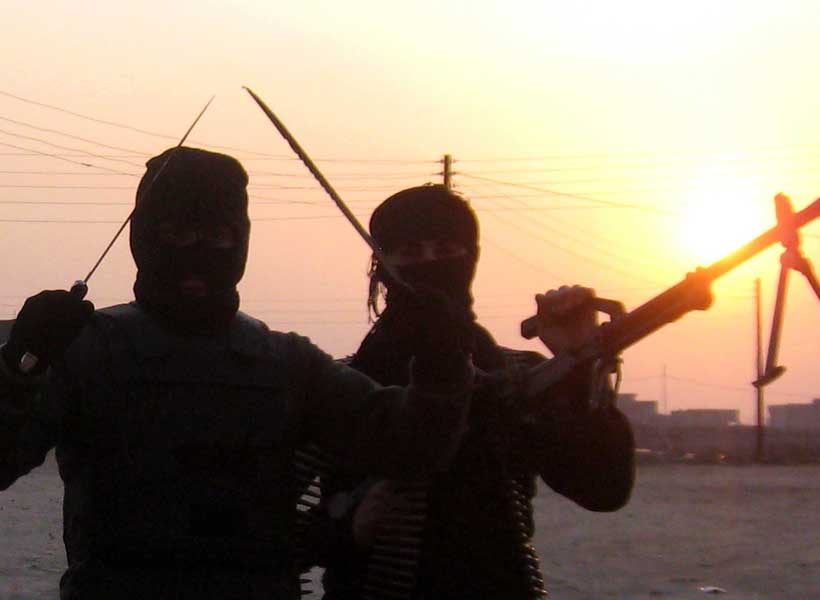 Authors: Anne Speckhard, Ardian Shajkovci & Hamid Sebaly
Europe is bracing for a new wave of jihadist attacks by terrorists affiliated with the so-called Islamic State, what "you might call ISIS 2.0," as Interpol chief Jürgen Stock recently told reporters. Some previously imprisoned jihadists are being released from jail, others are returning to Europe—and to prison—while still others, we have learned, have never been known to police and operate as "sleeper cells" waiting to be mobilized.
It is in the face of such concerns that U.S. intelligence chiefs have warned, despite President Donald Trump's assertions to the contrary, that ISIS is still far from defeated.
Last week, the International Center for the Study of Violent Extremism (ICSVE) interviewed 18 ISIS cadres held by the Kurdish People's Protection Units (YPG) closely allied with U.S. coalition forces in Syria. Two of the prisoners interviewed were former members of the ISIS intelligence operation known as the "emni," sometimes also written as "amni."
One of them, a Tunisian named Abdel Kadr, was a 35-year-old athletic-looking and obviously clever individual, who had illegally smuggled himself into Europe in 2008 and then managed to get legal residency, to live and work there, by marrying a German. Abdel Kadr claimed to have "found religion" and also, like many foreign fighters, to have been moved by the plight of Syrians assaulted by Bashar al-Assad's forces, which caused him to leave Germany for Syria in 2014, driving an ambulance loaded with humanitarian supplies.
Abdel Kadr ultimately joined and served ISIS until he was captured by the YPG last year. He appears to have had high-level access in ISIS and was open to discussing what he knows while also seeking not to incriminate himself.
Regarding the ISIS emni, Abdel Kadr says there are both internal and external emni networks in ISIS, the former enforcing security within the self-declared caliphate and the latter sending operatives outside of it, to be sleeper cells organizing attacks in Europe and globally. They are not police but intelligence operatives, he said. "They live 24 hours per day with a mask. They are chosen specially for this. They have their own houses, special families. They have been chosen specially, and many were sent back to Europe."
People smuggling
Prior to joining ISIS, Abdel Kadr had been a human and goods smuggler based in Germany, working between Turkey and Europe. He said he joined the Islamic State alongside his friend Dominic, a white German convert to Islam. Dominic wanted to return to Germany to work as an undercover operative for ISIS and, being fair-skinned with no known criminal history, he believed he could do so undetected. (He should not be confused with Dominic Musa Schmitz, a Salafi who wrote a book in German in 2016 about his disillusionment with Salafi Islam.)
"There are a lot of those who were trained by ISIS to go into Europe," said Abdel Kadr. The emni member who trained and facilitated many of them was also a white European, an Austrian who went by the kunya, or pseudonym, of Abu Musa al-Almani.
"He was in charge of Germany," Abdel Kadr explained. "He spoke around seven languages: German, Dutch, French, Arabic, and German with the accent of Austria. He was an Austrian native with long hair and a red beard," Abdel Kadr said. "He was from a wealthy family in Austria and a convert from Christianity. I met him in Syria, but he was moving everywhere." He was traveling back and forth via Turkey.
"I heard about this wave that they prepared for Europe," Abdel Kadr told us. "They asked me if I'd like to go back to Germany. They were saying to me if you want to go back don't worry about money, but they don't know how I think."
Abdel Kadr was content at that time inside ISIS doing business on the side and making considerable profits. And he had a ready excuse for begging off from such a mission. "I have seven pieces of shrapnel in my body," he explained. "If I pass through an airport they will catch me." Also, he looks like the Arab he is, and is liable to fall prey to profiling. "They were sending athletic guys who look European back into Europe," Abdel Kadr told us.
The ISIS emni asked Abdel Kadr to return to his former human smuggling trade. "They wanted me to make logistics and coordination because before I joined ISIS and came, I was smuggling people between Turkey and Greece." That was when Abdel Kadr was living in Germany with his German wife, making thousands of dollars smuggling Bengalis, Iranians, Pakistanis, Afghans who had already made their way into Turkey on into Europe. The back trails across the border were primitive and rough, he said, but he knew them. "Our bridge to cross the river was a tree we cut for that purpose."
ISIS intelligence "knew I was a people smuggler. All my German friends knew I was a smuggler," Abdel Kadr explained. "Abu Musa al-Almani, who was in charge of Germany, came to me in Raqqa with Dominic and asked me about the smuggling. He said, 'Dawlah [the State, ie. ISIS] needs you. The whole nation of Islam needs you.'"
The emni asked Abdel Kadr to help them smuggle trained operatives back into Europe following the routes from Turkey into Greece that he had previously exploited. Abdel Kadr claims he refused. "I took my injuries as an excuse to escape from this, I have a screw in my leg, shrapnel [from a bomb attack]. It took seven kilometers walking to get across to Greece. My role was five kilometers up to the tree [bridge]. Someone else took them inside, an Algerian guy."
Abdel Kadr claims that he told ISIS he was no longer fit enough to do it. It may be true that he refused, as he was at the time engaged in a smuggling and trade operation inside ISIS, enriching himself there, or he may in fact have re-engaged in his former trade but did not want to tell us.
The Undead
According to Abdel Kadr, when the emni was going to send a European back to attack they would first falsely announce inside ISIS, and on their external media, that he had been killed fighting or in a bomb attack. But later, it would be revealed that he was actually alive and had successfully attacked in Paris or Brussels, for instance, and had been "martyred" there.
In the case of most suicide attacks in Europe, according to Abdel Kadr, the death of the operative is announced by ISIS a few months earlier, when in fact, "they took them to a camp to train them. Then after you get a communiqué about their action in Europe. The communiqué on this date stated he died in France or Belgium, but for ourselves, seven or eight months before [we had heard] they were announcing his death."
The same was true of Dominic, according to Abdel Kadr. "ISIS said he was killed, but it wasn't true. He lived next to me and when I went to see his wife and children inside the ISIS area [in Tabqa, near Raqqa], they told me, 'He is not killed, but we don't know where he is.'" Abdel Kadr already knew Dominic's desire to return to Europe to serve ISIS.
"He's alive somewhere," Abdel Kadr told us. "Up to now, there is no communiqué [about his actions in Europe]." Abdel Kadr, who is imprisoned by the YPG and says he is now totally disillusioned with ISIS, claims to have tried to thwart any possible attack by Dominic by alerting German and European intelligence about his friend's "disappearance" and fake death announcement inside of ISIS.
"There are 1,000 partisans in Europe," Abdel Kadr claims. "They have a big plan to introduce hundreds of refugees from all nationalities of the world," he claims, saying ISIS was able to insert them into the refugee streams flowing into Europe. Many are sent to Europe with false passports. "They are processed by surgery, training and language and they send them as sleeping cells. In Turkey they give them hair transplants, surgically change their eyes, even the eye color." (Presumably that would be with contact lenses.)
At least two of the attackers who struck Paris in November 2015 had entered Europe among refugees and carried false papers.
In 2015, Harry Sarfo, a German whose family originally was from Ghana, and who'd grown up in Britain, working as a postman there before he joined ISIS, was pressured by the ISIS emni to train and return to attack in Germany. He told the authorities, and later Der Spiegel and The New York Times, about his training and knowledge of these ISIS emni activities.
ISIS was telling Europeans to book short vacations in resorts in the south of Turkey, take many pictures, and then come to train for a short time with ISIS to be sent back to join sleeper cells in Europe. Without overstaying their Turkish visas and with the strong alibi of the resort booking and pictures to confirm it, they passed suspicions if questioned by security about their activities.
Abdel Kadr confirmed that this indeed was happening. "They are able to bring a youth into ISIS and then back into his family without the knowledge of his parents. They send him home to Europe after one year in training with ISIS," he states. "There are some people who came with European faces for a short time and went back through Turkey," he explains. "Like my friend, Dominic. I think he's living in Europe," Abdel Kadr concludes.
When asked about this case and others like it, a high-level YPG security official explains that his organization is doing everything it can to stop such operations. The YPG says it has caught and now holds in its prisons over 3,500 foreign fighters, many of them Europeans.
But the Kurds feel frustrated knowing that these foreigners streamed in through Turkey, some of them received medical help inside Turkey when injured, and most of the logistical supplies and extra food supplies for ISIS were delivered across the Turkish border.
Although the YPG has provided the core ground force working with the Americans to defeat ISIS, President Trump's decision to withdraw some 2,000 U.S. troops providing logistical and other support leaves the organization in a vulnerable position. The Turkish government insists that the YPG is a branch of the Kurdish Workers Party or PKK, which Ankara and many other governments, including the U.S., deem a terrorist organization.
The YPG says the Turks have actually been complicit with ISIS. "They call us the terrorists" another YPG military intelligence officer told us, "but we are fighting terrorism every single day, losing our lives by the thousands doing so and trying to keep Europe safe from such people. We are fighting terrorism, while others are helping them to come and go, in and out of Syria, across our borders."
Author's note: Article first published in The Daily Beast
Eschatological beliefs and ISIS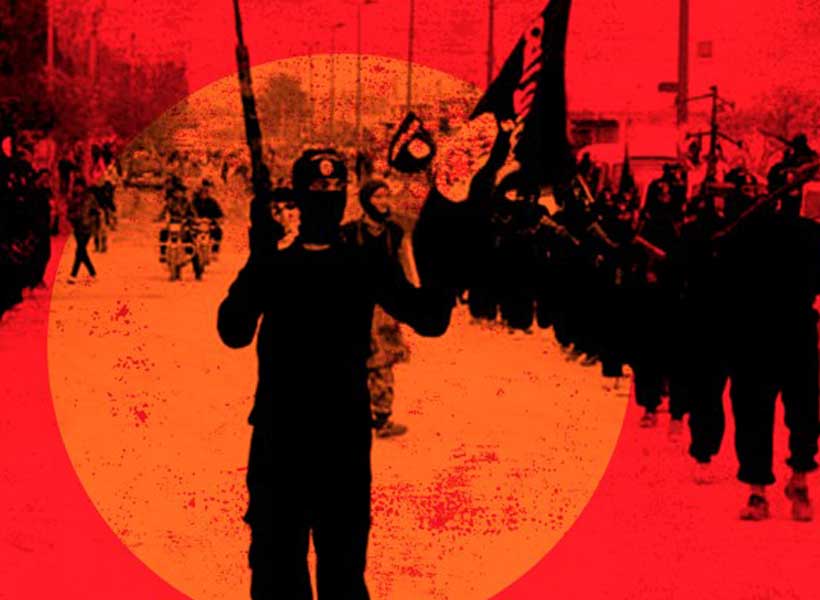 There is no single definition of terrorism which might be accepted fully; however, terrorism normally emerges when disempowered communities try and combat what they perceive as injustice and oppression on this planet. Emerging as asymmetrical warfare between state and non-state actors, international norms of War are violated by focusing on civilians and exploiting media exposure to create fear.
Throughout history, it has spread in various forms ranging from secular terrorism to religious extremism. In today's world, the most deadlykind of terrorism was created by using Islamic state narrative prompted underneath the umbrella of eschatological beliefs.
By definition, eschatology is part of theology concerned with the final events of history, or the ultimate destiny of humanity. Followed by all religious theologies including Muslim, Jews, Christians, Hinduism and Zoroastrians, the apparent fall of the last stronghold of the Islamic state was no surprise to terrorism scholars.
After the fall of Aleppo, Raqqa and the Syrian city Dabiq last October; consequently, Islamic State (IS) demolished the 842-year old Al Nuri mosque.
However, apocalyptic beliefs were not widespread throughout the Middle-East before the U.S. led invasion of Iraq in 2003.It was the military invasion that radically transformed the landscape of eschatological ideologies, resulting in widespread apocalyptic thinking.
One such Sunni Salafist caught up in this groundswell of apocalyptic was Abu Musab Al Zarqawi, a bloodthirsty madman; even Osama bin Laden (OBL) didn't agree with his brutal tactics war agenda of beheading the shite Muslim. Zarqawi became the leader of Al-Qaeda affiliate in Iraq after he fled from Afghanistan.
Zarqawi followed an apocalyptic extremist ideology while OBL had a less grandiose view about an imminent end to the contemporary world. For example, before the U.S drone strike on Zarqawi in 2006, Zarqawi famously acknowledged that "the spark has been lit here in Iraq and its heat will continue to intensify by Allah's permission until it burns the crusader's armies in Dabiq(Syria)".
Having strategically less significance, Dabiq was a small Syrian town but IS used it for their political interests. Mainly because this city is where the battle called Armageddon will happen according to eschatological beliefs. Most importantly, ISIS is still operating its propaganda magazine named Dabiq.
After Zarqawi died, a man named Abu Ayyub al-Masri having close ties with Al Qaeda took over charge of Middle East operations in Iraq, during his tenure the group was re-branded as the Islamic State of Iraq. In line with Masri's political aims, his primary apocalyptic focus was the appearance of the Mahdi(messianic figure in Islam) who is referred to in the Prophecies as the leader of the battle of Armageddon in  Dabiq.
Even though Masri made a number of strategic decisions based on his eschatological convictions. On the whole, the Islamic state of Iraq has been using this propaganda to maximize the recruitment process in their organization.
As a result, they have gained a cosmic fan following all over the world including the Middle East, Europe, America and Asia. Since Masri's death in the Iraqi city of Tikrit in 2010, Abu Baker al-Baghdadi took over the charge of this"black banner army". Syrian civil war, resulted in formation of Al-Qaeda affiliate now known as the Fateh al-Sham group.(Al-Nusra front)
In 2013 Baghdadi shocked the world by announcing that Al Nusra front is now under command and control of ISI(Islamic State of Iraq) right after this merger it became the Islamic State of Iraq and Syria(Levant). Baghdadi announcement was forming a caliphate just like Ottoman Empire, albeit ISIS never recognized the Ottoman Empire as legitimate.
Nevertheless, Baghdadi smartly maintained the eschatological beliefs even after the death of Masri, though the focus had been changed under the leadership of Baghdadi.
With continuous shifts in political stance of ISIS, there is a huge possibility that it will have new targets in the coming future.  For example, since it began to lose territory, it sharply changed its strategy from inward state building to outward foreign attacks with the help of lone wolves or small groups.As a result, this technique started a new phenomenon more like transnational terrorism.
Openly calling the younger generation as the cubs of the caliphate, these methods for inculcating radicalization were found to have direct links with the American intervention in Afghanistan and Iraq.
Finally, the self-proclaimed caliphate of ISIS collapsed in both Syria and Iraq. However, this does not mean it will not re-emerge in the future there are a lot of ISIS sleepers cells and supporters across globe.
To conclude, terrorist outfits come and go, but the ultra-modern variation within this museum of eschatological ideologies is an Islamic state. Disseminated with eschatological ideologies, a few of them tried to convey about the apocalypse to exploit it. Therefore, terrorist outfits have reassessed current affairs and spread mis-interpretations of eschatological beliefs to further their own agenda.