Wahhabi's on the Warpath in Paris
On Orthodox Christmas Wednesday 7 January 2015 10 French journalists and 2 were French policemen were murdered and 11 other innocent people have been wounded, some critically by 3 Wahhabi Salafi terrorists. French President Francois Hollande has labelled this terrorist attack on the offices of French magazine #CharlieHebdoas an exceptional act of barbarity.
France has been on the highest terrorist level alert since Al Qaeda,  and other Wahhabi Salafi extremists called for Muslim's to commit lone wolf attacks on French people and institutions for their continued opposition to Wahhabi Salafi terrorist insurgencies in Africa and the Middle East.
The world recoils at yet another terrorist attack by Wahhabi's on the warpath shouting the Takbir (تَكْبِير), 'God (Allah, nominative Allāhu), is Great (Kabir)'. Whilst it has special non-offensive meanings and uses in everyday Muslim rituals and social intercourse, it has a sinister application when said during violent acts of Wahhabi Salafi terrorism like the beheading of French tourist Hervé Gourdel in Algeria by Wahhabi Salafi militants 'Soldiers of the Caliphate'. http://www.nytimes.com/2014/09/25/world/africa/herve-gourdel-french-hostage-beheaded-algeria.html
Mohammed Merah
Another French Algerian Wahhabi Salafi terrorist Mohammed Merah recorded himself shouting Allahu Akbar as he killed three French paratroopers in the 2012 before going on to murder little children and their father at a Toulouse Jewish kindergarten. Cody, Edward (March 22, 2012). "Mohammed Merah, face of the new terrorism". The Washington Post.
See my article: "ISLAMO-FASCIST TERRORISM NOW IN FRANCE; WHAT MUST BE DONE TO STOP ITS SPREAD" https://www.moderndiplomacy.eu/index.php?option=com_k2&view=item&id=136:islamo-fascist-terrorism-now-in-france-what-must-be-done-to-stop-its-spread&Itemid=487
Interestingly Abdelkader Merah, Mohammed Merah's brother was also involved with recruiting French Salafis to be fighters for Abu Musab al-Zarqawi and Abu Bakr al-Baghdadi in Iraq long before Abu Bakr al-Baghdadi coined his Salafist Al Qaeda group as ISIS. Both al-Zarqawi and al-Baghdadi loved violent jihad and especially beheading Westerners whilst saying "Allāhu Akbar".
The 9/11 Salafi terrorists like the French-Moroccan Zacarias Moussaoui said in the preparation plans for their attacks 2001:
"When the confrontation begins, strike like champions who do not want to go back to this world. Shout, 'Allahu Akbar,' because this strikes fear in the hearts of the non-believers."  Barnett, Tracey (May 3, 2006). "Tracey Barnett: Suicide bombers follow a morality of their own". The New Zealand Herald. Retrieved November 16,2011.
"Also, in the cockpit voice recorders found at the crash site of Flight 93, the hijackers are heard reciting the Takbīr repeatedly as the plane plummets toward the ground and the passengers attempt to retake control of the plane.
Imam Samudra, who was sentenced to death for his role in the 2002 Bali bombings that killed 202 people, chanted the phrase upon hearing his sentence.
During the 2009 Fort Hood shooting, witnesses reported that gunman Nidal Malik Hasan shouted "Allahu Akbar" before opening fire, killing 13 people and wounding 30 others.
Another silent way of gesturing the Takbir (تَكْبِير) is pointing their finger upwards, pointing to heaven
The Wahhabi Salafi vanguard, ISIS from the minarets of its self-styled Caliphate calls for death and terror on the streets of the coalition forces of US, UK, Australia, Canada and Europe and their evil minions take up the carrion call all over the West. ISIS calls for Salafi jihadi's to run down infidels in cars, randomly behead civilians on the streets, attack the families of military personnel and shoot or knife infidels and their leaders.
In an audio message in September 2014, the ISIS media head Abu Mohammed al-Adnani, put out a call to all Wahhabi Salafi's around the world to carry out murders of Westerners who opposed ISIS:
"If you can kill a disbelieving American or European — especially the spiteful and filthy French — or an Australian, or a Canadian, or any other disbeliever from the disbelievers waging war, including the citizens of the countries that entered into a coalition against the Islamic State, then rely upon Allah, and kill him in any manner or way, however it may be,"
On Monday 13 October, in St-Jean-sur-Richelieu Canada, a new but zealous convert to Wahhabi Salafi Islam 12 months ago, Canadian Martin Couture-Rouleau murdered Canadian soldier Warrant Officer Patrice Vincent by running him and another soldier down in a car pointing his finger to heaven seeking Allah as his justification for doing so.
On 22 October 2014, Michael Zehaf-Bibeau radicalized by KSA funded Wahhabi Salafi BCMA went on a shooting spree in Ottawa Canada that killed one reservist and wounded another at Canada's War Memorial and then attacked the Canadian Parliament.
On 23 October 2014 Zaim Farouq Abdul-malik (Zale Thompson) already radicalized at a Wahhabi Salafi mosque in Queens NY (radicalized at the Islamic Center of Queens on 37th Avenue Woodside aka Masjid al-Fatima), grabbed an axe and tried to hack 4 policemen to death in Queens New York.
On 15 December 2014, just before Christmas, Wahhabi Salafi convert Man Haron Monis, "Manteghi Boroujerdi" and "Sheikh Haron" armed with a pump action shot gun went into a busy Sydney café and held 17 innocent Australians hostage demanding an ISIS flag and to talk to the Australian Prime Minister. The siege ended early on the morning of 16 December, when he shot one of the hostages and was then killed by police.
See my article: https://www.moderndiplomacy.eu/index.php?option=com_k2&view=item&id=459:wahhabi-s-on-the-warpath-in-sydney-australia&Itemid=487
Now on 7 January 2015 the  Takbir (تَكْبِير) was screamed out by three armed Wahhabi Salafi men with Kalashnikov's and grenade launchers in Paris as they gunned down 23 innocents.
Among the terrorist murderers were French nationals from Algerian immigrants. The gunmen shouted 'Allahu Akbar' and 'We have avenged the prophet (Mohammed)' as they went about their murderous rampage. See CNN video: https://www.youtube.com/watch?v=3CIrye0Lz10
The Kouachi Brothers from the predominantly Muslim Parisian enclave of 19th Arrondissement are still on the run after the carnage. They are suspected to be hiding near the town of Crepy in Valois NE Paris.
The #KouachiBrothers like the #TsarnaevBrothers were of immigrant stock who turned on their new Western homelands because of the radicalization by Wahhabi Salafi's in their local mosques. In the case of the #KouachiBrothers it was the Addawa Mosque located at 39 rue de Tanger (Paris 12th)..
Larbi Kechat is the current Imam of that Mosque and is under a deportation order by the French authorities. http://gotnews.com/breaking-charliehebdo-terrorists-attended-radical-mosque-paris-jesuischarlie/
Cherif Kouachi, 32,
The younger Kouachi brother (aka Abu Issen) born 28 November 1982 was already a petty criminal in Buttes-Chaumont known for thuggery and drugs known terrorist sympathizer when convicted for recruiting French fighters for ISIS. He served 18 months of a three year sentence. He was also suspected of involvement in an attempted prison escape of GIA terrorist Smain Ait Ali Belkacem who is serving life for the attack on the Paris Metro in October 1995 that injured 30 people. His other known associates include Djamel Beghal a terrorist who was plotting to blow up the US embassy in Paris. Beghal is out of jail after serving a 10 year sentence.
The elder Kouachi brother left his passport in the getaway car driven by Mourad.He was born in September 1980, in the 10th arrondissement in Paris.
 
Hamyd Mourad, 18.
Hamid is not a French citizen. His nationality is unknown.
He was formerly a student at a high school in Charleville-Mezieres, close to the city of Reims. Since graduating he had been homeless.
He turned himself into Police.
Apparently he was the driver of the getaway car (Citroen c3). The Kouachi Brothers did the killing with military precision. This latter aspect is evidence perhaps that justifies the fears of security officials that those associated with ISIS are more dangerous than lone wolf Wahhabi's because they are well trained in military tactics, use of arms and munitions.
Hamyd Mourad: 5 Fast Facts You Need to Know
Here is a video of the events from a French perspective: http://www.linternaute.com/actualite/societe-france/charlie-hebdo-les-terroristes-identifies-recherches-a-reims-et-a-pantin-0115.shtml
See Jihadists who support this terrorist attack include Salafist groups like Forsane Alizza (FA- The Knights of Pride) aka 'Sharia4France' , 'Force de Défense Musulmane sur Internet', and al-Muhajiroun (The Immigrants) .
France has some serious soul searching to do about its tolerance of Wahhabi Salafi radicalization. The ability of hate preachers radicalizing Muslims in the West following this latest #CharlieHebdoas atrocity are likely to be severely curtailed by Counter Terrorism legislation and enforcement. The very liberty of France and the West hangs in the balance because of the   unrestrained ability by the likes of Mohammed Achamlane, and Larbi Kechat's to recruit disillusioned Muslim youth from Islamic communities in France like Mohammed Merah or the Kouachi Brothers away from the traditional Islamic faith of their parents who immigrated to France from Morocco and Algiers and instead adopt the death cult of the Wahhabi Salafi Takfiri Jihadi such as ISIS. Their cult made everything from their plight to the perceived injustice of Muslims around the world easily understood in a populist way and in the French vernacular.  
"All of these preachers and organisations target second-generation Muslims, explicitly playing on their sense of being victims of racism, exclusion and loneliness in the West, and hence are very successful among Blacks or non-Muslim members of the underclass, as well as gaoled petty criminals. They offer a valorising substitute identity: members of the vanguard of internationalist jihadists who fight the global superpower and the international system."  http://www.pbs.org/wgbh/pages/frontline/shows/front/etc/roy.html
The converts were shown a way out of their sin and into heaven by taking the express lane of radical militancy to attack all enemies of the Wahhabi-Salafi Jihadi's (the only true Muslims) whether they be Crusader-Zionists in AF-PAK, Shia Muslims, Sufi Muslims or Moderate Sunni Muslims (all apostates in the cults eyes to be excommunicated (Takfiri) and worthy of death) or non-Sharia democracies in the West. The deaths of the #CharlieHebdoas journalists and cartoonists will not be in vain if the age of political correctness will now yield to a more sensible truthful evaluation of the risk posed by KSA funded Wahhabi Salafi imams and mosques to modern Western democracies.
Gun Control: Lessons from the East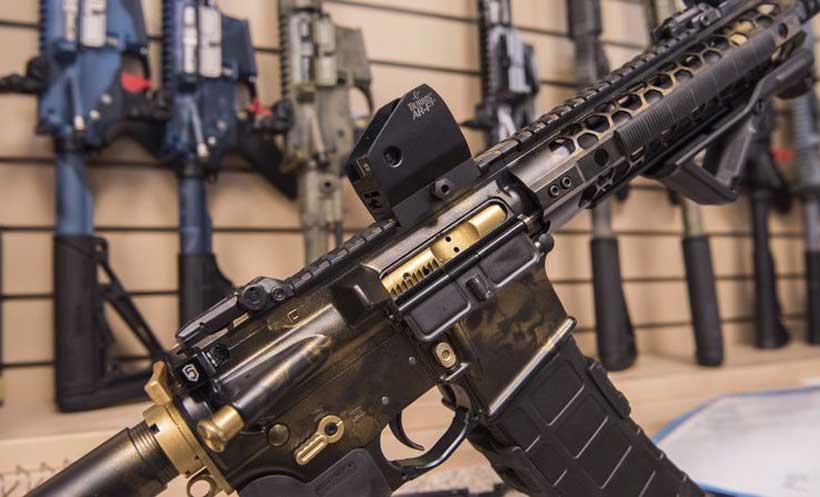 28th April, 1996 is deemed as one of the darkest days in the history of Australia. The infamous and deadly Port Arthur massacre took place in the famous tourist spot of Port Arthur, Tasmania where a 28 year old Australian, Martin Bryant open fired with a semi-automatic weapon, killing many. Before the day was over, he had attacked people in different places killing 35 people and injuring 18 people in total.
In the wake of this tragedy, government officials in each of Australia's six states and two mainland territories decided to call a ban on semi-automatic and other military-style weapons from across the continent in almost 10 days after the massacre. The officials halted the import of these weapons and launched a nationwide program called 'Gun-Buyback Program.' Under this program, Australians were encouraged to freely give up their weapons and many of them agreed. The Australian government confiscated almost 650,000 automatic and semi-automatic rifles under this program. It also established a registry which kept a record of all guns that were owned in the country. It also introduced a new permit which became mandatory for all new firearm purchase.
These policies and reforms led to a significant decline in Australia's firearm homicide rate and firearm suicide rate. Since the reforms took place, some experts believe that there has been an 80% drop in gun-related homicides and suicides. With limited access to guns and stringent laws put in place related to gun-purchase, number of mass-shootings and gun-suicides plummeted.
Recently, the world was shook by the deadly Christchurch mosque shootings that took place in New Zealand. There were two consecutive mass shootings which resulted in the death of almost 50 people. Six days after the attack, in a swift action, New Zealand announced a new ban on sale and distribution of a range of semi-automatic rifles and other weapons in the effort to curb gun violence. They also imposed a ban on ownership of previously-owned firearms and also initiated a buy-back program. Moreover, countries like Singapore, Japan, Taiwan and China have the lowest number of gun-related deaths in the world.
Simultaneously, western countries like the USA, Mexico, Brazil, Colombia, Guatemala and Venezuela account for almost half of all global deaths that occur from gun violence. In 2018 it was estimated that almost 250,000 number of global deaths happened due to gun-homicide or gun-suicide, and half of those deaths took place in 6 aforementioned countries. It is also estimated that suicide by shooting is on a rise and more number of people are using firearms to commit suicide each year. Over 150 mass shootings took place in the US alone in 2018 killing over 1,100 people and injuring as many. This devastation figure started a widespread discussion on gun-control in the US.
According to a research conducted by the Educational Fund to Stop Gun Violence, ease of access to a firearm during a vulnerable moment, higher firearm-ownership and loose gun legislations in a country have led to higher gun violence. In the USA, the last substantial gun-control legislation was imposed in 1994 which placed a federal ban on military style assault weapons for 10 years. However, this ban was not imposed on people who already owned these arms. When the ban was lifted in 2004, many Americans acquired military-style rifles which also became a popular choice of weapon for mass shooting. It is surprising that in many parts of the US, an American can easily purchase a military style rifle before they are legally allowed to buy beer. Many people also justify purchasing and carrying of weapons in the name of self-defence.
I am aware of the fact that the USA and many other western countries are bigger in size and population compared to Eastern countries, however with the growing number of gun-deaths, we have to underscore the importance of strict gun-control legislations and vigilant policies on ownership of gun. Moreover, background checks of people wanting to purchase guns and acquisition of permits by gun-selling stores should be made mandatory. If the USA could place a ban on gun-sale all those years ago, it can do it again. The government must find a way to work around USA's Second Amendment and place stricter laws in relation with gun-ownership.
Who is Brenton Tarrant: Insight on the New Zealand Attack
A misfortunate incident hit by surprise the usually peaceful city of Christchurch, New Zealand on Friday. The attacker, Brenton Tarrant, 28, Australian, accused of carrying out attacks on two mosques in Christchurch, resulted in the deaths of at least 50 people, all worshipping Muslims, including children, was charged with murder as he appeared in a district court on Saturday. A global debate has aroused on the fact that the charge merely speaks of the killer being accused of murder and not terrorism, which is another debate.
The event has sprung up international attention, with gun-laws of New Zealand being revised, investigations underway and multiple gestures and actions given by the Prime Minister of New Zealand Jacinda Ardern and globally in support of victims. An incident as such has occurred in New Zealand after almost 30 years, taking the world by surprise.
The live video of the attack was uploaded by the attacker, which aired for almost 17 minutes- making plenty of room for criticizing the social media outlet for letting an act of violence being aired without action.
Tarrant, described by Australia's Prime Minister Scott Morrison as an "extremist, right-wing, violent terrorist", expressed admiration for other violent white nationalists and his intention to "create an atmosphere of fear" and to "incite violence" against Muslims.
In a 74-page so-called Manifesto, Tarrant wrote: "My language originated in Europe, my culture is European, my political beliefs are European, my identity is European and, above all, my blood is European" before the attack on the Internet. It details an anti-immigrant, neo-fascist ideology and deplores the so-called decline of European civilization. and described himself as an "ordinary white man." Tarrant did not have a criminal history and was not on any watch lists in New Zealand or Australia.
A set of questions that arise in the wake of this unfortunate condition are: Who is responsible for the massacre of 50 people- The man behind the attack? The social media platform that aired live the attack for 17 minutes? The 26-minute delayed response from the New Zealand police and government, who already were informed about the "manifesto" of the attacker 9 minutes prior to the shooting or the immigrants who have been a source of the highly debated emerging "Islamophobia" globally. Moreover, why did the attacker perform the heinous attack and under what influence?
A possible explanation to the posed questions can be given by a phenomenon given under the area of terrorism and counter-terrorism. By definition, the attack was all that defines a "terrorist attack" but the attacker is slightly different to what a "terrorist" is defined as- rather, is a "lone wolf".
A solitary actor, a terrorist of solitary actors, or lone wolf, is someone who prepares and commits violent acts alone, outside any order structure and without any group aid material. They can be influenced or motivated by the ideology and beliefs of an external group and can act in support of this group. These people do not have connections to any organization, but are self-auto rotated through the construction of a certain ideology from the accumulation and assimilation of knowledge by their own.
Lone wolves are hard to identify. These are normal people dwelling in normal conditions, usually showing no sign of violent behavior. Keeping such people under check is as hard as recognizing their lethal abilities. They tend to be more dangerous than terrorist organizations since they take by surprise through their actions, they're neither under check or suspected or, as a matter of fact, identified.
The attacker- a lone wolf- was not known to police in Australia for violent extremism or serious criminal behavior. Three other suspects were detained along with Tarrant on Friday, but police now say he acted alone. He doesn't classify under psychologically disturbed- as most western attackers are in such cases by any means.
Responding to his own question "Is there a particular person that radicalized you the most?", Tarrant wrote: "Yes, the person that has influenced me above all was [US conservative commentator] Candace Owens… Each time she spoke I was stunned by her insights and own views helped push me further and further into the belief of violence over meekness", having an "unhealthy narcissism" common among "terrorists".
People with firm ideologies- as Tarrant- believe they are correct and it is hard to convince them otherwise (as religious ideologies e.g. Muslim ideology or nationalistic ideology e.g. Hindutva, Zionism etc). All writing over the attacker's weapons, if read, explained and translated signify a certain incident where immigrants (particularly Muslims) have been a threat to the white, in acts of violence against the white race, justifying the attacker's action for fighting against a group that threatens the existence of the white race.
In this situation, neither social media for airing live (not enough evidence on the attacker's social media outlet to take prior action) nor the government (informed 9 minutes prior to attack, too small a gap for stopping a terrorist attack, not including a location or specific details) can be blamed for the incident as identification and keeping check is almost impossible.
In the case of the attacker, even after being convicted, believes has done nothing wrong, was smirking throughout the process of his detainment whilst making a hand gesture of white supremacy throughout, with the belief that he might get 27 years in prison just like Nelson Mandela and be awarded a Nobel Peace Prize.
The reason to this radicalization is unchecked information, quick and easy access has led to the production of numerous such lone wolves, who will unleash their preposterous ideologies into violent acts if the content that is available is not censored. Another step that may prove helpful is the production of correction centers as a strategy towards counter terrorism since just convicting and killing the terror mongers does not kill an ideology they were triggered by, but only glorifies and promotes it. These centers are particularly necessary in educational institutes, weapon clubs, online portals, social media and mainstream media etc. Immediate action is required globally with amendments in counterterrorism strategies reverting to psychological correction rather aggression against the violator, else wise, the world has no less Tarrants currently to deal with- but many more.
The Impact of Words: Christchurch Shooting
New Zealanders and Australians (two English-speaking Commonwealth nations closely knit by culture, geography and history) have been horrified by a major white extremist terrorist event in Christchurch, New Zealand, on Friday 15 March.
Forty-nine Muslim worshippers, at Friday prayers in two Christchurch mosques six kilometers apart, were murdered in concurrent gun attacks led by an Australian far-right nationalist extremist, Brenton Tarrant, who filmed his whole attack from a head-held video camera while he shot worshippers at random with a semi-automatic weapon. Forty people were injured, some critically. Major mainstream and social media are being asked to remove Tarrant's deeply evil video footage, but much of it had already got out online as was his intention.
The mosques were unguarded, New Zealand having hitherto been entirely terrorism-free. Tarrant and four other unnamed persons involved, three men and a woman, who are believed at this stage to be New Zealanders, are under arrest. Tarrant's trial is listed for April. A shaken NZ Prime Minister Jacinda Ardern vowed immediate government action to tighten NZ's lax gun laws, to tighten NZ border controls, and to strengthen NZ-Australia intelligence agency information-sharing on extremist groups.
Australian Prime Minister Scott Morrison, who faces an early election which has to be held by May, and which he is tipped to lose heavily, expressed sympathy and shock. He conspicuously visited Sydney's most important mosque, in solidarity with Australian Muslim communities. But many Australians may doubt his sincerity in view of his and his Immigration Minister Peter Dutton's long personal history of anti-immigrant and anti-Muslim public sentiments.
Tarrant had issued a racial-hate manifesto online, minutes before his group's attack began, calling for an end to all Muslim migration into Australia and NZ. His views are shared within a small but vocal group of white extreme nationalist extremists in Australia who hold provocative public meetings and seek out media attention. Such a meeting is still scheduled to go ahead today in Moorabin, Melbourne, at which Senator Fraser Anning from the state of Queensland will criticise Australia's immigration policies. A counter-demonstration is planned in protest. Police will be present.
At federal political level, Islamophobic and anti-immigrant views are most stridently represented by Senator Pauline Hanson's minority One Nation Party and by Senator Anning, who was elected as a Queensland state senator on the One Nation Party ticket but subsequently broke with Senator Hanson. Queensland is a state characterised by high youth unemployment and a declining coal industry. It is a focus of far-right white nationalist extremism.
Anning, who is not expected to be re-elected, desperately seeks publicity. Just hours after the Christchurch shootings, he published a highly offensive media release blaming the shootings on Muslim immigration to Australia and NZ, alleging that the governments had created a climate of racial tension. His media release effectively endorsed much in Tarrant's manifesto. It has been almost universally condemned in Australia.
This well-planned politically-motivated mass murder is being compared to the Anders Breivik mass murder of young Norwegians in 2011. It is also being compared to recent targeted terrorist attacks, in US and elsewhere, on people at prayer in mosques and synagogues.
Questions are being asked about context and coincidence.
How was it possible for an Australian with known links to white supremacist extremist organisations in Australia to fly to New Zealand without NZ Security agencies being alerted to monitor him? How was it possible for his group to buy guns and ammunition in New Zealand without security agencies being alerted? Are Australian and New Zealand security agencies too focused on monitoring alleged threats from Islamist extremist groups, to the neglect of even more dangerous far-right white nationalist extremists?
Also: the attack coincided with a day of major 'school strikes' and street demonstrations by many thousands of young people in all major cities around Australia, protesting at Australian federal and state governments' inadequate climate change policies, including their failure to ban opening of new coal mines. Similar demonstrations were taking place in New Zealand, supported by PM Ardern. Australian PM Morrison had criticised the demonstrations as inappropriate on a school day. In any event, the NZ shooting tragedy totally eclipsed media attention to the young people's climate change and anti-coalmines demonstrations. Was this planned by the perpetrators, and who might have advised them?
Some critics claim, I believe correctly, that right-wing politicians who now dominate the governing party coalition, and right-wing mainstream media, have over recent years fostered and helped to generate a supportive climate for an anti-immigrant extremist movement in Australia, helping it to gain respectability and take root among economically depressed and politically alienated white Australian youth. These critics say that these politicians and media must now accept shared responsibility for fostering a political climate that encourages such terrible acts as the massacre of innocents in Christchurch.
Senior police leaders in Australia have appealed to politicians and media to consider the impact of their words. I hope they will do so.
Though this terrorist event has visibly shocked decent mainstream opinion in Australia and New Zealand, it may push race relations and immigration issues into greater prominence in the forthcoming Australian federal election. There is a danger of polarisation under Scott Morrison's clumsy leadership: he could as in past Australian elections try to talk up racial fears to his party's presumed advantage.
Australia's and New Zealand's foreign policies are also coming under scrutiny in the wake of this attack. Both countries are members of the 'Five Eyes' Intelligence-sharing network. Their military forces are deeply enmeshed in US-led past and present military operations in Afghanistan, Iraq and Syria. Sophisticated US-Australian joint defence facilities at Pine Gap, Central Australia are believed to be in current use to assist US military targeting in Syria. The Australian arms industry is selling weapons technology to Saudi Arabia that is being used by the Saudi Air Force in lethal bombing operations against Yemeni civilians.
The danger is that, after the initial public shock and horror at this attack has passed, the desperate and failing Morrison government may be tempted to exploit it to try to create a 'national security' and anti-immigration pre-election climate. The Labor Party Opposition and its leader Bill Shorten will need to watch its own words and policies in coming weeks. So will Australia's mainstream and social media.
I believe the lessons for all responsible governments and politicians are: firstly, to consider the impact of their policies and words on disaffected youth, and always to uphold inter-ethnic and inter-religious harmony; secondly, to task national security agencies to monitor equally extremist elements of all persuasions. I believe by both these yardsticks the Russian Federation has a very good record. I wish I could currently say the same of Australia.
First published in our partner RIAC