Building strategic trust for peace, cooperation and prosperity in the Asia-Pacific region
At the outset, I would like to express my sincere thanks to Prime Minister Lee Hsien Loong our Singaporean host, Dr. John Chipman and the organisers of the 12th Shangri-La Dialogue for your kind invitation to me to attend and address this important forum. Since its inception 12 years ago, the Shangri-La Dialogue has truly become one of the most substantive and meaningful security dialogues in the region. I do believe that the full presence of government officials, military leaders, prestigious scholars and all distinguished delegates at this forum reflects the interest and the efforts to jointly preserve peace and security in the Asia-Pacific region in the context of a dynamically changing world.
Ladies and Gentlemen,
While languages and expressions might differ, I am sure we all agree that without trust, there would be no success and harder work asks for bigger trust. In Vietnam, there is a saying that 'if trust is lost, all is lost.' Trust is the beginning of all friendships and cooperation, the remedy that works to prevent calculations that could risk conflicts. Trust must be treasured and nurtured constantly by concrete, consistent actions in accordance with the common norms and with a sincere attitude.
In the 20th century, Southeast Asia in particular and the Asia-Pacific in general were fierce battlefields and deeply divided for decades. It might be said that the entire region always had a burning desire for peace. To have peace, development and prosperity, it is a must to build and consolidate strategic trust. In other words, we need to build strategic trust for peace, cooperation and prosperity in the Asia-Pacific. That is what I wish to share with you at this forum.
To begin with, Vietnam has a profound confidence in the bright future of development and cooperation in our region. Yet the trend of increased engagement and competition, particularly by big powers, not only offers positive elements but also involves negative risks that require us to take initiative and work together to prevent.
The Asia-Pacific region now enjoys dynamic development and is home to the world's three biggest economies, and many emerging ones. Here, the trend of multi-layer, multi-sector cooperation and linkages is evolving vigorously and is becoming the prevailing one of the day. This is quite a promising prospect for us all.
However, looking back at the full picture of the region in the past years, we cannot fail to be concerned over the simmering risks and challenges to peace and security.
Competition and engagement are by themselves normal facts in the course of cooperation and development. Yet if such competition and engagement embrace calculations that are only in one's own interest, without equality, respect of international law or transparency, then strategic trust could in no way be reinforced, and there could be a chance for the rise of division, suspicion and the risk of mutual containment, thus adversely affecting peace, cooperation and development.
The unpredictable developments in the Korean Peninsula; sovereignty and territorial disputes from the East China Sea to the East Sea (South China Sea) that are evolving with great complexity, threatening regional peace and security – firstly maritime security and safety as well as the freedom of navigation – have indeed caused deep concern to the international community. Somewhere in the region, there have emerged preferences for unilateral might, groundless claims, and actions that run counter to international law and stem from imposition and power politics.
I would like to draw your further attention to the fact that maritime transport and communications are growing in scale and acquiring a much greater significance. It is projected that three quarters of global trade will be made via maritime routes and two thirds of that will be shipped across the East Sea. A single irresponsible action or instigation of conflict could well lead to the interruption of these huge trade flows, with unforeseeable consequences not only to regional economies but also to the entire world.
In the meantime, the threats of religious and ethnic conflicts, egoistic nationalism, secessionism, violence, terrorism, cyber security, etc. are still very much present. Global challenges like climate change, the rise of sea levels, pandemics or water resources and the interests of upstream and downstream riparian countries with shared rivers, etc. have become ever more acute.
We should realize that such challenges and risks of conflict are not to be underestimated. We all understand that if this region falls into instability and especially, armed conflicts, there will be neither winners nor losers. Rather, all will lose. Suffice it to say, therefore, that working together to build and reinforce strategic trust for peace, cooperation and prosperity in the region is in the shared interest of us all. For Vietnam, strategic trust is perceived, above all, as honesty and sincerity.
Secondly, to build strategic trust, we ourselves need to abide by international law, to uphold the responsibilities of nations, especially of major powers, and work to improve the efficiency of multilateral security cooperation mechanisms.
In global history, many nations have suffered from irreparable losses when they fell victim to power politics, conflict and wars. In today's civilised world, the UN Charter, international law and the universal principles and norms serve as the common values of all humanity and must be respected. This also represents the precondition for the building of strategic trust.
Each state should always be a responsible stakeholder in the pursuit of common peace and security. Countries, both big and small, must build their relations on the basis of equality and mutual respect and, at a higher level, on mutual strategic trust. Big states have a greater role to play and can contribute more, but they should also shoulder bigger responsibilities in the cultivation and consolidation of such strategic trust. Besides, when it comes to the right voice or beneficial initiatives, it does not matter whether they come from big or small countries. The principles of cooperation and equal, open dialogue in ASEAN and other forums advocated by ASEAN, as well as this Shangri-La Dialogue, are born from and maintained by such a mindset.
I fully share the views of H.E. President Susilo Bambang Yudhoyono of Indonesia who said last year at this forum that small and medium countries could help lock major powers into a durable regional architecture. I also agree with Prime Minister Lee Hsien Loong on what he said in a speech in Beijing last September: that a reliable and responsible cooperation between the United States and China would positively contribute to the common interest of the region. We all understand that the Asia-Pacific has sufficient room for all intra- and extra-regional countries to work together and share their interests. The future of the Asia-Pacific has been and will continue to be, shaped by the roles and interactions by all countries in the region and the world, particularly by the major powers and certainly, by the indispensable role of ASEAN.
I believe that no regional country would oppose the strategic engagement of extra-regional powers if such engagement aims to enhance cooperation for peace, stability and development. We should expect more of the roles played by major powers, particularly the United States and China – the two powers having the biggest roles in and responsibilities to the future of the region and the world. What is important is that such expectation should be reinforced by strategic trust and such strategic trust must be reflected in concrete and constructive actions of these nations.
We attach special importance to the roles played by a vigorously rising China and by the United States – a Pacific power. We would expect and support the roles of the United States and China, once their strategies and actions conform to international law and respect the independence and sovereignty of nations, to not only bring about benefits to them, but also to contribute genuinely to our common peace, cooperation and prosperity.
What I want to further underline is that the existing regional cooperation mechanisms such as the ASEAN Regional Forum (ARF), East Asia Summit (EAS), ASEAN Defence Ministers' Meetings Plus (ADMM+) as well as the Shangri-La Dialogue offer opportunities to foster multilateral security cooperation and find solutions to the challenges that arise. Yet it could be said that what is still missing, or at least still insufficient, is the strategic trust in the implementation of those arrangements. The first and foremost thing is to build a mutual trust when confronting challenges; taking account of the impacts of interactions, and enhancing practical cooperation in various areas, and at different levels and layers – both bilateral and multilateral. Once there is sufficient strategic trust, we could advance and expand cooperation and find solutions to any problem, even the most sensitive and difficult one.
Thirdly, when talking about peace, stability, cooperation and prosperity in the Asia-Pacific, we cannot help but mention an ASEAN of unity and consensus, playing its central role in many multilateral cooperation forums.
It was hard to believe that a South East Asia once divided and embedded in conflicts during the Cold War could become a community of nations united in diversity and playing a central role in an evolving regional architecture like ASEAN today. The participation of Vietnam in ASEAN in 1995 marked a new era of development in ASEAN towards building a common house for all South East Asian nations true to its name. The success of ASEAN is the fruit of a long persevering process to build trust, nurture the culture of dialogue and cooperation, and cultivate the sense of responsibility to the shared destiny of South East Asian nations.
ASEAN is proud to be an example of the principle of consensus and mutual trust in the making of its own decisions. That principle is the foundation for equality among the member states, whether it is Indonesia with nearly a quarter of a billion people or Brunei Darussalam with less than half a million. That principle also constitutes the foundation for extra-regional countries to place their trust in ASEAN as an 'honest broker' in guiding the numerous regional cooperation mechanisms.
With a mindset of shared interests rather than one of win-lose, the enlargement of the East Asia Summit (EAS) to include Russia and the United States, the ADMM+ process that was put into reality in Vietnam in 2010, and the success of EAS, ARF and ADMM in the years that followed, have further consolidated the ground for a regional architecture in which ASEAN plays the central role, bringing about trust in multilateral security cooperation in the region.
I also wish to refer to Myanmar as a vivid example of the success of persevering with dialogue on the basis of building and reinforcing trust, respecting the legitimate interests of each other, which has helped open up a bright future not only for Myanmar but also for our whole region.
There have been profound lessons learned about the fundamental value of ASEAN's consensus and unity in maintaining equal and mutually beneficial relations with partner countries and maximising its proactive role in handling strategic issues of the region. ASEAN could only be strong and able to build on its role when it is united as one. An ASEAN lacking unity will by itself, lose its place and will not act in the interest of any country, even ASEAN member states or partners. We need an ASEAN united and strong, cooperating effectively with all countries to nurture peace and prosperity in the region, not an ASEAN in which member states are forced to take sides with one country or the other for the benefit of their own relationships with big powers. We have a responsibility to multiply trust in the settlement of problems, enhance cooperation for mutual benefit, and to combine our national interest harmoniously with that of other nations and of the whole region.
Vietnam and other ASEAN members always desire that other countries, particularly the major powers, support the ASEAN Community's central role, its principle of consensus and unity.
To return to the issue of the East Sea, ASEAN and China have travelled a long way with great difficulty to come to the Declaration on the Conduct of Parties in the South China Sea (DOC) adopted during the ASEAN Summit in Phnom Penh in 2002. To commemorate the 10th anniversary of the DOC, ASEAN and China have agreed to work towards a Code of Conduct in the South China Sea (COC). ASEAN and China need to uphold their responsibilities and  mutually reinforce strategic trust, first and foremost by strictly implementing the DOC, and then redoubling efforts to formulate a COC that conforms to international law and in particular, the 1982 UN Convention on the Law of the Sea (UNCLOS).
We believe that ASEAN and its partners can work together to develop a feasible mechanism that could guarantee maritime security and safety and freedom of navigation in the region. In so doing, we will not only help ensure maritime security and safety, and freedom of navigation, and create conditions for the settlement of disputes but will also assert the fundamental principles of maintaining peace, and enhancing development cooperation in the modern world.
As for non-traditional security challenges such as the security of water resources on common rivers, by building strategic trust, enhancing cooperation and harmonizing national interests with common interests, I believe that we will able to achieve successes, thus making practical contributions to peace, cooperation and development in the region.
Ladies and Gentlemen,
Dear friends,
Throughout her thousands of years of history, Vietnam has suffered numerous pains and losses due to wars. Vietnam always aspires to peace and desires to contribute to the consolidation of peace and enhancement of friendship and development cooperation in the region and the world. To have a genuine and lasting peace, the independence and sovereignty of any country, whether large or small, must be respected; and differences in interests, culture, etc. must be subject to open and constructive dialogues of mutual understanding and mutual respect.
We do not forget the past but need to put it behind us and look forward to the future. With the tradition of offering peace and friendship, Vietnam always desires to work with its partners to build and reinforce strategic trust for peace, cooperation and development on the basis of the principle of respect for independence, sovereignty, equality and mutual benefit.
Vietnam consistently persists with a foreign policy of independence, self-reliance, multilateralisation and diversification of external relations, being a friend and reliable partner to all nations, and a responsible member of the international community. Vietnam wishes, and has spared no efforts to build and deepen, strategic partnerships and mutually beneficial cooperative partnerships with other countries. It is also our desire to establish strategic partnerships with all the permanent members of the UN Security Council once the principles of independence, sovereignty, non-interference in the internal affairs of each other, mutual respect, equal and mutually beneficial cooperation are committed to and seriously implemented.
At this prestigious forum, I have the honour to announce that Vietnam has decided to participate in UN peacekeeping operations, first in such areas as military engineering, military medicine and military observation.
Vietnam's defence policy is that of peace and self-defence. Vietnam will not be a military ally to any country and will not allow any country to set up military bases on Vietnamese territory. Vietnam will not ally itself with any country to counter another.
In past years, sustained high economic growth has enabled Vietnam to increase its national defence budget at a reasonable level but lower than that of economic growth. Vietnam's army modernisation is only for self-defence and the safeguard of our legitimate interests. It does not, in any way target any other country.
With regard to the present threats and challenges to regional security such as the Korean Peninsula, the East China Sea and the East Sea, etc, Vietnam adheres to the principle of peaceful dispute settlement on the basis of international law, respecting the independence, sovereignty and the legitimate interests of each other. All parties concerned need to exercise self-restraint and must not resort to force or threat to use force.
Once again, Vietnam reiterates its consistent compliance with the ASEAN Six-point Statement on the South China Sea and will do its utmost to work together with ASEAN and China to observe the DOC seriously and soon arrive at the COC. As a coastal State, Vietnam reaffirms and defends its legitimate rights and interests in accordance with international law, especially the 1982 UNCLOS.
Ladies and Gentlemen,
Dear friends,
Peace, cooperation and development represent the interest, the ardent aspirations and the common future of all countries and peoples. In the open spirit of the Shangri-La Dialogue, I would call upon you all to join hands and take concrete actions to build and reinforce strategic trust for an Asia-Pacific region of peace, cooperation and prosperity.
Posting granted exclusively for the Modern Diplomacy
(*)Keynote Address at the 12th Shangri-La Dialogue, Singapore, May 31st, 2013
Indonesia: Balanced politics amid major powers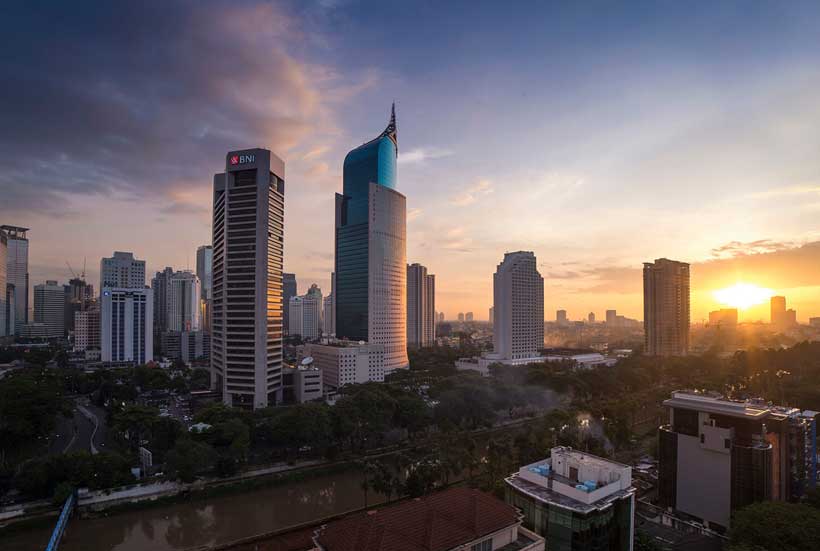 In 2020, Russia and Indonesia will mark 70 years to the establishment of  diplomatic relations between the two countries. Given that the epicenter of the geopolitical activity is currently shifting towards the Asia-Pacific Region (APR), the role of Indonesia as the planet's strategically important location increases.
Along with Russia, there are a number of other countries that are as keen on developing ties with Indonesia. One of them is Australia, which is particularly active due to its geographical location.
Indonesia and Australia boast a comprehensive bilateral strategic partnership agreement, which defines them as "strategic anchors of the Indo-Pacific Region". According to tradition, each newly elected Australian Prime Minister pays his first foreign visit to Indonesia. Prime Minister Scott Morrison, who took office on August 24, 2018, kept the tradition as well.
In Jakarta, Morrison met with Indonesian partners to discuss the details of a strategic cooperation agreement, which envisages economic cooperation, security measures, exploitation of marine resources, ensuring stability in the Indo-Pacific Region and social projects.
According to the Jakarta Maritime Policy Strategy (Global Maritime Fulcrum), Indonesia is regarded as the fulcrum between the Indian and the Pacific. Canberra also sees Jakarta as key to Australia's defense strategy.
Indonesia's territory embraces most of the archipelagoes north of Australia and these make a convenient springboard for a hypothetical threat to the Australian coast. In addition, Indonesia stands at the junction of marine and air routes from Australia to Europe and from Australia to Asia-Pacific countries. Joint naval exercises run by the Indonesian and Australian defense ministries account for 24% of the total, while 33% of the drills are held by the Air Forces, 30% by special services and special task forces, and 2% by the peacekeeping contingents.
Australia became the third country with which Jakarta signed a comprehensive strategic cooperation agreement after the United States (2013) and China (2015). In 2017, the two parties signed the Joint Declaration on Maritime Cooperation, in 2018 – the Maritime Cooperation Action Plan, covering 85 areas with the participation of 17 Australian and 20 Indonesian departments and agencies.
Australia finds Indonesia more important than Indonesia finds Australia. As a single continent, Australia attaches particular importance to foreign policy with a view to ensure its national security. As for Indonesia, it has a more introverted policy. Being the largest island nation on the planet, Jakarta aims to guarantee its security through internal consolidation of the many islands that make up the Indonesian state.
Pursuing the policy of "non-alignment", Indonesia seeks to diversify foreign economic and foreign policy relations. This becomes clear from the previous development of the Indonesian-Australian relations: Jakarta would quickly freeze projects with Canberra once it spotted a disproportionate presence of Australia in Indonesian politics.
That was the case in 1999 when Jakarta withdrew from the Security Agreement, signed in 1995, in 2013 when it suspended defense cooperation and cooperation between special services, and 2016 when it suspended the language training of military personnel.
For Indonesia, a multi-vector foreign policy is crucial for maintaining a healthy balance of power in the region. For this reason, Moscow is an attractive economic partner for Jakarta. That Russian-Indonesian contacts have been developing at fast pace can be concluded from the fact that there have been several meetings between the two countries' presidents, that Russia has been supplying Indonesia with weapons, that the two countries' armed forces have held joint exercises, that Indonesian representatives have participated in business forums in Russia and that the Russian capital has revealed in interest in Indonesia's projects in the mining industry.
Jakarta and Moscow are considering prospects for the introduction of a free trade zone in Indonesia and the EEU. Indonesia is also ready to join the Chinese global infrastructure project "One Belt, One Road."
Under the project, Chinese investments in the Indonesian transport infrastructure amount to $ 6 billion, which is clearly not enough for a rapid growth of transit of commodities and haulages from China and the Asia-Pacific countries through Indonesia. Indonesia's medium-term economic development plan stipulates local financing at 63% (4). The rest should come from foreign investors, which could include Russia.
First published in our partner International Affairs
Improving Vocational Education in Thailand: An interview with Khunying Sumonta Promboon
Bangkok – When robots are advancing and industries are playing catch up to technological advancement, vocational education plays a pivotal role in national development. Instead of arcane theory, vocational education trains students with sophisticated, hands on and practical skills needed to excel in the world of work. Vocational training offers an up to date and cutting edged techniques for students not only comply but push technical boundaries forward. Countries that excel in their industrialization all champion vocational education – Germany, China and Taiwan to name but a few.
Thailand, despite setting its eyes for Thailand 4.0 to transform its economy to digitalization, automation and robotics, is falling behind the race to the top. The World Bank found that 40% of the top tier international firms reported the inadequate skills as the major constraint. While the country is in much needed position for vocational education, there are only 1 million students in vocational school comparing to 2.5 millions in higher education. Although the country has more than 900 vocational colleges, students opt for higher education because better images and prestigious. When news about vocational education in Thailand are filled with images of violent students and gang fights amongst students, there is a dire need to reform this important sector. Rattana Lao, Program Officer in Policy and Research at the Asia Foundation, talked to Associate Professor Khunying Sumonta Promboon, the President of Chitralada Technology College on ways in which Thailand vocational education can reform itself to better respond to national demand: One step at a time.
What role should vocational education play in Thailand?
Vocational education should be the main educational track to educate and encourage young students to partake in the national development of the country. After receiving basic education of grade 1 to 9, the majority of students should enroll in vocational education. However, the case of Thailand is different. The majority of Thai students like to enroll in basic education of grade 10 to 12 and continue to enroll in universities rather than vocational education.
How can one promote vocational education?
Many factors need to be taken into account in order to incentivize more students to enroll in vocational education.
Firstly, students need to have guaranteed employment. Such employment should begin when they are still students, an internship of some sorts. This requires a close collaboration between educational institutes and corporates. A symbiosis between the two stakeholders is necessary. This is not widespread in Thailand. The opportunities are still inadequate and limited to a few top students in colleges rather than available equally to all students.
Secondly, the social attitude must change. In Thailand, parents want their children attend higher education and receive bachelor degrees, master degrees and PhD. To change this attitude, it will take time. It goes back to the first point that students need secure employment.
We incorporated these ideas into the creation of Chitralada Technology College. We want to take lead in enabling students who take vocational education with us being able to transfer into higher education later on– making the opportunities for education and employment aligned.
What are the problems of vocational education in Thailand?
The first problem is the social bias. People prefer basic education because its more prestigious. The second problem is students do not know the diversity of career paths. They know only limited choices of teachers, soldiers and doctors. The educational counselling in Thailand needs an improvement.
What does Chitralada Technology College try to do?
There are two institutes within the same umbrella. The first is Chitralada Vocational School and the second is Chitralada Technology College. There are total number of 800 students in these two institutes. Although we are small in sizes, we would like to lead best practices in term of vocational educational practices. There are many programs that we offer for students.
What is your strategy to promote vocational education in Thailand that is different from others?
We have extensive networks of 67 businesses throughout Thailand as well as partnered with other organizations. In total, we have MOUs with more than 80 institutions. We partnered with Singapore, China and Germany.
Can you give examples?
With China, we partnered with Leshan Vocational Technical College. They accept our students' exchanges for culinary school. There is also Tienjin Sino-German Vocational Technical College that we partner about mechatronics. With Singapore, we work with Singapore Polytechnique. We are beginning to initiate exchanging programs with Temasek and Singapore Polytechnique. Last year, we took Singapore students to Sumutsongkarm to visit local communities who produce shrimp pastes. It's impressive idea they are creating. There is also Senior Expert Project we partner with Germany. Mostly it is about mechanics and mechatronics.
How do these collaborations help Thailand?
These are successful countries who implemented vocational education and we can learn from them.
There are a lot of pictures of Her Royal Highness Princess Maha Chakri Sirindhorn. How does HRH inspire this college?
Her idea is to educate students according to their talents. Those who do not like academic track should have the opportunity to pursue other alternatives. Her Royal Highness plays a monumental role to guide our college's direction and inspires us to excel. When HRH visits other countries, HRH enables the college to expand our collaboration with successful institutions from abroad.
We want to change the images of vocational students in Thailand from being violent students to be responsible students.
Indonesia shaping the South East Asian foreign policy of India and Sri Lanka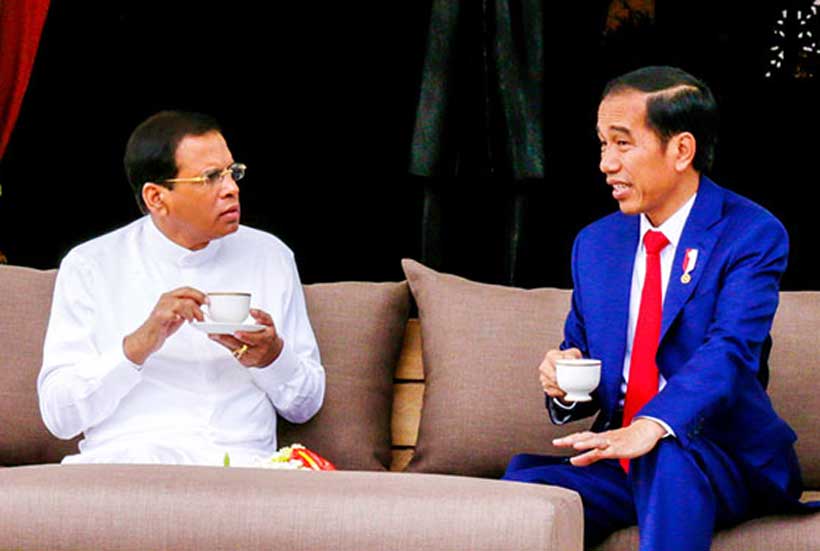 Authors: Srimal Fernando and Megha Gupta*
Indonesia with more than 17,000 islands, occupies a key geopolitical position in the ten-member Association of Southeast Asian Nations (ASEAN) regional bloc. In the recent past Indonesia has been trying to strengthen its foreign policy outlook both diplomatically and economically through bilateral or multilateral means.
Indonesia with its large population, military capabilities, vast territory and rich natural resources in Southeast Asia is trying to align with India possessing similar power potentialities in South Asia. With this strategy in mind Indonesia has been trying to access the 1.3 billion Indian consumer market and also has been trying to cooperate with Sri Lanka due to its vital geographical position in the Indian Ocean. In this regard, there has been a growing bilateral and trilateral interest among these three countries such that they can tap into the consumer and producer market hence generating higher revenue. However, these three financial hotspots have found themselves in the forefront of challenges posed by globalization and this makes it vital for them to revive their cooperation in different areas.
Over the past few decades, Indonesia has made several development landmarks through restructuring its polity and society. The economy and foreign policy goals of this nation have constructively transformed from President Sukarno to Joko. Furthermore, in the 1980's Indonesia also took a large step in establishing the regional body of ASEAN. Since then for more than a quarter century, ASEAN has been the most important reason for bilateral and multilateral engagements between Indonesia and the two South Asian countries.
Currently, the two-way trade between Indonesia and India stands at about $18.13 billion according to the Indonesia's Central Statistics Agency (bps).  With this mutually beneficial relationship, in the coming years Indonesia and India are planning to enhance their bilateral trade to $50 billion. There is also said to be an increased strategic, defense and security partnership between the two which got reiterated with the state visit of the Indonesian President Joko Widodo.
Similarly, the trade between Indonesia and Sri Lanka has doubled from $418 million in 2011 to around a billion dollar in the recent past and the ties between the two is set to improve further with the establishment of a future Free Trade Agreement (FTA). The year 2018 has also marked the 66th Anniversary of the diplomatic relationship between Indonesia and Sri Lanka where the visit of the Indonesian President after 40 years saw the signing of a series of agreements between the two island nations.
Since the Bandung Summit of 1955, the Indonesia's relationship with India and Sri Lanka has been strong. Later ASEAN has played a leading role in making this partnership grow further. However, India's cooperation with Indonesia and ASEAN serves as a test bed for the new ideas to grow between the two regions.
Indonesia positioned between Southeast Asia and Australasia is a crucial gateway for India and Sri Lanka to further their foreign, economic and security endeavors in these two regions.
*Megha Gupta, a scholar of Masters in Diplomacy, Law, Business at Jindal School of International Affairs, India.