Social Compact for Europe – Revisited
Gathered within the European Trade Union Confederation, we, trade union leaders of Europe, want to launch an appeal and propose a Social Compact for Europe.
We see increasing inequalities, rising poverty and exclusion, soaring unemployment, work insecurity that affects particularly young people, and growing disillusion about the European project.
We see a worrying increase in nationalism, racism and xenophobia. This trend, exacerbated by low wage competition, could lead to a rejection of the European project that the ETUC has always supported.
We see that the post-war economic and social settlement, which led to the creation of the European Union and the European social model, is threatened. This unique social model has brought considerable gains for citizens and workers and has allowed us to rebuild from crisis to prosperity. 
We affirm that fundamental social rights must have priority over economic freedoms. That is the spirit of the Charter of Fundamental Rights integrated in the Treaty of Lisbon. That should be emphasised in a Social Progress Protocol to be appended to the Treaties.
We believe that monetary union must serve the European integration process, based on the principles of peace, democracy and solidarity, as well as economic, social and territorial cohesion. This is the way to secure a future for citizens in a globalised world.
We recall that the EU's stated purpose is economic and social progress. Achieving the EU's 2020 objectives requires socially stable societies, sustainable economic growth and financial institutions serving the real economy.
We believe that it is through social dialogue that we will be able to seek fair and efficient solutions in response to the grave crisis that the Union faces. But, regrettably, we see democracy at work and social dialogue often being disregarded, attacked and undermined.
We call on the EU to focus on policies improving living and working conditions, quality employment, fair wages, equal treatment, effective social dialogue, trade union and other human rights, quality public services, social protection – including fair and sustainable health and pension provisions – as well as an industrial policy favouring a just transition towards a sustainable development model. Such policies would contribute to building citizens' trust in their common future.
We reject all policies leading to downwards competition be it on labour rights, wages, working time, social security, taxes or the environment.
We support coordinated economic policies as well as the objective of sound public accounts but we deplore the economic governance measures put in place that undermine social achievements of the past decades, stifle sustainable development, economic recovery and employment and destroy public services. This is why we oppose the Treaty on Stability, Coordination and Governance in the Economic and Monetary Union (TSCG).
We are also concerned at the method used to produce the TSCG Treaty that excluded meaningful involvement of the European Parliament and citizens.
We insist that the EU and its member states should observe scrupulously European and international instruments such as ILO conventions, the jurisprudence of the European Court of Human Rights and the revised European Social Charter, to which the European Union should accede as well as to its Protocol providing for a system of collective complaints (1995).
For all these reasons, we demand a Social Compact for Europe, the contents of which we offer to discuss and agree upon at EU tripartite level.
The European Trade Union Confederation considers that the following elements should be included in this Social Compact.
Collective bargaining and Social dialogue:
Free collective bargaining and social dialogue are an integral part of the European Social Model. Both must be guaranteed at the EU and national level. Each member state should put in place the relevant supporting measures;
The autonomy of the social partners at national and European level as well as their role and position must be respected; there must be no unilateral intervention by the public authorities in collective bargaining or existing collective agreements; and coverage of workers by collective agreements should be maximised;
Effective involvement of social partners, as from the diagnostic phase, in European economic governance and national reform plans is essential. Efforts to adapt to changing circumstances should be commensurate with peoples' means and not be borne by workers and their families alone.
Economic governance for sustainable growth and employment:
Urgent measures to bring the sovereign debt crisis to an end and give the ECB the role of lender of last resort, thus enabling it to issue Eurobonds. Growth programmes adapted to each country should be discussed, agreed and monitored with social partners.
European industrial and investment policies aimed at meeting the economic and environmental challenges; priority should be given to investments in sustainable infrastructure, research and development, climate technology and renewable resources. They should not to be included in the calculation of public deficits;
Rules to secure a regulated, solid and transparent financial sector at the service of the real economy;
Extra resources, raised from improved use of the European structural funds, the European Investment Bank, project bonds, and an adequately engineered financial transaction tax, should be allocated to social and environmental purposes;
Stop EU pressure to liberalise public services which are a national responsibility;
Decent wages for all, contributing to growth and internal demand;
A youth guarantee for all young people in Europe, ensuring the provision of a decent job, or of adequate training opportunities, within four months of unemployment or leaving school;
Measures to improve the quality of jobs and combat precarious jobs; fight abuses in the practice of part time, temporary and fixed term contracts;
Active labour market policies including initiatives to support people with little or no links to the labour market.
Economic and social justice:
Redistributive and graduated taxation on income and wealth, and the end of tax havens, tax evasion, tax fraud, corruption and undeclared work;
Determined action against speculation;
Effective measures to secure equal pay and equal rights for work of equal value for all; collective agreements and equal wages should apply to all whatever the form of their contract, specifically when they work at the same work place;
Implementation of policies to end the pay gap between women and men;
Wage-setting to remain a national matter and to be dealt with according to national practices and industrial relation systems. Negotiations between social partners at the relevant level are the best tool to secure good wages and working conditions; the statutory minimum wage, in those countries where trade unions consider it necessary, should be increased substantially. In any event, all wage floors should respect Council of Europe standards on fair wages.
Harmonisation of the corporate tax base and minimum rates of taxation for companies, possibly with the introduction of a minimum rate of 25%, the current average level of imposition in Europe.
We call on European employers' organisations, EU institutions, national governments and supportive organisations to engage in a discussion on this ETUC proposal for a Social Compact for Europe.
(Integral document under: http://www.etuc.org/etuc-strategy-and-action-plan-2011-2015 )
ETUC team Brussels (European Trade Union Confederation)
Solok Literacy Community held a discussion for Indonesia in the future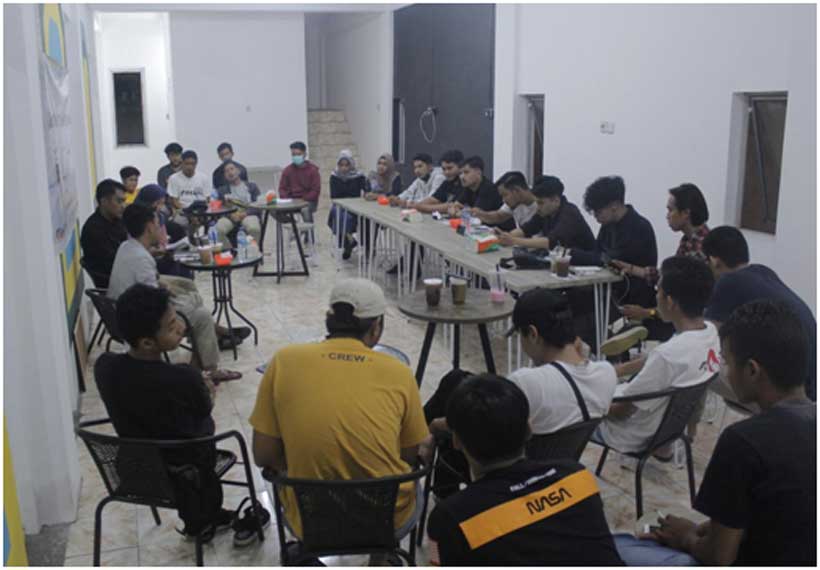 As one of the youth mobilizers in Solok and surrounding areas, Solok Literacy Community once again held one of its flagship activities or programs, 'Ngopi Discussion'. With a proactive discussion format that involves the activeness of the audience on a participatory basis, the discussion that was held on Sunday (11/4) then went interesting and very uplifting.
In his event, Solok Literasi invited an extraordinarily dedicated and accomplished presenter, Al Mukhollis Siagian a cross-continent writer and Yulenri Arif Hidayat as vice chairman of GenBi West Sumatera. Through the theme "Dreaming of a long and steep road to Indonesia gold 2045", Al Mukhollis began the discussion by explaining the problems faced by the community ranging from global, national, regional to regional levels.
Followed by building a problem map or roadmap that occurs around the community, Arif tried to find equiblirium problems of youth today so that later can be found a joint solution. At the end of the discussion it can be concluded that complex problems around the community have unconsciously turned out to have caught the youths off guard today.
Indonesia gold 2045 itself is a great dream of indonesian youth in productive age in forming a nation and country that is able to compete with other nations. Besides of course can first solve the fundamental problems that exist in the country of Indonesia. Whether it's about democracy, legal supremacy, emancipation of education, health, poverty to have a vocal point as a maritime country.
After counseling and finding the real problem point, Dinda Kusuma Putri as moderator can conclude that the core solution of the problem is how we jointly build synergistic mutualism by building a network of partnerships and then move smartly to educate every element of society.
Although shortly before the event there was heavy rain but did not discourage the intentions of soliters friends who want to attend the coffee discussion this time. Held in Hikari Cafe where the atmosphere and background of the place is very supportive for the holding of discussion forums. The coffee discussion lasted for 3 hours and ended a joint pledge regarding the integrity of the future movement to be much better.
The discussion of Solok Literacy Community coffee was also attended by various communities in Solok City and its surroundings, including Solok Millennial Creative (SMC), SolokMuda and Solok Student Alliance (AMS). The proliferation of movement of various youth communities in Solok also has a significant impact on the development of intellectual mindsets formed in every young person solok.
Coffee discussion itself is an activity with almost the same format as FGD (Focus Group Discussion) which studies an issue to be reviewed and found a solution together. Coffee discussion activities are identical to the discursus patterns held in coffee shops a la the current trend of young people and then always have a clear outcome after the course of the discussion.
Approximately 7 months since its establishment on September 21, 2020, Solok Literacy Community consists of 61 solok young people consisting of various basic vocational education. Solok Literacy crystallizes its movement through 4 excellent programs, namely coffee discussion; free reading stalls; surgical film; and classes of interests and talents.
Moving as a literacy promoter in Solok and its surroundings, The Solok Literacy Community has a desire to be able to print great narrators who are able to tell how extraordinary the resources owned by Indonesia to the international world. This long-term goal certainly begins with small, structured and systematic movements from now on.
To see the movement of Solok Literacy Community itself in order to educate the public about the importance of early literacy can be seen together on @solok_literasi Instagram account. The presence of Solok Literasi Community is also known to re-encourage other young people in West Sumatra to re-voice useful things and devote themselves to the benefit of the nation and the country.
Solok Literacy Community hopes that in the future it can continue to be consistent in improving the scalability of literacy among the community. In addition, also how the government is also aware and aware of the problems facing young people so that both the government and the organization/ community around it is able to build a synergy of partnerships that benefit the community.
Athletes knock the legs from under global sports governance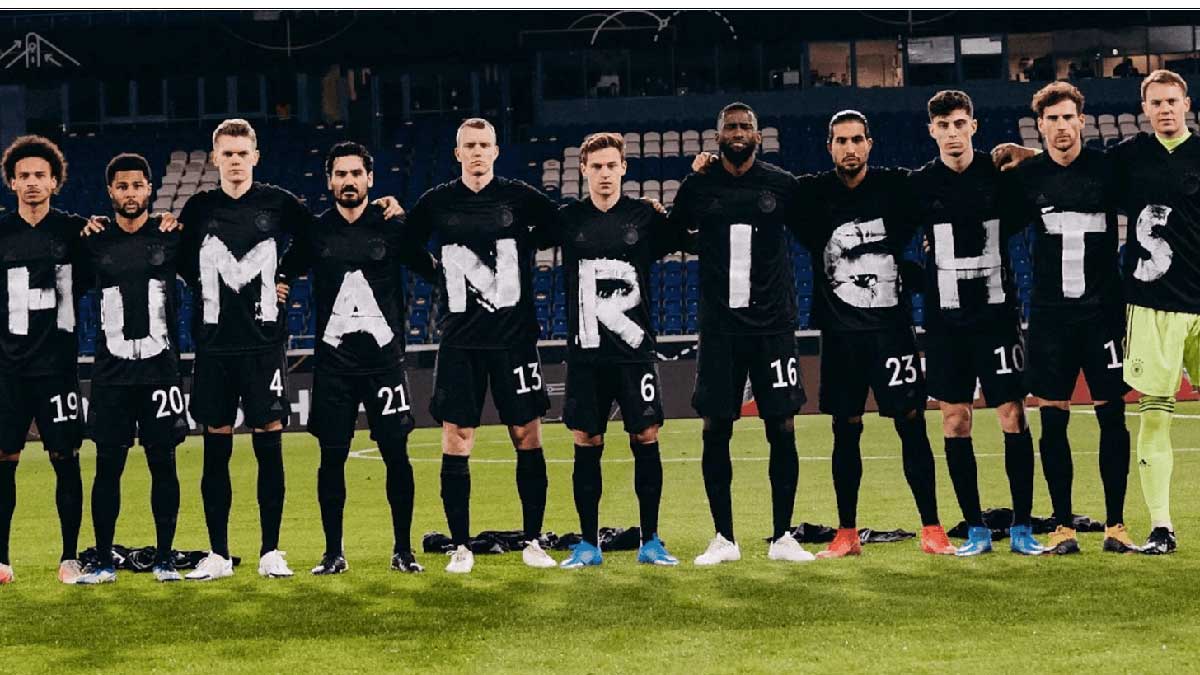 Sports governance worldwide has had the legs knocked out from under it. Yet, national and international sports administrators are slow in realizing the magnitude of what has hit them.
Tectonic plates underlying sports' guiding principle that sports and politics are unrelated have shifted, driven by a struggle against racism and a quest for human rights and social justice.
The principle was repeatedly challenged over the last year by athletes as well as businesses forcing national and international sports federations to either support anti-racist protest or at the least refrain from penalizing athletes who use their sport to oppose racism and promote human rights and social justice, acts that are political by definition.
The assault on what is a convenient fiction started in the United States as much a result of the explosion of Black Lives Matter protests on the streets of American cities as the fact that, in contrast to the fan-club relationship in much of the world, US sports clubs and associations see fans as clients, and the client is king.
The assault moved to Europe in the last month with the national soccer teams of Norway, Germany, and the Netherlands wearing T-shirts during 2022 World Cup qualifiers that supported human rights and change. The Europeans were adding their voices to perennial criticism of migrant workers' rights in Qatar, the host of next year's World Cup.
Gareth Southgate, manager of the English national team, said the Football Association was discussing with human rights group Amnesty International tackling migrant rights in the Gulf state.
While Qatar is the focus in Europe, greater sensitivity to human rights appears to be moving beyond. Formula One driver Lewis Hamilton told a news conference in Bahrain ahead of this season's opening Grand Prix that "there are issues all around the world, but I do not think we should be going to these countries and just ignoring what is happening in those places, arriving, having a great time and then leave."
Mr. Hamilton has been prominent in speaking out against racial injustice and social inequality since the National Football League in the United States endorsed Black Lives Matter and players taking the knee during the playing of the American national anthem in protest against racism.
In a dramatic break with its ban on "any political, religious or personal slogans, statements or images" on the pitch, world soccer governing body FIFA said it would not open disciplinary proceedings against the European players. "FIFA believes in the freedom of speech and in the power of football as a force for good," a spokesperson for the governing body said.
The statement constituted an implicit acknowledgement that standing up for human rights and social justice was inherently political. It raises the question of how FIFA going forward will reconcile its stand on human rights with its statutory ban on political expression.
It makes maintaining the fiction of a separation of politics and sports ever more difficult to defend and opens the door to a debate on how the inseparable relationship that joins sports and politics at the hip like Siamese twins should be regulated.
Signalling that a flood barrier may have collapsed, Major League Baseball this month said it would be moving its 2021 All Star Game out of Atlanta in response to a new Georgia law that threatens to potentially restrict voting access for people of colour.
In a shot across the bow to FIFA and other international sports associations, major Georgia-headquartered companies, including Coca Cola, one of the soccer body's longest-standing corporate sponsors, alongside Delta Airlines and Home Depot adopted political positions in their condemnation of the Georgia law.
The greater assertiveness of athletes and corporations in speaking out for fundamental rights and against racism and discrimination will make it increasingly difficult for sports associations to uphold the fiction of a separation between politics and sports.
The willingness of FIFA, the US Olympic and Paralympic Committee (USOPC) and other national and international associations to look the other way when athletes take their support for rights and social justice to the sports arena has let a genie out of the bottle. It has sawed off the legs of the FIFA principle that players' "equipment must not have any political, religious or personal slogans."
Already, the US committee has said that it would not sanction American athletes who choose to raise their fists or kneel on the podium at this July's Tokyo Olympic Games as well as future tournaments.
The decision puts the USOPC at odds with the International Olympic Committee's (IOC) staunch rule against political protest.
The IOC suspended and banned US medallists Tommie Smith and John Carlos after the sprinters raised their fists on the podium at the 1968 Mexico City Olympics to protest racial inequality in the United States.
Acknowledging the incestuous relationship between sports and politics will ultimately require a charter or code of conduct that regulates the relationship and introduces some form of independent oversight akin to the supervision of banking systems or the regulation of the water sector in Britain, alongside the United States the only country to have privatized water as an asset.
Human rights and social justice have emerged as monkey wrenches that could shatter the myth of a separation of sports and politics. If athletes take their protests to the Tokyo Olympics and the 2022 World Cup in Qatar, the myth would sustain a significant body blow.
Said a statement by US athletes seeking changes to the USOPC's rule banning protest at sporting events: "Prohibiting athletes to freely express their views during the Games, particularly those from historically underrepresented and minoritized groups, contributes to the dehumanization of athletes that is at odds with key Olympic and Paralympic values."
Disability policies must be based on what the disabled need
Diversity policies, especially when it comes to disabled people, are often created and implemented by decision makers with very different life experiences to those who their policies affect most.
We would never expect economic policy to be crafted without input from economists and bankers. We should demand the same for disability policies, if we want to create the change needed to produce inclusive societies.
Starting in 2017, I was humbled to be given an opportunity to develop the first multi-media, audio dictionary translating Bangla to English. As a disabled individual who is visually impaired, I was uniquely placed to design such a programme, based on my lived experience. The principle of entrusting service design to those who have the most experience in that area is a logical, common-sense approach to policy, yet many governments can do more in this area.
This has been particularly true throughout the pandemic, where it has been even more important to respond quickly and appropriately to the needs of citizens.
For example, school children have been failed in many countries through poor or non-existent education provision. Medical professionals have been let down due to poor access to PPE.
This begs the question, why haven't teachers created public policy regarding schools? Why haven't Doctors and nurses been a bigger part of public policy with regards to hospital management and equipment?
Those who have direct, lived experience should be able to formulate policy. I'm grateful that in Bangladesh and other nations, this is what is increasingly happening, with some groundbreaking results.
If nothing else, this approach is consistent with other professions: When applying for a job, an employer will always demand evidence of past experience. There is no reason why this should not apply to policy and politics.
You would never hire a builder to work on your house if they had never set foot on a building site: at most, you could hire an experienced interdisciplinary project manager if he or she was relying on the expertise of seasoned builders.
The benefit of applying lived experience to problem-solving has long been established in business – governments should follow suit.
The founders of the 'Lean methodology' are a great example of this, where they developed a process of continuous improvement and waste elimination that saw a failing car production company, Toyota, turn into a global market leader.
This methodology's pioneers, Kiichiro Toyoda and Taiichi Ohno, would demand that those working on the camper van, for example, would travel themselves in the vans they were trying to improve. This enabled them to uncover the sources of discomfort created through poor design, in a way that would have been impossible in a design office in Tokyo.
This cannot be directly applied to disability policy – it would be unethical and impossible to ask someone to be 'blind' for a period of time, in order to develop better policy.
The next best thing is for policy makers to engage with those who have the experience.
This isn't about denigrating the policymaking experience of those in government, but it is about helping them empathise with those whom their decisions impact. When public services are not designed with empathy for the people who use them, they are useless, or even potentially harmful.
The a2i empathy training programme, for example, arranges for relatively senior government officers to act as secret shoppers and visit citizens' access points for services outside of their ministry or area of expertise. This exercise puts them in "citizens' shoes" since they are forced to navigate public systems without any official or intellectual privileges. This experience helps participants develop a critical eye that they use to scrutinise their own agency's delivery systems and improve the overall quality of services.
This kind of real-world experience (either through engaging with service users, or by putting policy makers' in service users' shoes), as well as high-level expertise, should be part of governance as we move towards a 'new normal'.
There is no reason why Ministers for health shouldn't be ex-Doctors, and Ministers for education can't be ex-teachers. And there is no reason why disability policy cannot be informed by disabled people.
Public service is not rocket science, but if it was, it would make sense to entrust it to the rocket scientists.